The health crisis  is still ongoing and we are confined mostly in our homes for more than a year. If you miss watching LIVE musicals and plays this production is a MUST STREAM and SEE.
Ateneo Blue Repertory (blueREP) proves that pandemic or no pandemic, theatre is still very much alive with its online production of f(r)iction. Filmed solely on mobile phones, the 29th Season Finale is an original musical set to stream on Ticket2Me from May 26 to June 1, 2021. Starting 12 Noon to 11:59 PM.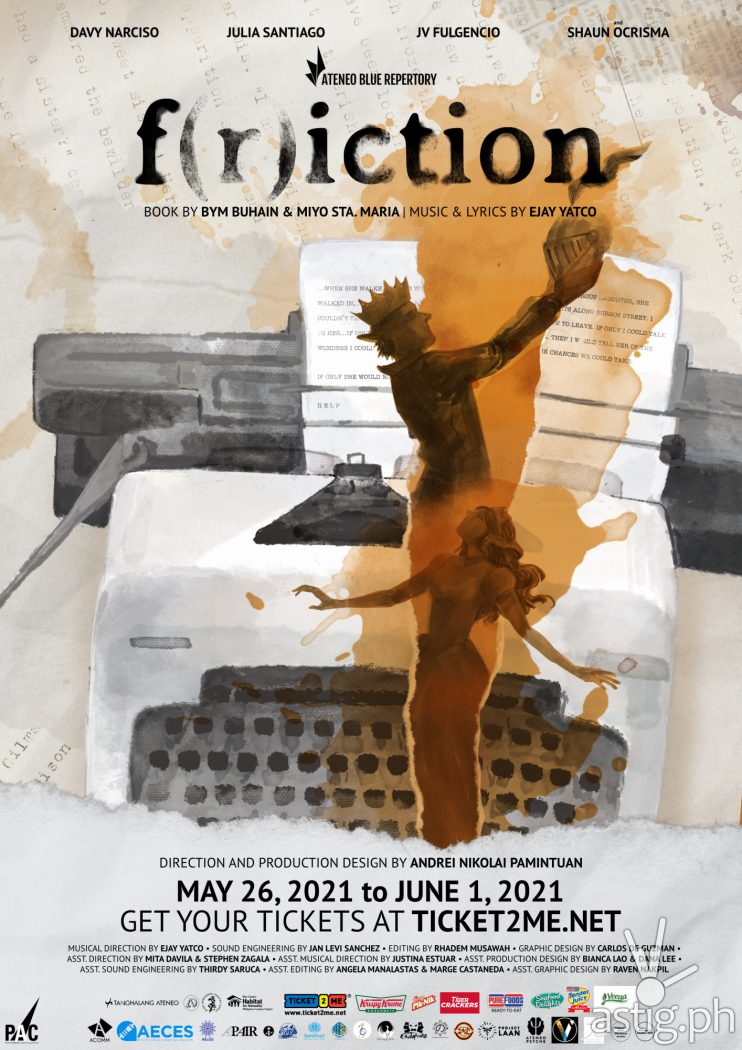 Originally staged in 2015 starring theatre veterans Red Concepcion, Gab Pangilinan, Myke Salomon, and Fred Lo, f(r)iction is now reimagined for the new normal. The 2021 production, featuring a new cast of young actors, was shot remotely from the actors' own homes, with live direction through popular online video call platform Zoom. 
Written by Bym Buhain & Miyo Sta. Maria, with music and lyrics by Ejay Yatco, the new f(r)iction features new songs, new characters, and a new story that encourages us to reexamine what happiness and success truly mean. It follows the story of Karlo, a struggling writer on the brink of being published, whose whole life and long-term relationship are turned upside down when he meets a mysteriously charismatic stranger.
Interesting and fun to watch are these actors who went through formal auditions —
Shaun Ocrisma as a Choreographer, Waiter, Therapist; JV Fulgencio as Ben; Julia Santiago as Audrey, and Davy Narciso plays Karlo. the lead.


The 2021 production of f(r)iction is under the creative leadership of Director Andrei Pamintuan and Musical Director Ejay Yatco, the same duo behind Sa Wakas, the Sugarfree musical. They are joined by Director of Photography Rhadem Musawah, Sound Engineer Jan Levi Sanchez, and Graphic Designer Carlos De Guzman to refresh this original musical first featured in the iconic Fringe Manila Festival in 2015. 


Tickets to f(r)iction are available now at https://ticket2me.net/e/33397
For inquiries, contact Biboy Alvarez at 0929 330 4643 or at [email protected].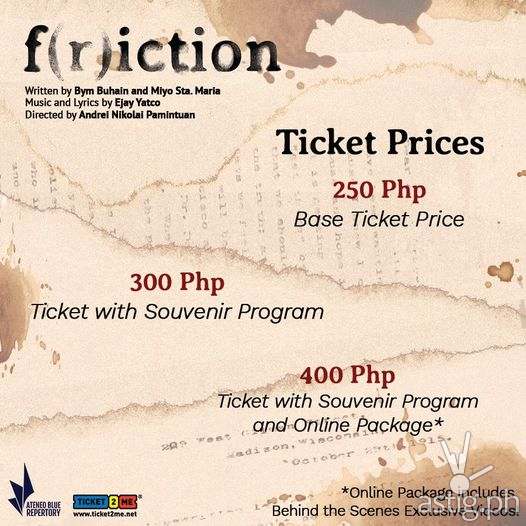 Use the hashtag #frictionblueREP for your feedbacks and comments about the musical. The production team will appreciate what you had to say. 
Follow blueREP on Facebook (@blueREPERTORY), Instagram (@ateneobluerepertory), and TikTok (@bluerep).