People have expectations when looking for their next smartphone. Usually, expectations don't meet reality, but there are times when it does. Here are some instances when what happens exceed assumptions:
Expectation: Battery only lasts six hours or less

Reality: Battery lasts all day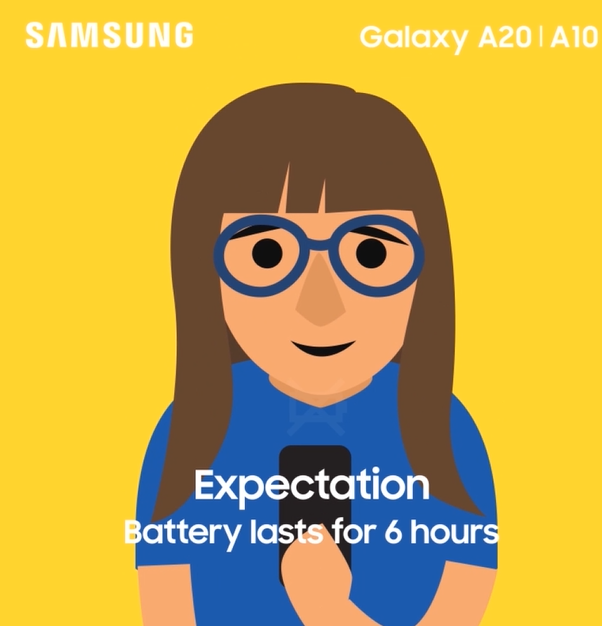 One of the most important things people look for in their smartphone is its ability to last all day. Sadly, because of constant usage and the demands of heavy apps, not many phones can stay charged for long periods of time. As a result, users have to carry battery packs in case they run out of power.
Truth is, the Samsung Galaxy A20 is built to exceed every user's expectation. It has a whopping 4,000 mAh battery that allows users to enjoy its features all day without having to worry about power. Its fast-charging feature allows them to get back to 100% in no time.
Expectation: A group selfie that can only fit three people or less

Reality: A group selfie that can include six people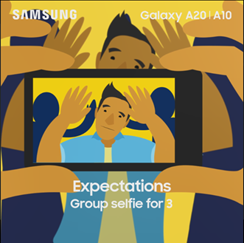 Fun moments need to be captured on cam and shared on social media. Selfies and group selfies are popular but not many phones can fit large groups of people in one shot. Most of the time, it can only accommodate three or four friends.
But now, everyone in the barkada can fit in the group selfies. The Galaxy A20 comes with a Versatile Dual Rear Camera that mimics human sight. Its 5MP 123° wide-angle lens can capture the world without restrictions. Its other lenses include a 13MP camera and an 8MP front camera to perfectly record memorable bonding moments with friends.
Expectation: Vibrant viewing

Reality: Immersive viewing experience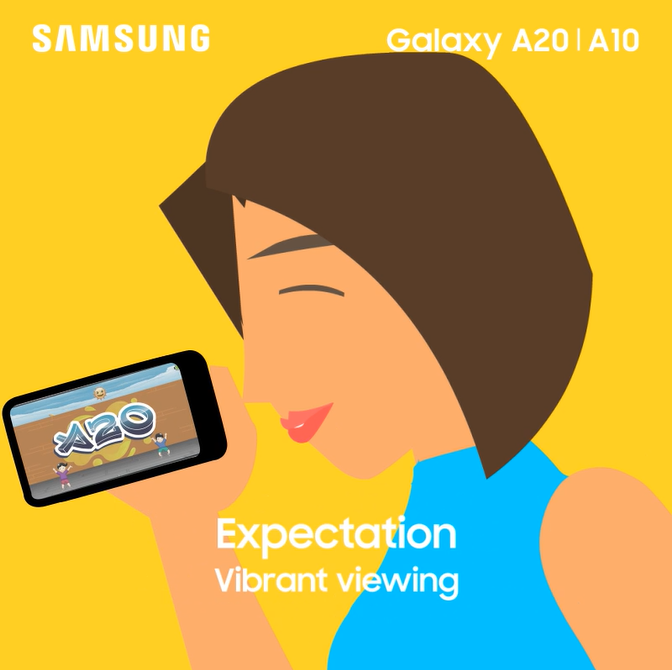 People want a smartphone where they can stream content. Not only that, they want a device that can bring vivid and brilliant colors to fully showcase the movie, TV show, or vlog they are watching. Not many devices can offer an immersive viewing experience in its screens, and instead, have dull and flat colors.
Streaming content on the Galaxy A20 becomes an immersive experience with its 6.4″ HD + Super AMOLED Infinity-V Display. Its 91.8% screen-to-window ratio and its Dolby Atmos technology transport viewers to the movie or TV show they are watching.
Meanwhile, the Galaxy A10 comes with equally impressive specs and capabilities when viewing videos with the smartphone's 6.2″ HD Infinity-V display 90% edge-to-edge display. Its maximized screen gives an unparalleled viewing experience with vibrant colors.
The device sports a 13MP rear lens and 5MP front camera that can capture beautiful moments, even in challenging environments like low-light situations.
Both the Galaxy A20 and A10 are available at any Samsung-authorized stores with suggested retail prices of PHP 9,990 and PHP 6,990, respectively. Both smartphones come in blue and black colors.

For more information, visit samsung.com/ph.