Something for our friends in the music, film and TV industries will be happy about!
While most countries await for final safety protocols for audiovisual production work and anticipate their government's go signal to reopen for business, the Philippines is among the first few nations where cameras can finally start rolling again. Film, television, and other audiovisual shoots are permitted to take place in most parts of the country, following the changes in the community quarantine classifications that took effect on May 16 and will last until May 31, 2020.
The Philippines is under General Community Quarantine (GCQ) except for Metro Manila, Laguna, Bataan, Bulacan, Nueva Ecija, Pampanga, Zambales, and Angeles City that have a Modified Enhanced Community Quarantine (MECQ) status and Cebu City and Mandaue City that are under Enhanced Community Quarantine (ECQ). Film, music, and TV production is among the Category III sectors that are allowed in MECQ and GCQ areas, with strict compliance to health and safety protocols prescribed by the government. Production work in MECQ and GCQ areas is partially allowed with a 50% operational capacity while production work in ECQ areas is prohibited.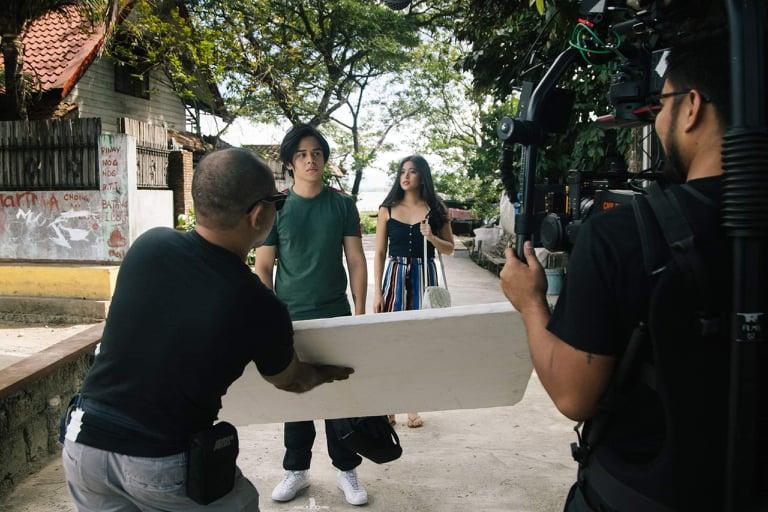 "The resumption of production work is welcome news for the film and audiovisual industry. During our meetings with the National Economic and Development Authority, Department of Trade and Industry, and other frontline agencies, the FDCP asserted how film and the audiovisual industry have been integral to our country during this pandemic," stated Film Development Council of the Philippines (FDCP) Chairperson and CEO Liza Diño-Seguerra. 
"As we were stuck in our homes, with nothing to do, films, series, and television shows accompanied us during these challenging times. They even served as sources of joy, strength, and inspiration," she added. "We are pleased that our government has allowed us to gradually ease into this new normal. But as we move towards this, compliance is of utmost importance. We need to make sure that we can keep each other safe while we set the ball rolling for our industry that was among the hardest-hit business sectors in the COVID-19 crisis."
In this light, the FDCP released on May 16 the Memorandum Order No. 6, Series of 2020 on the Interim Guidelines on Safety Protocols for the Conduct of Film and Audiovisual Production Shoots to Mitigate the coronavirus disease 2019 (COVID-19). While the FDCP is formulating the final guidelines in consultation with professional guilds and industry sectors and awaiting approval from the Department of Health (DOH) and Inter-Agency Task Force (IATF) for the Management of Emerging Infectious Diseases, it released the interim guidelines for stakeholders that will resume shoots in MECQ and GCQ areas. 
Producers and employers are expected to implement safety and health standards in all workplaces with the objectives of increasing their workers' physical and mental resilience, reducing transmission, minimizing contact rate, and minimizing the risk of infection from COVID-19. All workers must be insured in every audiovisual production, with accident insurance as the minimum coverage.
Social distancing must be strictly enforced in all phases of production. Meetings and castings should be done online, and alternative work arrangements must be in place for employees except for those who are part of the essential skeletal workforce. If on-site casting is needed, there must be physical distancing and the usage of personal protective equipment (PPE) like masks and gloves. Before reporting to work, members of the cast and crew must submit health declarations specific to COVID-19.
For on-site work, a maximum of fifty (50) people are allowed on the set. Workers must maintain a one-meter distance from colleagues and cameras must be two meters away from talents. Big crowd scenes like concerts, rallies, parties, and championship games are not allowed while for intimate scenes, both actors must test negative for COVID-19 and give their consent before filming.
A certified medical personnel must be on the set at all times to do temperature checks and enforce health precautionary measures when a cast or crew falls ill. Producers and employers are required to provide for their workers face masks, hand sanitizers and alcohol, packets of tissues, and access to handwashing areas on the set. Face masks and other applicable PPEs must be worn by the cast and crew.
Sanitation must be done regularly throughout the shoot especially in common areas such as studios, wardrobe and makeup rooms, holding areas, and bathrooms. The habitual disinfection of equipment, props, wardrobe, and vehicles must also be carried out. Meanwhile, on-site caterers must adhere to the government's food service guidelines and provide meals and drinks in single-serve containers. As for the work hours during the COVID-19 situation, the limit is 12 hours. Productions should also follow local ordinances and abide by the curfew that is still in effect whether an area is under ECQ, MECQ, or GCQ.
"We should proceed with film making and content creation with utmost care and vigilance because the health and safety of our workers are at stake now," said Diño-Seguerra. "With the pandemic still looming above all of us pending the current lack of vaccine and mass testing, the adoption of stringent protocols may mean the difference between death and survival for all involved."
The interim guidelines are based on the policies of the Joint Memorandum Circular No. 1, Series of 2020 of the FDCP and Department of Labor and Employment on the working conditions of audiovisual production workers. Duly-registered organizations can still propose safety measures for their respective sectors, and the FDCP will endorse such proposals as Annexes to the DOH and IATF for as long as the provisions are in accordance with the interim guidelines.
Click HERE to view the advisory on FDCP's Memorandum Order No. 6, Series of 2020 on the Interim Guidelines on Safety Protocols for the Conduct of Film and Audiovisual Production Shoots to Mitigate COVID-19.
The cover photo is from the set of Pista ng Pelikulang Pilipino 2019 entry "LSS."