MANILA, Philippines – Digital channel For Your Entertainment (FYE) continues to expand its presence on Pinoy community app Kumu with new livestreams on cooking, education, lifestyle, and adulting for the enjoyment and learning of its growing followers.
The channel, which now has over 540,000 followers, features fresh vegan recipes on "Your New VFF (Vegan Filipino Food)" with Astig Vegan, RG Enriquez-Diez, every Tuesday at 12nn starting April. More recipes are set to unfold as music and cooking go together in "The Sandok Music" with singer-actress Carla Laforteza every Saturday at 12nn.
FYE also welcomes Knowledge Channel's 'School at Home' block from Mondays thru Fridays at 11 am. Young and eager-to-learn Kumunizens can catch "Wikaharian Online World" on Mondays, "Learn with Lyqa" on Tuesdays, "Knowledge On-The-Go" and "MathDali LIVE" on Wednesdays, "Money Lessons with FQ Mom" led by finance guru Rose Fres Fausto on Thursdays, and "Art Smart with Teacher Precious" on Fridays.
Grown-ups likewise have their share of fun on FYE Channel via the virtual club "Club Fifty Five" with DJ M.O.D. on Thursdays at 9:30 pm and dance tutorial "Tutting" with Seth Michael on Fridays at 2 pm.
Meanwhile, "Adulting 101" with Floi Wycoco provides netizens tips on being practical and wise with money every Saturday at 10 am. Families also get to listen in on important updates and discussions on "Pamilya Talk" with Jing Castaneda every Tuesday and Wednesday at 4 pm.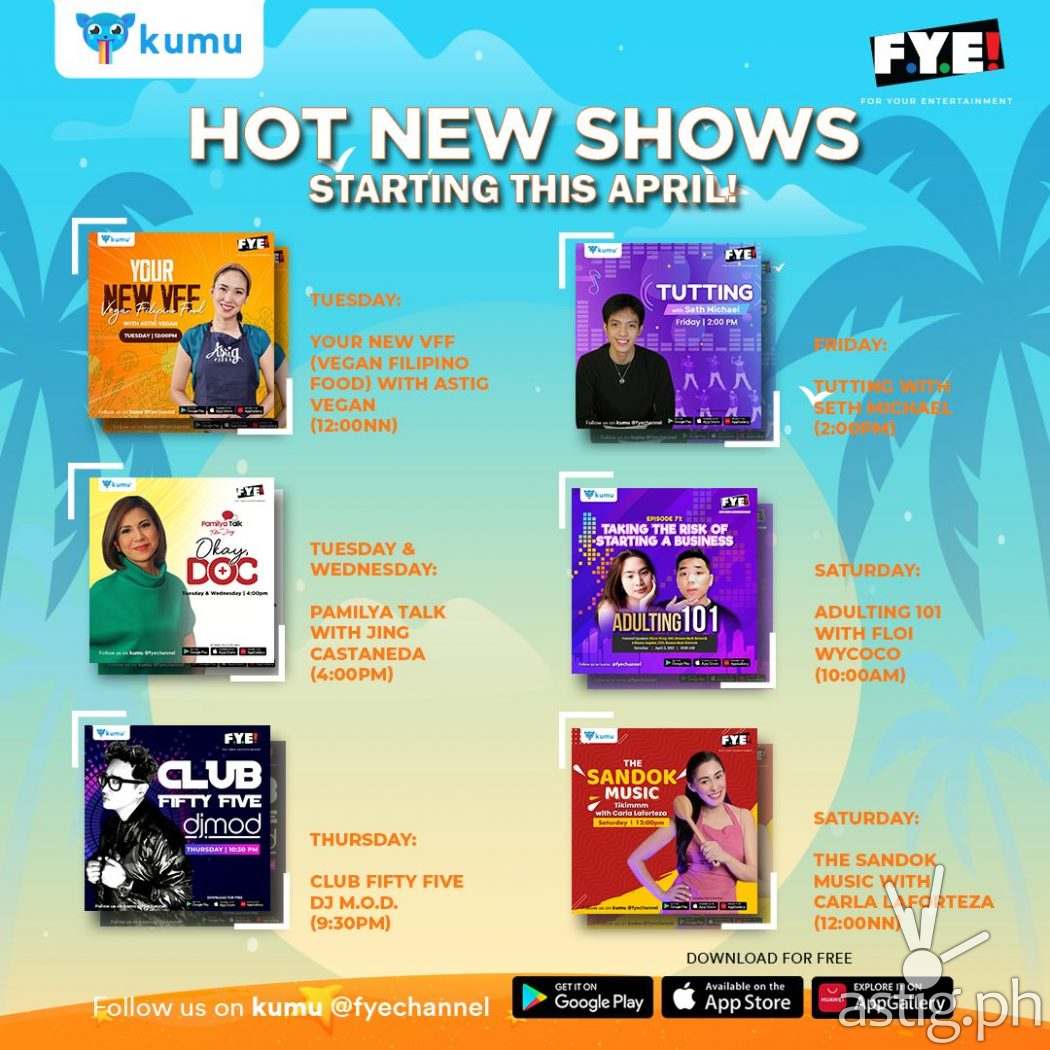 One of the digital channels of ABS-CBN's subsidiary Creative Programs, Inc., FYE features engaging livestreams daily on kumu led by Kapamilya personalities and top social media stars. Among its hit offerings are "Bawal Ma-Stress Drilon" with Ces Drilon, "Hanz Swerte, Hanz Saya" with Master Hanz Cua, comedy show "Lakas Tawa" with Alex Calleja, and showbiz talk shows "Anong Meron, Chikkaness?" "Showbiz Café," and "Kumu Star Ka."
Savor new recipes and learnings and have a great time on kumu via FYE Channel. Download the kumu app now using this link: https://app.kumu.ph/fyechannel and follow @fyechannel.
For updates, follow @abscbnpr on Facebook, Twitter, TikTok, and Instagram or visit www.abs-cbn.com/newsroom.