How many of you pray before eating – even while in public? How many of you think that it is totally unnecessary, and wish you could get over it right away so you can start eating?
If you are one of those people, here's a story that Karl Alain Arante posted on Facebook:
When this Filipino family was having dinner at a restaurant, they were having trouble ordering because of the cost. However, they remained faithful and the wife led a prayer for their food when it was served.
Because there were many of them in the table, she had to make her voice louder to be heard all the way to the other end. The result: a foreigner couple seated at the another table overheard them, and the prayer left a really good impression.
It was a long and sincere prayer of thanks that by the end of the prayer they were already hungry, but they received the shock of their life when the bill arrived – the bill had already been paid for by the foreigners!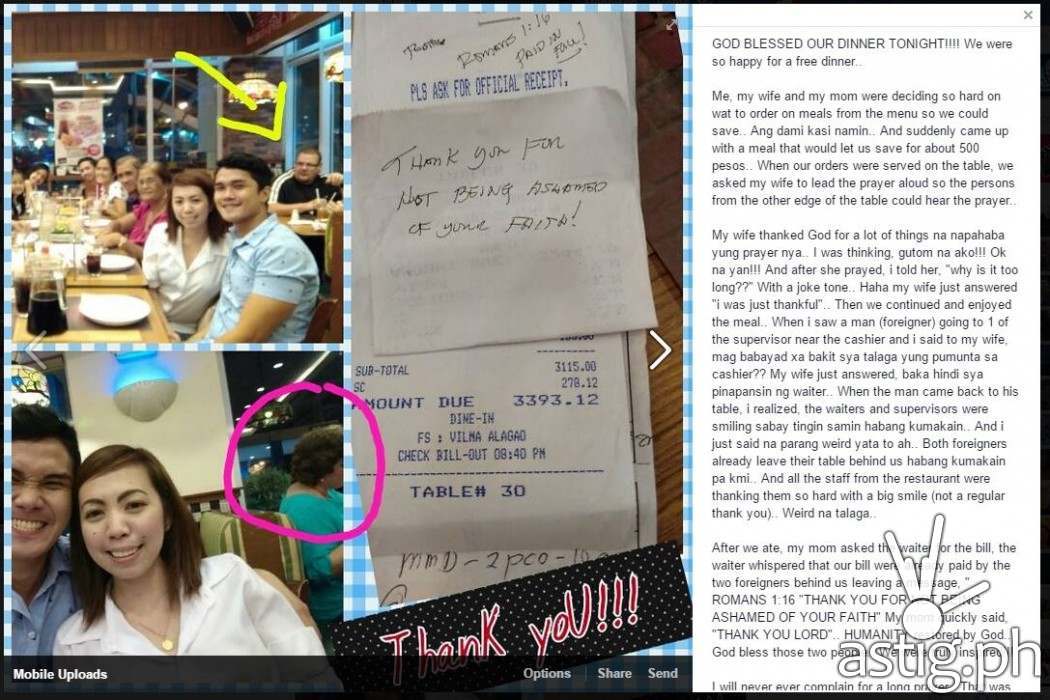 Read on for the full text:
GOD BLESSED OUR DINNER TONIGHT!!!! We were so happy for a free dinner..

Me, my wife and my mom were deciding so hard on wat to order on meals from the menu so we could save.. Ang dami kasi namin.. And suddenly came up with a meal that would let us save for about 500 pesos.. When our orders were served on the table, we asked my wife to lead the prayer aloud so the persons from the other edge of the table could hear the prayer..

My wife thanked God for a lot of things na napahaba yung prayer nya.. I was thinking, gutom na ako!!! Ok na yan!!! And after she prayed, i told her, "why is it too long??" With a joke tone.. Haha my wife just answered "i was just thankful".. Then we continued and enjoyed the meal.. When i saw a man (foreigner) going to 1 of the supervisor near the cashier and i said to my wife, mag babayad xa bakit sya talaga yung pumunta sa cashier?? My wife just answered, baka hindi sya pinapansin ng waiter.. When the man came back to his table, i realized, the waiters and supervisors were smiling sabay tingin samin habang kumakain.. And i just said na parang weird yata to ah.. Both foreigners already leave their table behind us habang kumakain pa kmi.. And all the staff from the restaurant were thanking them so hard with a big smile (not a regular thank you).. Weird na talaga..

After we ate, my mom asked the waiter for the bill, the waiter whispered that our bill were already paid by the two foreigners behind us leaving a message, " ROMANS 1:16 "THANK YOU FOR NOT BEING ASHAMED OF YOUR FAITH" My mom quickly said, "THANK YOU LORD".. HUMANITY restored by God.. God bless those two people.. We were truly inspired!!!

I will never ever complain for a long prayer.. That was a joke though, haha..

PRAY as loud as we can so people could hear and be inspired.. Thank you.
Do you have any other similar inspirational stories? Share it with us!