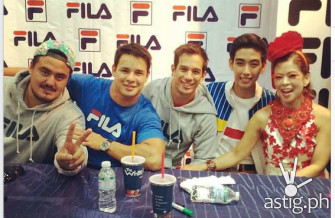 What happens when you put together a rugby and football player alongside with a philanthropist socialite and promising Olympic figure skater? A whole lotsa load of F-U-N! Last June 21-22 weekend fans and supporters alike of the Philippine Volcanoes Rugby Team, Ms. Tessa Prieto-Valdes, Fabio Ide and Olympic figure skater Michael Martinez invaded selected FILA stores of what turned out to be a smashing success FILA Pinas Meet & Greet with brand ambassadors.
With no product purchase required, fans and supporters of these athletes and celebrities endorsed by FILA, had a grand field day meeting them upclose, having their photos and selfies taken, alongside getting autographs and chatting with their idols. A good number of people who showed up have only met these stars for the first time!
It was awesome seeing fellow runner Ms. Tessa again in her creative and flamboyant trademark look. Did you know she's a fitness buff and runs a mean 21K beneath all her sassy accessories and catchy headpieces? She's the only rose among the good-looking roster of rugby players and an Olympic figure skater who gamely posed for photos and signed tons of "fans" FILA distributed at the store entrance.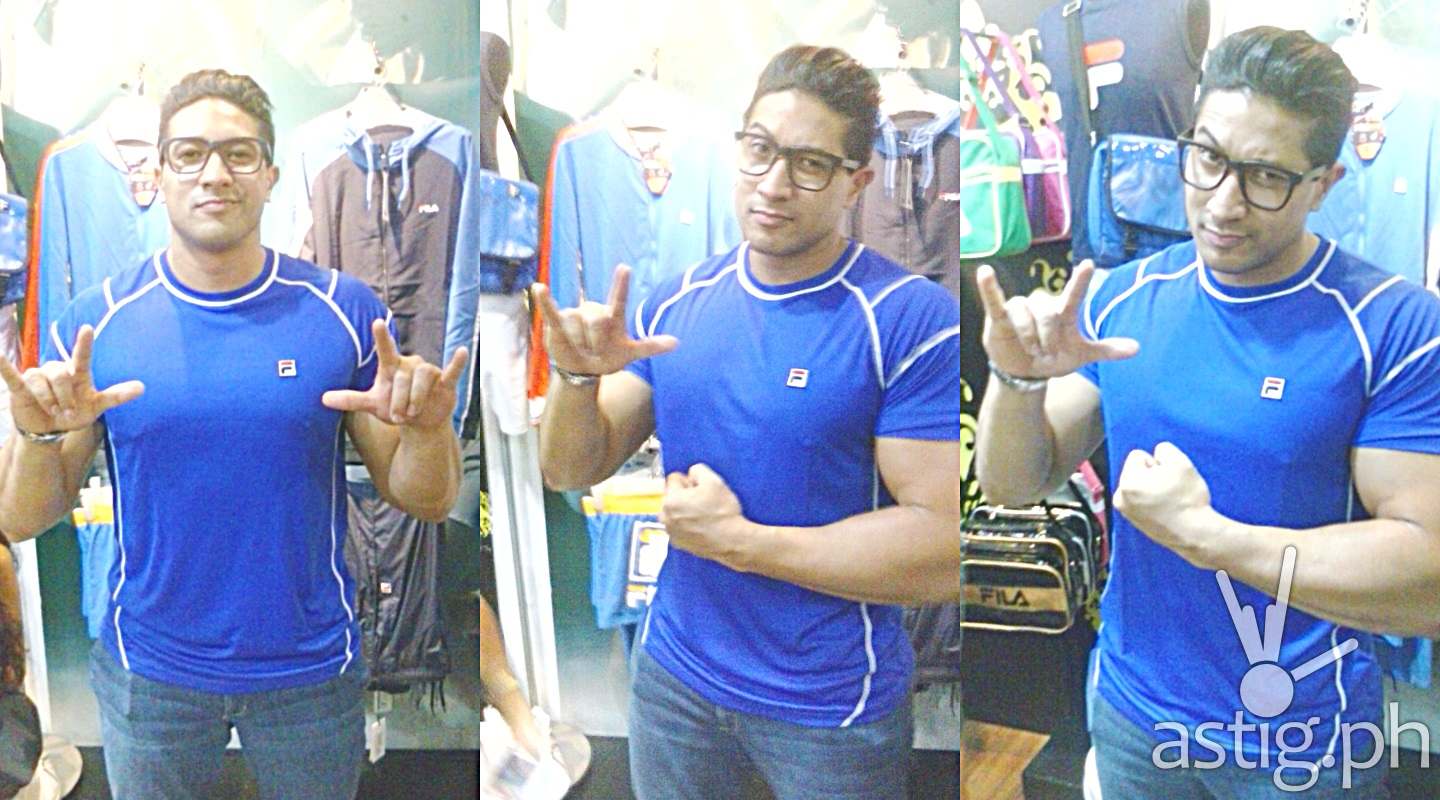 Thank you to Volcanoes Kit Guerra, Paulo Jordan, Gaz Holgate, Jake Letts, Harry Morris, Rupert Zappia, David Feeney, Eric "Showtime" Tai, and hunky actor/model/footballer Fabio Ide for sharing their time and love to all the fans who showed up. For sure, their followers are still swooning over the selfies and group pics they got from these athletic hunks! Eric "Showtime" Tai and Fabio got swarmed by their fans and were the more familiar celebrity players who were game to fulfill some fan requests for pics and more pics! I spoke with Fabio in between in Tagalog and I must say he has improved a lot. Great job, Fabs!
I met Olympian figure skater and Triglav Trophy gold medalist Pinoy pride Michael Martinez for the first time a couple of months back after his debut in Sochi Winter Olympics stint and FILA Philippines has all the right to brag that the 18 year old is their newest and perhaps youngest endorser much to the delight and welcome from all his fans everywhere!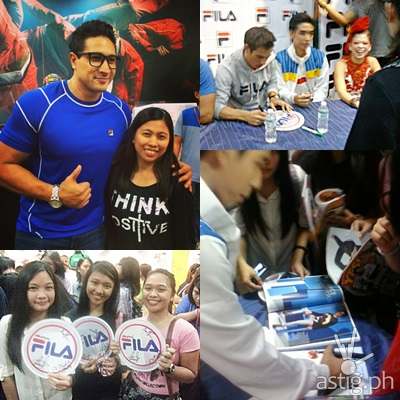 Michael's fans and supporters who trooped to see him at FILA SM Megamall were extra lucky to have mingled with him because he and Mom Teresa are scheduled to fly out again next week for training abroad. Good luck on your next meet this September.
The Philippine Volcanoes had a great 2013 competing in their overseas meets and ending up champions in their division. This year the guys are looking forward to the 17th Asian Games to be held in Incheon, South Korea this September where Rugby Sevens is a featured sport. Sounds cool. Good luck guys! We believe ☺
Ms. Fila Royalty Cris Albert was also on hand to meet some of the fans and FILA consumers who purchased personal items from the Galleria, Megamall, Glorietta and Mall Of Asia Meet & Greet stores. Kudos ma'am!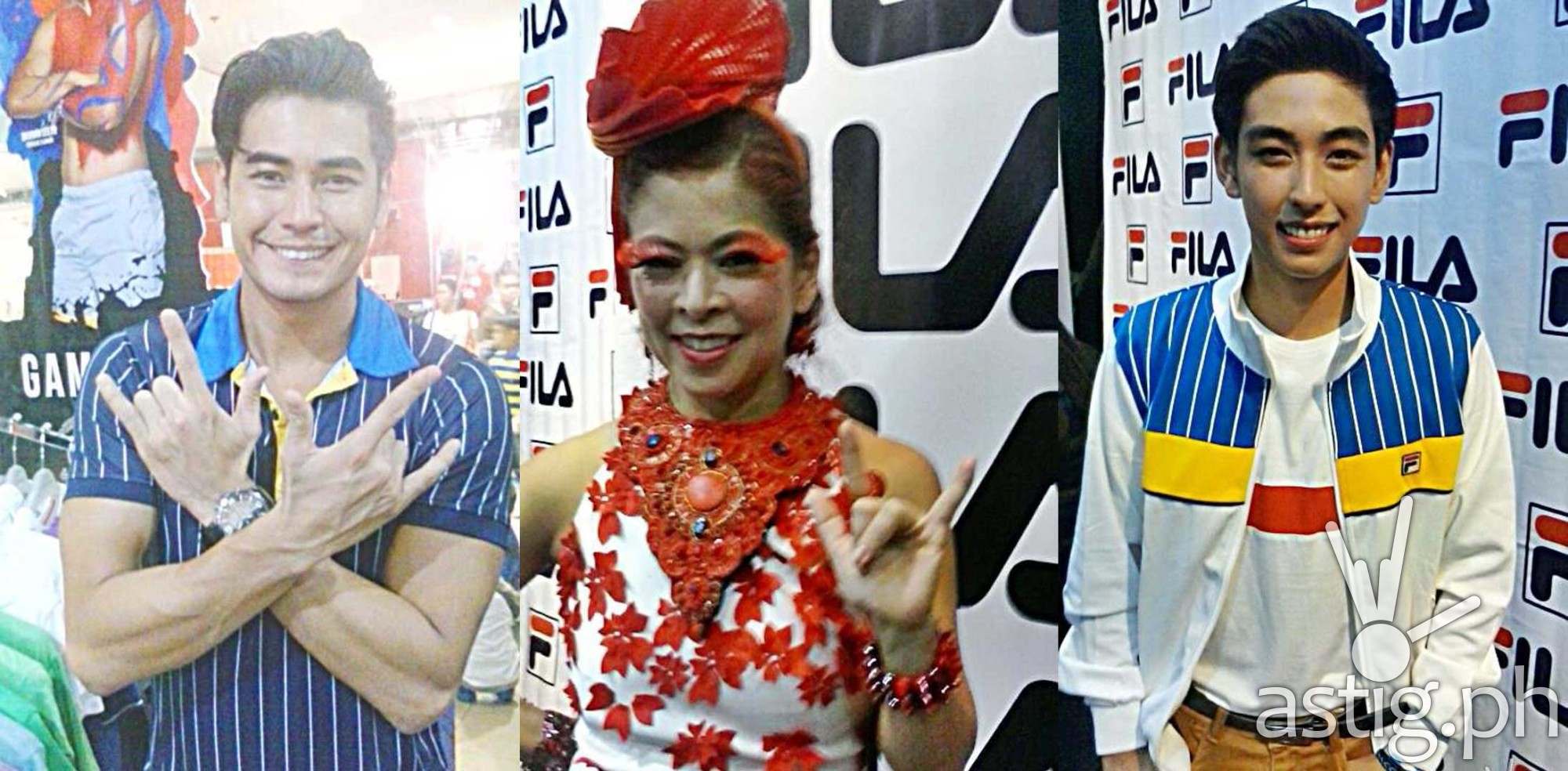 Overheard a fan wishing for regular FILA 'Pinas Meet & Greets in the near future and more endorsers to join the prestigious circle. And I guess, as long as FILA can make it happen, they're response would be, "Your wish is our command!" Congratulations and more power FILA Family!
[stextbox id="astig"]For more info and updates on FILA's events, shoes and apparels, visit their website fila.com.ph and follow them on Twitter and Instagram thru @filaph.[/stextbox]