The Huawei GR5, also known as the Honor 5X, is a mid-range smartphone being offered free on Globe Postpaid Plan 999. Now before we get confused, recall that Huawei actively promoted the Honor brand last year.
Although the Chinese manufacturer is retaining the Honor brand in other countries, the Philippines should expect only Huawei-branded smartphones from this point – as the case may be with the Huawei GR5 and the Huawei P9.
Qualcomm's Snapdragon 615/616 SoC is known to be a solid choice of many manufacturers for their mid-range offerings. Other notable smartphones Snapdragon 615/616 include the Oppo R5 & R7, HTC Desire 820, Vivo V5 Max, LG G4s Beat, Lenovo PHAB Plus, and the Samsung Galaxy A8.
Watch our unboxing for a quick hands-on preview or read on for our full review.
Build quality & display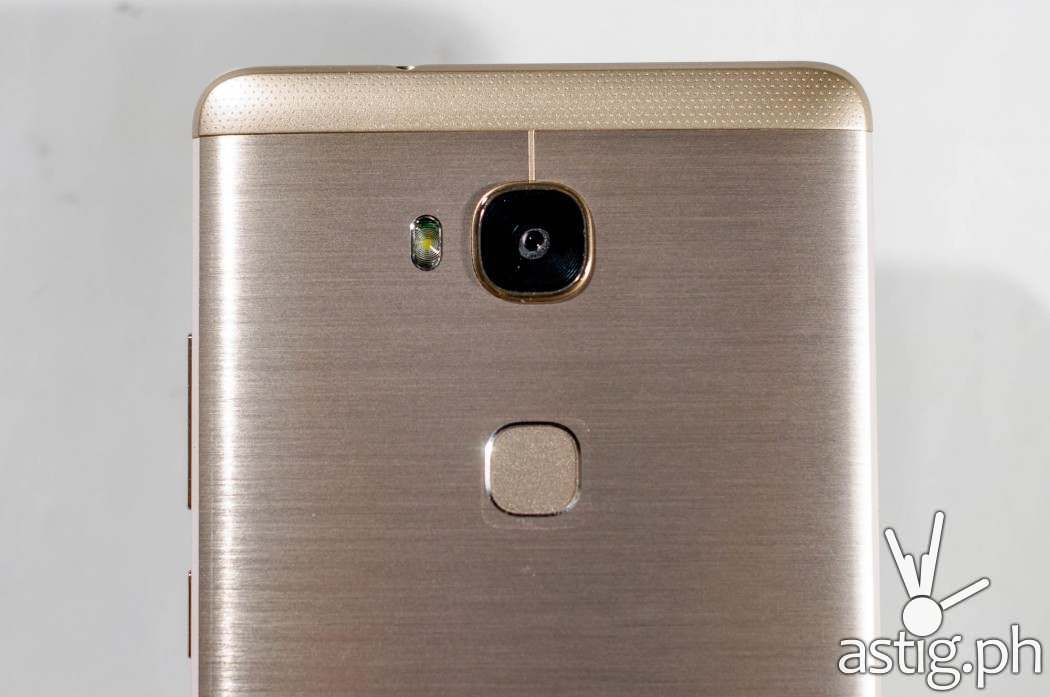 The GR5 follows the trend of most smartphones being released this year – its brushed aluminum metal unibody with chamfered edges is beautiful, especially in gold. It has a very accessible 360-degree fingerprint sensor located at the back, right below the 13-megapixel rear camera.
Its vivid 5.5-inch full HD (1920 x 1080) display comes with a pre-fitted screen protector out of the box. Some sites say that the Huawei GR5 comes with Gorilla Glass, but we were unable to get confirmation from a reputable source.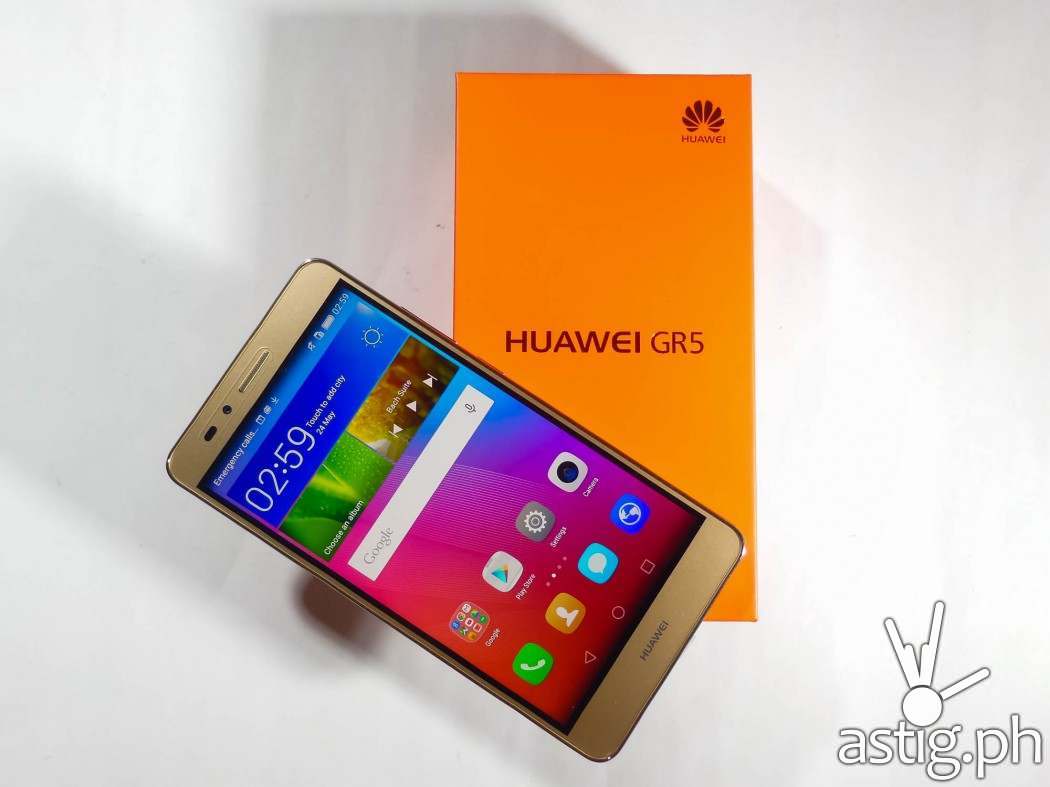 Regardless, it is nice to see that Huawei made an effort to protect the screen from accidental scratches. Unfortunately, the built-in protector does not seem to have any kind of oleophobic coating, making the GR5 prone to smudging from daily use.
Like most Huawei devices the GR5 uses on-screen buttons as opposed to physical or capacitive buttons, reducing the amount of screen real estate for non full-screen applications to only 1800 x 1080 pixels.
The power button and volume rocker are placed comfortably at the side, while a micro-USB port can be found at the bottom, flanked by two beautiful grilles for the microphone and loud speaker.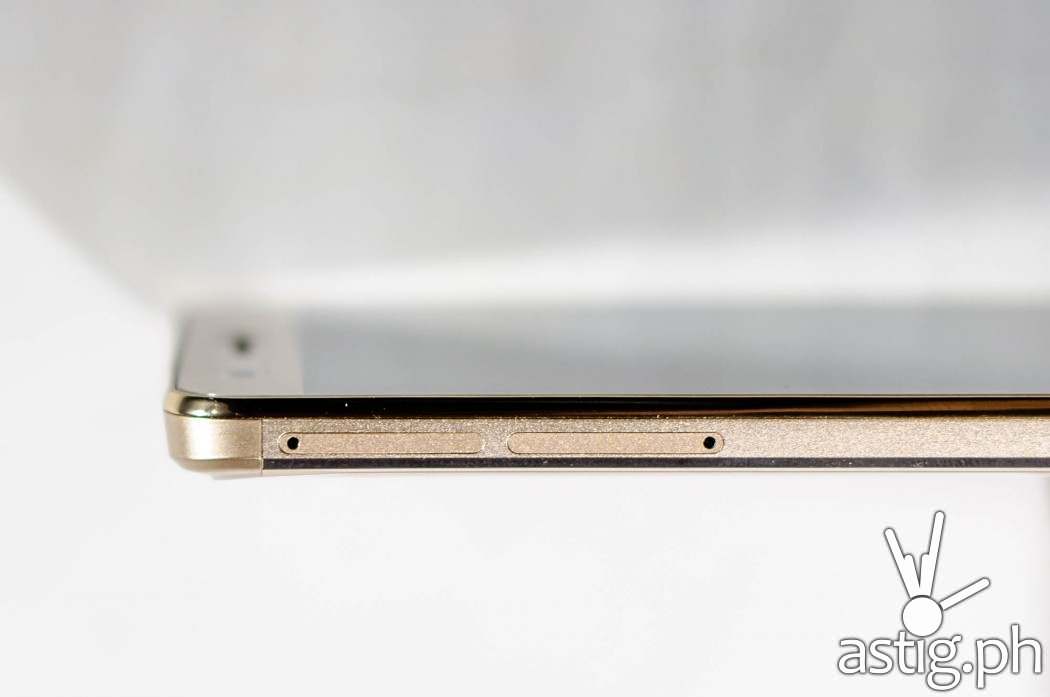 Dual SIM operation is supported via a Micro-SIM and a Nano-SIM slot. An expansion takes in up to 128GB of extra storage via MicroSD. Unfortunately, the SIM and SD card trays need to be ejected using a pin tool.
Performance
Although Huawei has its own HiSilicon Kirin chipsets, the Chinese manufacturer decided to go with Qualcomm's Snapdragon 616 SoC. The high-performance CPU cluster is underclocked at 1.5 GHz, while the power saving cluster is clocked at the 616 standard 1.2 GHz.
The GR5 only comes with 2GB of memory and 16GB of internal storage, though one variant is rumored to have 3GB of RAM. 16GB of internal storage means very little these days, especially with large applications like Facebook and 3D games hovering between 1-2GB. Thankfully, the Huawei GR5 has a dedicated MicroSD slot for heavy users.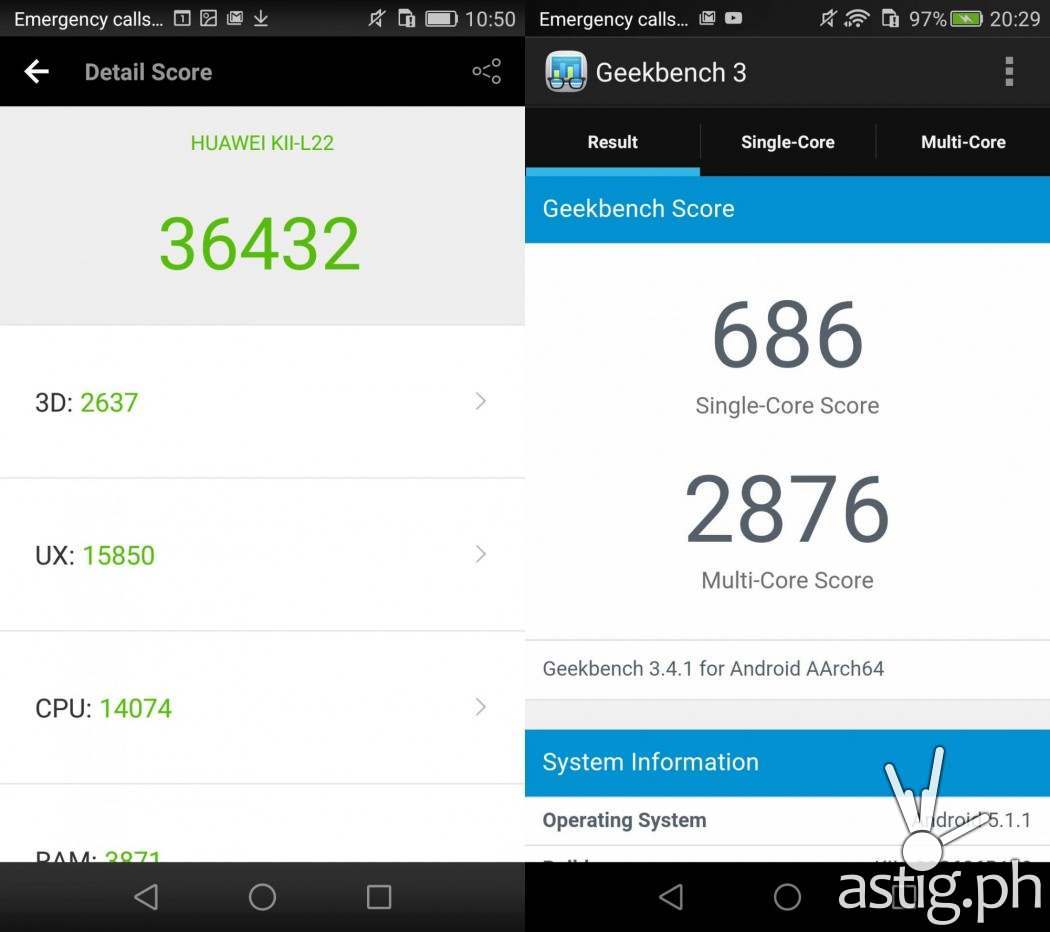 As a result, benchmark scores are a little underwhelming, topping out at only 36432 in Antutu. 3D performance is also sub-par, averaging only 31.6 FPS in Epic Citadel despite running at a reduced screen size of 1800 x 1080 pixels.
This is reflected in real world use. Though the GR5 runs the beautiful EMUI 3.1 on top of Android 5.1.1, there is noticeable on-screen stuttering, especially when running CPU and GPU-intensive applications.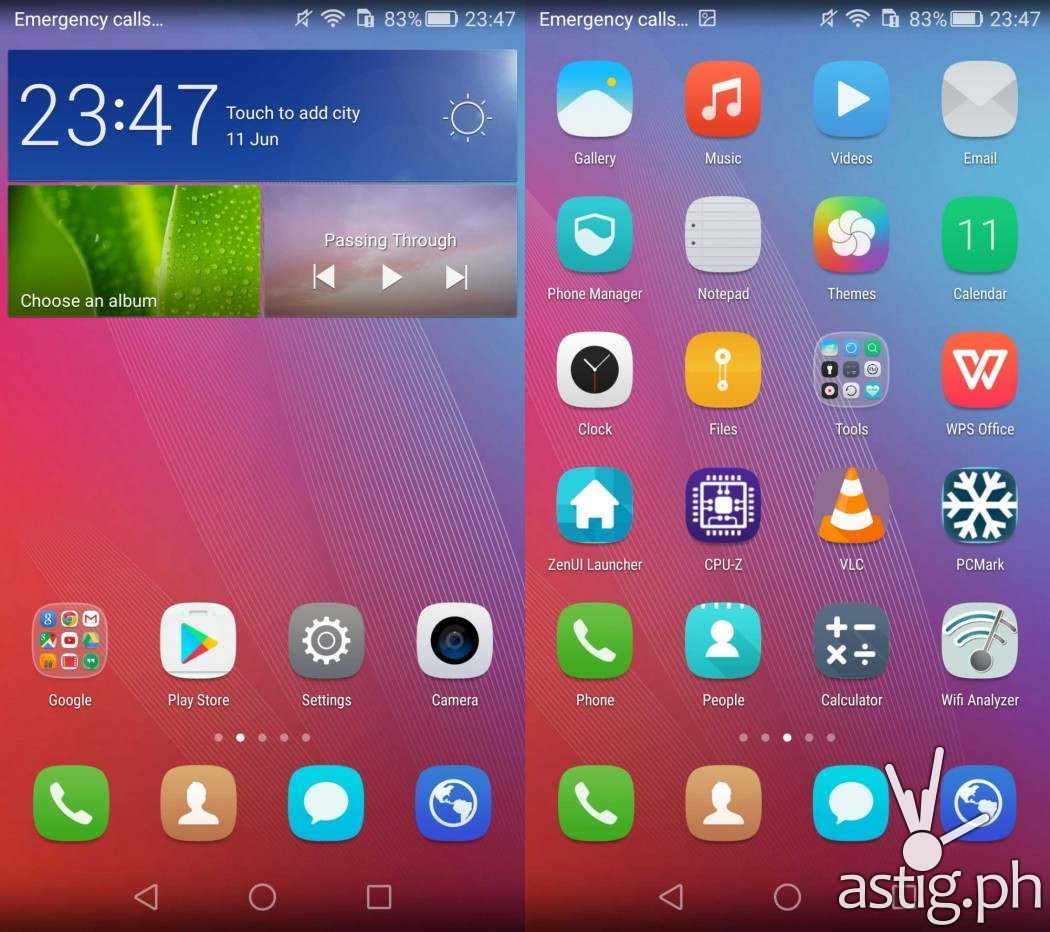 There is also visible slowness when switching between applications, or operating the camera UI.
GPS performance was good, we were able to get a good lock on Waze and Google Maps almost immediately.
Gaming
Heavy gamers will be disappointed to know that the GR5 only managed to reach 31 frames per second running Epic Citadel in Ultra High-Quality mode – and that's at a lowered resolution of 1800 x 1080 pixels.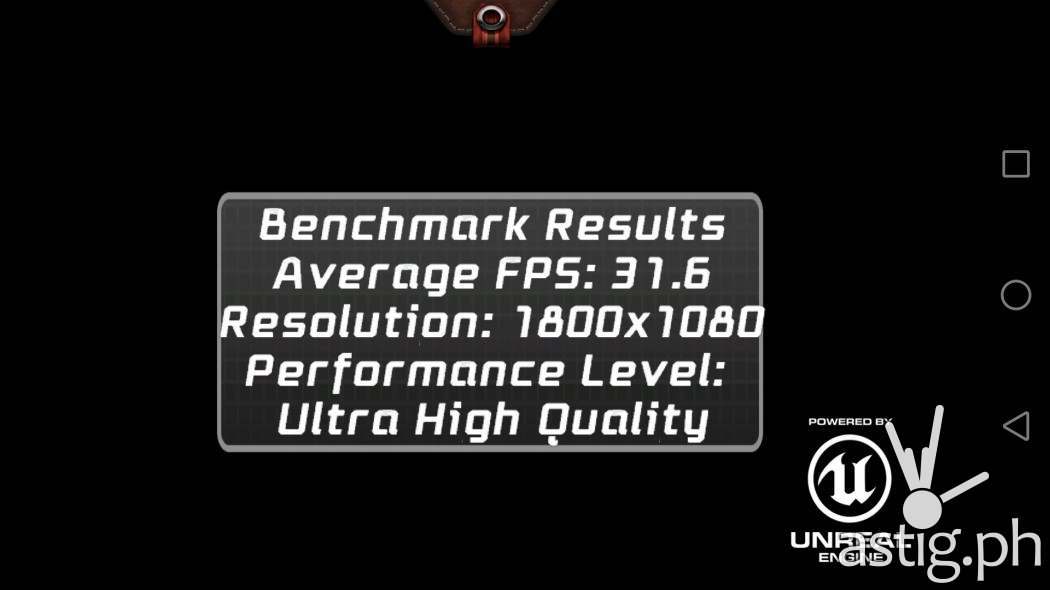 Casual gamers, however, should not be too worried as the Adreno 405 GPU can easily handle most modern 2D games without a sweat.
If you are into 3D games, don't worry – the GR5 should be able to handle them, but expect some jitter as frames get dropped in graphics-intensive scenes.
What bothers us more is the amount of time it takes to load the game. Watch the video to see how it compares against another mid-range smartphone, the Flash Plus 2.
Camera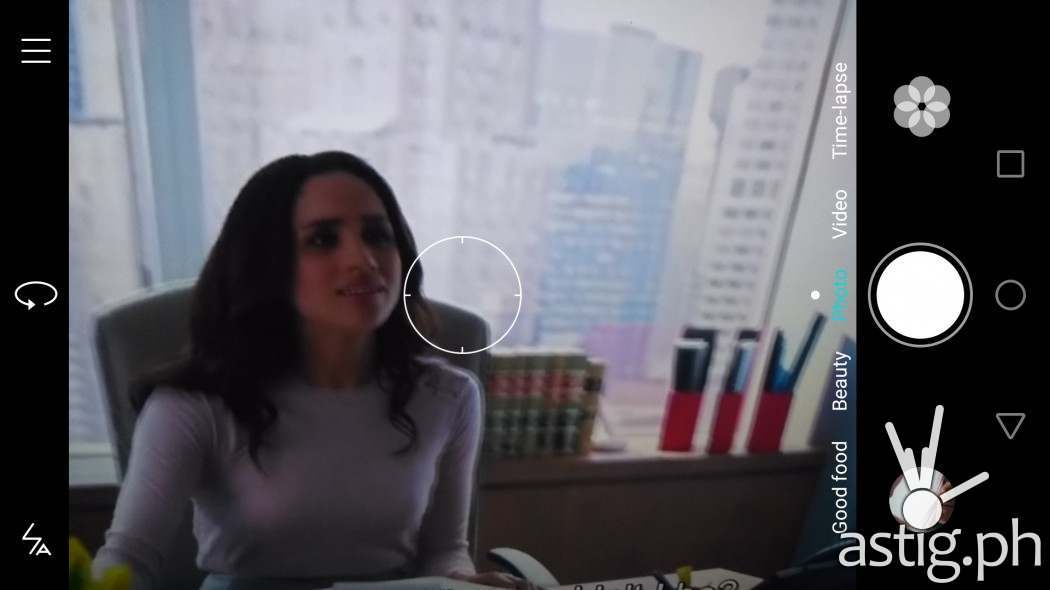 The 13MP rear camera takes decent pictures in ample lighting conditions, though there is a noticeable amount of noise even at the lowest ISO setting (ISO 100).
Focus speed is average – the GR5 relies on traditional "continuous" autofocus method which struggles in low-light situations. The lack of optical image stabilization (OIS) also means that the camera will have to compensate by upping the ISO in order to keep the pictures sharp, resulting in more noise. As a consequence, you will also need to be very still when taking HDR photos.
That said, we were impressed with the GR5's ability to focus up close, allowing us to take some really good macro shots.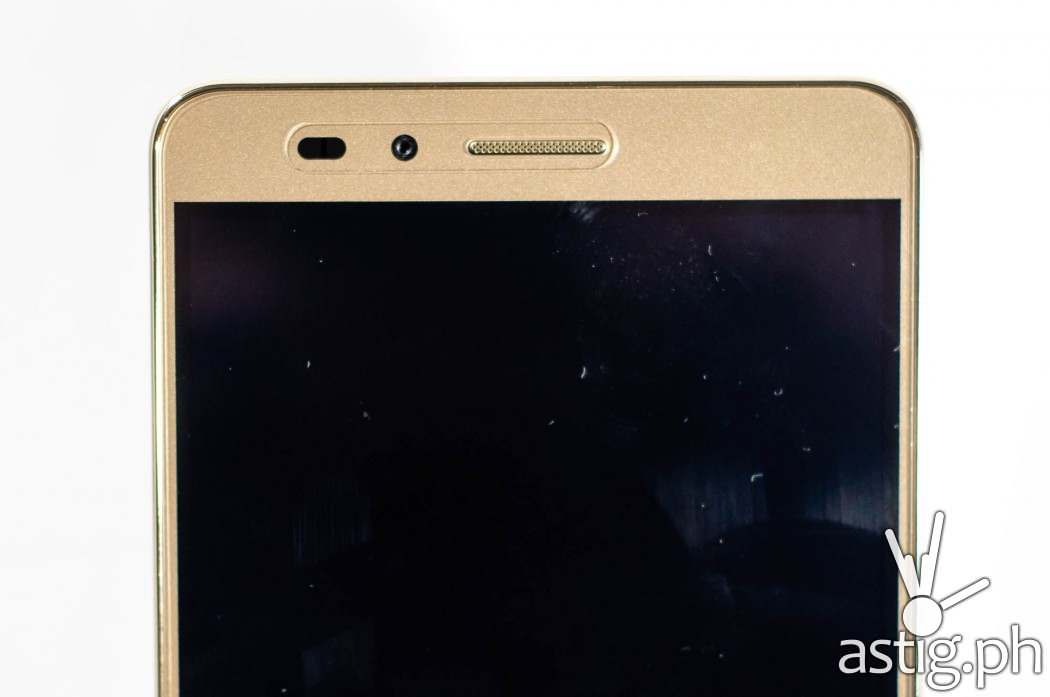 The 5MP front-facing camera takes decent wide shots with enough lighting, but the absence of a flash means blurry photos in low-light situations.
Video capture is limited to 1920 x 1080 pixels at 30 frames per second.
Huawei GR5 sample photos (unedited)
Huawei GR5 sample video (raw & unedited)
Battery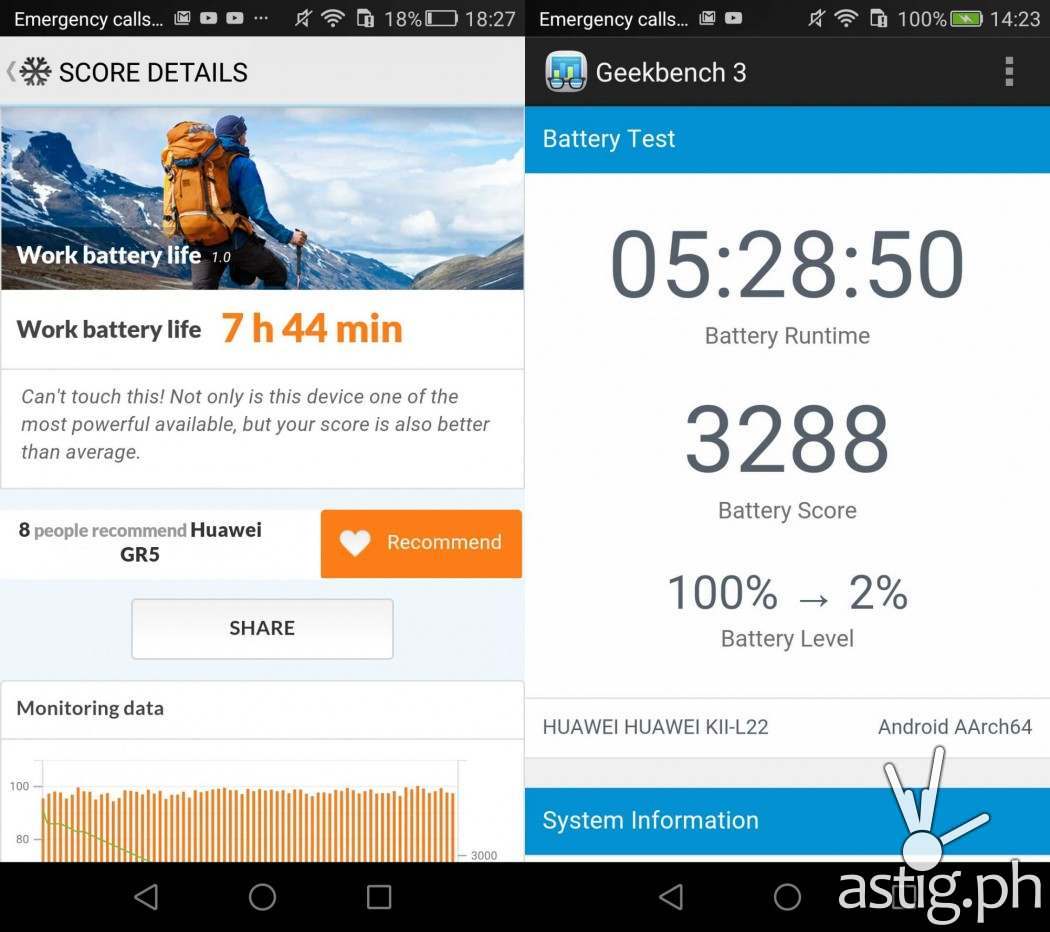 We already knew that the Snapdragon 616 is power efficient, but we were still surprised by how long the GR5 could last on a single charge. We managed to hit 7 hours and 44 minutes in PCMark (no SIM), which is so much more than we expected considering it only has a 3000 mAh battery.
It also helps that Snapdragon 616 supports Quick Charge 2.0, meaning the battery fills up longer should the need arise.
Verdict
Huawei GR5 is a good looking mid-range device that could have easily thrown its competitors out of the water, especially considering its amazing battery life. On the flip side, power gamers may have second thoughts given its average 3D performance, while those looking to upgrade their camera phones should not expect anything extraordinary.
Price & Availability
The Huawei GR5 is currently available at Globe Postaid Plan 999. This includes unlimited calls and texts to Globe / TM and 3GB of mobile Internet use every month.
Huawei GR5 specs
Dimensions
151.3mm x 76.3mm x 8.15mm
Weight
158 g
Display
5.5 inches @ 1920 x 1080 pixels
SIM
Micro-SIM + Nano-SIM (dual SIM)
OS
Android 5.1.1 (Lollipop), upgrade-able to Marshmallow
Chipset
Qualcomm Snapdragon 615
CPU
Quad-core 1.2 GHz Cortex-A53 & Quad-core 1.5 GHz Cortex-A53
GPU
Adreno 405
Memory
2GB RAM + 16 GB ROM
Expansion
microSD, up to 128 GB
Camera
13 MP rear (f/2.0), 5 MP (f/2.4) front
Battery
3000 mAh Li-Ion non-removable
Features
fingerprint sensor
Colors
white, black, gold
GPS
A-GPS, GLONASS
Price
Php 11,699 / free on Globe Plan 999
Availability
Antutu
36432 (overall), 2637 (3D), 15850 (UX), 14074 (CPU), 3871 (RAM)
Epic Citadel
31.6 FPS @ 1800 x 1080 (Ultra High Quality)
3DMark
142 (sling shot)
PCMark Battery
9h 33m
Geekbench 3 battery
5:28:50 (runtime) / 3288 (score)
Geekbench 3 performance
686 (single-core) / 2875 (multi-core)