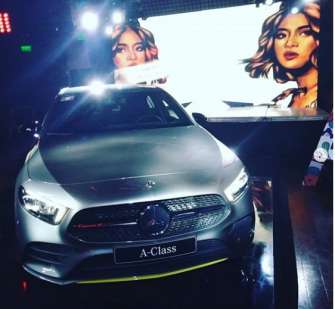 Last year I witnessed the "Grow Up" campaign of Mercedes, last Thursday November 22 at House Manila it was called "Just like you" As it reflects the human innovation that you can open with the use of  your smart phone.  When its hot inside you can control it via voice over just say its hot and it will adjust its temperature. If you did crazy nasty things inside your car, Its so easy to talk, and that's so sexy right?
Because talking is so natural, you can even simple say I wanna in touch with my mom or dad and it will automatically call your mom while you keep eyes on the road.  It can even brake when it needs to, to avoid unwanted collision and that's so smart. It can even find you a parking spot, you can even command Merc to play you some hiphop to feel that your just beside Nicki Minaj, Maroon5, Chainsmoker or Bruno Mars maybe.
Also have a feature that can let you see traffic so you can avoid  a heavy traffic flow block ahead. The latest thing about it is that it has a 10.25 inch screen on the center console that controls the steering wheel. A virtual assistant that control you music, climate, lighting and destination input. So say hi Merc! I want to do this some of these Merc tricks while in Edsa.  But I don't wanna mistakenly apprehended by MMDA for bringing a customized ipad on its cockpit dash. Just like the Model 3  viral accident last September.
The A New Class can also remember your favorite seat settings. Because it can remember your favorite seat on your profile via touchscreen and restore the way you like to lean.  Highlighting the cool Mercedes-Benz User Experience millennial super cool new generation of intelligent driving.
The 1.3L, 7 speed that deliver 163 horses and 250Nm torque. Cost starts from 2.49 – 3.29M distributed by Autonation Group. Its not for everybody, Inspired by a father works 3 jobs to support his cager son that works even harder to gain 5 time world champion victory and utmost respect. I wanna be like, Just like you, Just like my Fav Merc f1 Driver and 5 time world Champ LH.