On the Wings of Love stars James Reid and Nadine Lustre popularly known as  JaDine had officially announced in their first major concert dubbed as "JaDineinLoveConcert" that they are officially couple since February 11.
In an exclusive interview of MJ Filipe, he asked James on why he announced it during the concert, the actor sweetly responded "I said it coz I really love her." Nadine meanwhile, replied with "I love you too."
Interview moment:
James: I said it coz I really love her.
Nadine: I love you too.
Me: Speechless.

— MJ Felipe (@mjfelipe) February 20, 2016
MJ tweeted that the announcement was planned to schedule in the finale viewing party but James suddenly announced it to their surprised.
The announcement talaga was the finale viewing party. James' personal announcement was unplanned. He requested to turn off he music.

— MJ Felipe (@mjfelipe) February 20, 2016
The two has been linked since they started their primetime hit OTWOL in ABS-CBN.
Their admission trended on the #1 spot in Twitter on a Saturday night.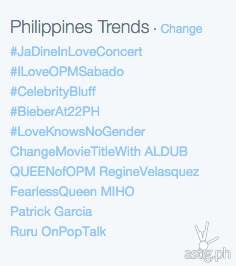 The Araneta show, their first major concert, was held in connection to "On The Wings of Love," James and Nadine's ABS-CBN primetime series which is set to air its finale next week.
But while the official admission of their real status happened during the show, James had admitted his love for Nadine prior to the Araneta concert.
In an article titled "Team Real" which appeared on the Supreme section of the Philippine STAR on Saturday, the 22-year-old hinted on his relationship with Nadine.
In the article, writer Irish ​Christianne Dizon said she asked James and Nadine their official status in an interview on the sidelines of their rehearsal for "JaDine in Love."
"She's my best friend," James is quoted as to saying.
He added:  "Actually, she's more than just my best friend. She's my partner."
When asked what song from their concert set list could describe his relationship with Nadine now, James answered, "I'm gonna have to go with 'Love Never Felt So Good'."
Later, when asked again for the "real score," James said: "Why do you think is the concert called JaDine In Love?"
An excerpt from the article "Team Real" written by Irish Dizon for Supreme:
Time check: 10 pm. James needs to go home, while Nadine stays behind to continue practice. This is our final chance to make him crack. "James, what's the real score?"
He says nothing and just keeps walking. It's over, I tell myself. I'm going home empty-handed. And then, he stops abruptly, spins, and asks, "Why do you think is the concert called JaDine In Love?" And off he went, leaving me with my jaw on the floor.
James and Nadine first shot to fame as a love team when they starred in the movie "Ang Diary ng Panget" in 2014.
Fans of the love team have long been clamoring for the two to take their relationship from reel to real, but James and Nadine, in previous interview, were adamant in saying that, while they're not closing doors, they want to focus on work.
Here are some of "cheesy" scenes in their first major concert
https://twitter.com/SAManthababoy/status/701058583870373888
I CANNOT "@CosmeAurea: I… Love You! – James to Nadine ???❤❤❤??? @JayeHanash @hellobangsie #JaDineInLoveConcert pic.twitter.com/XqHzcGUaKf"

— ネコ (@janethangelika) February 20, 2016
"Nadine, I….love you."

-James

*Don't mind the squealing in the background*#JaDineInLoveConcert pic.twitter.com/l8e6OdXSTB

— Paul Angelo (@iPaulAngelo) February 20, 2016
TWERK IT LIKE VICEY @vicegandako #JaDineInLoveConcert pic.twitter.com/tbCCx3EVFr

— ㅤ (@vicecycle) February 20, 2016
Twerk it like miley ??? @SuperElmo @JayeHanash #JaDineInLoveConcert pic.twitter.com/SCiKWFJzWI

— R.h.e.a.C.o.s.m.e (@CosmeAurea) February 20, 2016
James singing Love Yourself #JaDineInLoveConcert pic.twitter.com/kLUnBMXyzL

— Paul Angelo (@iPaulAngelo) February 20, 2016