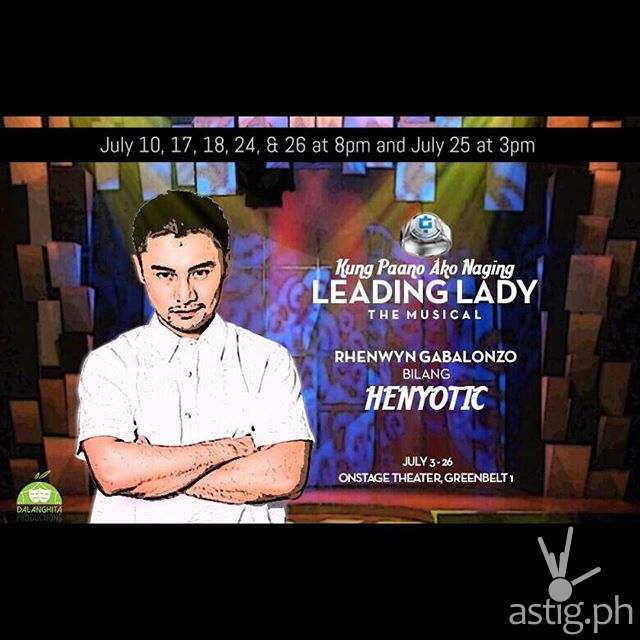 The ongoing original Pinoy musical Kung Paano Ako Naging Leading Lady has produced great catchy songs and memorable moments onstage. But aside from these, the cast is also a gathering of multi-talented individuals who have been in this business for a good number of years. Their crafts are their perfection.
I would like to zero in a character in the musical, the creator of Chemical Q — Henyotic, alternately portrayed by Mikoy Morales and Rhenwyn Gabalonzo. The latter is also part of the power ensemble since its original run in May.
Let's focus the spotlight and get to know more about 32 year old Rhenz aka Rhenwyn Gabalonzo, shall we?
1) How did you start in theatre? What's your first production group?
I started in college with UA&P Kultura. Most of my productions were under Tinette Villanueva-Miciano and Christian Vallez, my first acting mentors. I have also been singing in the choir since 2000 with the UA&P Chorale and, eventually, with Novo Concertante Manila under Prof. Arwin Tan
 2) Your first ever stage work or appearance and what role?
Ang Mga Kahin by Rolando Tinio in 2003.
3) Who are your theatre idols whether foreign or local and why?
Leo Norbert Butz because he is a very dynamic performer with a very distinct singing voice, a baritone like myself. I also idolize Norm Lewis.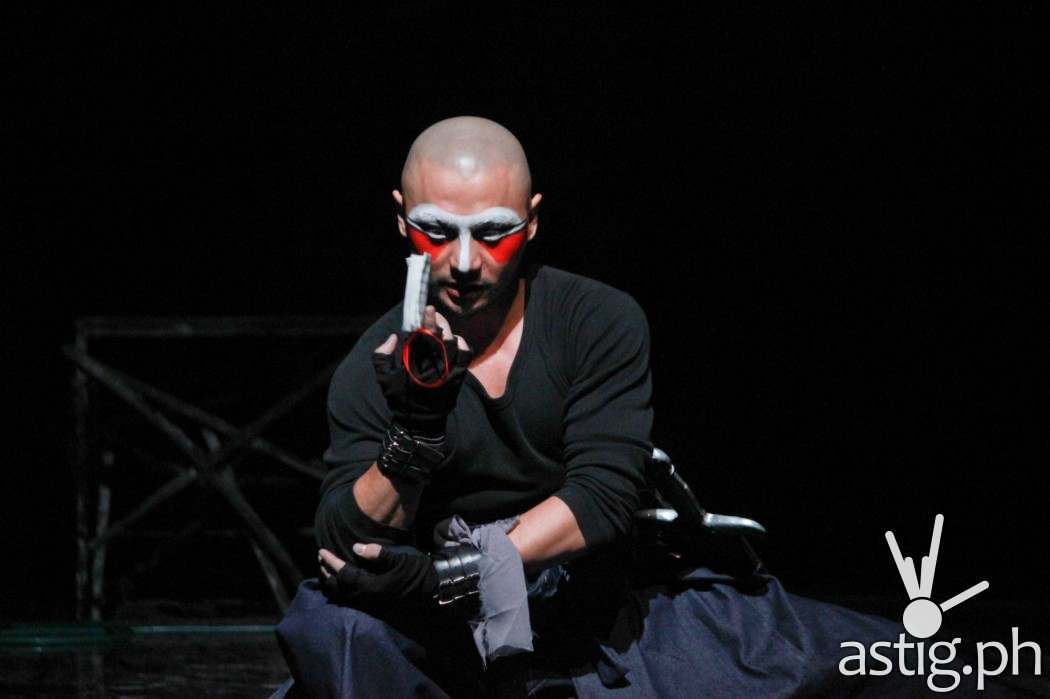 4) How did you encounter the Leading Lady project? Auditions or handpicked?
Auditioned. Everyone in the original cast had to audition.
5) Any similarities of Henyotic character with your actual personality?
Henyotic is actually a hidden persona in me. I am a self-confessed geek, having graduated from a science high school and being a merit scholar in college.
6) Your Top 5 fave songs in Leading Lady?
My favorites are Kayumanggilas are Ako Si Leading Lady, followed by Umayos Ka, Sa Puso Ko Ay Iisa, and Chemical Q.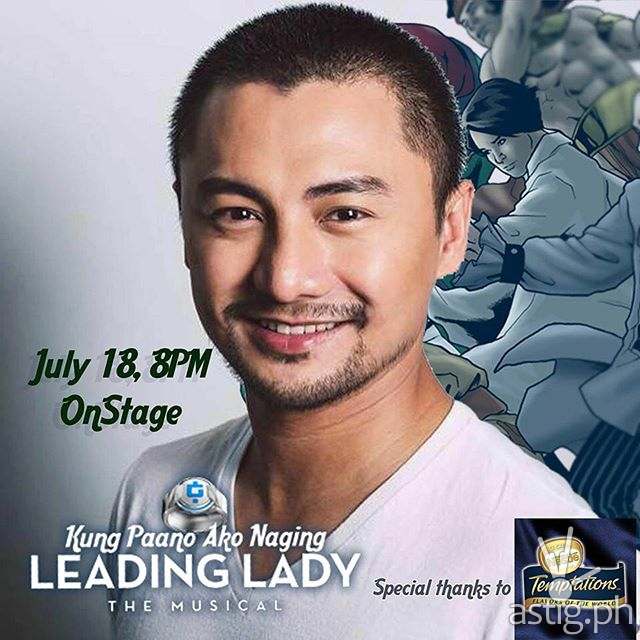 7) How do you keep Henyotic interesting in every show?
My Henyotic comes from my childhood days as a bullied high school kid.
8) Are you and alternate Mikoy Morales good friends? How do you find his version?
Yes, Mikoy is like a little brother. We actually discussed the character before this run. This has been a very collaborative experience for me.
9) Why did Leading Lady become this successful? Contributing factors?
I guess it's the collective energy of the cast. "Laban Lang" is our motto.
10) What's next for you after Leading Lady? New plays?
PETA's NoliFili as Basilio and hopefully another musical and a film.
!I also do commercials, voice-overs and hosting outside of theater.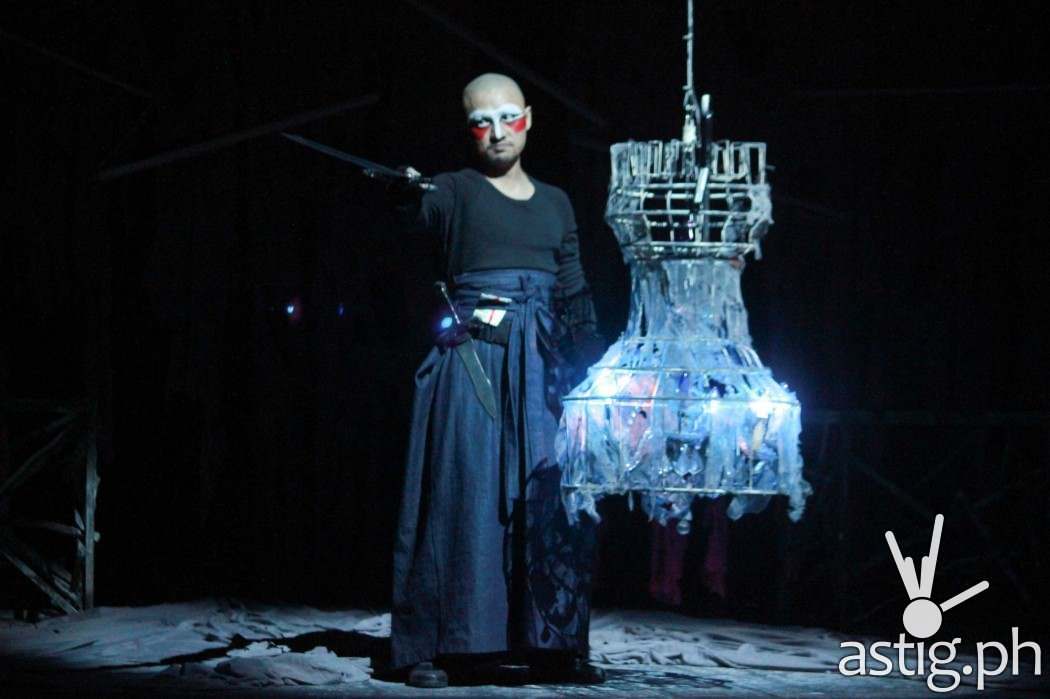 11) How do spend free days outside theatre? What's your family /friends reaction to your role?
I'm an entrepreneur and freelance graphic artist and process improvement consultant on the side.
My parents haven't seen me yet perform for this because they're in the province.
12) Any close friends within the cast? How do you guys bond?
We're like a family, so we're all generally close to each other. They call me Tito Rhenz.
Yes Tito! For some of the cast members I am more than a decade older. But, also, because I make tito jokes daw. Haha!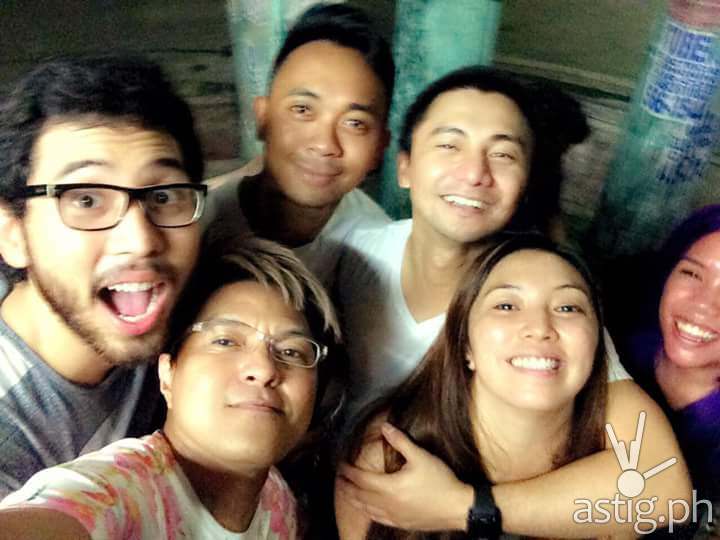 13) what's your best takeaway from Leading Lady? Any new stuff learned?
I quit my job because of Leading Lady. It inspired me to do more and reaffirmed my passion for the performing arts. I really love this job.
14) Any pointers you learned from direk Chris Martinez?
I don't see myself as a funny person, in general, so I just take my cue from Direk, especially for the big Henyotic song.
15),What did you think of the Henyotic -Viva duet btw?
It's a good replacement song, too, because it now became a conversation and there was a clear indication of Henyotic's plan. He was key to the defeat of fuerza and the death of the kayumanggilas, with whom he was no longer seeing eye-to-eye.
The song also propelled the story further. So it was a good contribution to the story line.
16) speaking of superheroes sino mga idols MO in general? Marvel / DC
Andamii! I grew up loving astroboy and the thundercats. But also love Deadpool and green lantern
 17) Speaking of astig, who are the local stage actors we have you look up to?
Noni Buencamino is a favorite as well as Audie Gemora.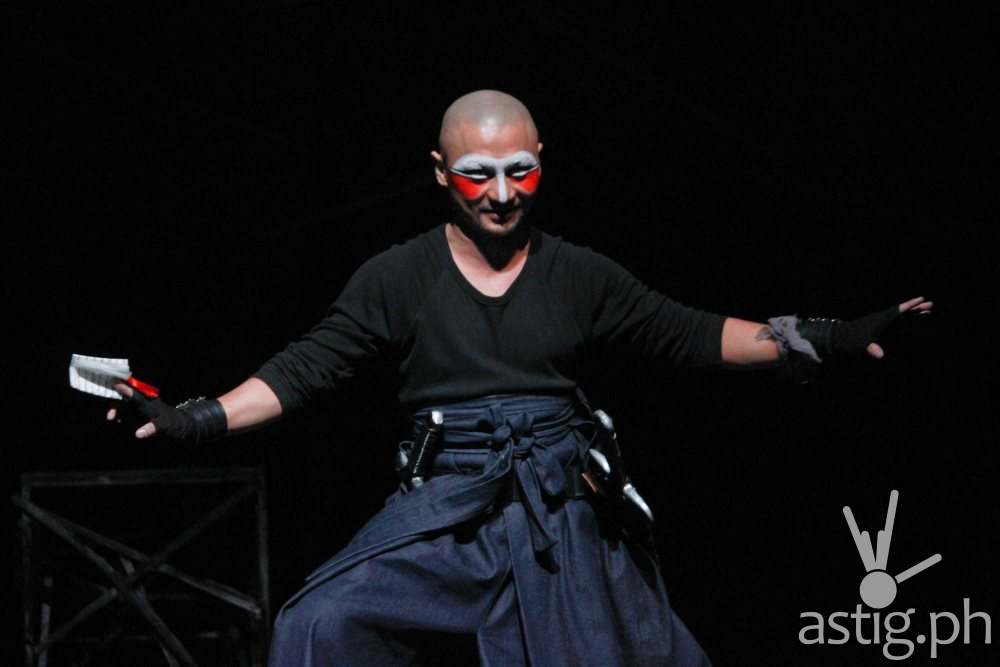 18) What's your ultimate dream role onstage? Why?
Jamie in The Last Five Years, because that role is such a great challenge. It's hard to top!
And there you go!
So the next time you spot on Rhenz onstage or inside the mall, approach him and ask for a selfie and chances are, he won;t refuse because we mentioned so, haha!
Many thanks Rhenwyn for sharing your time and talent, Good luck on your upcoming projects. We shall be on the look out!
Catch Rhenz in the remaining shows of Kung Paano Ako Naging Leading Lady at Onstage, Greenbelt 1 on the following dates:
July 25 —  3PM and 8PM
July 26 — 3PM and 8PM (closing show)
Photo Credit: KPANLL Facebook page, Instagram, Jude Bautista and Vince de Jesus. Many thanks po!