LD Systems' Roadjack 10 is a battery-powered, portable PA (public address) speaker system. It is a 2-way speaker system with a rugged housing and a built-in cart.
Designed mainly for live performances and events, it caught our interest when we did our feature on karaoke systems.
Apparently, it is being distributed in the Philippines by Audio-Video Solutions Corporation (AVS Corp). This is the same company that manufactures and distributes the Grand Videoke.
As such, it is currently available either as a standalone system or as a package along with the Grand Videoke.
So we went ahead and tested it for ourselves.
What makes the LD Roadjack 10 ASTIG? We give you 3 reasons.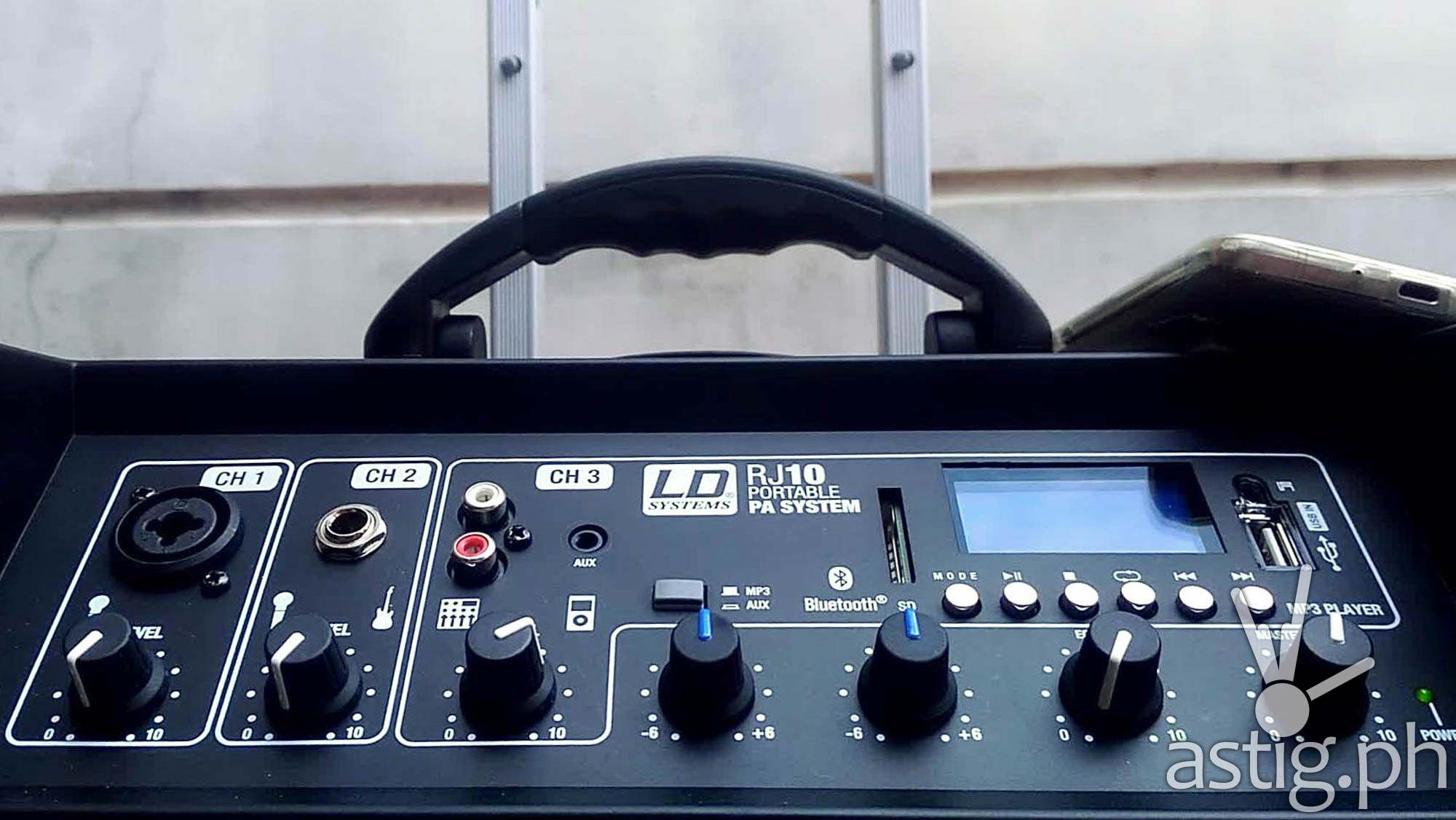 1. Loud and powerful
A decent PA system, above all else, has to be loud. At the very least, it has to be able to fill a conference room or a small restaurant with around 100 guests.
On paper, the Roadjack 10 can push up to 117 decibels.
In real life, we tested the Roadjack 10 outdoors and it was loud enough without having to raise the volume to maximum.
Indoors, we used the Roadjack 10 to play music and sing karaoke. We had to turn the volume down to avoid disturbing our neighbors, even if we were singing during the day.
A single Roadjack 10 can easily fill a medium-sized bar. It is also loud enough for use at a beach party.
2. It is portable and wireless
Boombox on wheels
At 16 kilograms, the Roadjack 10 is not something you can easily carry in your bag.
It comes with a built-in cart which will be the main method of transporting the system.
The handle is made of aluminum, while the housing is made from a combination of rubber, plastic, and some kind of metal – steel, most likely.
We had the impression that it was sturdy enough to withstand rough use. So far, it holds up pretty well.
We were concerned about the wheels giving out, so we asked AVS Corp, who assured us that these can be serviced.
In our bar scenario, solo performers should be able to pack the Roadjack 10 into the trunk of a car and wheel it onto the stage for a performance.
Run on batteries for a day
The battery on the Roadjack 10 is advertised to be able run for 20 hours.
Unless you plan to run on battery for 20 hours straight, there's more than enough juice to last you a few days without charging.
For musicians who are always on the go, the long battery life allows you to quickly set things up in any location, even in challenging venues where power outlets may be difficult to come by, like rooftops or outdoor arenas.
For speakers, this means you can easily set it up in meeting rooms and conference halls without having to worry about bringing extension cables.
For travelers, the Roadjack 10 is an excellent companion to take along with you on long trips – just dump at in the back of a van or bring one with you to the beach and start a videoke session or a rave party.
USB and Bluetooth support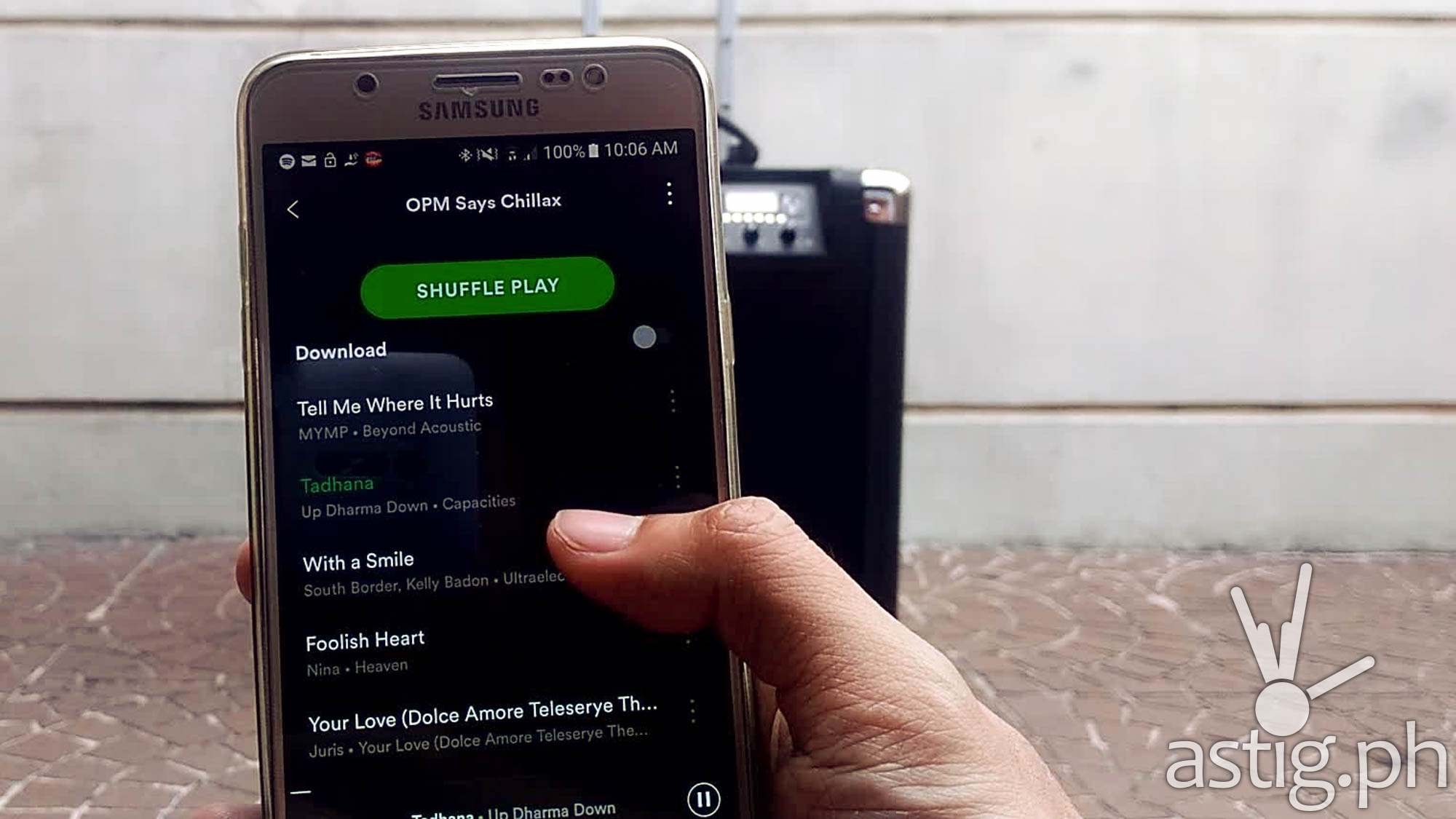 Bluetooth connectivity is provided by the Roadjack 10, making it great for wireless pairing with smartphones or music players like the iPod.
As long as you are not too concerned with latency or sound quality which most average listeners are, Bluetooth is an acceptable option to connect your player without having to fuss around with wires.
3. Above-average sound quality
Sound-wise, the Roadjack 10 is a notch above your average PA speaker system.
The 10-inch Ferrite woofer and 3-inch tweeter is not just powerful, it also has a very good dynamic range.
We were skeptical at first – the packaging is deceptively simple. One we started playing some music, we were surprised – the sound quality was really good.
The bass is punchy and the mids were clear, despite being a two-way system. High frequencies were smooth without being tinny.
You can easily connect the Roadjack 10 to your home entertainment system, augmenting or fully replacing your television's built-in speakers.
A full home theater system would still give you the best cinematic experience, but if you are on a tight budget, a single Roadjack 10 provides more than enough power for movie marathons or late-night karaoke sessions.
Price and availability
The LD Roadjack 10 is available solo for Php 19,990 or as a bundle with the Grand Videoke, a HDMI switcher, and AV cables for Php 41,389.
LD Roadjack 10 technical specifications
Dimensions: 415mm x 525mm x 328 mm
Weight: 16.2kg
RMS: 25W (peak 100W)
Frequency response: 65-18000Hz
SPL (1W/1m): 96dB (max 117dB)
Controls: CD / tape in level, mic 1 level, mic 2 level, echo low, master volume, AUX / MP3 switch, high charge / battery status, power
Supported media: Bluetooth, SD card, USB stick
Supported formats: MP3, WMA
Line inputs: 1
Line input connectors: 3.5mm jack, RCA (2)
Mic inputs: 3.5mm Jack, XLR
Rechargeable batteries: 12 V / 5 Ah
Features: extendable handle, transport handle, IR remote control, transport casters, stand mount