The young artists on coach Lea Salonga's team are the first to face the much-anticipated Battle Rounds as they get whittled down in the top-rating and Twitter-trending "The Voice Kids" this weekend (June 28 and 29).
Coach Lea already selected the groups of artists who will compete and the songs they will perform in the Battles. She will declare only one winner in each three-way clash who will advance to the next round of the competition – the Sing-Offs.
Up on the battle stage this weekend are teammates Ton-Ton vs Genmarie vs Echo with the song "May Bukas Pa"; Mariane vs Karla vs Darlene ("Firework"); Kobe vs Lorenzo vs Shanne ("Hey Soul Sister"); Giedie vs Angel vs Grace ("When You Believe"); Eufritz vs Coco vs Camille ("Love Song"); and Jimboy vs Angelique vs Rein ("Anak ng Pasig").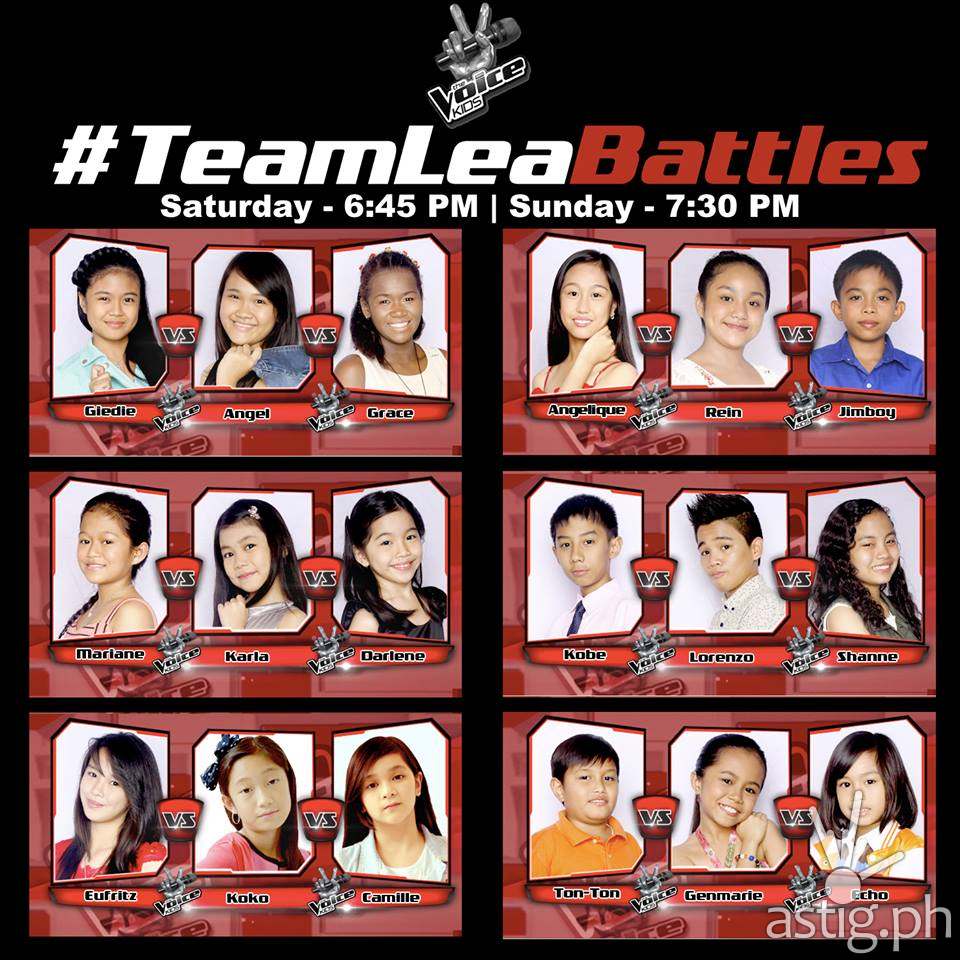 After the Battles, watch another breathtaking vocal showdown on Sunday as Team Lea's top 6 artists perform in the Sing-Offs, which will cut down the team to its Final 2 artists.
Whose dream will continue and whose dream will soon end? Which Team Lea artists will reign supreme and qualify for the Sing-Offs?
[stextbox id="astig"]Don't miss "The Voice Kids" on Saturdays, 6:45 PM and Sundays, 7:30 PM on ABS-CBN's Yes Weekend. For updates on the program, visit thevoice.abs-cbn.com, like facebook.com/thevoiceabscbn, or follow @thevoiceabscbn on Twitter and @abscbnthevoice on Instagram. Use the hashtag #TeamLeaBattles when posting your comments online about the battles.[/stextbox]