The environmentally conscious event helps mall guests adapt a more responsible lifestyle
Renowned conservationist Jane Goodall said it best, "When hundreds, thousands, millions, and hopefully billions of us make ethical choices then we start moving toward a better world." Climate change has indeed altered mankind's way of life as glaciers continue to melt faster than previously thought and billions of tons of plastic have reached the oceans and disrupted marine life—all caused by human activities. Being more responsible and conscious about one's consuming habits is turning out to be an important action to slow down the effects of climate change.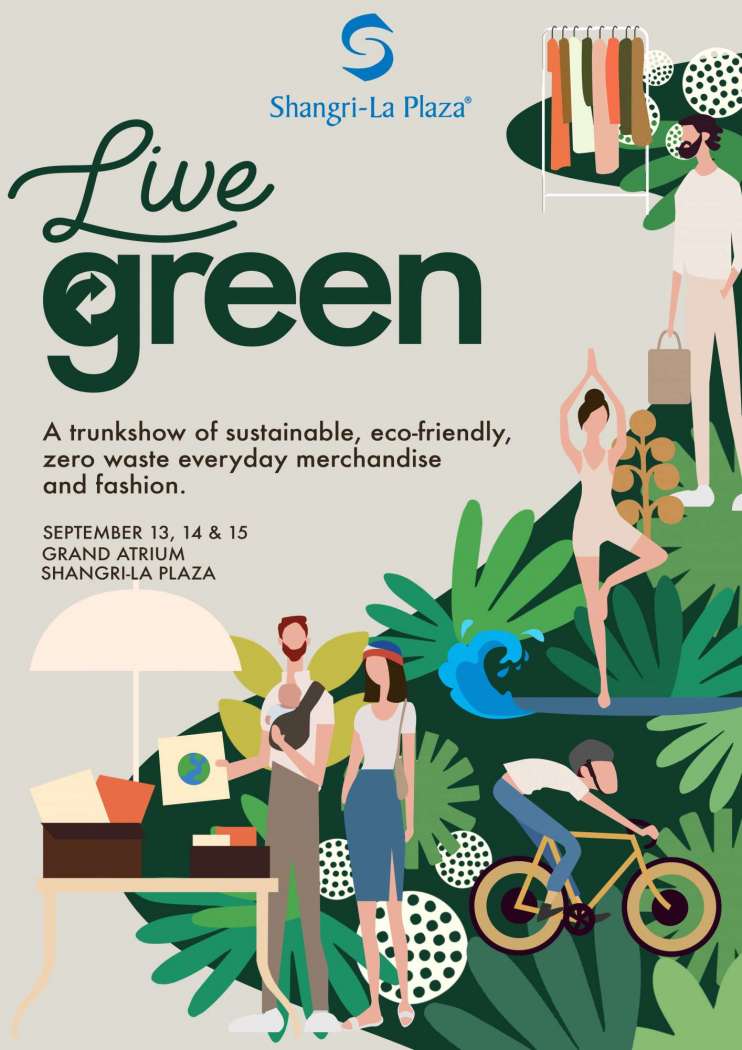 That's why Shangri-La Plaza is hosting Live Green, an eco-friendly initiative from September 13 to 15 at the Grand Atrium. Offering people the chance to make ethical choices, the event brings together experts on green living to share their knowledge to mall guests.
A bazaar featuring sustainable and zero-waste local brands also takes place, while healthy food choices with vegan-friendly, gluten-free, and organic options are available for the complete green experience. Shangri-La Plaza brings together some of the most inspiring environmental advocates to share their insights on sustainability.
Catch the following speakers on Friday, September 13 at 1:30-5:30PM:
• 1:30PM – The program kickstarts with a talk from Greenpeace, an organization that has worked to champion renewable energy, combat illegal fishing, and campaign for clean seas.
• 2:30PM – Editha C. Santiago, president of KILUS Foundation Environmental Multi-Purpose Cooperative, gives a talk on her work and how she came up with the idea of making bags out of recycled juice packs.
• 3:00PM – Upcycle Philippines founder Adavieve Mella starts a discussion and gives a demo on upcrafting, a creative way to recycle one's old belongings.
• 4:30PM – Ej Sulit, a robot enthusiast, shares about how he creates robots from scrap materials.
• 5:30PM – Elemento, a band founded by avant-garde sound artist Lirio Salvador, presents a demo of ethno-industrial sounds using a series of metal sound sculptures created from scraps of junk metal.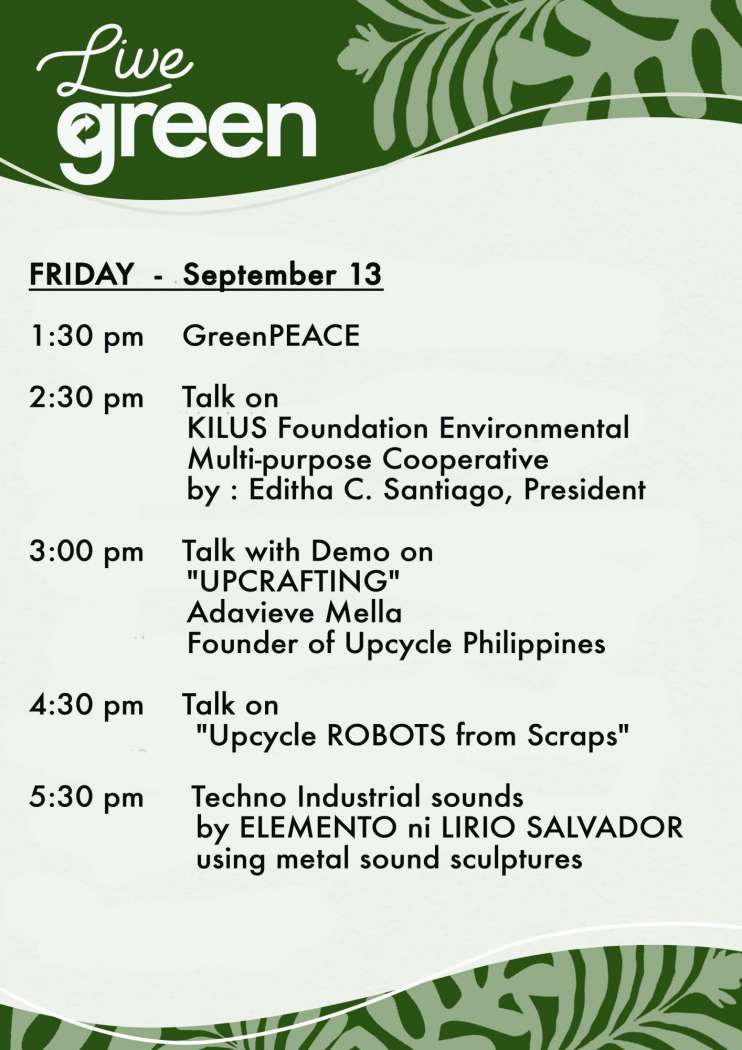 The conversation on eco-friendly practices continues Saturday, September 14 at 2:00-5:30PM:
• 2:00PM – Tomas Graham, co-founder of Make A Difference (MAD) Travel, and the author of The Genius of the Poor, shares his journey towards the social travel platform.
• 3:00PM – Zero-waste advocate Mitchie Jimenez offers people pointers on zero-waste living, sharing her favorite all-natural cleaning solutions and environment-friendly kitchen cleaning products.
• 4:00PM – Bogs Castro of agroecological farming and training center Bukid ni Bogs talks about how making handmade organic bath soaps has helped him become more environmentally responsible.
• 5:30PM – Elemento returns for another round of demo of ethno-industrial sounds using metal scraps.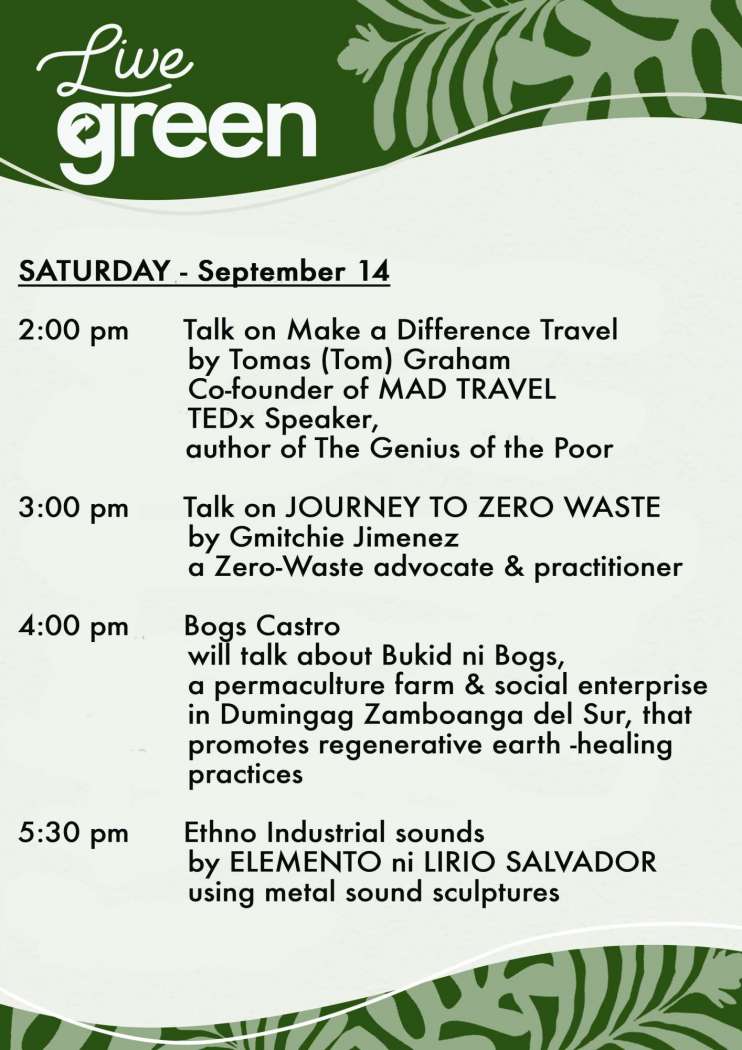 Finally, Live Green wraps up the fair with another impressive roster of speakers on Sunday, September 15 at 2:00-6:00 PM:
• 2:00PM – Fashion designer Dita Sandico Ong takes mall guests through the sustainable work practices at her atelier, from her zero-waste policy to her alternative fabric methods.
• 3:00PM – Sound healer and musician Yeyette San Luis introduces people to her unique line of work, using music as a spiritual healing device.
• 4:00PM – Elemento gives a final demo of how metal scraps have been used to produce ethno-industrial sounds.
• 6:00PM – Greenspace closes Live Green to explain the importance of composting.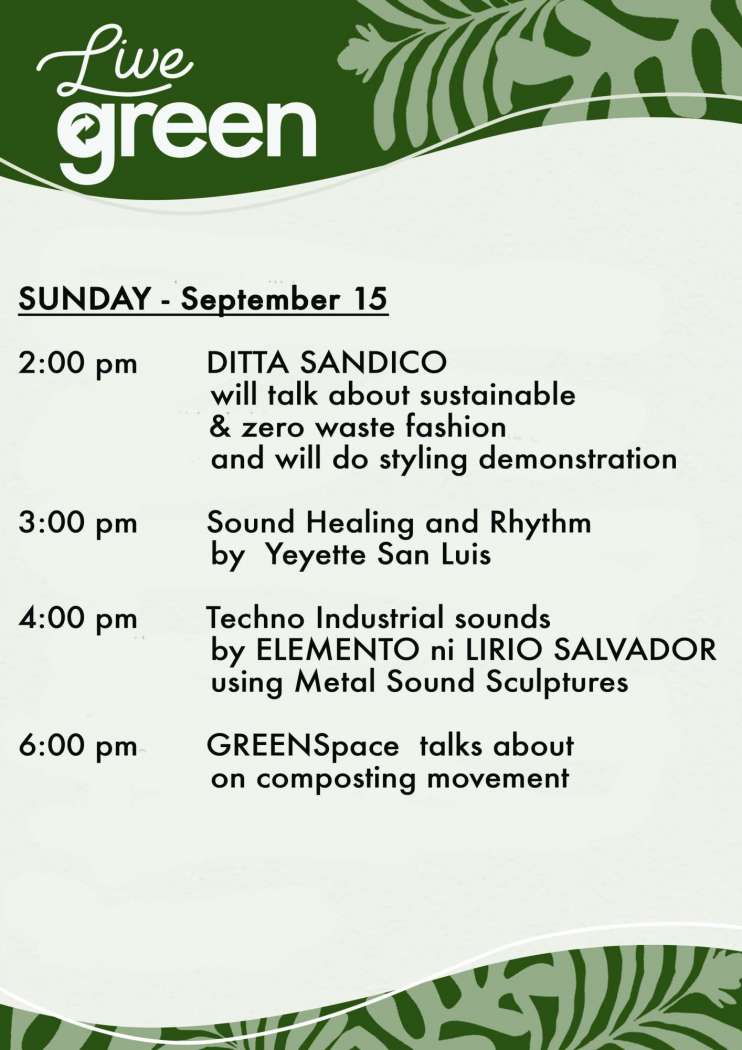 With several topics and brands to explore, mall guests have endless ways to #LiveGreenAtTheShang and adapt a greener approach in their everyday life. #FeelTheShangVibe with Live Green, a fun, interactive way of learning about how to be more eco-conscious and contribute in protecting the planet.
For inquiries, call 370-2500 loc. 597 or visit www.facebook.com/shangrilaplazaofficialfanpage. Follow the Shang on Instagram: @shangrilaplazaofficial.