When the Lenovo Yoga Slim 7 came out in the Philippines late last year, we were stoked: The Yoga Series has always been the pinnacle of Lenovo's product design, offering the best portability possible for Windows-powered devices. This time, consumers are getting a "Pro" version running on the beefy AMD Ryzen processor but not only that: it packs a 2.8K OLED display, a discrete graphics card (GPU), and a 95W power adapter!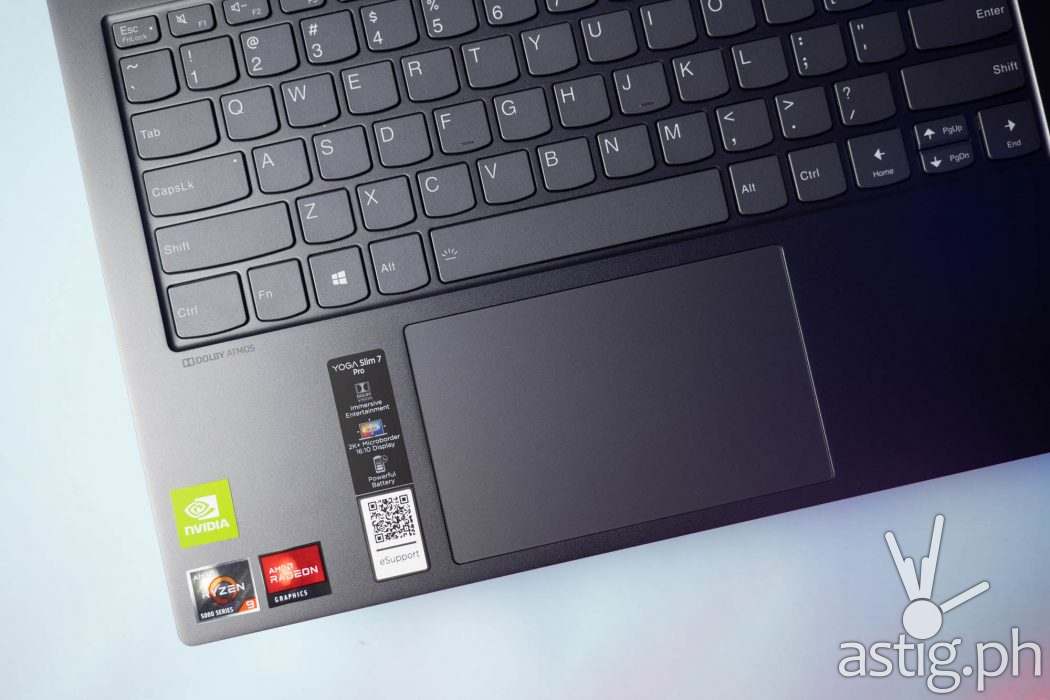 That's portability, power, and display accuracy in a single device which is just about everything that content creators like us would ever want from a mobile workstation. We need a crazy amount of processing power to edit those RAW photos and render those videos, so being able to do that anywhere we want can be a liberating experience.
Head over to the TechKuya tech review channel on YouTube to watch our Lenovo Yoga Slim 7 Pro video review, or continue reading for a detailed breakdown.
Design and portability
The Yoga product line has always pushed the limits of portability, and the Slim 7 Pro is no exception, weighing only 1.4 kilos or about 10-12 bananas – cavendish, of course.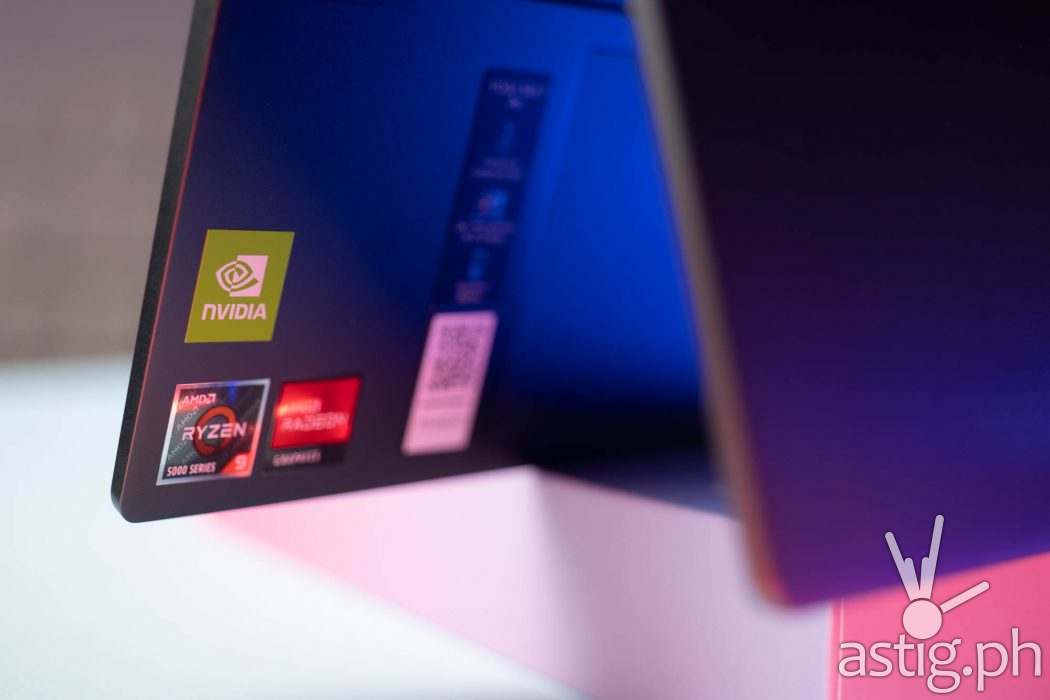 Weight is just one factor, but what really sells the experience is its compact design. At its thinnest, the device is just 14.9cm! Most phones are around 7-8mm thin, so can you imagine having two phones with a 14-inch screen squeezed together? How about two iPads?
Despite its size, the product designers still managed to pack two USB-C ports, a USB-A port, and a 3.5mm audio jack. That's about all one could ever ask from a Windows laptop … almost. If we're being honest, one of the USB-C ports could have supported Thunderbolt, and it would be perfect.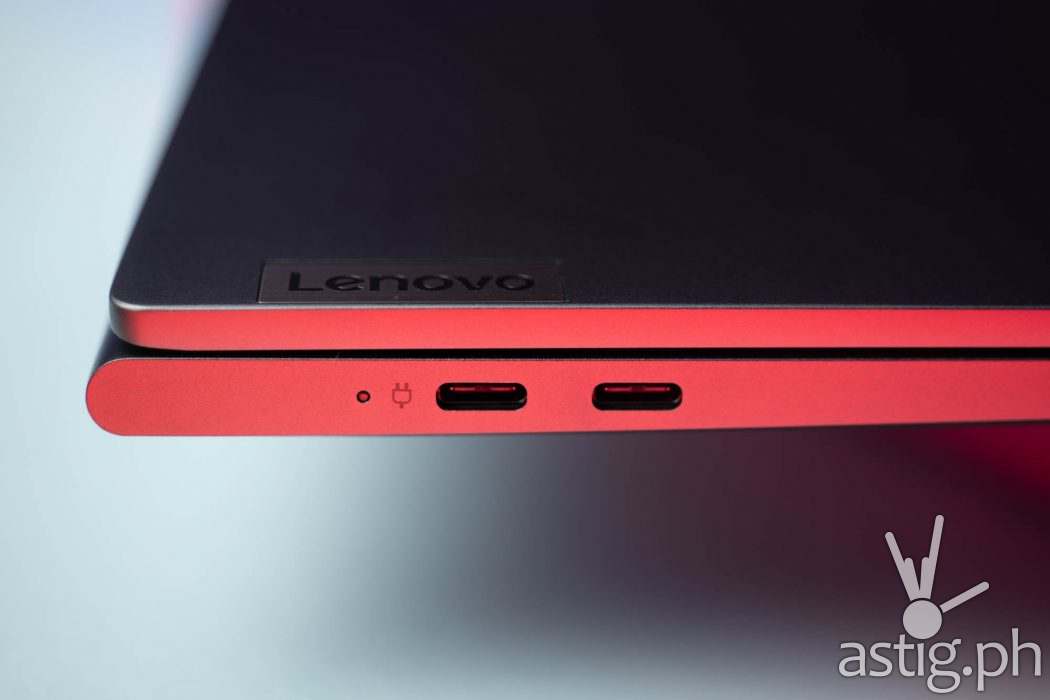 There are no external video ports like HDMI or DVI, but we're good without it. We have a dock from the Lenovo ThinkPad, and that was enough for us connect the Yoga Slim 7 Pro to two external monitors, a full mechanical keyboard, and a mouse.
By the way, unlike other iterations of the Lenovo Yoga Series, the Pro does not have the ability to bend backwards into a "tent".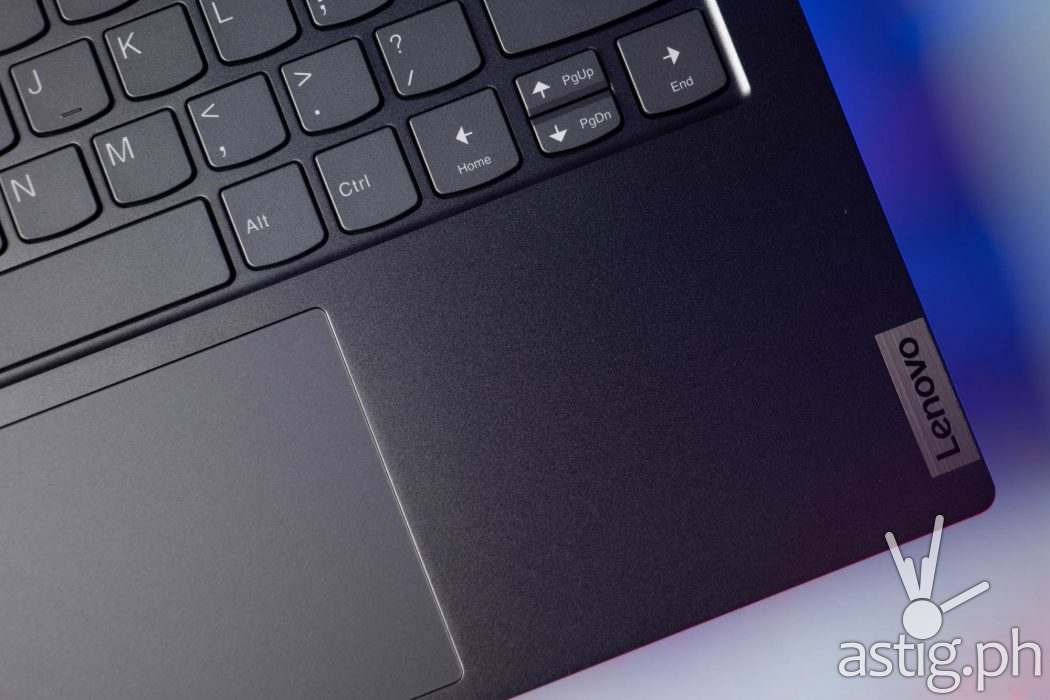 Input devices include a multitouch trackpad and a backlit keyboard which is good, but icing on the cake? There are three light modes – low, medium, and auto which you can control through a function key combination on the keyboard.
Display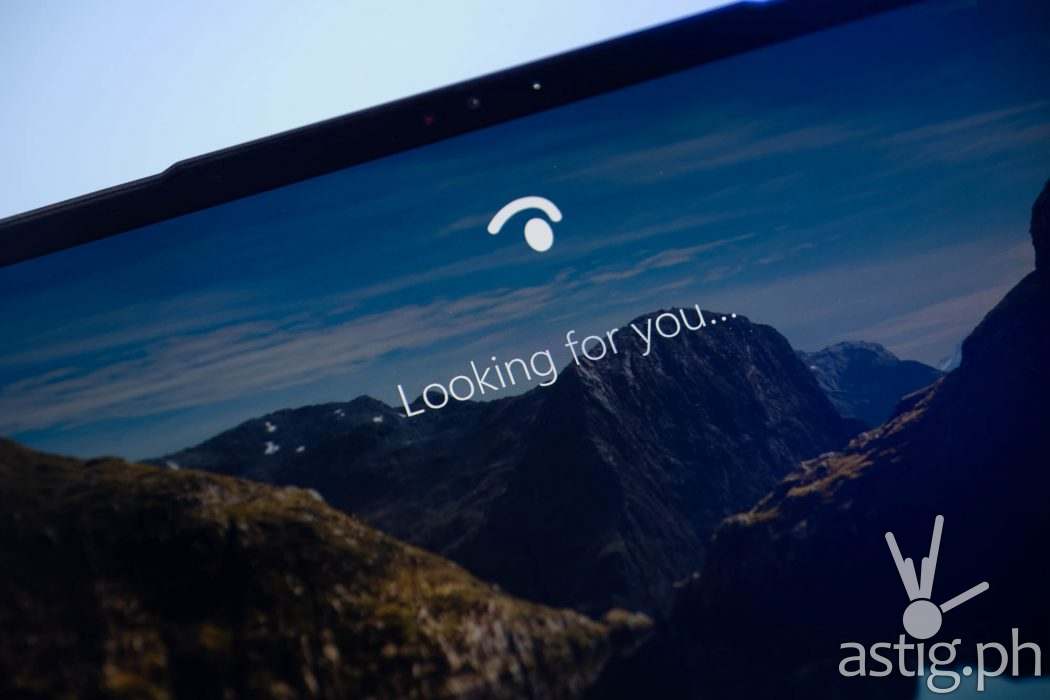 The 14-inch display does not support touch input, and we're good. It would have been a nice "touch" (wink wink), but it's not a necessity, especially on a productivity device which might be used for creative work. We like keeping our displays smudge free, thank you.
Being a productivity device, OLED is a must here and boy, this display panel is bomb! 400 nits is not that high compared to more advanced OLED panels, but is good enough and it does support HDR which is great for watching one of the 10 shows on Netflix that support it.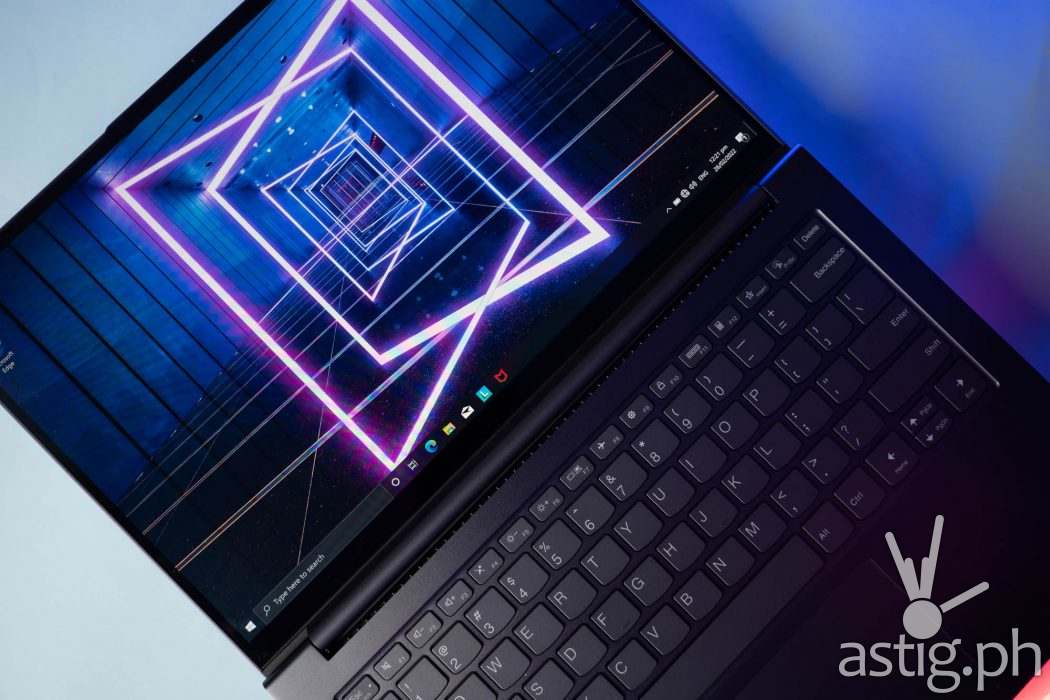 We're kidding of course, but that 2.8K resolution is key for content creation. You know how it is with apps like Photoshop, Premiere, and Resolve and having all 10,000 panels open at the same time – it's a madness that can only be solved with multiple monitors or, barring that: higher resolutions.
90Hz is not a lot for gaming, but it's higher than the standard 60 – it's better than nothing, and it adds a bit of fluidity, but unlike smartphones it's not a huge selling point on a laptop.
Productivity and benchmarks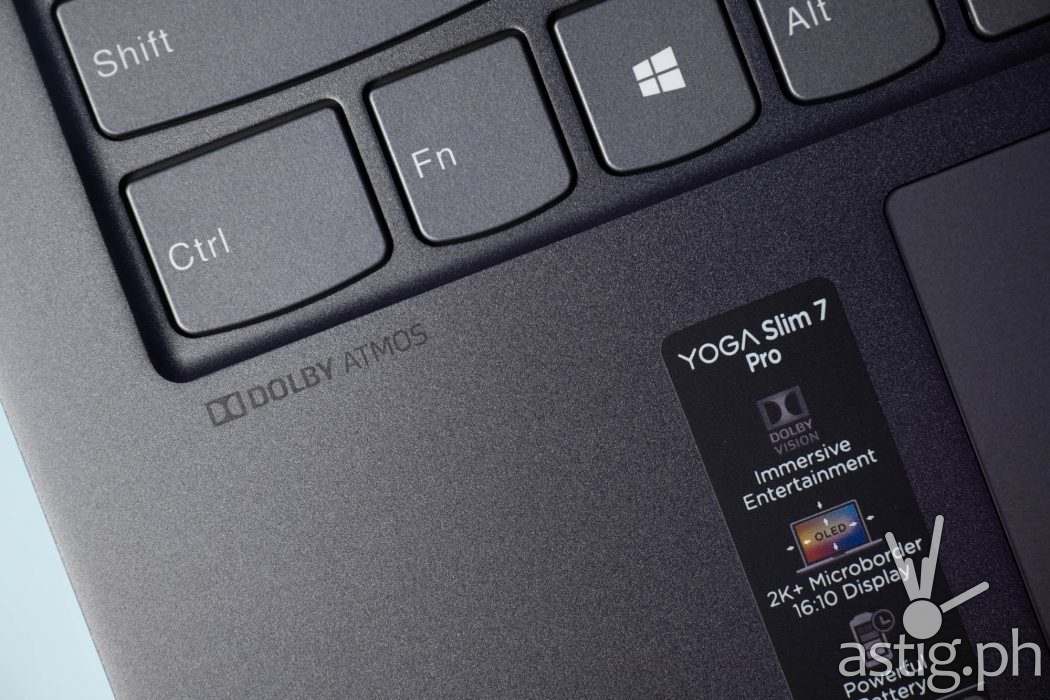 A big selling point though, is that AMD Ryzen 9 CPU, 16GB of memory, 1TB NVMe SSD, and that GeForce MX450 GPU. Okay, the GeForce MX450 is not exactly the beefiest, but what are we going to do? It's a laptop! Have you seen how big discrete GPUs are? The fans on those things are the size of bricks!
We'll take this win.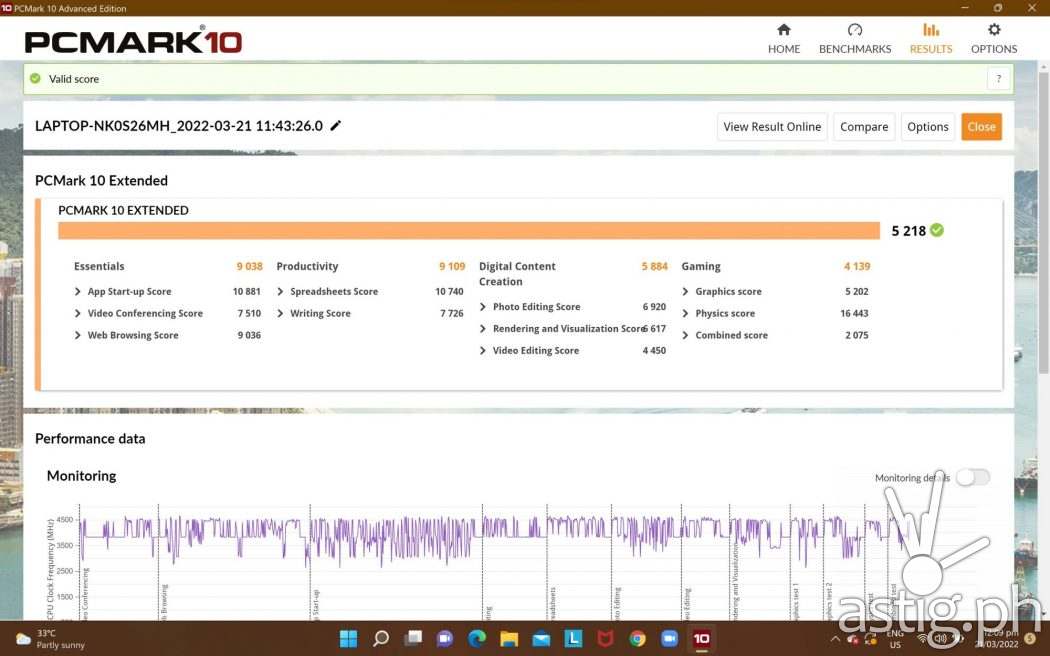 Upon testing, we scored an average of 5200 points in PCMark 10, well above the recommended 3450 points for digital content creation. It is a good score, and it manifests in the user experience, one that we can only describe as smooth and snappy, even after upgrading to Windows 11.
Did we just say Windows 11?
Yes folks – we tested the machine on both the out-of-the-box Windows 10 installation, upgraded it to Windows 11, and did some more tests.
Like they say, the proof is in the pudding, so we installed Davinci Resolve in order to edit and render the video review for the Lenovo Yoga Slim 7 Pro. If you haven't seen it yet, head over to the TechKuya tech review channel now and watch the results.
We edited it using Resolve's default installation settings making sure GPU acceleration is enabled so that GeForce MX450 does not go to waste. We have a couple of animated titles, and our intro is particularly taxing since it uses multiple layers with transparencies and effects.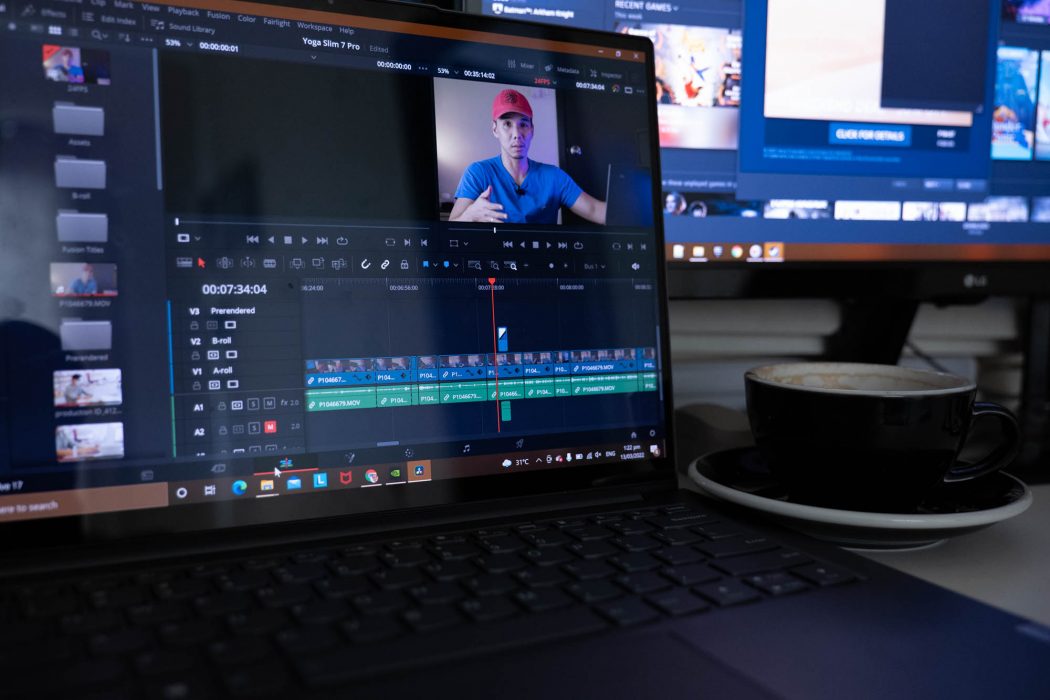 Editing it in real time, we can feel the system struggling to keep up as we scrub through the timeline, so there's a slight delay before we can play it back every time we make a change or move the play head back and forth.
Anyone who is familiar with Resolve knows that the default settings are particularly taxing since everything is being rendered in real time at native quality with no caching. Rendering was quite speedy as well thanks to Ryzen's multi-core, multi-threaded operation.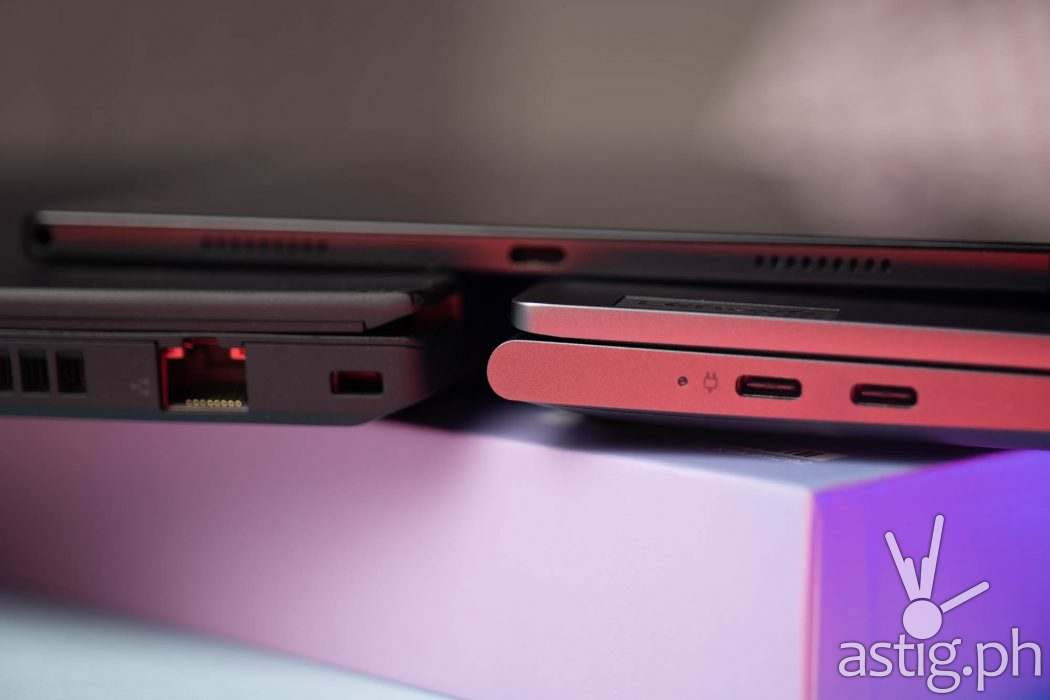 Our proof of concept has demonstrated that the Lenovo Yoga Slim 7 Pro can go toe-to-toe with powerful video editing desktops. It's good enough to be a mobile editing station for content creators and creatives who cover events like weddings where you need a machine that is mobile and powerful enough to create those same-day-edits (SDE).
Entertainment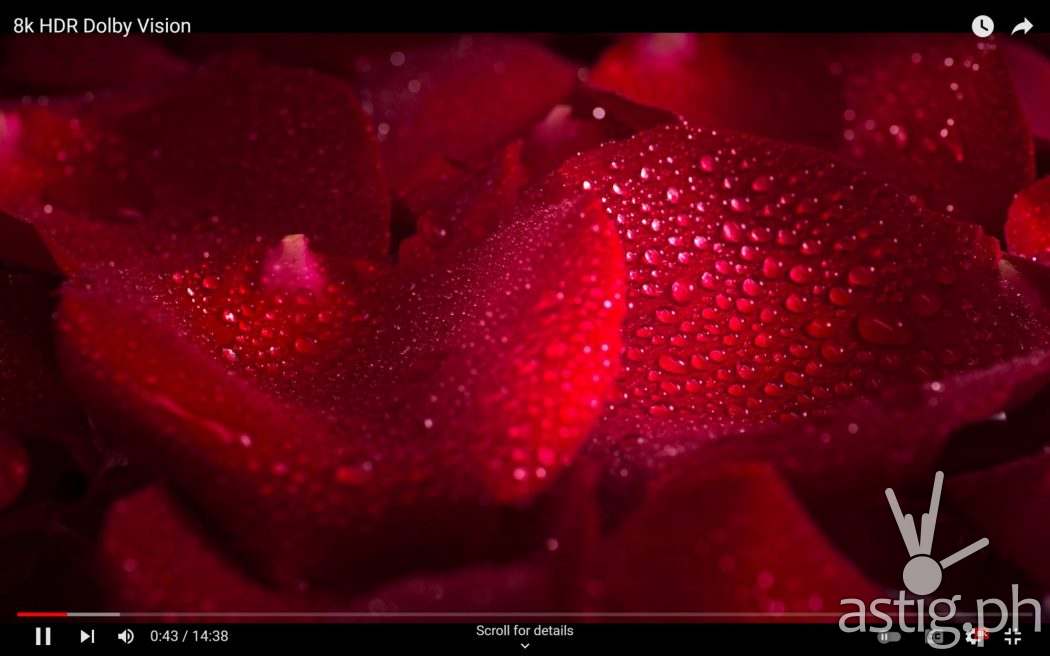 With an HDR-capable OLED display on our hands we could not wait to kick back, relax, and watch some shows and play some games because hey, what else are we going to do during our breaktime?
YouTube was the simplest and most straightforward – we were able to stream 8K HDR content with no issues. No lag, no stutters. Just pure audio visual bliss.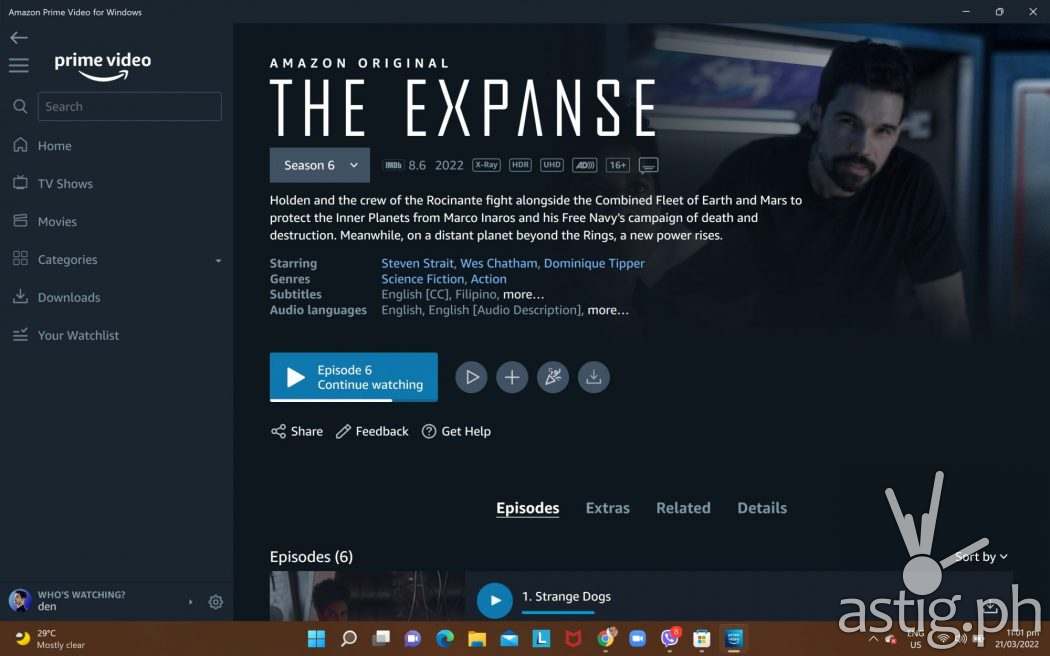 Amazon Prime Video was also straightforward, displaying the HDR and UHD icons on content that support them.
Netflix, however, was more challenging, since it employs stricter security to prevent their content from getting pirated. Playing it in a browser only got us HD 1280×720 at most with no HDR, so we had to install the Netflix app from the Microsoft Store.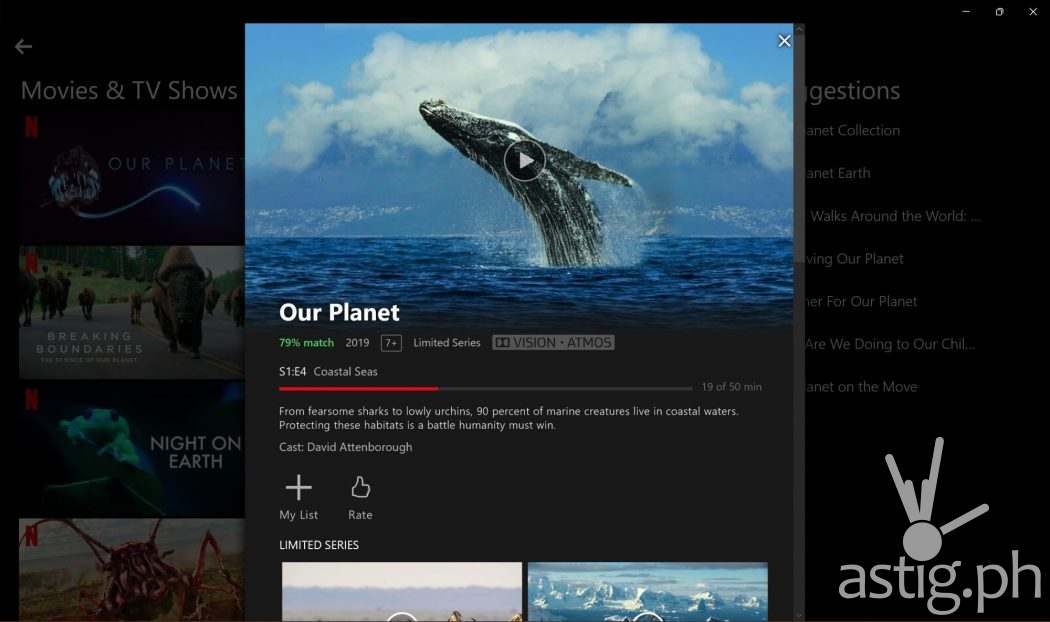 In doing so, we finally managed to get the Dolby Vision and Dolby Atmos icons to show up. In order to validate that we were streaming 4K, we fired up the 4K Test Pattern in Netflix which confirmed it.
We were even happy with the audio quality of the built-in speakers, which had enough bass and loudness to keep things exciting.
Gaming
Powerful productivity machines typically make good gaming rigs and vice versa. While the Lenovo Yoga Slim 7 Pro has a powerful CPU, ample memory, and fast storage, NVIDIA GeForce MX450 lags behind other GPUs. Its desktop equivalent would be the aging NVIDIA GeForce GTX 1650, an entry-level to mid-range GPU released back in April 2019.
While it supports DirectX 12, the card only has 2GB of GDDR6 memory, which prevented us from even launching some of the newer AAA titles such as Marvel's Guardians of the Galaxy. Fortunately, we got Shadow of the Tomb Raider, another DirectX 12 game, to run.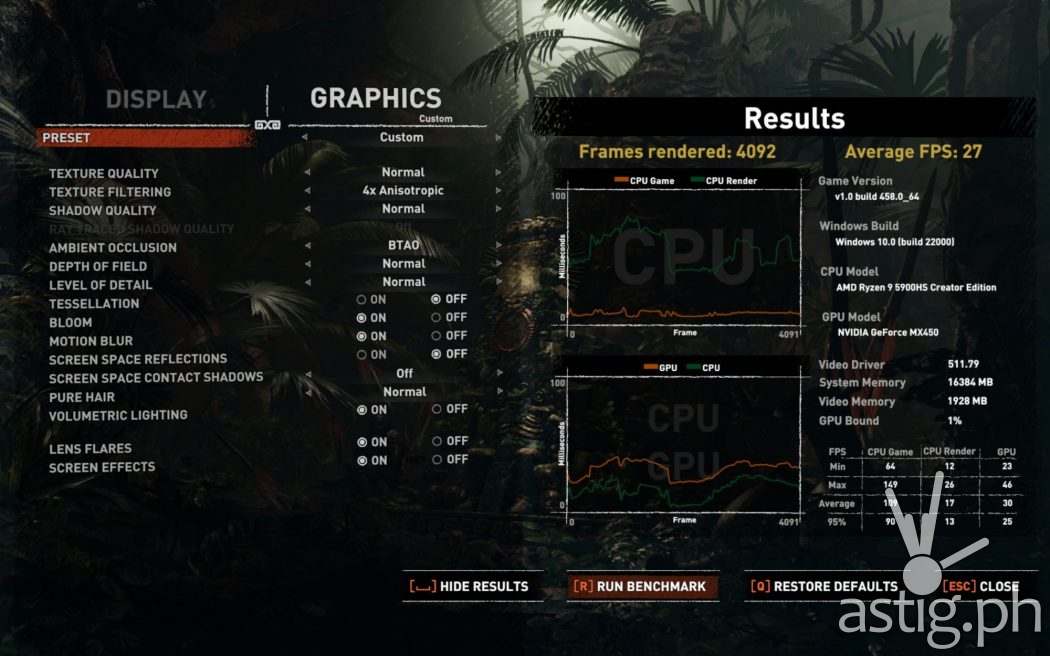 At its native resolution of 2880×1800, we only averaged around 8 FPS, but after dropping down to 1920×1080, switching to DirectX 11, and making some small tweaks, we started getting a more respectable average of 27 FPS.
It's not exactly your gaming beast, but the Yoga Slim 7 Pro is beefy enough to scratch that occasional itch during your free time – which as working professionals we all have way too much of, right? Right?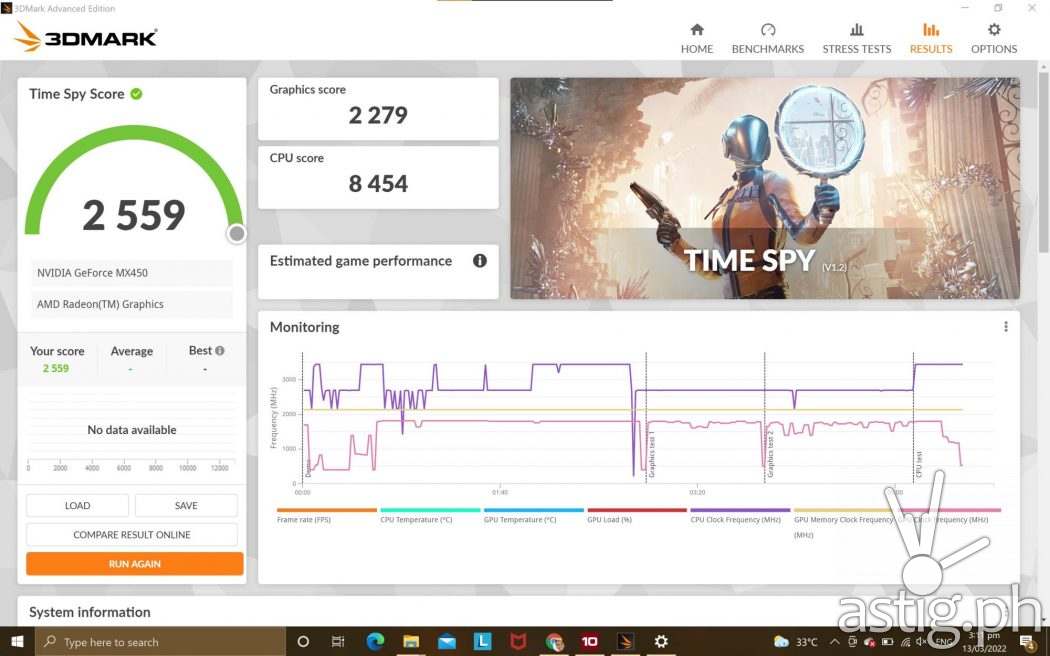 Benchmark scores weren't too shabby either, getting a high of 2.5k points in 3DMark Time Spy.
Battery life and thermals
In order to test the machine's thermals, we took Yoga Slim 7 Pro off the plug and took some measurements with our thermal scanner. The warmest areas in the under chassis (where it touches your lap) averaged around 37-38 degrees Celsius, going as high as 41 degrees near the vent.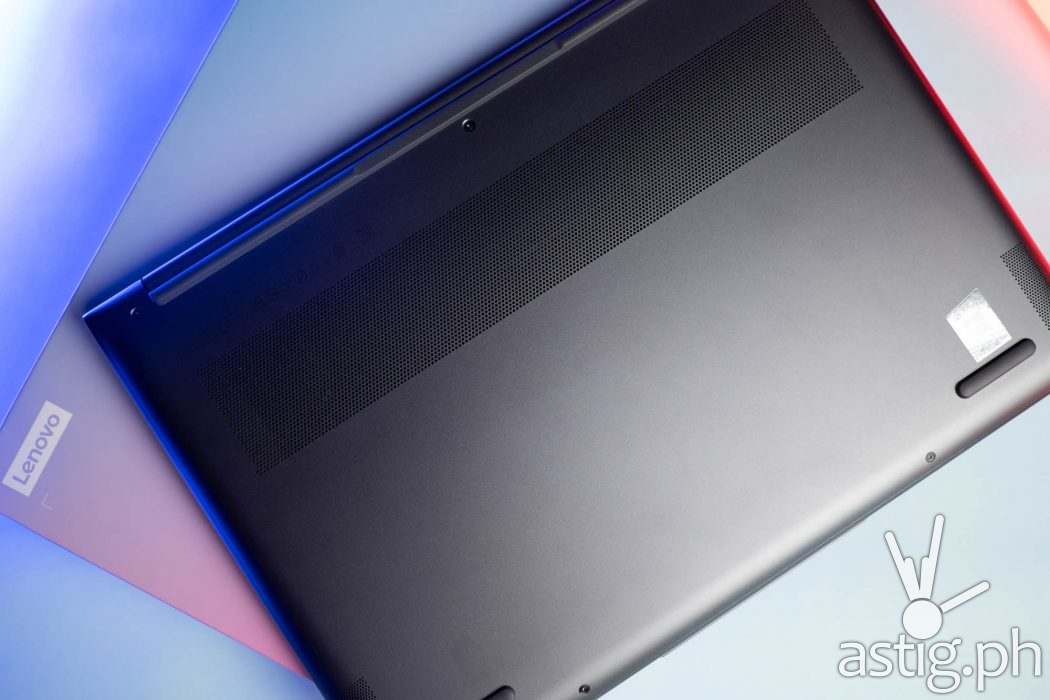 The bottom vent itself was only 42 degrees Celsius at its warmest region, so if you want to cook eggs then we're sorry to say – this laptop is not going to get warm enough to fry anything.
Powering the Slim 7 Pro is a 61Wh battery which typically lasts at least 8 hours, going all the way up to 12 hours:
MobileMark 2018: 8.6 hours
Local video (1080p) playback @ 150 nits: 11.8 hours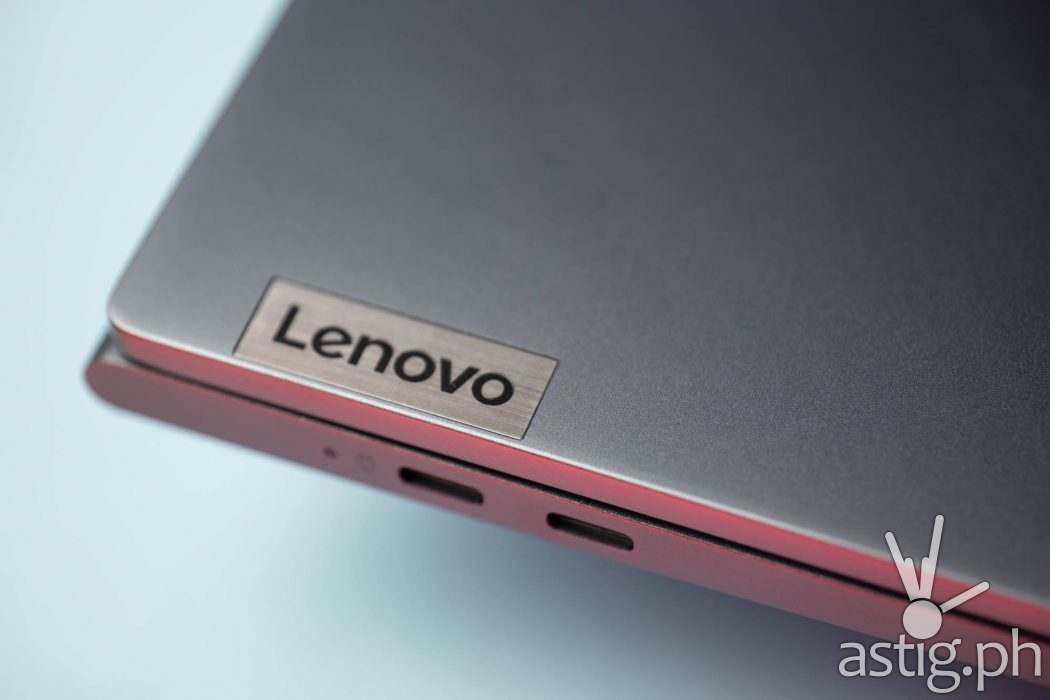 Using the 95W charger, it takes at least 2 hours to fully charge the device while it is running, which is better than most. What's great is that it uses the same USB-C port which you can also charge using other, slower chargers.
Verdict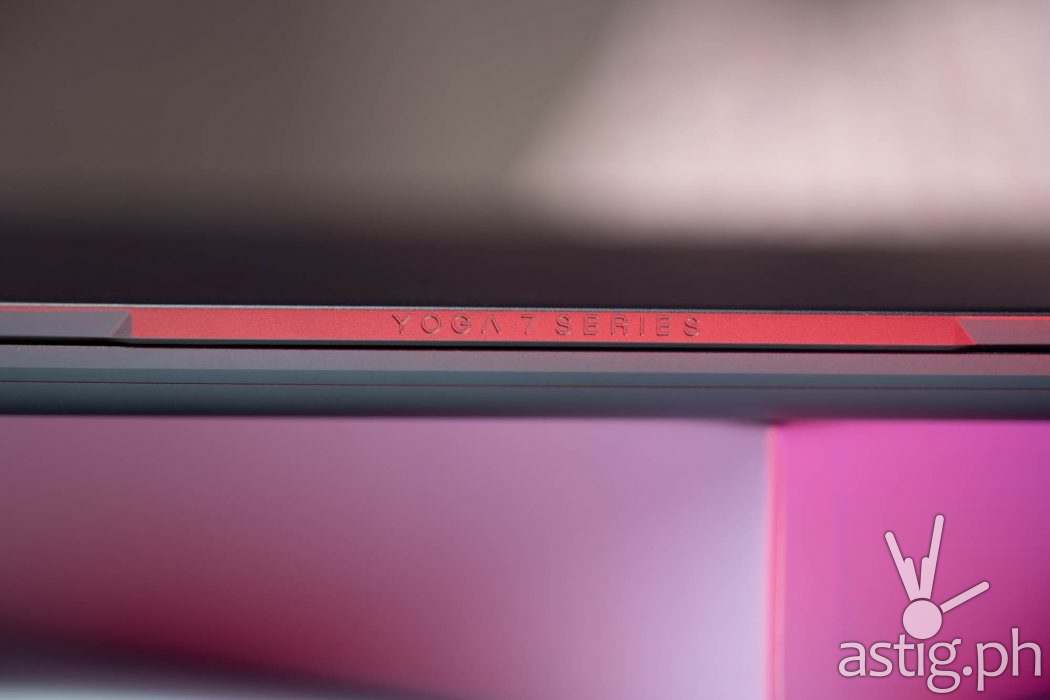 The Lenovo Yoga 7 Pro immediately grabbed our attention for three reasons: portability, power, and display. These three things can be challenging to balance, especially for creative professionals. More often than not, portability is sacrificed for processing power.
Lenovo has managed to stay true to the standards of portability that the Lenovo Yoga is known for and pack powerful hardware and a quality display panel, so you can stay mobile without compromises.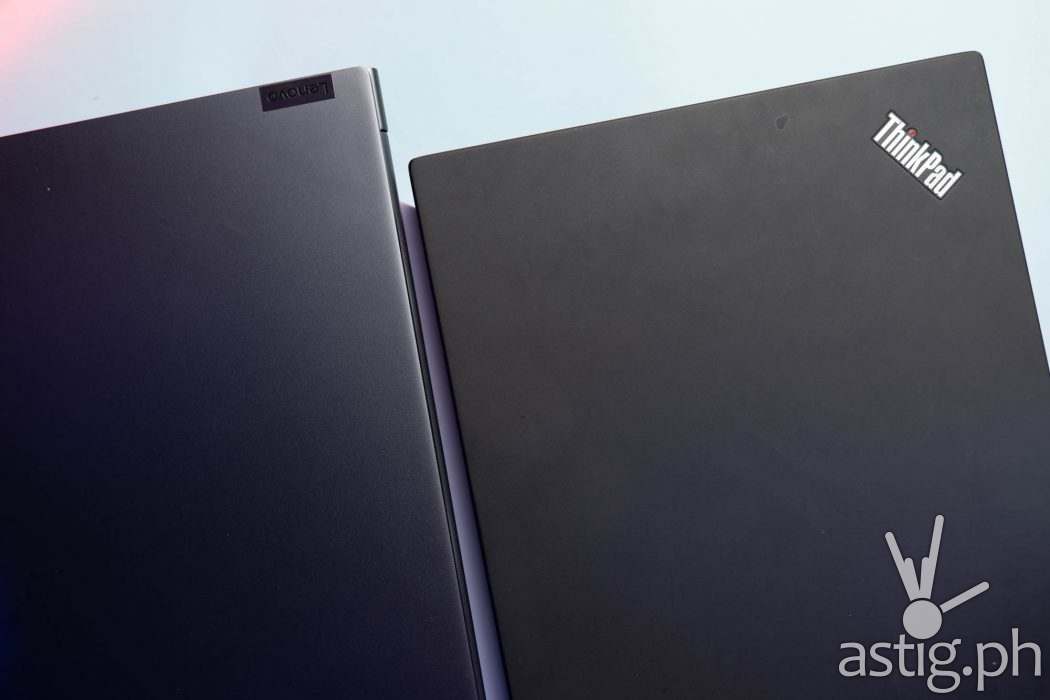 Priced at P64,995 it's sweet deal that will pay for itself over time. It's a very tempting deal, even for professionals who want to switch over from the Macbook Pro M1. While the latter packs more powerful, it also costs twice as much.
It's a great Windows alternative, and one worthy of serious consideration for anyone in need of a mobile workstation.