You typically grow up in a tightly knit Filipino family, where cousins are good friends and uncles and aunties are always around. In my case, I grew up in a fairly big family, where casual visits to and from relatives were, and still are, the norm. My cousins would often hang around with my older brothers, and saying "mano po" in the house is done often whenever another relative comes around.
As I grew up, my mom would always tell me three things:
1. Be flexible. In her words, "Matutong bumaluktot kapag maiksi ang kumot." I have done this far too many times in my life, figuratively, that it comes natural to me, easily. I often adjust to the needs of others and I try my best to fit in any situation. As I get older, staying flexible can be tough as I become more set in my ways. But the saying still echoes in my head when necessary.
2. Life is never easy. You have to work hard for the things that you want. Here at Astig, we take life by the horns and steer our lives in hopefully the right direction. But we always work hard and play hard. Our family has gone through ups and downs over the years and we still managed to survive, by working hard for the things that truly matter the most.
3. Plan ahead. My mother, who had always been cautious with money, taught me to always plan ahead. She was the one who helped me open a savings account when I was just 6 years old. Of course, I know my father knew about the account opening, since money management has always been a top priority at home.
And over the years I've come to realize that all these lessons my mother has taught me ring true. Planning ahead for the unexpected has never been more important now.
Now that I have a family of my own, I'm beginning to wonder what life lessons I should teach my daughter. Most likely, I will pass my mother's life lessons down to her. But I want to go beyond that. Now I'm eyeing the AIA All-in-One 5/10 Year Pay as it's touted as the perfect insurance plan for legacy planning. It's a life insurance benefit that offers up to five times the amount you paid, including double the amount if death is due to an accident. Payment terms are easy: pay for either 5 or 10 years. Plus I can use it as a safety net against life's major risks, and there are cash benefits in case of accident, disability, or critical illness (such as cancer, stroke, heart attack).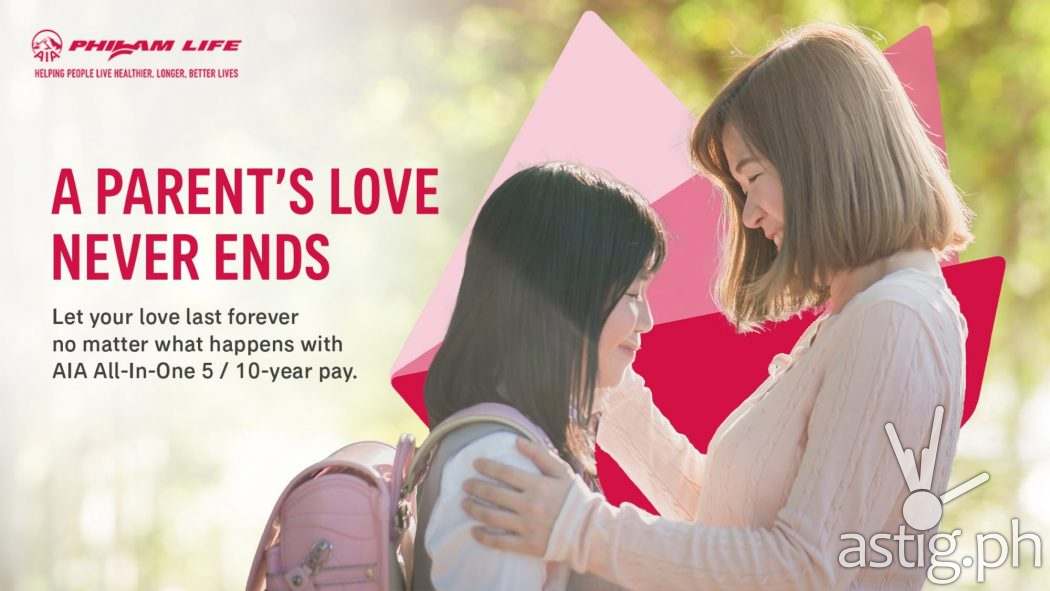 Let your love live on. Start planning for your family's future as early as now!
For more information about AIA All-in-One, visit AIA Philam Life's Facebook page at https://www.facebook.com/AIAPhilamLife/, website www.philamlife.com, email [email protected], or call (02) 8528-2000.