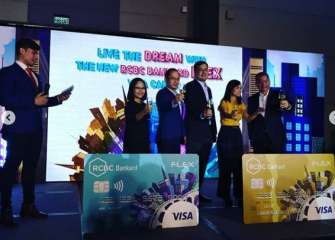 No more fear of missing out with RCBC Bankard Flex your One True Partner. Millennials can now live their life to the fullest with RCBC Bankard Flex Cards. Having numerous travel goals, life goals or relationship goals on your unique bucket list. RCBC bankard craft its perfection for these generation to take these millennials aspirations and ideals in mind. Launched in December 6, 2018 at SM Aura, RCBC unveiled its Bankard Flex and Flex Gold cards.
Both design is to complement the lifestyles of the 1st jobbers, young pro and those who is just starting a family. Packed with flexible benefits of earning doable rewards points on categories relevant segment. For Flex, ideal for 1st jobbers and young pro was designed for travel, dining, clothing and transportation. While Flex Gold is for Millennials who is just about to start a family.
They can choose from any of these categories such as Gas, grocery, department stores, household, travel and appliance.  Card benefits were so flexible so you have the option to change its billing cycle by sending a direct message to its RCBC Bankcards official fanpage. You also have the flexibility to choose what you want to redeem using your rewards points.
From shopping vouchers, cash rebates, use point to pay your card, or can be converted to cash deposited to your RCBC savings or deposit bank account. So its really liquid or flexible, you can even convert it to miles to fly free to any of your dream world destination. Even can be donated to your favorite charity.
Anj Mirasol RCBC Marketing head discussed things like what Dr Seuss said "Its not about what it is, Its about what it can become." As an OTP or One True Partner for the Millennial because they are not only launching a card, but an OTP partner.  As they understand the need of the public. #FlexOnPoint
RCBC CEO Simon Javier Calasanz said " We are here to support the millennials in achieving their life goals. Aside from providing a card that doubly rewards them on categories that are important to them, we will also help them manage their finances better with RCBC Bankard's award-winning features including: Spend Monitor, an alert that is sent to them once they reach 80% of their set budget, Spend Analyzer, which summarizes their spending on a per category basis, and Unli 0%, which allows them to pay for their straight purchases made anywhere to three (3) months 0% installment."
Visa country manager Dan Wolbert said ""Together with our valued partner, RCBC Bankard, we are glad to launch these two products that are targeted at millennials in the Philippines. The benefits offered through these products are tailored accordingly to this segment of our cardholders, so they can earn fantastic rewards while making payments for their everyday spend. The features of the card also enable them to develop good discipline in money management as they can see analysis of their spend and set their budgets accordingly using features provided by the bank."
For more info and to get one visit RCBCBankard.com, one of the Philippines largest private universal bank and member of Yuchengco Group of Companies. That provides unique and world class transactions and innovative program to its cardholders.