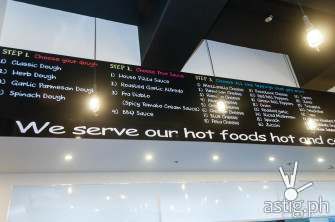 Pizza as an all-time favorite comfort food not only evolved in terms of varieties and choices, patrons were also strewn with more ingenious ways of enjoying it. Manila is full of great neighborhoods but the recently opened Mad for Pizza located at Il Terrazo, Tomas Morato recreates a more fun pizza experience by introducing a toppings all-you-can feast. Brimming with high-quality sauces, cheeses, meats, and vegetables plus four options of crisp and chewy homemade doughs, no wonder all eyes are on these specialty.
READ: Mad for Pizza Review – 40 reasons why Mad for Pizza should be more popular
The toppings all-you-can pizza is not only affordable at P280, diners are also assured that the preparation stay interesting with its expansive, forty choices of garnishes—no shortcuts, all-natural and flavorful. To begin with, the pizza doughs available in Classic, Garlic Parmesan, Herb, and Spinach are especially prepared in-house which takes up a notch the pizza experience.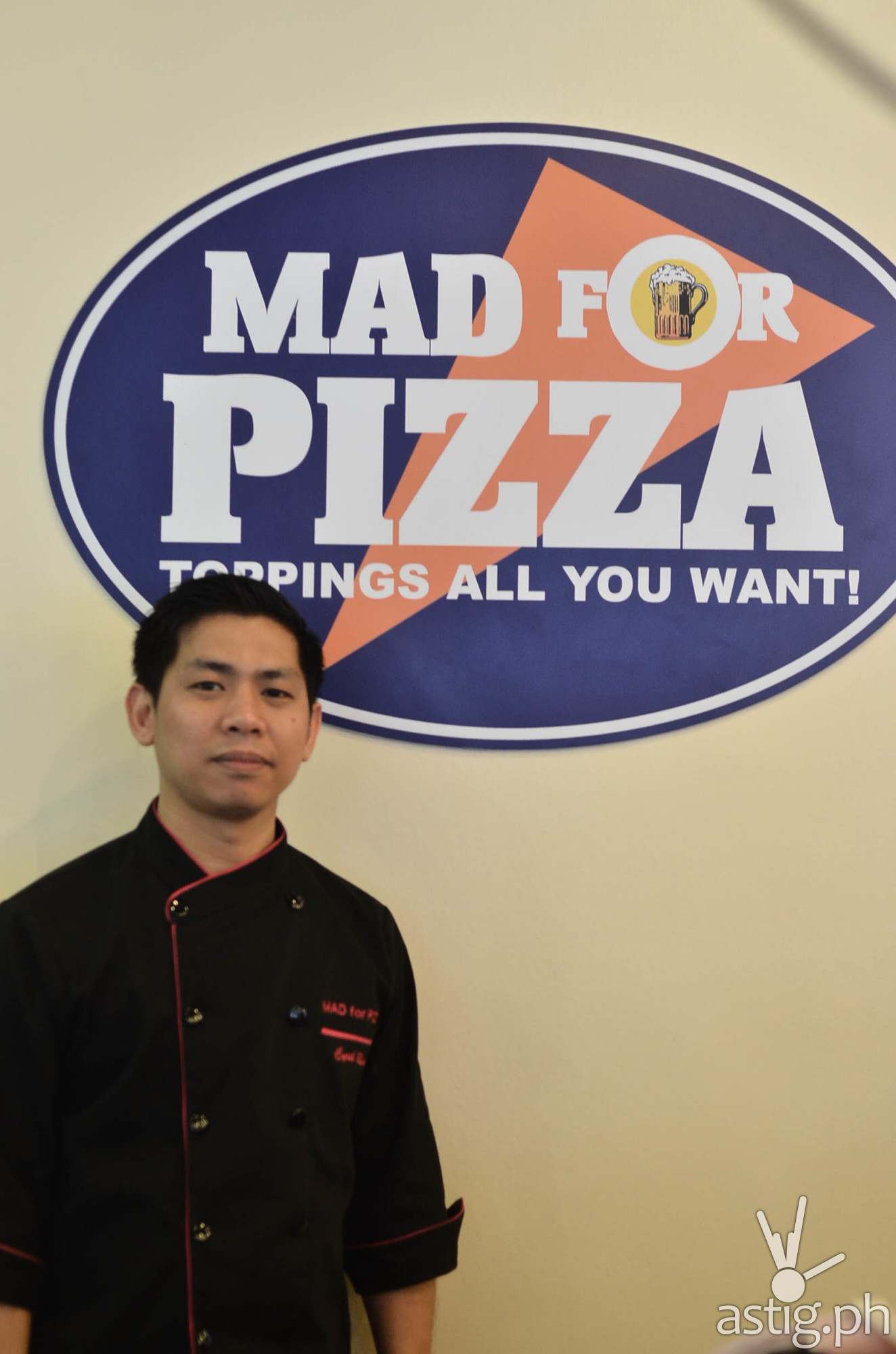 A brainchild of the former Manager of the famous restaurant and hotel chains in Manila, Mad for Pizza Vice President Cyril Reyes aims to introduce a pizza bar that leaves a customer with so many interesting options yet not confined with pizza alone, "We guarantee that our main dishes are also one of the factors that draw customers in our doors", says Cyril.
Take for example the Angus Beef Belly in Adobo Sauce, also known as the "Amboy" (P218). Prepped and tenderized through overnight marination to ensure its melt-in-your-mouth texture, the semi-sweet adobo sauce that lingers in the meat gives this dish a delicious Filipino-American flair while heightening the beef belly's tasty components. And if there's another ingenious meat dish for its right amount of marination time and succulent quality, Tennesse Pork Spareribs (P268) will surely qualify for its insanely tender meat, made even more intense with richly smothered barbecue sauce.
Both of these main dish specialties are smoked, so just imagine a double dose of tasty and flavorful meat with unmatched tenderness in every forkful. While for those who opt to enjoy a seared and fried dish, Classic Fish and Chips (P188) is a meltingly tender dory fish wrapped in crispy, lightly coated pancake breading with a whiff of vanilla essence. Aside from the hefty serving, its freshness also makes the dish enjoyable in more ways than one.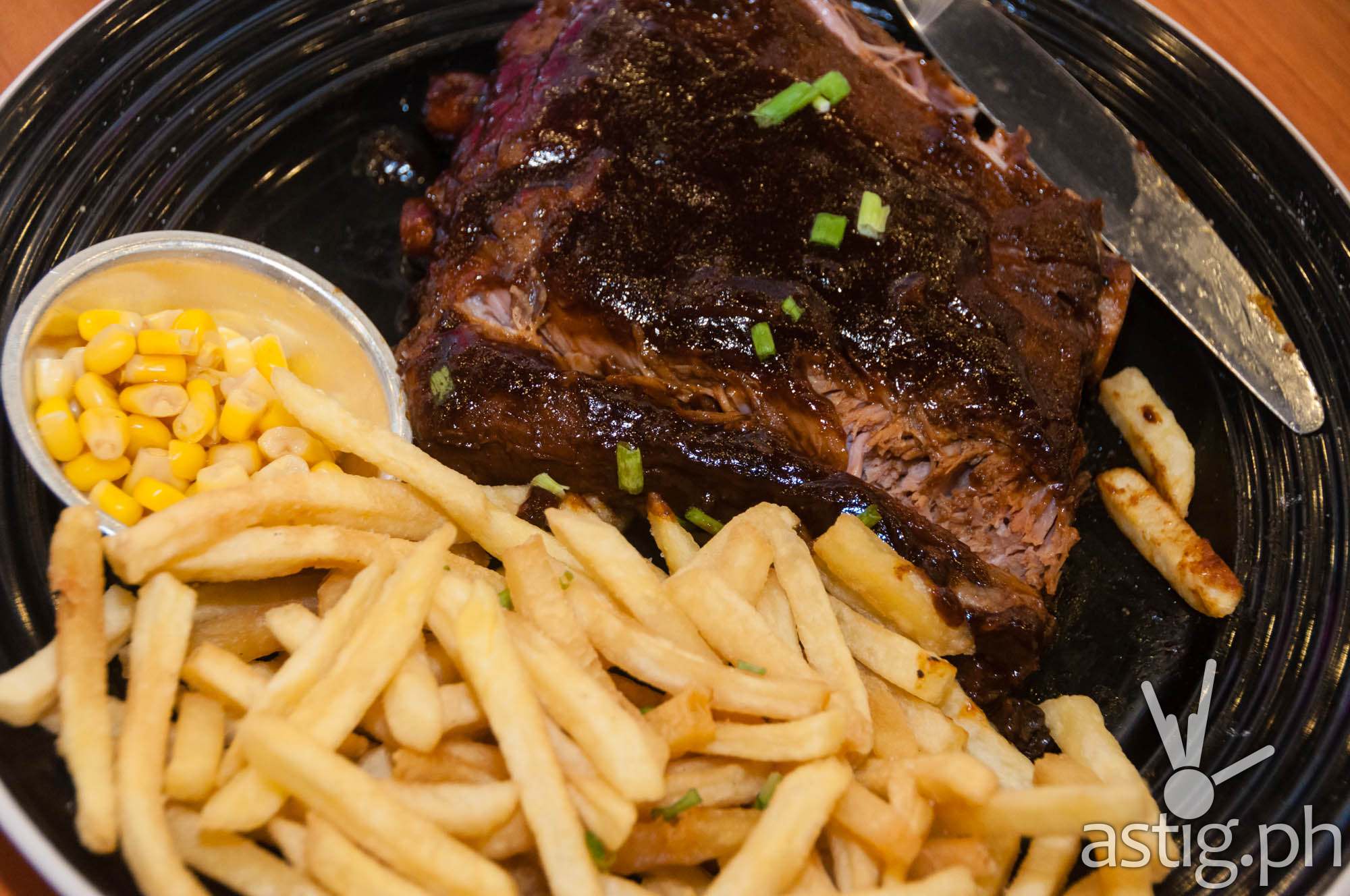 Pasta perfection is one thing the pasta selections can offer—al dente, dazzles with flavor and bolstered with natural ingredients. Using rigatoni, Beef Stew Pasta (P178) is perfectly hearty, infused with tomato based sauce mixed with stewed slices of smoky Angus beef belly. While Fried Mac N' Cheese (P158) is promising for kids, this version proves that it only takes few powerful ingredients to pull off its amazingly full flavor version. Crusted fried macaroni pasta in easy to eat square sizes, they're a delicious pair for marinara and honey mustard dips.
Healthy starters are not only the main stars in the appetizer, it can also serve as a healthy snack anytime of the day. Slender slices of Fried Zucchini (P158) wrapped in batter made of seasoned flour offers the same savory, addictingly good flavor of real french fries, served with homemade marinara and honey mustard dips is quite a discovery. Another most-prized recipe is the Spinach Cheese Dip (P178) which will ignite palates without ruining the appetites. Freshly-baked garlic butter spinach dough is impressively unique, served with a spreadable dip made of spinach, cream cheese, cream, mushrooms and corns.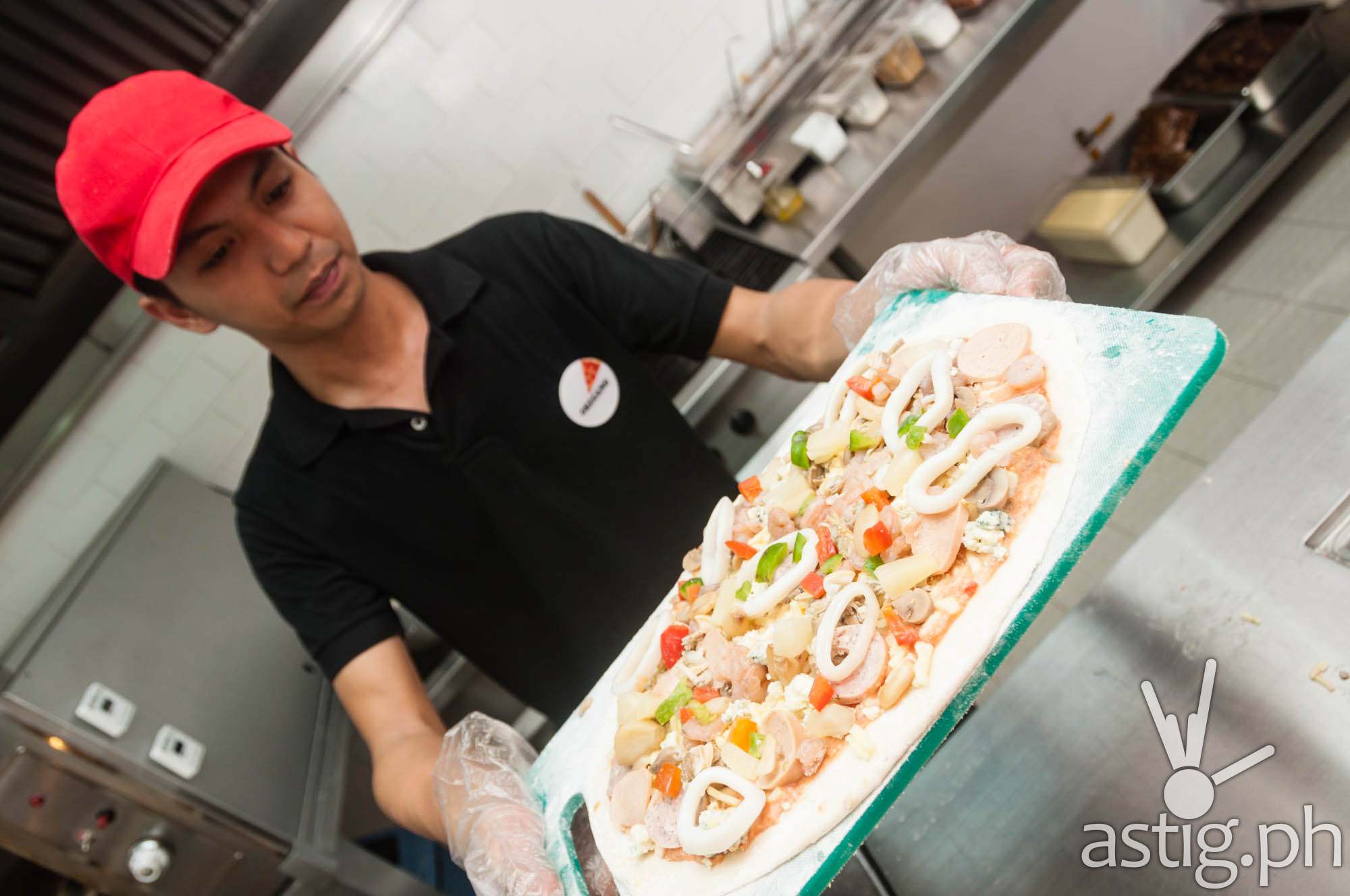 When it comes to beverage selections, Mad for Pizza introduces edgy, perfect for family drinks that is every bit refreshing. Currently popular is the Frozen Iced Tea (P98) which possesses a smoothness that's perfect for all types of grubs and made luscious with concentrated iced tea, and pineapple with the tang of calamansi. For a beverage that's both satisfyingly stimulating and can qualify as a dessert drink, Salted Caramel Milkshake (P98) features the clever flavors of vanilla ice cream, and caramel sauce with salt infusion.
Chilling out is usually synonymous with beer, so what else can be a better way to enjoy an oven-fresh pizza other than an ice cold, crisp and malty draft beer. Look forward to premier brands Hoegarden and Stella Artois, which works well with scorched, crusty and meaty pizzas. Aside from the fact that draft beer clearly stands out for its smoother taste, beer lovers will agree that there's always a better experience with beer drawn from a tap since it signifies a celebration in every sip.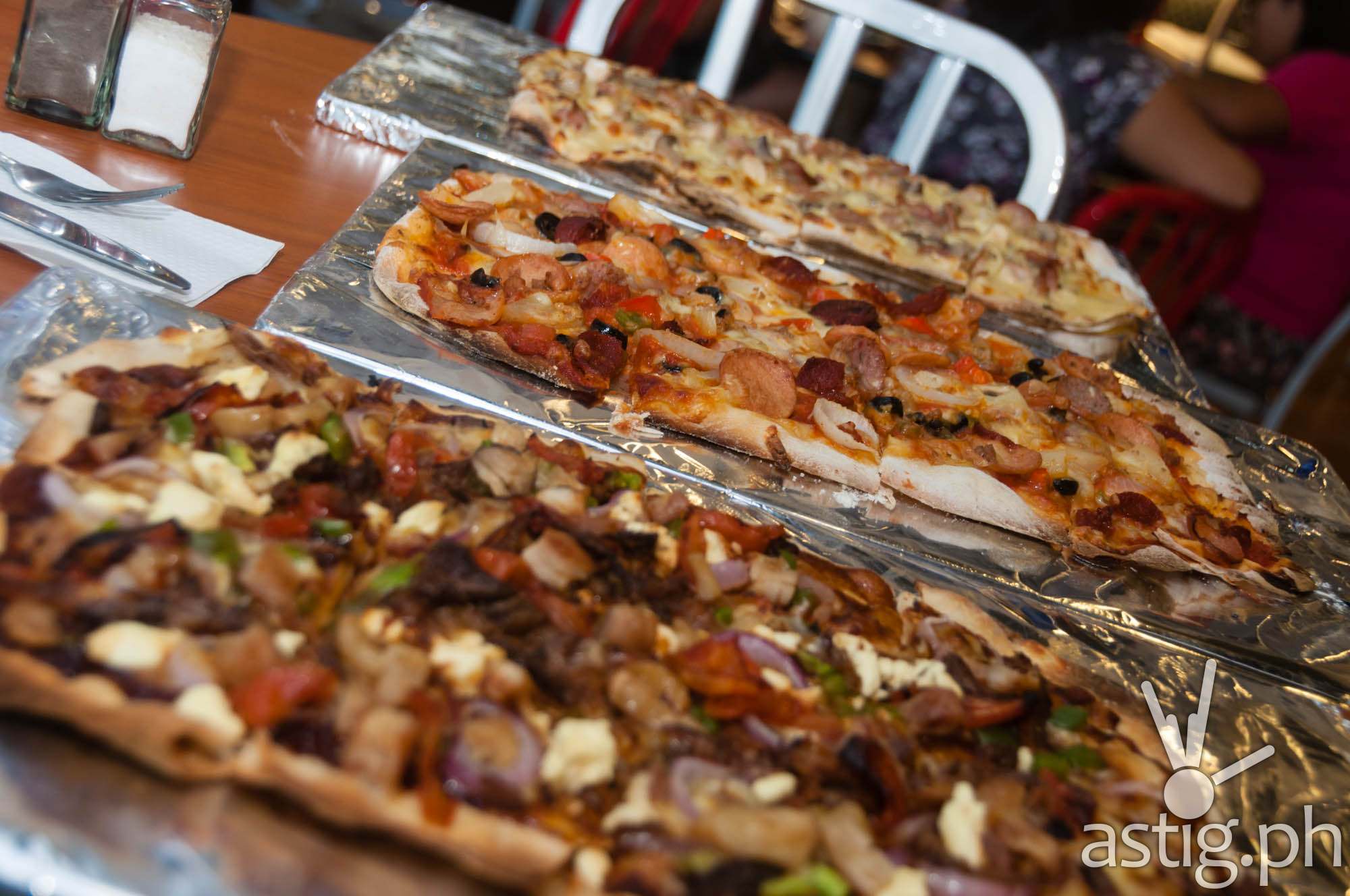 Cocktail drinks are also perfected by the experts—everything's a no-fuss drink which stands out for its festive 21 oz sizes and flavors with a punch. All at P180 per serving, the Margarita, Sea Breeze, and Mojito are deliciously sophisticated and awakens the palate. But if on the look out for something familiar that step right up to company, the bright and sharp taste of San Miguel Pale Pilsen will never disappoint.
When it comes to food, there's always a better experience when choices are affordable, big serving and offers many options. Mad for Pizza truly combines the best of both worlds where feast and flavors meet, an affordable indulgence without the compromise on quality, plus a pleasant venue for foodies hankering for delicious food and few drinks.
[stextbox id="astig"]
Mad for Pizza – Il Terrazzo (main branch)
Address: 2/F Il Terrazzo Building, 305 Tomas Morato Ave. corner Scout Madriñan St. Quezon City, 1104
Phone: +63.2 351.2621
Facebook: facebook.com/MadForPizzaPh
Instagram: instagram.com/MadForPizza
Twitter: twitter.com/MadForPizza
[/stextbox]