I just love pizza. If I could, I would marry pizza and have little pizza babies. It's this perfect combination of tomato sauce and melted cheese served on a chewy crust topped with your favorite meats and veggies that makes it the greatest invention since sliced bread. It's so amazingly simple and easy to make I cannot imagine living without it.
Yes, you can make your own pizza, even without a kitchen stacked full of ingredients! You don't believe me? I'll teach how to make pizza – right here, right the hell now.
It's super easy. Are you ready to be amazed?
I do it myself all the time. All you need is some bread, tomato sauce (ketchup will do), and some cheddar cheese. Spread some ketchup on the bread, top it with grated cheese and throw it all into a pre-heated oven. Voila, instant pizza.
Shocked? I told you so.
You see my friend, at its core pizza is nothing more than just melted cheese on toasted bread.
But what if you don't have a kitchen?
Okay okay so perhaps you're not too impressed and argue that my pizza bread is not real pizza – and guess what, I actually agree with you.
While good for a quick fix, this will never be as awesome as an Italian or a New York style pizza, made with a combination of different types of cheese, fresh ingredients, and of course – good dough.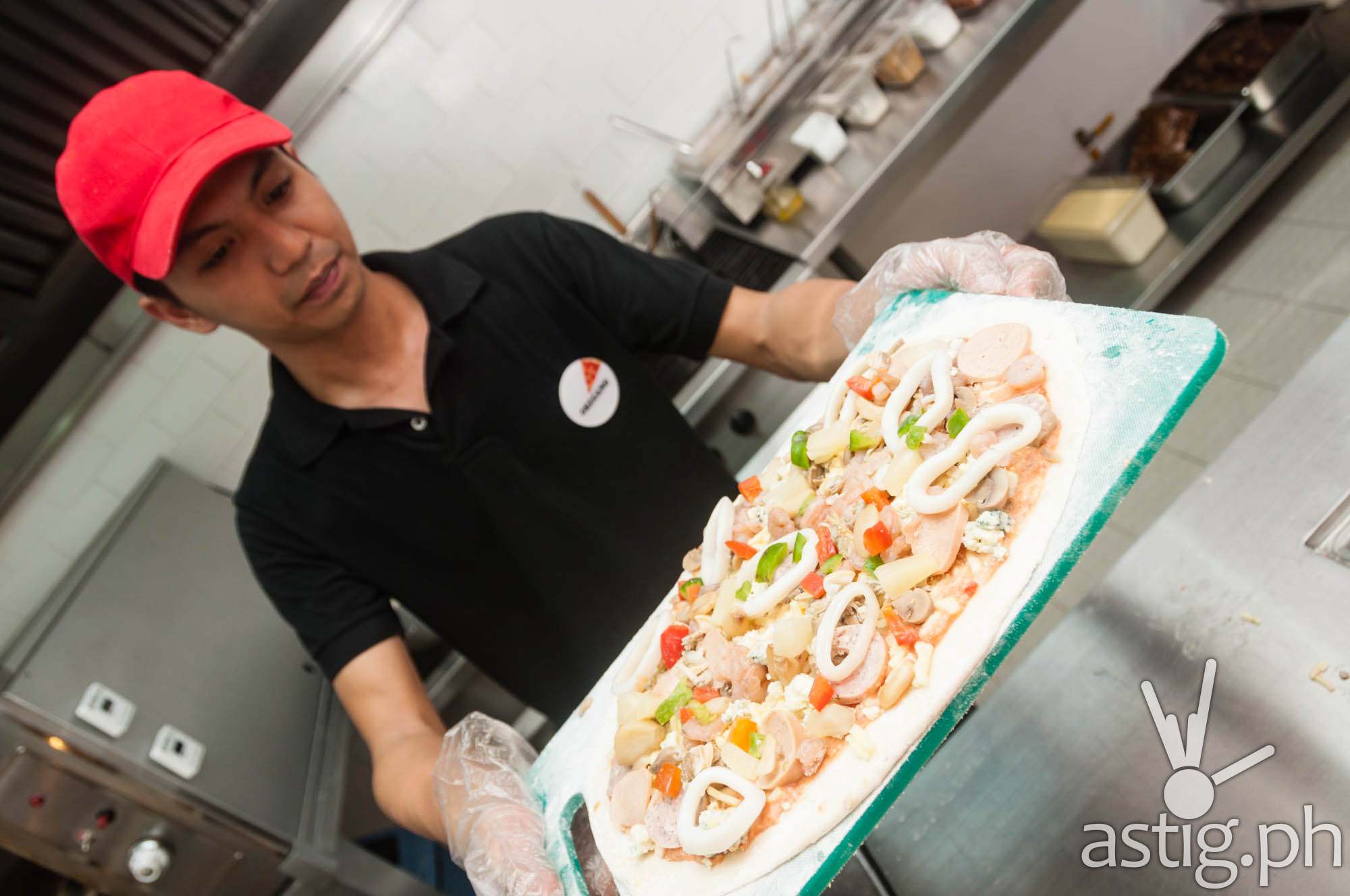 For those of us who know how to make this at home and have a lot of time to prepare congratulations, you probably should skip this article and make one right freaking now.
However, most of us do not want to purchase 5-10 ingredients and spend an hour or so making one. Also if you're on the go, you would want to sit down and relax in a nice place and not want to bother with the inner workings and hidden mechanisms of pizza making. You, my friend, just want to eat melted cheese on toasted bread and chill with your friends.
Well my pizza friend, now you can do exactly that – without breaking your wallet too.
Did that sound too good to be true? Pinch yourself buddy, I can assure you are wide awake.
Making your own pizza is empowering and fun … and oh, so tasty
Okay so imagine walking into your favorite pizza parlor and heading to the counter to place your order. You look at the menu and they have the standard flavors like pepperoni, Hawaiian, and meat lover's. Now let's say you want pineapple, and you're the type who doesn't eat ham (who doesn't?) but wait … Hawaiian only comes with ham! Oh noes!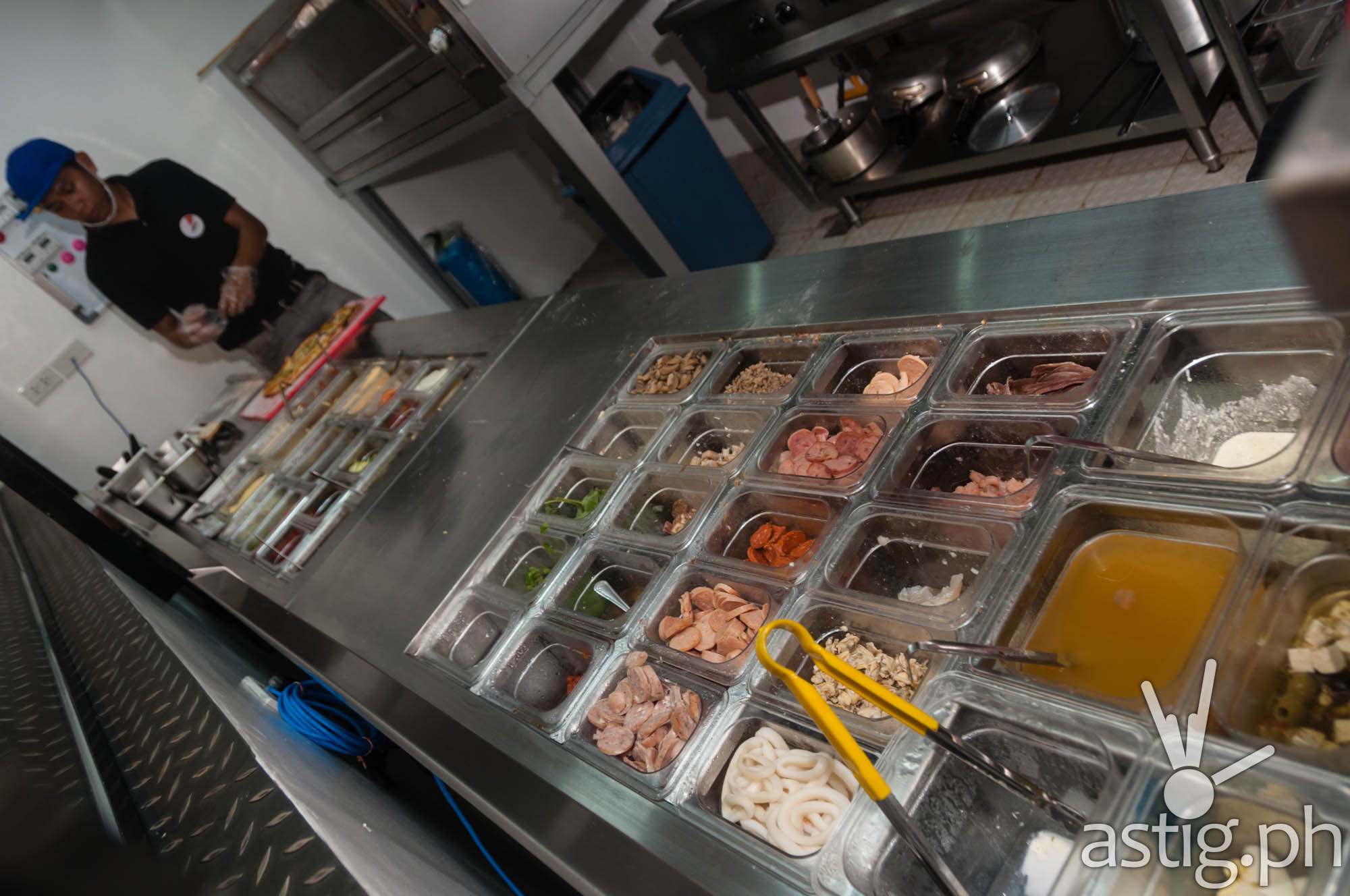 Now let's go back to the part where you walk into your favorite pizza parlor but instead of heading to the counter you walk straight to the kitchen … and nobody stops you! Holy hell you're not even a chef, so what business hast thou in this sacred place (repeat that part in the booming voice of Big Brother)?
You then proceed to pick exactly the ingredients you wanted – pinapple, pepperoni, green bell peppers … oh look some mushrooms would be nice. Do they have bacon? Oh yes they do let's add that in. Oh but what cheese do we use? Of course we need cheedar, but how about we add some mozzarella – oh and a hint of blue cheese would be perfect, please.
Now for some tomato sauce, I like it hot and spicy and for the crust how about adding some parmesan to the dough.
Oh and … why does your pizza have to be round? Let's make it rectangular! That way I can get the center part where it's all toppings and no crust. No you cannot have my center. I already licked that part to make sure nobody steals it. Slurp.
DIY pizza: the king of value
How much is this all going to cost? Surely it must be very expensive now that we put all these crazy ingredients together. The standard price for one pizza at a restaurant rarely goes below 400 bucks. For large pizzas a price point of 500-700 is almost expected.
Then you look at the bill and it doesn't even hit 300. The register says 280 PHP. 2-8-0 pee echhh pee. So much value!!! You can faint now.
Does this crazy pizza paradise even exist?
This, my friend, is what goes down at Mad for Pizza.
It's this crazy pizza joint that just opened its first branch over at Il Terrazzo Mall in Quezon City. Walk into the store and you will be greeted by their friendly staff, a large television set, and a huge sign spanning from one end of the room to another containing a list of 40 ingredients that you can use to top your pizza.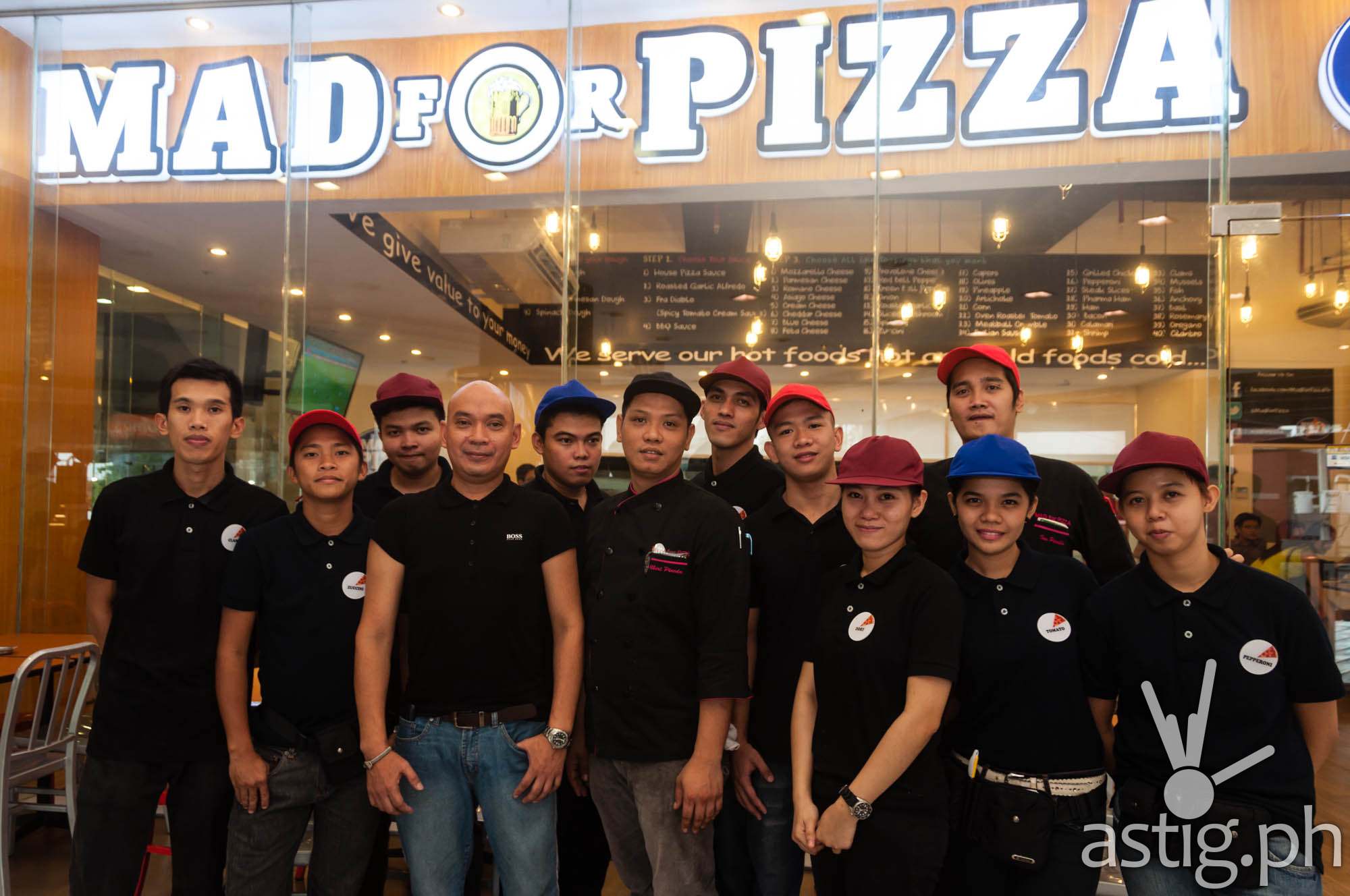 Before we forget, there are three ready to order pizzas, too. At 250 PHP they cost a bit less, plus you don't have to think too much about the ingredients.
These are Justin's Favorite (mozarella, parmesan, cheddar, pepperoni, bacon, sausage, meatball), Anya's Creation (alfredo sauce, mozarella, parmesan, cheddar, shrimp, roasted garlic), and Andross' Choice (mozarella, parmesan, feta, ham, pineapple).
Quality over quantity
With all of these delicious ingredients to choose from it's easy to want to go crazy and just dump all your favorite toppings into a single pizza but beware, just because you upped the ingredient count does not automatically make it a great pizza.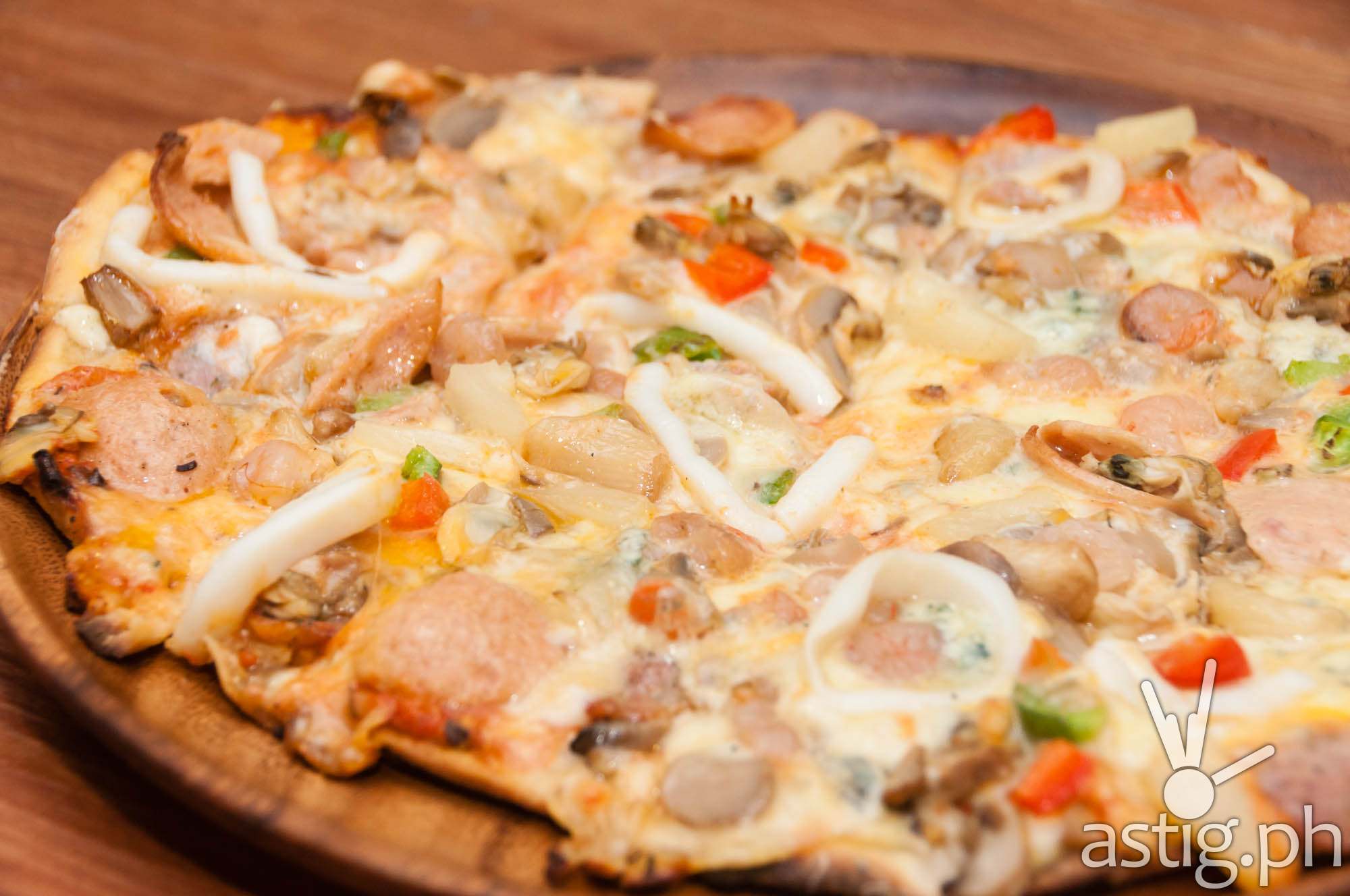 This is where synergy comes in. Some ingredients work well with one another, like, say, pepperoni and ham, or beef and mushroom.
Ingredients have to complement one another, otherwise you end up with a chaotic, weird tasting pizza. Well, unless you like weird – we're cool with that. No judgment.
Still, at the end of the day, it's your call. It's your pizza, after all, and we are the masters of our own palate. Taste is in the tongue of the pizza holder. Or something.
Now we've been talking about nothing else but pizza until now, and that is well and good. I can't imagine anyone getting tired of eating pizza, unless you decided to join a pizza-eating contest and decided to down an entire half by yourself (ehem).
Thing is, Mad for Pizza offers more than just pizza.
There are appetizers like nachos, buffalo wings, and fries. Then there's four different kinds of pasta. There are also salads for those who want something green, leafy, fresh and oh-so-zesty!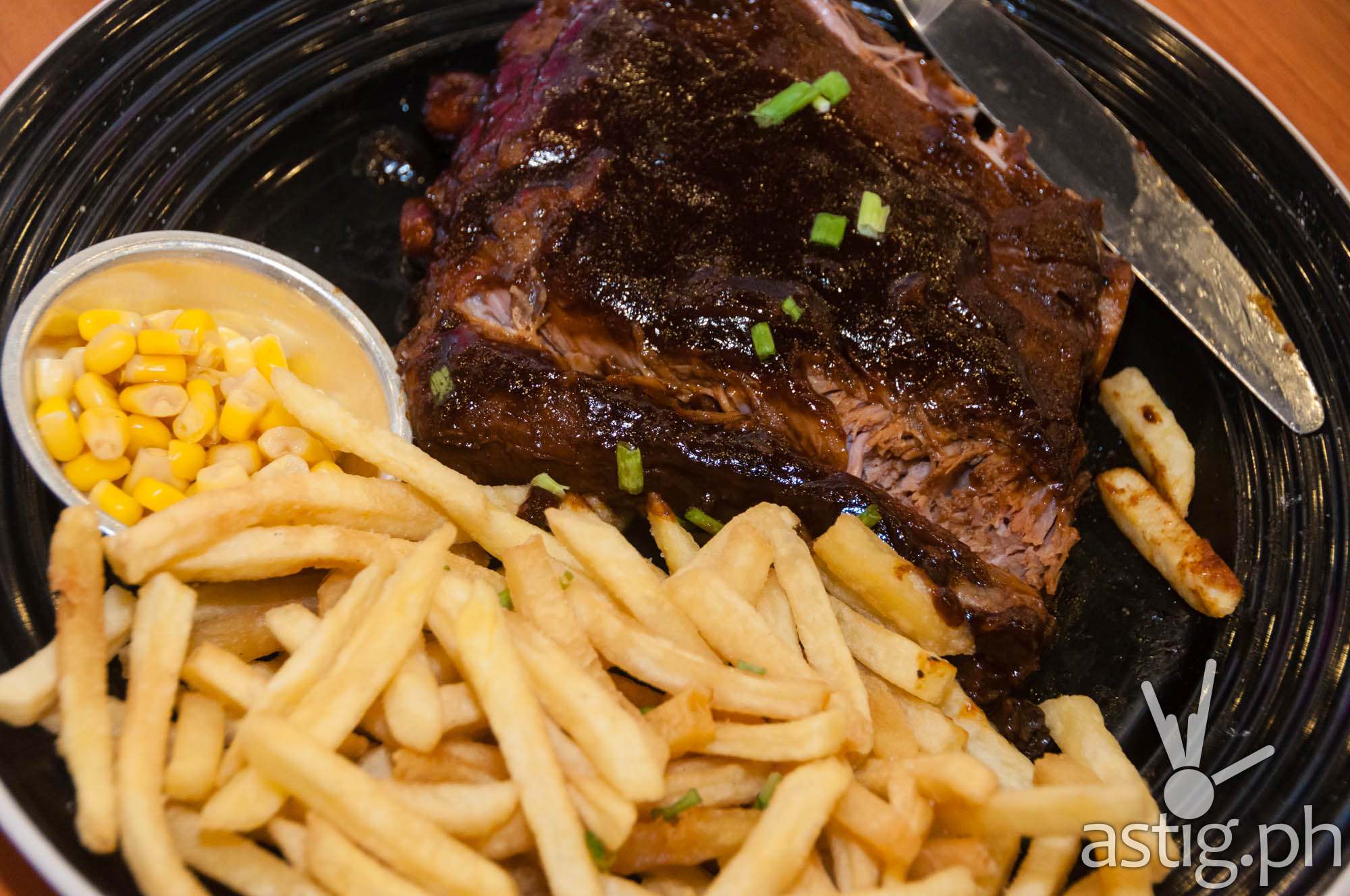 Finally there are heavy sets like pork spare ribs and "Amboy", the house specitly – a unique preparation of angus beef belly in adobo sauce.
Let's talk a bit about "Amboy". It made a real impression and I will give you 3 reasons why.
First, the meat used – it's (supposed to be) angus beef so it's really good beef. Although I am doubtful that they are using certified angus beef because those things cost way too much, this is still really good beef.
They are also using the belly part which has a certain amount of fat in it, making it really really tasty.
Second, it's adobo. Who doesn't like adobo? Even polar bears living in the north pole love adobo. Trust me, I asked them (and yes, they responded).
Finally, it's good because I said so. Just. Trust. Me. On. This.
The Amboy is a little pricey at 268 PHP but definitely worth a try (shit, was that a hard sell? they should pay me for this kind of endorsing!). No seriously, try it. You don't know what you're missing.
Beverages and deserts
What's the best beverage to compliment pizza?
I'll give you a hint: it is a four-letter word and comes in packs of six. None other than ice-cold beer. They do sell it over at Mad for Pizza, along with other alcholic drinks like margharita, sea breeze, and mojito.
I am a little courious about the the coctails since I have not had the opportunity to try them out. Perhaps you could try them and tell me what you think of their coc …. tails.
They also serve bottomless iced tea (108 PHP) and soda (98 PHP), although you may want to think twice about the price. It's good, but for the price I would encourage you to try their other beverages which I feel offers more value. But hey if you have lots of money suit yourself – my drink's your treat, right? 🙂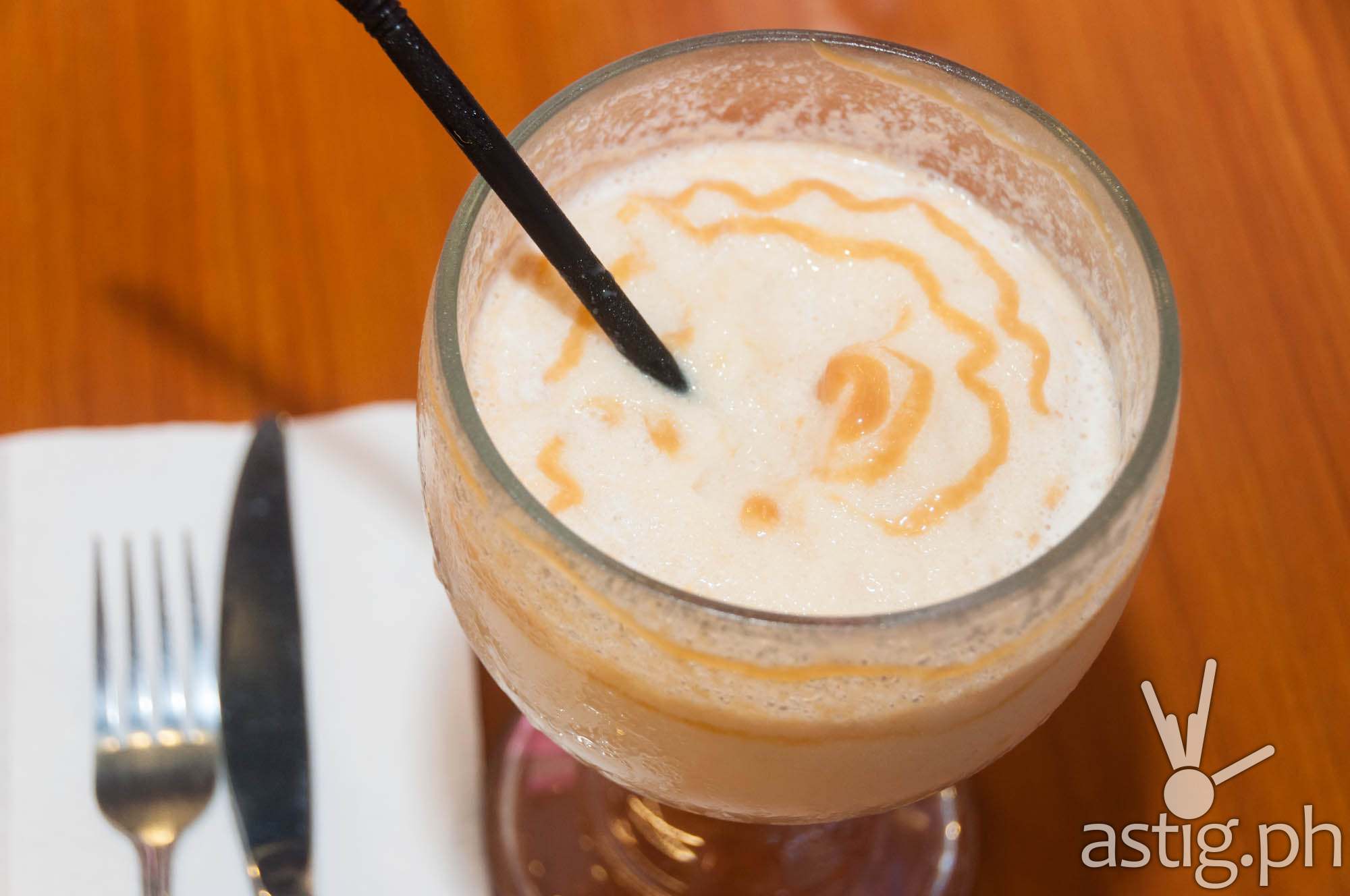 The non-bottomless drinks I'm referring to are the strawberry mango iced tea (88 PHP) and salted caramel milk shake (95 PHP). These two are interesting, and the taste could vary depending on the preparation. They are served in large mugs which to me is more than enough for a single meal.
One thing, the salted caramel milk shake can be too sweet or too salty to some. I found it to be "okay". Frozen ice tea costs 88 PHP and is basically regular ice tea made into a slushie. Ooh I know you like dem slushees.
A chill place to unwind and have fun
We've talked a bit about the food, now let's talk about the setting.
The place holds up quite well for a dine-in place. There is nothing really exciting about the ambiance, however it is not underwhelming either.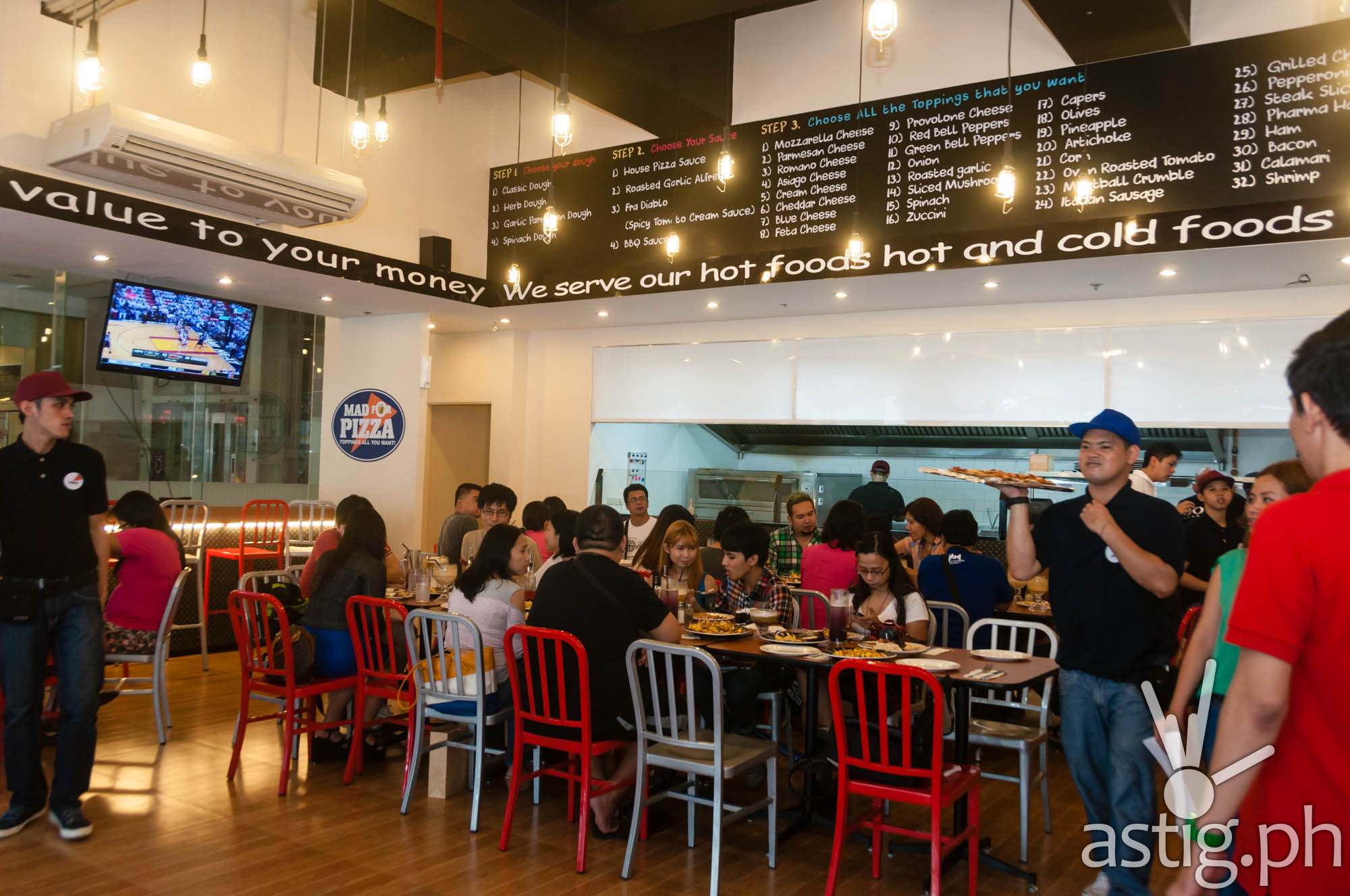 What's interesting about the place is that aside from the regular sit-down tables, there are a number of benches and there are smaller, elevated tables using bar stools. There is also a mini-bar area with a 40 inch or so LED television set tuned to a sports channel.
Nobody really watches the TV. During my 2 hours stay I barely gave it a few casual glances so I'm not sure even needs to be there.
No cushioned couches, unfortunately, which is a bit of a downer.
Overall the place feels like it is trying to be a sports bar and a family place all at once, which can be confusing but not really distracting. The D-I-Y pizzas are the real highlight here.
In terms of location, Mad for Pizza is located at Il Terrazzo, at the Scout area of Quezon City. It is a good location if you have a private service, but can be slightly inaccessible to public transportation.
Mad for Pizza Il Terrazzo photos
More than value, it's an experience
Aside from value the one thing that Mad for Pizza really offers is an experience. Creating your own pizza is not just fun, it's really tasty too. If you are like me and you like to cook and experiment with flavors, the experience is doubly intense.
I cannot assure that this much value will hold for long, especially after this review. If I lived right across I would probably be there every week, I kid you not.
Also, at the time of writing, Mad for Pizza has only been open for three weeks. We were invited there to experience their product along with other bloggers, in the presence of the owners and store manager.
Needless to say, the quality was impressive, and I am hoping it will stay that way. I would like to try them again at a later time and see if anything changes.
If you ever visit them, let us know what you think. We are eager to hear your story.
Until next time, keep rockin' \m/_
[stextbox id="astig"]
Mad for Pizza – Il Terrazzo (main branch)
Address: 2/F Il Terrazzo Building, 305 Tomas Morato Ave. corner Scout Madriñan St. Quezon City, 1104
Phone: +63.2 351.2621
Facebook: facebook.com/MadForPizzaPh
Instagram: instagram.com/MadForPizza
Twitter: twitter.com/MadForPizza
[/stextbox]