In the recent years Metro Manila has been plagued by flooding. To this day the disaster that Typhoon Ondoy (Typhoon Ketsana) and habagat (southwest monsoon) brought to Metro Manila has left it scarred and scared of a similar occurrence.
Then there's Tropical Storm Mario (Typhoon Fung-Wong) who visited the Philippines with only 3 months left in 2014.
Classes and government offices may be the first to get suspended, however, those working in the private sector may not be so lucky. As a result, those working in offices around Metro Manila have to go through the hellish combination of floods and traffic while traveling to and from their homes.
Using data provided by the Metro Manila Development Authority (MMDA), The folks over at looloo created an infographic showing the the most flooded-prone roads in Metro Manila, shown below.
Infographic: 18 of the most flood-prone roads in Metro Manila according to MMDA
Click on the image to get a larger view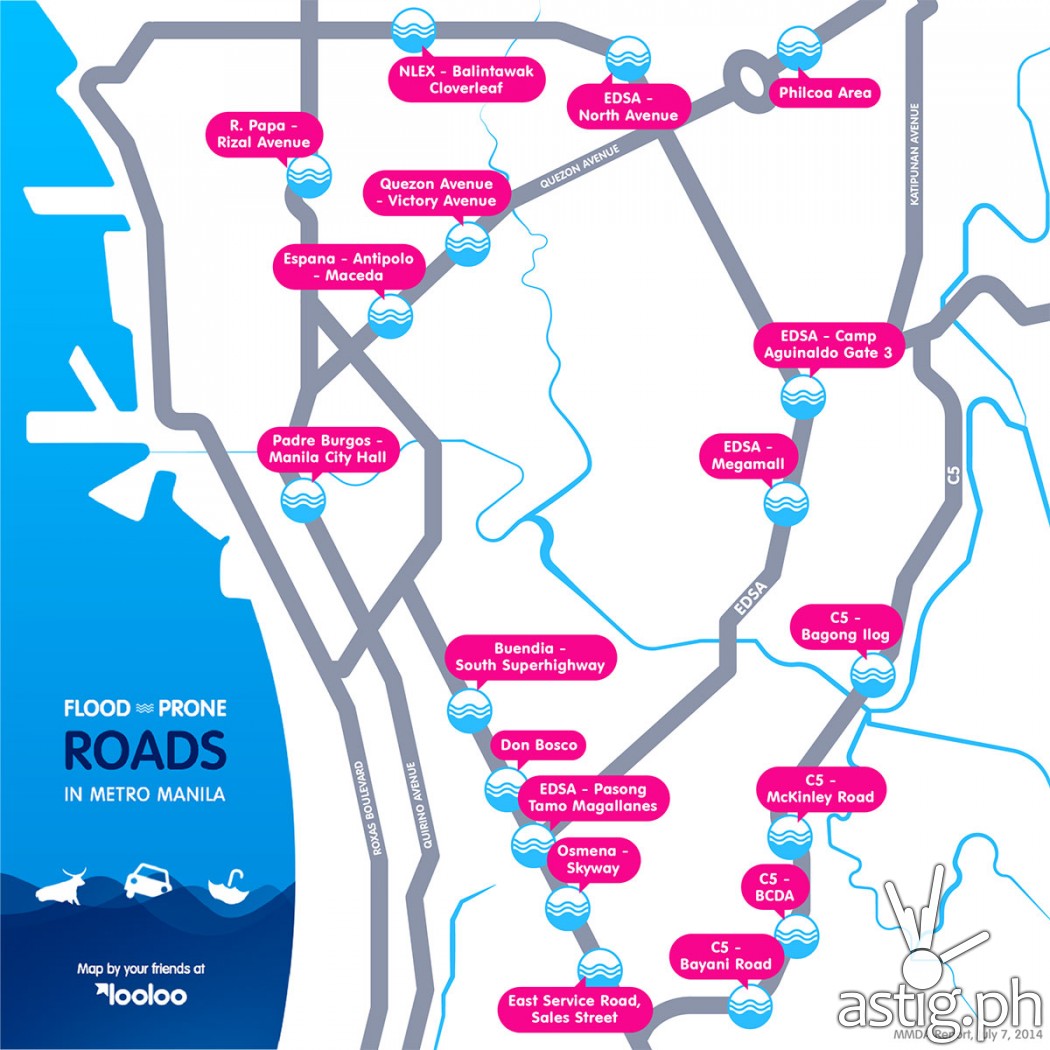 The most prone-flood areas can be sub-divided into 5 locations: EDSA, C5, Quezon City, Manila City, and Makati.
EDSA
EDSA – North Avenue
EDSA – Camp Aguinaldo Gate 3
ESDA – Megamall
EDSA – Pasong Tamo Magallanes
C5
C5 – Bagong Ilog
C5 – McKinley Road
C5 – BCDA
C5 – Bayani Road
Quezon City
Philcoa Area
NLEX – Balintawak Cloverleaf
Quezon Avenue – Victory Avenue
Manila City
R. Papa – Rizal Avenue
España – Antipolo – Maceda
Padre Burgos – Manila City Hall
East Service Road, Sales Street
Makati
Buendia – South Superhighway
Don Bosco
Osmeña Skyway
Unfortunately for a majority of commuters and drivers, it is unavoidable to pass through these major areas when moving through Metro Manila. Most of the roads listed are major highways, especially C5 and EDSA.
Until the flooding and traffic situation becomes better (assuming it will) it is still best to remain indoors and avoid flooded areas during a storm.