Miss Universe judges Niecy Nash and Perez Hilton sealed that Miss Philippines is the rightful owner of Miss Universe 2015 crown.
Actress Niecy Nash  has expressed her support for Filipina beauty queen Pia Wurtzbach after the controversial conclusion of the pageant.
In an exclusive interview with Entertainment Tonight, Nash defended Harvey, who quickly apologized for the gaffe.
"A lesser person would have let the mistake slide and then dealt with it on the back end. I think he was a great host and I think that mistakes happen," she said.
Nash then sympathized with the Filipina, adding: "It was hard, because when all the girls came down at the end they didn't congratulate the real winner, which was Miss Philippines. Most of them went over to Miss Colombia because they knew her heart was breaking."
Nash also shared on her Instagram account that the judges –blogger Perez Hilton, former Miss USA Olivia Culpo and former NFL pro Emmitt Smith– unanimously voted for Wurtzbach.
"Across the board she had our votes," she wrote as a caption to a photo of a newly crowned Wurtzbach with the judges.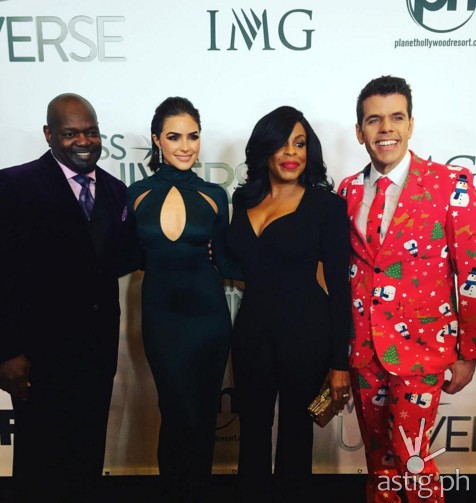 Meanwhile, Celebrity blogger Perez Hilton stated that it became clear to him as the pageant progressed that Miss Philippines Pia Alonzo Wurtzbach truly deserved the crown.
"Miss Philippines came to win, Miss Colombia came to lose," he said.
He explained that although Miss Colombia Ariadna María Gutiérrez Arévalo's confidence could be seen as intoxicating and sexy, the beauty queen "came there as if she already won."
"I think she (Colombia) truly believed she was going to win. Whereas Miss Philippines came with something to prove," Perez said.
The judge even extended high praise for Pia Wurtzbach's answers for both interview questions, without forgetting that it is primarily a beauty pageant.
In a candid podcast posted on December 21, Miss Universe 2015 judge and celebrity blogger Perez Hilton shared his two cents on the controversial coronation night.
Although she was an early favorite, Perez said that the way Miss Colombia Ariadna María Gutiérrez Arévalo acted while answering the second question ("Why do you think you deserve to win the Miss Universe crown?") was a "major turn-off" for him based on the report of GMA News Online.
"I don't know if the people at home could see this, but Miss Colombia was being straight-up diva b*tch rude to her translator. She was giving the most awful side-eye, throwing major shade," he said and further observed that "Miss Colombia was not happy with the pace or the way that the translator was translating."
Perez added that Wurtzbach did so well with her second question that for him, this sealed Miss Colombia's fate as first runner-up.
"It wasn't just that [Gutierrez] came across—not just to me but several of the other judges—bitchy and arrogant. It was that Miss Philippines gave a better answer. It was the second time she [Wurtzbach] gave a great answer, actually a better answer," Perez said animatedly, "I was like whoa, [Wurtzbach] really brought her A-game and was super competitve but also…she just deserved it. To me, there was a real beauty and grace and elegance [in her]. She was Miss Universe."
The Miss Universe judge boldly stated, "I will go on the record now and state: Miss Colombia was the most beautiful contestant. But I don't think she deserved to win the title—and she didn't win the title."