It's NBA weekend time again here in Manila, where we are literally graced by two promising players of the league in the presence of Utah Jazz point guard, Trey Burke and Los Angeles Lakers point and shooting guard Jordan Clarkson along with the legendary Horace Grant. To spice up their visit, we also have in town, the lovely and sexy Oklahoma City Thudergirls and the very cute mascot Hugo the Hornet from Charlotte Hornets.
In 2014, Globe Telecom and NBA signed a comprehensive, multiyear partnership that involves offering customers exciting
NBA-related promotions and premium services.
"As one of NBA's partners in the Philippines, we want to give customers the best NBA experience wherever they are through the NBA League Pass," shares Mr. Dan Horan, Senior Advisor for Consumer Business.
Customers can also enjoy crystal clear high definition video, multi-game viewing modes and integrated game stats module.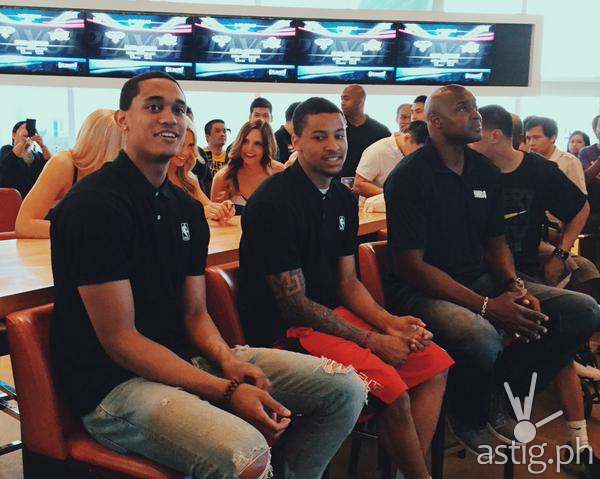 Excited to be here in Manila, did you know that 22 year old Clarkson is half-Filipino from his maternal side. He was able to
meet and had selfies with local fans during the live Game 2 Viewing Party between Golden Gate Warriors and Houston Rockets for the Western Conference playoffs held at the packed NBA Cafe.
I asked him who might win Game 2 and he replied, "Rockets".
While Utah Jazz guard Trey Burke was equally excited to have set foot in the Philippines, he engaged in a hearty breakfast while watching Game 2 of the Warriors VS Rockets alongside with Clarkson who had pizza and fries whom I happend to share the same table with while I had a very heavy bacon-filled pancake. He was not rooting for any team in particular but wished the Rockets well and hoped they'd win.
(Final Result:: The Warriors won by a point against Rockets 99-98)
While here, Trey, Jordan, Horace, the OKC Thundergirls and mascot Hugo will also be having a basketball clinic with some
lucky children from a selected foundation as part of their NBA Cares program which has been an integral campaign for visiting NBA players.
"Yes, I'm excited to be meeting with the kids and play ball with them," shares Trey.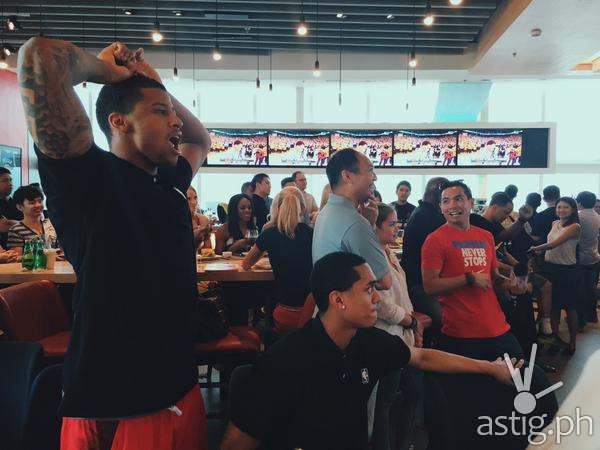 You may also catch them upclose and personal at the Meet and Greet session today May 23, starting with a 12NN registration at the NBA Store in Glorietta 3 Makati. It's your chance to have a quick chat and selfie with them plus meeting mascot Hugo and the OKC Thundergirls.
It's not too late to be able to catch the NBA Conference Finals and Finals live with the NBA League Pass anytime and anywhere from Globe on your mobile, tablets and PCs at only P499 for 30 days or P50 for a day. Visit www.globe.com.ph/nba to know more.
"As the leading provider of digital services to Filipinos, Globe is committed in bringing about globally-innovative partnerships such as with NBA to further enhance our offerings as well as the experience of our customers," concludes Mr. Horan.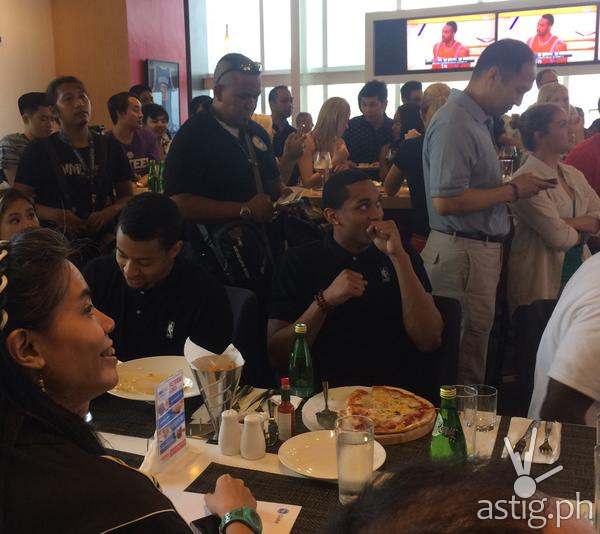 Hosting the Viewing Party was Jinno Rufino of Solar TV. Some of the NBA Asia executives I spotted and got acquainted before were Senior VP & Managing Director Mr. Scott Levy, Business Development & Marketing Partnerships Mr. Francesco Suarez and Mr. Carlo Singson, Country Manager Philippines. Great seeing you all again.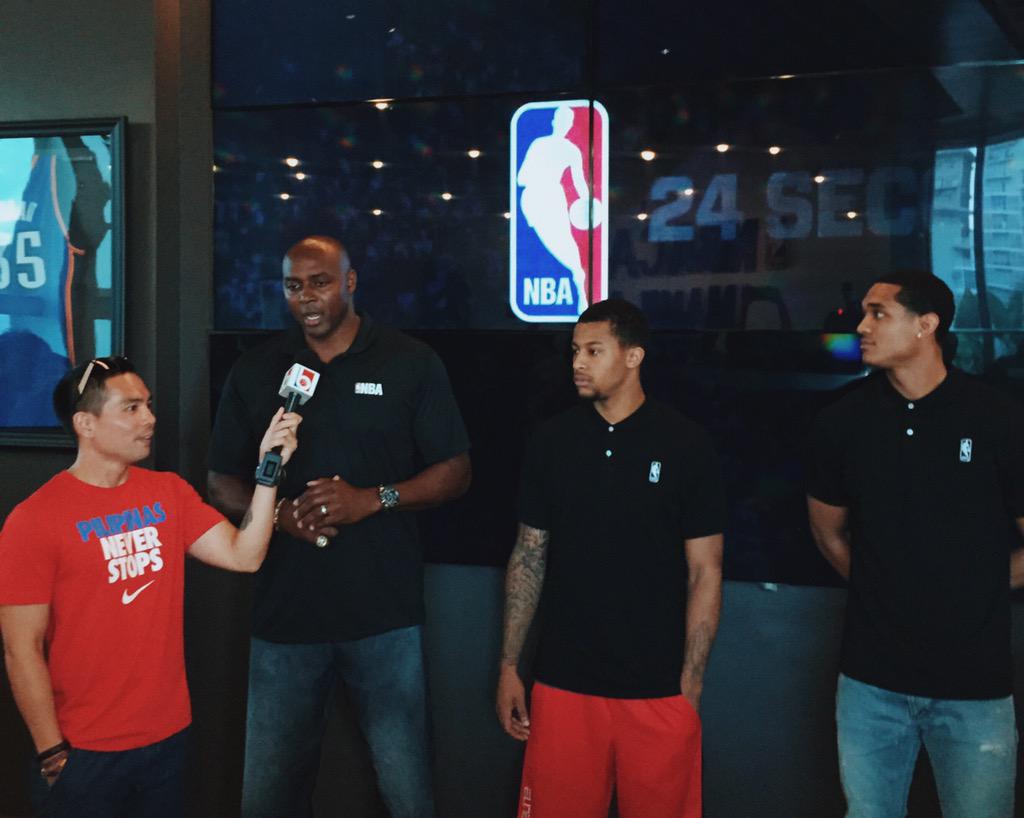 Likewise spotted Mr. Jude Turcuato, Senior Vice President and General Manager FOX International Philippines, DJ Tin Gamboa of Magic 89.9 and host of G.O.A.T on FOX and my two good friends in- demand host Rovilson Fernandez and GMA 7 reporter Mark Zambrano.
Trey, Jordan and the rest, will be back at NBA Cafe tomorrow, Sunday May 24 to watch Game 3 live between Golden State
Warriors and Houston Rockets. Who do you think will win?
If you want to catch them all one more time, I suggest be at the venue by 8AM. Game starts 9AM local time.Have fun!
Many thanks Globe Telecom for the invite and Astig.PH for the chance to cover this cool sporting event!