When OPPO debuted the F7 in the Philippines last month, we were very interested. On the surface, it is one of many phones going the way of the notch. Underneath the hood, however, is the new MediaTek Helio P60 SoC (system on a chip) with NeuroPilot AI technology.
This onboard AI enables forward-looking capabilities such as face detection and enhanced photo and video capabilities.
So, we took the F7 for a spin – read on for our first impressions.
Looks and feels like an iPhone X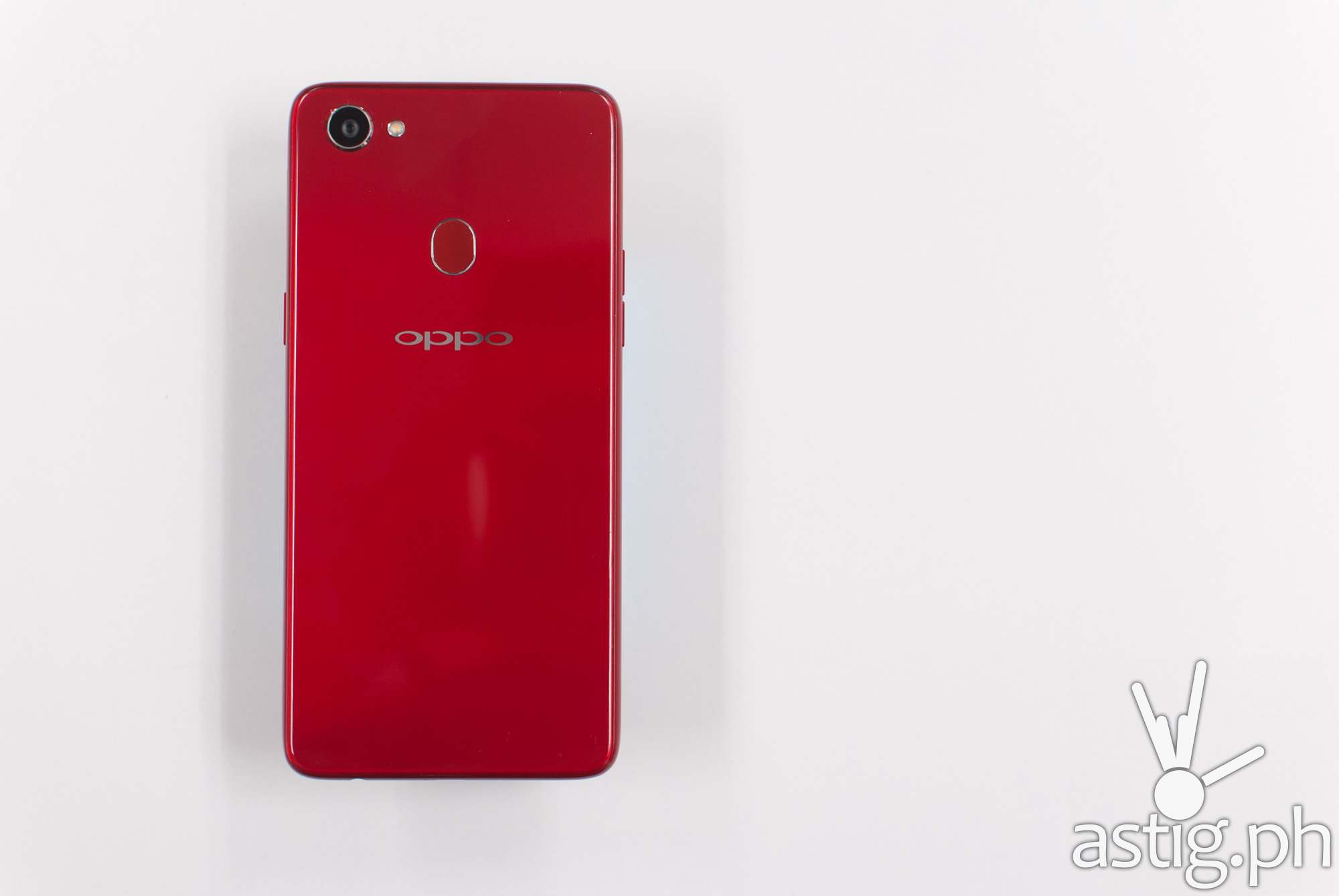 At first glance, the OPPO F7 looks like an iPhone X. The notch may have been inevitable, but the top placement and shape is something that every layperson has, by now, associated with Apple's latest flagship phone.
But that's not all – the F7 also rocks a glass back, for some reason. It made sense on the X because of wireless charging, but on the F7, it appears to be purely aesthetic.
So it's not surprising that I've had people mistake it for the X after I handed it to them – even if I had the red F7 and we all know that a red iPhone X does not exist … yet.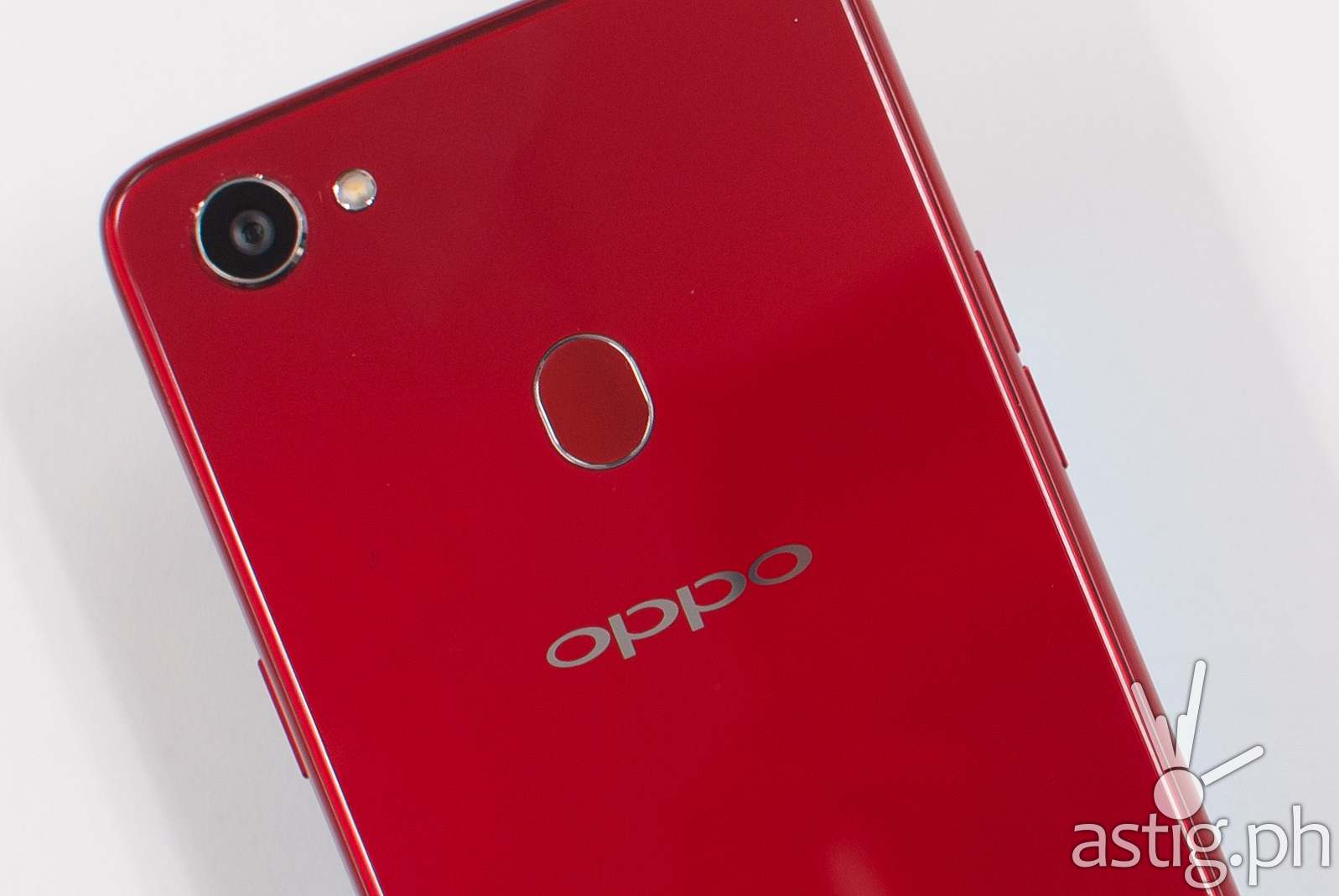 As we know by now, anything glass becomes a fingerprint magnet. It's hard to ignore especially on the red, but thankfully the package comes with a clear jelly case which we installed right away.
The LTPS screen is vibrant and comes with a screen protector pre-installed. It's a nice touch – some may think that a screen protector is no longer needed if you have Gorilla Glass, but I appreciate the added layer of protection. Not many manufacturers, go out of their way to put in extras, especially on a budget device.
Speaking of which, the F7 is stuck with micro USB as its main communications and power connector, possibly to reduce cost. I prefer the reversibility of USB Type-C, but I am fine with MicroUSB – cables are cheap and common.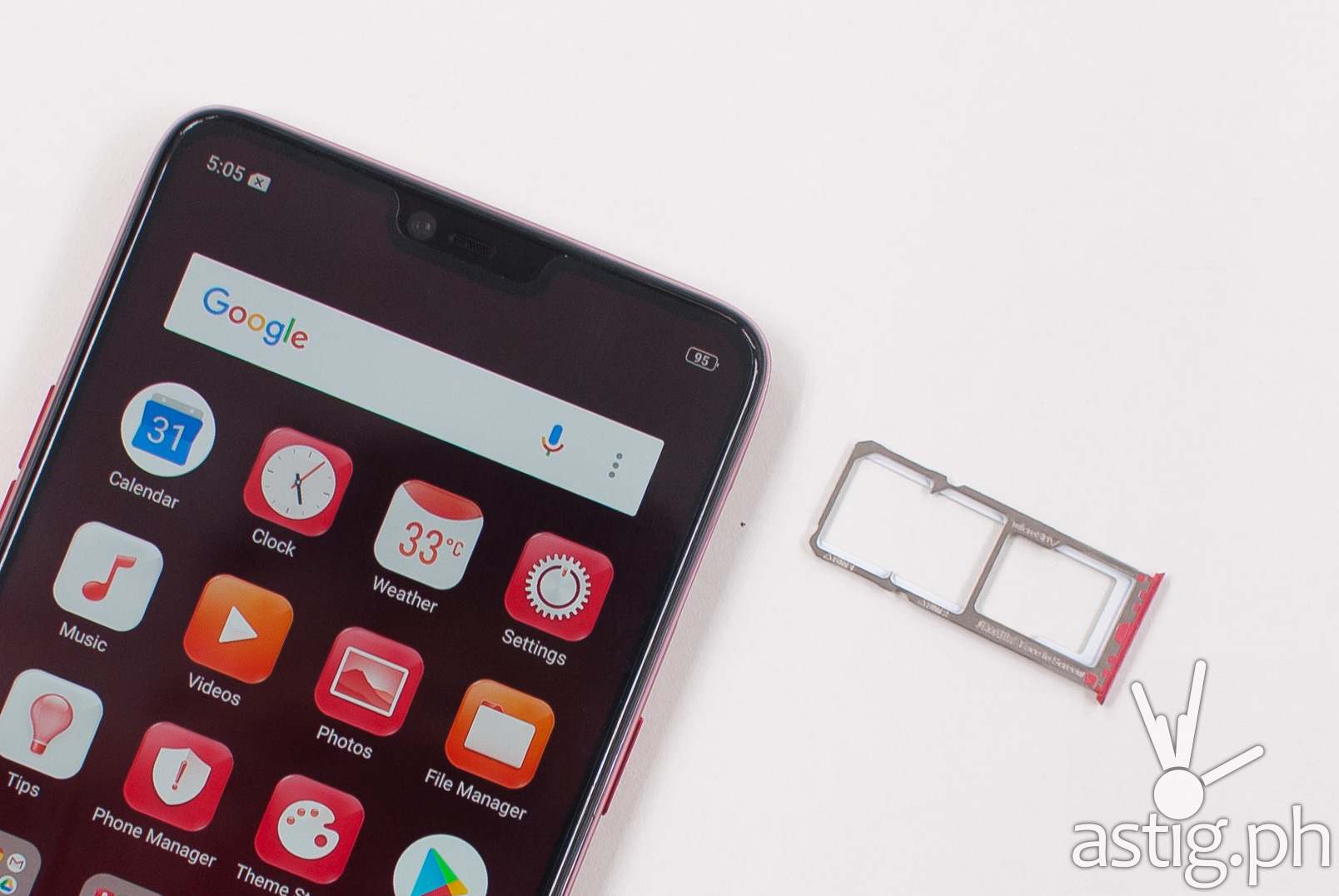 Dual SIM is operation supported, and if we are correct, both SIM cards can operate in 4G at the same time. The SIM tray also has a dedicated MicroSD expansion slot, unlike others where the second SIM slot doubles as the MicroSD slot.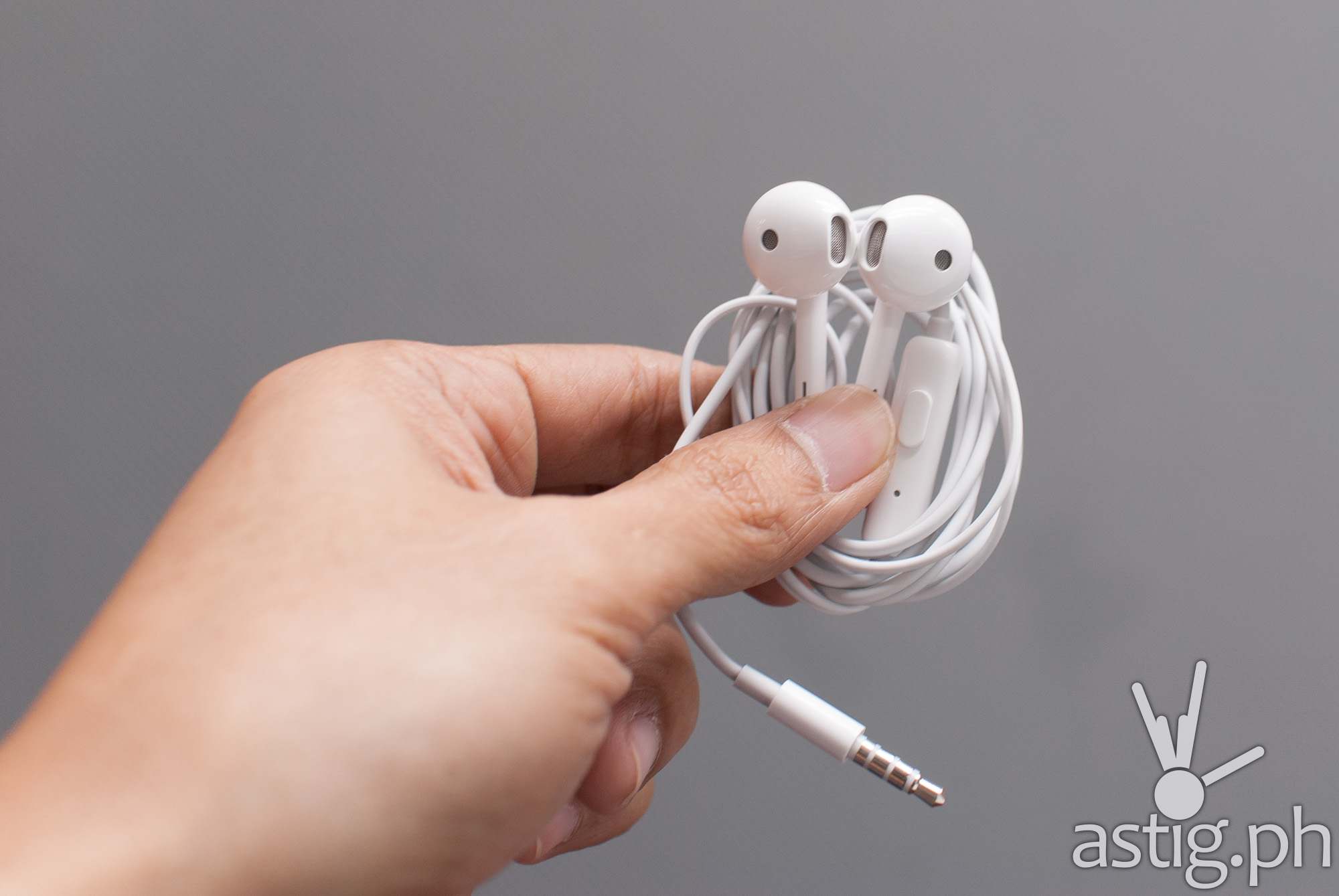 Oh, it also has a headphone jack, for all you dedicated-3.5mm jack-loving folks.
No IP68 protection and no dual speakers, though!
Smooth and ready to multitask
Application and multimedia performance is pretty smooth overall. Multitasking and application switching went smoothly, even after loading several applications. We have yet to see how it performs after maximizing all available space and memory, but hey – so far, so good.
The F7 comes with Android 8.1 out of the box and supports multi-window operation, though you may have to dig a little deeper to enable it.
I like how they added shortcuts to the notch. Anytime you are in landscape mode, you can simply swipe from the notch to display shortcuts for stuff like texting, taking screenshots, and recording on-screen videos.
Let there be light … when shooting photos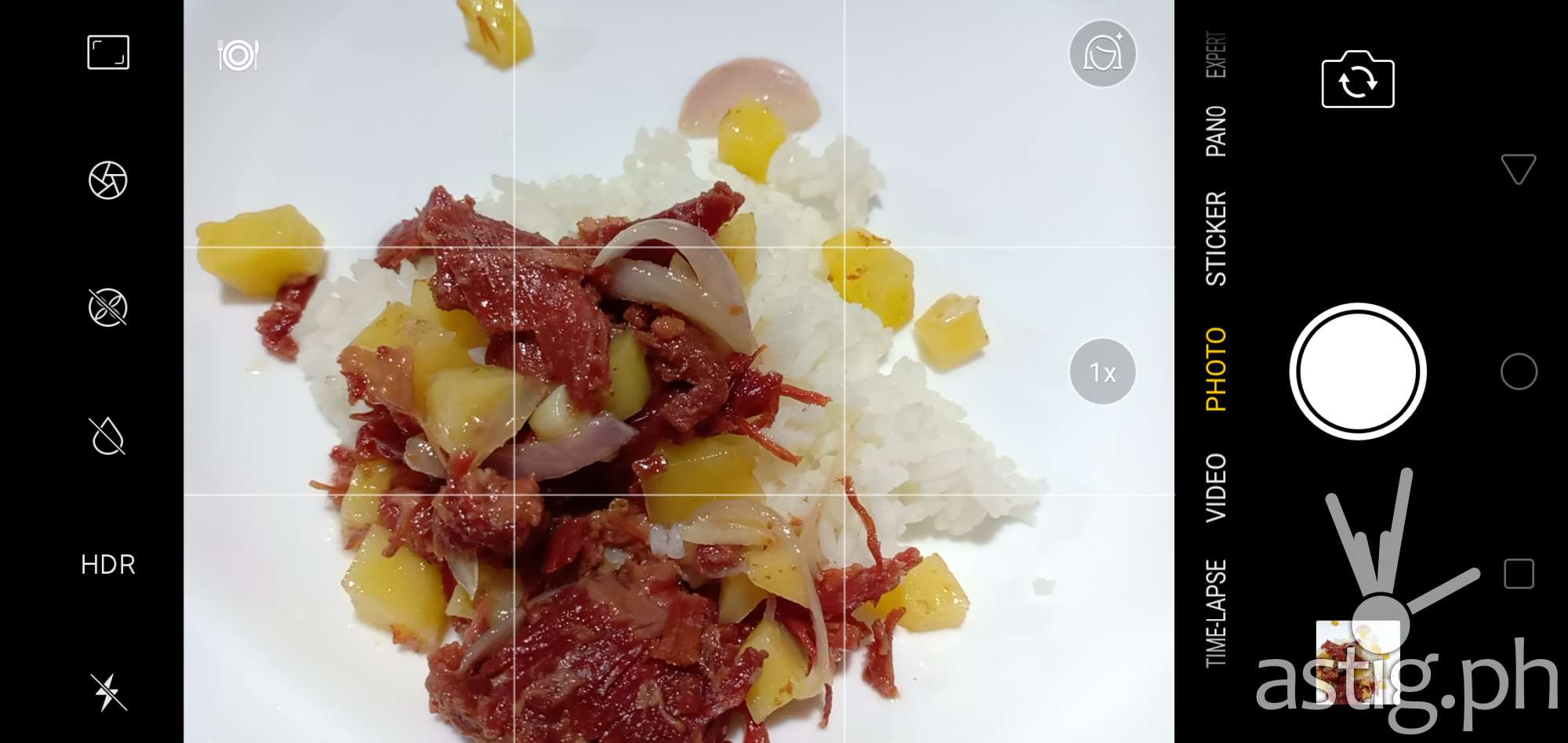 During the day, the 16MP rear camera takes nice and sharp photos, though they can appear a little over-processed.
The depth of field effect is a hit-or-miss experience, and when it works, the edges still appear soft especially in areas with a lot of detail like in the hair.
Without a secondary camera, the F7 relies heavily on AI edge detection to simulate bokeh.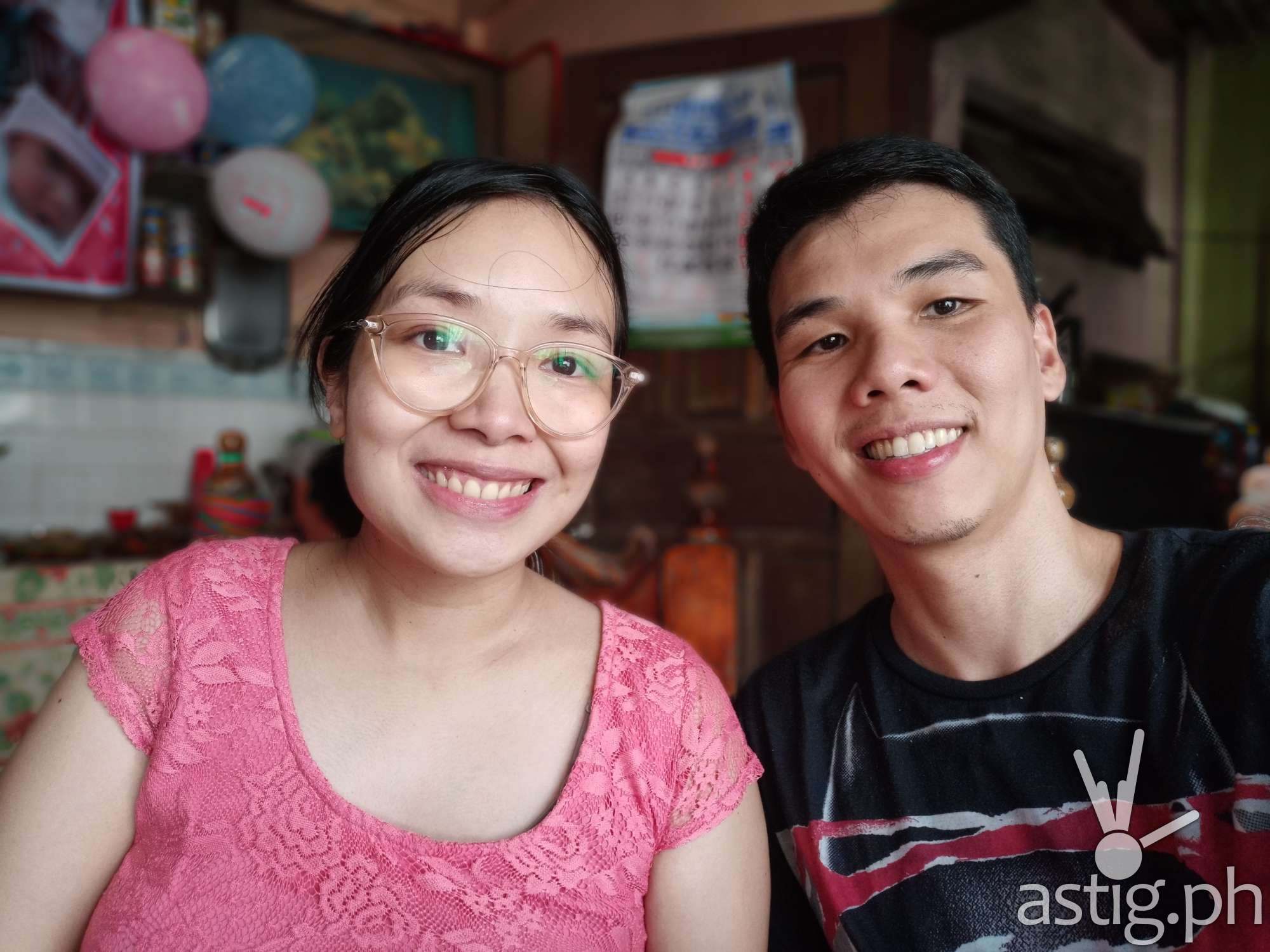 Neither rear nor front camera has any kind of image stabilization, and it becomes glaringly evident when you start taking lowlight photos, which tend to be blurry despite having a relatively big aperture of f/1.8.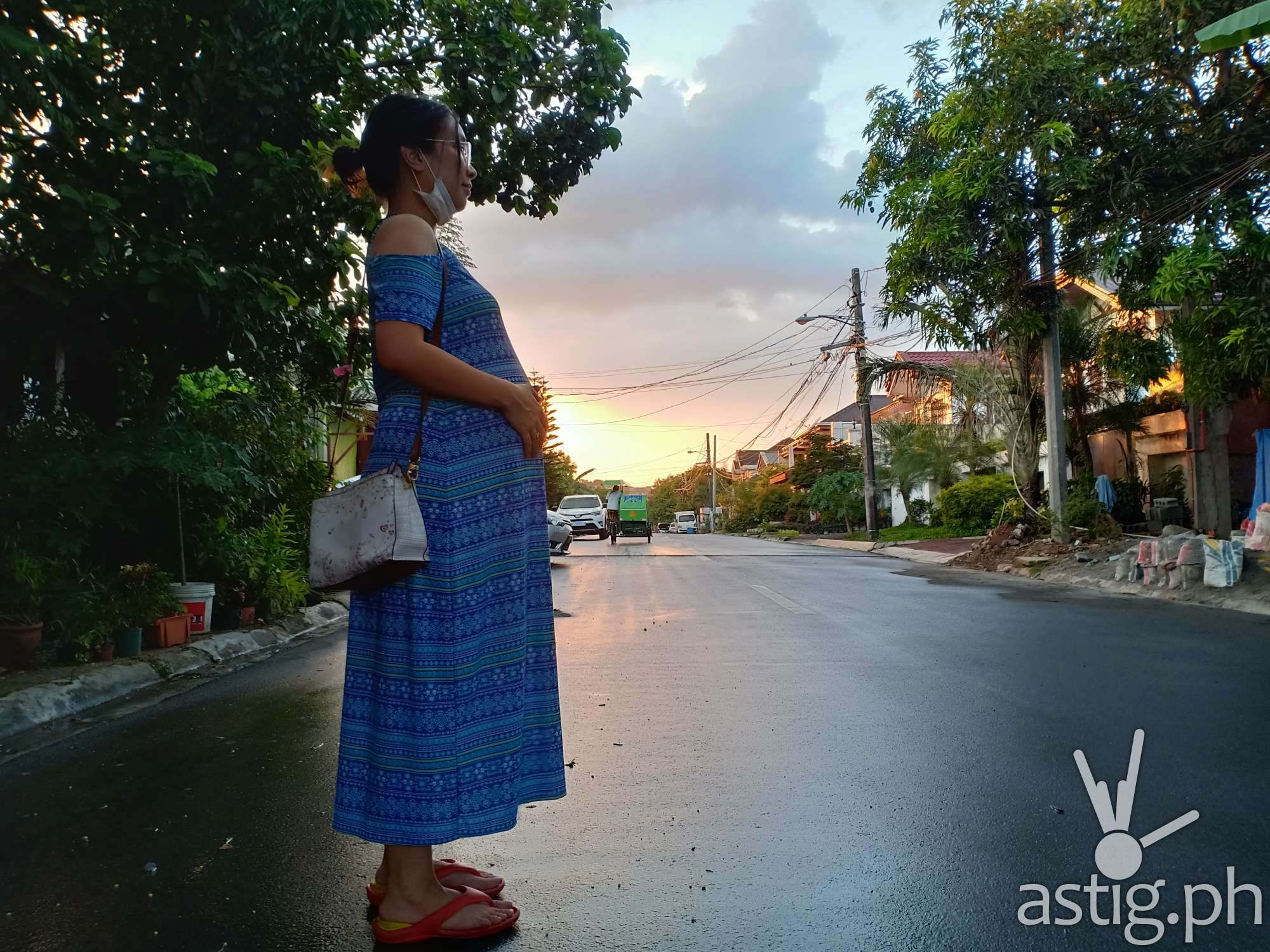 OPPO is sticking to its selfie strategy with the F7. With a 25 MP front-facing camera, the F7 trumps the most flagship Android phones in terms of Megapixel count, including the usual 8MP selfie camera found on the Google Pixel 2 XL, Huawei P20 Pro and Samsung Galaxy S9 Plus. Even the iPhone X only has a 7MP selfie camera. Only the Vivo V7 Plus comes close at 24MP.
Tacking a big number may sound impressive, but it does not necessarily translate to better selfie photos. That actually has more to do with the sensor, and the shots that we've taken so far were not too impressive, even those taken during the day.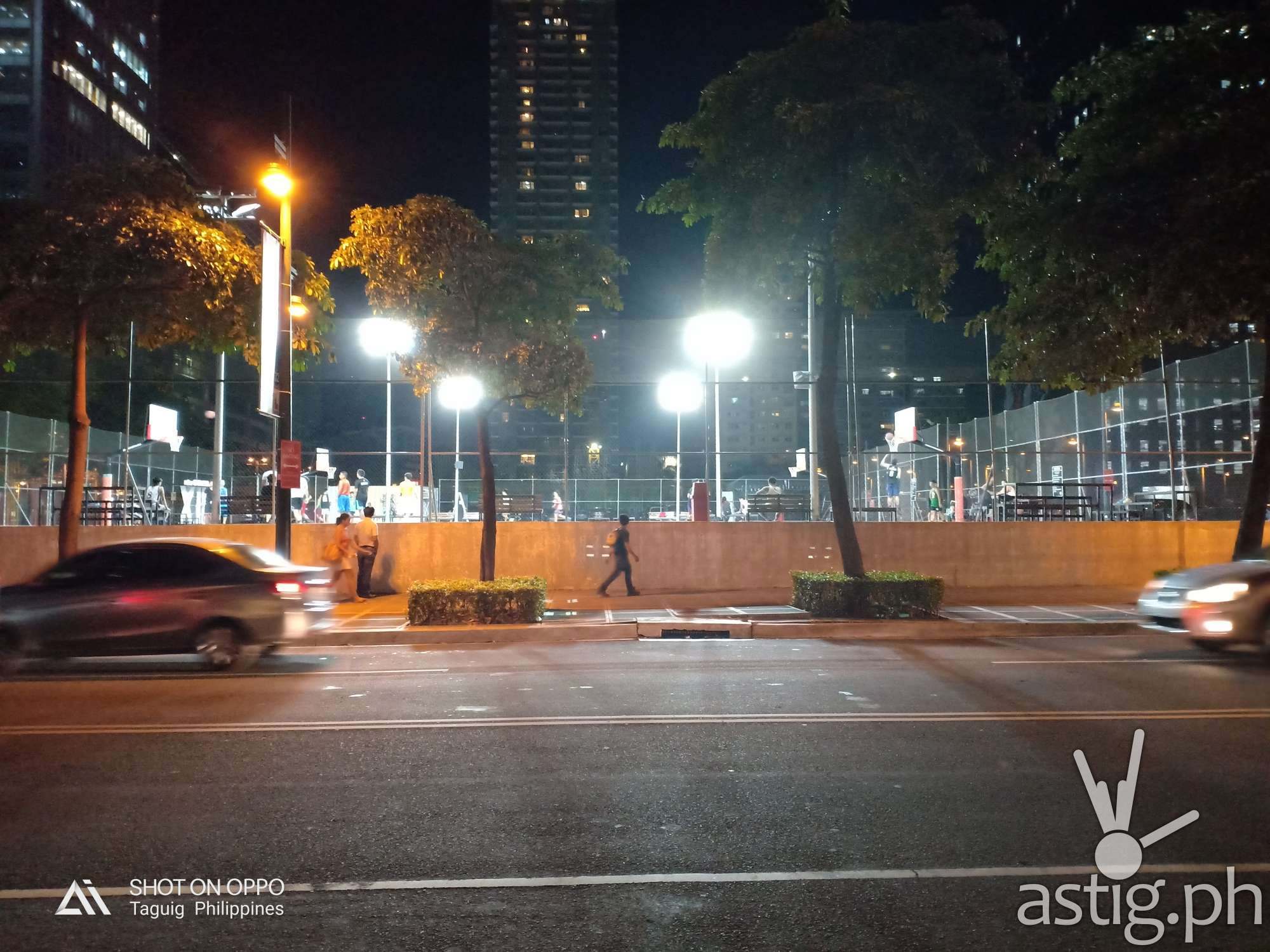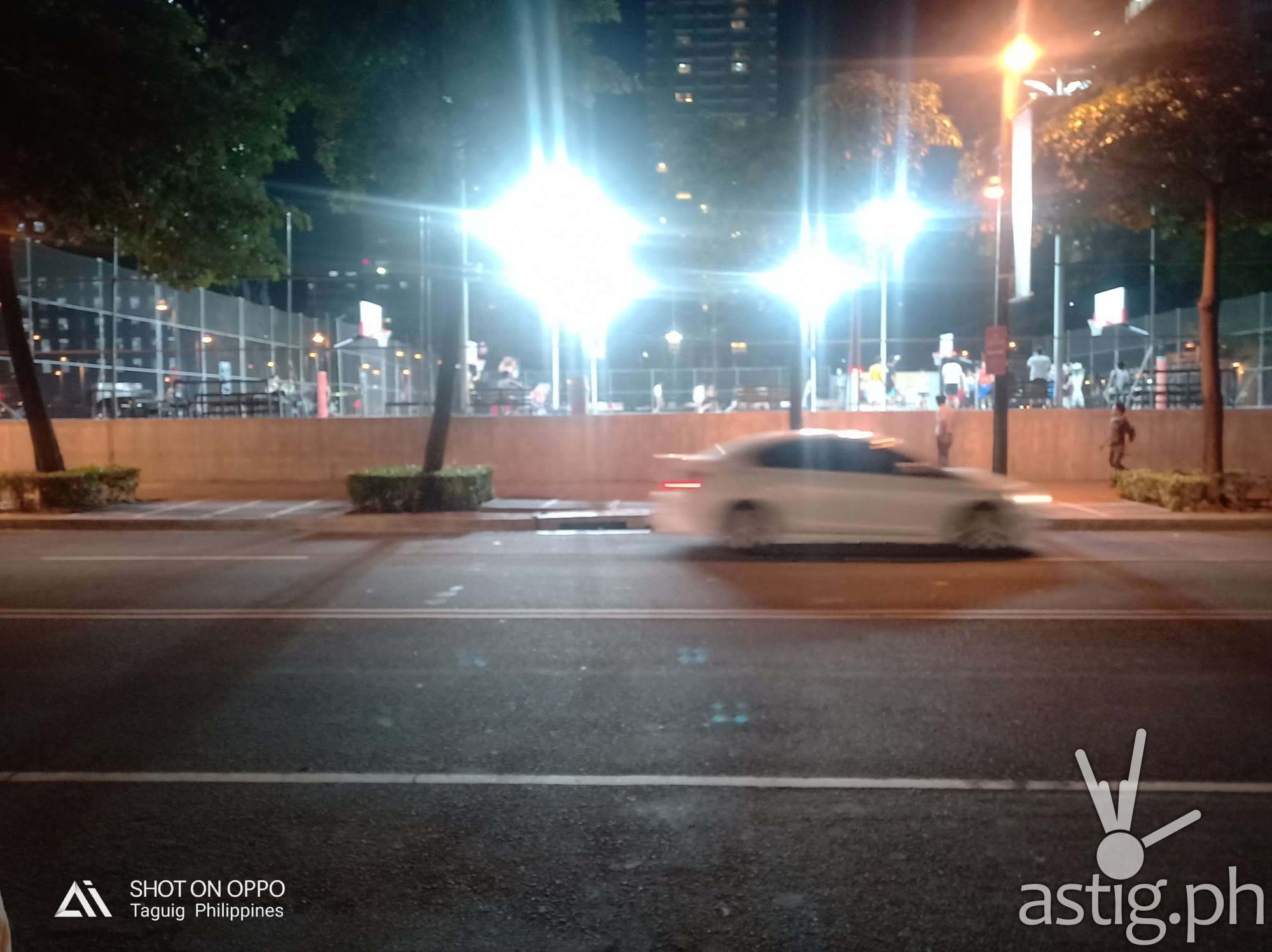 A lot of detail is lost, and there is a lot of flare from light sources. Low-light photos tended to be noisy and blurry, and it's a pity that RAW image format is not supported, else we could probably use some image recovery techniques to improve the end-result via post-processing.
That said, the newly-added AR (augmented reality) is a lot of fun, though the resulting image quality is even worse than those taken in Auto. It's a shame AR stickers are not supported in the front-facing camera, since it has the better sensor.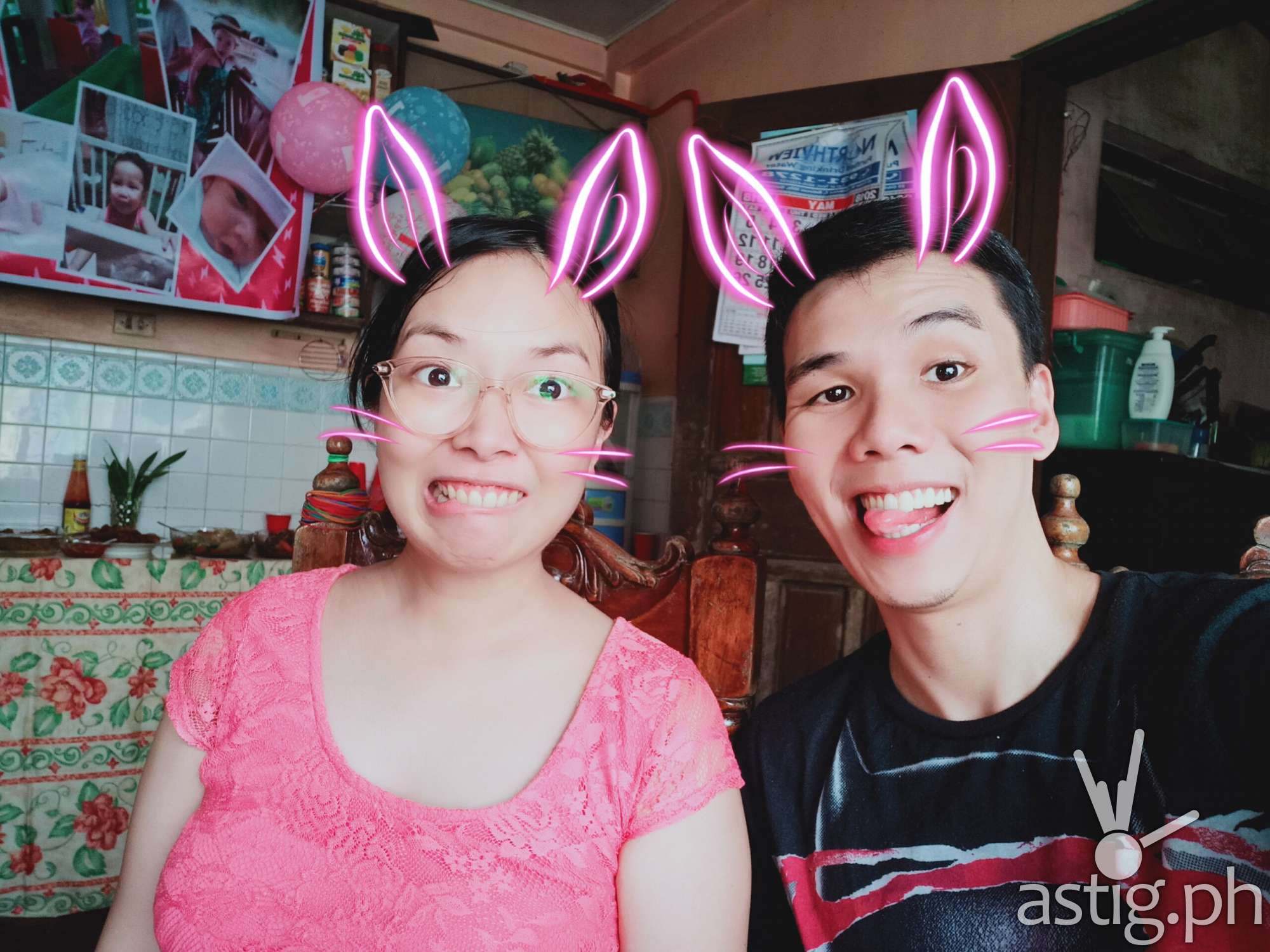 Pro or "Expert" controls are only available in the rear camera, as well.
Videos taken during the day were surprisingly decent, despite the lack of OIS (optical image stabilization). We suspect there may be a bit of EIS (electronic image stabilization), but we can't be too certain.
Winner winner, please don't stutter
3D performance has improved dramatically in the Helio P60. We installed a couple of graphically-intense games and so far, the results have been consistently smooth.
There weren't as many frame drops like what we normally experience in Snapdragon devices, including the Samsung Galaxy S9.
Note that both the Galaxy S9 and the OPPO F7 uses the ARM-based Mali-G72 GPU, although S9 uses its proprietary Exynos chipset, while the F7 runs on Helio P60.
The F7 managed to last us an entire day so far with GPS and mobile data turned on. Screen brightness was on auto the entire time and we mostly used it for Waze and Netflix.
Very nice to see MediaTek making serious efforts in improving battery life in the Helio P60. I was not too convinced before, but the three-cluster design is starting to make more sense.
Sad to say, MediaTek has been struggling to keep up with the flagship market. So far, OPPO is the only brand that consistently releases MediaTek phones in the Philippines.
If the F7 is any indication of where OPPO is headed, then I am really looking forward to their future releases.
OPPO F7 specs
Screen: 6.23″ LTPS IPS LCD @ 1080×2280 pixels with Gorilla Glass 5
OS: Android 8.1 (Oreo) with ColorOS 5.0
Chipset: Mediatek Helio P60
CPU: Octa-core (4×2.0 GHz Cortex-A73, 4×2.0 GHz Cortex-A53)
GPU: Mali-G72 MP3
Memory: 4/6 GB RAM
Storage: 64/128 GB ROM
Rear (primary) camera: 16 MP, f/1.8, PDAF, LED flash
Front (selfie) camera: 25 MP, f/2.0
Features: microUSB 2.0, 3.5mm jack
Price: P17,990 (4GB RAM/64GB ROM), P21,990 (6GB RAM/128GB ROM)