OPPO debuted the F7 last month amid an increasingly competitive smartphone market. The iPhone X had been out for months, so Android phones needed more than a bezel-less display to differentiate themselves from the market.
It seems that with the F7, OPPO remains faithful to its market-tested selfie strategy, augmenting a 25MP front-facing camera with AI features, but is it enough for it to stand out from other … "top-notch" (heh) competitors?
Here are our thoughts from using the F7 as our daily driver for the past 2 weeks.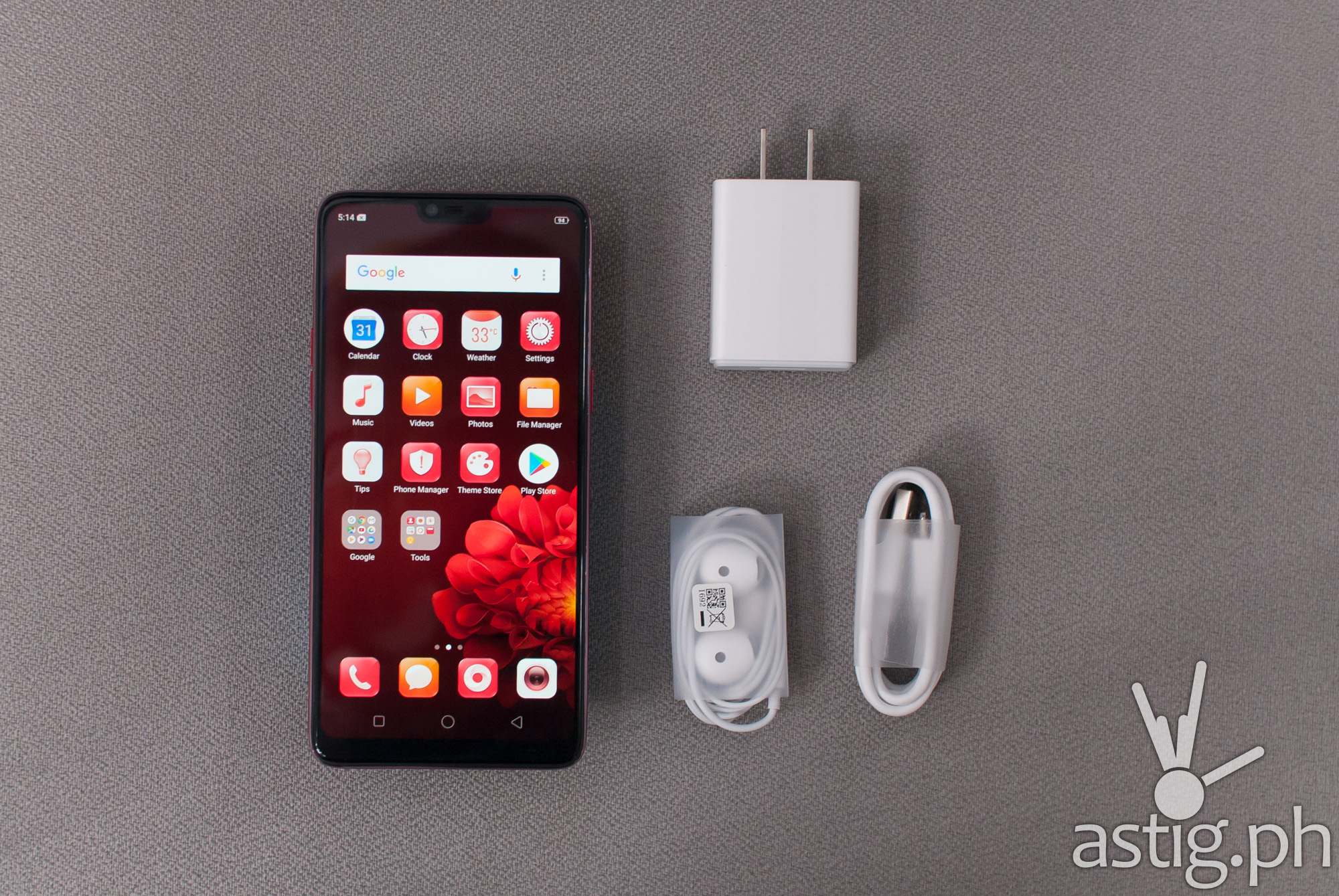 At a glance: OPPO F7 specs
Screen: 6.23″ LTPS IPS LCD @ 1080×2280 pixels with Gorilla Glass 5
OS: Android 8.1 (Oreo) with ColorOS 5.0
Chipset: Mediatek Helio P60
CPU: Octa-core (4×2.0 GHz Cortex-A73, 4×2.0 GHz Cortex-A53)
GPU: Mali-G72 MP3
Memory: 4/6 GB RAM
Storage: 64/128 GB ROM
Rear (primary) camera: 16 MP, f/1.8, PDAF, LED flash
Front (selfie) camera: 25 MP, f/2.0
Features: microUSB 2.0, 3.5mm jack
Price: P17,990 (4GB RAM/64GB ROM), P21,990 (6GB RAM/128GB ROM)
Build and design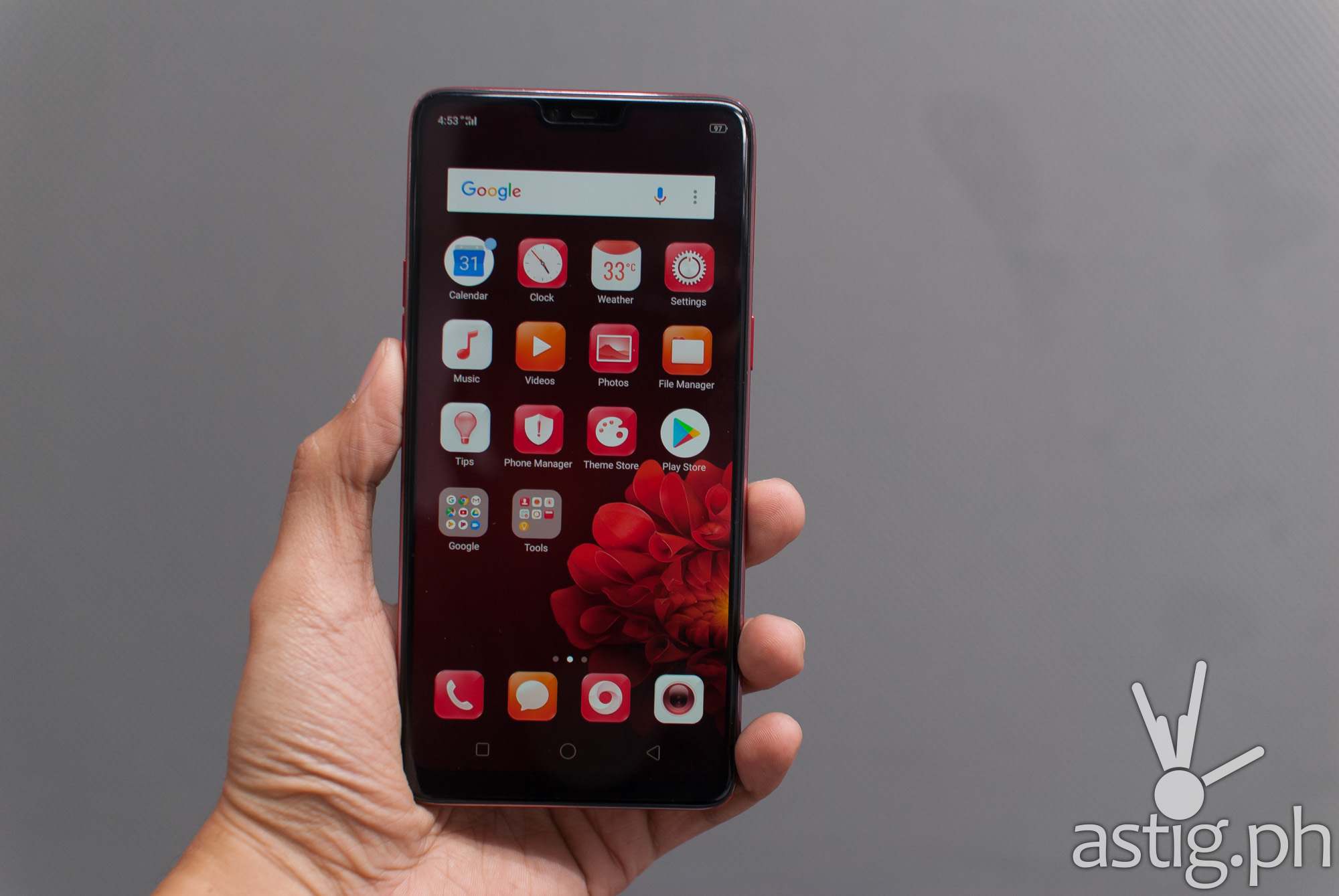 The first thing we noticed when we picked up the F7 is the near-bezel-less screen. No matter where you stand on the notch, it's hard not to appreciate the thin bezels.
We think that OPPO made the right move by going with a forward-thinking design, but when a dozen other manufacturers are doing exactly the same thing, what makes the F7 stand out?
OPPO made use of the notch by putting shortcuts when you swipe left while running full-screen applications in landscape mode. This allows you to do things like taking screenshots, recording on-screen videos and disabling notifications.
As content creators, the built-in screen recording is very handy – it's one less third-party app to install!
Two teeny-weeny concerns though: first, there seems to be a bug where touch input becomes messed up during and after recording; second, videos taken in landscape mode are saved in potrait mode, so you have to rotate it in post – nothing that can't easily be fixed by YouTube's built-in editor, but still.
Hopefully, this will get fixed in a future update. Hopefully.
You can also use the notch to access shortcuts that will let you text and reply to SMS, WhatsApp, and Messenger through a popup window. This allows you to urgent messages while Waze, Netflix, or whatever is still playing in the background. Sweet!
If you are not a fan of the notch, or if it goes in the way of the applications that you use, you can simply disable it under the individual application's settings.
Our unit's screen had a slight blue-ish tint, but that's okay because you can manually change the white balance in the system settings.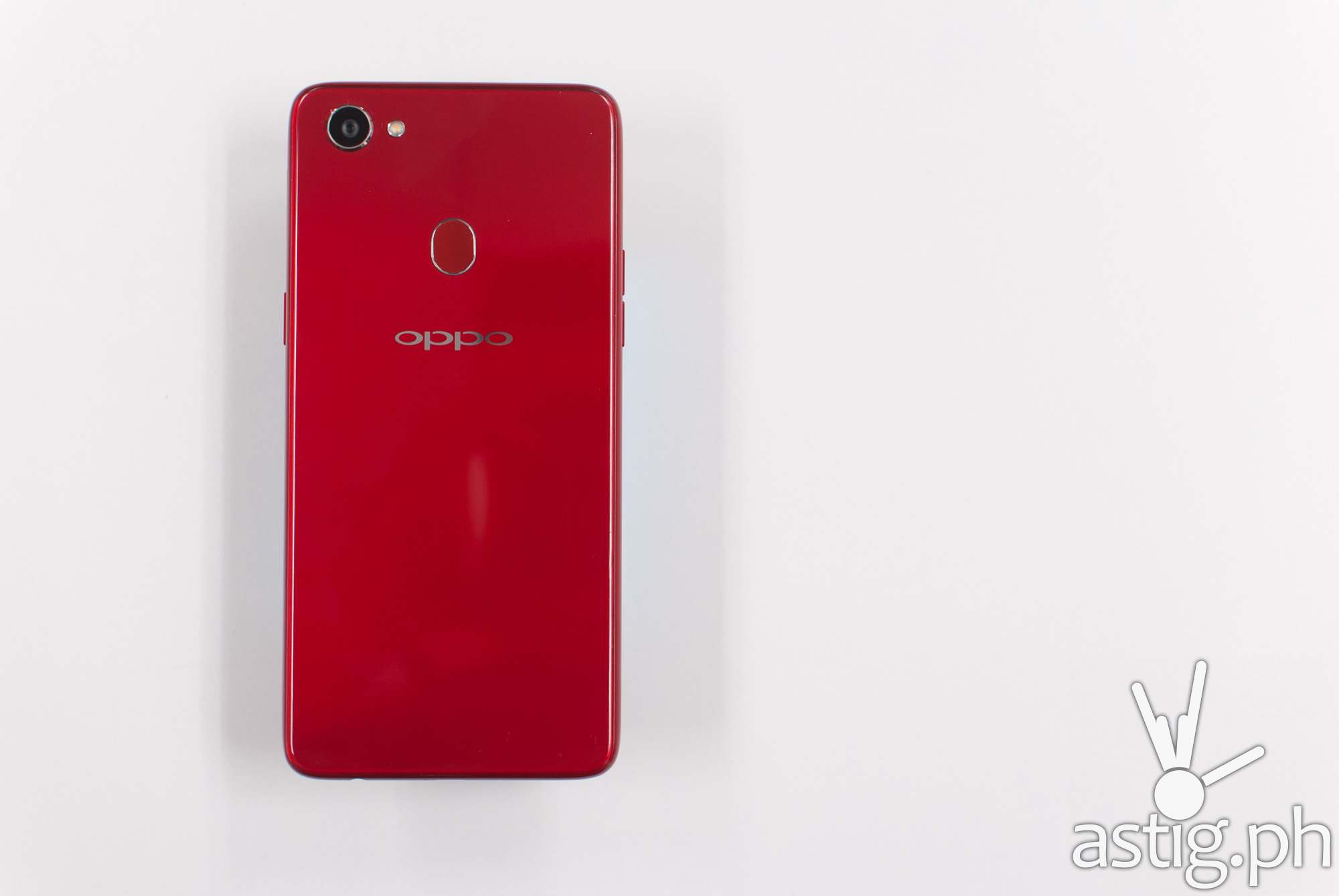 The second thing we noticed is the nice "glass-and-metal" sandwich, to use the popular catchphrase.
Now we have seen plenty of similar designs in other smartphones – it may not be the best, but it still looks good. You will not feel out of place taking it out of your pockets, assuming you don't cover it all up with a case.
This is another example of a good design decision from OPPO. Sure, they could go with a pure metal or matte chassis, which would win the hearts of hardcore users like me.
However, when the market moves a certain direction, it is wise to move with it – smartphones are moving in the direction of wireless, inductive charging, so it's about time we got used to it.
The third thing we noticed is that the OPPO F7 comes with a screen protector installed right out of the box.
It's not something plenty of manufacturers do, but it's a nice touch considering that putting a screen protector would be the first thing most of us do when we get a new phone. It also came with a jelly case.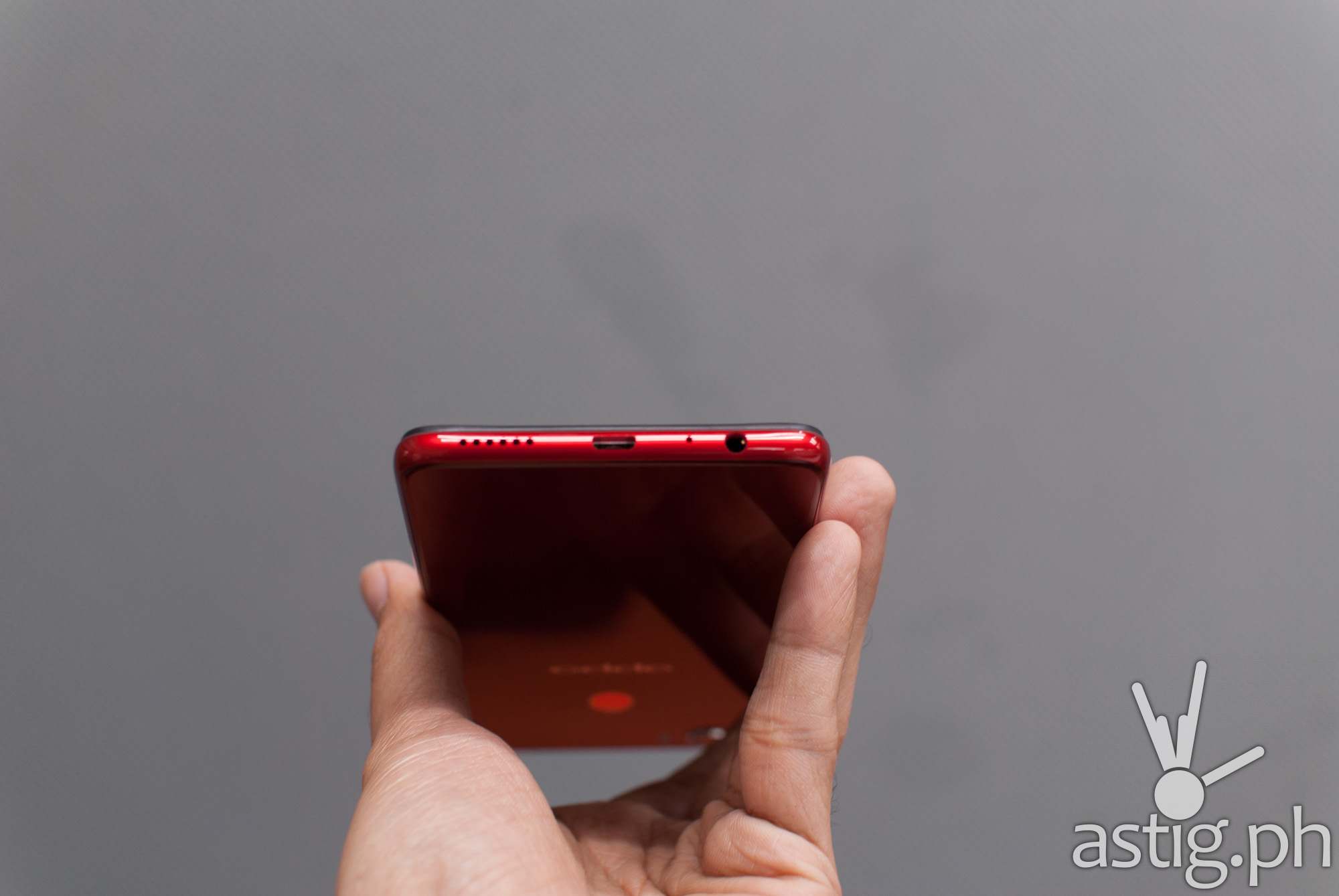 For some reason, OPPO went with MicroUSB instead of USB Type-C. I would have preferred the latter, but it's not a deal breaker. MicroUSB cables are common and easy to find.
Bottomline, the OPPO F7 looks so good that I have received several curious looks from other people. Perhaps it's the notch, though it could also be the attractive chassis. Less-discerning friends were also under the impression that it was an iPhone X.
Even the tech-savvy ones were fooled for a while, but maybe that's the whole point? Given the success of the iPhone X, I'd like to think it's actually a good thing.
Camera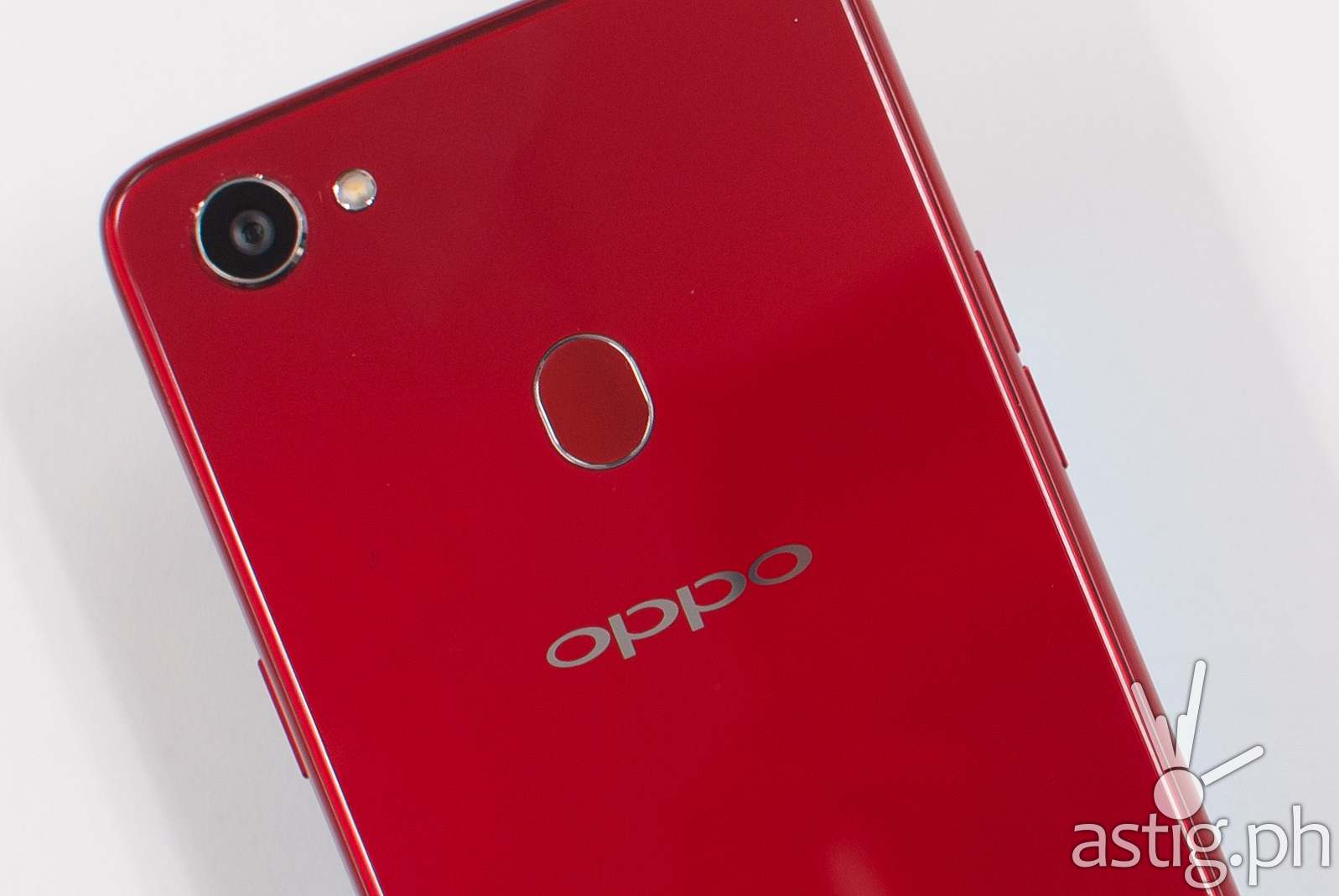 The F7 packs a single 16 MP f/1.8 camera on its rear. It takes decent pictures in well-lit environments but struggles in poor lighting conditions.
That said, the photos were mostly sharp despite not having OIS (optical image stabilization) thanks to the wide f/1.8 aperture.
Automatic shooting mode activates scene detection, which then applies scene-specific post-processing. I noticed this the most when taking food photos – it brightens the shots and brings up saturation quite significantly.
Expert Mode gives you more control over advanced settings like white balance, ISO, exposure, and shutter speed.
TIP: To take sharper photos, go into Expert Mode and use the lowest ISO possible while keeping the scene well-lit – in darker areas, this may mean setting a slower shutter speed.
Depth effect is inconsistent, it works best in ideal situations where you have good lighting and a simple background. Without a secondary camera to measure depth, complex backgrounds can easily confuse the edge detection algorithm and mess up the shot.
Videos are surprisingly not too shaky despite the lack of OIS – possibly some form of software stabilization (EIS) is being applied. There is no tracking option or slow-motion video capability, which is a bummer.
Built-in camera software allows you to 'zoom in', but this is purely software interpolation as the camera module only has a single lens.
Selfies are supposed to be this phone's expertise. However, actual shots on the 25MP f/2.0 front-facing camera were underwhelming, especially if you compare it to the sharp, well-defined shots taken with the main camera.
I'm guessing this is a design limitation. Unlike the back, there isn't a lot of space in the front, so the engineers have no choice but to resort to a smaller, lower quality sensor.
Despite taking 25 MP photos, the front-facing camera is no match for the 16 MP rear camera, which just shows that higher Megapixel count does not automatically mean better quality.
Photos taken with the selfie cameras have soft edges and bad veiling flare – I kept on wiping the lens hoping it would get better, but it didn't.
AI Beauty 2.0 is the latest enhancement to be incorporated into the stock camera application. You no longer have to fiddle around with individual beautification settings. Just set it to AI and start shooting those selfies and … uh, "wefies".
As a guy, I just leave it off as always, I sure can appreciate how it hides the pores and wrinkles on my face. It even gave me a free shave, facelift, and removed a few millimeters off the sides of my chin.
What's nice is that it can apply beautification on more than one subject, which brings us to the next topic: augmented reality (AR) stickers!
You know how Snapchat, Facebook, and Instagram can add doggie ears and nose to your face? The stock camera app gives you a bunch of those, and they're really cute and fun!
Stickers work for multiple faces, too, though we have yet to test its limits.
OPPO may not be the first manufacturer to do this, but I personally feel that their execution is better than the others. Those kitty ears are just too adorable!
It is certainly one of the more interesting features of the F7.
Performance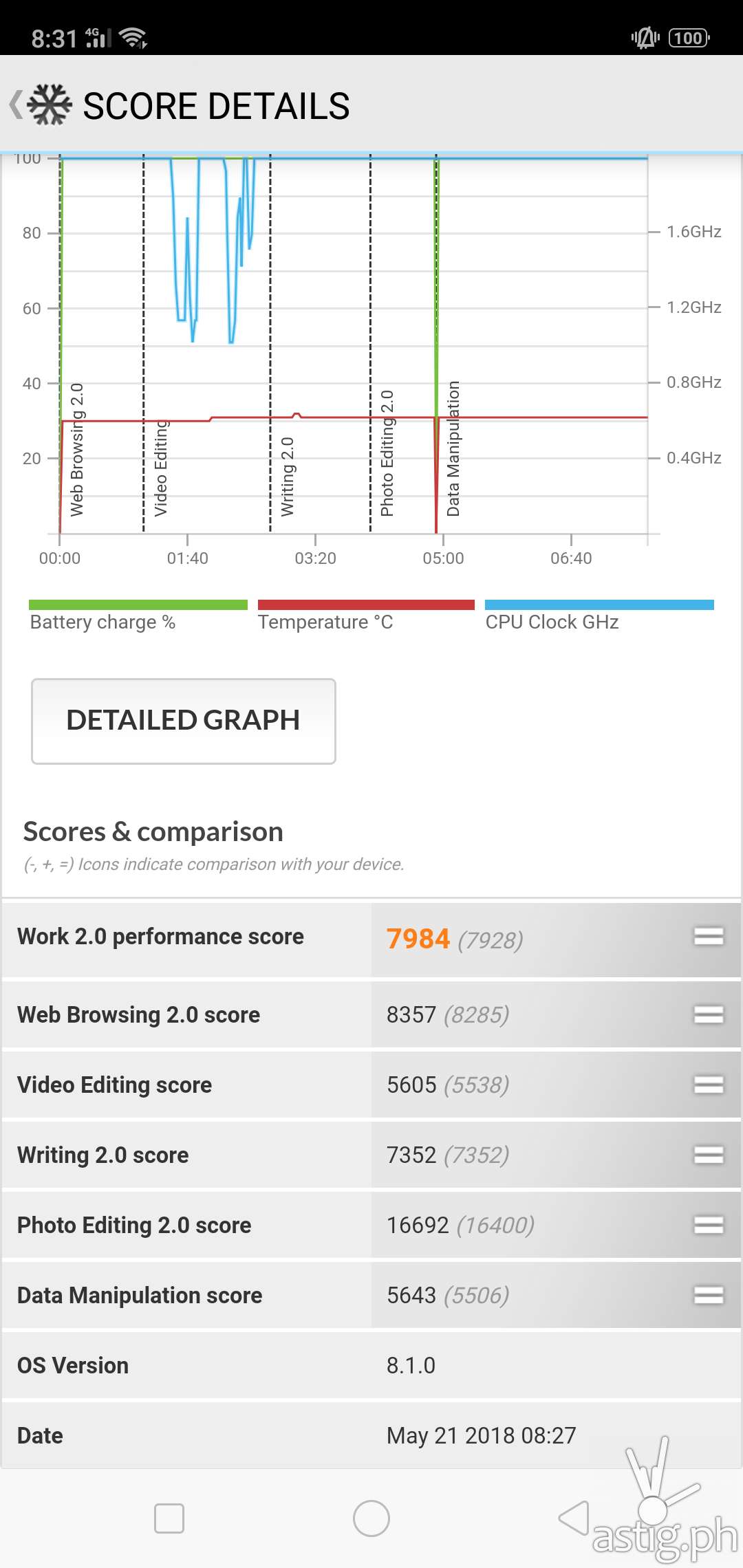 MediaTek has really upped its game with the Helio P60. Applications load almost instantly, and there was almost no performance decrease even after installing and loading multiple applications at the same time.
What really impressed us is its ability to multitask. We found that the F7 is able to continue running applications in the background much longer than other Android phones.
It took us a while to find a way to activate multi-window. Just when we had lost all hope we found the multi-window option hidden in the system settings. Swiping down with three fingers does the trick, which makes a lot of sense.
GPS performs comparably to the Helio's Snapdragon counterparts, which comes as a shock – GPS has not been a strong suit in Mediatek's older SoCs. It only took a few seconds to acquire a GPS lock, and it stays locked unless you happen to enter a cave or get eaten by a fire-breathing dragon.
Face unlock makes a debut in the F7, and it has worked well as an alternative to fingerprint or pattern-based security measures.
It's impressive to see how it works despite being in its early stages. In case you were wondering, I tried to use a photo to trick it, and no, it didn't work – the phone stayed locked.
Gaming
Moving onto gaming, there aren't that many Mediatek Helio P60 smartphones available in the market that we could use as our reference point. So, we only had Snapdragon, Exynos, and Apple SoC-based smartphones to compare performance with.
Given our relatively poor experience with Android gaming in general, we went in with fairly low expectations. Surprisingly, Helio P60's Mali-G72 MP3 GPU exceeded those expectations when it came to 3D performance.
It's nowhere near Apple A11 levels, but performance was very consistent, especially in multiplayer games like PUBG, Mobile Legends, Dragon Nest, and Lineage 2 Revolution.
I personally value consistency, and for this reason, I generally prefer the F7 for 3D gaming over, say, the Galaxy S8 Plus. Call me crazy, but I value the overall gaming experience. I really do not like pauses and stuttering,
Basically, I'd rather game at a consistent 20-30 FPS than 30-60 FPS with several 1-millisecond pauses in between.
Before you take out your pitchforks, allow me to acknowledge that any phone with Snapdragon 636 or higher will likely beat the Helio P60 in 3D benchmarks, so this is entirely my personal opinion, but If I had a choice, I'd rather game in 120FPS @ 144Hz on a PC because well, #PCMasterRace. Come at me with your pitchforks, peasants!
Against the iPhone, I would rate the F7 slightly below the iPhone 6S Plus for 3D gaming. Nothing in the Android world comes close to the Apple A11 Bionic, though … or even the A10 Fusion, for that matter, but hey, the F7 is like a third of the price of the iPhone X, so it's something to consider.
Battery
By now you must be thinking, wow, that sounds promising, but won't the phone overheat and dry up the battery before you can finish one game of PUBG?!
Well, you're in for another surprise: it won't. That's all, thanks for reading our review!
Oh hey, you're still here.
Okay, MediaTek's three-cluster design ensures that the performance cluster is only engaged for the most CPU-intensive operations. So far, the F7 remained cool through long-hours of PUBG sessions in which we won every single match. Against bots. Don't judge.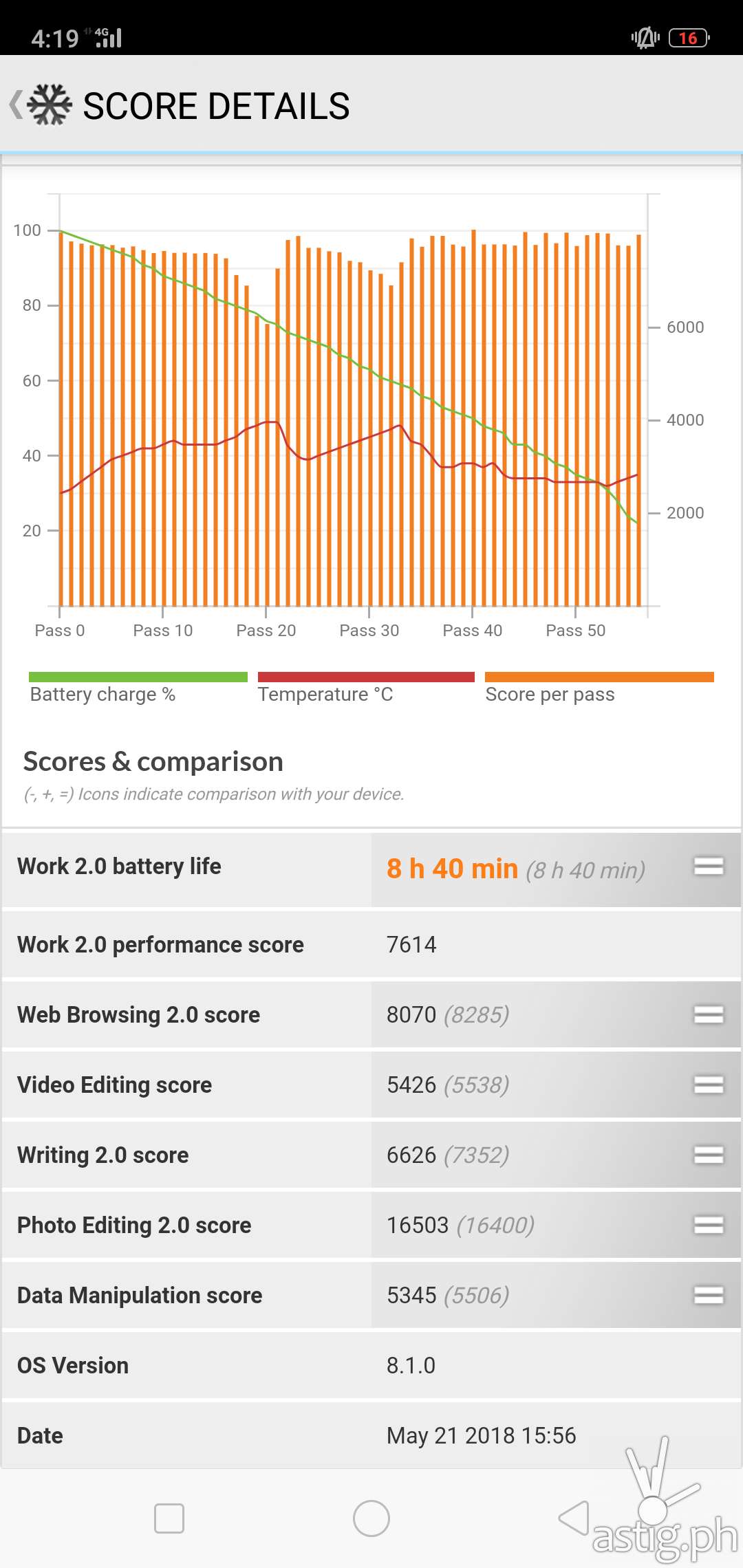 Our battery benchmarks yielded an average of almost 9 hours with power management off (maximum performance), 4G and GPS ON, and screen brightness at around 75%.
Unfortunately, the F7 does not support fast charging, so we were bound to using the supplied cable and charger if we wanted to use the phone and charge at the same time. When we tried to use the phone while connected to our Aukey 6-port fast charger, the battery just kept draining.
That's just sad, coming from the creators of VOOC fast charging technology.
Conclusion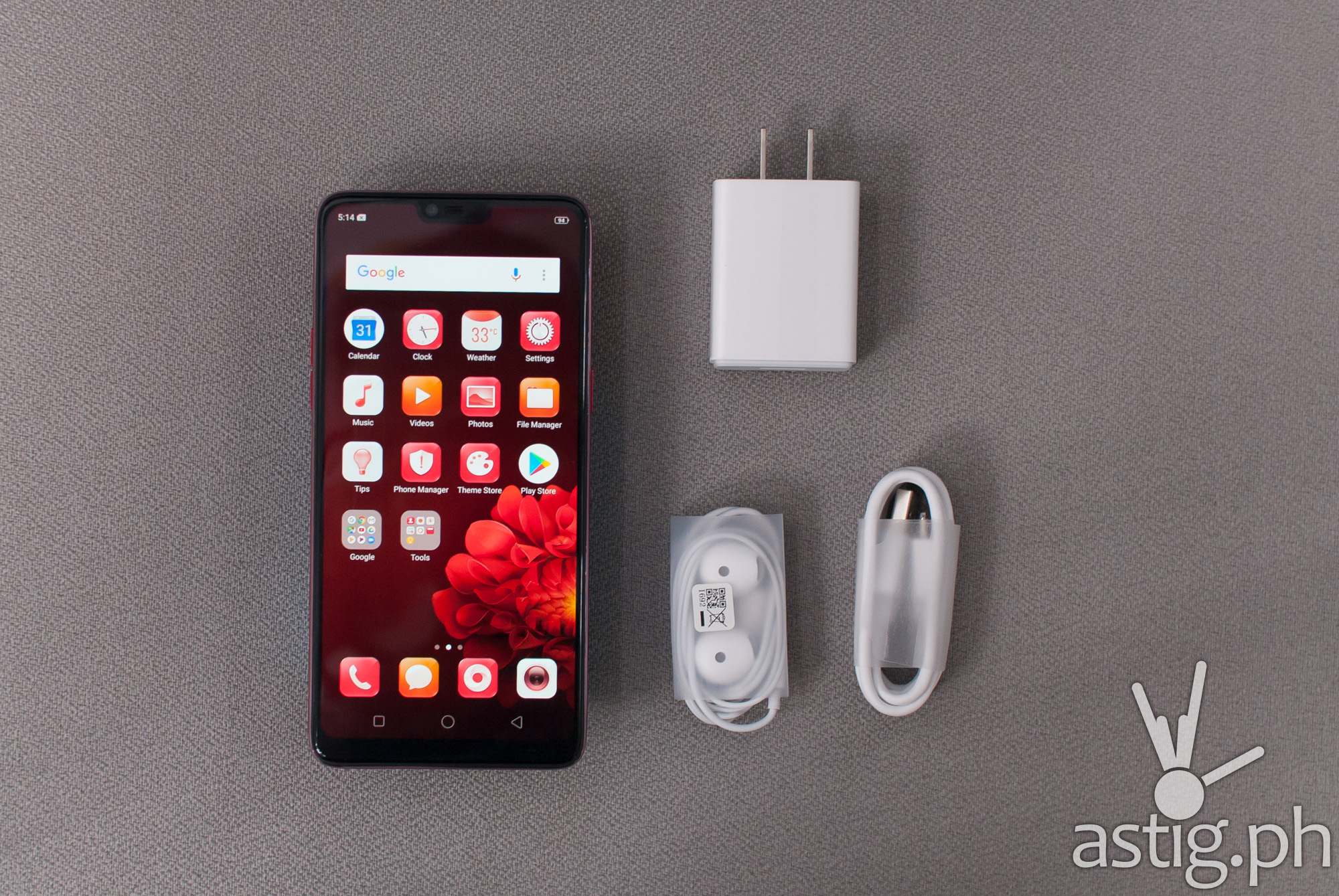 The OPPO F7 excels at two things: multi-tasking and gaming. Despite being marketed for its camera, the selfie photos could have been better, although AR stickers are a lot of fun.
Then you have the wow factor surrounding thinner bezels, and the F7 is a serious contender among mid-rangers, especially at a retail price of P17,990.