This has been a long overdue review, but here we are now. I was recently given the OPPO-rtunity to test out OPPO's newest line of accessories, those being the OPPO Watch Free and the OPPO Enco Air 2.
Of course, as with any gadget that you get brand new, I went through and set up any updates and logged into any accounts needed in order for the watch to perform as I want it. The watch has suggested to download an app called the HeyTap Health, which is the app where you can customize your watch, check out your stats such as how many steps you've taken in a day, the amount of time you've worked out, the amount of calories that you've burned, your heart rate, and your sleep schedule.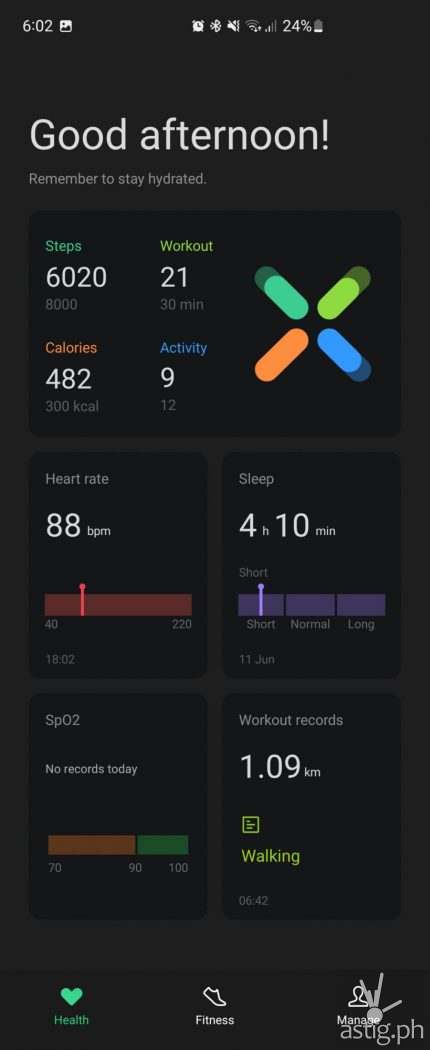 I have been using both the OPPO Watch Free and the OPPO Enco Air 2 for, more or less, about 2 weeks, and I can safely say that these two gadgets are something that I never even knew that I needed until I got to try them out.
The watch kept close track of my activities during the day, when I'm going on my daily commute, it tracks how much time I spent commuting plus the amount of steps that I took. I was surprised to find out that I, apparently, walk 2 kilometers everyday.
At least I'm fit enough to be able to do that everyday for an hour.
With it being a smart watch, another thing that came to mind was, if I could change its watch face – guess what, I can! I've always had trouble looking for a watch face that I could use just on the daily and always resorted to the classic black and white themed watch faces just so it would match most of the outfits that I could possibly choose on the daily.
I was pleasantly surprised to find out that the OPPO Watch Free has an AI Outfit watch face that could give you suggestions on any watch face designs that are based off of the outfit you are wearing for the day. For example, I would be wearing a nice little number, but the existing watch faces that they have don't really seem match my outfit to my liking.
All it takes it one pic of my outfit, and the HeyTap Health app can give me suggestions based on the colors that it saw in the photo that I took. How cool is that?
Now, let's talk about the OPPO Enco Air 2. If you knew me in person, or if you've seen any previous videos that we have released, I am not really the biggest fan of wireless earphones – for a reason, mind you. I really just find the constant need to have to worry about having to charge both my phone and my earphones to be a hassle, especially if they use the both charging port.
Aside from it taking up more space in my power strip, I literally could just use a pair of wired earphones and it has little to no latency… but the OPPO Enco Air 2 may have just made me change my mind. Again, I have been using both the Watch Free and the Enco Air 2 for more or less than two weeks, but I have yet to charge the Enco Air 2 from its battery straight out of the box.
Even as I'm sitting here, writing this article, it is still running on the charge that it came with. So that is a huge plus for me, and that was the biggest bias for me going into this review.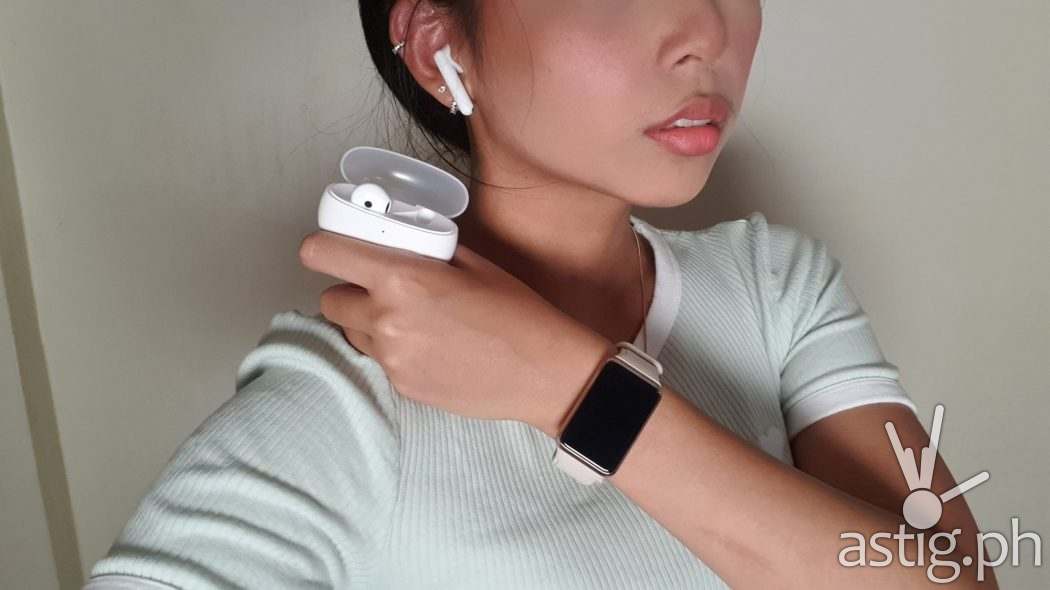 For its quality, the sound that I am met with when I first used it on my morning commute was a treat. Listening every morning to a random playlist that I was in the mood for, it really just immerses me into the music. When I'm watching a video, the convenience of not having wires tangled up with me when I'm watching it bed is an added bonus, but the sound quality is literally just like my wired pair of earphones that I swear by.
All in all, I had a great time with these products. If you want to avail your very own OPPO Watch Free and OPPO Enco Air 2, make sure to contact your local OPPO representative or visit your nearest OPPO retail store.
The OPPO Watch Free retails for Php 5,499.00 and it comes with two color variations, there is the Vanilla and Black. For the OPPO Enco Air 2, it retails for Php 3,499.00.
Hit play to watch our hands-on video review with the OPPO Enco Air 2 and OPPO Watch Free or head over to TechKuya on YouTube for more tech review videos!
OPPO Watch Free features
Exclusively equipped with OSleep

comprehensive and personalized sleep monitoring and analysis for before, during, and after sleep
sends bedtime reminders and analyzes your sleep latency, sleep duration, and sleep phases with features such as deep and light sleep analysis and rapid eye movement (REM) monitoring
multiple sensors that are able to detect sleep problems and propose suggestions in a timely manner

Equipped with  optical heart rate sensor to support over 100 sport modes including built-in professional running courses to help you achieve your fat-burning goals efficiently
24-hour heart rate monitor which vibrates to warn you of irregular heartbeat
Message Notifications, Incoming Call Notifications, Call Rejection, Find My Phone, and Music Playback Control
Light to wear on your wrist and clear to read thanks to its AMOLED HD display which can easily show over 40+ stylish watch faces for you to choose from  or maximize the AI Outfit Watch Face 2.0 feature that lets you create personalized watch faces to match your outfit
14 day battery life
5-minute charge is enough for a day of use
Vanilla and Black color options
Price: 5,499
OPPO Enco Air 2 features
Provides users with deep, powerful bass, crystal-like midrange, and silvery treble
Bluetooth-enabled earbuds have two new Enco Live sound effects: Clear Vocals and Bass Boost. Effortlessly giving you that live concert-like experience
Certified low-latency performance will deliver an experience that's on par with traditional wired earbuds (Game Mode with just triple tap to enter low-latency mode)
Music playback for up to 4 hours without the charging case but when used with the charging case, the earbuds can provide playback for up to 24 hours
AI Noise Cancellation feature which automatically adjusts the audio when in a noisy environment
Can also be used by OPPO smartphone users as a remote camera control for hands-free convenience
Price: 3,499