Brothers Stephan and Sebastien Lhuillier gears for a more dynamic program for local tennis trainers in 2019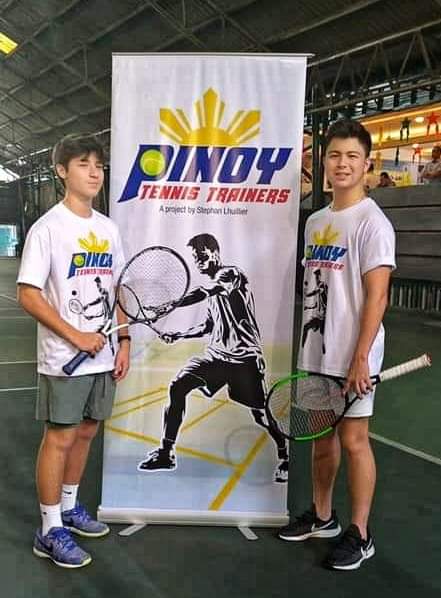 Following a very successful series of seminars in 2017, the Pinoy Tennis Trainers (PTT) spearheaded by Stephan Lhuillier,  conducted a free two-day tennis workshop for tennis trainers last December 8-9 at the Makati Sports Club.
The latest leg of P11 will bring together 40 of the country's best local tennis trainers, representing schools and clubs from all over Metro Manila and Central Luzon. The participating trainers were all top graduates and attendees of 13 PTT legs conducted nationwide since 2016. Spearheading the program is Coach Roland Kraut. the only ITF Level 3 coach in the Philippines, along with Stephan and Sebastien Lhuillier, young tennis enthusiasts and the sons of Cebuana Lhuillier president & CEO Jean Henri Lhuillier and Olympian Bea Lucero-Lhulllier.
Pinoy Tennis Trainers (PTT) suited three years ago as a brainchild of Stephan Lhuillier following a chance encounter with a local ball boy who shared that his usual day rate is PHP80. Armed with this knowledge, Stephan founded PTT with the intention of providing trainers with the opportunity to earn more by booking more clients with the help of their improved coaching skills. The program also allows trainers the opportunity to further improve their skills by getting international certification by sending these trainers to high-level coaching seminars abroad.
"I am proud of what we have accomplished from the time we launched Happiest Pinoy more than three years ago. I am elated to hear that some of our graduates are now earning high-paying jobs or have moved on to become coaches of their respective clubs and local teams. That's really the purpose of PTT, to create better opportunities to the hardworking men of our local tennis community," said Stephan Lhuillier.
Stephan adds, this coming year will be different because my brother, Sebastien Lhuillier will be formally joining the PTT family. As I prepare to begin my university studies in the States, l am confident that Sebastien will bring the same level of passion and dedication to the tennis community. This early, I have heard some of his plans for PTT, and I am already excited for 2019 as PTT enters the next level through the leadership of Sebastien."
Stephan Lhuillier is formally passing the baton to his brother, Sebastien Lhuillier, also a well-known tennis player in the local circuit and who represented the country in various meets abroad.
'I am thankful to be given this opportunity to serve on a leadership capacity for PTT for 2019. For the past three years, my brother has given opportunities to local trainers by introducing them to level 1 courses. My goal is to introduce new level 2 courses, with the help of Coach Roland and also actively pursue international tennis training for our top graduates," said Sebastien.
Sebastien adds, "I am honored to take over this initiative because I know that it helps a lot of tennis trainers improve their life by empowering them through these trainings enabling them to earn more for their family. I will take this responsibility to heart for the betterment of the program".
Since it was founded, PTT were able to conduct 13 training sessions across the country and produced close to 600 graduates. Armed with their PTT certification, the trainers were able earn more with the higher level of training they received. Top PTT graduates such as Trudy Amoranto and JR Moreno were also sent to Thailand to participate in the ITF Level 1 Coaches course.
Also part of the advocacy is the Adopt-A-Racket Program which is an advocacy component of Pinoy Tennis Trainers where Stephan tapped on his close friends, racket companies, tennis enthusiasts and even national players to donate their tennis racket to PTT so that these rackets may be given as incentives to the graduates who perform well in the trainings. So far, 211 rackets have been collected 188 of which have been given to trainers already.