The Quezon City government's innovative food security and self-sustainability strategy through urban farming were among the 10 programs recognized during the 2021 Galing Pook Awards on Wednesday.
Under the "GROWQC: Kasama ka sa Pag-unlad, Kabuhayan at Kalusugan Food Security Program", the local government has converted idle lands into abundant food sources that help boost the city's food security efforts.
The program, launched by Mayor Joy Belmonte during the height of the pandemic last April 2020 to boost food security in the city, has also provided displaced workers alternative sources of income, and community access to healthy and nutritious food.
As chair of the QC Food Security Task Force, Belmonte also launched the initiative as part of the local government's objective to meet the United Nations Sustainable Development Goals (SDG), including zero hunger, good health and well-being, decent work and economic growth, and boost partnership for SDGs.
Aside from GrowQC, the 2021 Galing Pook Awards also selected three programs of Hall of Famer Valenzuela — Valenzuela Live: The Valenzuela City Streaming School, Paspas Permit, and the Tagalag Fishing Village, Cagayan de Oro's Local Health Board expansion, and Negros Occidental's rehabilitation and protection of their marine resources.
Also recognized were Tagum City's IM SEACURE coastal rehabilitation program, Agusan del Sur's USAD conservation program, the Municipality of Alabat's coconut sugar production and San Juan City's all-inclusive Covid-19 response.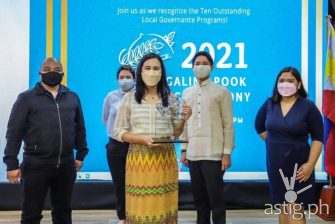 Galing Pook Chairman Mel Sarmiento said there is so much cause to honor and celebrate the best models of excellence in this year's awards as they have delivered the most outstanding innovations even in the most challenging times, coming up with programs to address gaps in health, education, economy, and the environment.
"These programs demonstrated the desire of our people for effective and excellent leadership from our local governments especially during the time of the Covid-19 pandemic…The real work happens after today. The challenge is to scale up these efforts so that more Filipinos would benefit," Sarmiento said.
SM Prime Holdings, Inc.,Galing Pook's private institutional partner for the awards, is excited to work with these LGUs in building smart, safe, and sustainable communities.
"I am confident that the outstanding LGU programs that are recognized by this Awards will undoubtedly make their respective communities more resilient and sustainable as well as generate awareness and inspiration to other local governments and communities to level-up their respective governance and other practices to be more efficient and effective," said SM Prime President Jeffrey Lim.
The 2021 Galing Pook Awards was held recently through a virtual awarding ceremony. It was co-presented by SM Prime and the DILG-LGA.