Have you ever been so impressed with something that you just had to share it with everyone? This is the effect that the realme 11 Pro+ 5G had from the moment we took it out of the box. Not only was it so pretty, but the texture of the vegan leather body felt so good to hold that we immediately started passing it around and showing it off wherever we went.
It did not take us long to find out that beauty goes way deeper than that, and we are more than excited to finally share our thoughts after using the realme 11 Pro+ as our daily driver.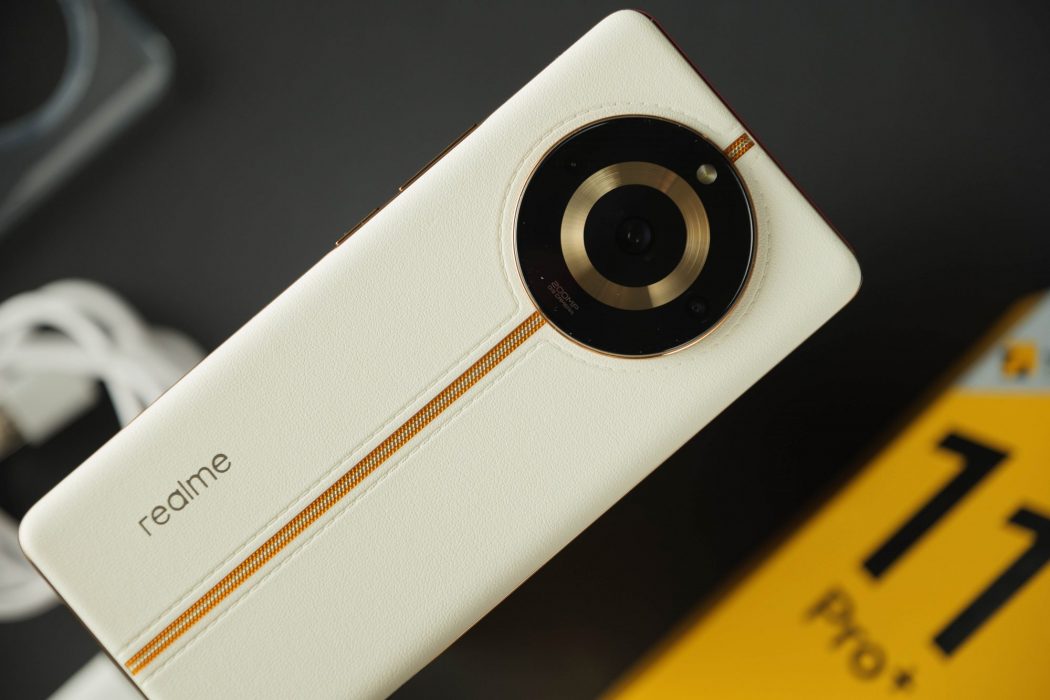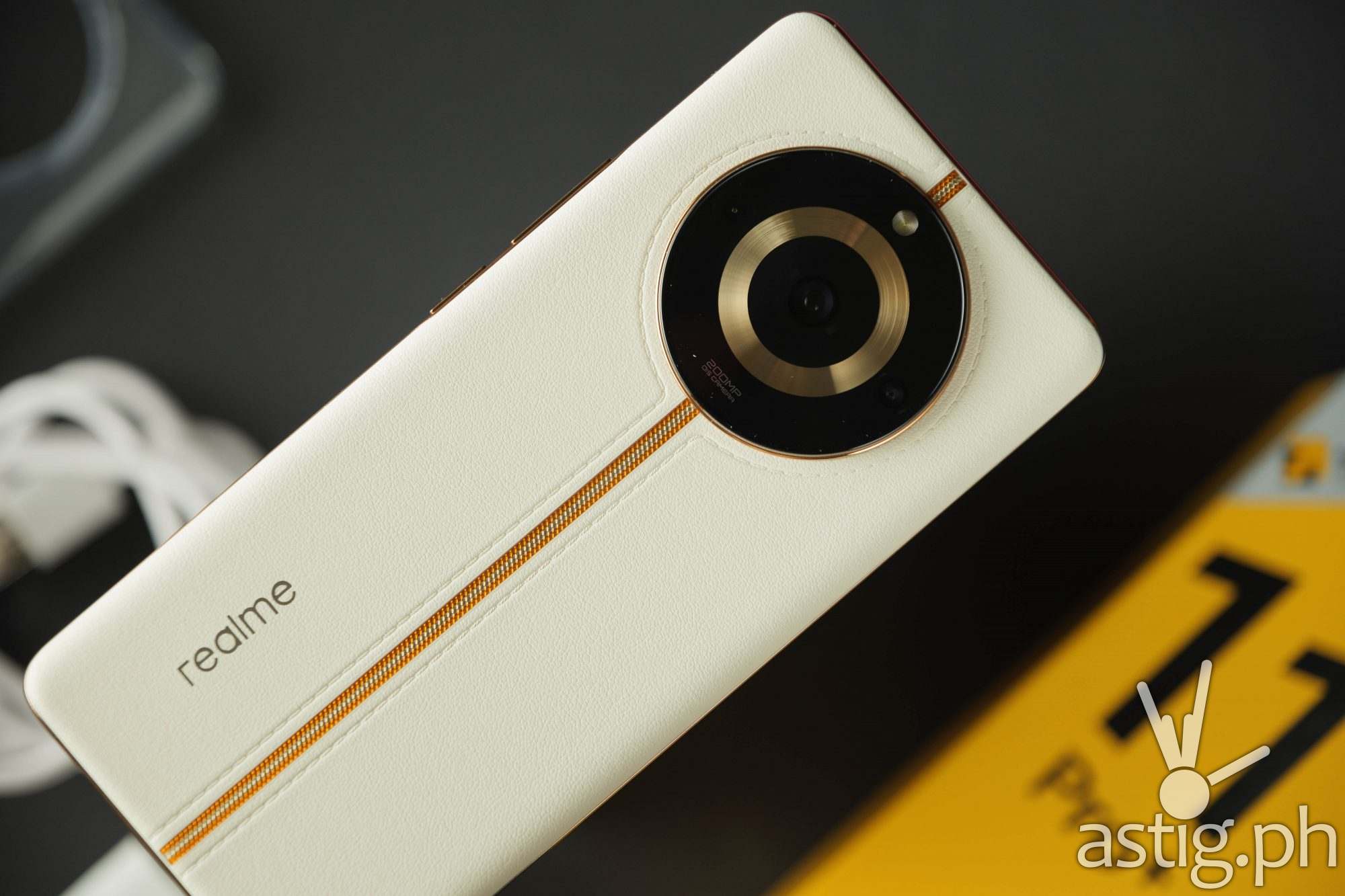 First, let's review its key specs:
realme 11 Pro+ specs
Display: 6.7 inches curved AMOLED, 120Hz
OS: Android 13, Realme UI 4.0
Chipset: Mediatek Dimensity 7050
Memory (RAM) + storage: 12GB + 512GB
Cameras: 32MP selfie, 200 MP main with OIS
Battery: 5000 mAh, 100W fast charging
Display, design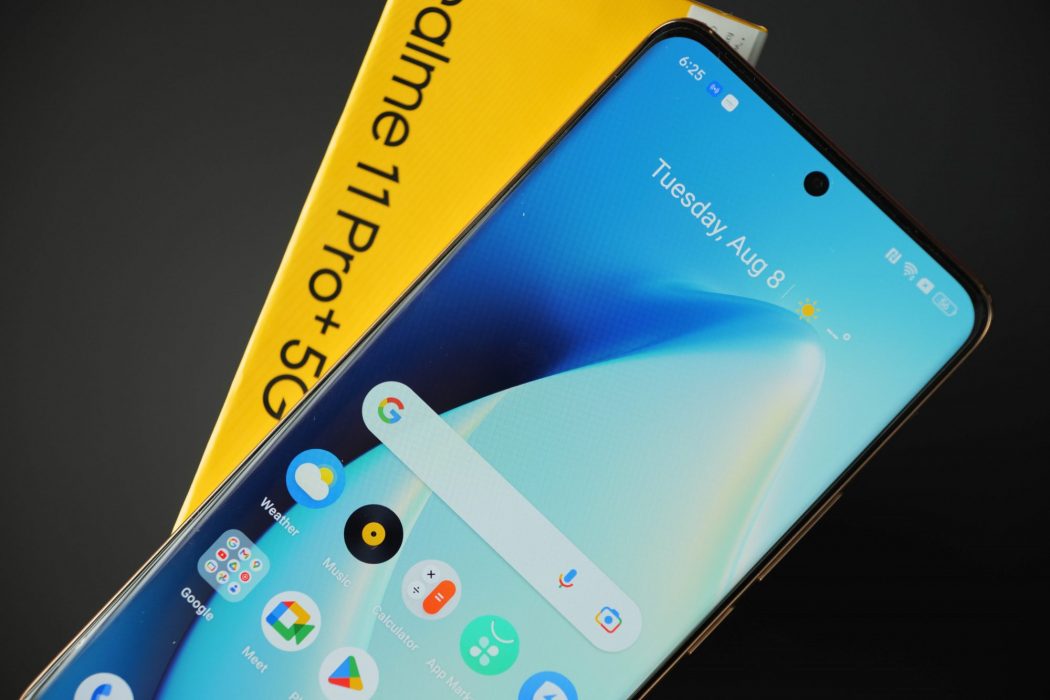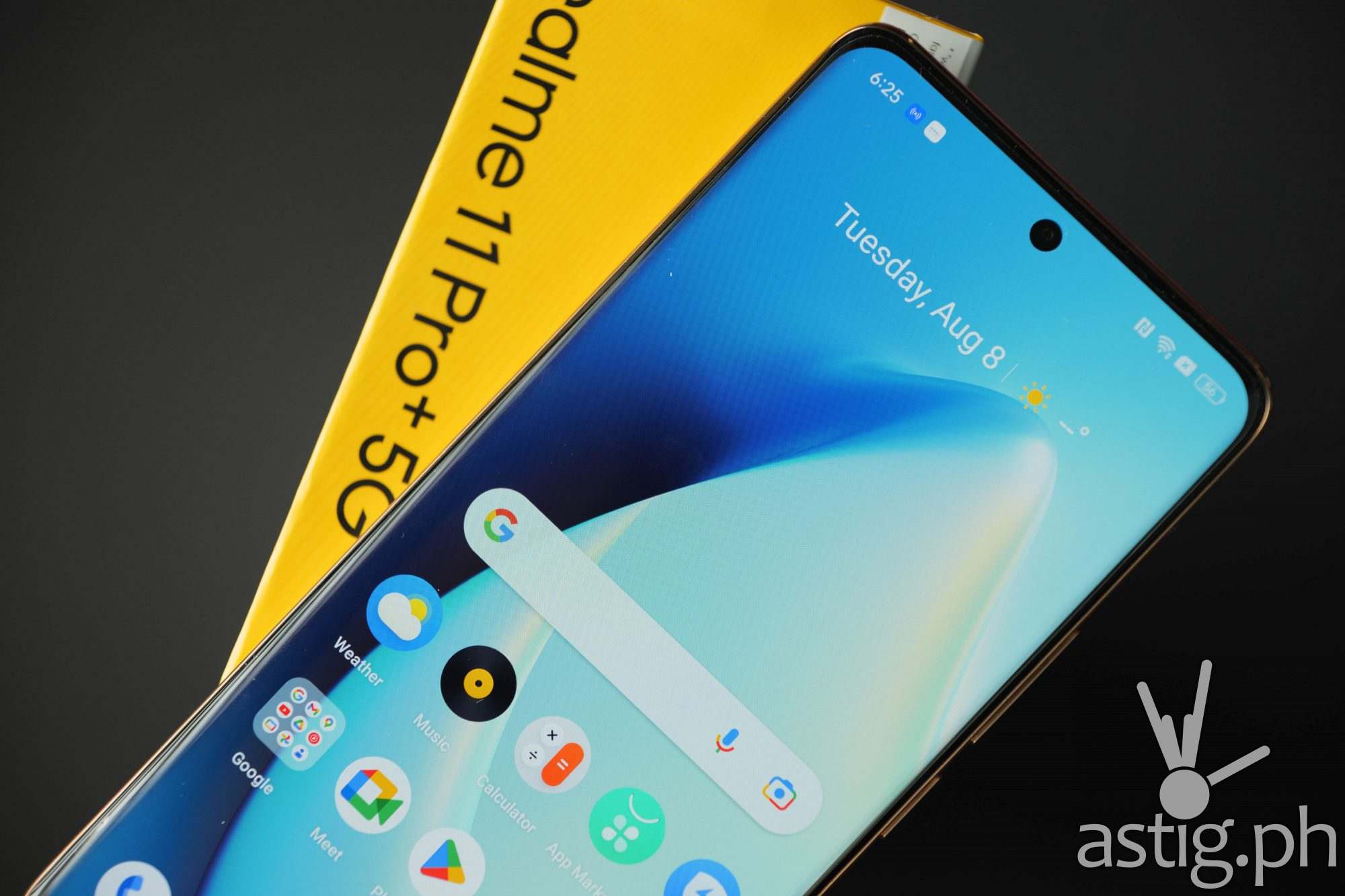 Historically, realme is no stranger to co-branding and collaborations, producing phones such as the realme GT Neo 3T Dragon Ball Z Edition, realme GT Neo 3 Naruto Edition, realme 9 Pro+ Free Fire Edition, and more recently, the realme 10 Pro Coca-Cola Edition.
However, the one collaboration that really stood out was with Industrial Designer Naoto Fukasawa. The result was one of the most aesthetically pleasing phones of 2021, the realme GT Master Edition. They collaborated again to produce the realme GT2 Pro, which used a bio-based polymer.
Since then, we have prayed for a similar collaboration to come to one of their future phones. The answer finally came with the arrival of the realme 11 Pro+.
It first came out in China in May 2023, and we were immediately impressed by the photos and videos. I remember seeing this big, circular camera island with a metallic ring thinking how much it looked like big anime eye staring right back at me.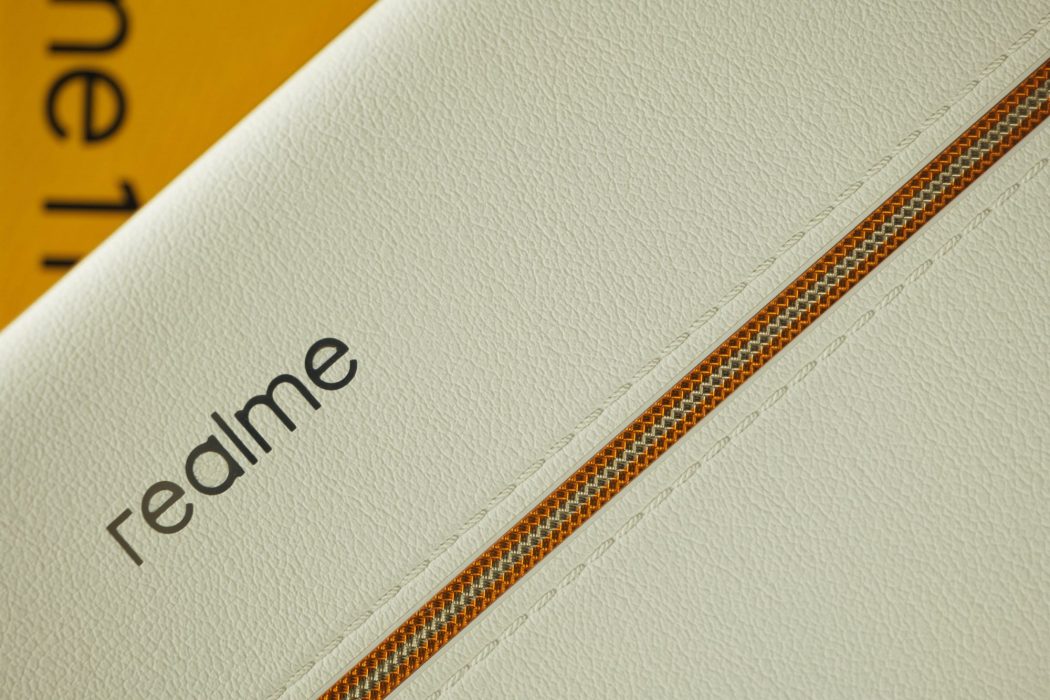 We expected nothing more from the same brand that came out with the big, bold DARE TO LEAP branding back in 2021. Come to think of it, that was when we started seeing aggressive styling from realme. It's a good business strategy because it allows them to stand out from everyone else.
Moving to the front, we are greeted by its gorgeous 6.7-inch curved AMOLED display. Similar to the realme 10 Pro+, it supports HDR10+ and refresh rates of up to 120Hz, however, peak brightness gets an almost 20% bump up to 950 nits which will surely come in handy when using the phone in broad daylight as well as HDR content playback.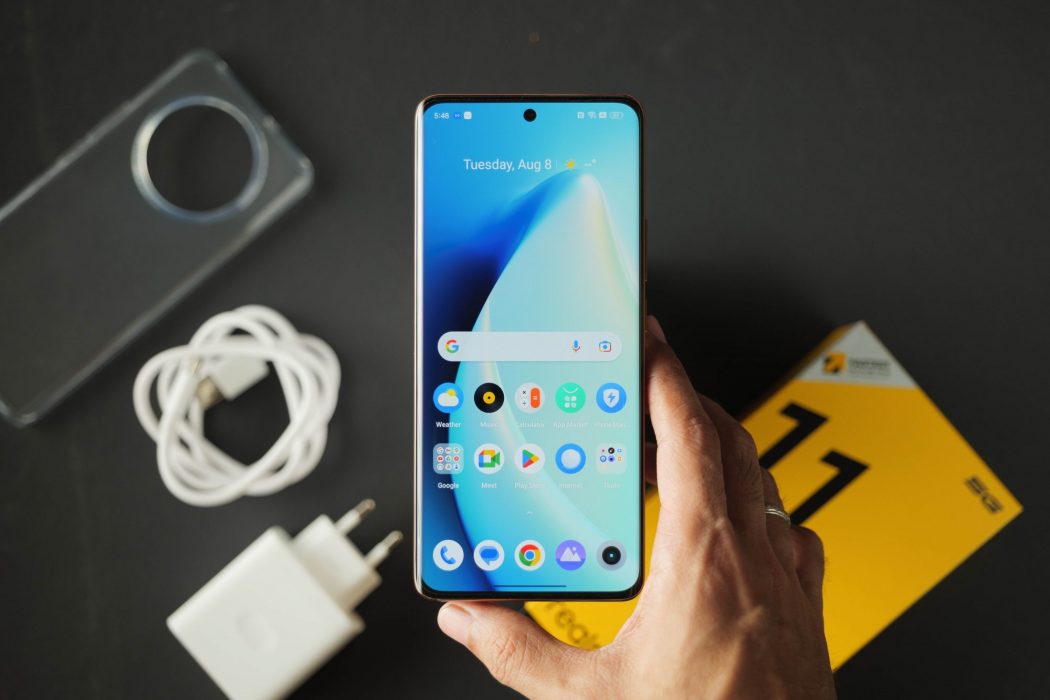 At the top we find a punch hole notch containing the 32MP selfie camera. Moving to the bottom, there's an equally thin chin. Its proportion to the top along with the curved edges lend to the borderless illusion, something that used to be exclusive on flagships, but has now found its way into the mid-range segment thanks to brands like realme.
As content creators, we could not help but notice two new additional display modes: Cinematic and Brilliant. The former uses display P3 mode for more faithful color reproduction, while Brilliant uses the widest color gamut for brighter color display.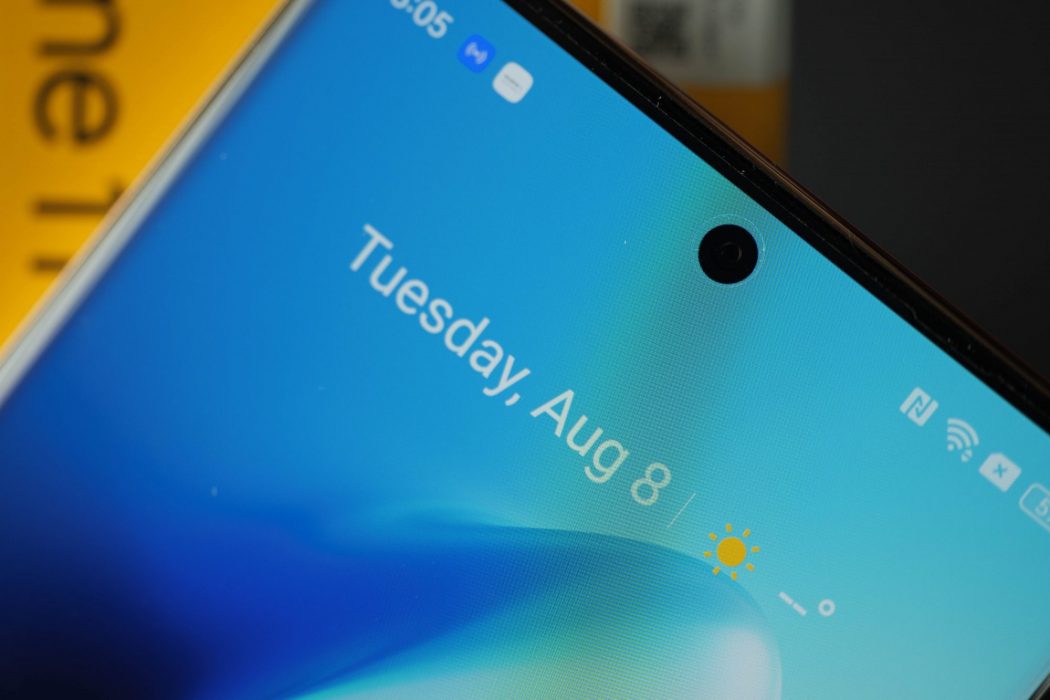 According to their website, realme 11 Pro+ can produce 100% DCI-P3 Color Gamut, which is the color standard used by the film industry. Using a color accurate display allows us to be more consistent with the content that we produce, may it be video or still photographs. No more arguing if that dress is really blue and black, or white and gold! For the record, we think it's white and gold.
Performance, productivity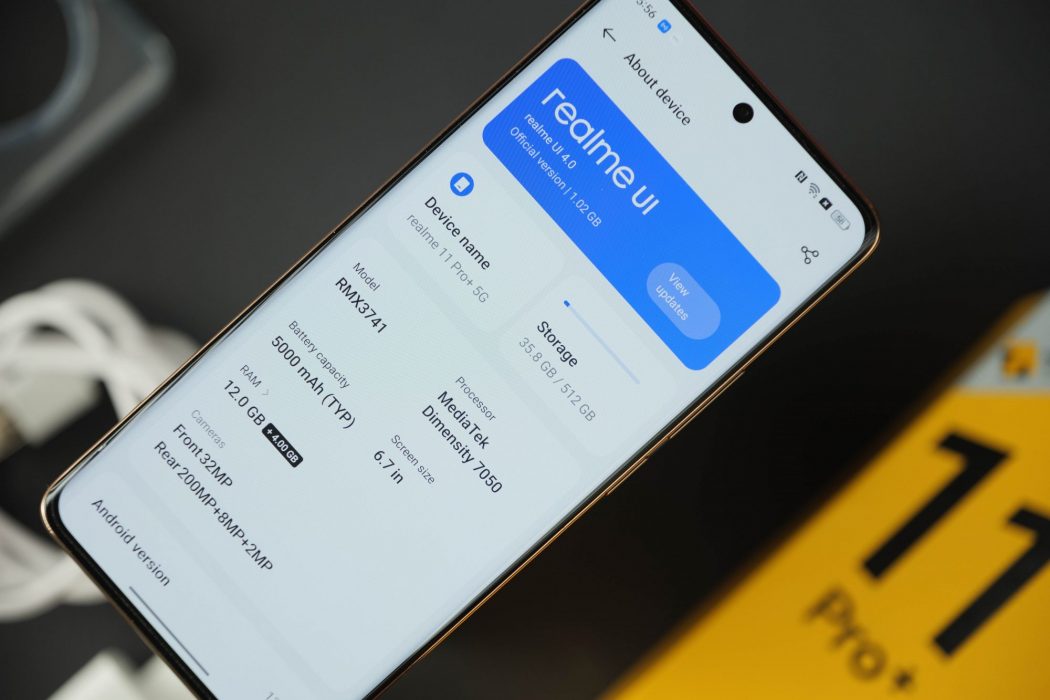 Both the realme 11 Pro and the realme 11 Pro+ run on the Mediatek Dimensity 7050 5G platform, but we get 50% more RAM on the latter with 12 GB of memory and double the storage at 512 GB.
It uses LPDDR4X memory modules which is great, but it's the storage speeds that really surprised us. At 140k points, the realme 11 Pro+ has one of the highest storage benchmark numbers among the phones that we've tested in 2023, double that of the realme 10 Pro+ which only scored 73k. Internal read speeds average around 778MBytes / sec while write speeds go around 882 MBytes / sec.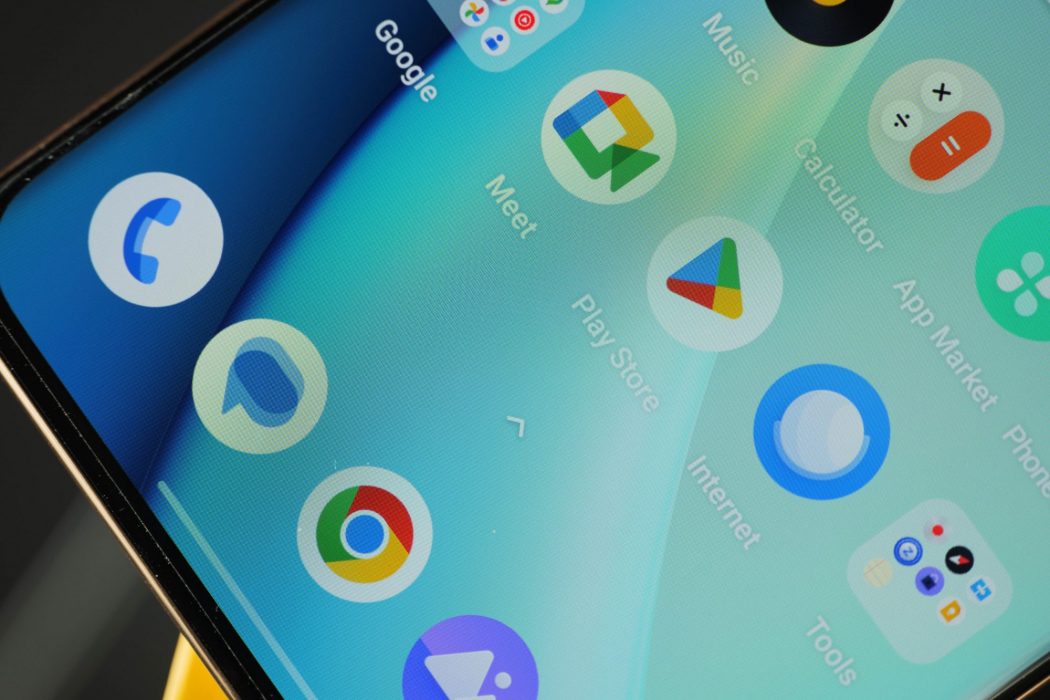 Very, very impressive numbers that translate to faster loading times on top of being able to run more applications in the background.
One of the cool features of Android 13 is the ability to run applications on floating windows. We do this all the time, leaving YouTube or Netflix on a PIP (picture-in-picture) window while browsing social media.
We even did this with games, downloading Honkai Star Rail in the background while playing something else in the background. This leads us into the next topic:
Gaming, entertainment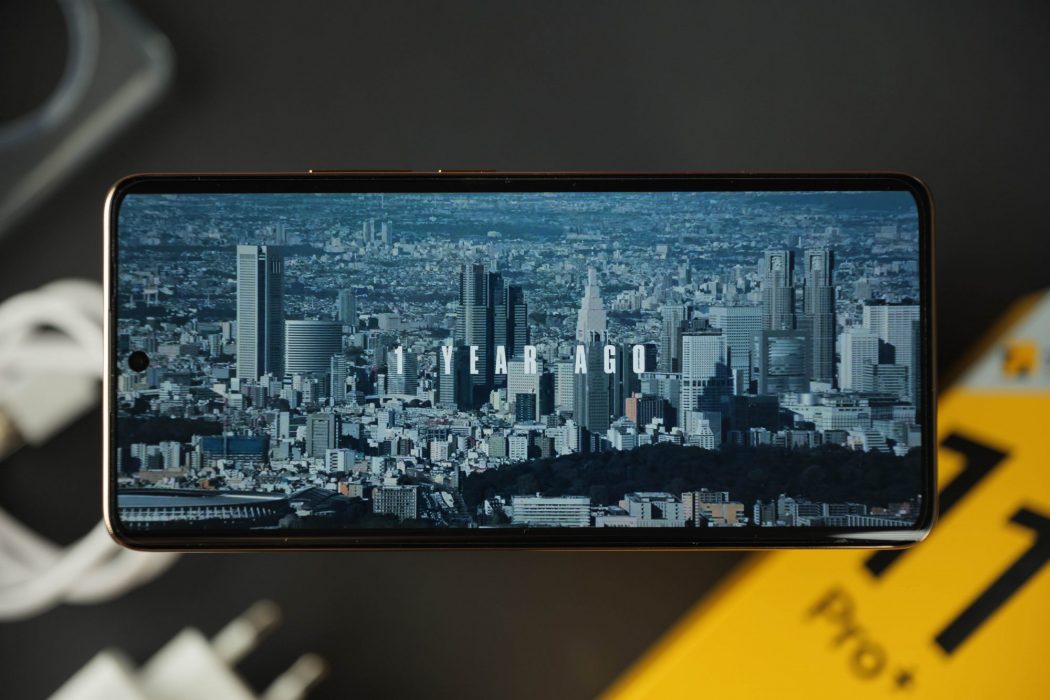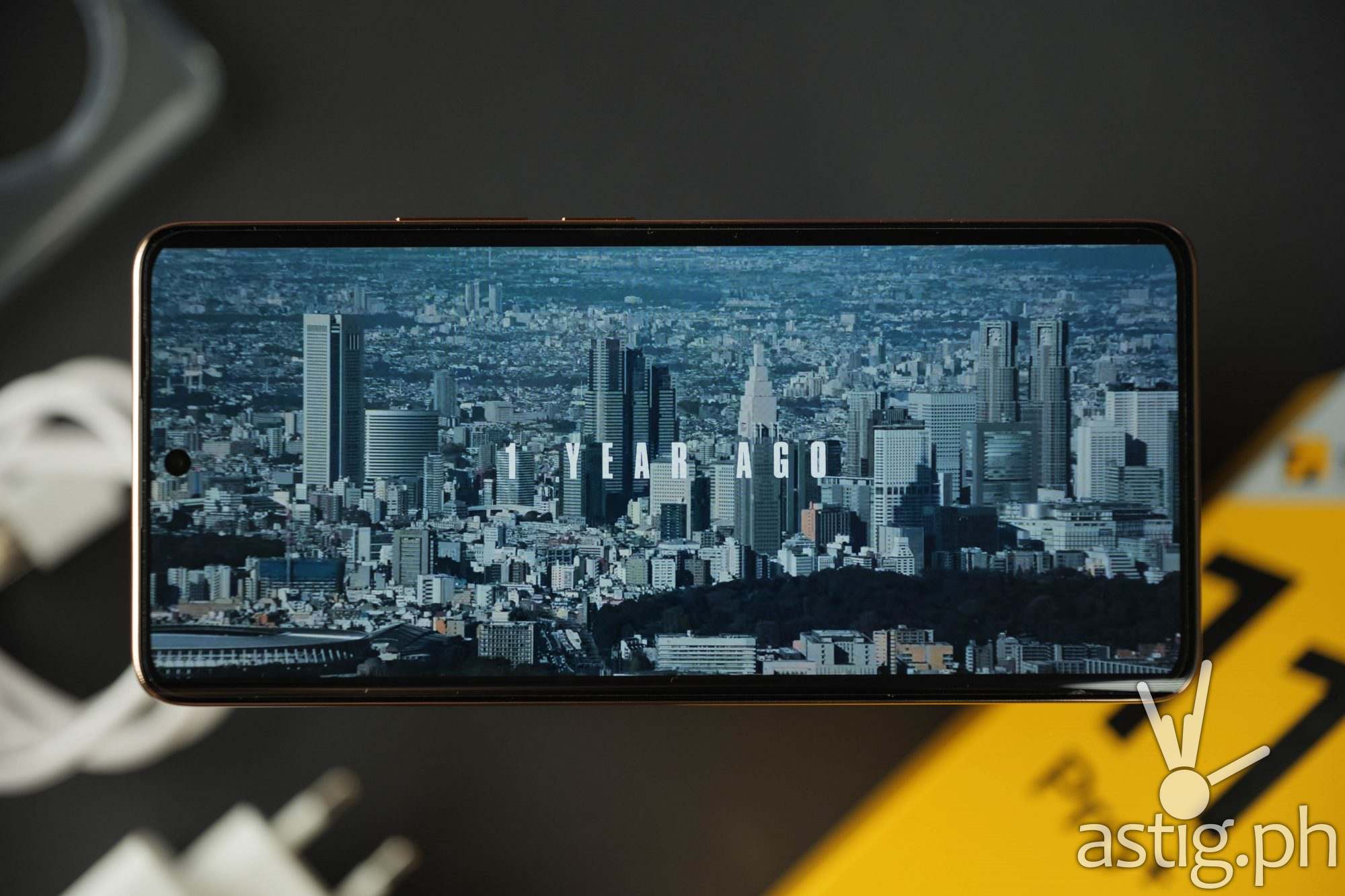 realme 11 Pro+ shines as a mobile gaming and all around entertainment device thanks to two things: First, the 6.7 inch AMOLED display is super immersive, rich, and vivid. We can just stare at it for hours. Speaking of which, it carries TUV Rheinland Low Blue Light certification and a PWM dimming rate of 2160 Hz to reduce eye strain.
Frequencies above 2500 Hz would be ideal for eye health, but 2160 Hz is not too far off.
950 nits of peak brightness goes a long way when playing HDR content. We will happily take this small increase from 800 nits on the realme 10 Pro+ as a win. Content supporting HDR format is still limited to major releases on Netflix, Prime, and even Disney+.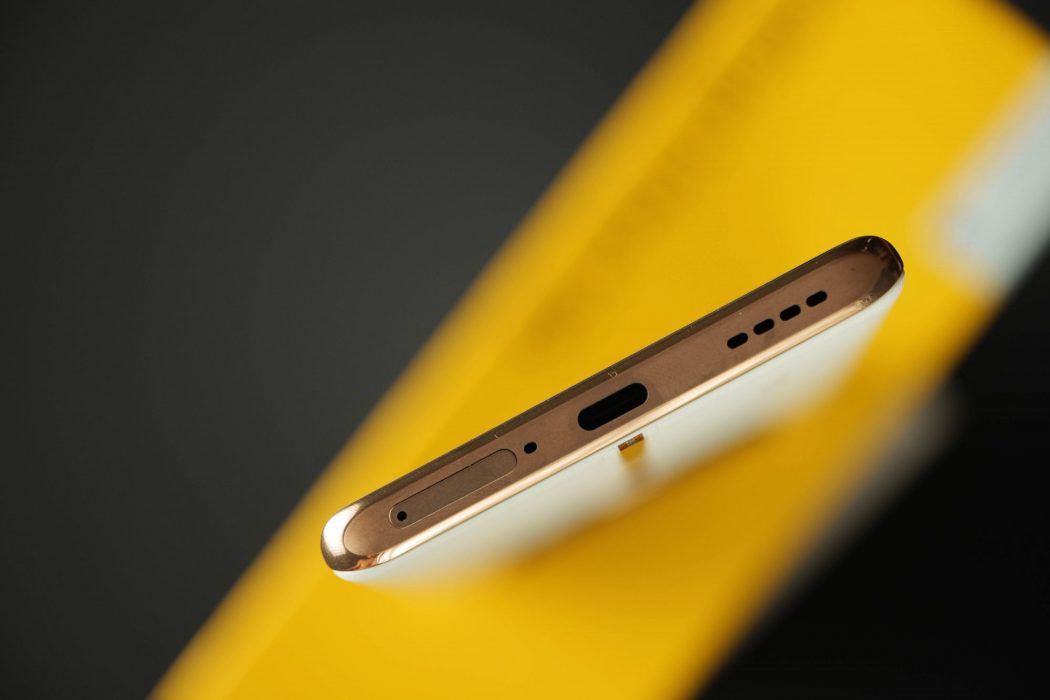 Speaking of audio: Dolby Atmos is supported via headset and loud speaker playback. We doubt most of our readers will care, but there is a noticeable difference in sound quality. Also, you cannot seem to turn this setting off when using the stereo loud speakers. The button to toggle Dolby Atmos is disabled until you connect your earphones, we feels a little limiting but we're not too worried about it.
Those stereo loud speakers pack a punch, and we enjoy listening to content without having to reach for a headset. We can't wait for dual speakers to be a standard on mid-range smartphones.
When it comes to gaming, the Dimensity 7050 5G platform is very well tuned for most modern games. We were able to get an average of 60FPS with Mobile Legends running on Ultra graphics with Super frame rates. Same goes with PUBG. We wanted to try to push Fairlight 84, but alas, graphics were locked on High. Perhaps its developers need to test the game before unlocking, which is a bummer.
It was surprising to see Genshin Impact pre-loaded out of the box. We still had to download the game's resources, but it's pretty telling that realme had that much confidence in their phone to preload one of the heaviest, most graphics-intensive mobile games available right now.
So of course we pushed it to the Extreme, and judging by the results, it seems that their confidence is well warranted. On the average, we did around 20-25FPS outdoors on the highest possible settings: less than ideal but still very playable. We don't expect everyone to play at that level, so we're good.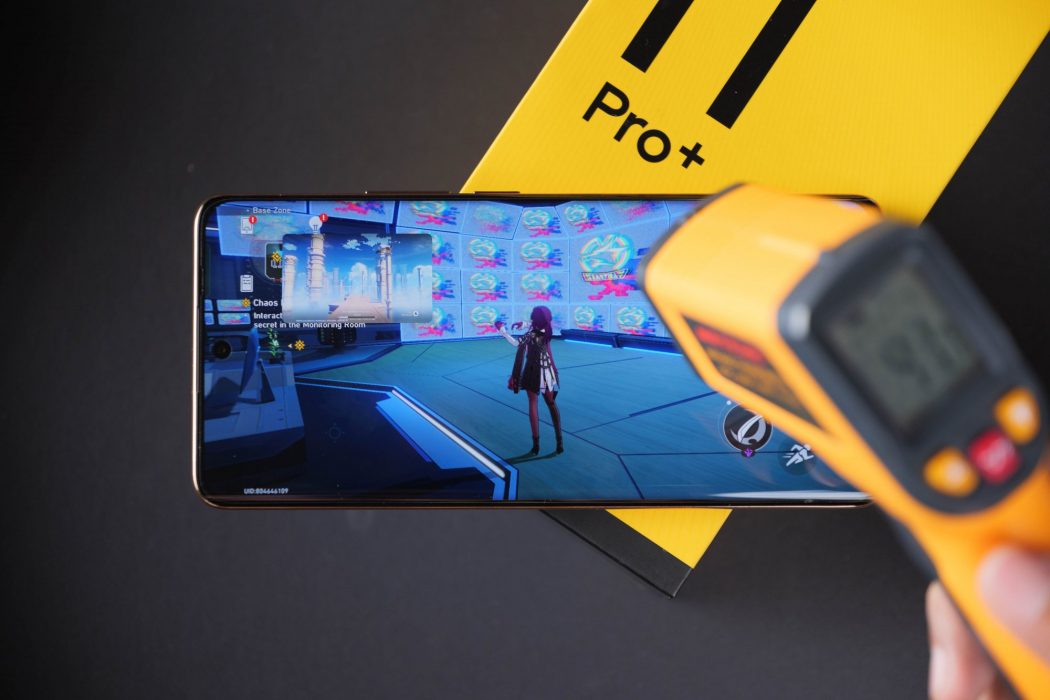 For the ultimate test, we ran Honkai Star Rail, and that's when things started to crawl down to around 20 FPS indoors. We found that running that game on Medium produces the best results.
By the way, realme UI 4.0 comes with one of the best gaming enhancement systems out of all the Android customizations out there. This includes other ColorOS-based systems such as FunTouch OS on Vivo phones and OxygenOS on OnePlus.
Our all-time favorite is the system performance monitor, which displays our frame rate as well as CPU and GPU utilization in real time. Very useful for stress testing games. You can also configure performance modes from here and quickly chat with your friends on Messenger or Discord via floating windows.
Benchmarks
Performance benchmark results:
AnTuTu: 604317, 1.1 degrees Celsius delta
Passmark: 11372 (system), 5304 (CPU), 24446 (memory), 141325 (disk), 24163 (2D), 22909 (3D)
PCMark: 13560
Battery life benchmark results:
PCMark: 12h 17m
AccuBattery: 10h (screen on), 3d (combined), 8d (screen off)
Cameras, content creation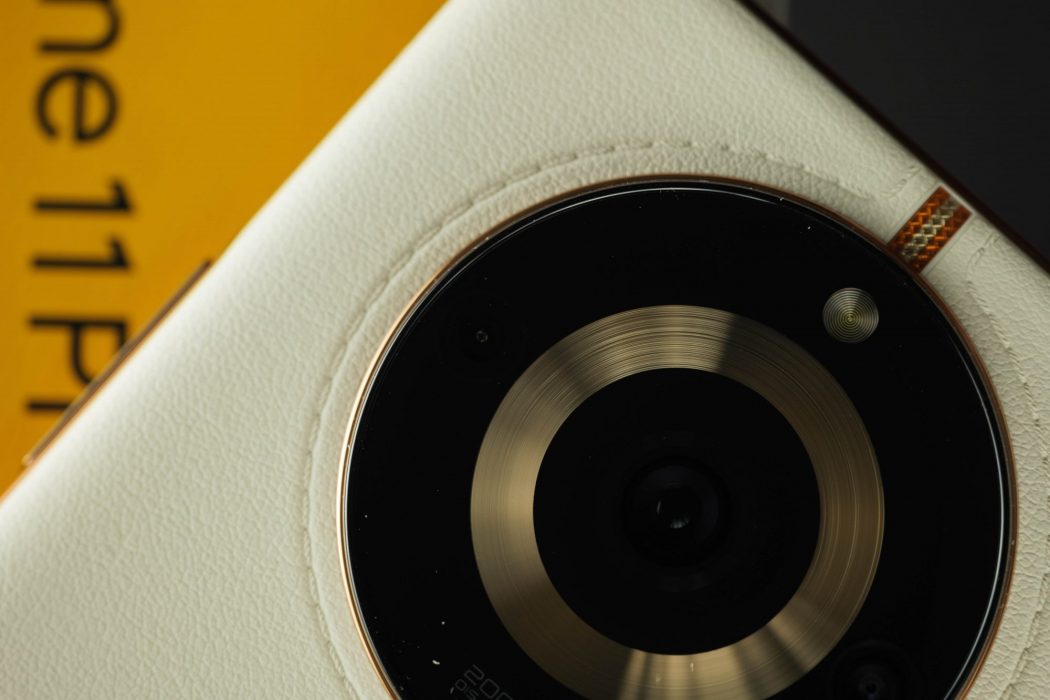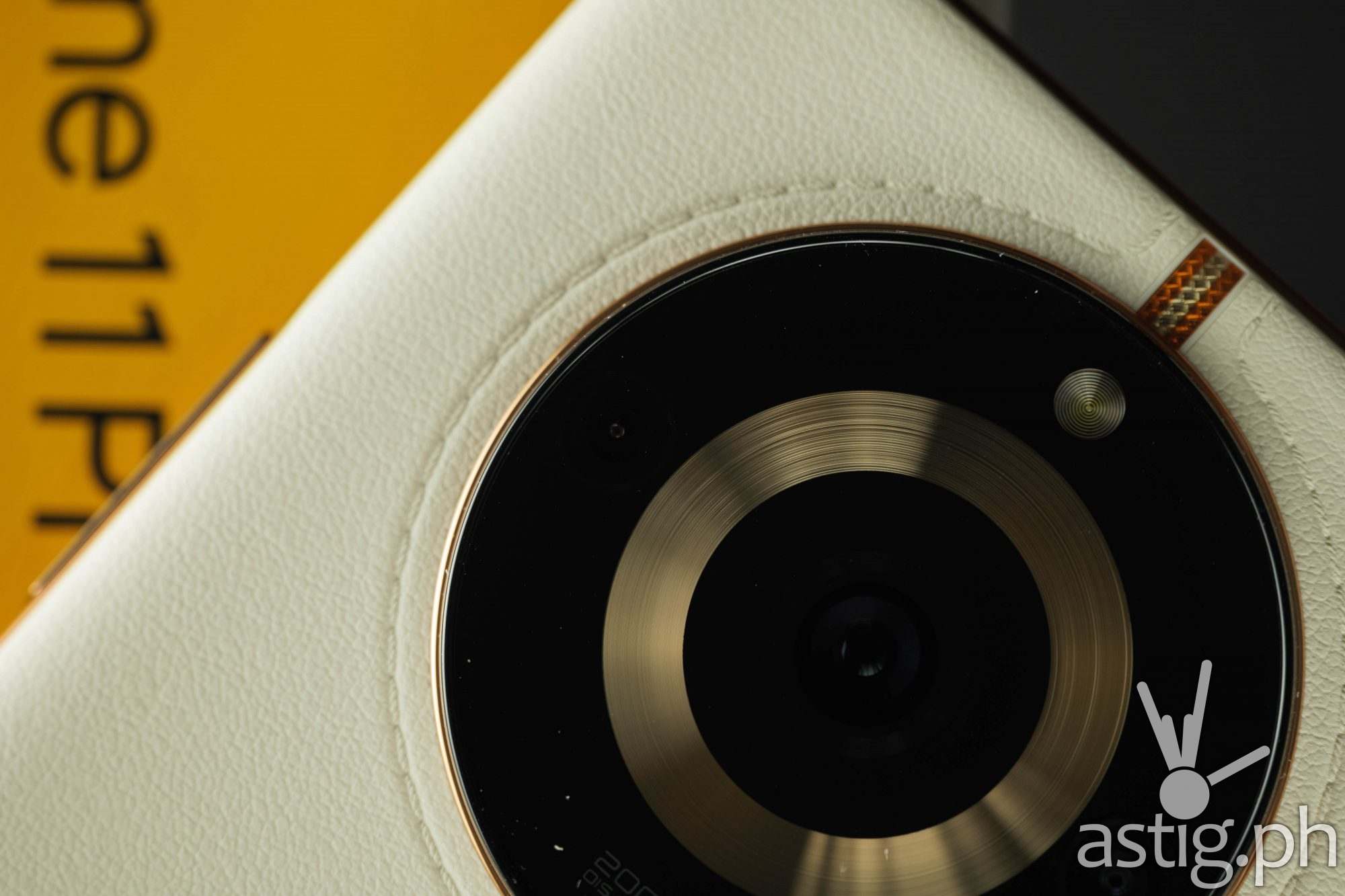 The one thing that sets the realme 11 Pro+ above its Pro counterpart – and other smartphones – is that flagship-level 200MP camera system with OIS (optical image stabilization). It uses the Samsung ISOCELL HP3 sensor, the latest and greatest from the Korean tech giant, and a competitor to the Sony IMX766.
This sensor technology is even better than what SAMSUNG used in their own flagship, Galaxy S23 Ultra, which runs on the much older Samsung ISOCELL HP2 sensor.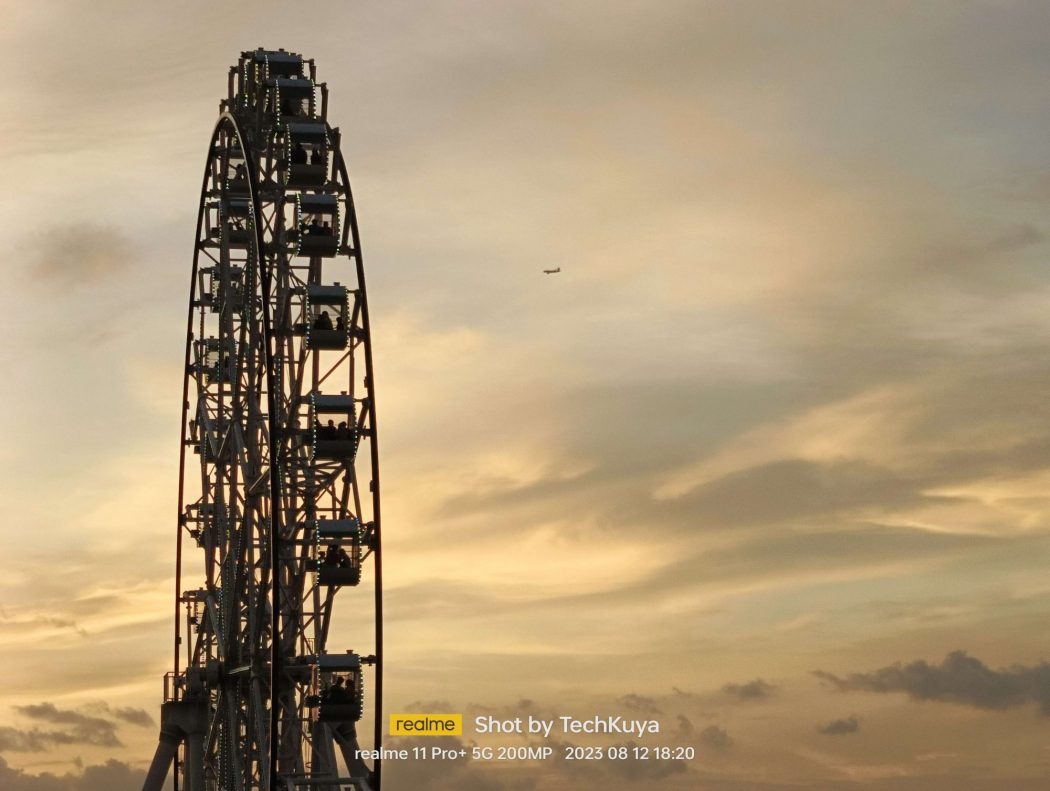 Aside from being one of the largest smartphone sensors at 1/1.4 inches, it has the industry's smallest pixel size at 0.56㎛. According to the official product page, it can do up to four times lossless zoom. Not to be confused with optical or digital zoom, this simply means that there will be little to no loss in the field of view when zooming in.
As a testament to realme's confidence, the stock camera has a dedicated 2x and 4x zoom button when taking photos. We can assure you that people are going to be tapping on that 4x button, and if the results are no good, there will be complaints.
So we took it upon ourselves to take as many photos as possible at 4x. We took shots in broad daylight standing still, we took shots while moving, we took photos at dusk while speeding on the highway. Heck, we took photos of the moon. It really helps to have OIS (optical image stabilization) to keep your images sharp when shooting in less than optimal lighting conditions.
From what we observed, there seems to be a fair bit of image enhancement that happens the moment you press the shutter up to the time that the final image is saved. So while the final image may be slightly different from what's shown on the live preview, it is bound to be cleaner, sharper, and more vibrant.
We got excited and took 4x photos of the moon hoping to see some kind of magic, but alas, the results were more "natural" than we hoped for. It seems that image enhancement is toned down at 4x zoom – perhaps by design, in order to stay faithful to the subject.
One may argue that in order to take close-up shots, you can simply manually "zoom in" by moving closer, and there is some truth to that. Sure, you can always move closer if you subject is parallel to the ground, but what if it's something way up in the sky or somewhere down a ravine? Do you bring a ladder or a climbing rope?
I'm exaggerating of course, but one of the benefits of having a zoom lens that may not immediately be obvious to most is that you can use it to remove shadows. If you take photos of your food, you know what we're talking about but basically, you want to take close-up photos of your food, which means you need to move closer, which means shadows. By moving your hand backwards and zooming in, shadows are gone.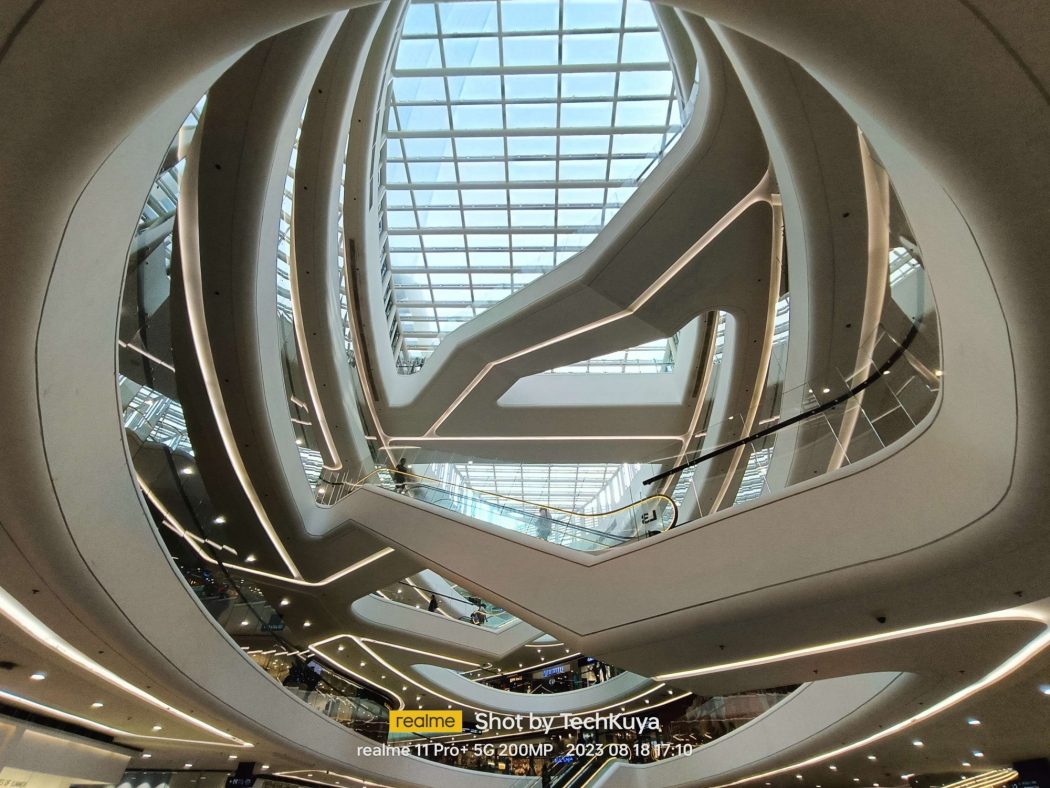 You can achieve the same thing by taking a photo from far away and cropping, but why take extra steps when you can do everything in-camera with a single click?
As an added bonus, the Long Exposure mode is back. This fun, cool feature made its debut on the realme 9 Pro+ and for some reason disappeared on the realme 10 Pro+, possibly because the latter did not have OIS.
There are four long exposure modes: Neon trail, Light trail portrait, Rush hour, and Light painting. Each mode produces different looking shots, but our favorite has to be Neon trail, which allows us to capture movement from cars at night.
Long exposure is the ultimate test of a phone's low-light capabilities, so we went out and put the realme 11 Pro+ to the test, making sure to shoot purely handheld! We tried to stay as still as possible, but check out these photos – we think it demonstrates how good smartphone photography can be nowadays, producing sharp photos at night without a tripod or a selfie stick!
Zooming in at 2x and 4x to take photos may be a lot of fun, but another underrated feature on realme 11 Pro+ is its depth of field – also known as bokeh. The main sensor shoots wide open at apertures of up to f/1.69, producing creamy, DSLR-like bokeh that isolates the subject from the background.
Try it yourself – fire the phone and tap to focus on a nearby subject. Observe how the background blurs in real time like magic.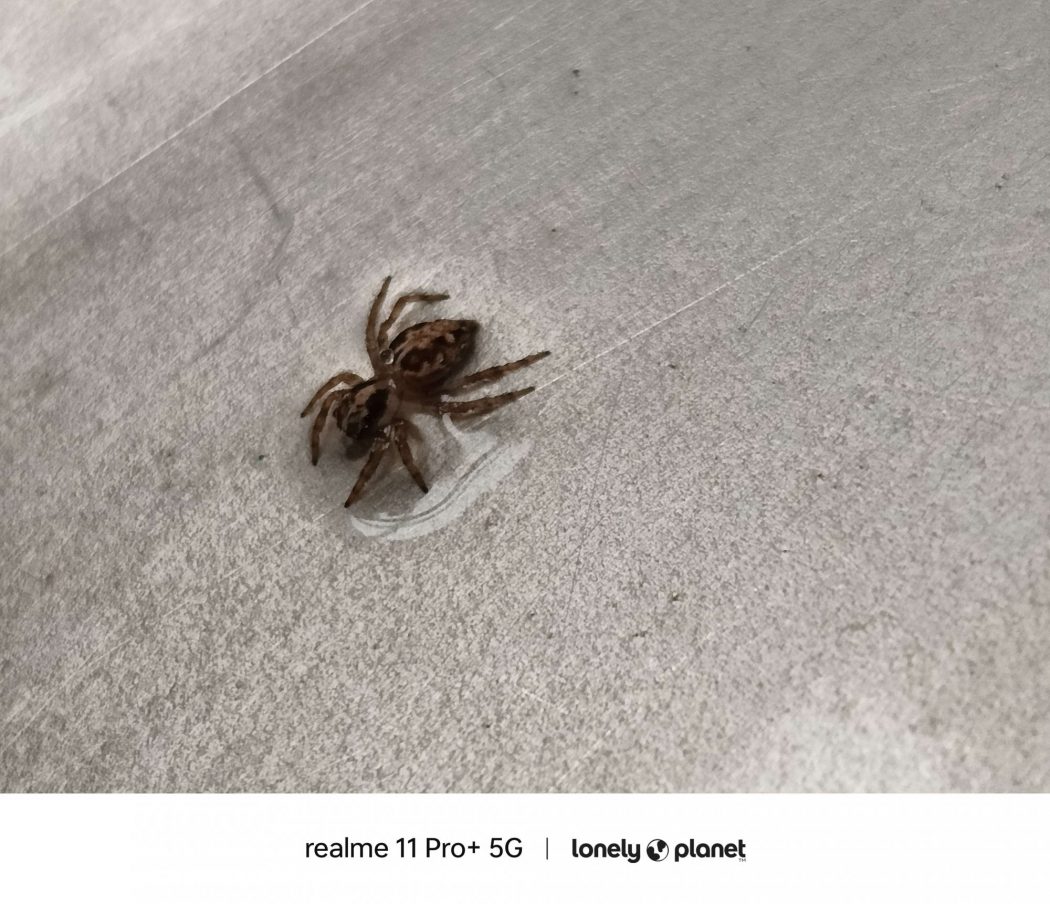 Hardware bokeh is not as good on the selfie camera which by the way, uses the Sony IMX 615 sensor. However, the edge detection algorithm is so good now that photos shot in portrait mode does an excellent job of isolating the subject from the background.
For videos, we do get software simulated depth of field, ranging from f/0.95 to f/16. It seems to prioritize human subjects first, so anything you hold in front of you might end up getting blurred out. We hope this improves over time.
Videos taken with the 200MP OIS camera look very professional, and with Ultra Steady mode switched ON, our hand-held clips went from very good to amazing. Ultra Steady uses EIS (Electronic Image Stabilization), which, when combined with hardware OIS, produces super steady shots that look like they were taken with a gimbal.
Battery life, charging
Both the realme 11 Pro and the Pro+ run on the 6nm Dimensity 7050 platform with a 5000 mAh battery, so we expect battery life to be similar. On the average, we got 10 hours of screen on time while combined use clocked in a whopping 3 days or 72 hours.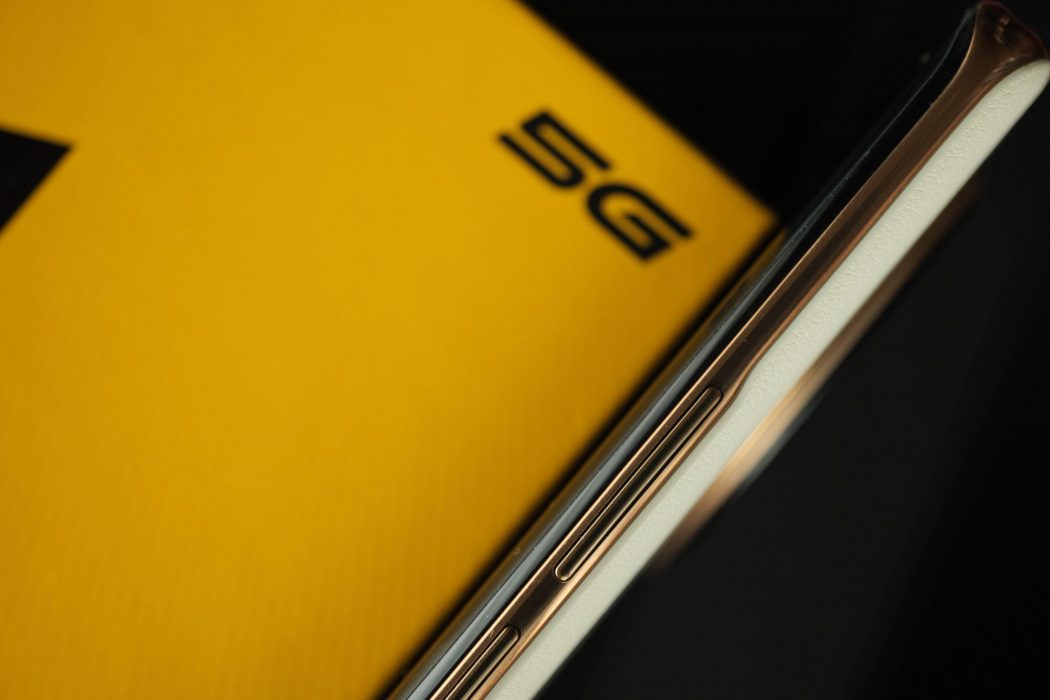 Of course your mileage may vary depending on the situation, but these are seriously good numbers. Our usage pattern consists mostly of content creation – taking photos and videos and editing, a bit of gaming, navigation / GPS, and a ton of social media.
As a baseline, we were able to squeeze over 12 hours of juice using PCMark battery life benchmarking software with Power Saving turned OFF and Performance Mode unchanged out of the box at the "Smart" setting. It is slightly lower than the Dimensity 920-powered realme 10 Pro+ at 13 hours, but the results were impressive nonetheless. All of our lab tests are performed over WiFi and no SIM card to since mobile activity may vary depending on location.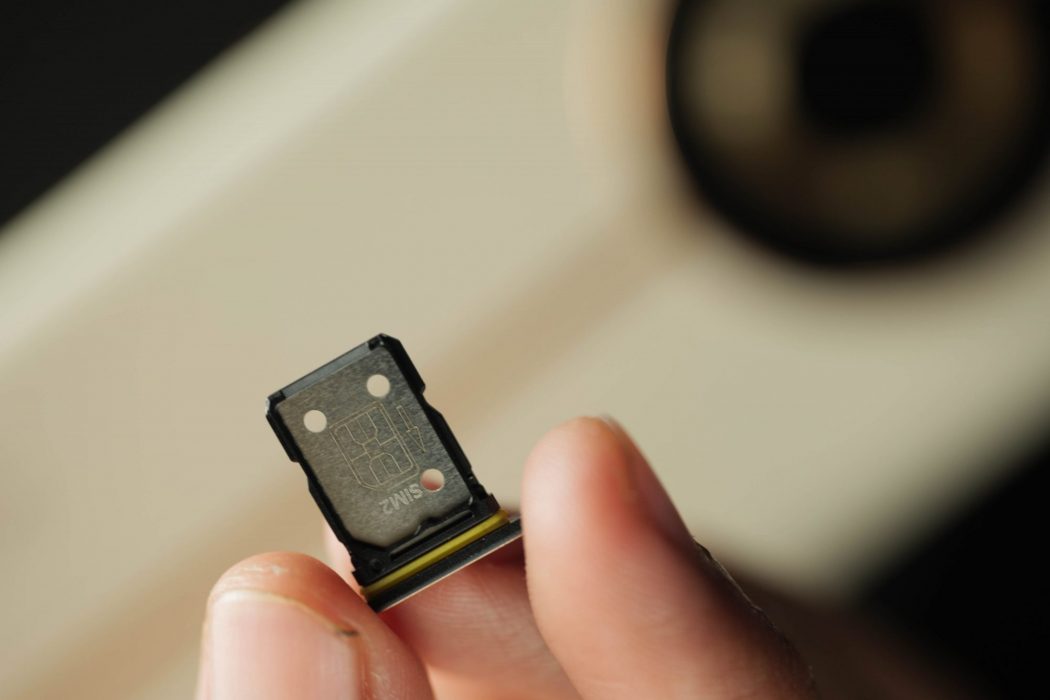 On paper, the realme 11 Pro+ offers 50% faster charging at 100W versus the 67W of the realme 11 Pro. According to the official product page, the realme 11 Pro+ charges to 100% in just 26 minutes.
Impressive? Yes. Necessary? Not really. 67W is fast enough these days, so given the choice I would rather give the Pro+ a faster chipset or OIS for the selfie camera. Again, that's just me.
Hit the play button to watch our realme 11 Pro+ 5G full review video or visit TechKuya on YouTube for more tech reviews!
Price and availability in the Philippines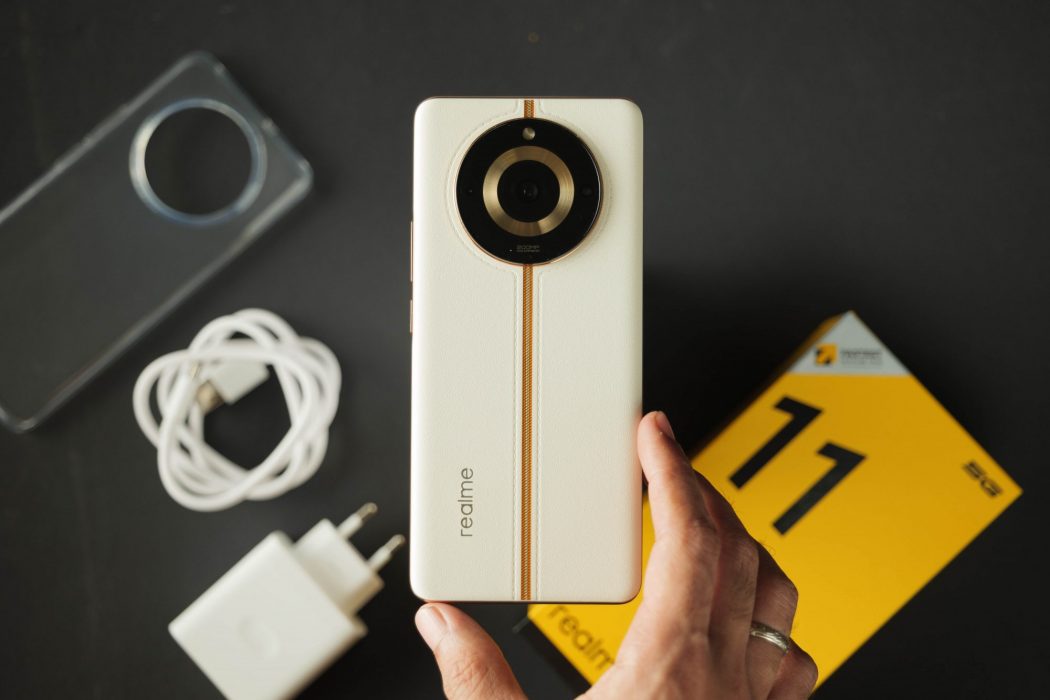 The realme 11, realme 11 Pro 5G, and realme 11 Pro+ 5G are now available for purchase in Philippines via Shopee, TikTok, realme e-store, and realme concept stores nationwide at the following prices:
realme 11 Pro+ 5G (12+512 GB): Php 24,999 (SRP) / Php 21,999 (early bird price)
realme 11 Pro 5G (8+256 GB): Php 19,999 (SRP) / Php 17,499 (early bird price)
Follow us here on ASTIG.PH and TechKuya on YouTube for more on the realme 11 Pro Series 5G!
Enjoy up to 95% off + free shipping when you check out with our affiliate links👇
🛒 Shopee: https://shope.ee/LAOvtP6tF
🛒 Lazada: https://s.lazada.com.ph/s.7mrYA?cc
realme 11 Pro 5G specs, price (Philippines)
Display: 6.7 inches; 1080 x 2412 pixels; 120Hz; Curved AMOLED
OS: Android 13, Realme UI 4.0
Chipset: Mediatek MT6877V Dimensity 7050 (6 nm)
Memory (RAM) + storage: 8GB + 256GB
Camera (rear): 100 MP with OIS wide, 2 MP depth
Camera (front): 16 MP f/2.5
RAM: 8/12GB
Battery: Li-Po 5000 mAh, non-removable, 100W SuperVOOC wired charging
Colors: Sunrise Beige, Oasis Green, Astral Black
Price (Philippines): Php 19,999 (SRP) / Php 17,499 (early bird discount)
realme 11 Pro+ 5G specs, price (Philippines)
Display: 6.7 inches; 1080 x 2412 pixels; 120Hz; Curved AMOLED
OS: Android 13, Realme UI 4.0
Chipset: Mediatek MT6877V Dimensity 7050 (6 nm)
Memory (RAM) + storage: 12GB + 512GB
Camera (rear): Triple 200 MP with OIS wide, 8 MP ultrawide, 2 MP macro
Camera (front): 32 MP f/2.4, Sony IMX 615
RAM: 8/12GB
Battery: Li-Po 5000 mAh, non-removable, 67W SuperVOOC wired charging
Colors: Sunrise Beige, Oasis Green, Astral Black
Price (Philippines): Php 24,999 (SRP) / Php 21,999 (early bird discount)