Today marks exactly one year since the realme 10 first arrived in the Philippines, and the realme 11 appears to be taking the realme numbered series back on track by re-introducing the 108MP camera.
It has also been almost 3 months since the arrival of the realme 11 Pro Series, a strong contender for the best looking smartphone of 2023 with its elegant curves and stylish aesthetics. The vegan leather variant, in particular, feels like it were plucked straight out of a fashion runway.
So, it is with much anticipation that we go hands-on with the realme 11 4G. Did realme save the best for last? Let's find out in this review. If you prefer to watch, we have a full video review over at TechKuya channel on YouTube.
But first, let's review our realme 11 review unit's key tech specs:
realme 11 review spec highlights
Display: 6.4 inches; 1080 x 2400 Super AMOLED, 90Hz, 1000 nits
Network frequency: 2G / 3G / 4G
SIM: Dual SIM (nano-SIM, dedicated slots)
OS Android 13; realme UI 4.0
Chipset (SoC): MediaTek Helio G99
Cameras : 108MP f/1.8 + 2MP f/2.4 (rear), 16MP f/2.5 (front)
Battery: 5,000 mAh; 67W fast charging (50% in 17 minutes)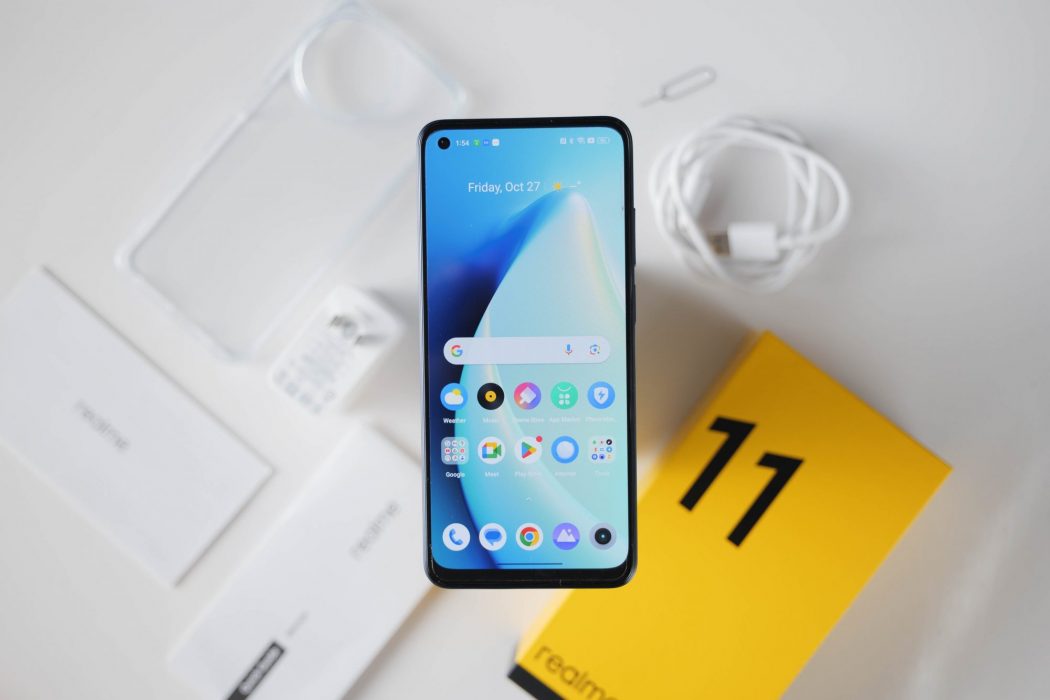 realme 11 display, design
Appearance wise, the realme 11 continues the iPhone inspired style that has been trending on mid-range phones since 2022. Like a slab of metal, the sharp edges of its blocky exterior are balanced by its curved corners.
From the front, it continues the tradition established by the realme numbered phones with a notch at the upper-left corner for the 16MP selfie camera to peep through. Like its predecessor, it sports a 6.4-inch full HD Super AMOLED display with a refresh rate that goes all the way to 90Hz.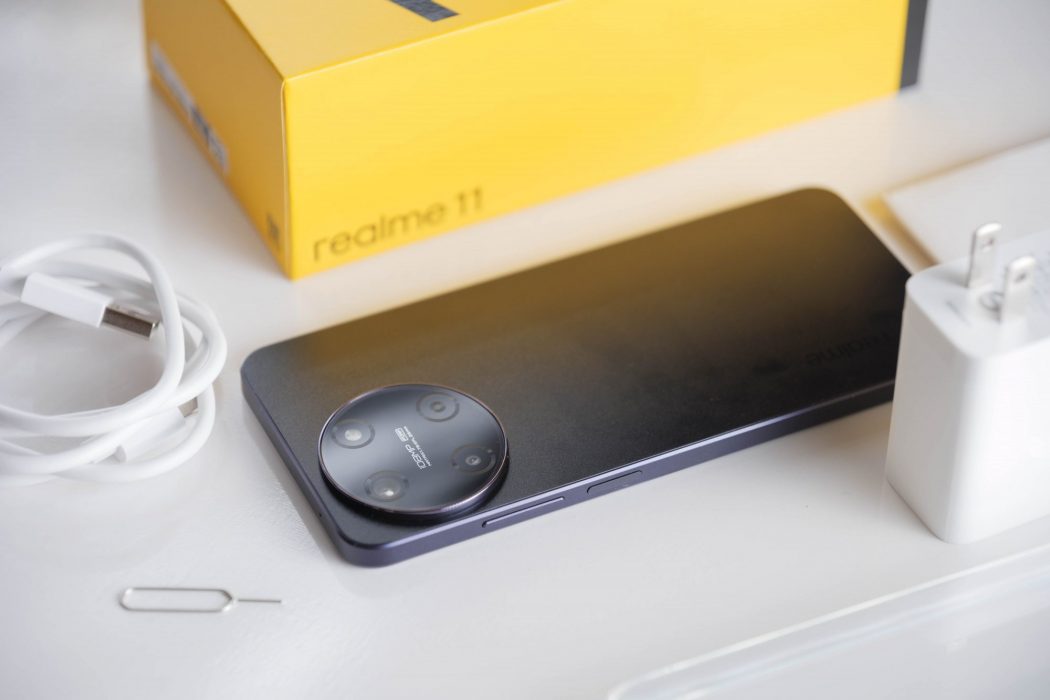 While it closely resembles its predecessor from the front, the rear sports a refreshed look. Instead of multiple rings, we get one big, circular camera island resembling the realme 11 Pro Series. However, unlike the Pro and the Pro+ the camera island is located slightly off-center.
Our review unit is the Dark Glory (Black) variant which sports a lovely matte finish. Moving it around by the light brings out a subtle shimmer that reminds us of expensive mica metallic paint used in cars.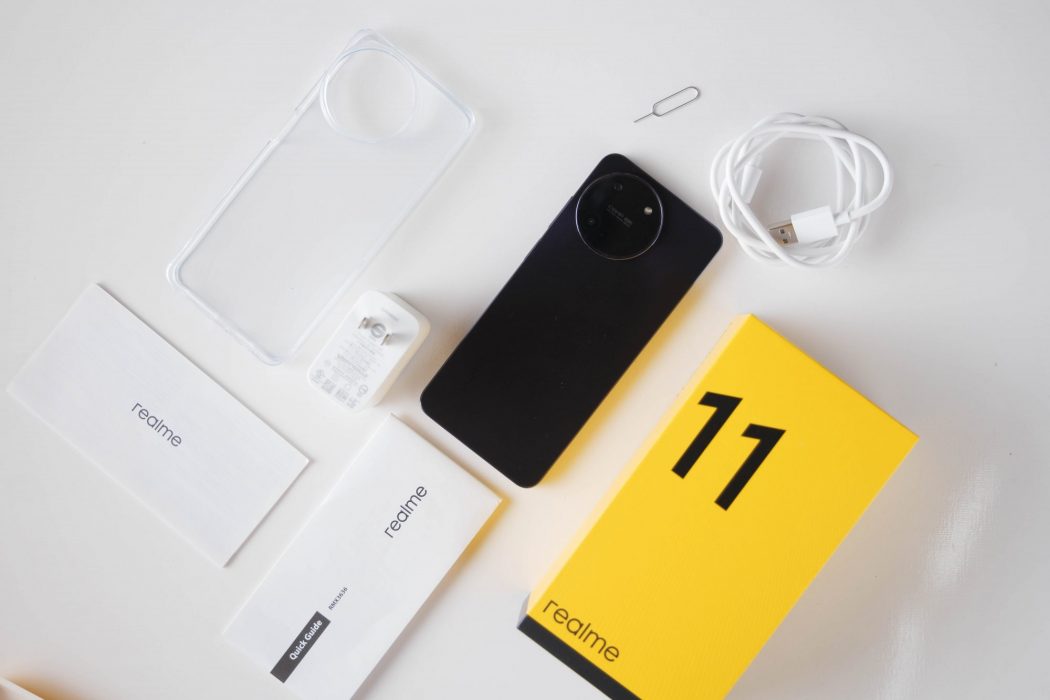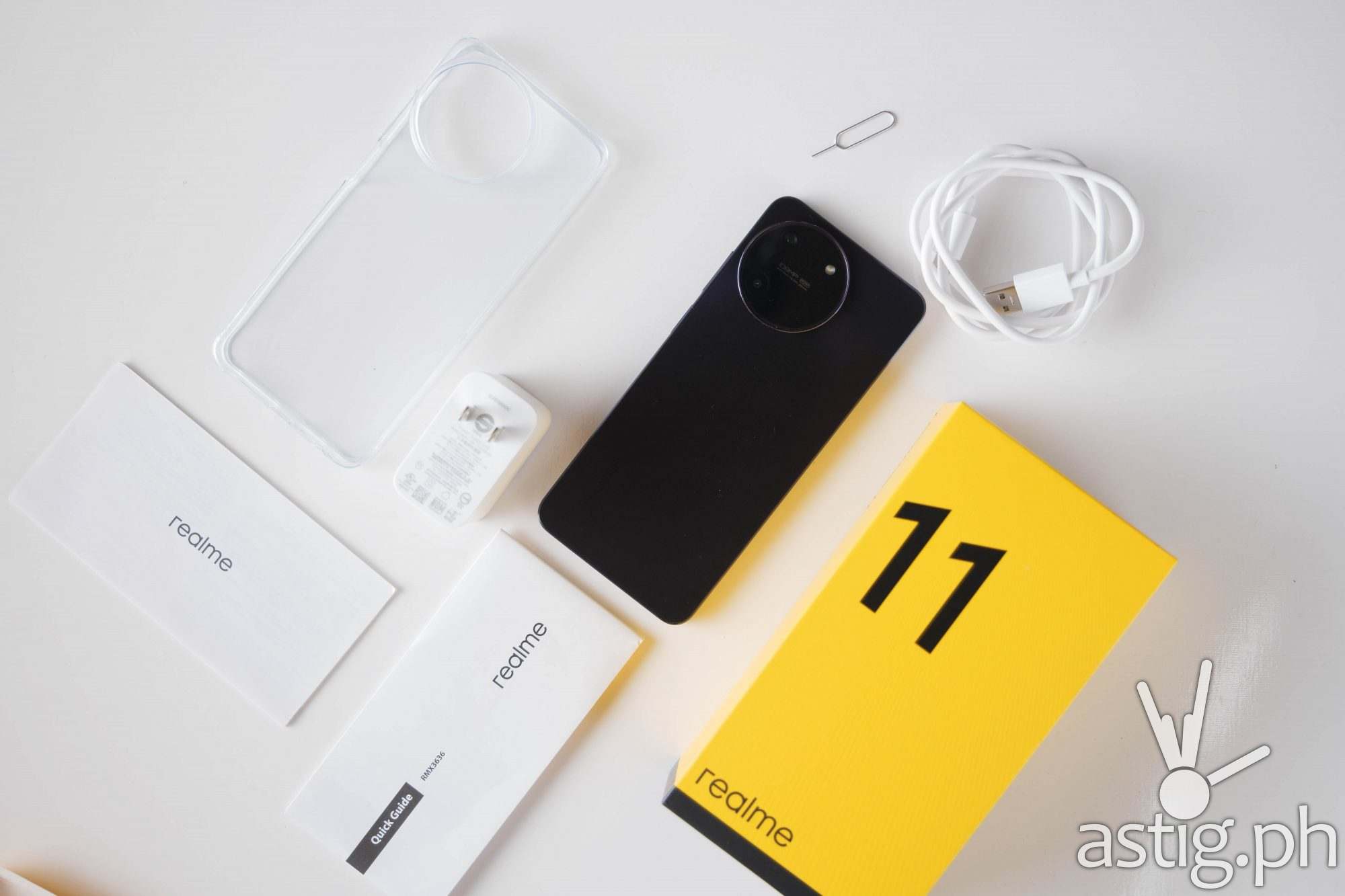 We're really digging this look. The package comes with a free jelly case, but you can use it completely naked and not worry about smudging or scratching it too easily.
realme 11 retains several key features that made the numbered series popular such as the 3.5mm audio jack and a triple card slot that takes in two nano sized SIM cards and one microSDXC expansion card to augment its internal storage by up to 1TB.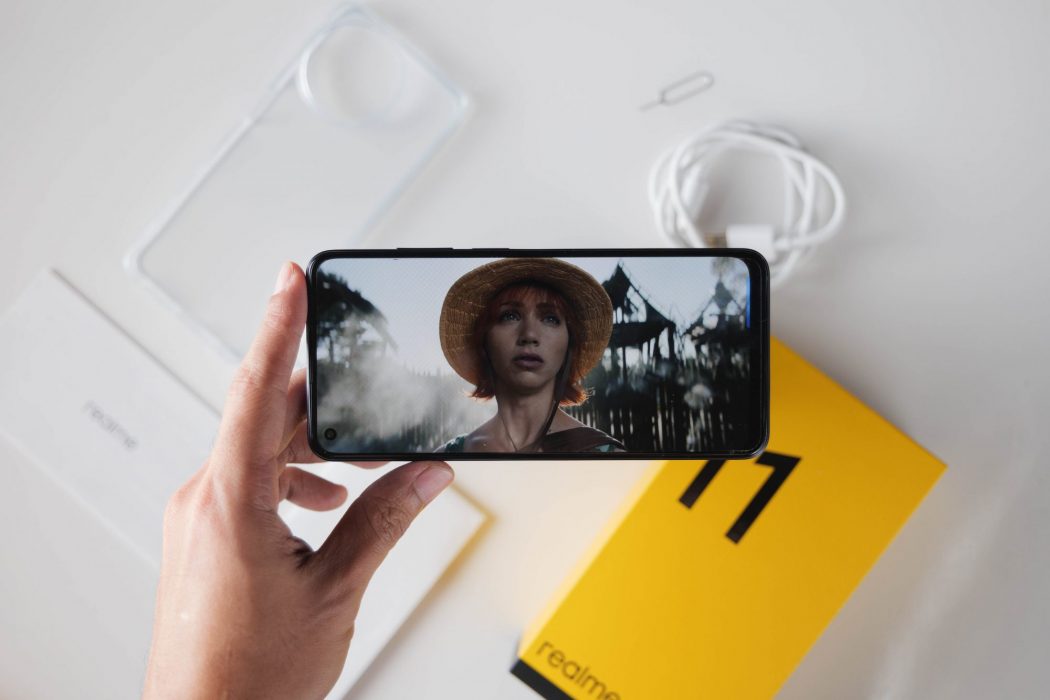 realme 11 performance, entertainment
The realme 11 has a vivid and bright display, capable of going all the way to 1000 nits. With brightness levels that high, we were hoping to get HDR support this time around: HDR10, HDR Dolby, or even HDR HLG would have brought this phone one step further.
Alas, no HDR support this year. We understand – HDR might not be as popular among mid-range users. We'll just keep our fingers crossed for the realme 12.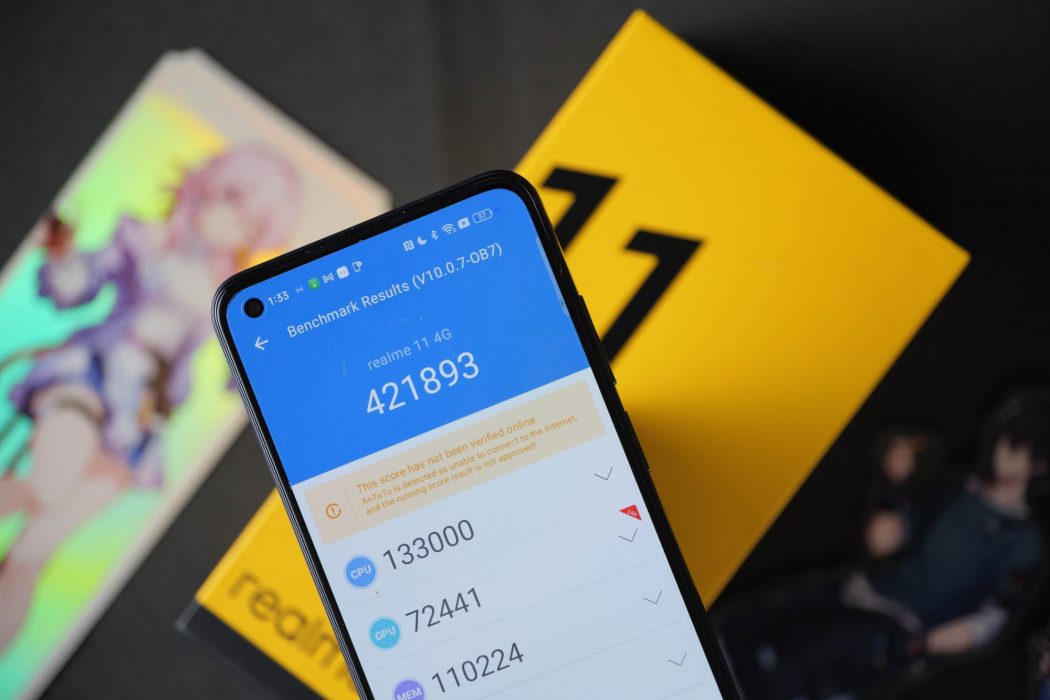 By the way, realme 11 comes with Widevine L1 support, meaning you will be able to maximize that screen and play content in full HD! 
For audio, the phone is equipped with a single bottom-firing speakers that sound decent enough for a handheld device. realme UI 4.0 allows us to go beyond the 100% loudness limit up to 200%, a feature that used to be called "ultraboom" speakers.
It does get louder, but we're not fully convinced what we're hearing is twice as loud. Still good for outdoor listening though.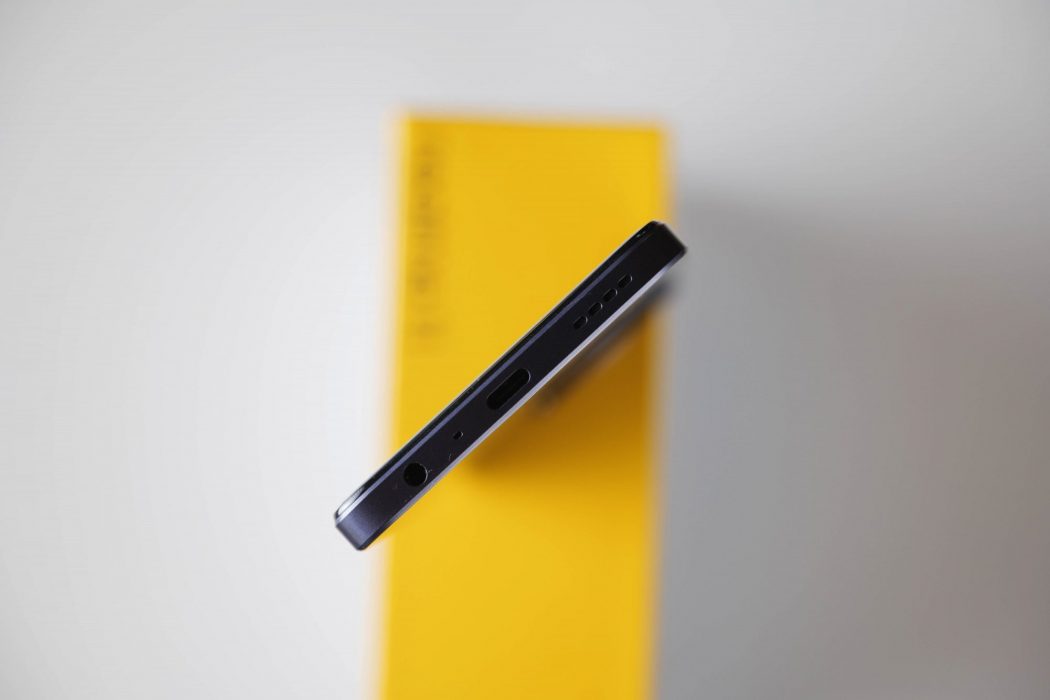 Performance-wise, the realme 11 delivers thanks to the Mediatek Helio G99 being a strong chipset. It also comes with 8GB of LPDDR4X memory modules and 256GB of UFS storage which contributes to speedy performance overall.
Benchmark wise, the device performs within our expected range for mid-range devices, easily passing 420k points in AnTuTu, 9557 points in Passmark, and 10189 points in PCMark.
It runs on Android 13 and realme UI 4.0 so the overall experience is smooth, although we could not help but notice the increasing amount of ads and preloaded apps.
Sure there are ways to clean it up and disable those annoying app suggestions and popups, but you really need to dig deep into the system and understand every single prompt. Nobody does that.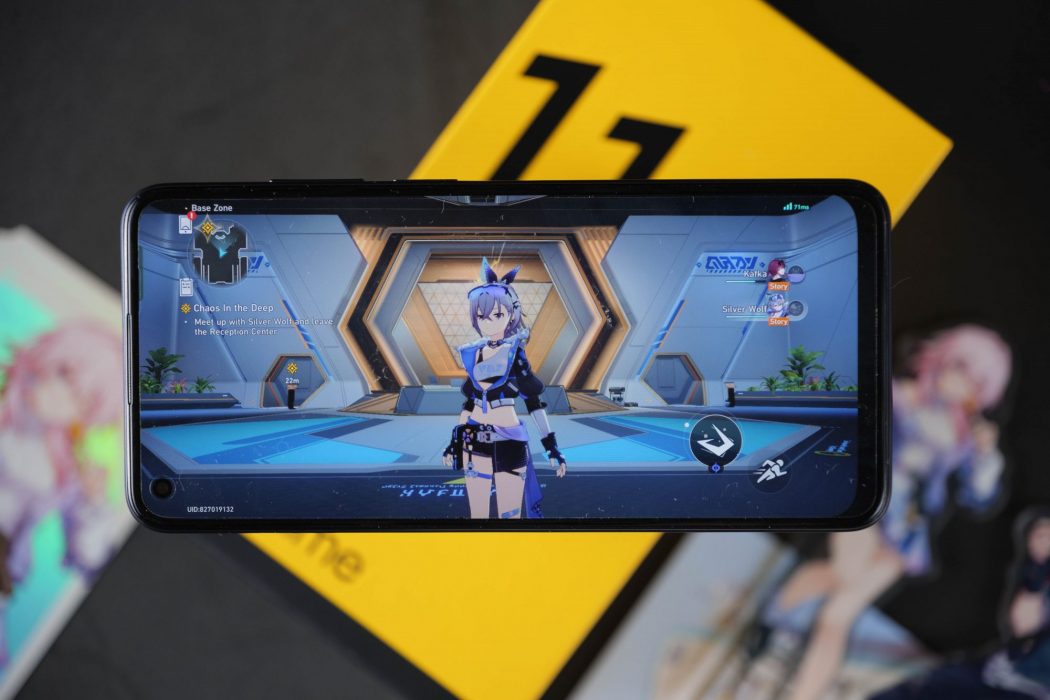 realme 11 gaming
realme 11 4G excels in moderate to heavy gaming sessions thanks to the Mediatek Helio G99 chipset which is designed specifically for gaming.
It ran everything we threw at it on high and very high settings. Our testing suite included games such as Garena Free Fire and Mobile Legends, as well as Jump: Assemble (Beta) and Honkai Star Rail.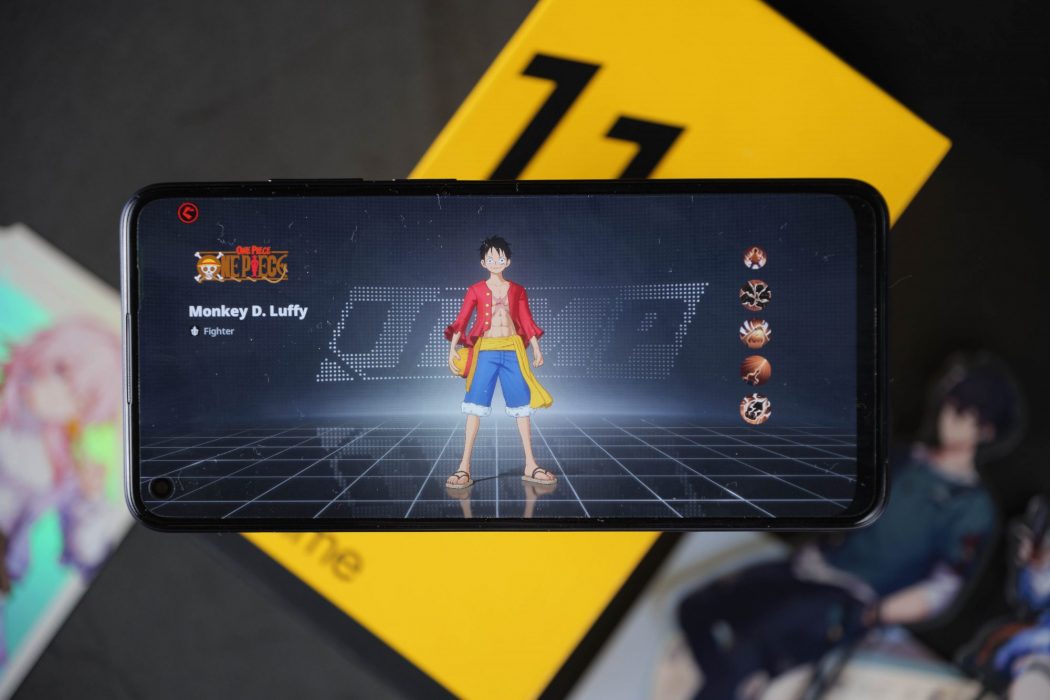 SUPER ULTRA is supported in Mobile Legends, and the game ran flawlessly at 60FPS with all the high resolution assets and special effects.
Honkai Star Rail, a graphically intense AAA mobile game, chugged along fine on Medium and High. Pushing it to Very High introduces noticeable stuttering, but it's still playable if you don't mind the sluggishness.
One thing we also wanted to look into was how well the system stayed cool, which is important to prevent thermal throttling during long gaming sessions. In all of our tests, the system managed to stay resonably cool. Using an thermometer while running games in high frame rate (HFR) mode, we measured a high of 43 degrees Celsius at its hottest spot.
We did an entire gaming review video on the realme 11 4G over at TechKuya, so be sure to check it out to see the actual results.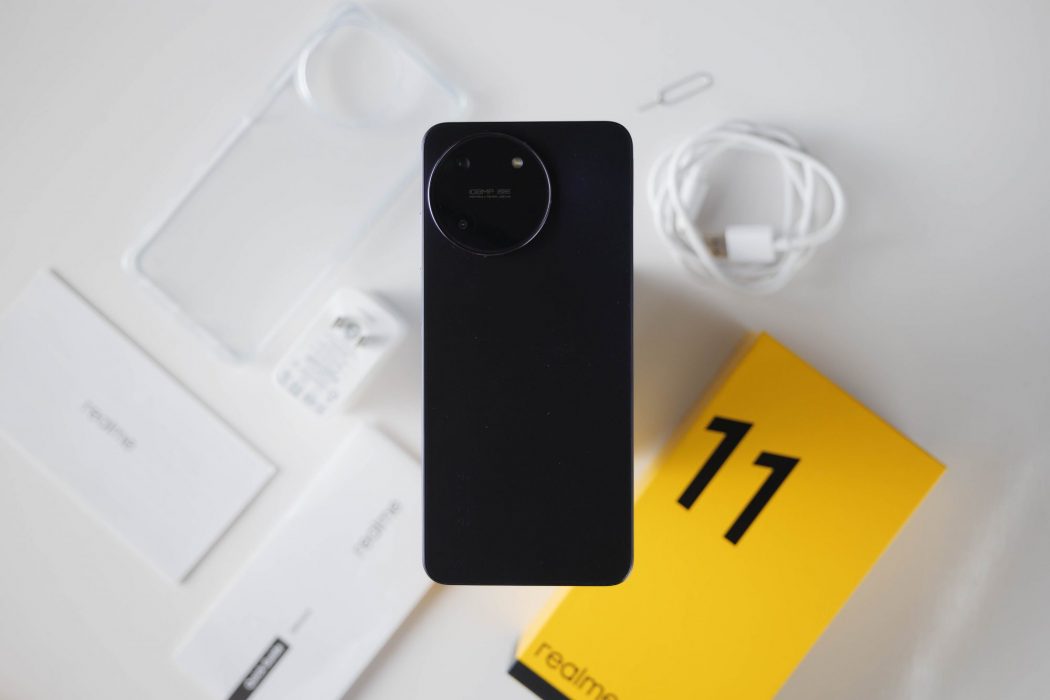 realme 11 camera
realme 11 makes its mark by finally bringing back the 108MP cameras to the mid-range segment. The big circular camera island houses a Samsung ISOCELL HM6 sensor which we first saw on the realme 9, but then somehow went away on the realme 10.
It is Samsung's best mid-range camera sensor to date, outperformed only by the Samsung ISOCELL HP2 which is found on the Galaxy S23 Ultra, and the Samsung ISOCELL HP3 which is found on the realme 11 Pro+.
We took it upon ourselves to take side-by-side shots to compare the realme 11 against the Samsung Galaxy S23 Ultra, expecting to see a large gap in quality. However, the results really surprised us.
The arrival of the Samsung ISOCELL HM6 was such a big deal back then that there was even a promotional video from Samsung's camera department promoting the realme 9, the first phone to use it.
One of its biggest features is the ability to do 3x in-sensor zoom. This is a huge deal because it allows devices to zoom in without relying on software enhancements. So, it is a quick way to have good quality 3x zoom without needing a dedicated 3x zoom sensor.
It seems realme is committed to sticking to just one good camera on the base realme numbered phones, something we took notice since the realme 10.
 The macro lens is gone, but then so is the ultrawide sensor. There's still a dedicated 2MP sensor to capture additional depth information, but for some reasons the layout of the camera island makes it seem like there are actually three cameras and a flash when in reality, there are only be two camers and a flash.
We are all for doing away with the macro lens. It was a cheap and easy way to market the phone as having more cameras than it does, but we do miss the ultrawide lens.
Given the choice, we would really prefer to have a single powerful camera instead of three or four mediocre ones. So we snapped a ton of photos and looked at the results in detail on our desktop screens.
Indoors and with limited light, we captured usable photos 9 times out of 10. It's a fast lens that takes sharp photos even without OIS (optical image stabilization). We noticed that the photos tend to look oversaturated and unnaturally vibrant on the phone's Super AMOLED display, but it actually looks more natural on a properly caclibrated monitor.
If anything, our main gripe is that the focus misses the mark sometimes. Even on scenes with human subjects in the foreground, there were shots where the background was sharper than the people. This usually happens on darker scenes, so perhaps the limited light and information affects the camera's ability to decide where to focus on.
Selfies are no slouch either thanks to that 16MP sensor. It is better than your average mid-range selfie camera. We wish it had a wider field of view for group shots or "wefies", but we may be in the minority here.
WATCH: realme 11 camera test – 16MP selfie @ 720p30 (video)
Check out these sample photos that we posted on social media. We also have an entire video dedicated to reviewing the camera, as well as dedicated videos demonstrating the video capabilities of the 108MP main camera and the 16MP selfie camera over at TechKuya, so be sure to check those out.
WATCH: realme 11 camera test – 108MP main @ 1080p30 (video)
realme 11 battery life, charging
When it comes to battery life, realme 11 takes full advantage the advanced power management features that come with Android 13. On top of this, realme UI 4.0 supplies enhanced optimizations and power management features such as Super power saving mode that stretch the battery life for days beyond what is normally possible. 
Ultra standby mode is another interesting feature which closes background apps when the screen is off. It claims that it can further reduce battery consumption at night but there may be delays in receiving messages. Taking hints from the description, we suspect it throttles networking and cellular services in order to achieve this.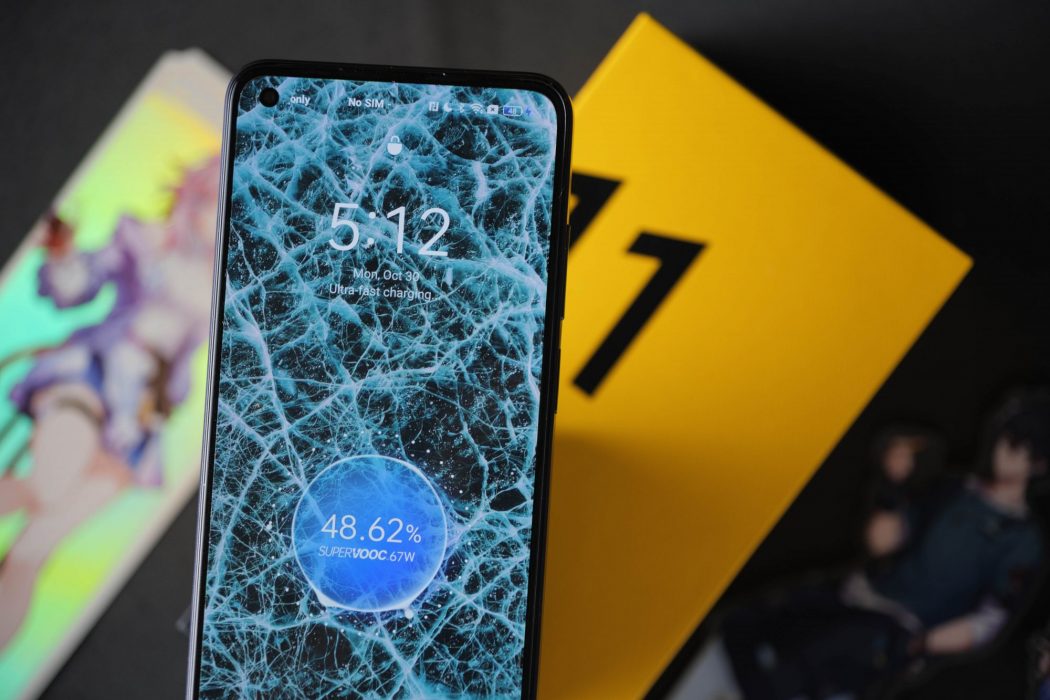 Hardware-wise, the Mediatek Helio G99 is a very power efficient chipset. Paired with a 5,000 mAh non-removable battery, we were able to clock around 14-15 hours in PCMark Battery Life benchmark with the phone running on Wi-Fi and brightness levels calibrated to our lab standard.
Our internal benchmarks yielded close to 15 hours of screen time using PCMark, which places the realme 11 in the upper range among the devices that we had the opportunity to review in 2023.
Should you find yourself low on battery life, you can count on the 67W SuperVOOC to quickly recharge the realme 11. It can go from zero to 100 percent in just 45 minutes, and it is amazing to see those its battery levels go up in real life.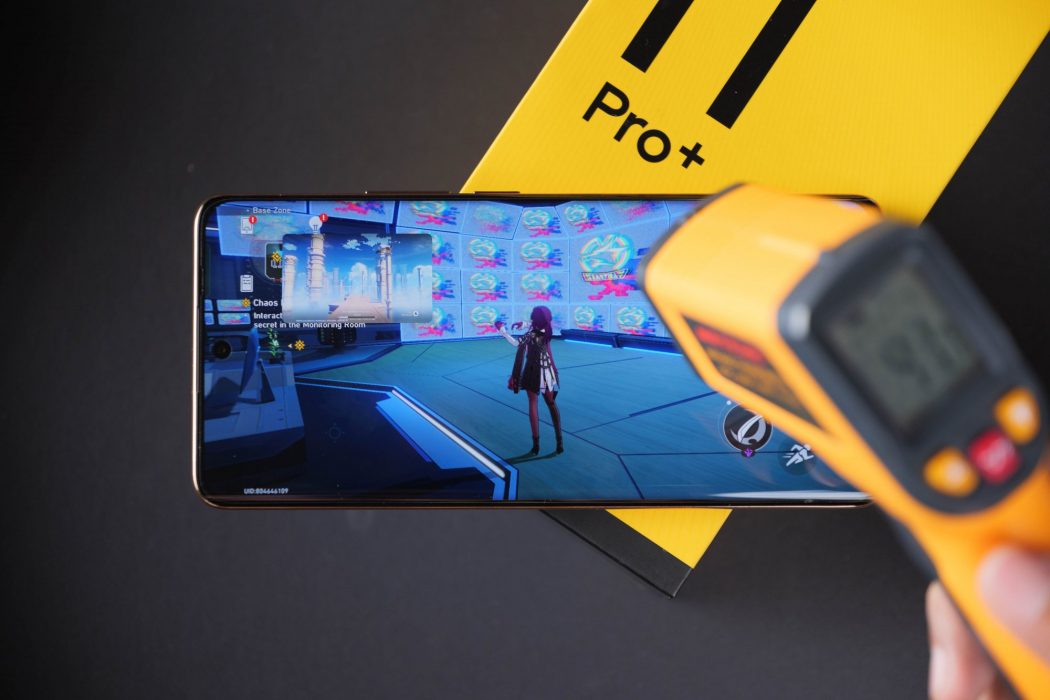 realme 11 benchmark results
For our performance and gaming benchmarks, we ran the realme 11 in Wi-Fi mode with Power Saving turned off and performance mode set to "Smart".
Our benchmark unit is the realme 11 with 8+256GB of memory and storage configuration.
AnTuTu: 421893, temperature delta: 3.6 degrees Celsius
PCMark Work 3.0 performance: 10189
PassMark: 9557 system, 4622 CPU, 16129 memory, 17311 disk, 20951 2D, 20951 3D
Battery life benchmarks were conducted in the lab with our calibrated brightness levels in WiFi mode, Power Saving turned off, and performance mode set to "Smart".
PCMark work 3.0 battery life: 14 hours 48 minutes
AccuBattery: 9h 56m (screen on), 8d 6h (combined), 12d 8h (screen off)
Should you buy realme 11 4G in the Philippines?
realme 11 4G launches in the Philippines on November 9. With a retail price of Php 13,999, realme Philippines is offering it at a discounted price of Php 11,999 for early birds who are willing to snap it through realme's online sales channels:
The sub-P15k price range is extremely competitive, and this has been realme's forte since its disruptive entry into the Philippine market. There are many strong competitors in this price segment, and realme's strategy seems to be focused on the Filipinos' love for photography.
With its 108MP Samsung ISOCELL HM6 cameras, realme 11 may be the best 4G camera phone that you can get right now, and that may be enough to turn heads this holiday season. 
realme 11 technical specifications (Philippines)
Display: 6.4 inches; 1080 x 2400 pixels; Super AMOLED, 90Hz, 1000 nits, Gorilla Glass 5
Network frequency: 2G / 3G / 4G
SIM: Dual SIM (nano-SIM, dedicated slots)
OS Android 13; realme UI 4.0
Chipset (SoC): MediaTek Helio G99
CPU: Octa-core  (2×2.2 GHz Cortex-A76 & 6×2.0 GHz Cortex-A55)
GPU: Mali-G57 MC2
Memory (RAM) + storage: 8GB + 256GB
Expansion: microSD, up to 1TB (dedicated slot)
Main camera (rear): 108MP f/1.8 (wide) + 2MP f/2.4 (depth)
Selfie camera (front): 16MP f/2.5
Connectivity: 2.4/5 GHz Wi-Fi 802.11 b/g/n/ac; Bluetooth 5.2
I/O: USB Type-C; 3.5mm audio jack, fingerprint scanner (side)
Battery: 5,000 mAh; 67W fast charging (50% in 17 minutes)
Colors: Glory Gold, Dark Glory
Official price (Philippines): P13,999 (8+256 GB)
Hit the play button to watch our faull realme 11 video review or visit TechKuya on YouTube for more tech reviews!
Enjoy up to 95% off + free shipping when you check out with our affiliate links👇
🛒 Shopee: https://shope.ee/LAOvtP6tF
🛒 Lazada: https://s.lazada.com.ph/s.7mrYA?cc