realme 7 finally makes its way into the Philippines in time for the holidays, arriving only four months after its highly successful predecessor, the realme 6. Although it was slated for an earlier launch, the realme 6 ended up arriving in the Philippines in May due to the COVID-19 pandemic, unlike India where it launched early March 2020.
READ: realme 7: Hands-on first impressions review
Because of the relatively short gap between the two releases, we couldn't help but compare the realme 7 to the realme 6. After all, the realme 6 raised the bar in more ways than one, bringing to the budget mid-range segment several desirable "premium" features such as the "in-display" hole-punch notch, a high refresh rate display at 90Hz, fast charging at 30W, 5GHz Wi-Fi, USB Type-C, quad cameras, and a side-mounted fingerprint scanner.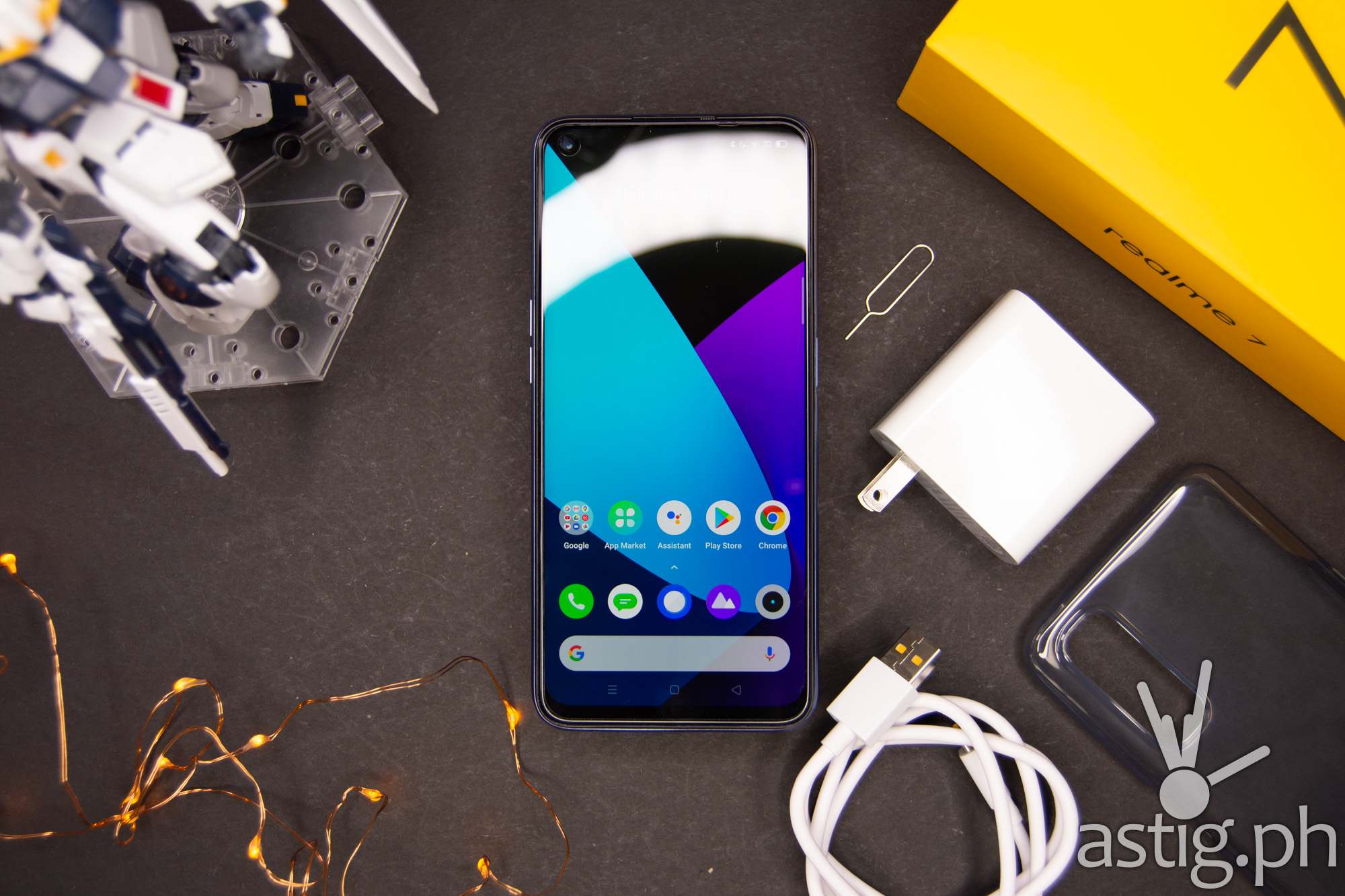 It's very hard to top this list, so we've been eagerly waiting for the newest release in realme's numbered series.
Click here to watch our first-ever baby unboxing, or read on for our full review of the realme 7.
Display: 6.5", 1080×2400, IPS LCD,Gorilla Glass 3, 90Hz refresh rate
OS + UX: Android 10 (Q), realme UI 1.0
CPU + GPU: Octa-core Helio G95 (2.05GHz max) + Mali-G76 MC4
Memory + storage: 8GB + 128GB
Camera: Quad 64MP (wide) + 8MP (ultrawide) + 2MP (macro) + 2MP (depth) + 16MP (selfie)
Battery: 5,000 mAh; 30W DART Charge
Price (Philippines): 14,990 PHP (8GB + 128GB)
Display & design: We've seen this before
On the outside, the realme 7 looks no different from the realme 6: We are getting the same 6.5-inch IPS LCD display with a 16MP in-display selfie (hole-punch notch). Refresh rate still maxes out at 90Hz with touch sampling rate set to 120Hz. As usual, it comes with a pre-installed screen protector on top of the Gorilla Glass 3 layer to protect the digitizer.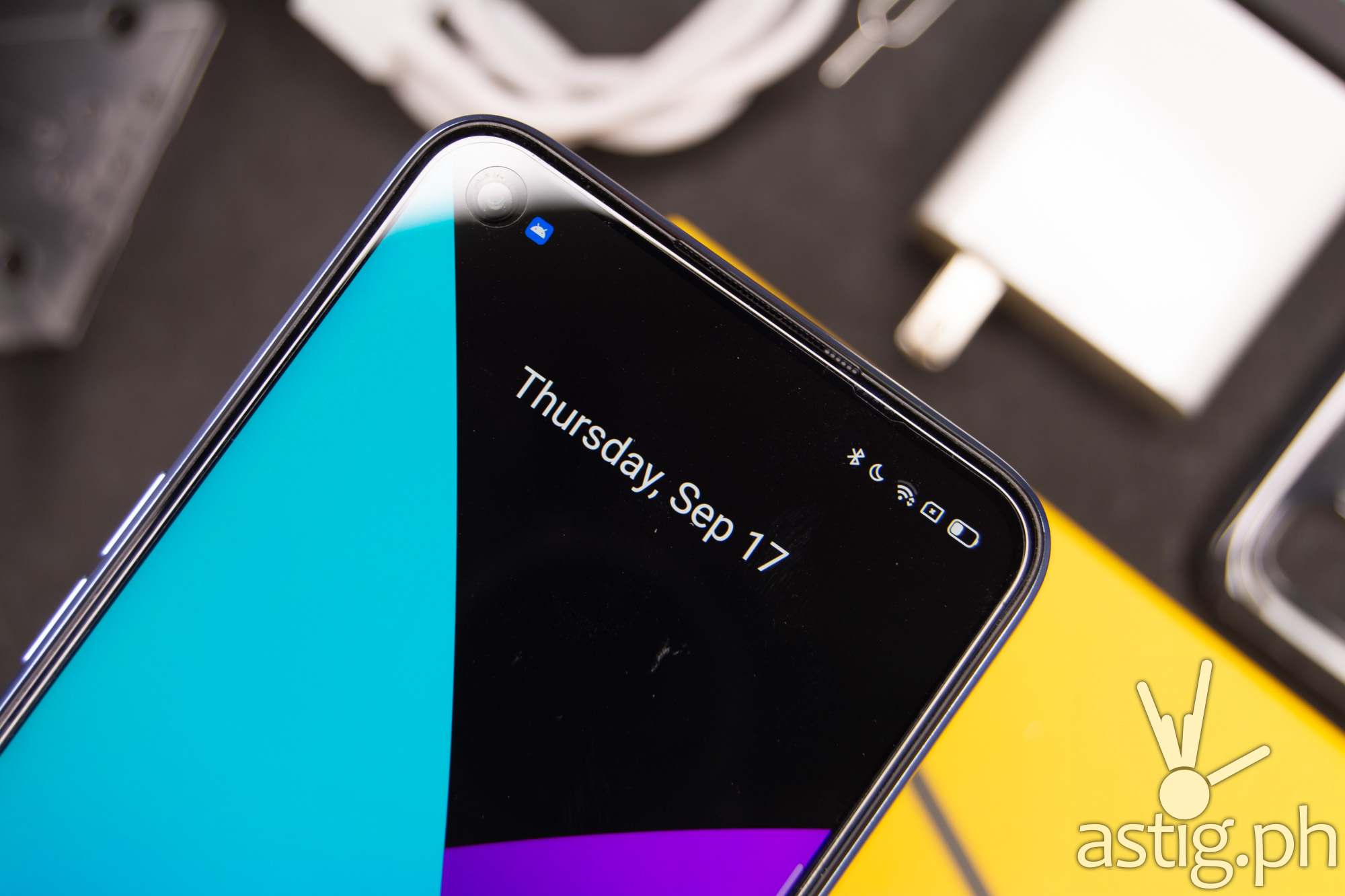 Our unit's display appears to have a slightly yellowish tint which is easily fixed by moving the color temperature slider under the display settings panel to the left (cool).
I personally found it to be a little short in brightness, and I was hoping we'd get AMOLED or 120Hz rather than the same old panel.
The back, however, is slightly different – although we still get a quad camera system, the entire module is now much wider compared to the pill-shaped module on the realme 6. The hump's thickness remains the same, and we still get a quad camera system like before, though we now get a Sony IMX682 sensor instead of the Samsung GW1.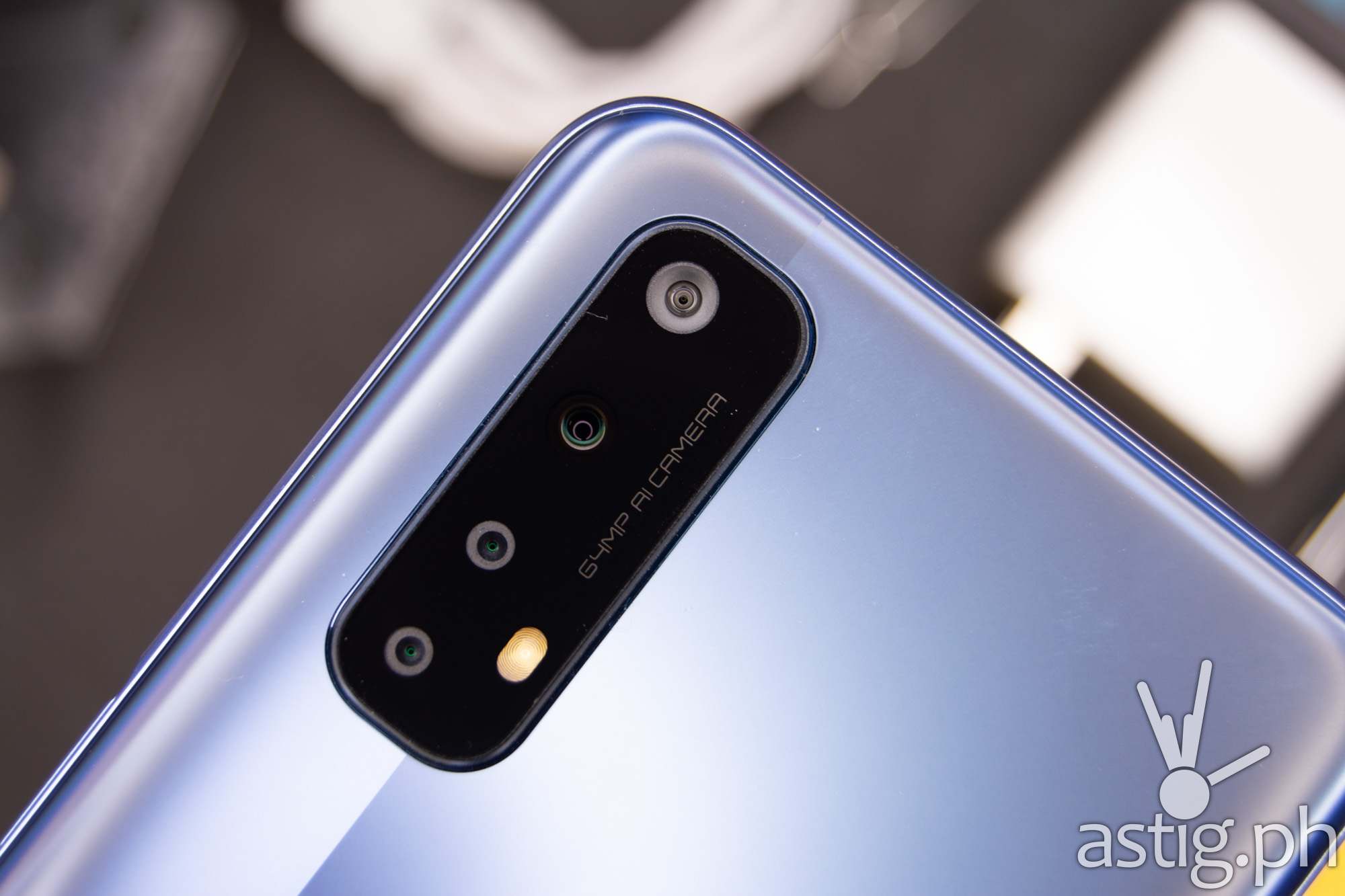 realme also moved away from the glossy coated surface, opting instead of a chroma-shifting multilayered matte finish to protect the phone's rear.
The realme 6 was prone to smudges, it gets really greasy over time and the glossy, smooth finish made it more slippery. This new design still gets smudgy, but not as much as before noticeable.
Also, the chroma changing back on our Mist Blue unit looks very beautiful when held against the light. We appreciate the way it stays visually interesting despite being less flashy.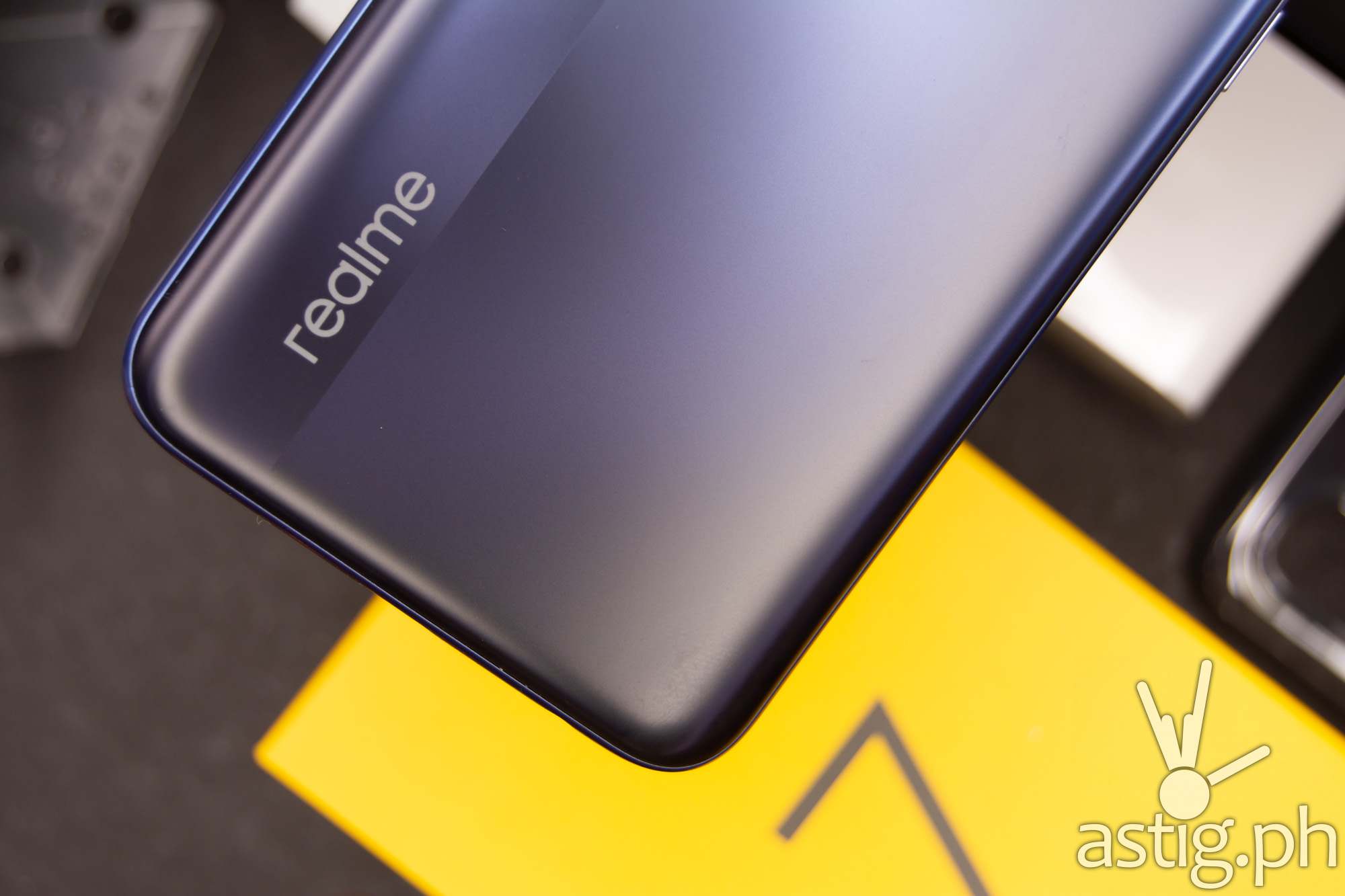 As someone who doesn't like using cases, I am thankful for this change, and being able to get by without covering up that beautiful behind is just a bonus.
The package does come with a free transparent jelly case though, in case you need one – a nice, thoughful touch as always from realme.
Like the realme 6, the power button also comes with built-in fingerprint scanner. It is positioned below than the edge, which is great because it doesn't get pressed when using a car phone holder or a tripod.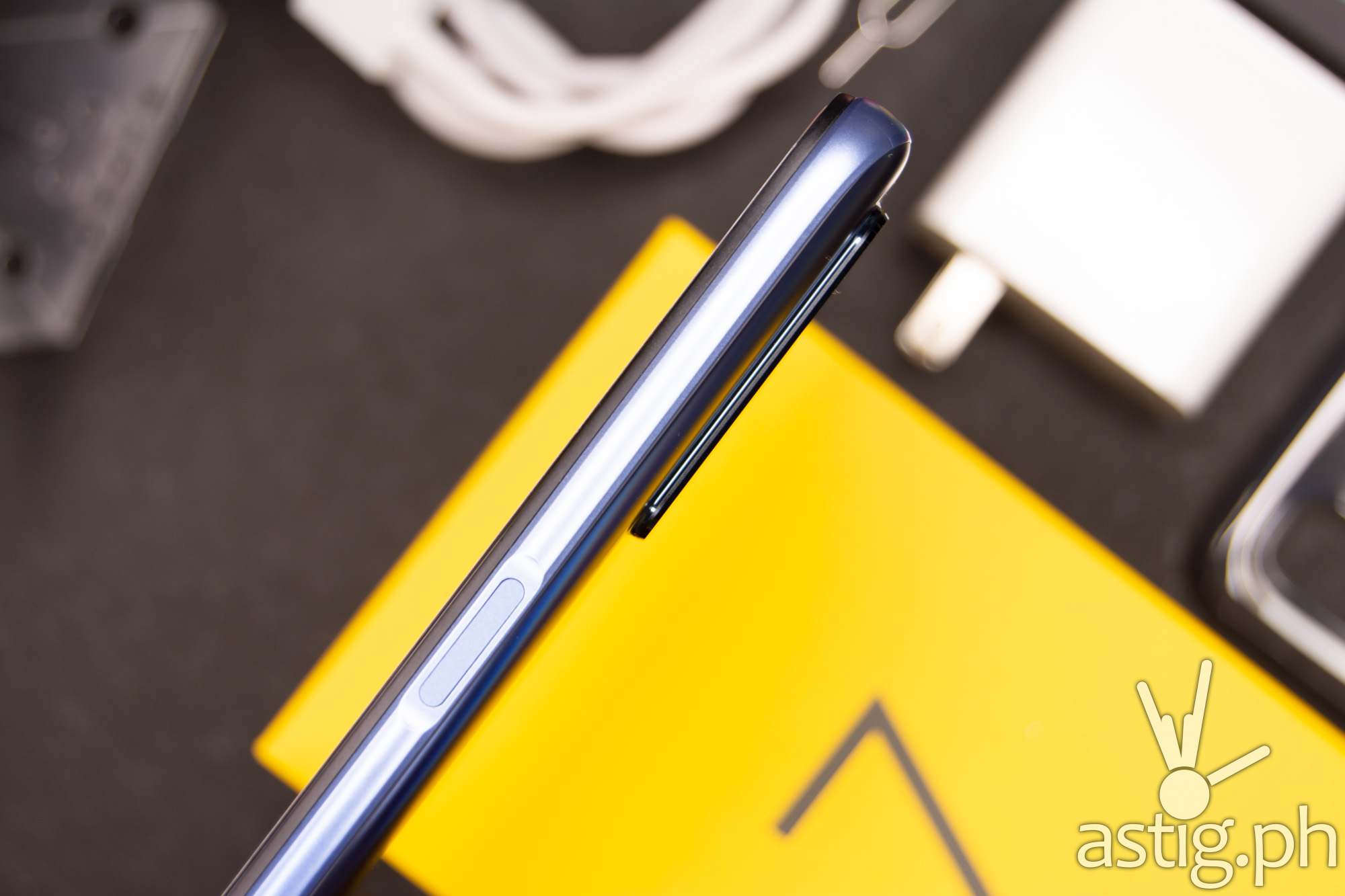 The bottom edge houses the usual set of I/O ports – a 3.5mm audio jack, a USB Type-C connector, as well as the microphone receiver and single bottom-firing loud speakers.
By the way, realme 7 supports 30W fast charging (VOOC / Dart Charge).
Good news for those who need to use dual SIM cards and a micro SD card at the same time: the realme 7 comes with a triple-slot tray that contains dedicated slots for two nano-SIM cards and a micro SD expansion card.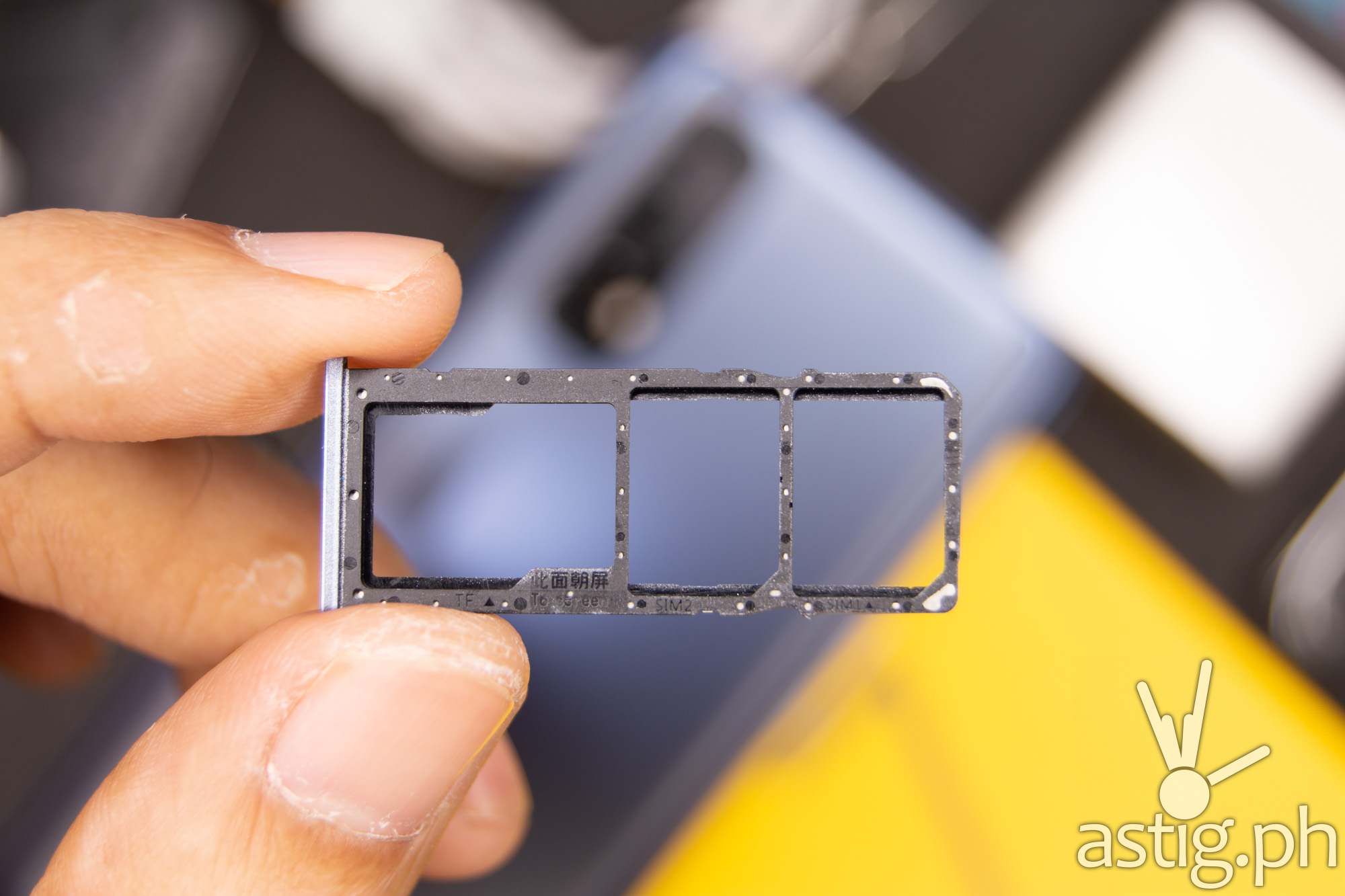 Although the phone doesn't carry an IP rating, realme claims that it is "tightly waterproof through protective sealing silicone".
Performance, entertainment: Full HD Netflix, finally
realme 7 has the honor of being the first Helio G95-powered smartphone in the world.
According to MediaTek, it's supposed to be have a CPU that's 5% faster and a GPU that's 8% faster than its predecessor, the Helio G90T which coincidentally powers the realme 6 It is also supposed to be faster than the Snapdragon 730G, Snapdragon's own gaming-tuned chipset, scoring 300k vs 250K in AnTuTu.
Like its predecessor, the Helio G95 is manufactured using the same 12nm fabrication process, so we're not expecting any major improvements in terms of power efficiency.
That said, application performance – task switching, navigation, and scrolling, is buttery smooth and seamless owing to the generous 8GB of memory and 90Hz display. It is also worth mentioning that the realme 7 runs Android 10 (Q) out of the box with realme UI 1.0, with planned upgrade to Android 11 and realme UI 2.0 in the pipeline.
We are still stuck with a single bottom-firing loud speaker which we found to be quite decent, and those of you with a Netflix or Amazon Prime subscription will be happy to know that the realme 7 now comes with Widevine L1 certification, so you can now stream videos in full HD!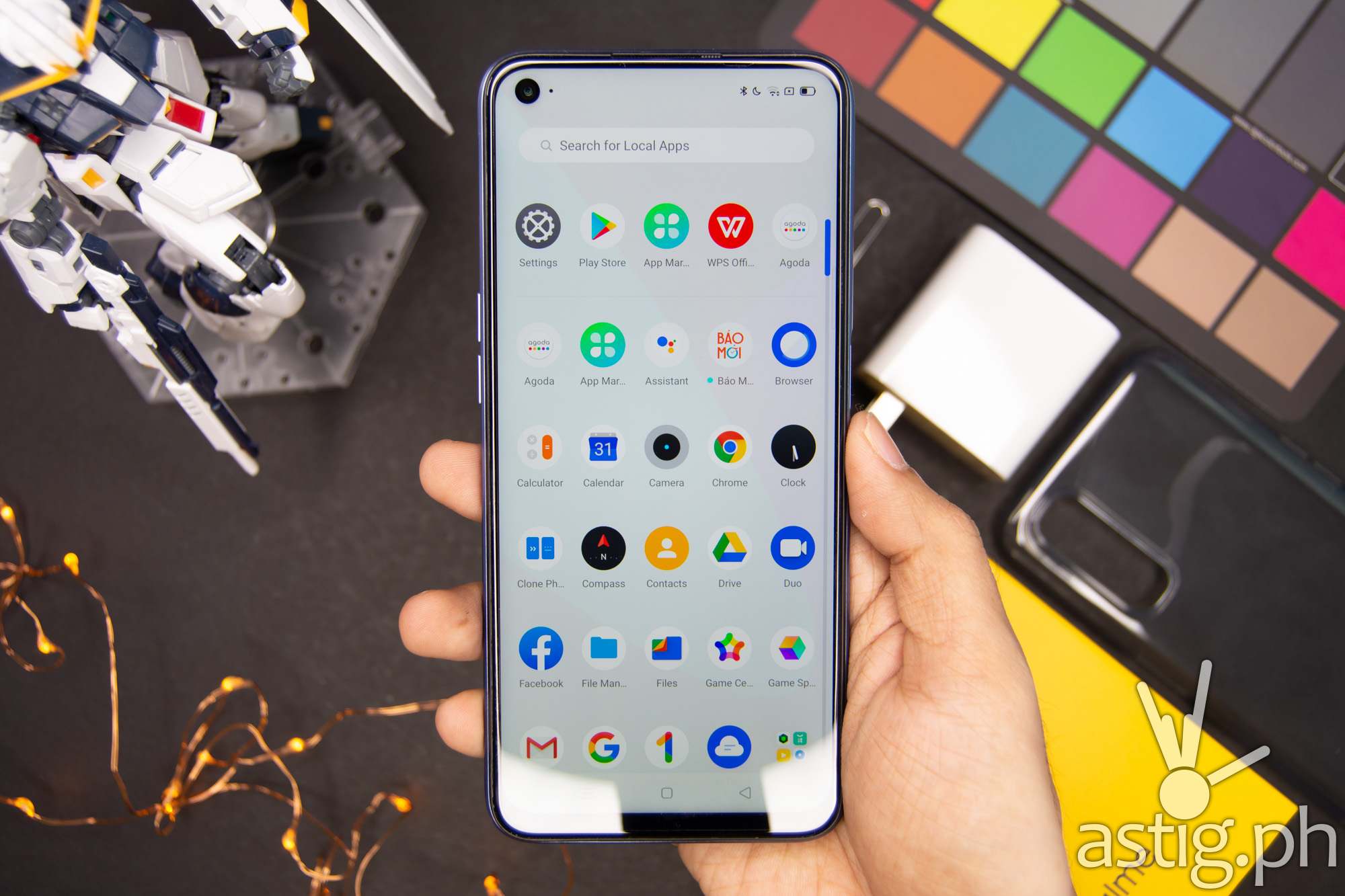 This is a welcome upgrade over the realme 6, which for some reason, only had Widevine L3 security clearance so we were limited to streaming DRM-protected videos in SD.
Camera, video: Sony IMX 682, trendy filters!
We have a quad-camera system on the realme 7 with identical focal lengths, although our main camera now packs a 2nd-gen Sony IMX682 sensor instead of the Samsung GW1 on the realme 6.
We immediately noticed the upgrade in visual quality – photos have better dynamic range and lower noise, though we feel that noise reduction might be a little too aggressive on the stock camera.
What really shocked us were the night shots – most of our hand-held photos came out sharp, and this was on a sensor that relied on gyro-EIS (electronic image stabilization). The lack of built-in OIS (optical image stabilization) didn't seem to faze the realme 6, and we were thoroughly impressed.
It uses a system called "UIS" (Ultra Image Stabilization), which, according to their website, uses "anti-shake algorithm analysis" to take steady phots and videos with "sport camera performance", which to me sounds like using software to achieve the same effect as if shooting with a gimbal.
You can even take things further by shooting videos in "UIS Max" mode, which is supposed to create even steadier videos at the expense of having a much smaller crop area.
Upon close scrutiny on a bigger screen, our night mode shots were quite grainy, but it's forgivable – because the photos are sharp, most of our night mode photos are very usable, and that's important when you're in a hurry and don't have the time to keep taking multiple shots – take for example, this shot of electric line men working on an electric pole: I wanted to be discreet so I fired around five shots in quick succession using different filters, and all of them came out looking sharp and usable.
If you need more control over the output, there's always Pro Mode – I took a sample night shot in the lowest ISO setting and was very happy with the result. You can even shoot RAW, which creates DNG files for further processing in photo editing software like Adobe Lightroom or Photoshop.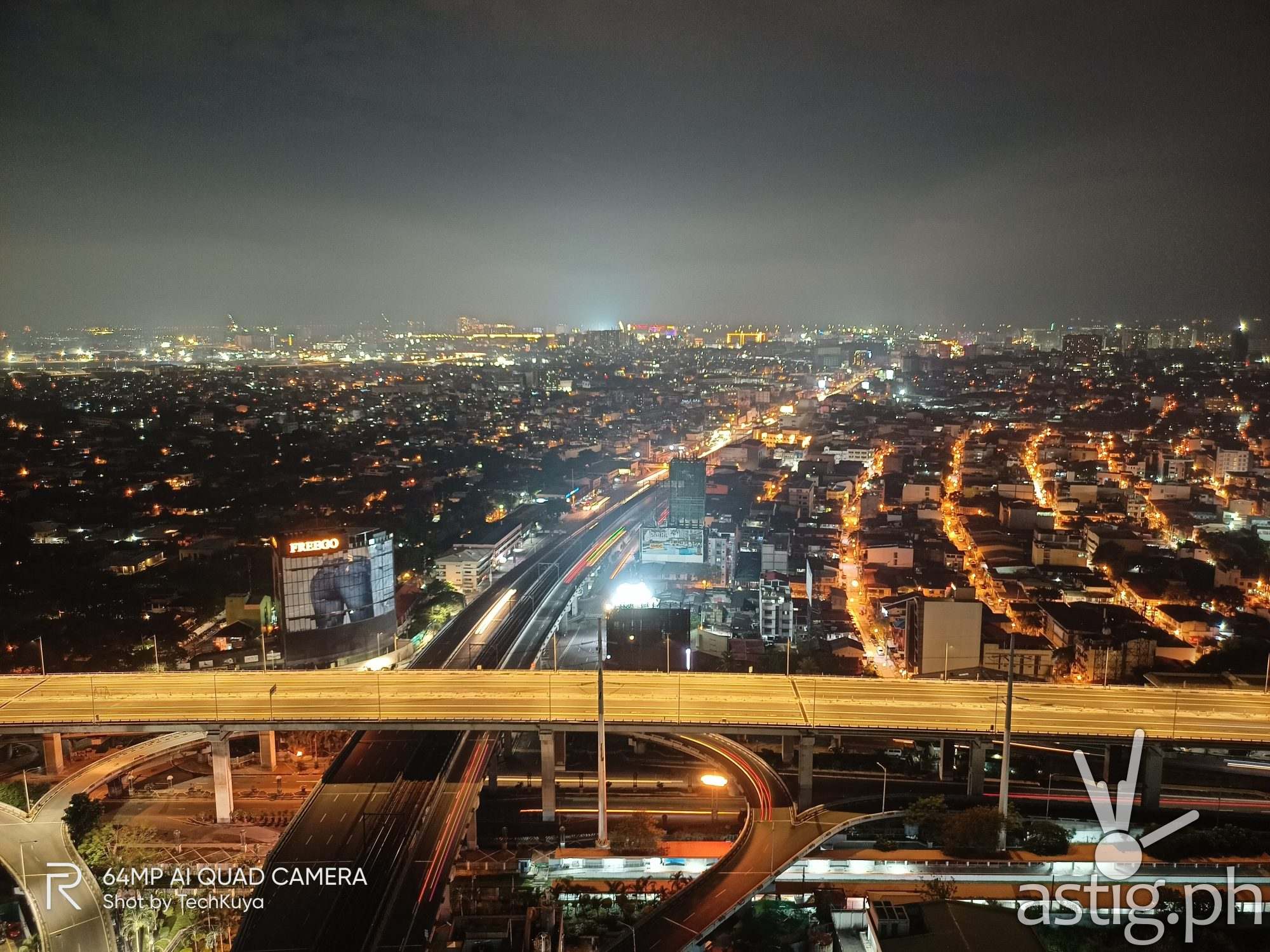 Speaking of filters, the realme 7 touts new built-in filters that simulate a couple of trendy looks popularized on photo sharing sites like Instagram.
These are:
Flamingo – Lifted blacks, desaturated greens and purples with a slight reddish-orange shift
Modern Gold – High contracts yellow shift
Cyberpunk – Teal-purple split tone
Normally, photographers and videographers use a technique called color grading to achieve a certain look. This may involve shifting colors around, changing the image process, or applying a set of pre-defined values via LUTs (lookup tables) and saving them into profiles for quick application.
I personally do my own color grading – it takes a lot of time to create these profiles, and having to import the photos in Lightroom for post-processing adds to the workflow. For professionals and content creators, cutting down that workflow is crucial, which is why a lot of them try to nail everything perfectly to minimize the need for post.
So I personally appreciate these built-in features for what they do, plus being able to preview your shot in-camera is a nice touch – just shoot, then post it straight away!
Videos look sharp especially with good lighting, but I felt that it could be sharper. I couldn't help but suspect that they were being taken at a lower native resolution and just upscaled to full HD or 4K.
Not an issue if you're uploading it online since it will get compressed anyways. Hit play to watch our demo video above – aside from minor edits for cuts, speed-up, and text, everything is as-is straight out of camera with no filters or post-processing effects added.
Gaming performance: Faster than the 6
When it comes to gaming, the experience is faster to the realme 6, which was already quite impressive. The Helio G95 has a quad-core CPU runs at the same clock speeds as its predecessor, and so does the Mali-G75 MC4, however synthetic benchmarks show that the realme 7 is significantly faster than the realme 6 in CPU and GPU tests.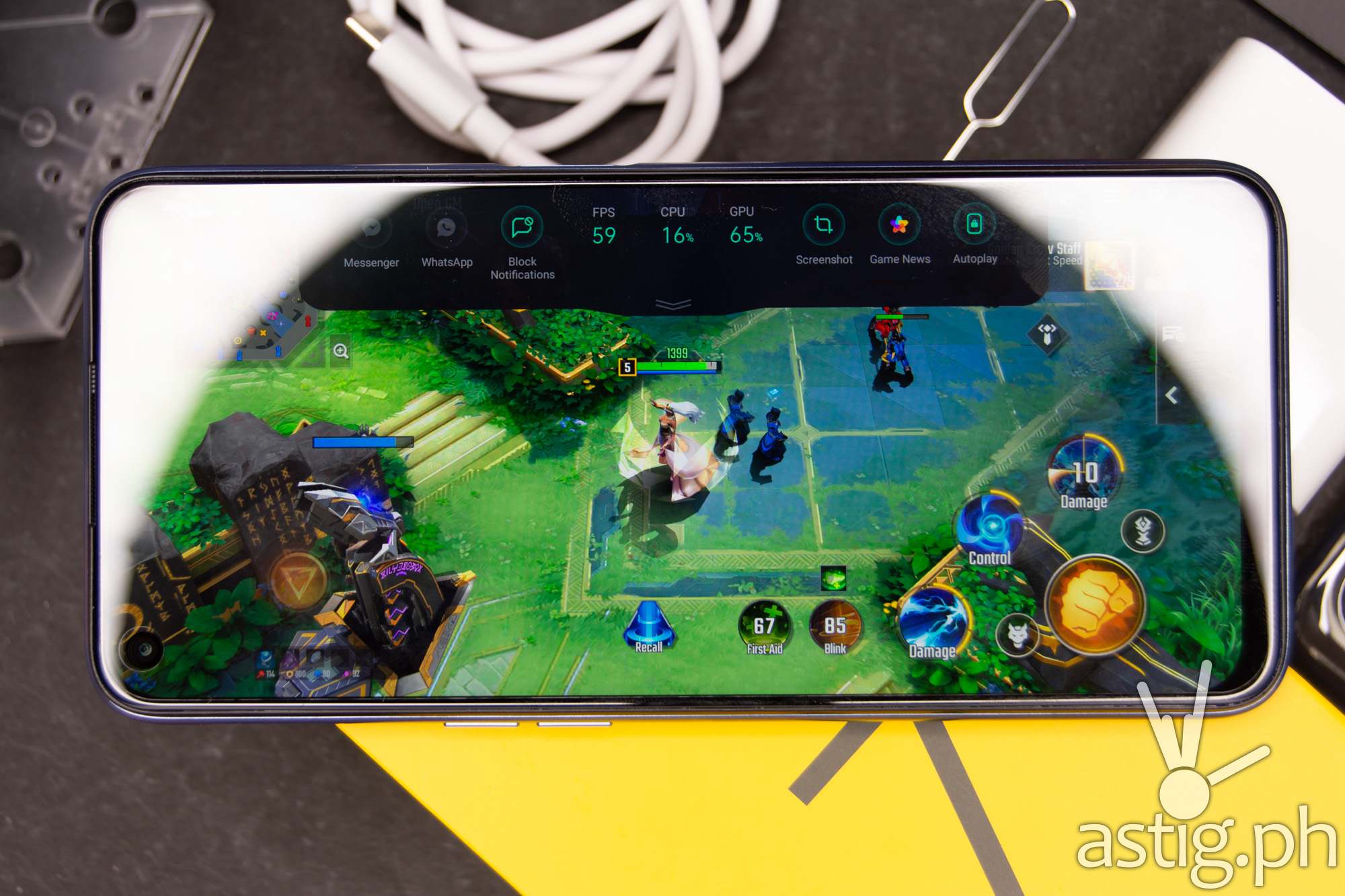 More importantly, and the phone seems to run much cooler – which was one of our main issues with the realme 6.
On our reference game Marvel Super War, we managed to run 60 FPS at maximum graphics settings. This is already better than the realme 6, which stutters and heats up, which triggers throttling, forcing us to downgrade graphics to high. Since the realme 7 doesn't do anything out of the extraordinary in terms of thermal management. we suspect that the Helio G95 might be more efficient, or have better cooling than the Helio G90T.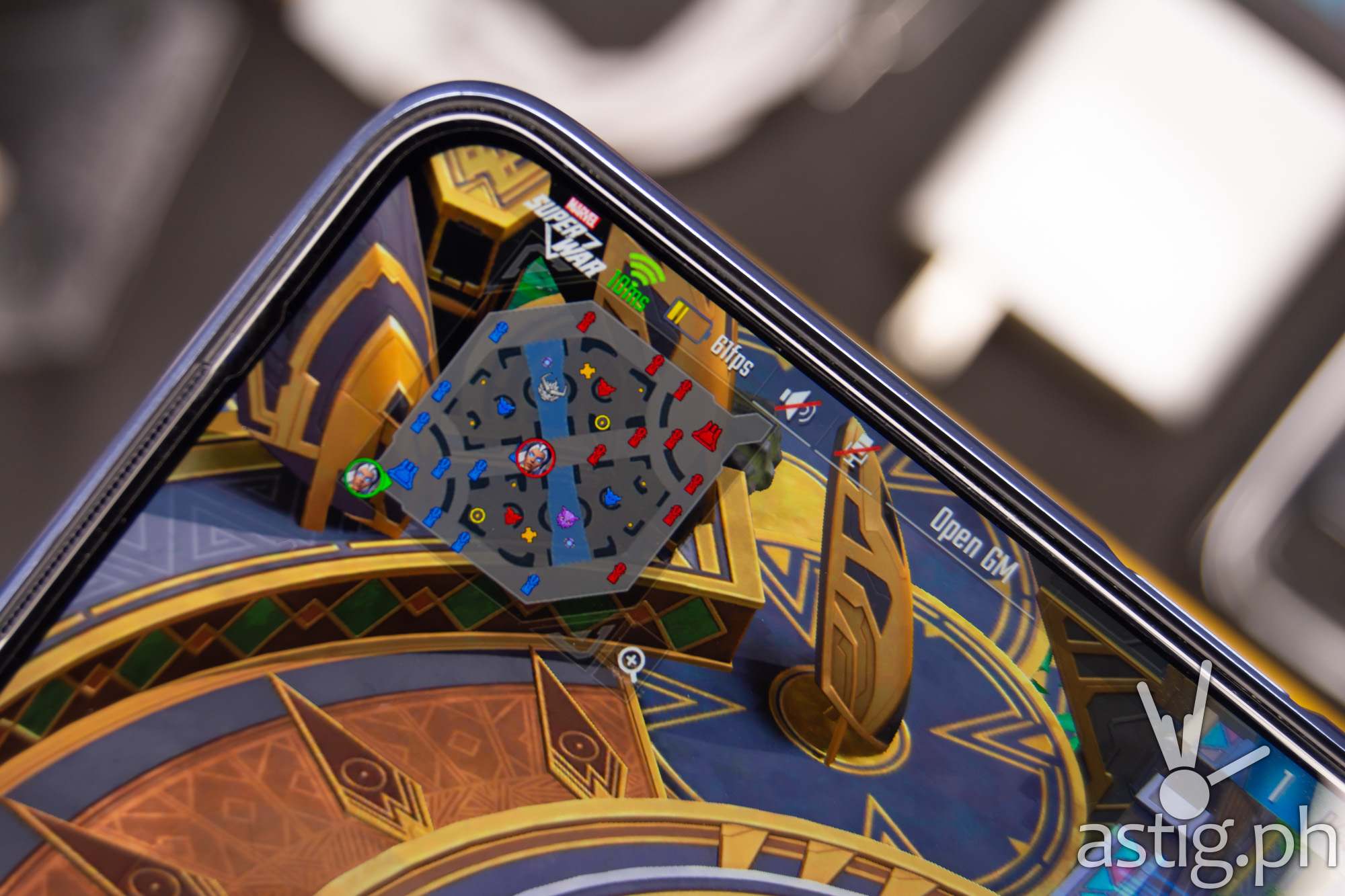 On the game Black Desert Mobile, we managed to stay above 40FPS at maximum settings. On the newly released and very graphically demanding, cel-shaded mobile game Genshin Impact with everything set on max, the realme 7 runs steadily above 20 FPS, going all the way up to 26, 28, and even 30FPS in certain areas.
Battery life: Larger, but worse than before?
The realme 7 packs a 5,000 mAh battery, which is larger than the 4,300 mAh on the realme 6. However, it also drains much faster, possibly due to higher power draw from the Helio G95. Thankfully, it charges from zero to 100 percent in an hour, which we found amusing. DART Charge is the real deal, and 30W is fast enough to restore a good amount of battery life in just a few minutes.
PCMark reports that the phone should last at least 10 hours and 23 minutes, but for some reason, GSam and AccuBattery says that the phone only has around 5 hours of screen-on time. It certainly doesn't feel that way though – we've certainly been using the phone for much longer than that.
On a single charge with moderate use, the realme 7 lasts us more than a day without battery optimization of any kind.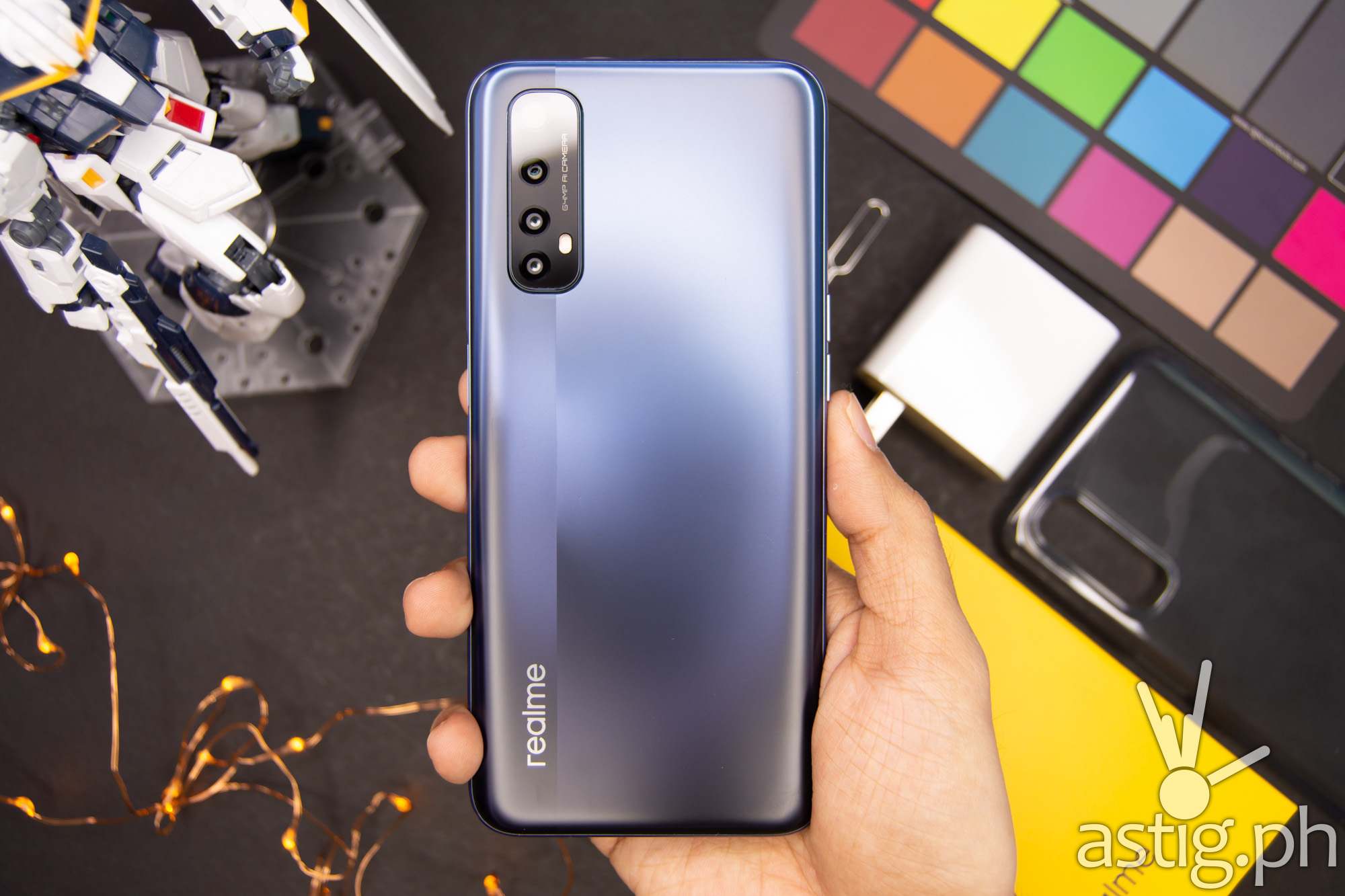 Benchmark results
Performance benchmarks
AnTuTu: 300966
PCMark Work 2.0: 9844
PassMark: 5543 `(system); 14299(CPU); 13189 (memory); 45225 (disk); 20954 (2D graphics); 23496 (3D graphics)
GeekBench: 519 (single-core); 1648 (multi-core)
Gaming benchmarks
3DMark Sling Shot Extreme: 2555 (OpenGL); 1807 (Vulkan)
Battery benchmarks
AccuBattery: 5h (screen on); 24h (screen off); 18h (combined)
GSam Battery Monitor: 1d 20.2h (9h 27m active); screen on: 4h 46m (51m 44s max)
PCMark Work 2.0 battery life: 10h 23m
Closing thoughts
realme 7 sticks to the tried and true path laid out by the realme 6, which set the bar so high that it might be a little difficult to top, especially with the two devices being only less than half a year apart.
Still, the realme 7 offers substantial gains in photography, and being able to stream full HD Netflix and Amazon Prime thanks to Widevine L1 certification may be enough to justify the additional cost.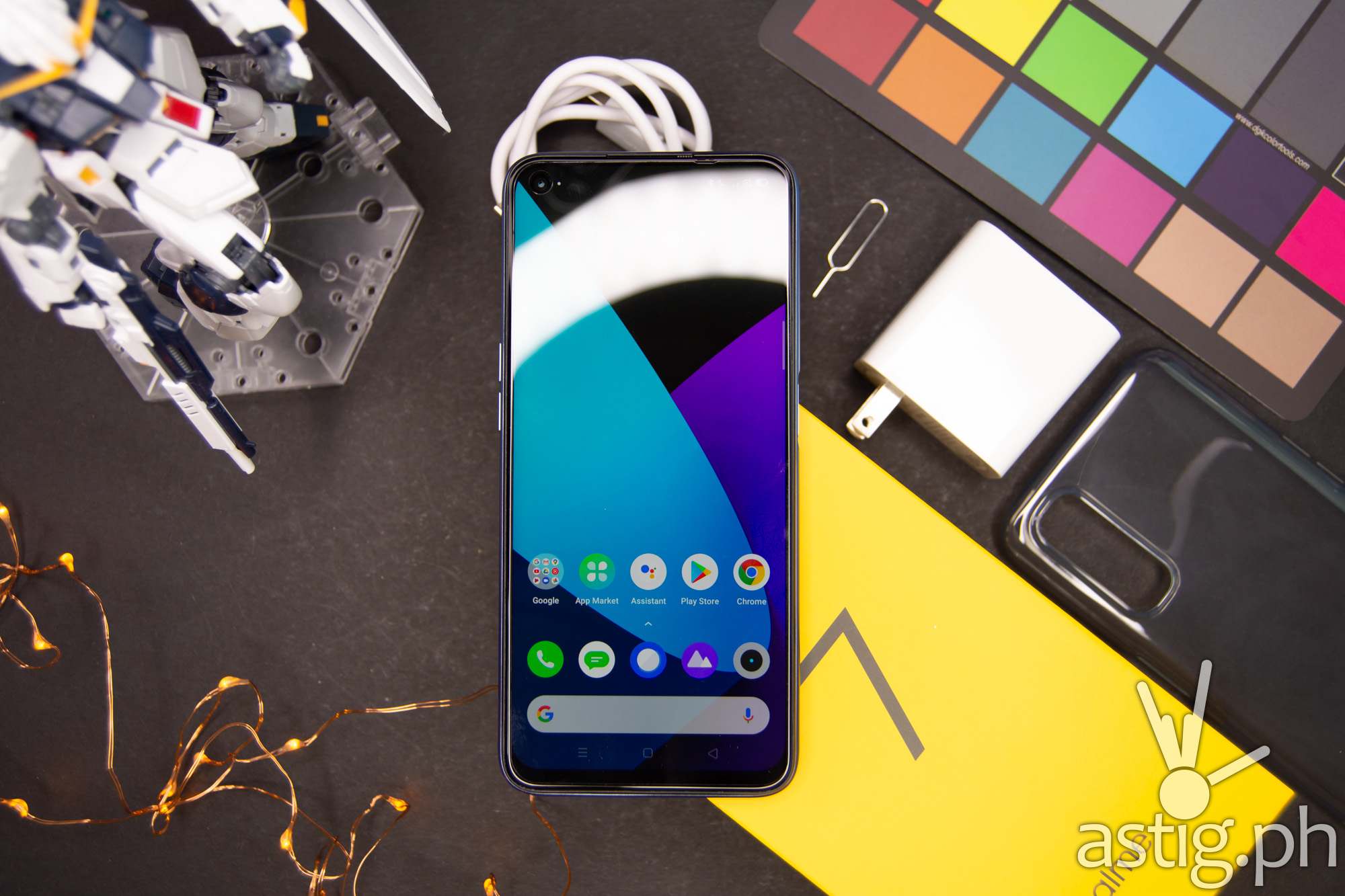 Priced at 14,990, the realme 7 is only 1,000 pesos more expensive than the realme 6 8GB+128GB equivalent, which was priced at 13,990 at launch.
At these prices, I would definitely go with the realme 7, however, if you can get the realme 6 for much cheaper – perhaps at a flash sale – then go for it instead, unless better cameras or full HD Netflix is that important to you, in which case you should go with the 7.
realme 7 (8GB + 128GB) and realme 7 Pro (8GB + 128GB) are now available nationwide for 14,990 PHP and 17,990, respectively.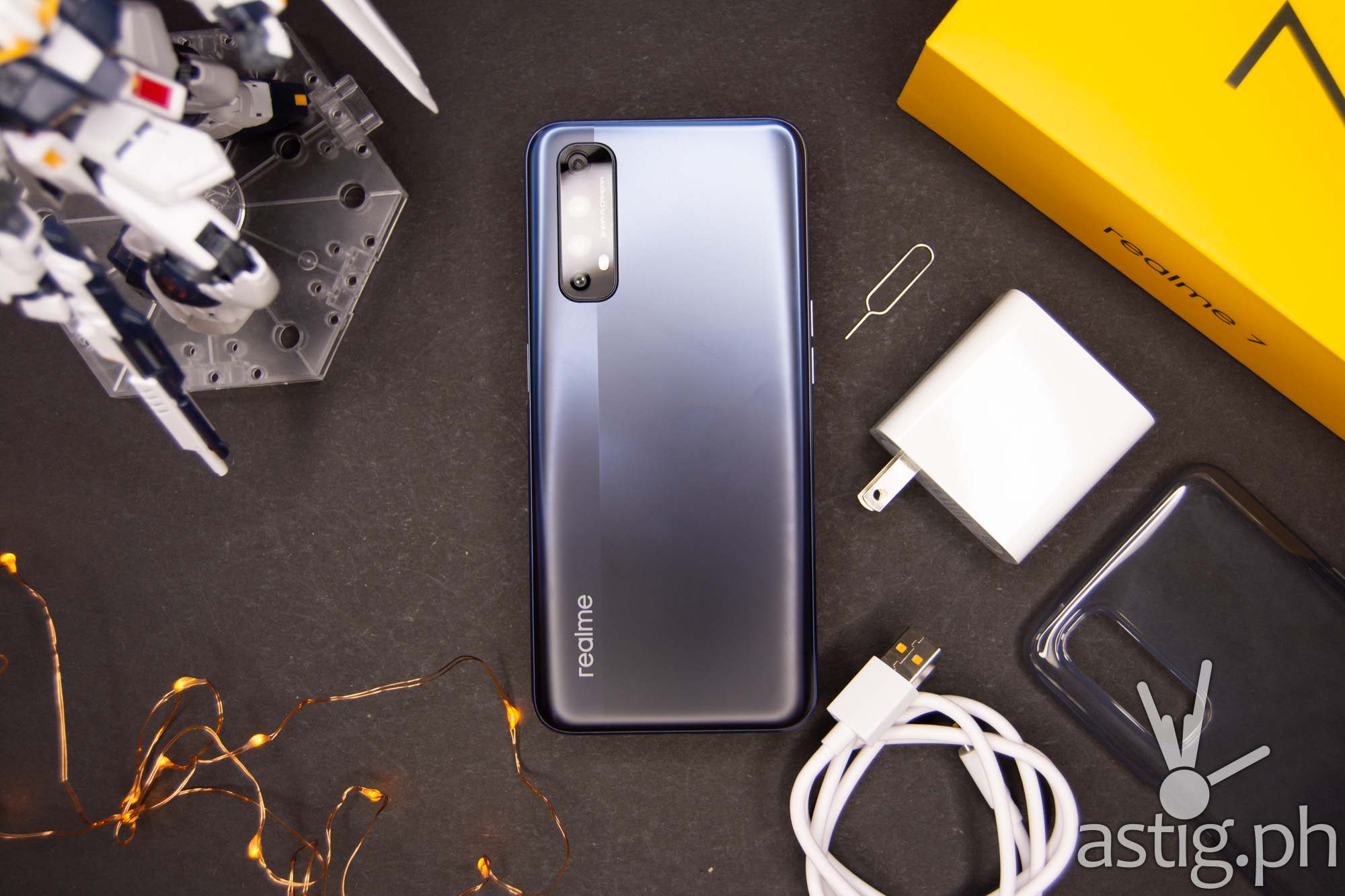 realme 7 technical specifications (Philippines)
Display: 6.5 inches; 1080 x 2400 pixels; IPS LCD; 90Hz; Gorilla Glass 3
SIM: Dual SIM (nano-SIM, dedicated slots)
OS Android 10 (Q); realme UI 1.0
Chipset (SoC): MediaTek Helio G95
CPU: Octa-core (2×2.05 GHz Cortex-A76 & 6×2.0 GHz Cortex-A55)
GPU: Mali-G76 MC4
Memory (RAM) + storage: 8 GB + 128 GB
Expansion: microSD (dedicated slot)
Main camera (rear): 64MP f/1.8 (wide) + 8MP f/2.3 (ultrawide) + 2MP f/2.4 (macro) + 2MP f/2.4 (depth)
Selfie camera (front): 16MP f/2.1
Connectivity: 2.4/5 GHz Wi-Fi 802.11 b/g/n/ac; Bluetooth 5.0
I/O: USB Type-C; 3.5mm audio jack; fingerprint scanner (side)
Battery: 5,000 mAh; 30W DART Charge
Colors: Mist Blue, Mist White
Price (India): 16,999 INR
Price (Philippines): 14,990 PHP (8GB + 128GB)
realme 7 pro technical specifications (Philippines)
Display: 6.4 inches; 1080 x 2400 pixels; Super AMOLED; Gorilla Glass 3+
SIM: Dual SIM (nano-SIM, dedicated slots)
OS Android 10 (Q); realme UI 1.0
Chipset (SoC): Qualcomm Snapdragon 720G
CPU: Octa-core (2×2.3 GHz Kryo 465 Gold & 6×1.8 GHz Kryo 465 Silver)
GPU: Adreno 618
Memory (RAM) + storage: 8 GB + 128 GB, UFS 2.1
Expansion: microSD (dedicated slot)
Main camera (rear): 64MP f/1.8 (wide) + 8MP f/2.3 (ultrawide) + 2MP f/2.4 (macro) + 2MP f/2.4 (depth)
Selfie camera (front): 32MP f/2.5
Connectivity: 2.4/5 GHz Wi-Fi 802.11 b/g/n/ac; Bluetooth 5.1, A2DP, LE
I/O: USB Type-C 2.0; 3.5mm audio jack; fingerprint scanner (under display)
Battery: 4,500 mAh; 65W DART Charge
Colors: Mirror Blue, Mirror Silver
Price (India): 23,980 INR
Price (Philippines): 17,990 PHP (8GB + 128GB)