realme 6 and 6 Pro came out in India in the first week of March, right before the Coronavirus (COVID-19) pandemic exploded and parts of the Philippines were placed under enhanced community quarantine. As a result, the release date of the realme 6 and 6 pro in the Philippines was pushed back, giving us time to fully experience the phone.
It wasn't until earlier in May that Realme Philippines released the realme 6i – priced at Php 7,990, it offered something casual gamers always ask for: solid performance and excellent battery life. That's not all: this very demanding market also wants it all at a very affordable price.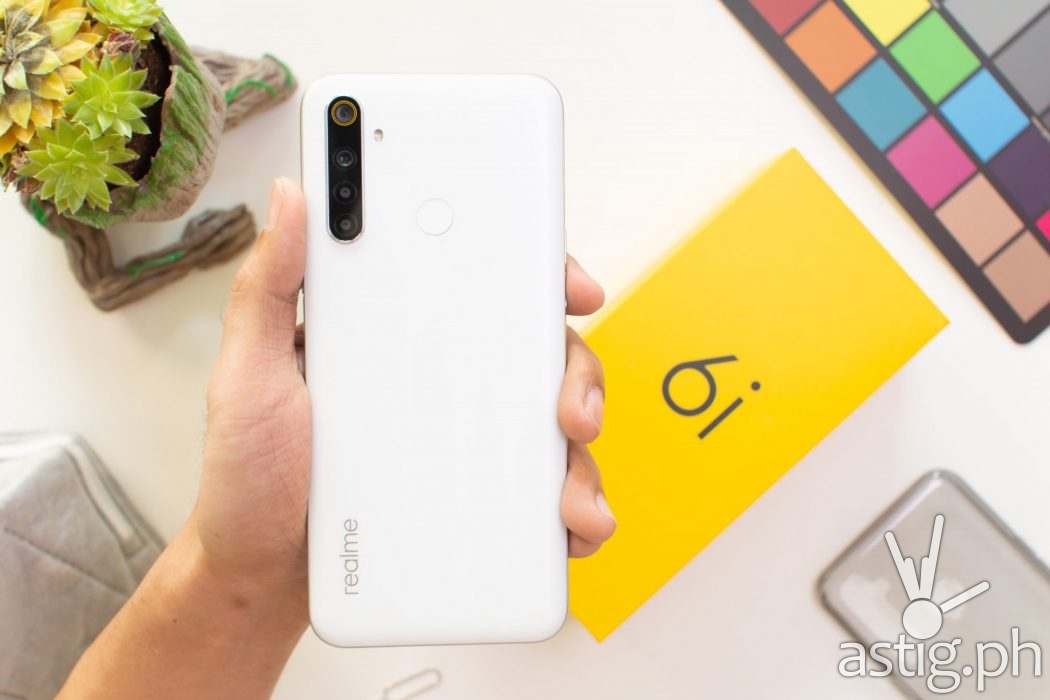 We now have two devices launching on May 27 in the Philippines that offer even more: the realme 6 and the realme 6 Pro.
Right off the bat, realme 6 offers several sought-after features. Most notably, it comes with a full HD punch-hole screen running at 90Hz. It also runs Android 10 out of the box on the Mediatek Helio G90T platform, which comes with gaming optimizations.
WATCH: realme 6i review: 60FPS gaming for less than P10,000!
Our unit came with 8GB of memory and 128GB of storage, though there are two other variants released worldwide with 4GB+64GB and 8GB+128GB memory and storage options. Check out the highlights below or skip ahead for our full review of the realme 6.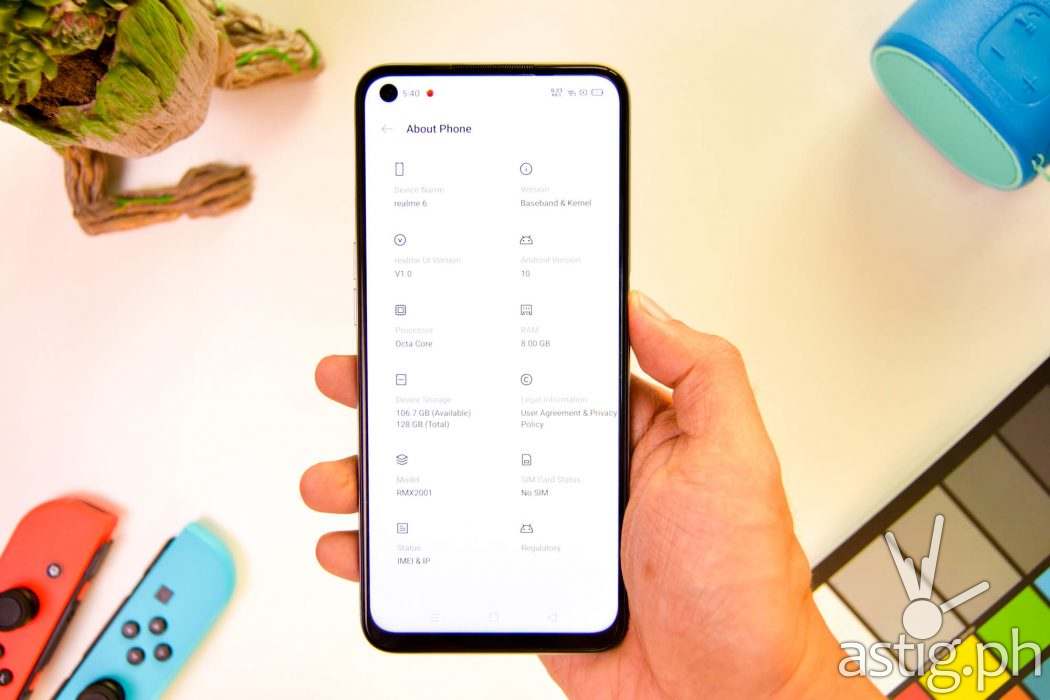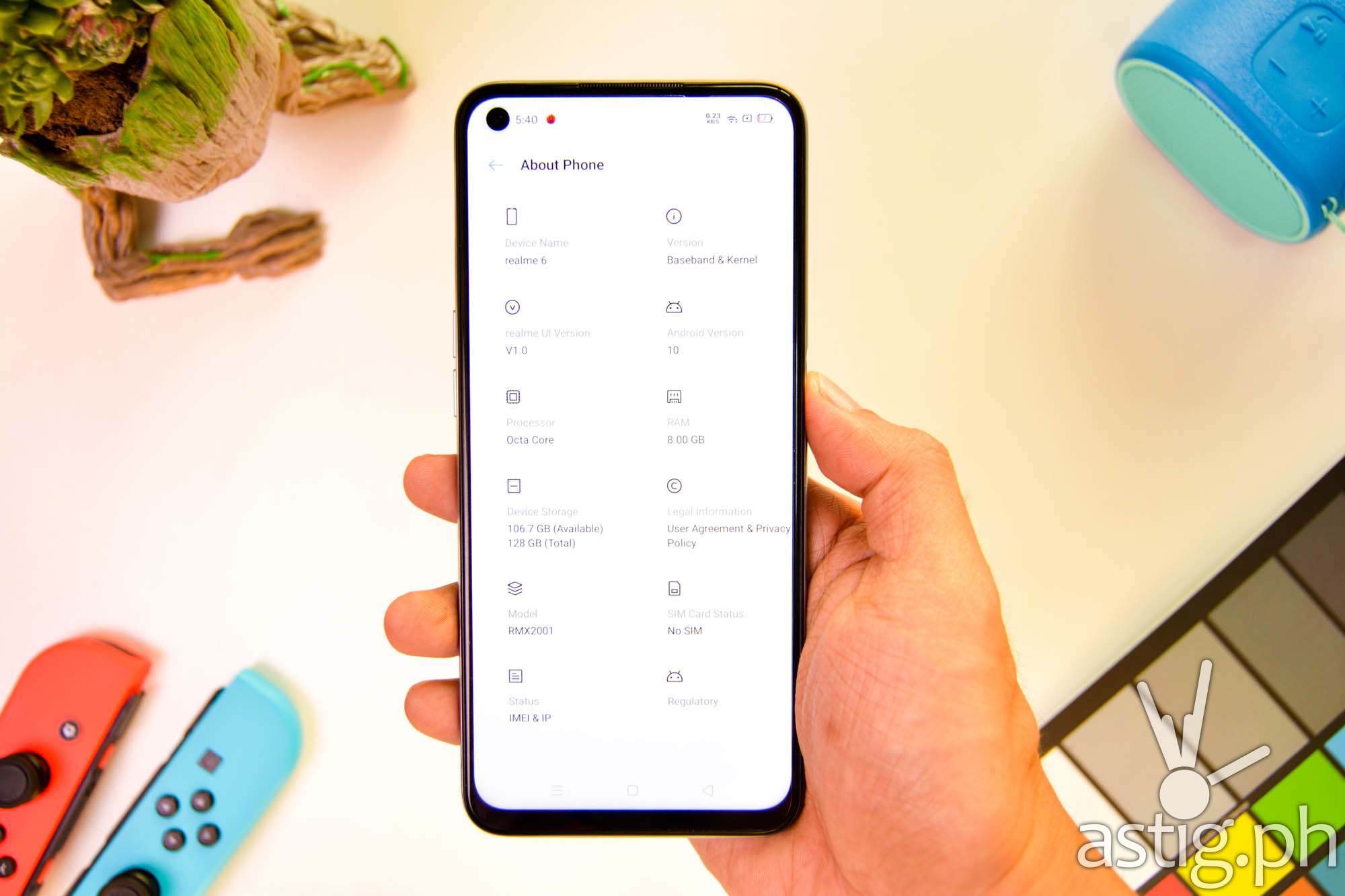 Snapshot
Display: 6.5" 1080×2400 IPS LCD (90Hz)
OS + UX: Android 10 + realmeUI 1.0
CPU + GPU: 8-core MediaTek Helio G90T + Mali-G76 MC4
Memory + storage: 8GB RAM + 128GB storage
Camera: 64MP wide + 8MP ultrawide + 2MP macro + 2.4MP depth; 16MP selfie
Battery: 4,300 mAh (30W fast charging)
Price:  P11,990 (4GB+128GB) / P13,990 (8GB+128GB)
Build quality, display
Upon holding the phone, the first thing you'll notice is the 6.5-inch display with a punch-hole in the upper-left corner where the selfie camera can be found. Realme calls it the "in-display selfie".
Whilst a cut-out makes the screen appear "fuller", the corner placement isn't exactly ideal since it goes in the way of certain games, not to mention that's where the clock is normally located. Putting it in the center should fix these issues, like the "mini-drop" notch on the realme 5i and realme C3.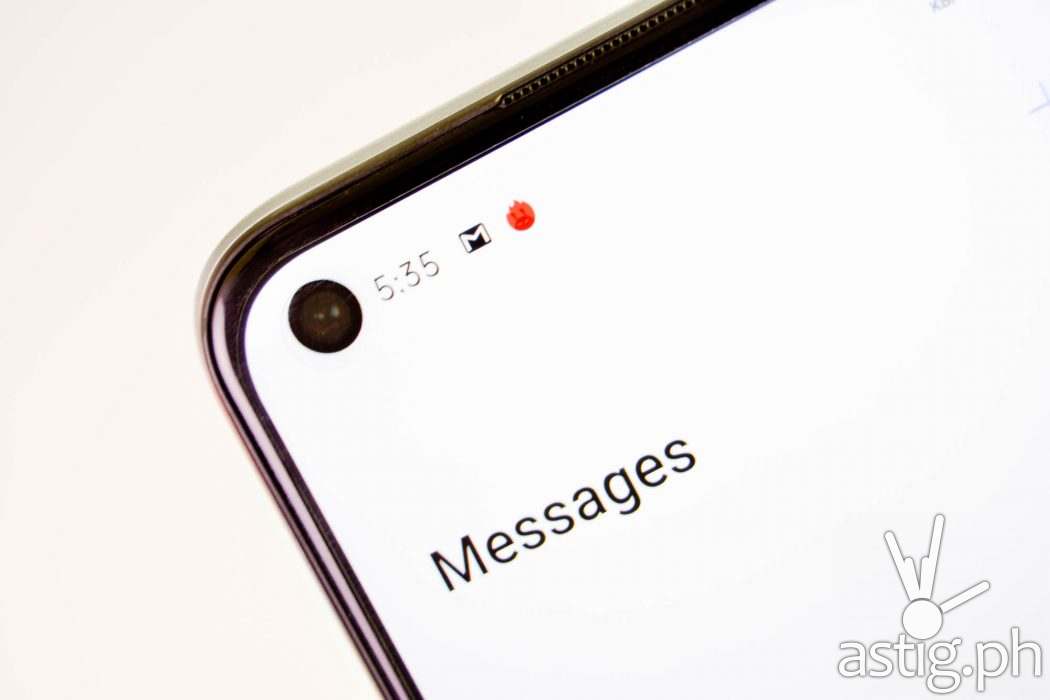 That said, we stopped seeing the punch-hole after using the phone for a few days, the only reminder that there was a hole in there would be an animating circle every time you unlocked the phone or used the selfie camera.
True to form, the realme 6 also comes with a pre-installed screen protector.
READ: realme C3 review: Best entry-level gaming phone?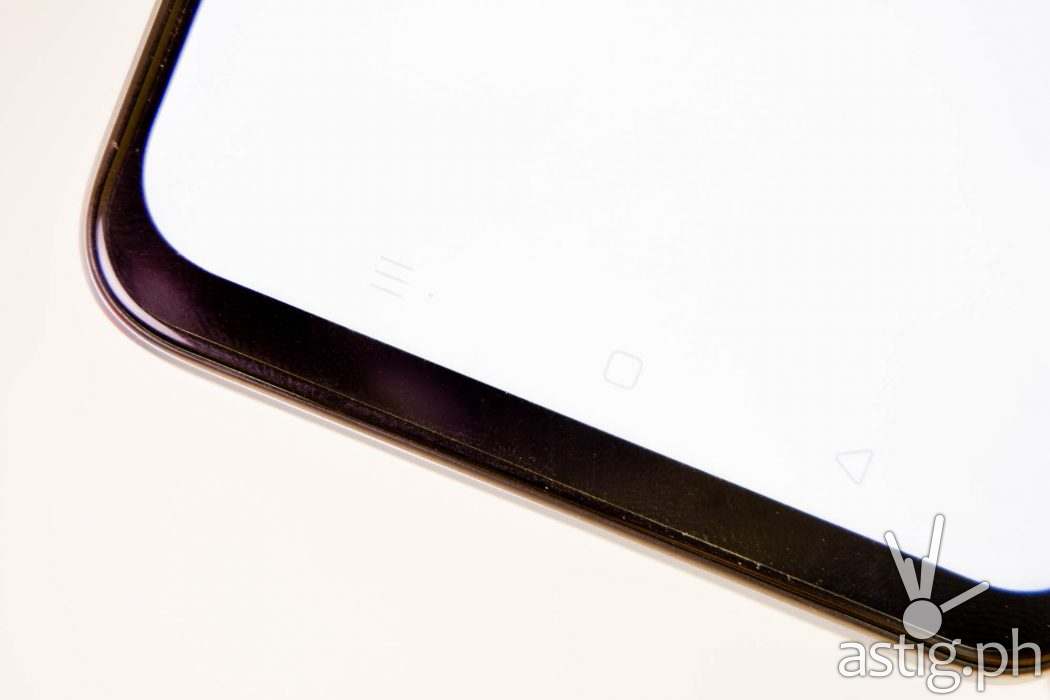 Visually, the IPS LCD screen is flawless, though it may not be as bright when placed side-by-side with AMOLEDs. What makes the phone stand out is the display panel's 90Hz refresh rate, which effectively makes the entire experience smoother and faster than regular 60Hz panels.
We've repeatedly stressed that high refresh rate displays are the future of smartphones. It's the kind of low-hanging fruit that results in an overall faster experience without having to spend so much more on a flagship phone. Soon anything below 90Hz just won't cut it anymore, especially for those who've gotten acclimated to its speed.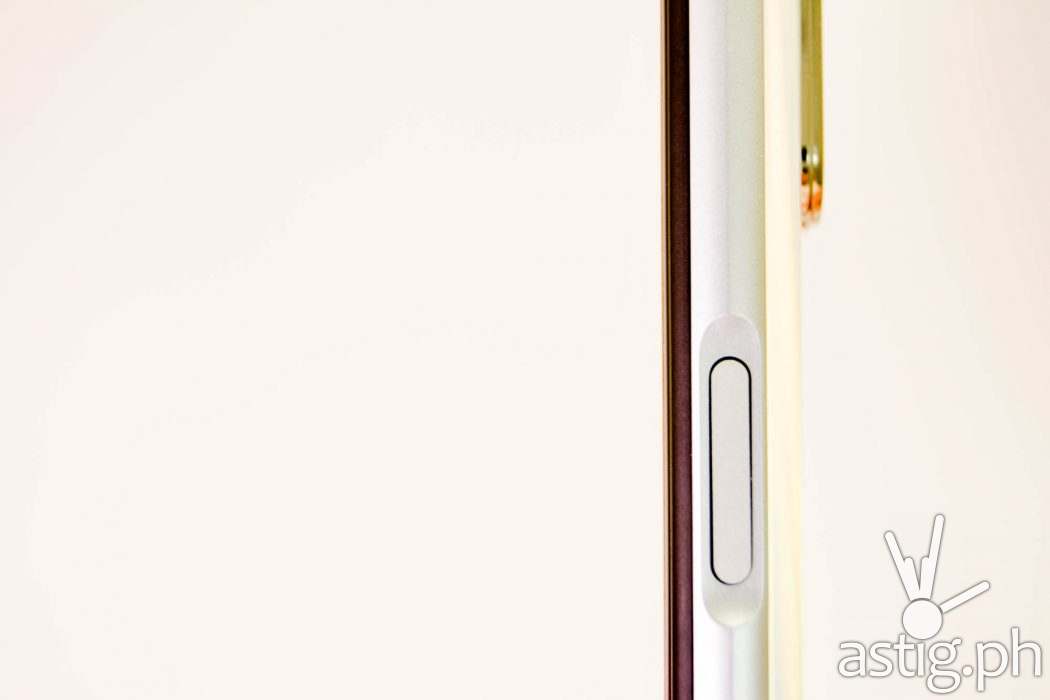 Another feature that sets this phone apart is the side-mounted fingerprint scanner. Although it has been around for quite some time, this might be its first appearance on a Realme phone. If you ask us, this is the ideal placement for fingerprint scanners until we see major speed improvements in in-display fingerprint scanning technology.
The back of the phone is interesting. It's plastic, but the multi-layered gradient effect gives off a pearly-white look and feel on our Comet White unit. It's exciting but not too flashy at the same time, so it gives off a premium but utilitarian vibe that we think is quite dope.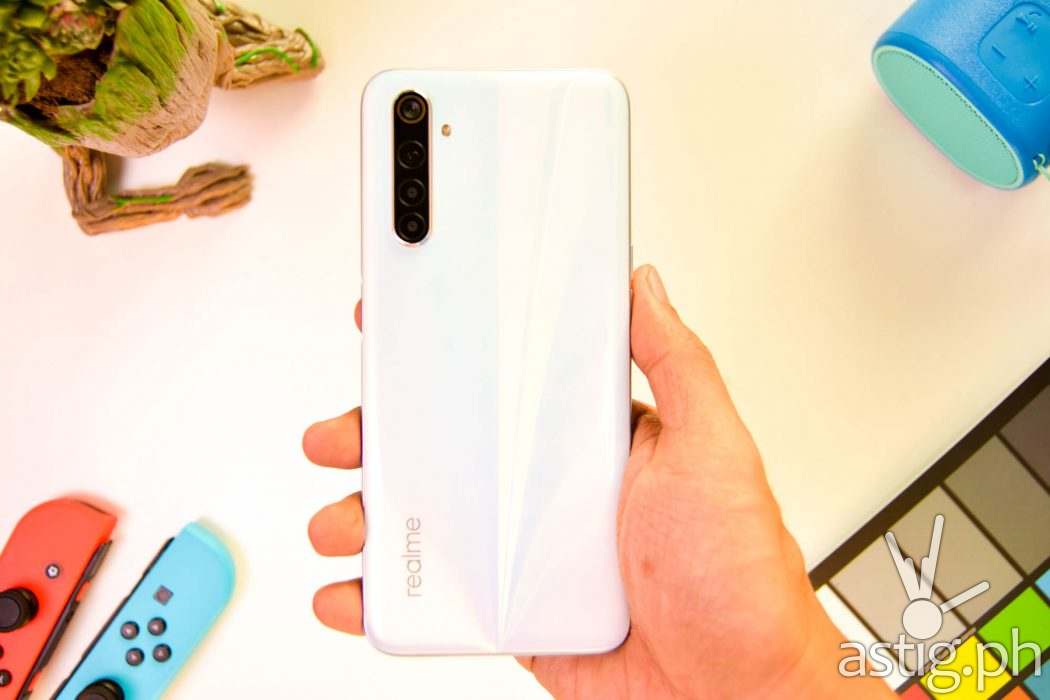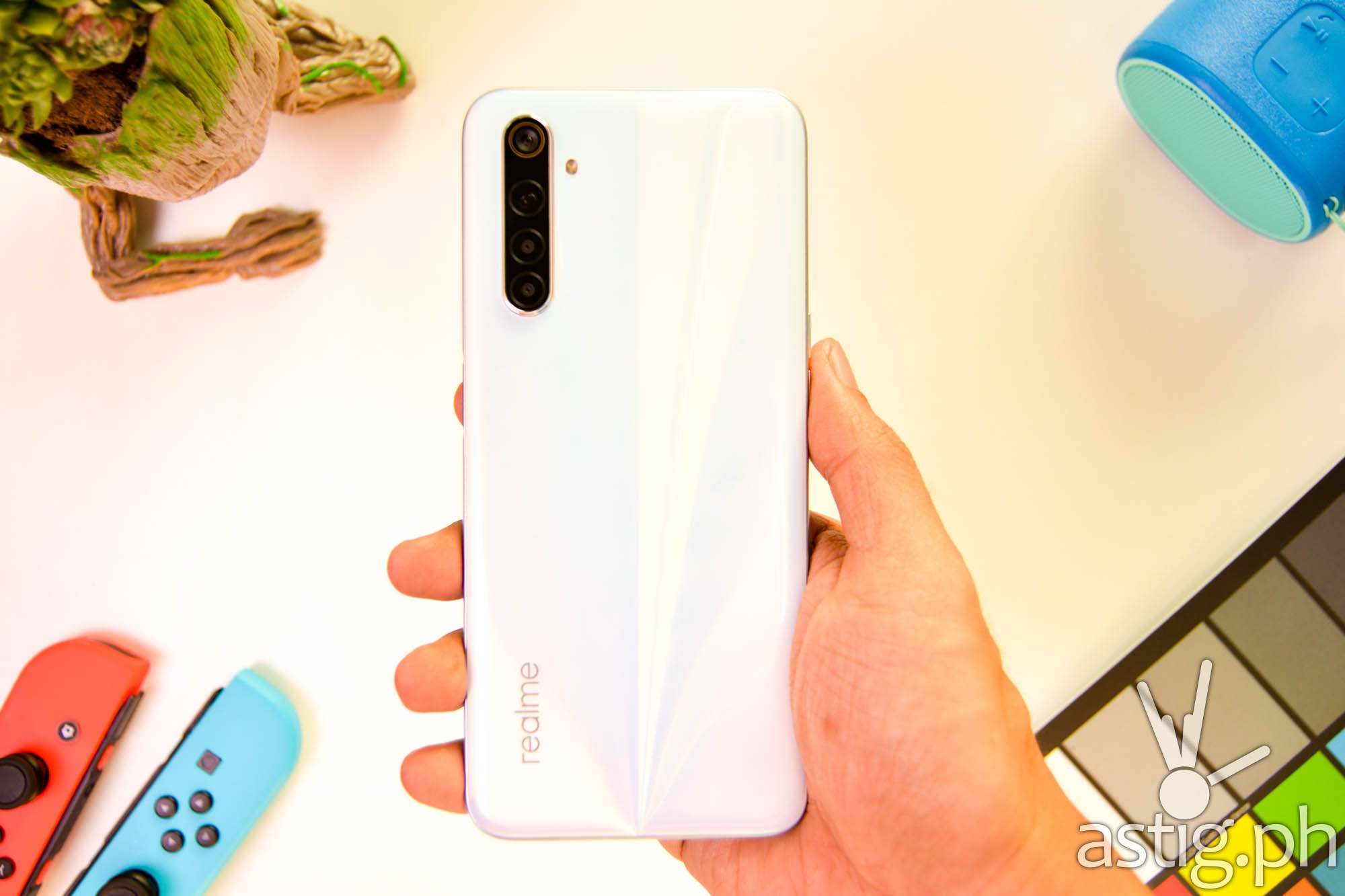 It can probably survive without a case, but the finish is smooth and slippery so I wouldn't risk it. Thankfully, there's one free in the box.
The thickness of the phone is about the same as the realme C3, though the camera hump feels slightly thinner.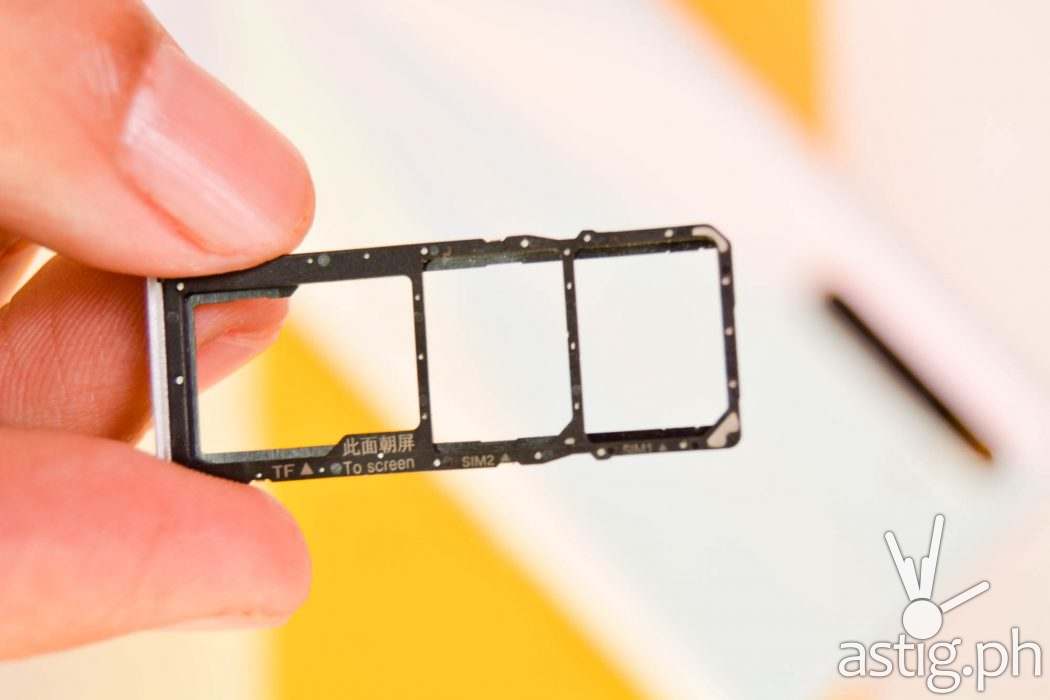 Both the realme 6 and the realme 6 Pro come with a triple-card slot for two Nano-SIM cards and one microSD card. We also get an audio jack and, thankfully, a USB type-C port for wired data communications and power delivery.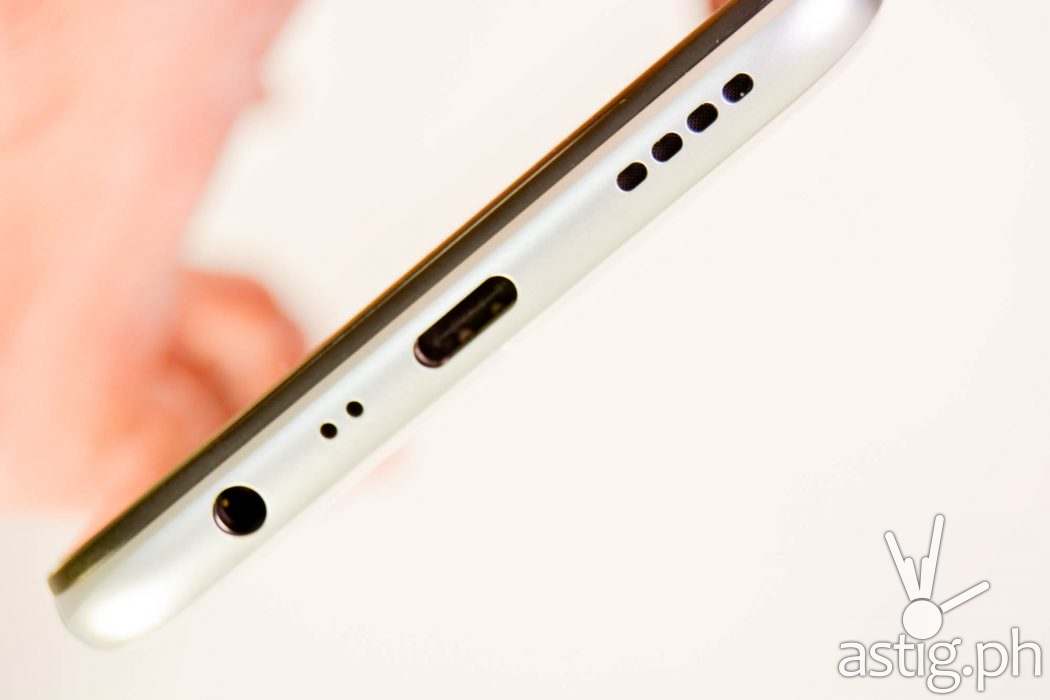 Application performance, benchmarks
realme 6 runs Android 10 with realmeUI 1.0 on the MediaTek Helio G90T SoC. We know from our recent Redmi Note 8 Pro review that the Helio G90T chipset features, among other things, something called "Intelligent Network Concurrency" that seamlessly transitions a device between WiFi access points and mobile data to ensure the best network experience.
By way of testing this feature, we turned our Wi-Fi hotspot off and on a few times while live-streaming HD videos on YouTube via Streamlabs mobile. We also tried disabling the phone's Wi-Fi while streaming, and in both instances, our stream lagged for a few seconds before going back up.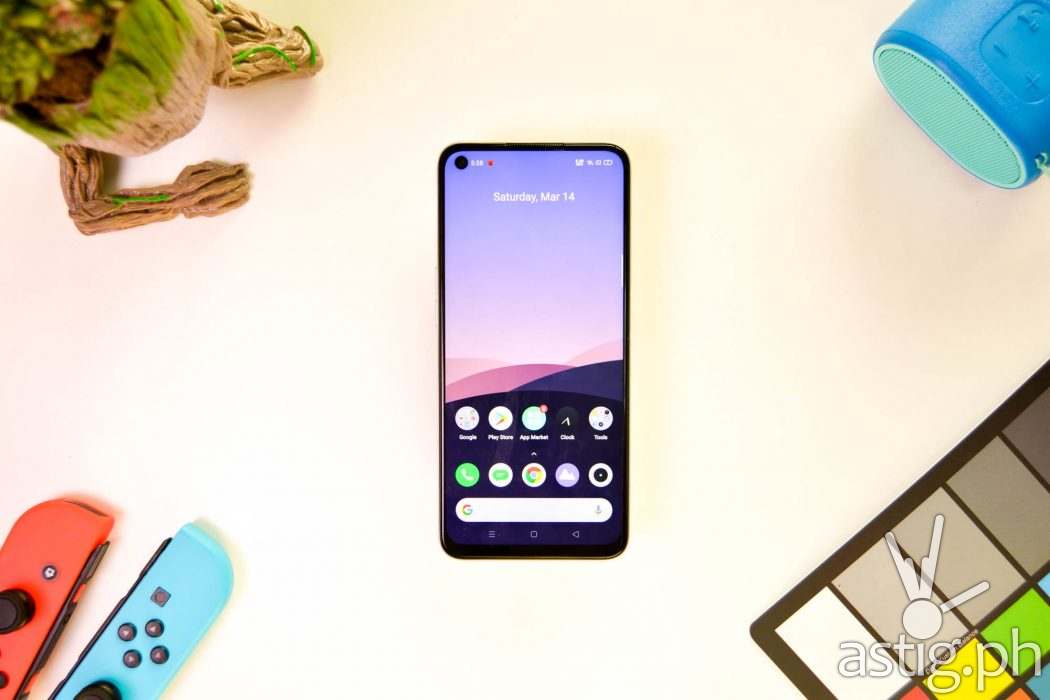 To enable this, simply go to Settings > Wi-Fi > Wi-Fi Assistant and enable the option to "Automatically Select the Best Wi-Fi". Side note: we've also seen this option on the realme C3.
READ: Redmi Note 8 Pro review: A serious mid-range threat
Synthetic benchmarks place our 8GB + 128GB realme 6 slightly higher than our 6GB + 64GB Redmi Note 8, scoring 289K in AnTuTu vs 283K, though real-world use is almost indistinguishable with refresh rate set to 60Hz.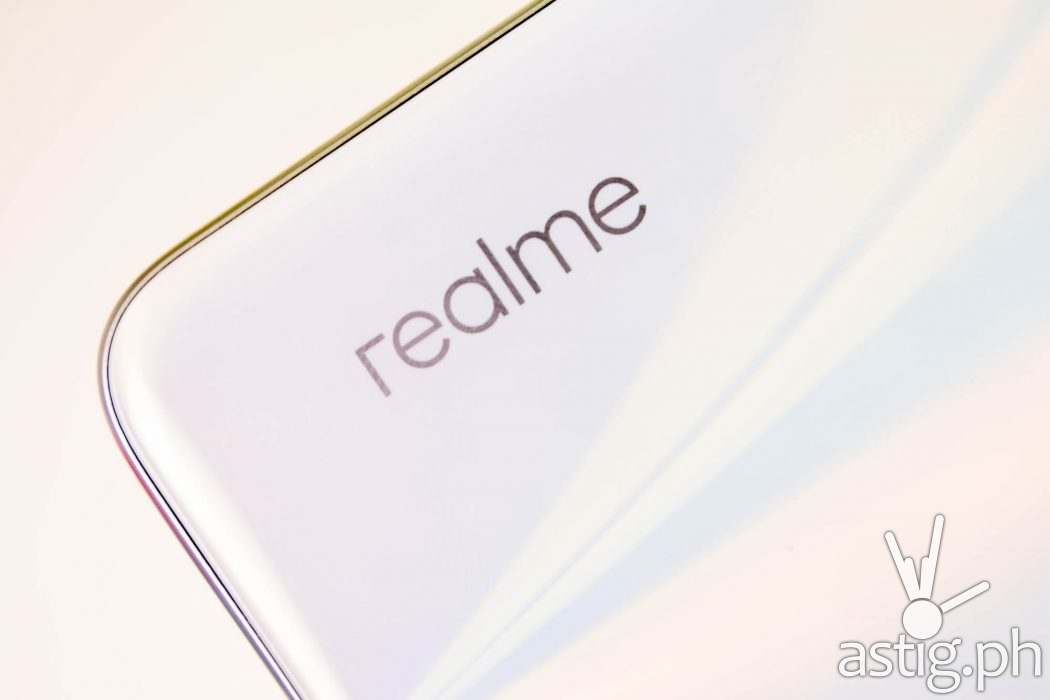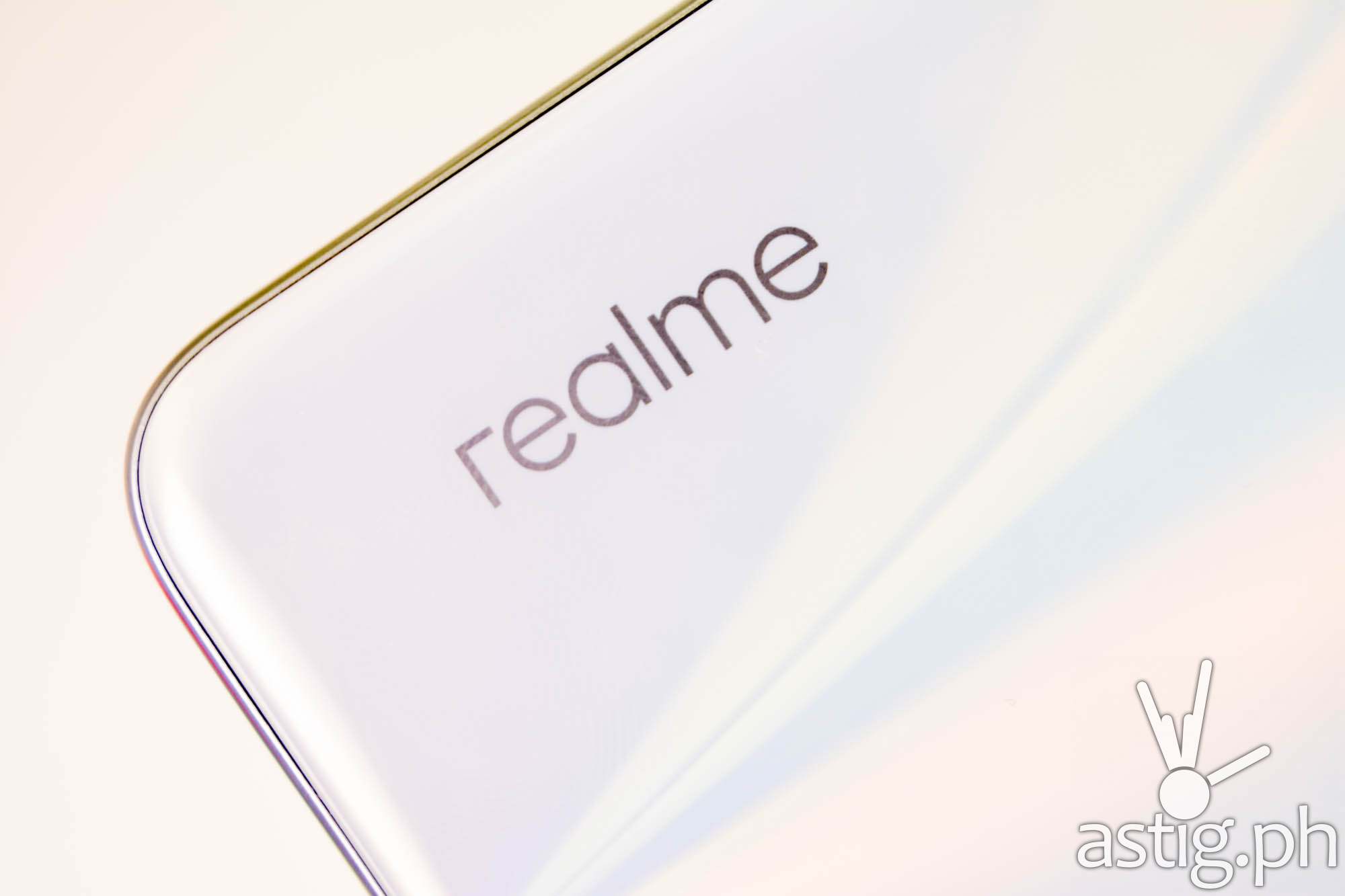 Setting the display to 90Hz, however, changes the game and elevates the realme 6 to an entirely new level. You can really feel the increase in smoothness and responsiveness every time you interact with the screen. As a result, things feel so much faster compared to a phone with similar specs.
This is the true power of the realme 6: by simply having a faster screen, the entire user experience is elevated to something that you would get from a more expensive phone.
Entertainment, sound
realme 6 comes with a gorgeous 6.5-inch 1080×2400 pixel IPS LCD screen running at 60 to 90Hz with HDR10 and HDR HLG support. It also supports Bluetooth 5.0 A2DP for low-latency audio which is great for video content.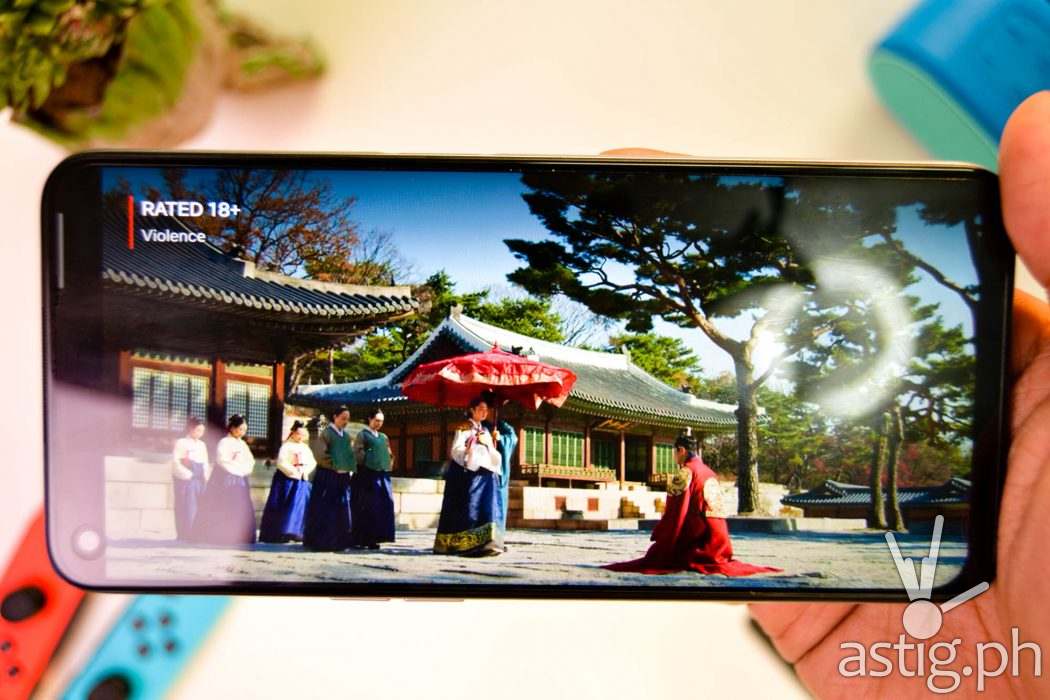 According to DRM Info, realme 6 only comes with Widevine Level 3 support so Netflix and Amazon Prime playback is capped at SD (Standard Definition) resolution.
The phone's speakers are quite good – it's crisp and clear and loud enough to fill a medium-sized room, though, like all phones with bottom-firing speakers, you need to hold it in a way that doesn't cover or muffle the sound coming from the bottom.
Gaming performance
From our experience, Helio G90T is a very capable chipset and why wouldn't it be, it was designed and marketed specifically for gaming.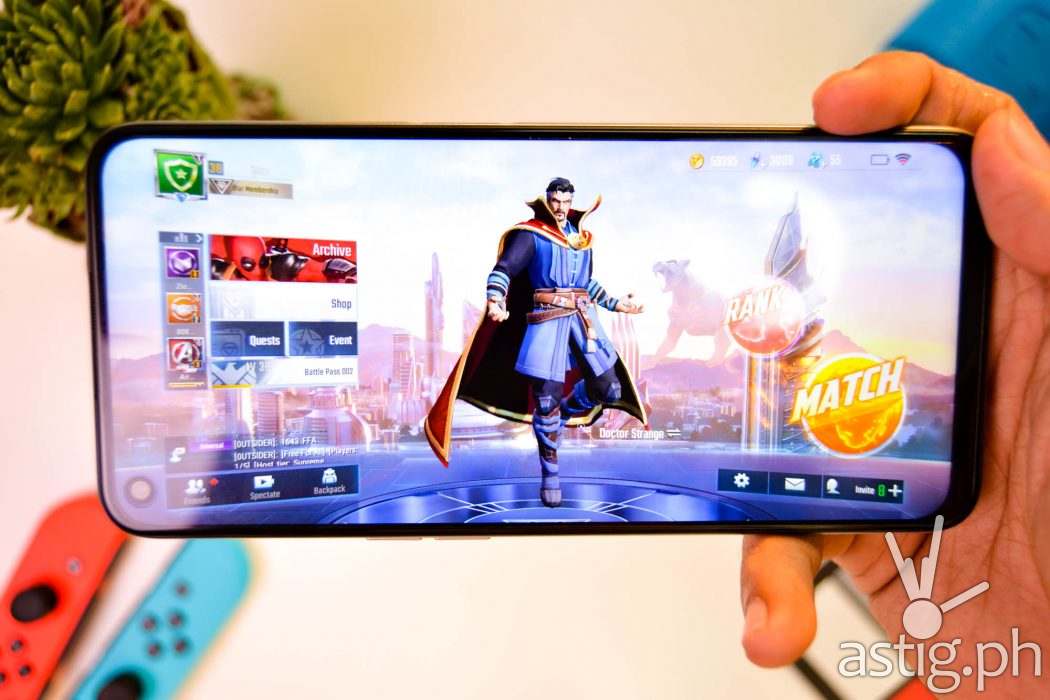 The phone had no trouble handling any game that we threw at it. On our reference game Marvel Super War, the phone does 55-60 FPS at maximum graphics settings, which is great.
The problem is, the phone heats up after a while: we're talking CPU temps of above 70 degrees Celsius.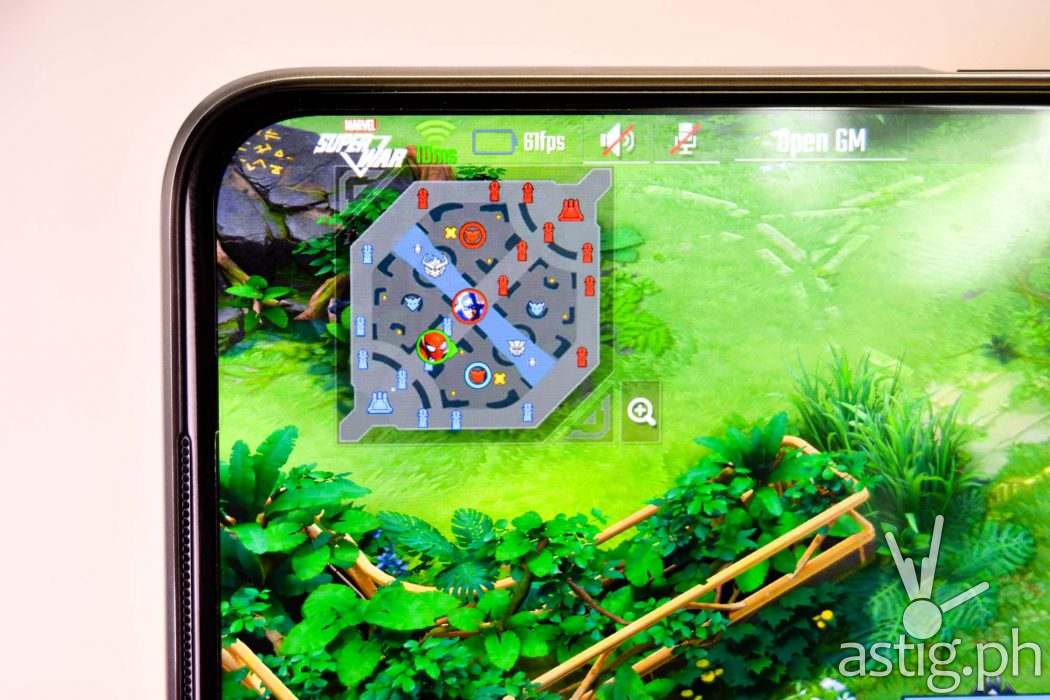 This triggers throttling and forces the game to downgrade visual fidelity in order to maintain a steady frame rate. We haven't experienced any crashing, but downgrading visuals to medium seems to ensure a more stable performance.
TIP: Make sure to add and configure your game in Realme's Game Space to get the best gaming performance and experience
Camera
realme 6 comes with a quad-camera module, which you can use to take photos in three different focal lengths: wide, ultrawide, and macro. Like the realme 5i, it comes with a fourth camera, but you can't take photos with it since it only works as a depth sensor to create a more realistic-looking bokeh in our photos.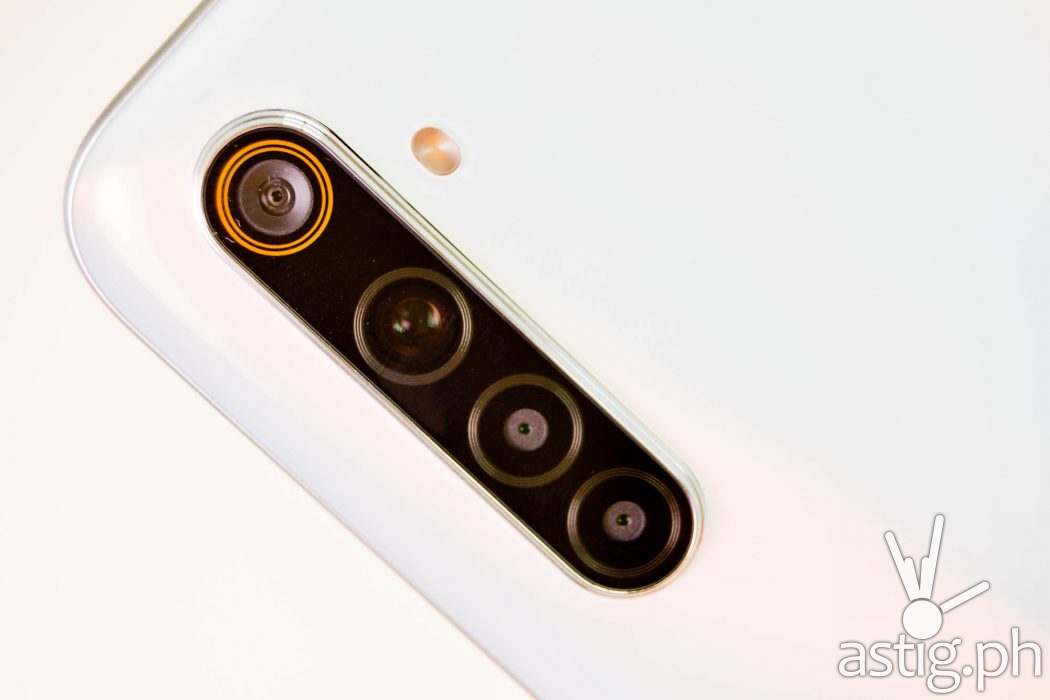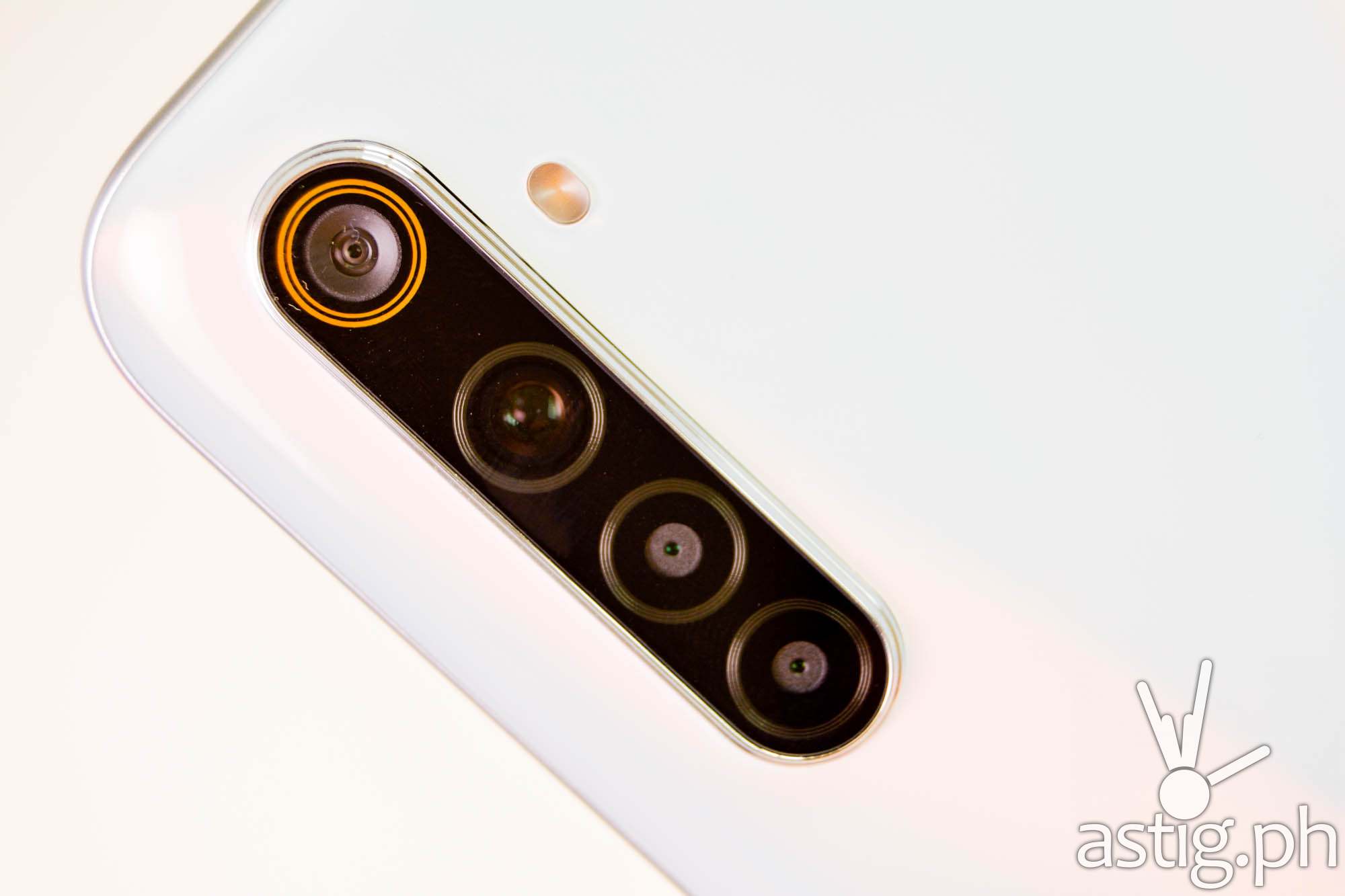 READ: realme 5i unboxing first impressions + camera samples
Shots taken with the 64MP sensor look absolutely stunning. Photos are very well detailed and hold up to close scrutiny, the colors are vibrant without looking over-saturated.
Low-light performance I would say is around 50-50 where half or our photos are either too blurry, too dark, or too noisy. The usable half were usually shots where subject and the photographer are quite still.
Because it doesn't have OIS, the relatively large f/1.8 aperture helps take in more light, but OIS or much better image processing software really would have helped here. Perhaps a semi-"night mode" option to take multiple shots and merging them would help.
Combined with a very good image processor from the built-in camera software, realme 6 captures very convincing night shots even without a stabilizer. Of course, since you're shooting in Night Mode, you need to stay very still for a few seconds.
Not an issue for stills, and the results are can be quite dramatic.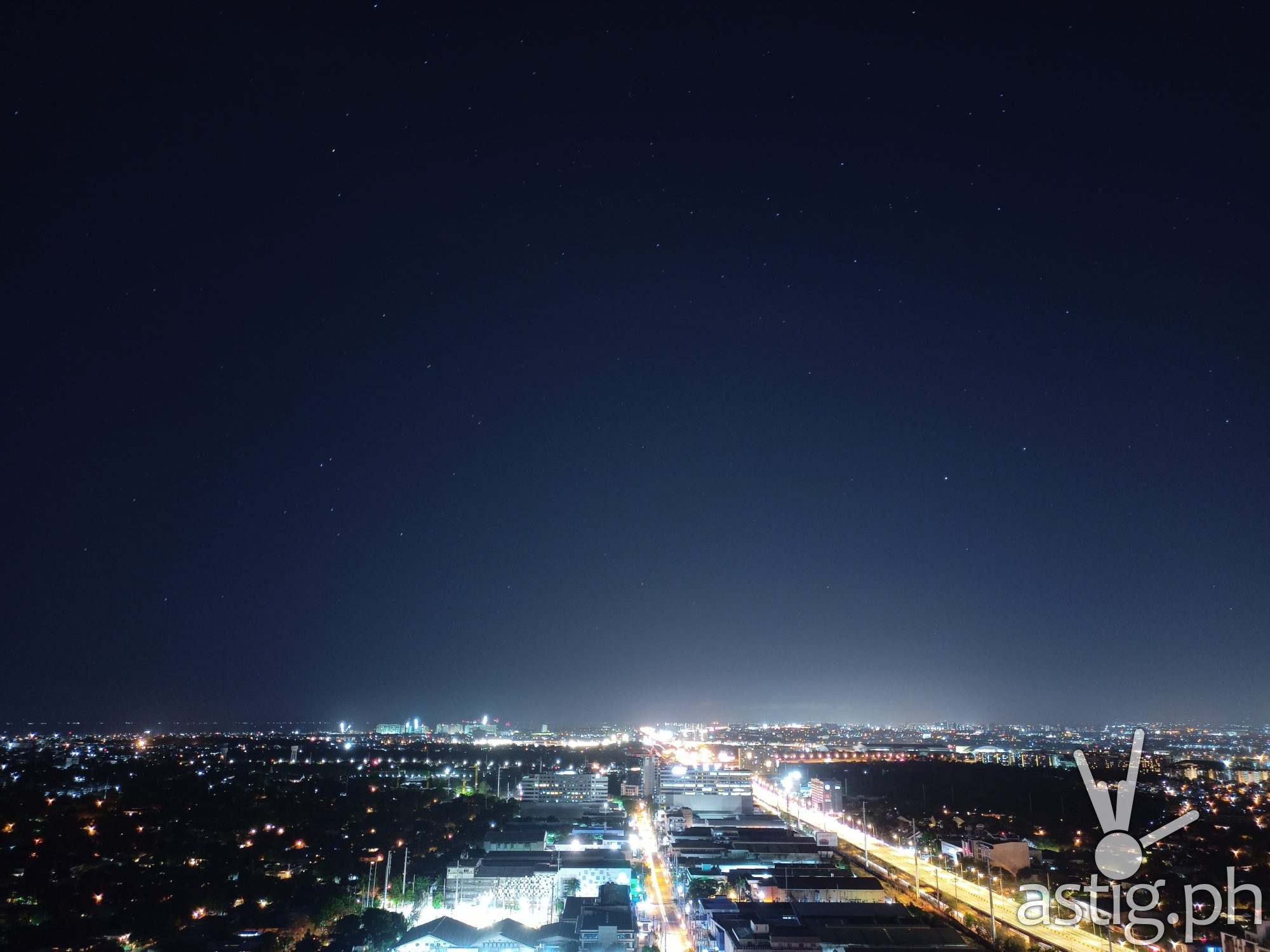 I really wanted to see how much further the 64MP sensor could go, so I tried to do a bit of astro photography in manual mode. I was really surprised at the result – at ISO100 and f/1.8 at 32 seconds, the image was clean and the stars really came out in the photo.
Clearly, the 64MP wide angle sensor excels at the right conditions.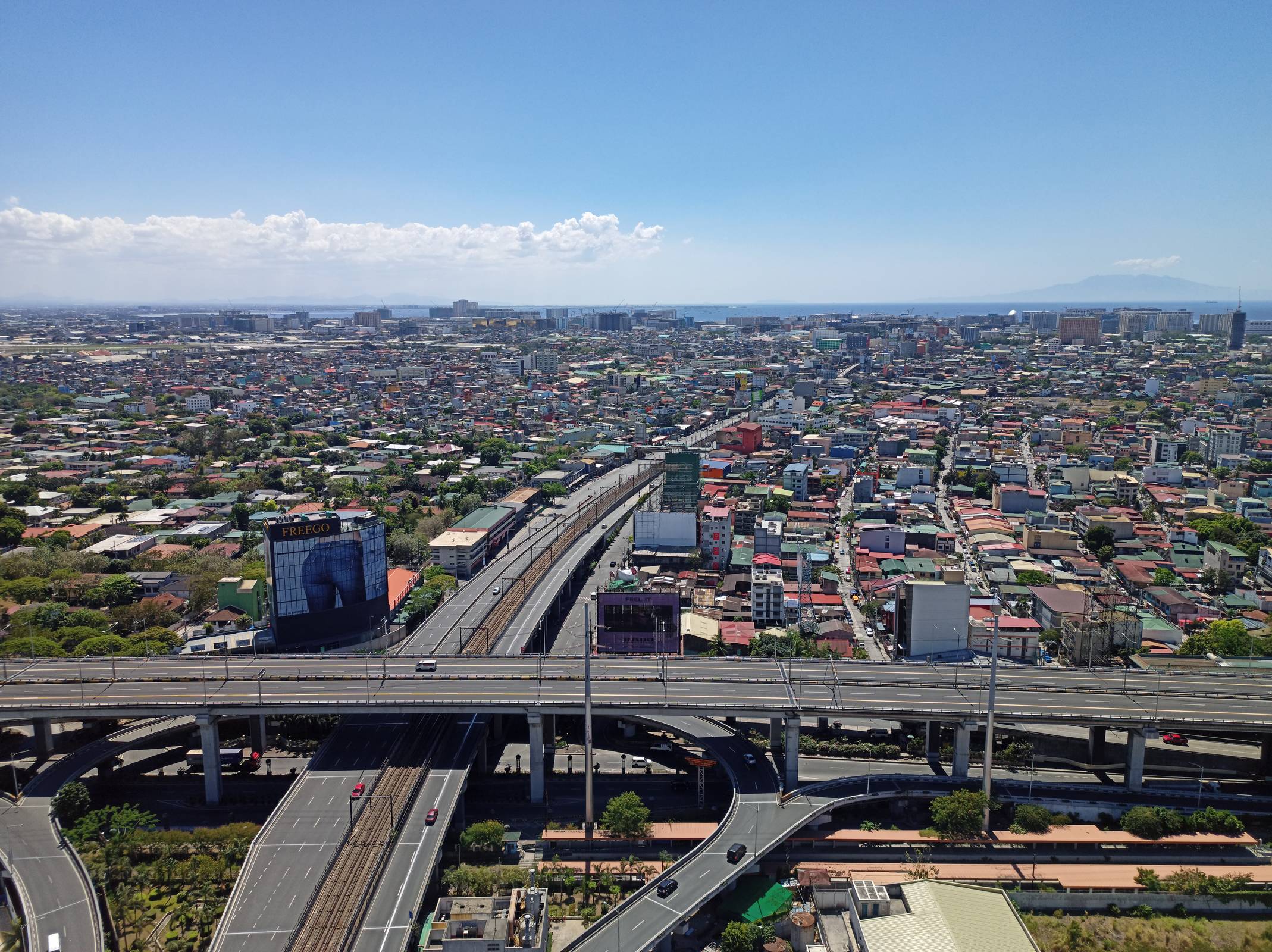 We were also quite impressed by the 64MP photos on the realme 6. By taking multiple shots and stitching them, the phone can take a massive 9280×6944 resolution photo that you can zoom in or crop and you'd still have a usable image.
The camera also has a relatively short focusing distance. The subject needs to be at least about a foot away for focusing to be at its sharpest, which can sometimes be problematic when taking photos of food and small objects.
This leads us to the macro lens: in contrast to the main lens, you actually need to move the camera really close to the subject in order to take macro photos. As a result, this allows us to capture so much more detail from really small subjects. Despite its relatively small 2MP sensor, our photos are quite detailed.
We were able to take some really good macro shots, and the experience of taking snaps of tiny subjects and seeing all the details in the resulting photos is really exciting and so much fun!
A better sensor would have been nice, but we'd imagine that use-case scenarios for macro photography is quite limited, so 2MP seems fair.
Ditto with the ultrawide lens, the field of view is quite broad – Realme meant it when they used the term "ultra"! We really welcome the fact that it comes with an 8MP sensor, it takes in a lot of detail and really comes in handy when traveling and trying to take photos in enclosed spaces.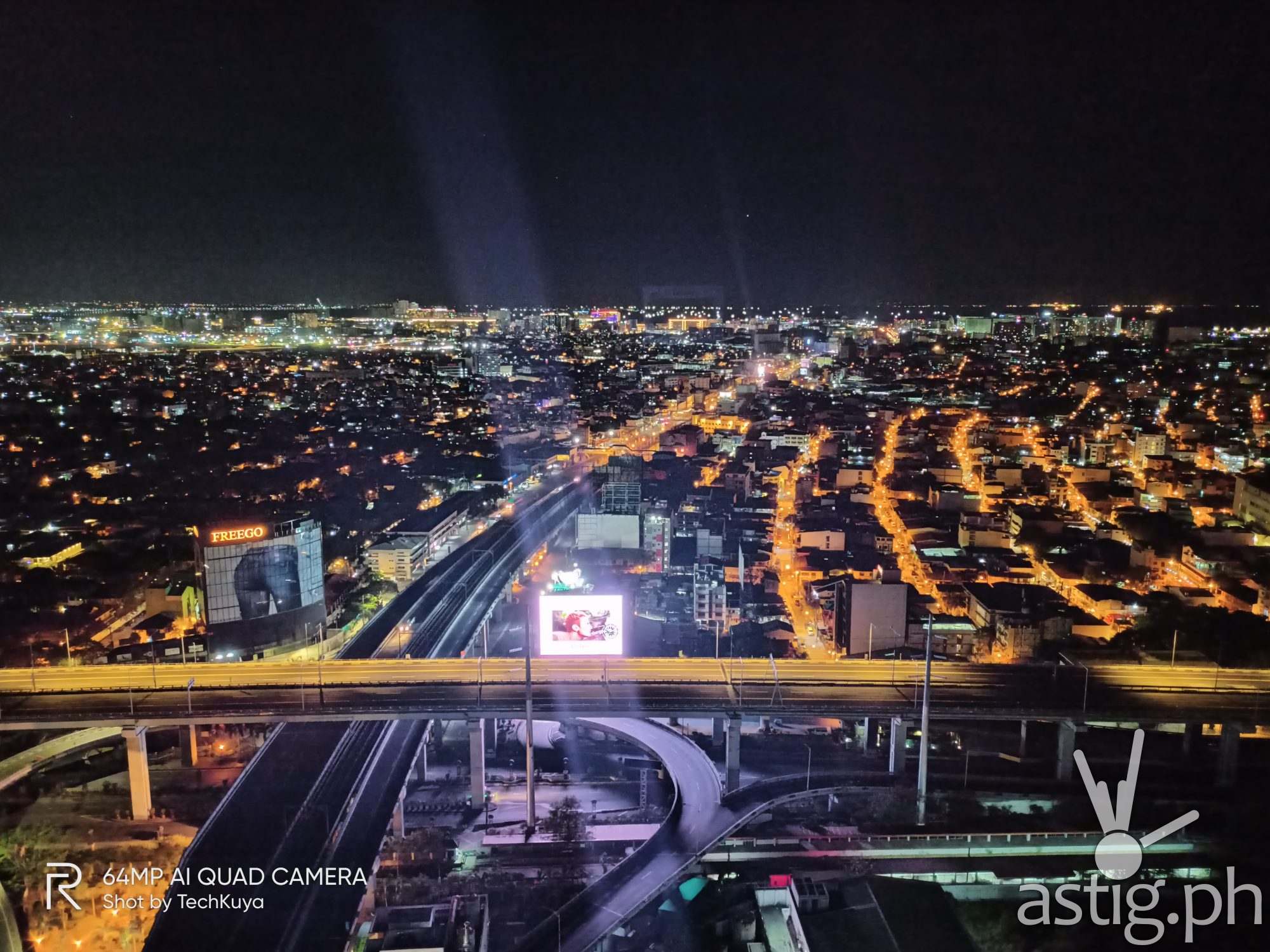 If that's not enough, the phone also comes with a 16MP selfie camera! As a dude, I'm not too much into taking selfies – I use it mainly for video calls, so I'm totally cool with a lower-quality camera, but I certainly wouldn't mind a good camera.
Cute little detail: The ring around the selfie camera lights up every time you unlock the phone or switch to the selfie camera. It still excites me until now.
realme 6 supports 4k video recording, though the frame rate caps at 30 FPS. Our phone doesn't have OIS, so we rely on electronic image stabilization to reduce camera shake. We recommend sticking to 1080P 60FPS to get the best video quality.
Battery life
Through sheer coincidence, we started using the realme 6 at the beginning of the quarantine period – so we've been using the phone daily for almost two months mostly for watching videos, social media, and gaming.
With light usage the phone can last at least two days without charging. With heavy use (i.e. lots of gaming), we normally end up charging after 24 hours with around 20-30 percent to spare.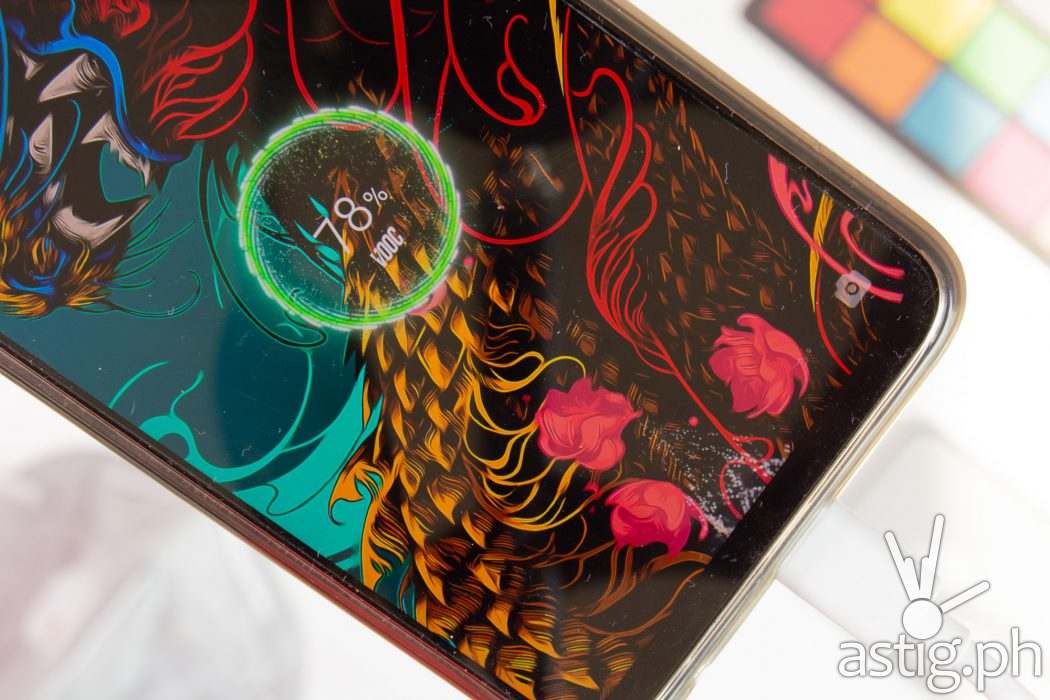 This was without power management or any kind of battery optimization, so we are confident it can be optimized further.
Our battery benchmarks show that the realme 6 lasts at least 18 hours for mixed-use, which matches our experience of charging after 24 hours with 8-10 hours spent sleeping. Screen-on time averages 5 hours, which is lower than the 8 hours and 48-minute estimate that we got from PCMark when we first got the phone.
One possible explanation could be the upsurge in CPU and battery temperatures when playing games, which is what we use the phone for most of the time.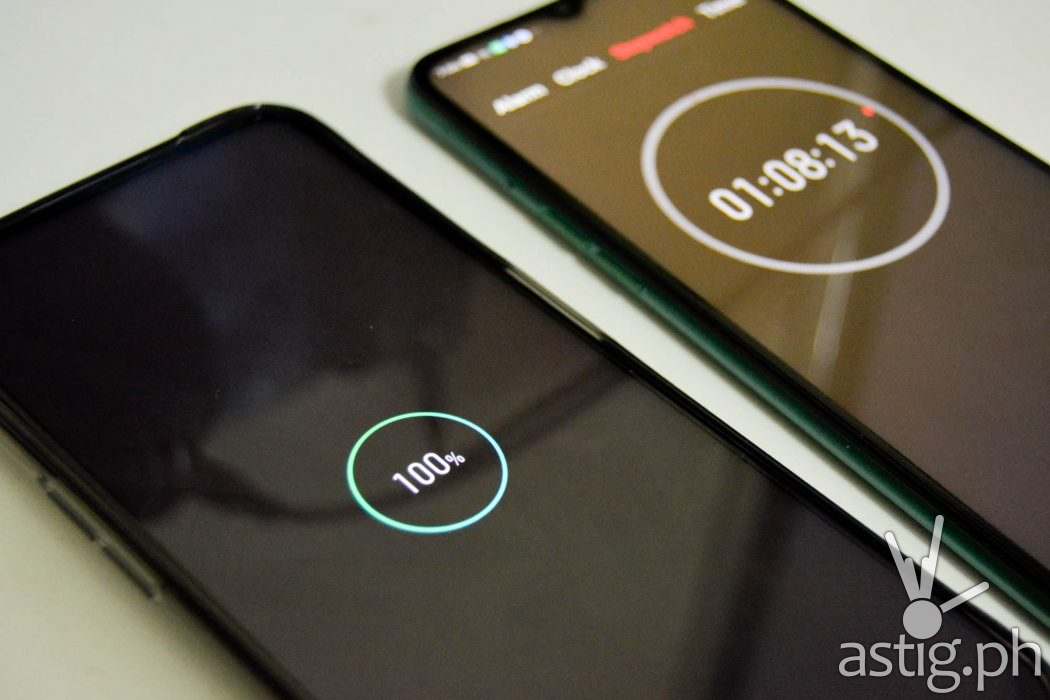 The phone charges really quickly thanks to VOOC 3.0 – it only takes an hour to fully charge the 4300 mAh battery over the 30W USB Type-C port. Charging the phone shows an animating VOOC logo which is a nice touch.
READ: 5 things OPPO does well that you may not know about
In case you're not aware, VOOC Flash Charge is proprietary technology developed by OPPO back in 2014. It uses proprietary cable and wall adapter to allow the battery to charge faster while keeping the phone relatively cool.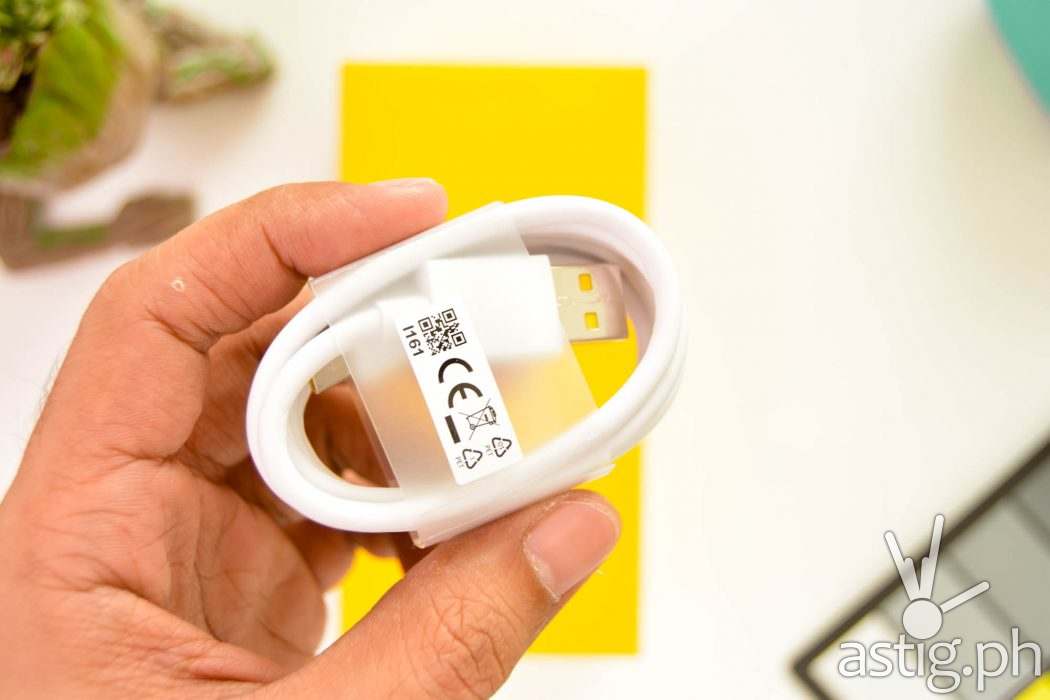 Because of this, the adapter tends to be much larger than standard ones, and the cables have additional pins which will not work on other phones. In the realme 6, the connector on both ends of the cable is in realme yellow color, so you can tell it is a VOOC cable and not your regular USB Type-C cable.
Benchmark results
Performance benchmarks
AnTuTu: 283148
PCMark Work 2.0: 10890
PassMark: 12515 (system); 194626 (CPU); 8893 (memory); 70293 (disk); 9666 (2D graphics); 3462 (3D graphics)
GeekBench: 503 (single-core); 1637 (multi-core)
Gaming benchmarks
3DMark Sling Shot Extreme: 2543 (OpenGL); 2246 (Vulkan)
Battery benchmarks
AccuBattery: 5h (screen on); 24h (screen off); 18h (combined)
GSam Battery Monitor: 1d 16.3h (20h 59m active); screen on: 13h 35m (3d 23h max)
PCMark Work 2.0 battery life: 8h 47m
Verdict, price, release date
As a mid-tier phone, realme 6 ticks so of our most-wanted features: full HD high-refresh-rate display at 90Hz? Check! The latest Android 10? Check! Quad cameras with good low-light performance? Check! Two-day battery life and fast charging? Check!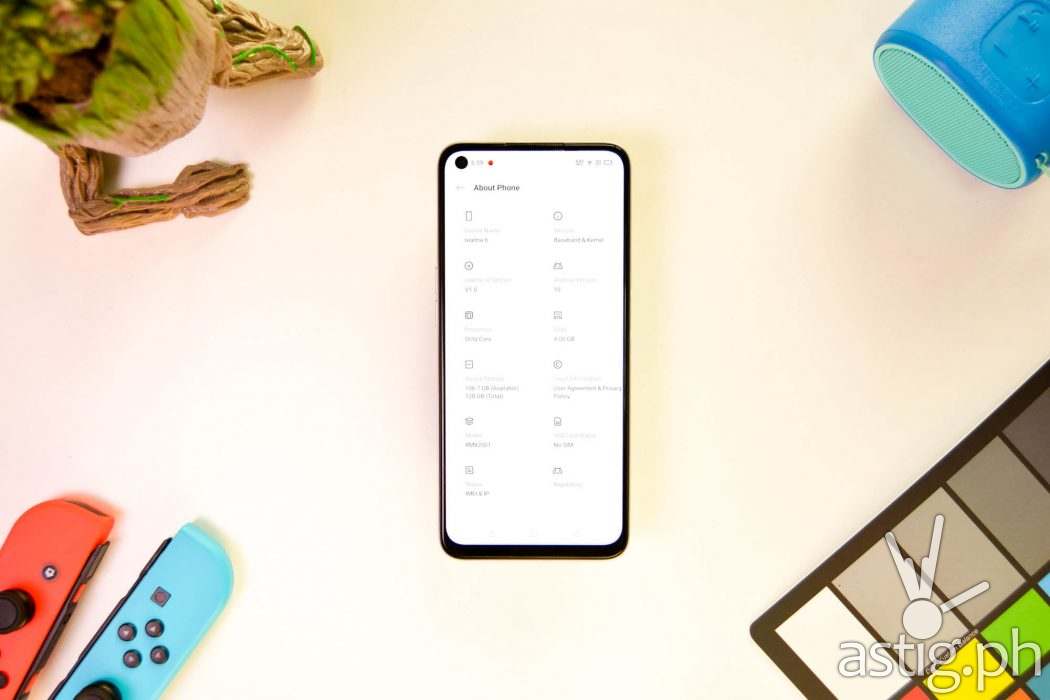 Then we get a bunch of value-added features that enhance the overall experience even further such as dedicated dual SIM and expansion slots, 5GHz WiFi, and a side-mounted fingerprint scanner. The pre-installed screen protector and the free jelly case are welcome additions. The gorgeous back design adds to the premium look and feel of the phone as well.
So if you're coming from an older phone with lower specs and you're considering an upgrade, this is one of those phones that should be on your radar.
If there's anything we would like to improve, realme 6 will surely benefit from better heat management to prevent thermal throttling in long gaming sessions.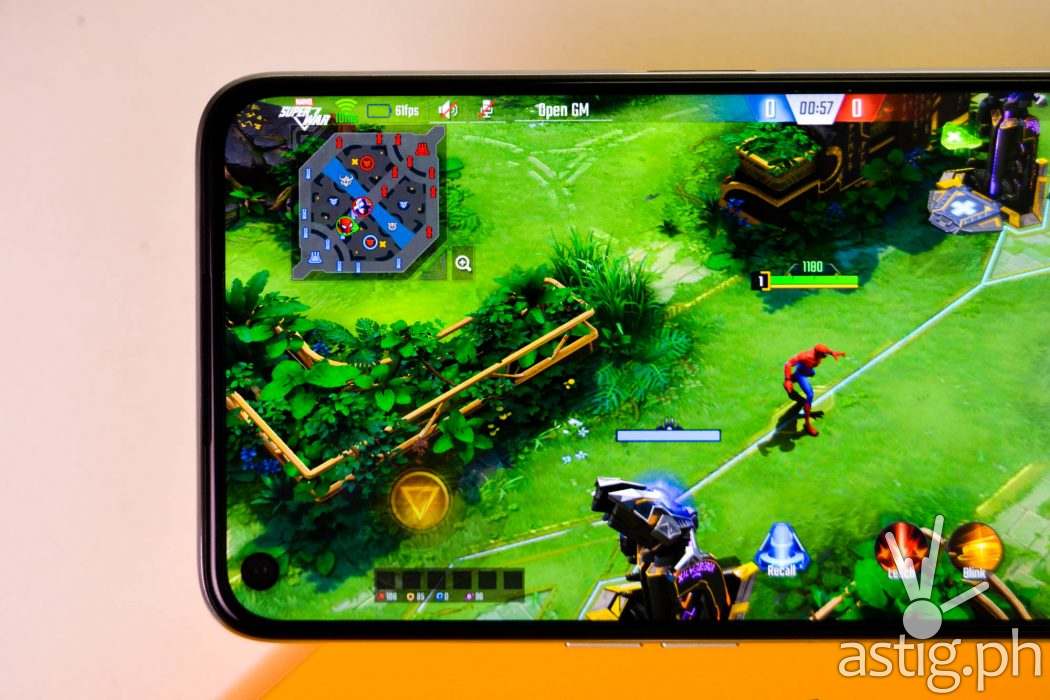 We wrote this review without even knowing the price. Despite this, we clearly have a good product in our hands. From the Indian launch we know that realme 6 is priced from 13,999  Rs or around 9,3333 Php.
It has been months since the Philippine launch got delayed due to the Coronavirus (COVID-19) pandemic. So far we know that the realme C3, the realme 5i , and the realme 6i have been priced at P5,990, P6,990, and P7,990, respectively, so it's not too far-fetched for the realme 6 to be end up being priced at P8,990 or P9,990.
READ: realme C3 vs realme 5i: Which one is better?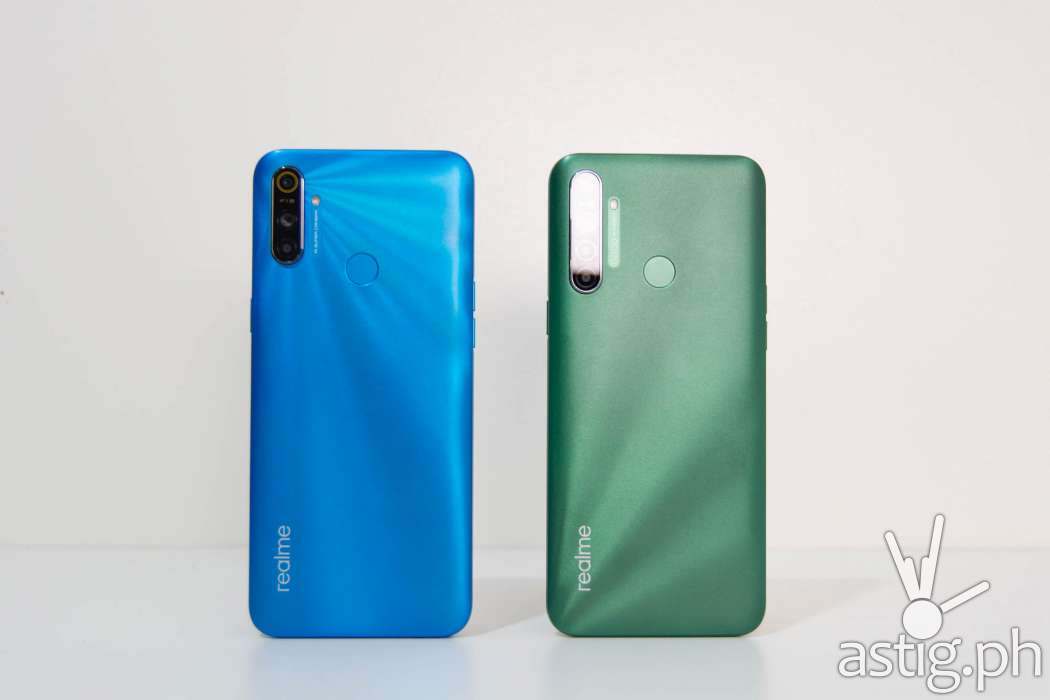 Even if the realme 6 ends up being priced around 10,000 Php when it does get released in the Philippines, given its features, not only will it will be the best value smartphone in that price range, it is on track to be one of the best back-for-the-back phones for 2020.
Pros

90hz high refresh rate display with minimal obstruction "in-display selfie"
Excellent overall application and gaming performance
Quad cameras with 3 usable lenses and 4k video
High capacity 4300 mAh battery with 30W fast charging

Cons

Poor heat management triggers thermal throttling in extended gaming sessions
No built-in optical image stabilization (OIS)
realme 6 technical specifications (Philippines)
Display: 6.5 inches; 1080 x 2400 pixels; IPS LCD; Gorilla Glass 3; 90Hz refresh rate
SIM: Dual SIM (nano-SIM, dedicated slots)
OS Android 10 (Q); realmeUI 1.0
Chipset (SoC): MediaTek Helio G90T (12nm)
CPU: Octa-core (2×2.05 GHz Cortex-A76 + 6×2.0 GHz Cortex-A55)
GPU: Mali-G76 MC4
Memory (RAM) + internal storage: 4GB+64GB, 6GB+128GB, 8GB+128GB
Expansion: microSD (dedicated slot)
Main camera (rear): 64MP f/1.8 (wide) 26mm + 8MP f/2.3 13mm (ultrawide) + 2MP f/2.4 22mm (macro) + 2MP f/2.4 (depth)
Selfie camera (front): 16MP f/2.0 26mm (wide)
Connectivity: 2.4/5 GHz Wi-Fi 802.11 b/g/n/ac dual-band; Bluetooth 5.0 A2DP
I/O: USB 2.0 Type-C 1.0; 3.5mm audio jack; side fingerprint scanner
Battery: 4,300 mAh; 30W
Colors: Comet Blue, Comet White
Price (Philippines): P11,990 (4GB+128GB) / P13,990 (8GB+128GB)