Smartphone manufacturer Realme is finally bringing the realme 6 series to the Philippines, starting with the realme 6i, which is set to launch on May 13. The successor to the realme 5, it is powered by the MediaTek Helio G80 platform. Realme Philippines has promised to keep the price of the realme 6i below P10,000.
WATCH: realme C3 review: Best entry-level gaming phone? (video)
This will be Realme's first smartphone launch since the Philippines entered quarantine –  the last launch was for the realme C3 back in March 5. Coincidentally, it was also a MediaTek G-series phone, running on the Helio G70 platform for only P5,990.
We were quite impressed by the C3 and felt it was one of the best entry-level gaming phones available at the time.
Realme then proceeded to bring the realme 6 to India and the realme 6i to Myanmar, right before the Coronavirus pandemic broke out.
So we were super excited to learn that the realme 6i is finally in the Philippines, so hey let's check it out and see what's in store!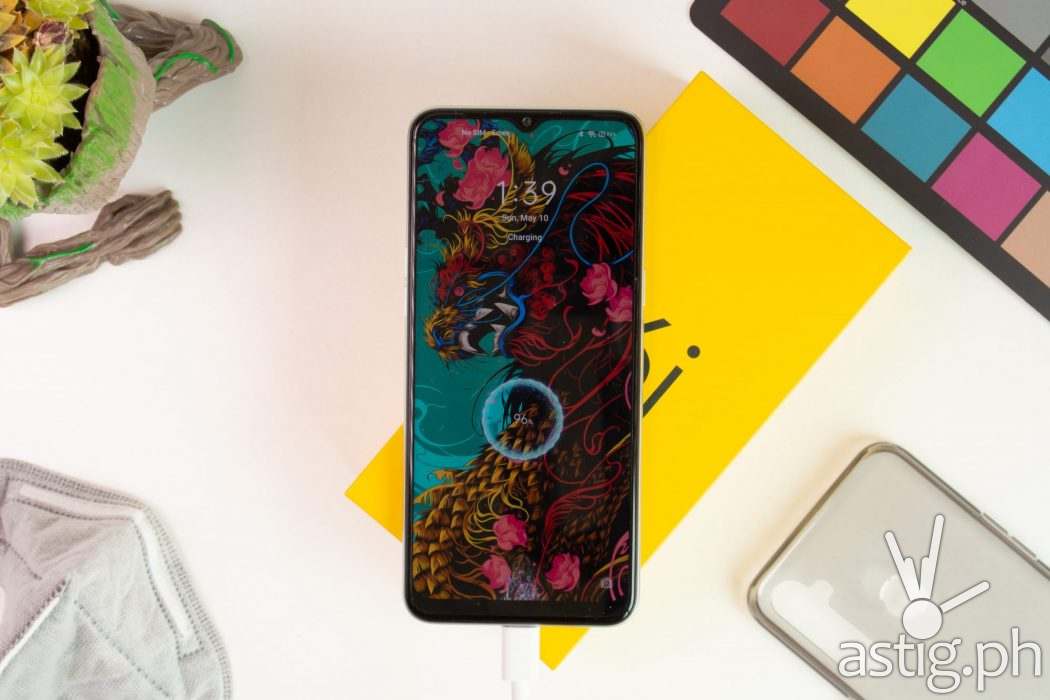 Snapshot
Display: 6.5" 720×1600 IPS LCD, Gorilla Glass 3
OS + UX: Android 10 (Q) + Realme UI 1.0
CPU + GPU: 8-Core MediaTek Helio G80 + Mali-G52 Mc2
Memory + storage: 3GB+64GB; 4GB+128GB
Camera: 48MP quad-cameras (rear); 16MP (selfie)
Battery: 5,000 mAh
Price (Myanmar): 249,900 MMK / ~8,870 PHP (3GB+64GB); 299,990 MMK / ~10,645 PHP (4GB+128GB)
Price (Philippines): TBA May 13, 2020
Build quality, display
realme 6i comes in the standard yellow realme box that we've grown quite used to by now. We have the White Milk unit with 4GB of memory and 128GB of storage.
Aside from white, the realme 6i also comes in Green Tea color, so we have White Milk and Green Tea – put them together, and we get Milk Tea. Cute, right?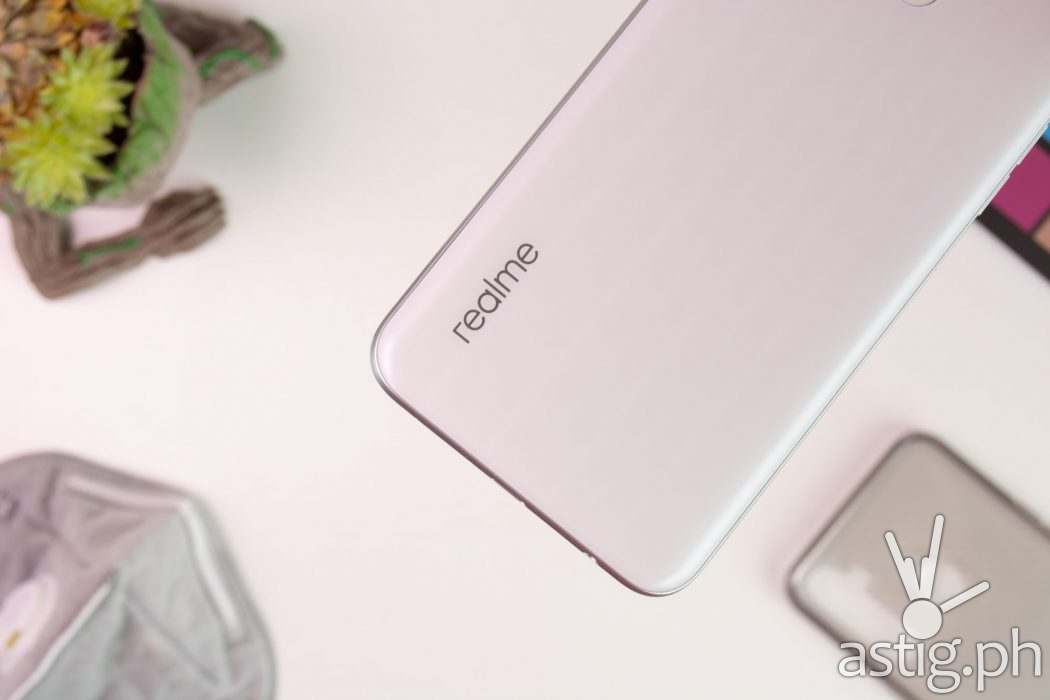 Design master Naoto Fukasawa, the backside features vertical lines that move along with the light. Fukasawa is also the genius behind the award-winning design of realme's flagship X series. It stands out despite being made out of plastic material, and it's matte so it won't be attracting fingerprints that much.
Our package came with a transparent jelly case, but I decided that the phone was better off without it.
READ: realme X2 Pro is Red Dot Award: Best Product Design 2020 winner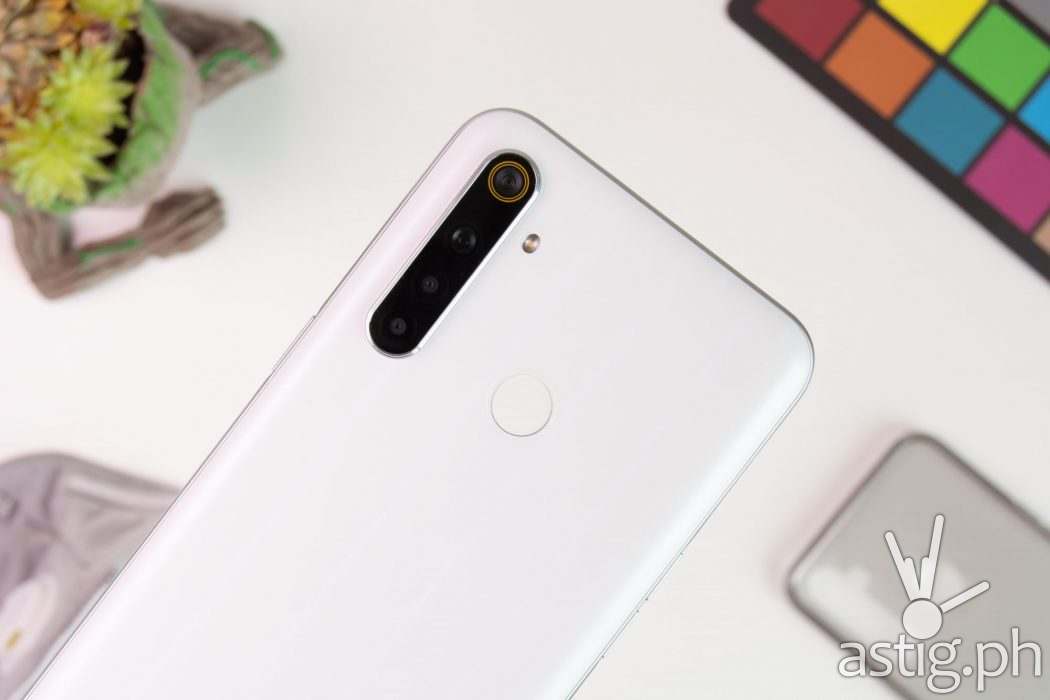 The realme 6i has a 48MP quad camera module in the rear and a fingerprint sensor for biometric security.
Display is a 6.5-inch IPS LCD panel running 60Hz at 720p with Gorilla Glass 3 with what Realme calls the dot drop notch.  We like this notch, it's small and centered which doesn't block most essential information on the screen.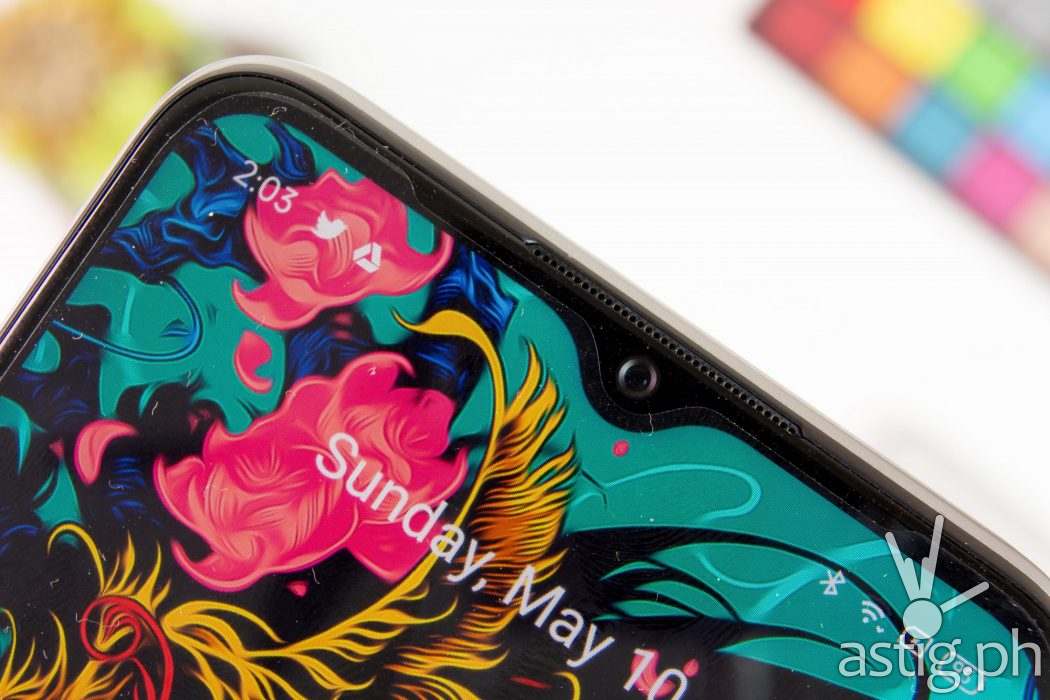 As is tradition with Realme phones, it comes with a screen protector pre-installed, which is always appreciated.
The accompanying 18W power supply unit is a little bigger than usual which means there's probably some extra circuitry there to handle the load. I'm guessing the MediaTek Helio G80 chipset doesn't have built-in circuitry to support fast charging.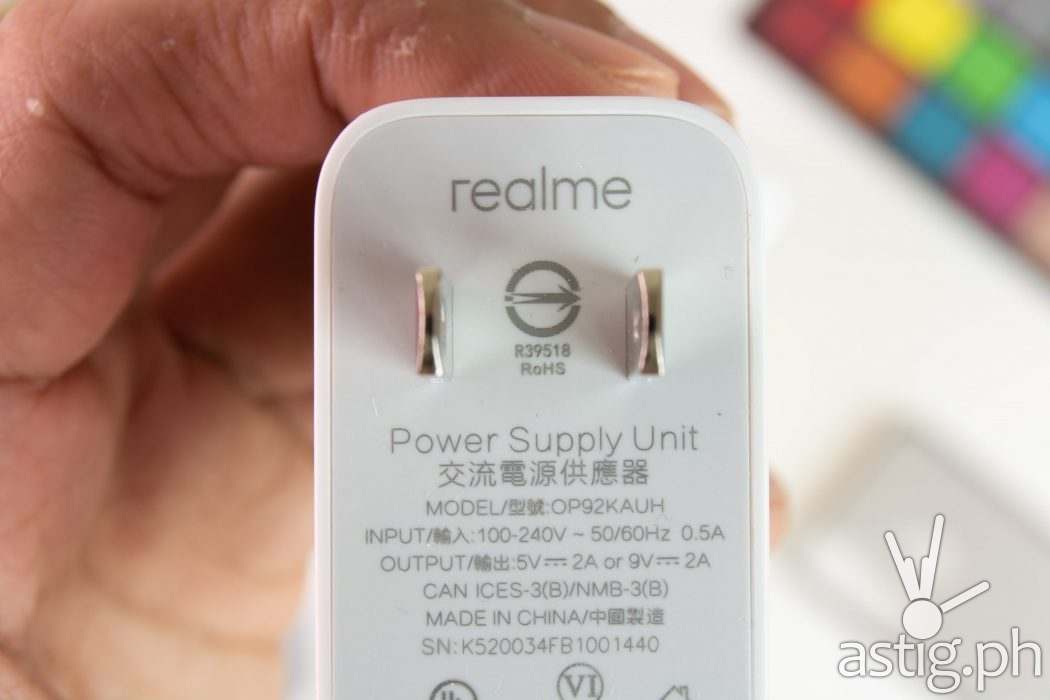 Another possible explanation could be that Realme is utilizing their own fast charge technology. Keep in mind that Realme used to be part of OPPO, the same guys who developed a fast charging technology called VOOC.
USB Type-C finally makes it to the budget line with the 6i. It is something that fans have long been clamoring for – a desirable but not exactly a necessary feature, and we adore Realme for listening.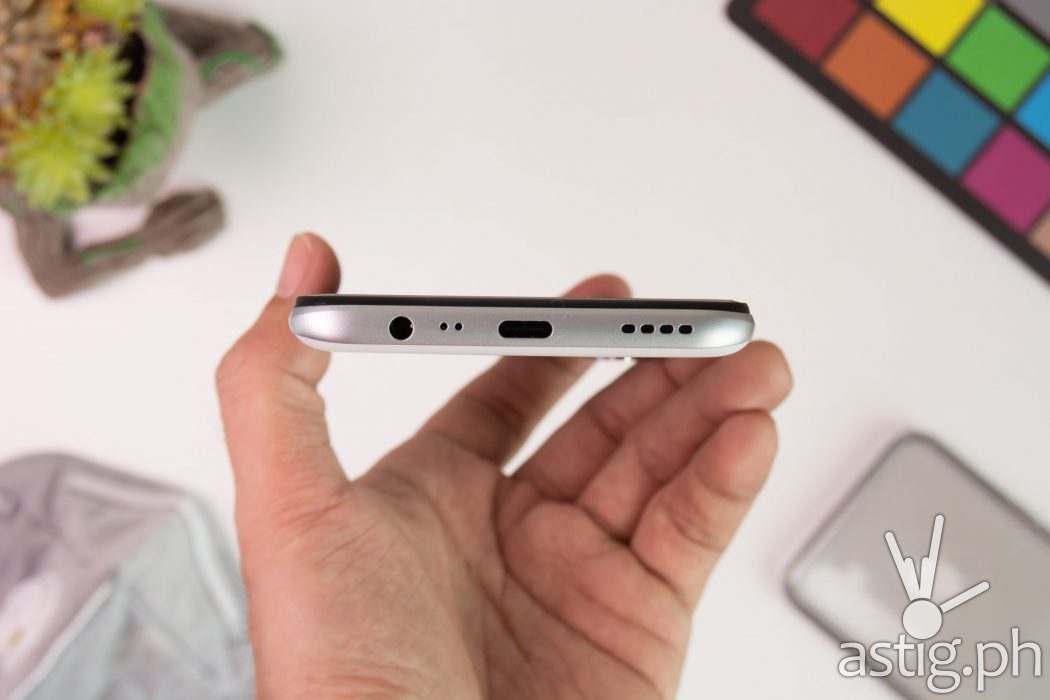 We are acutely aware that USB Type-C connectors are typically triple the price of Micro USB, so it seems that Realme has figured out a way to include it while keeping manufacturing costs low. It's a win for consumers.
Our beloved 3.5mm audio port is still there, along with dedicated dual SIM and expansion slots. It doesn't look like this will be changing soon – in the Realme budget line, at least. It's these little things that endear customers to the brand.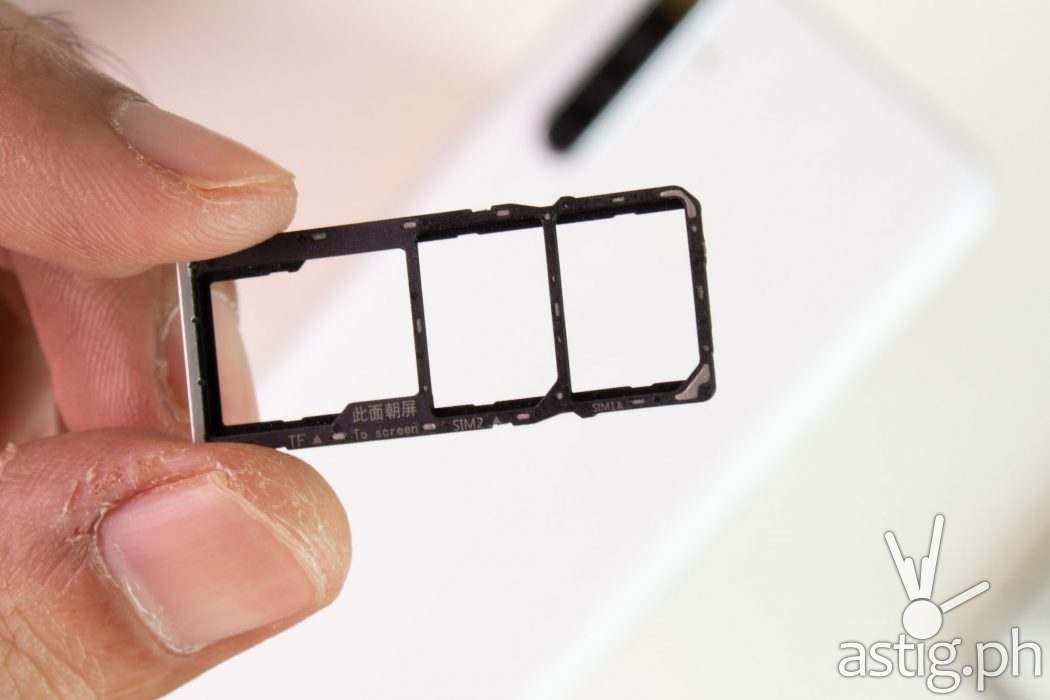 Application performance, benchmarks
realme 6i runs Android 10 out of the box with Realme's newest customization layer, realme UI 1.0. It's really clean and user-friendly, simply the best way to experience Realme right now. If you like Dark Mode, it's built right into the system, just toggle it on or off from the notification bar.
Overall performance is smooth. Scrolling through the phone is fast and launching and switching between applications was fairly snappy, although I did notice a bit of stuttering from time to time as it loads content.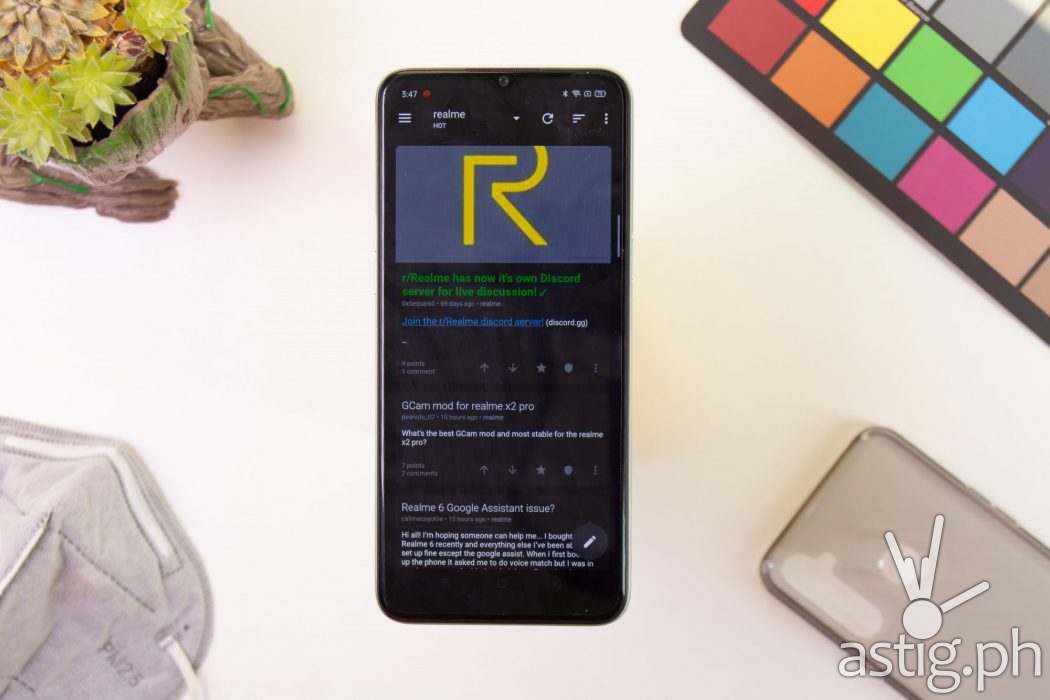 As far as application performance goes, the Helio G80 chipset does not disappoint. It also helps that we have 4GB of memory.
WATCH: realme 5i unboxing first impressions + camera samples (video)
Our benchmark scores were not the highest compared to other phones in 2020, but it's still pretty respectable – we scored over 200k in AnTuTu. For reference, the Snapdragon 665-powered realme 5i scores around 170k, while the Helio G70-powered realme C3 goes up to 179k.
Entertainment, sound
As an entertainment device, the phone can only stream 720p videos in Netflix and Amazon Prime, but it's cool since we only have a 720p display anyways. It doesn't have HDR support either, in case you're into that.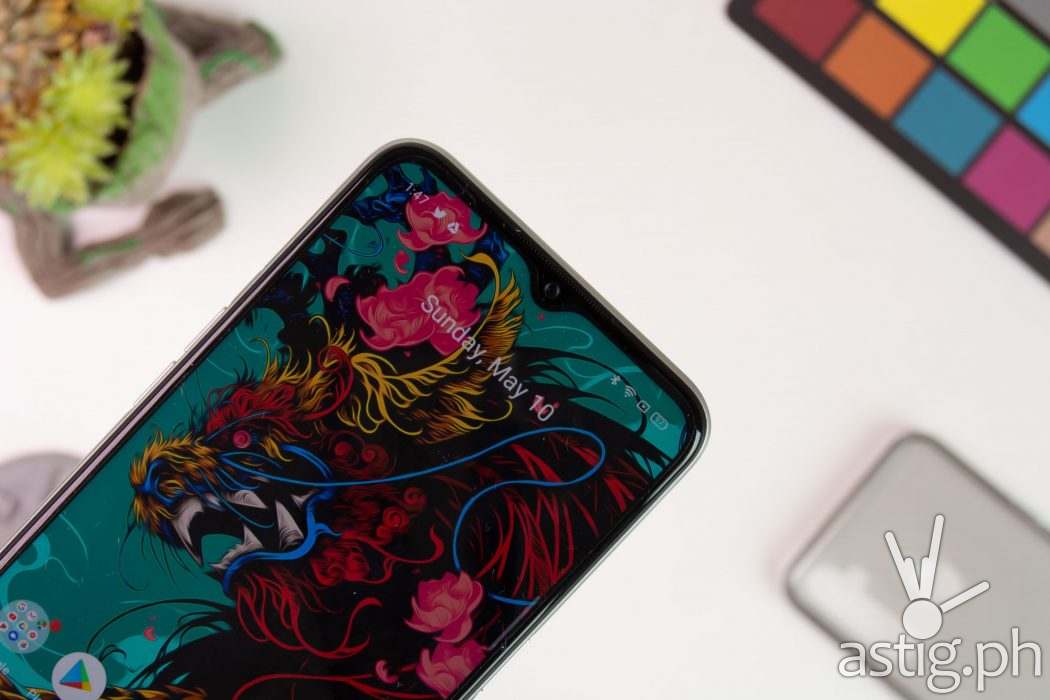 The IPS LCD panel is not as bright or as vibrant as the IPS LCD panel in more expensive phones. The difference is subtle but quite discernible at night and during the day when held against the light.
We found the bottom-firing loudspeakers to be a little underwhelming. At maximum volume, it felt a little soft, and I kept pushing the volume up button expecting it to get louder.
Hit play to watch the sample in our realme 6i video review:
Unlike more expensive phones, we don't get Dolby or DTS or any other audio enhancement technology in the 6i, but we do get Bluetooth 5.0 which is great for low-latency wireless playbacks.
Gaming performance
realme 6i is the first MediaTek Helio G80 smartphone in the world and in the Philippines. The "G" supposedly stands for gaming, so we have high expectations here.
For us, a good budget gaming phone should be able to do 60fps on the newest games at medium to high settings.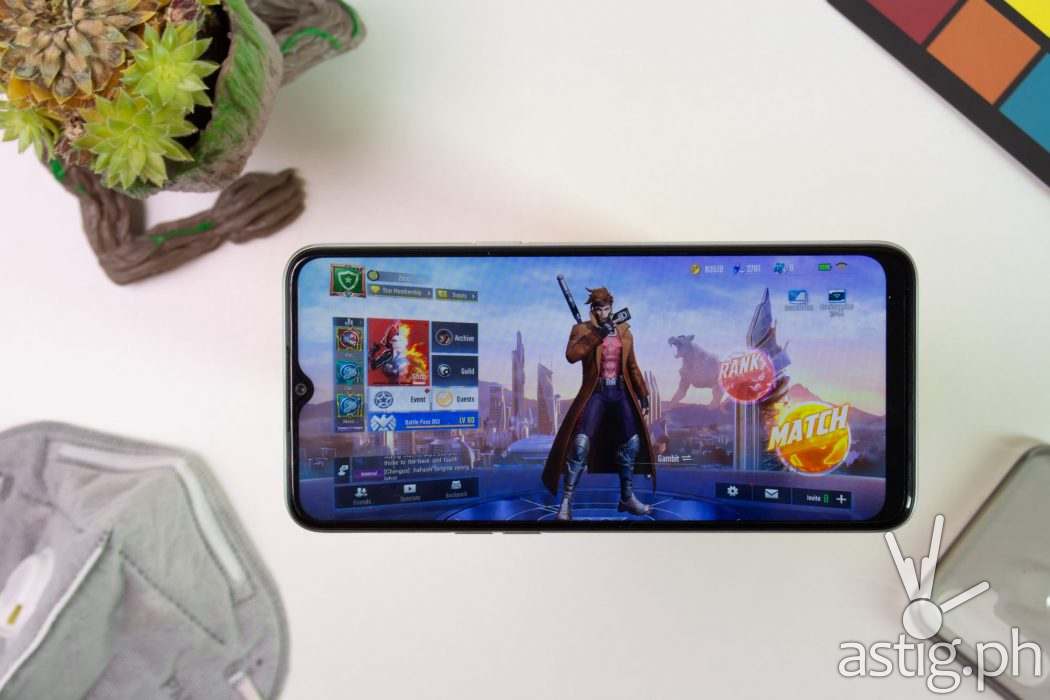 This is not the first Helio G-series phone we've laid our hands on, though. Last year, we reviewed the Redmi Note 8 Pro, and that phone runs on the more powerful MediaTek Helio G90T chipset. From that experience, we know that the Helio G-series is a powerful gaming platform, but there's a tradeoff: the system runs at much higher temperatures, running the risk of thermal throttling especially on long gaming sessions.
When that happens, performance takes a hit, and we don't want that. It's like trying to drive a Ferrari through EDSA traffic. You have the power to go really fast but you can't because you're stuck along with everyone else.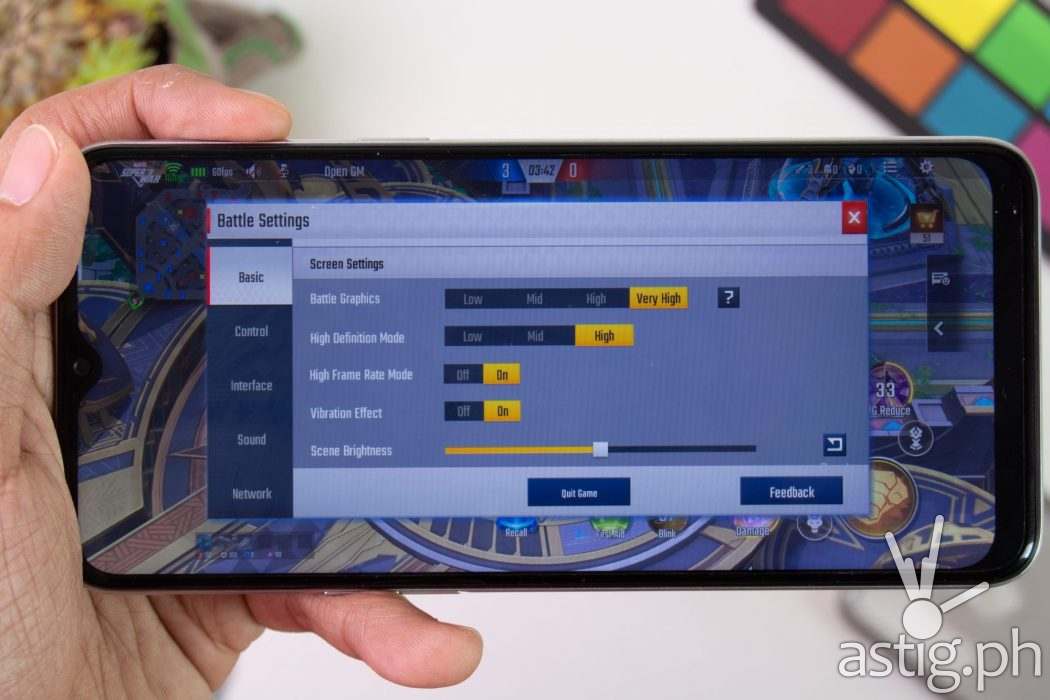 So we tried to replicate the exact same scenario on the realme 6i using Marvel Super War as our reference game with graphics on max settings and high frame rate mode on. I kept looking at the temperature monitor expecting it to kick in, but it never did. It was stable at 55-60 FPS and it felt a little warm but not enough to trigger thermal throttling.
Again, this was at maximum graphics settings, which is very impressive. We could barely hit 60 on the Helio G90T, but then again, that was on a phone that had a higher resolution, 1080p display vs only 720p on the realme 6i.
Perhaps the Helio G80 is simply more efficient than the G90T, or the 720p display simply kept things cool because it's less demanding than a full HD 1080p display. It definitely requires lower processing power and power consumption.
Also, the smaller display port might have allowed for higher frame rates despite running on a less powerful chipset.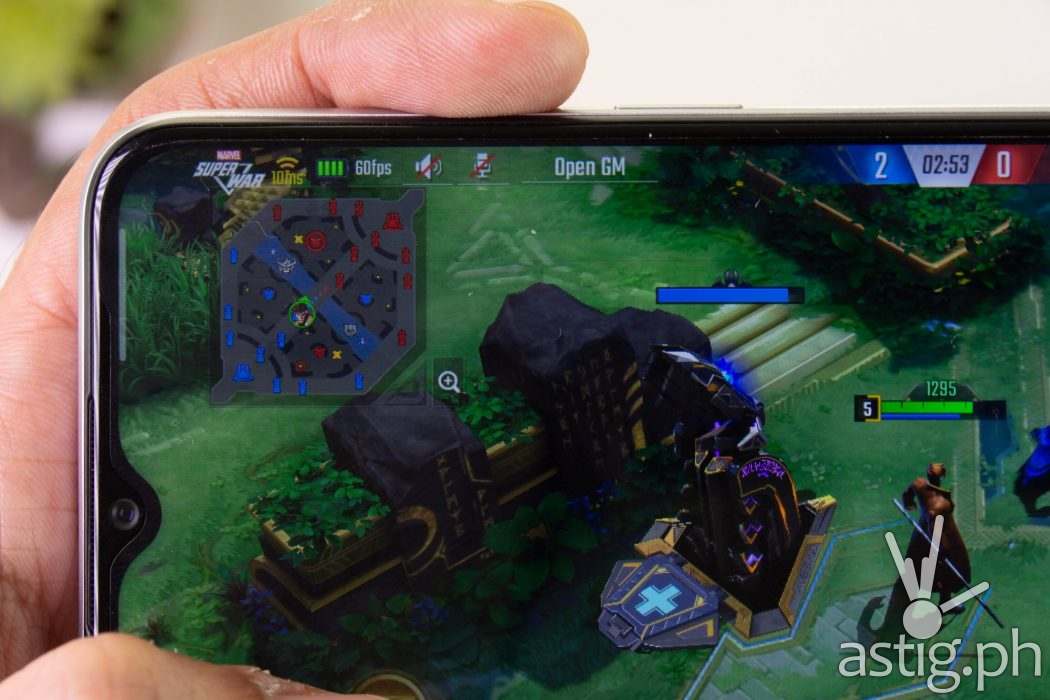 Whatever the reason, we are extremely pleased with the results, the realme 6i raises the bar, exceeding our own expectations of what a budget gaming device can do.
If we were to improve on anything, we would have wanted 5GHz Wi-Fi in a gaming phone. However, we also understand why we're stuck with 2GHz. Just like the shift from Micro USB to USB Type-C connectors, outfitting a phone with a 5GHz receiver will have a big impact on cost of materials.
The next logical step would be to go with a high refresh rate display – at least 90Hz, in order to improve overall smoothness and minimize input lag … hopefully in its successor.
TIP: Make sure to add and configure your game in Game Center to get the best gaming performance and experience
Camera
We get quad rear cameras on the realme 6i: 48MP f/1.8 main sensor, an 8MP f/2.3 ultrawide sensor, and a 2MP f/2.4 macro lens. There's also a 2MP f/2.4 depth sensor, but you can't actively use it to take photos.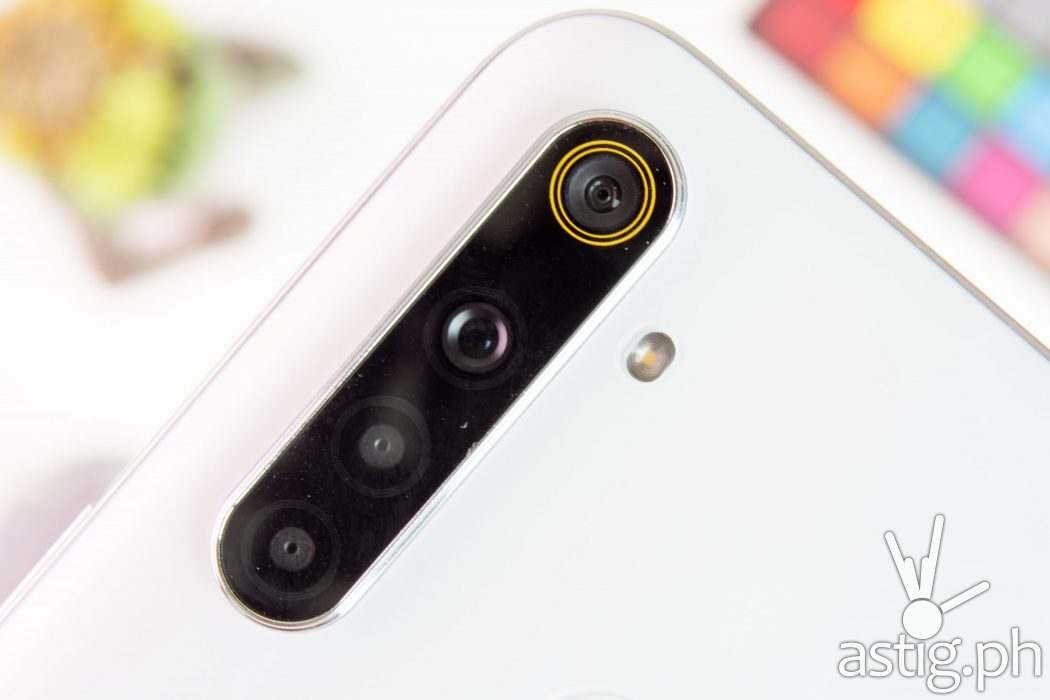 For selfies, we have a 16MP sensor, so on paper it looks like the realme 6i is a step up from what we usually get from phones in the same price range.
The built-in camera software produces excellent results, they are usually clear and sharp during the day.
We love the flexibility that the 8MP ultrawide lens gives us, though the photos have less dynamic range and more noise compared to the 48MP main sensor.
Both sensors struggle with low light though, and night shots aren't quite usable.
Videos can go up to 1080p and 60fps, and they're acceptably stable despite the lack of OIS (optical image stabilization).
Battery life
I've only had the phone for a few days but so far I can easily go an entire day on a single charge. We did manage to complete one cycle of PCMark Work 2.0 synthetic battery benchmark, and the result was an astounding 11 hours 53 minutes with brightness set to around 50%.
It takes around two and a half hours to fully charge the phone on the 18W PSU, which is better than your regular slow charging but I kind of wish it could be faster.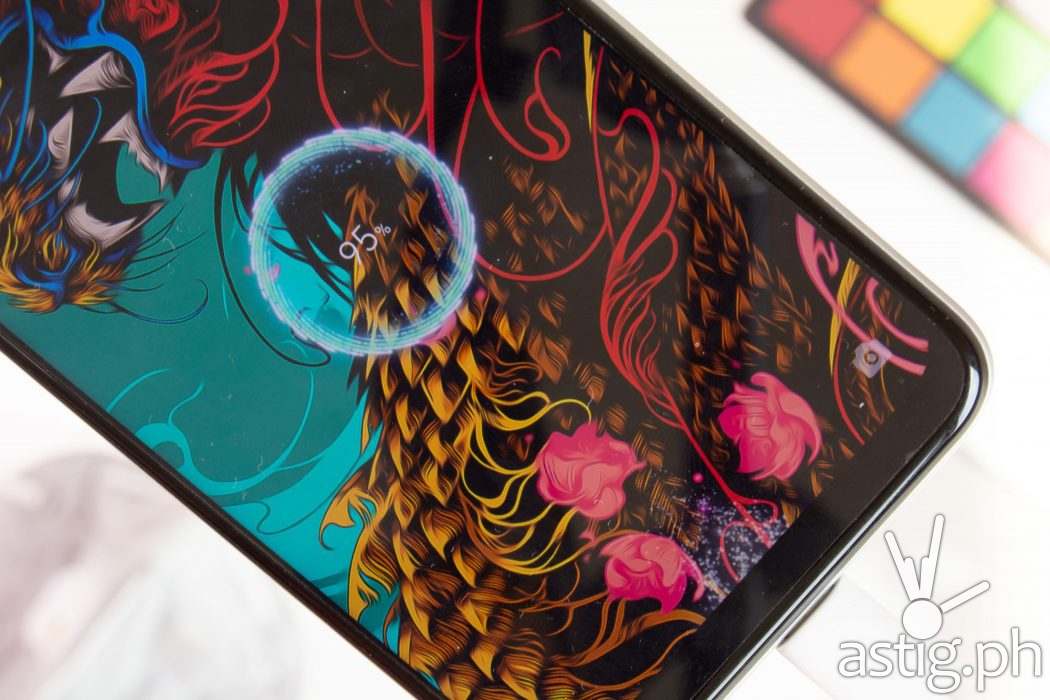 The phone shows an animating circle in the lock screen, which is a nice touch. We've seen this before on other Realme phones, but with the VOOC logo. No VOOC here though, sadly.
Benchmark results
Performance & gaming benchmarks:
AnTuTu: 203639
PCMark Work 2.0: 8872
PassMark: 4829 (system); 12539 (CPU); 12696 (memory); 25848 (disk); 22499 (2D); 14660 (3D)
GeekBench: 388 (single-core); 1333 (multi-core)
Battery benchmarks:
AccuBattery: 12h 31m (screen on); 31h 7m (combined use)
GSam: 1d 6.8h (17h 19m active); 11h 45m (screen on) 10h 35m (max brightness)
PCMark Work 2.0 battery life: 11h 53m
Verdict, price
Realme may be a relatively new brand, but they demonstrated their mastery of the technology that they have at their disposal by bringing out the full potential of the Helio G80. It exceeded our expectations for a budget gaming phone, doing a steady 55-60FPS in the most graphically demanding games.
For the non-gamer, it offers competitive application performance, as well as desirable features such as good cameras and very long battery life.
The phone has two weaknesses: first, that 720p display might turn some people off, especially for the market that it's trying to cater to which are the gamers. Despite the fact that it's a budget phone there are people on Reddit who scrutinize and compare every last bit of detail, and the display is usually one of them.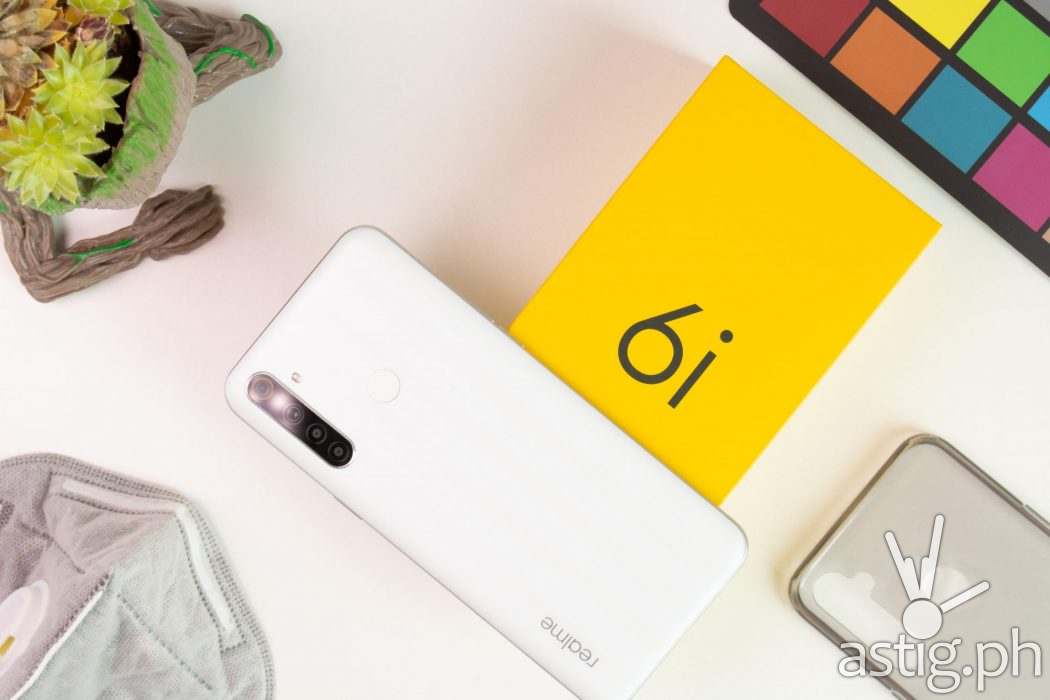 In its defense, I personally believe that a full HD screen would have a negative effect on the phone's performance – I'm not sure we'd be able to run games in max graphics settings in high frame rate mode (60FPS) without triggering thermal throttling if it had a full HD screen. Again, this is just my personal take – what do you think?
Second, we are still stuck with a 2GHz WiFi receiver. It's not that big of a deal, especially with our dismal Internet speeds in the Philippines, but we felt compelled to raise this point only because it is supposed to be a gaming phone.
The price will be revealed on May 13 and we already know it'll go for below 10K pesos. From the Myanmar launch it looks like it will be priced around 9K which seems fair, considering that the realme 5i had a launch price of P7K pesos. We doubt it will go lower than that.
To celebrate the launch of the realme 6i, we're giving away some goodies from realme such as a realme 6-series bag and a realme 6-series pillow.
WATCH: realme 6i review: 60fps gaming for less than $200!
All you have to do is subscribe to TechKuya on YouTube and answer the following question in the comments section of the realme 6i review video: What feature do you look for the most in a smartphone?
We'll select one winner at random two weeks from now. This is just a quick and simple giveaway, so it's open to Metro Manila residents only.
Pros

Good cameras
Great gaming performance
Excellent battery life

Cons

Display is limited to 720p
Wi-Fi receiver is limited to 2.4GHz (for competitive gaming)
realme 6i technical specifications (Philippines)
Display: 6.5 inches; 720 x 1600 pixels; IPS LCD; Gorilla Glass 3
SIM: Dual SIM (nano-SIM, dedicated slots)
OS Android 10 (Q); realme UI 1.0
Chipset (SoC): MediaTek Helio G80 (12nm)
CPU: Octa-core (2×2.0 GHz Cortex-A75 + 6×1.8 GHz Cortex-A55)
GPU: Mali-G52 MC2
Memory (RAM) + storage (ROM): 3GB+64GB; 4GB+128GB
Expansion: microSD (dedicated)
Main camera (rear): 48MP f/1.8 (wide) + 8MP f/2.3 (ultrawide) + 2MP f/2.4 (macro) + 2MP f/2.4 (depth)
Selfie camera (front): 16MP f/2.0 (wide)
Connectivity: 2.4 GHz Wi-Fi 802.11 b/g/n; Bluetooth 5.0 A2DP
I/O: USB Type-C; 3.5mm audio jack; rear-mounted fingerprint scanner
Battery: 5,000 mAh; 18W
Colors: Cream White, Green Tea
Price (Philippines): TBA May 13, 2020
realme 6i photos (Philippines)
realme 6i sample photos (unedited)