Some time ago we wrote about the realme Buds Air, an affordable alternative to Apple AirPods for Android users. Well, we are on the last stretch of the year but realme is not yet done, surprising us with yet another AiOT product in the form of the realme Buds Air Pro.
From the design and the name it is clear that the realme Buds Air is the brand's answer to the Apple AirPods Pro, but is that all to it? Read one for our full review.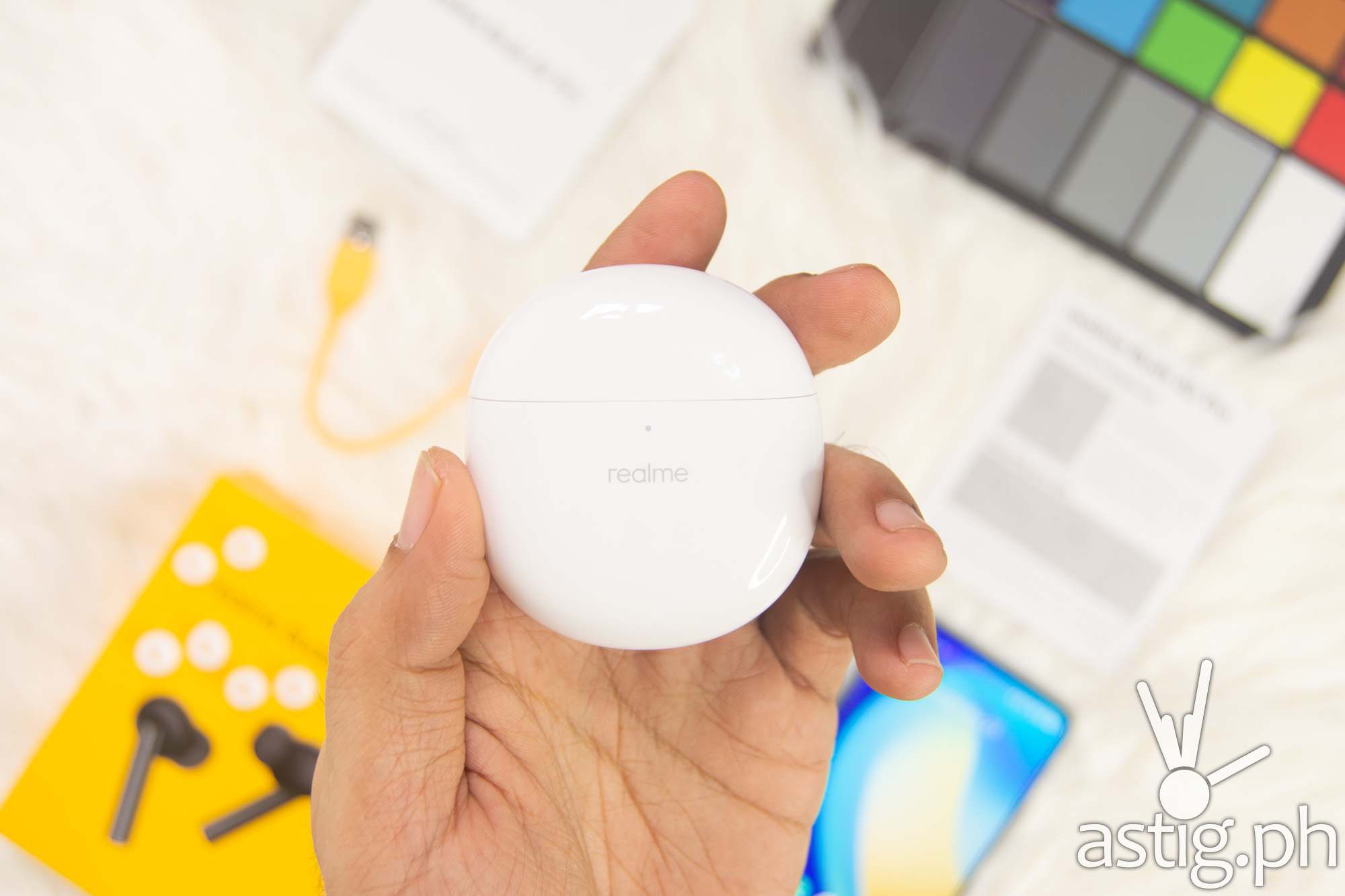 Build quality, design
On the surface, it bears all the hallmarks of a 2020 TWS (True Wireless Stereo) headphone. It's like a love child between the realme Buds Air and the realme Buds Q: you get two p-shaped buds and a cobble-shaped case to hold and recharge the buds. Unlike realme Buds Air, the realme Buds Air Pro come with replaceable silicone eartips. These not only isolate its drivers from ambient noise by creating a better seal within your ears, but it also helps keep them in place.
The package comes with 3 pairs of extra replacement tips in different sizes – just choose one that best fits your ears.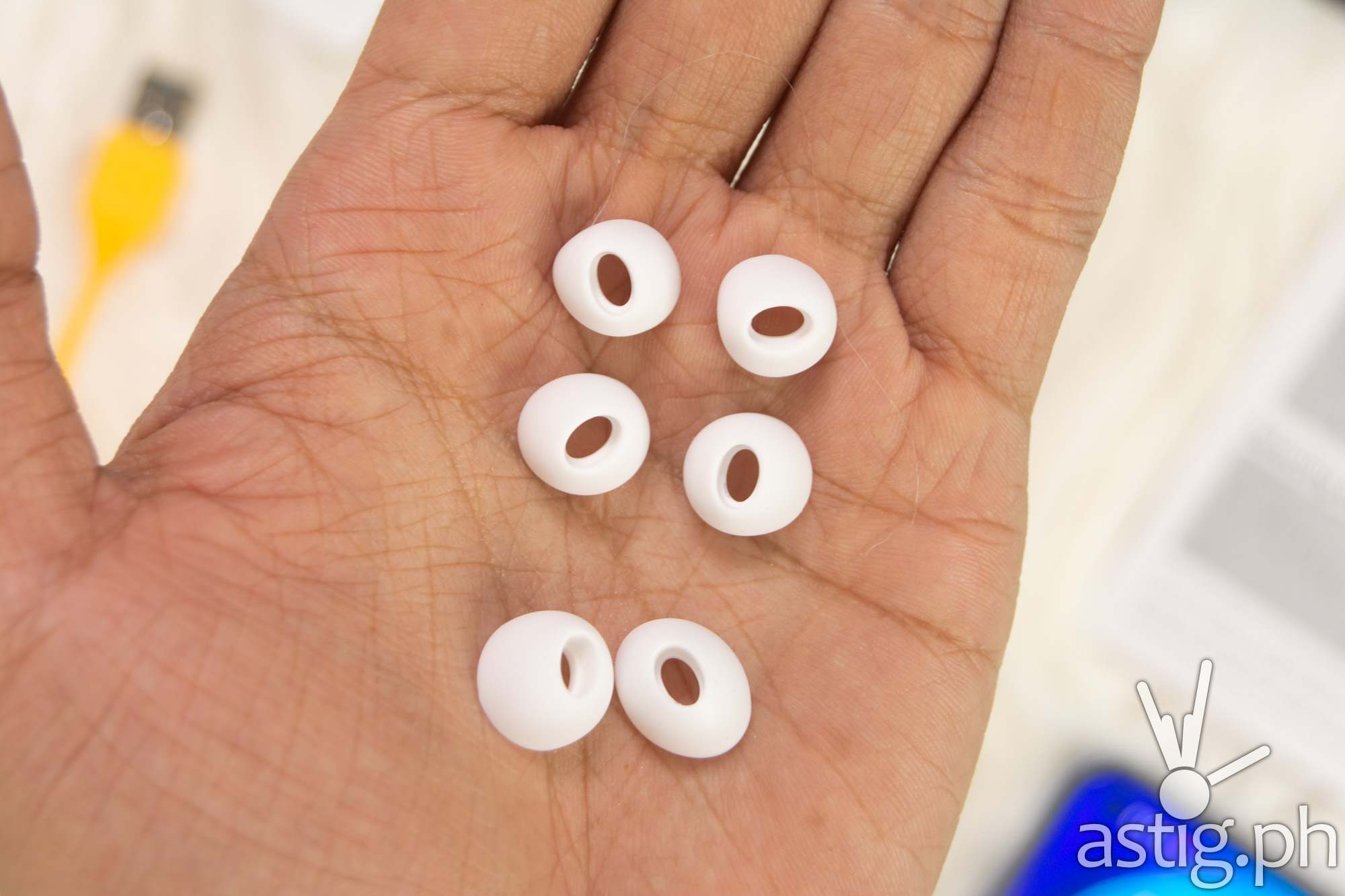 Sound isolation is one thing, but as someone who is fairly active physically, the new design easily wins me over the non-Pro version. I've had my fair share of dropped TWS headphones since I bring them with me everywhere – while traveling, doing groceries, shopping, or working out at the gym.
With these silicone tips, the probability of dropping them decreases significantly, and for that reason alone I am already more or less sold on the Pro version. It stays in your ears like it should and it doesn't fall off easily, even while working out at the gym.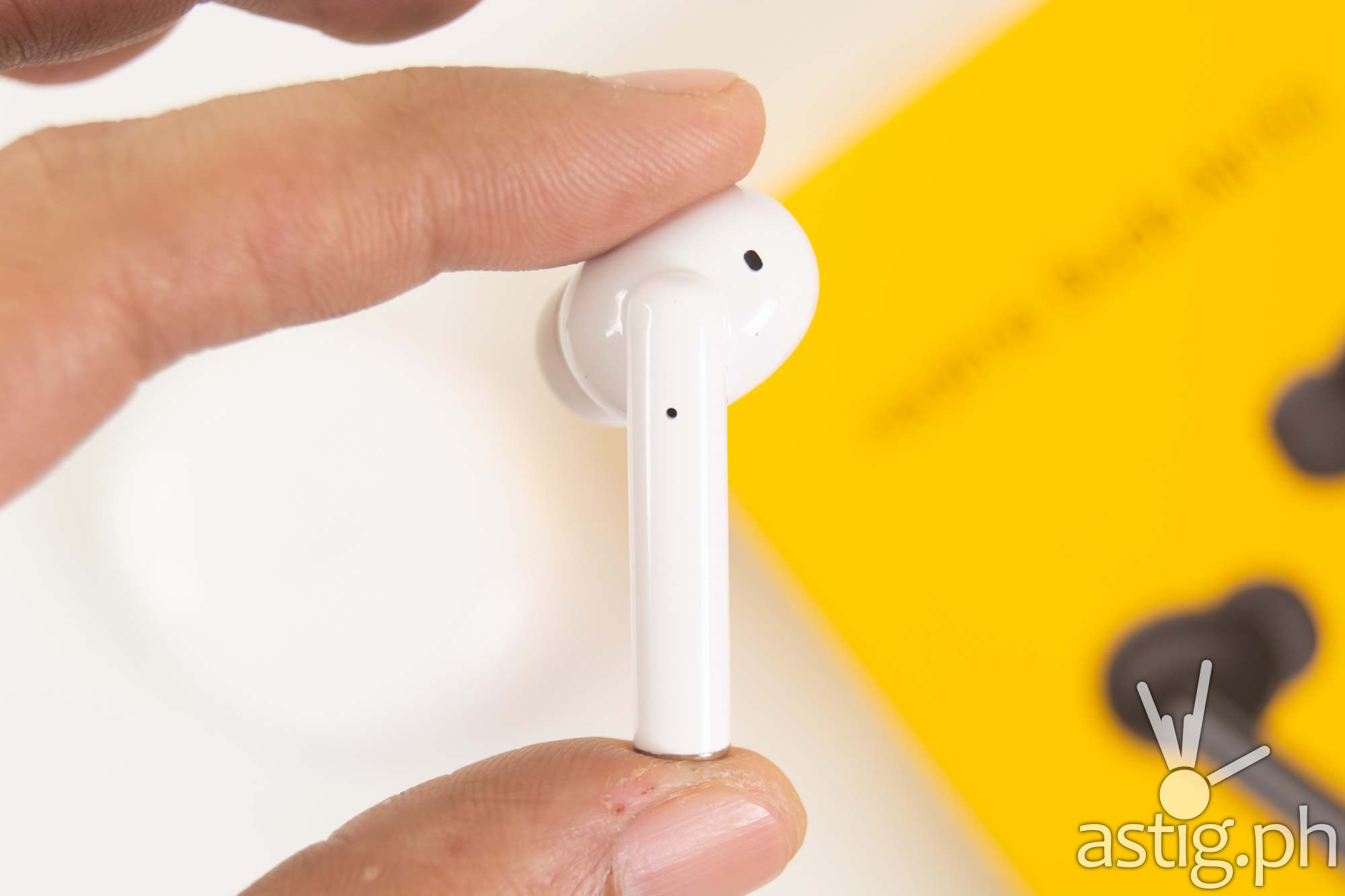 The few times I dropped the realme Buds Air Pro were out of carelessness – or laziness, as the case may be. Usually it happens as I take them out of the case, or when I'm too lazy take them off while changing clothes at home.
So how tough are the realme Buds Air Pro?
Each earphone weighs 5.2 grams (I checked) which is almost nothing – according to realme, that's about the weight of a single sheet of A4 sized bond paper. Also, it's fairly solid with barely any moving parts. I've had heavier headphones survive greater falls, so I'm not worried about it breaking.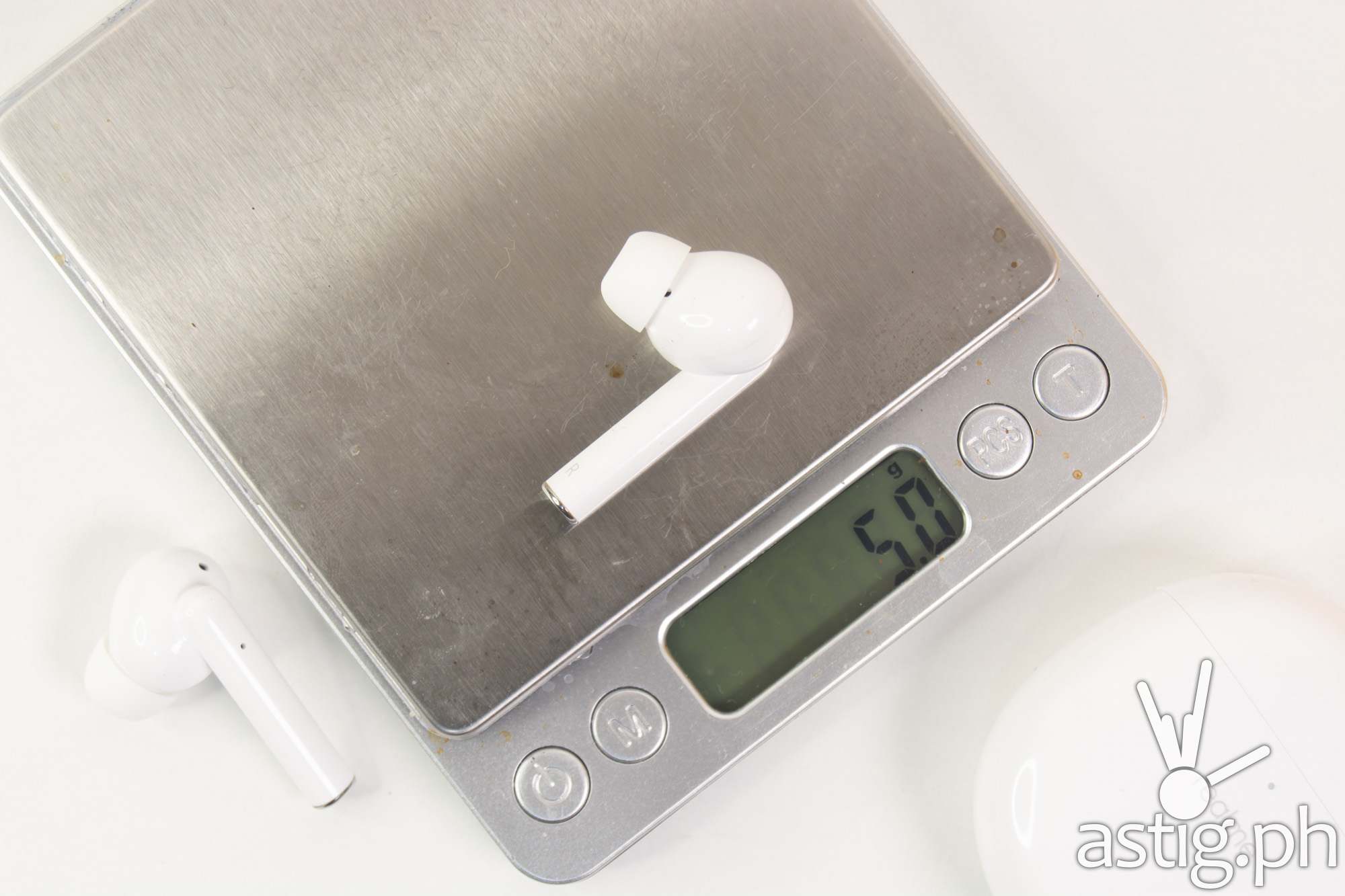 If anything, I'm worried about finish getting scuffs. The surface is smooth and glossy, which makes it very nice to look at but it makes you wonder how it will hold up against the wear and tear of everyday use, especially on the Soul White variant which, by the way, reminds us of pearls.
Because it's smooth it doesn't easily catch dirt, and you can just wipe it off when it does. If pearly white is not your thing, the realme Buds Air Pro also come in Rock Black … which looks like a black rock … or a pebble, as the case may be.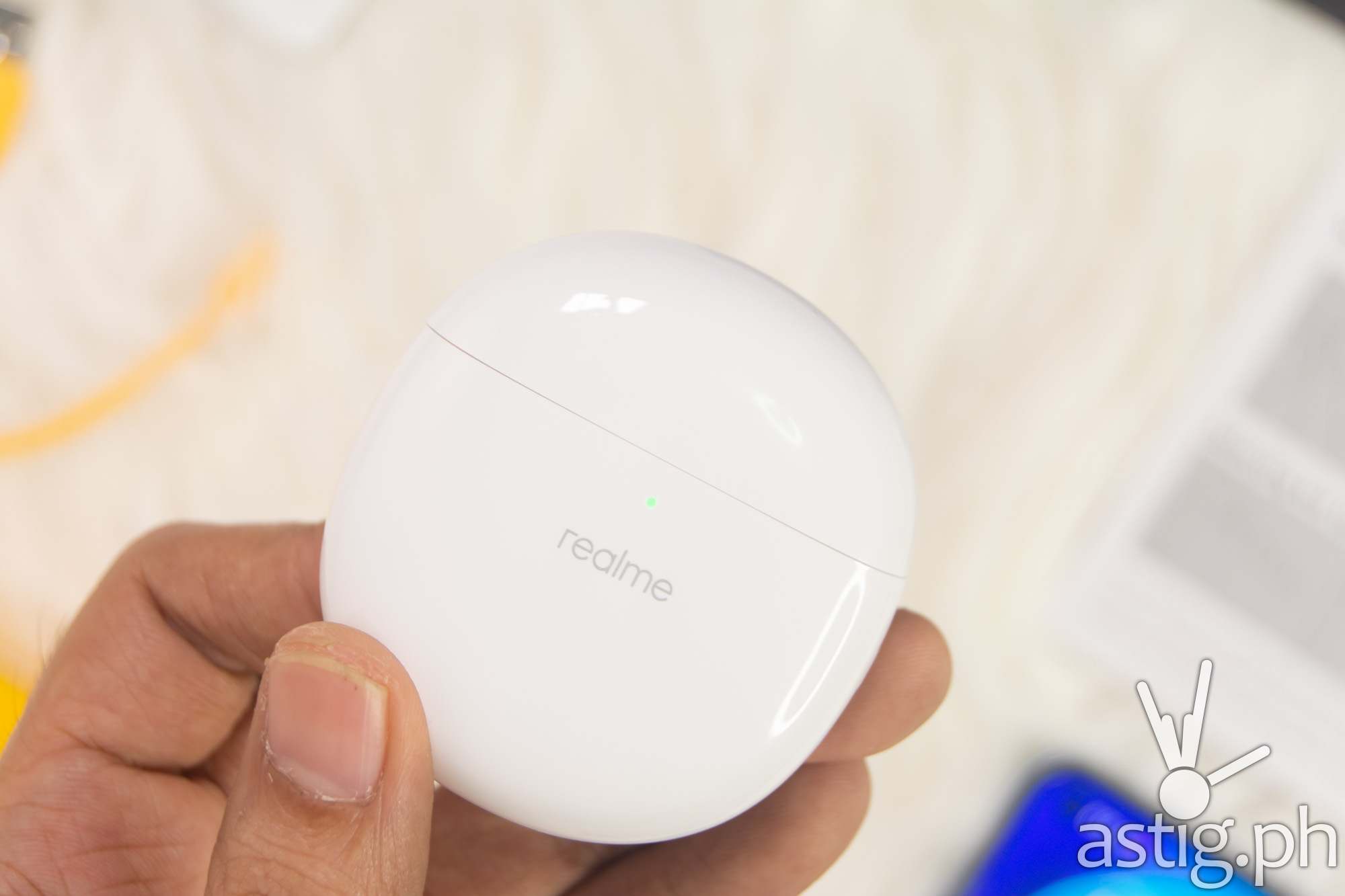 By the way, the headphones are IPX4 water resistant, which means it can survive splashes of water. So you don't have to worry about taking it with you to the gym.
Battery life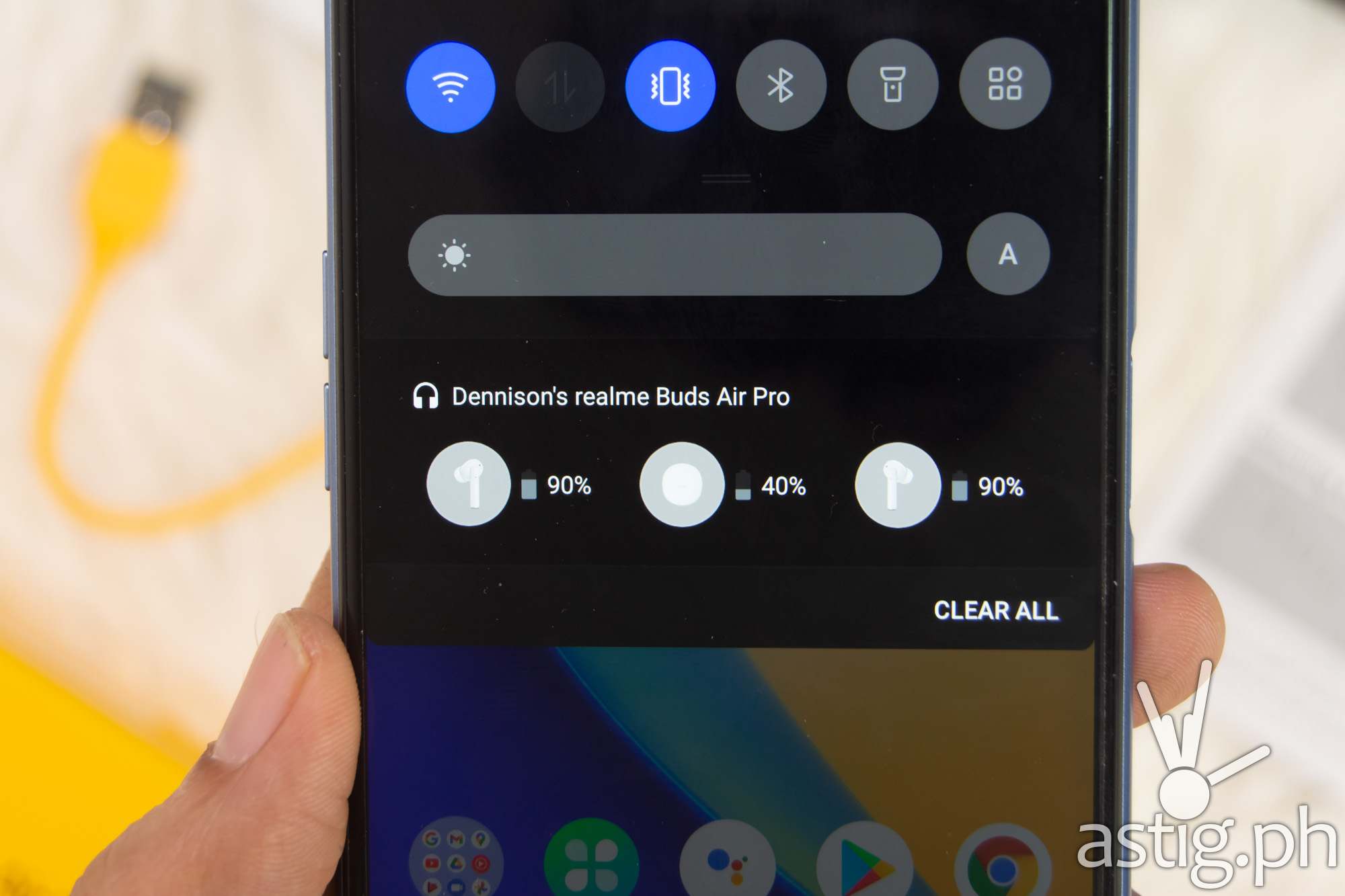 Combined with the case, the realme Buds Air Pro offers up to 25 hours of playback. This drops down to 20 hours with active noise cancelling (ANC) turned on. 10 minutes in the case yields 3 hours of playback, and it only takes an hour to fully charge the earphones.
Unlike the non-Pro version, the Air Pro doesn't support wireless charging, so you will need to plug the case via USB-C port when recharging.
Audio quality
When it comes to audio quality, the realme Buds Air Pro is comparable to good quality TWS headphones, and this is mostly due to two things: noise isolation brought about by its silicone tips and active noise cancellation (ANC).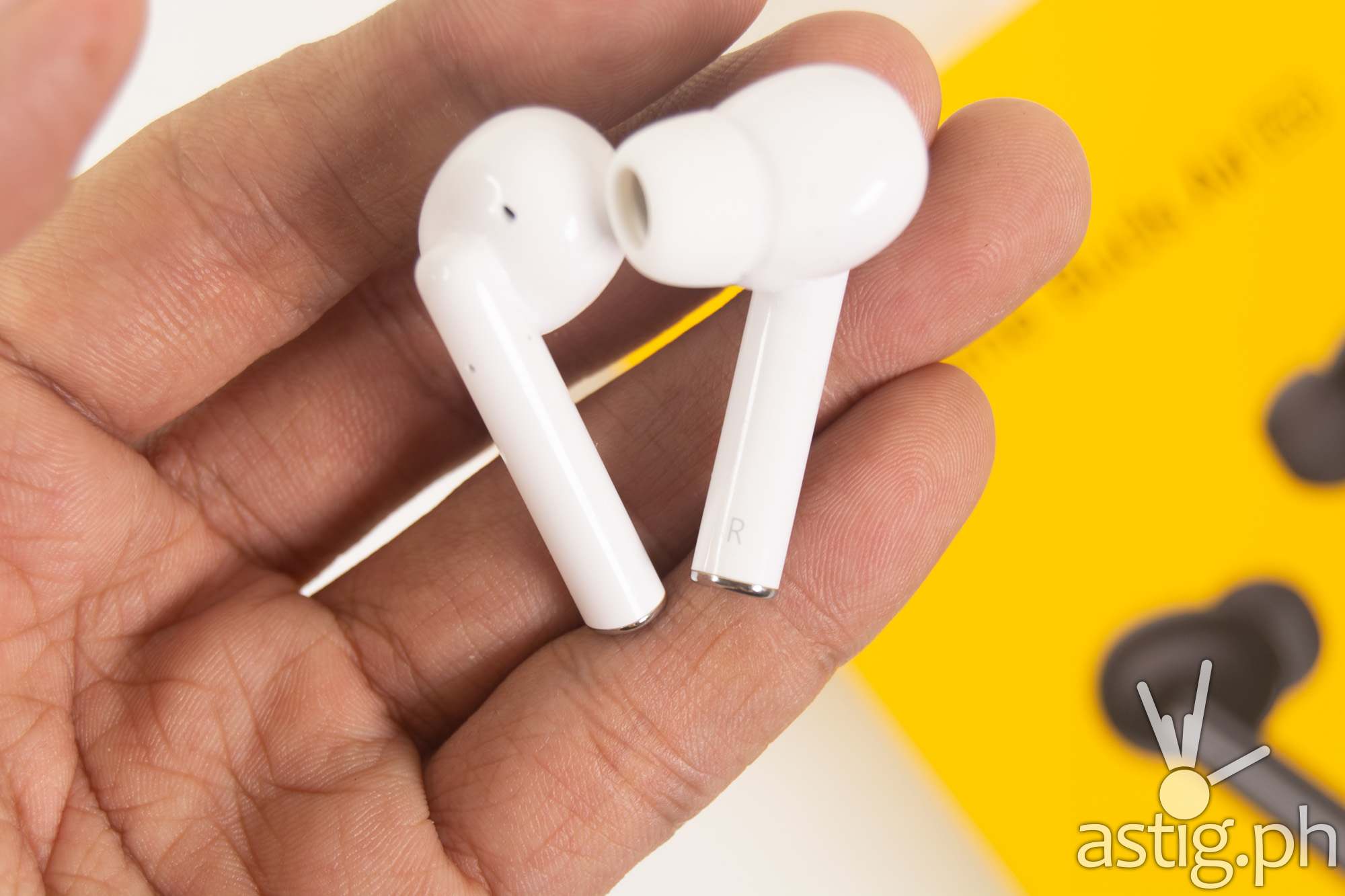 It's impossible to convey sound quality in words, so you'll have to audition it yourself. Speaking as an audio enthusiast (I dislike the snobbish term "audiophile") and a content creator who has own several pairs of expensive audio gear, including professional IEMs that retail for around Php 25,000, I am fairly impressed and satisfied with the sound reproduction. Again, I must stress that audio is a very personal thing, so don't take my word for it and audition it for yourself.
Active noise cancellation, latency, and call quality
While the built-in Active Noise Cancellation technology may be impressive, the Transparency Mode is equally so. The earphones come with a pair of feed-forward microphones then feeds and amplifies ambient sound so you can hear your environment if needed.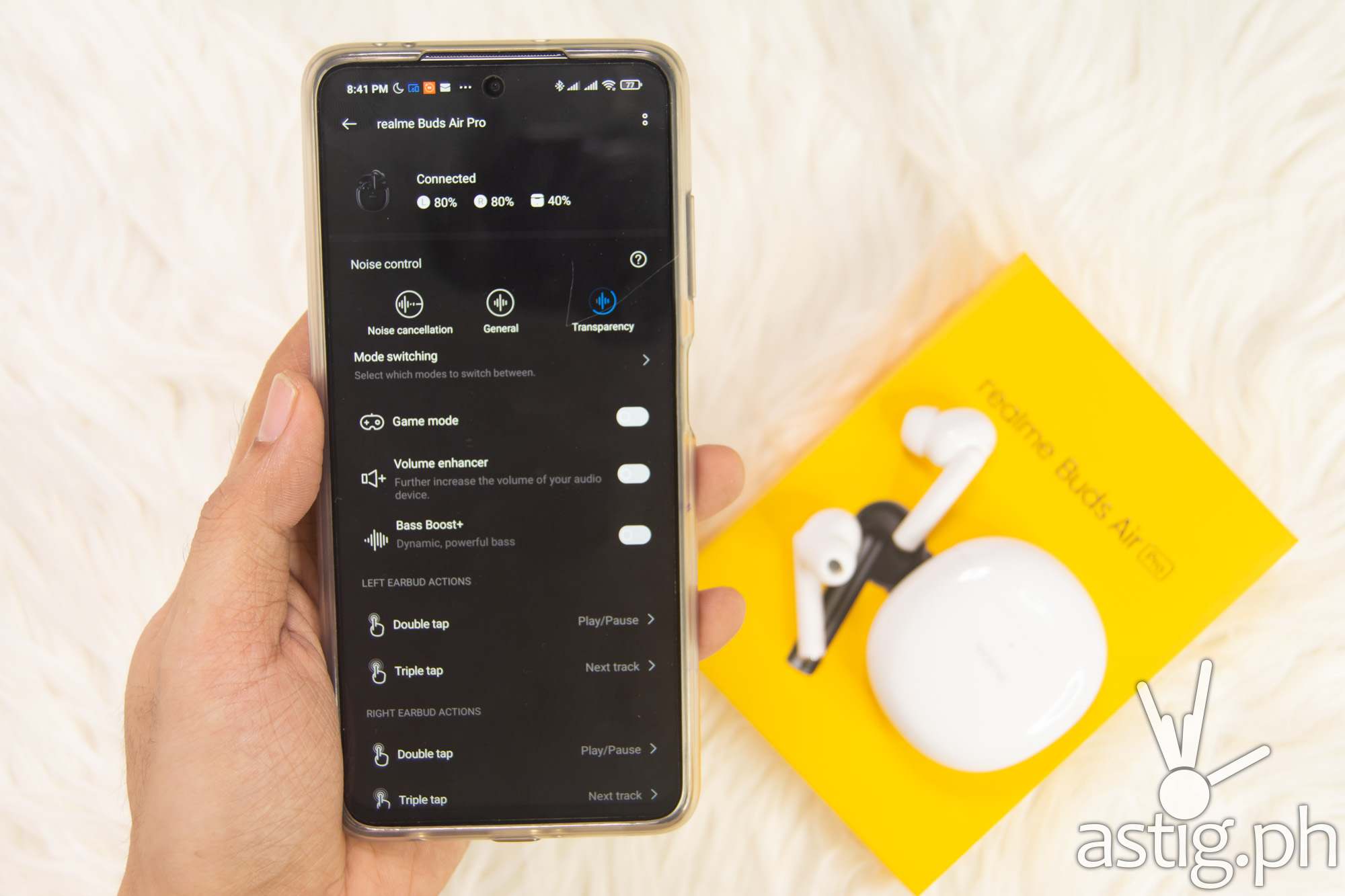 However, what really won me over is the 94ms Super Low Latency feature, which can be activated by holding both buds for 2 seconds to activate "Gaming Mode".
As a gamer, the performance difference is quite noticeable, and I'm impressed at how in-sync the display is with the sound that I'm getting from the headphones. There was a time when wireless headphones carried a stigma for low latency and poor quality audio reproduction, but Bluetooth 5.0 has changed all of that. It's nowhere near wired speeds, of course, but it's a small price to pay for being able to walk around wirelessly.
Like ANC, Super Low Latency mode drains more power, so you have to manually switch to gaming mode. I do wish there were a way to turn it on by default, though.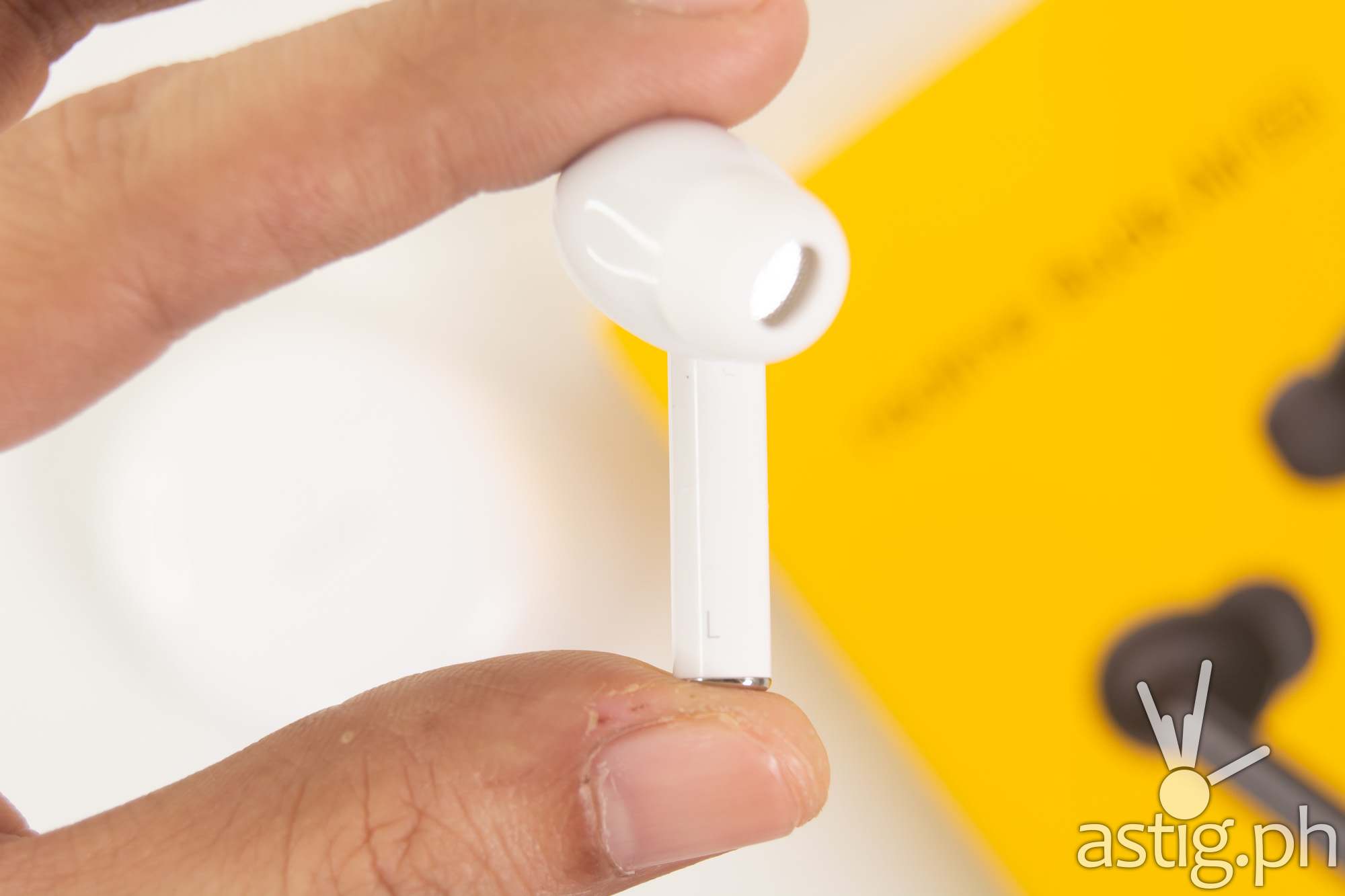 Finally and most importantly, the realme Buds Air Pro come with one microphone on each headphone, so your voice comes through crisp and clear on the other line. You can even share one of the buds with your significant other and have a three-way call – yes, we've tried it.
Price and availability
Finally and actually the REAL most important point of all is the price: the realme Buds Air Pro retails at Php 4,990.It's not the cheapest TWS in the market, but it's one of the more affordable TWS for what it offers. TWS headphones that offer good quality sound, Active Noise Cancellation, and low latency performance are rarely cheap, and the cheap ones sound like crap. So we feel that it's fair for the price.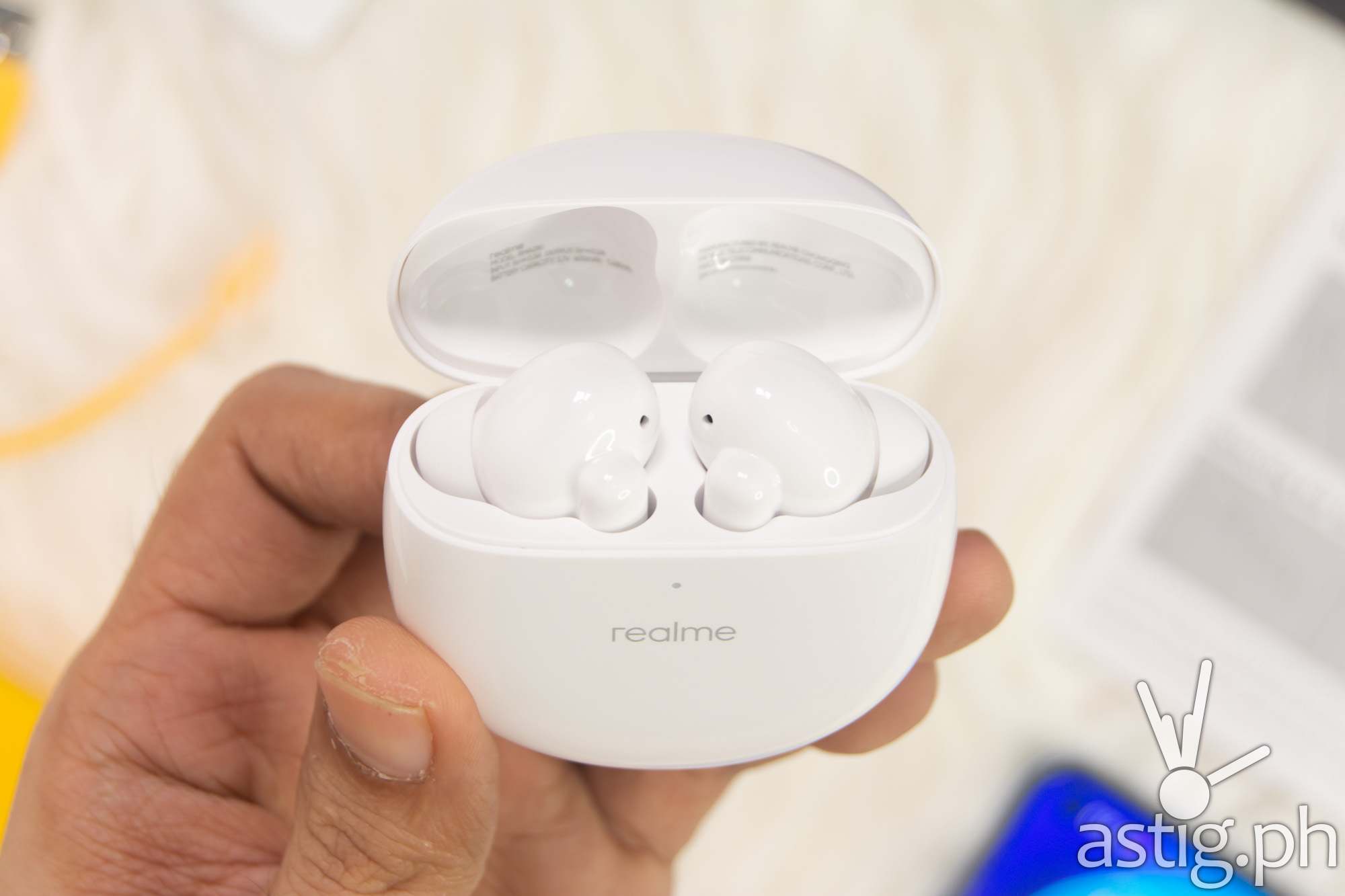 Again, this is coming from an audio enthusiast and content creator that owns very expensive, professional audio gear, so we understand the sentiment.
Most people are happy with cheap headphones, and if you're one of those guys – ignorance is bliss, the world of audio is an expensive rabbit hole you that wouldn't want to go down to. However, if you want a good pair of all-around TWS headphones, consider the realme Buds Air Pro in your next audition. It just might be what you need to take with you everywhere as your daily driver.
The realme Buds Air Pro will be available starting December 3, 2020 at 7PM on Lazada and Shopee.