It took Realme 6 months to make a name for itself in India and Indonesia, taking both markets by storm by offering the essentials at very attractive price point.
Now, the former OPPO sub-brand is looking to do the same in the Philippines, fearlessly crowning itself the "Entry-Level King" with the debut of the Realme C1. Priced at only 5990 PHP or about 114 USD, Realme's debut smartphone is flying dangerously close into captured territory already dominated local budget brands Cherry Mobile, MyPhone, and Cloudfone.
In fact, it was only two months ago when Cherry Mobile debuted the Flare J6 Plus. Also priced at 5999 PHP, it bears a striking resemblance to the Realme C1 by offering a 6.2 inch notch screen and dual cameras.
So what else does the Realme C1 have to offer?
Update (20-Jan-19): We now have a new, long-term video review for the Realme C1! Click here to check it out.
Realme C1 screen and build quality
2018 is the year of notch screens and glass backs, and the Realme C1 stays abreast with this trend. The 6.2-inch IPS LCD screen has a standard-sized notch. Though resolution is limited to 720p at 1520×720 pixels.
The display panel itself is okay. Colors are quite vivid, though I did notice faint yellowing that gets stronger near the bottom. I'm sure most average users won't notice it, but I look at so many phones and so many screens all the time that it sort of bothers me. I hope it's just a minor manufacturing imperfection that gets corrected in future runs.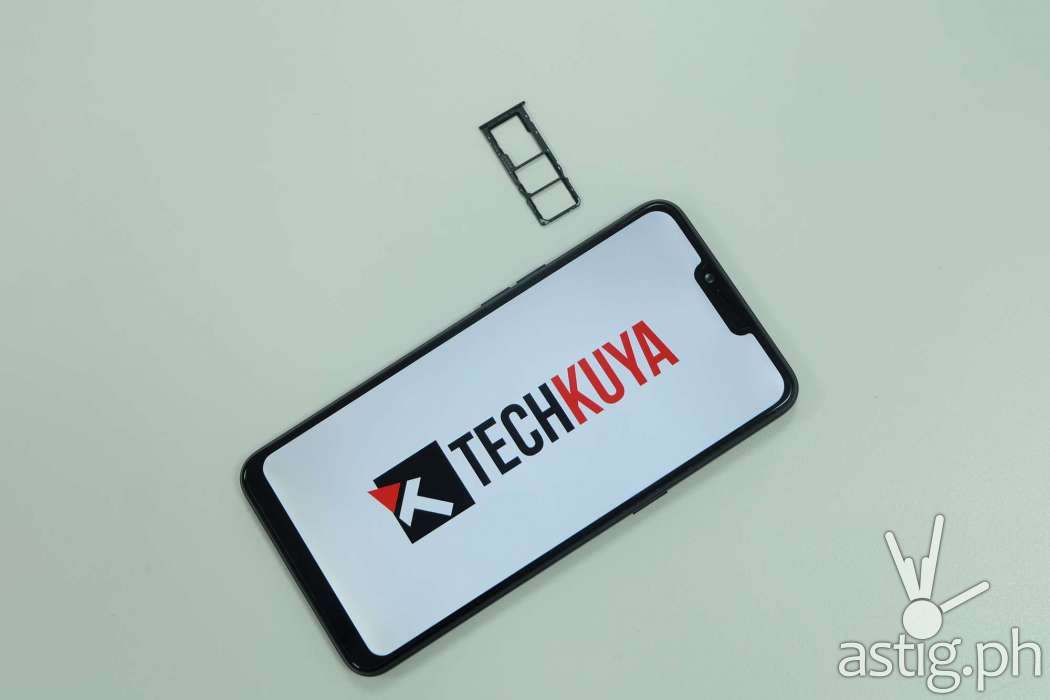 Viewing angles are typical of any IPS LCD, and there is a small amount bleeding near the edges – again, not noticeable unless you know where to look, and nothing as bad as what we've seen in the Pocophone F1 or the Huawei Mate 20 / Huawei Mate 20 Pro.
Adding to its value, the screen is protected by Gorilla Glass 3 to prevent minor, incidental scratches. It also comes with a screen protector pre-installed out of the box.
Adding to its value, the screen is protected by Gorilla Glass 3 … it also comes with a screen protector pre-installed out of the box.
Realme C1 does not come with wireless charging or a secondary display at the back, so personally, I'm not fond of the glass housing, especially since the back is just a plain slab of color. I think it would look and feel better if the back were plain poly carbonate plastic – I would totally use the phone naked that way.
There's probably a bigger market out there that likes the "wet look" back which will only end up covered by a case to prevent scratches, smudges, and breakage – a concern easily addressed by the provided clear back silicone case.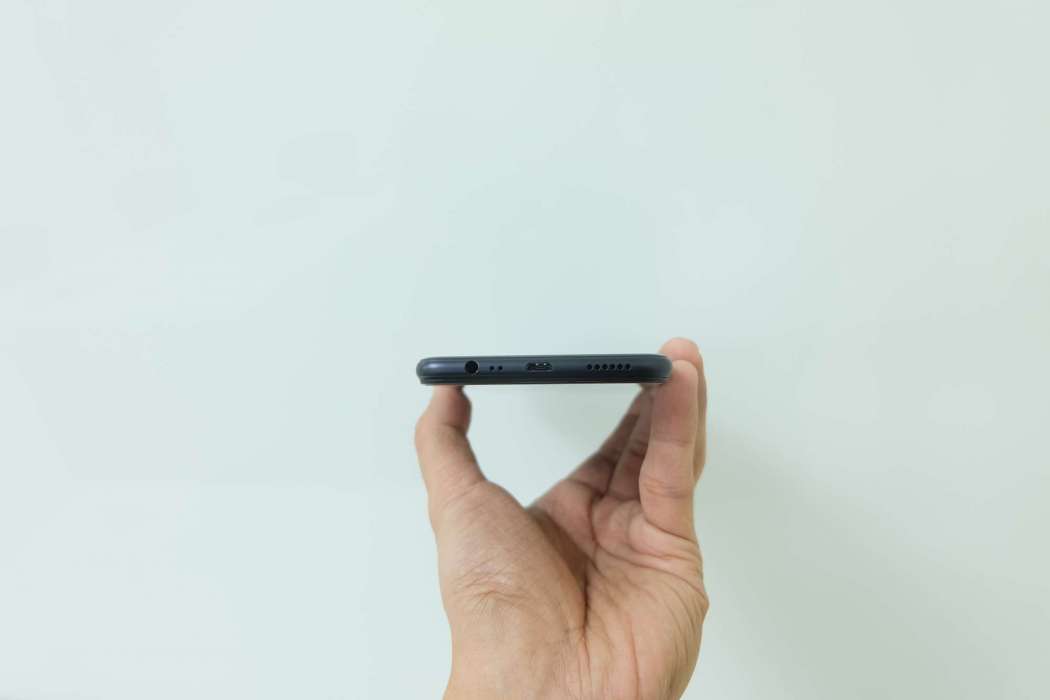 One thing that we can appreciate about the Realme C1 is the provision for a triple-slot SIM tray: two dedicated nano SIM slots and one micro SD expansion slot. Having two SIM cards is almost normal for anyone in the Philippines, and there is a big chance you are going to end up needing that expansion slot to augment the built-in storage, which is limited to only 16 GB.
Like most budget smartphones, it sticks to Micro USB instead of the more expensive USB Type-C.
Realme C1 performance: calls, GPS, application, WiFi
Realme C1 comes with Android 8.1 out of the box, which is sadly still the norm for most Android smartphones, despite the fact that it has already been 4 months since Android 9 (Pie) was released.
It uses OPPO's custom Android fork called ColorOS, something we are very familiar with by now. It is a very decent fork with many useful customization, which we normally welcome, but given the C1's low-end CPU and tiny memory footprint, I wonder if it could have been better of with just vanilla Android.
I mean, it could very easily pass for an Android One device, and Treble support could mean more frequent updates.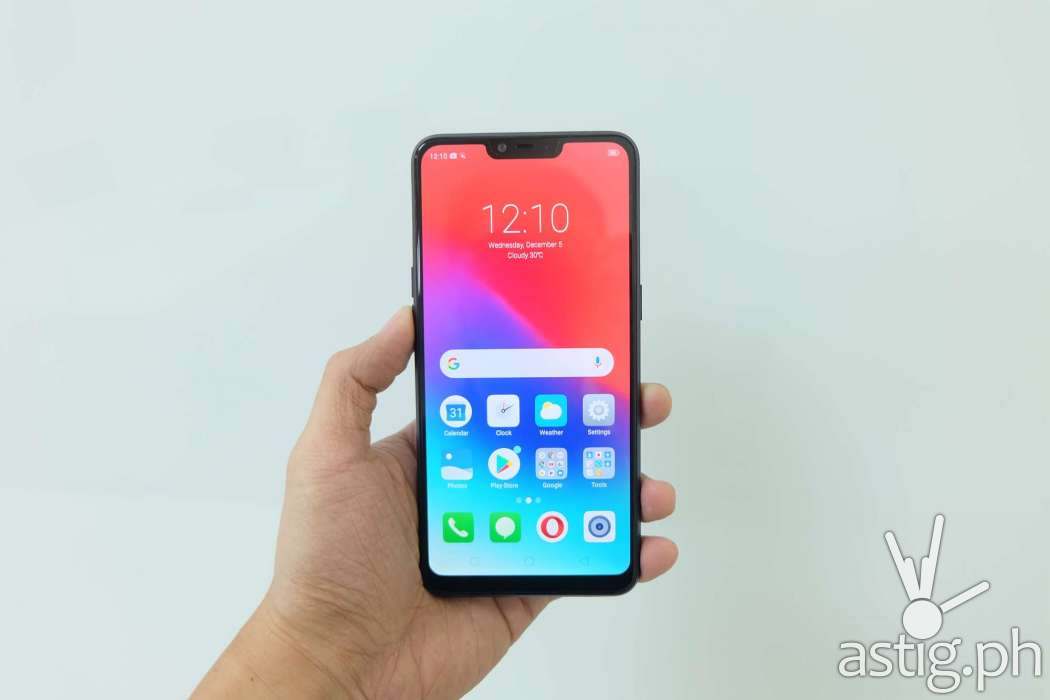 Having an entry level CPU and only 2 GB of memory means that navigating through the menus and switching between applications can feel sluggish at times, but things tend to speed up once Android's memory management kicks in, which I hope can be modified to a more aggressive level to keep things snappy.
Installing applications and updates can slow the system to a crawl and prevent you from being able to use the phone. A simple workaround would be scheduling installs and updates during the less busy times of the day like before going to sleep.
Network performance is limited to the 2.4 GHz frequencies. Like most budget phones, the 5GHz band is not supported, though this shouldn't be an issue given the sad state of broadband in the Philippines. Unless you are constantly streaming huge amounts of data through streaming, or torrents, you probably won't benefit from 5GHz WiFi speeds anyway.
If you happen to be part of population who needs 5GHz speeds, then you probably won't be using an entry-level phone like the Realme C1.
Realme C1 is first and foremost a phone, and it should allow me to make and receive calls without any issues.
GPS is actually pretty decent on the Snapdragon 450, and the Realme C1 can consistently lock on your coordinates in a matter of seconds.
What matters the most for me performance-wise is task prioritization. At the end of the day, the Realme C1 is first and foremost a phone, and it should allow me to make and receive calls without any issues.
Regardless of what it's doing in the background, it should prioritize call-related processes and not crash under heavy load. So far, I have not experienced any issues, though this is a very subjective test and I do not have a scientific way of simulating this so your mileage may vary.
Realme C1 gaming performance
Being an entry-level device, I was totally expecting the C1 to bomb in the gaming department. Instead, I found that it actually does okay with a bit of tweaking. The load screens can be painful though, and you can feel the game reading data every now and then, resulting in micro- or rather, macro-stutters, but I've had far worse gaming experiences with other smartphones.
Since the C1 uses ColorOS it benefits from built-in game optimization via the "Realme Game Space" feature, though I haven't really done any tests to see how it affects gaming performance, it surely doesn't hurt to have it on.
So yeah, you can actually play games like PUBG, Mobile Legends, Ragnarok M, or Lineage 2 Revolution and have a decent gaming experience on the Realme C1. It is going to take a painfully long time to load. You are going to need to tweak it and play in low to medium graphics, and you are still going to experience micro-stutters regardless.
It's stable. It won't hang, and it won't crash.
Just know that you won't be able to install that many games unless you augment the built-in storage with a micro SD expansion card. 16 GB of storage won't get you very far, unless you are mainly into casual games. I only managed to install 3 big games before I started getting low storage warnings.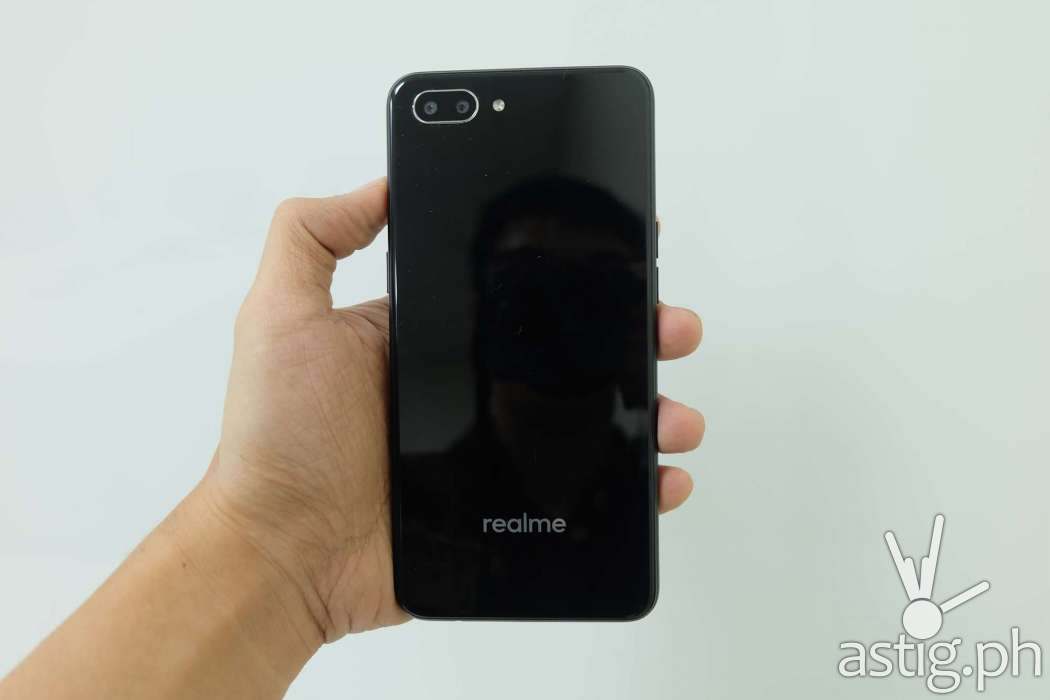 Realme C1 camera: photo and video performance
The Realme C1 has a 13MP f/2.2 + 2MP f/2.4 dual rear camera and a 5MP f/2.2 front camera with no optical stabilization. I find that many of the shots contain a bit of noise, unless they were shot in very well lit situations.
Normal photos taken indoors appear grainy and have the tendency to be blurry. and the sensor struggles to focus in low light shots.
Reds appear to be slightly pinkish for some reason – I'm not sure if this is due to the sensor or if it's being caused by the camera software's processing algorithm.
Focus distance is surprisingly good – I was able to move the lens to as near as 2 inches or so from the subject and get sharp focus, allowing us to take macro shots.
Realme C1 battery life
The Realme C1 has a big 4230 mAh battery driving the relatively low powered and energy-efficient Snapdragon 450 chipset with a 1.8GHz processor. As such there shouldn't be any throttling or heating issues, and the phone should last at least an entire day for most users.
We have not been using the Realme C1 for long, but so far we managed to get more than a day's worth of use with Power Saving turned off and Smart Power Saver turned ON. Our typical day's use includes moderate browsing with mobile data turned on, about 4 hours of GPS usage, and slight gaming.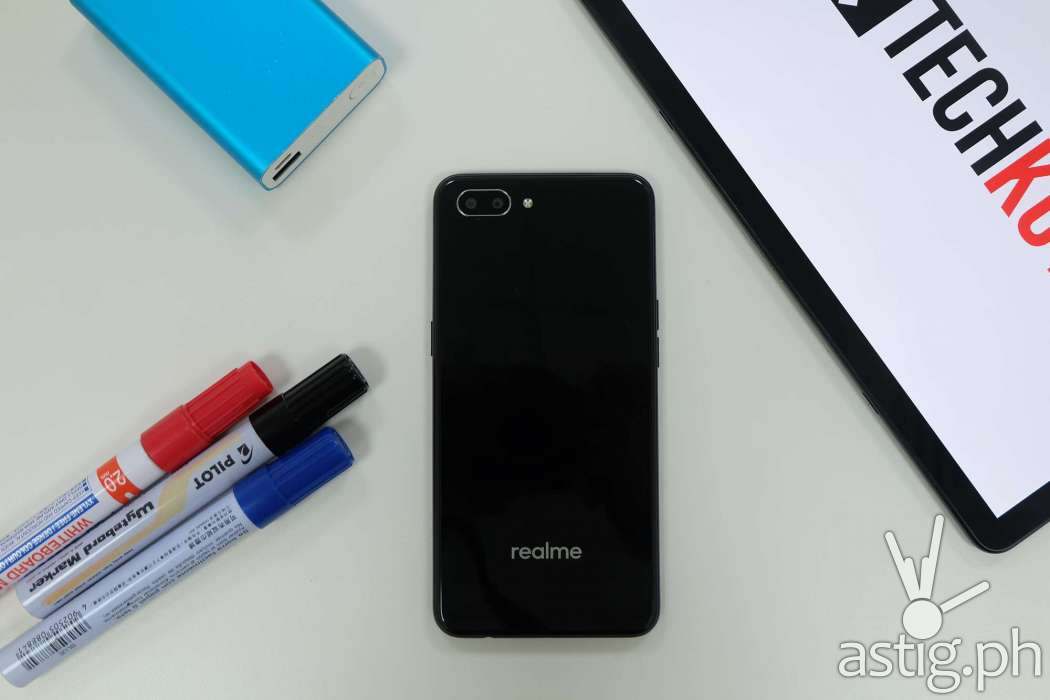 Verdict
As smartphone technology becomes more mature, its key components become easier and cheaper to manufacture, and the Realme C1 is the best example of a 2018 smartphone that covers the basics while at the same time giving a taste of the features found in higher end models.
Some corners were cut, mainly in the screen, camera, and memory. Some features such as the notched screen, Gorilla Glass, glass back, and secondary camera, are arguably inessential, but perhaps necessary for its commercial success, and its performance in prove that there is a market for such a phone.
Realme C1 is the best example of a 2018 smartphone that covers the basics while at the same time giving a taste of the features found in higher end models
We have yet to see how the Realme C1 performs in a market cornered by several "entry-level" brands all wanting to be King. Priced at only P5990, its key features put the Realme C1 in a good position to achieve commercial success.
At the end of the day, more competition can only mean better value products for the consumer. We, for one, welcome the entry of the "Entry-Level King" into the Philippines.
Realme C1 specifications
Screen: 6.2 inches 1520×720 pixels IPS LCD
SIM: dual-SIM (nano-SIM, dedicated slots)
OS: Android 8.1 (ColorOS 5.1)
Chipset: Qualcomm Snapdragon 450
CPU: Octa-core 1.8 GHz
GPU: Adreno 506
Memory (RAM): 2GB
Storage (ROM): 16 GB
Expansion: microSD (up to 256 GB)
Camera (rear): 13 MP f/2.2 + 2 MP f/2.4, 1080p video
Camera (front): 5MP f/2.2
Battery: 4230 mAh
Wi-Fi: 802.11 b/g/n
Colors: Mirror Black, Navy Blue
Price (Philippines): P5990 (~114 USD)
Realme C1 camera sample photos