realme C11 caught our attention when it first came out a month ago primarily because it was the first Helio G35-powered smartphone in the world. On paper, the C11 was a little under-powered with only 2GB of memory, 32GB of storage and dual cameras. However, there wasn't that much of a competition at the 4,990PHP, price point, which makes it worth considering – especially academic users for whom it is being marketed to.
Enter the realme C15: It follows the same blueprint as the C11, running on Mediatek's entry-level Helio G35 chipset and a similar-looking 6.5-inch form factor, but this time around we get beefed-up components: more memory and storage, better cameras, and longer battery life.
READ: realme C15 first impressions: 6,000 mAh of sexiness! [review]
For a shorter read, you can check out our first impressions review with sample photos of the realme C15, or keep reading for our full review of the realme C15.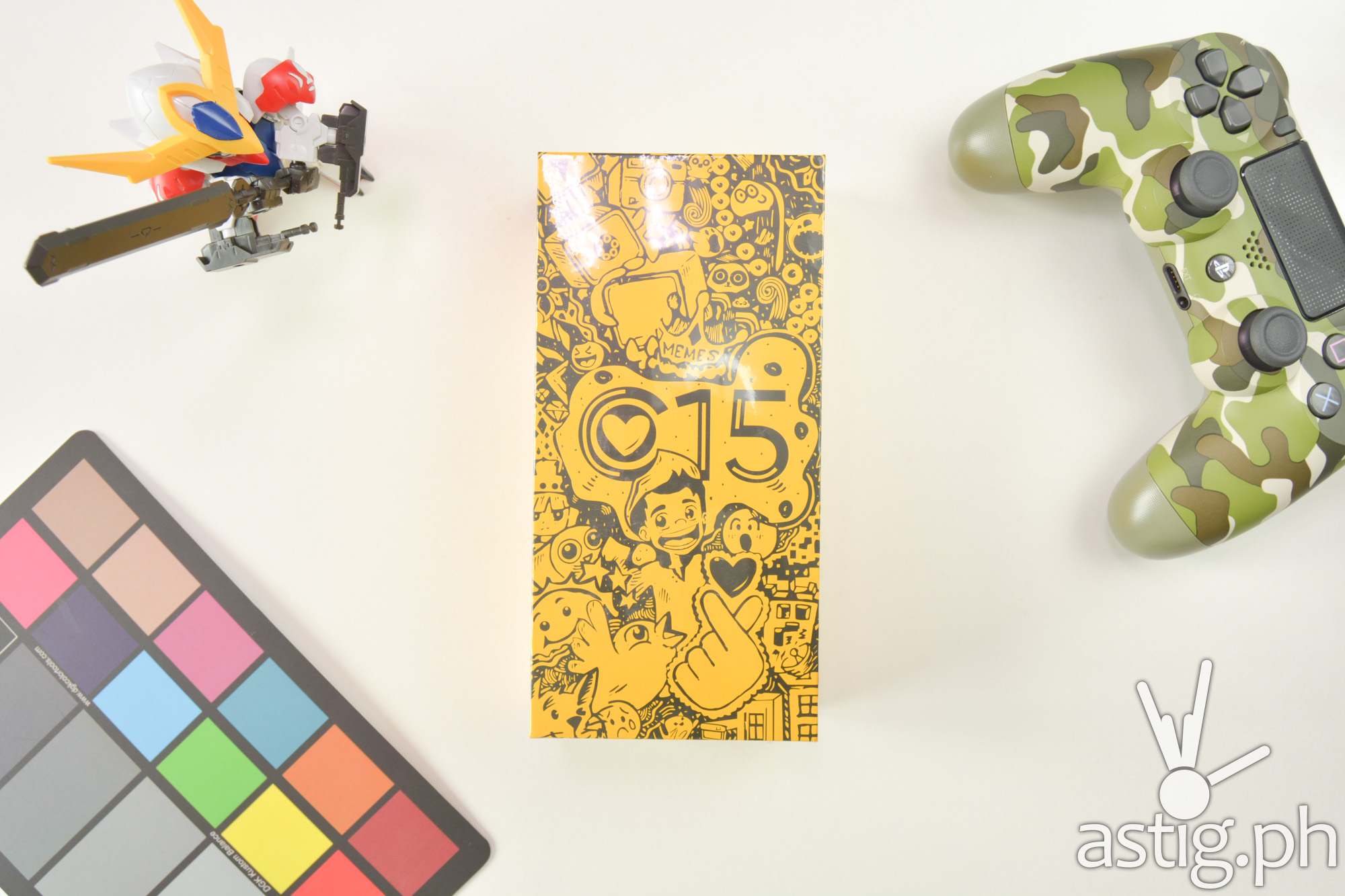 realme C15 specs snapshot
Display: 6.5″; 720 x 1560 pixels; IPS LCD

OS + UX: Android 10 (Q), realmeUI 1.0

CPU + GPU:  Octa-core 2.3GHz MediaTek Helio G35 + PowerVR GE8320

Memory + storage: 3GB+64GB, 4GB+64GB

Camera: quad 

13MP (wide) + 8MP (ultrawide) + 2MP (mono) + 2MP f/2.4 (depth), 8MP (selfie)

Battery: 6,000 mAh; 18W (microUSB)

Price: 6,490 PHP (3GB+64GB), 6,990 PHP (4GB+64GB)
Build quality, display
realme C15 follows the pattern set by the realme 5i, with a small update: on the front, we get the usual 6.5-inch HD screen with the "mini drop" notch, while the back is covered by a textured, fingerprint-resistant plastic chassis.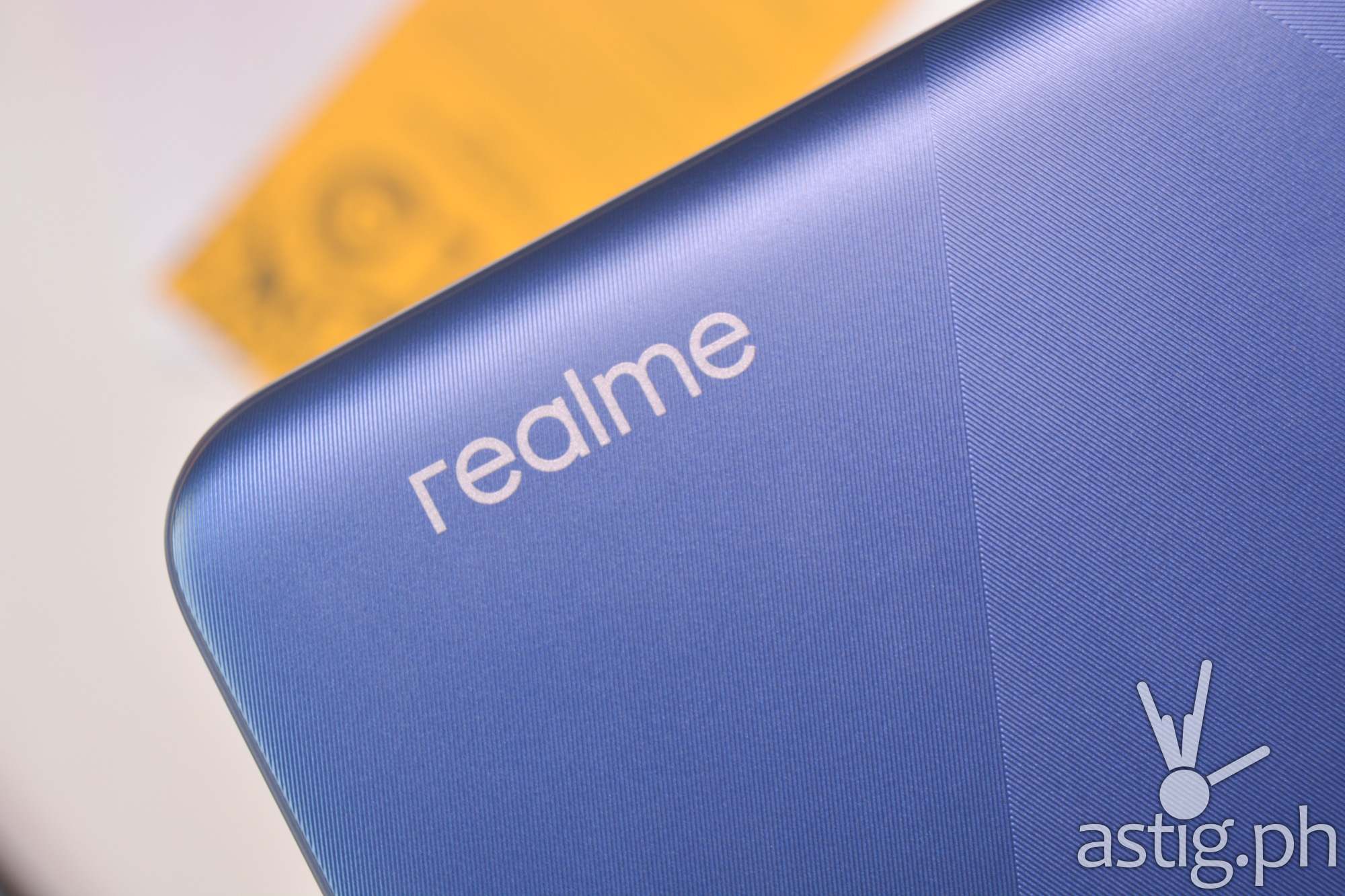 However, instead of the "sunrise" pattern that we've seen in the realme 5i and the realme C3, we now get a nice, curved pattern. More notably, the usual vertical camera array has been replaced by a trendy square camera block similar to the iPhone 11.
In real life, the realme C15 is one sexy-looking phone. There's something very calming about our Marine Blue-colored unit – perhaps it's has to do with how the curves on its fingerprint-resistant back catches light.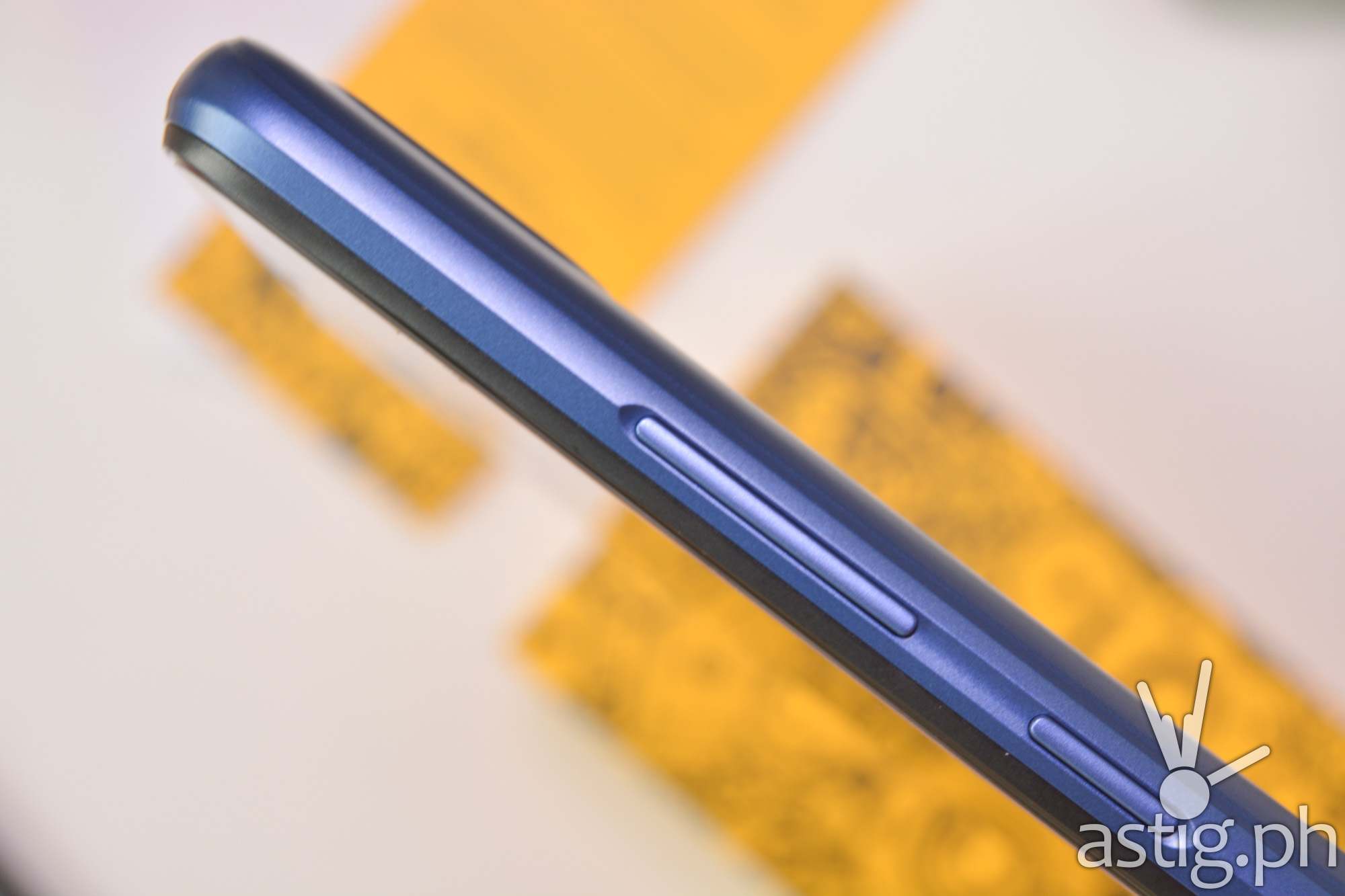 While I'm glad that we've finally moved on from the "glass is premium" fad that has no doubt resulted in many fingerprint-smudged phones and shattered backs, I'm not quite sure how I feel about the square camera bump.
There are those who say it's ugly, and personally I feel it emphasizes the camera too much – like, it just SCREAMS "hello, big-ass camera here!" I guess if that's you're going for, then congrats, you've succeeded.
While we're at it, why don't we fill the entire upper half of the phone's rear with cameras? Or better yet, just cover the entire back with cameras?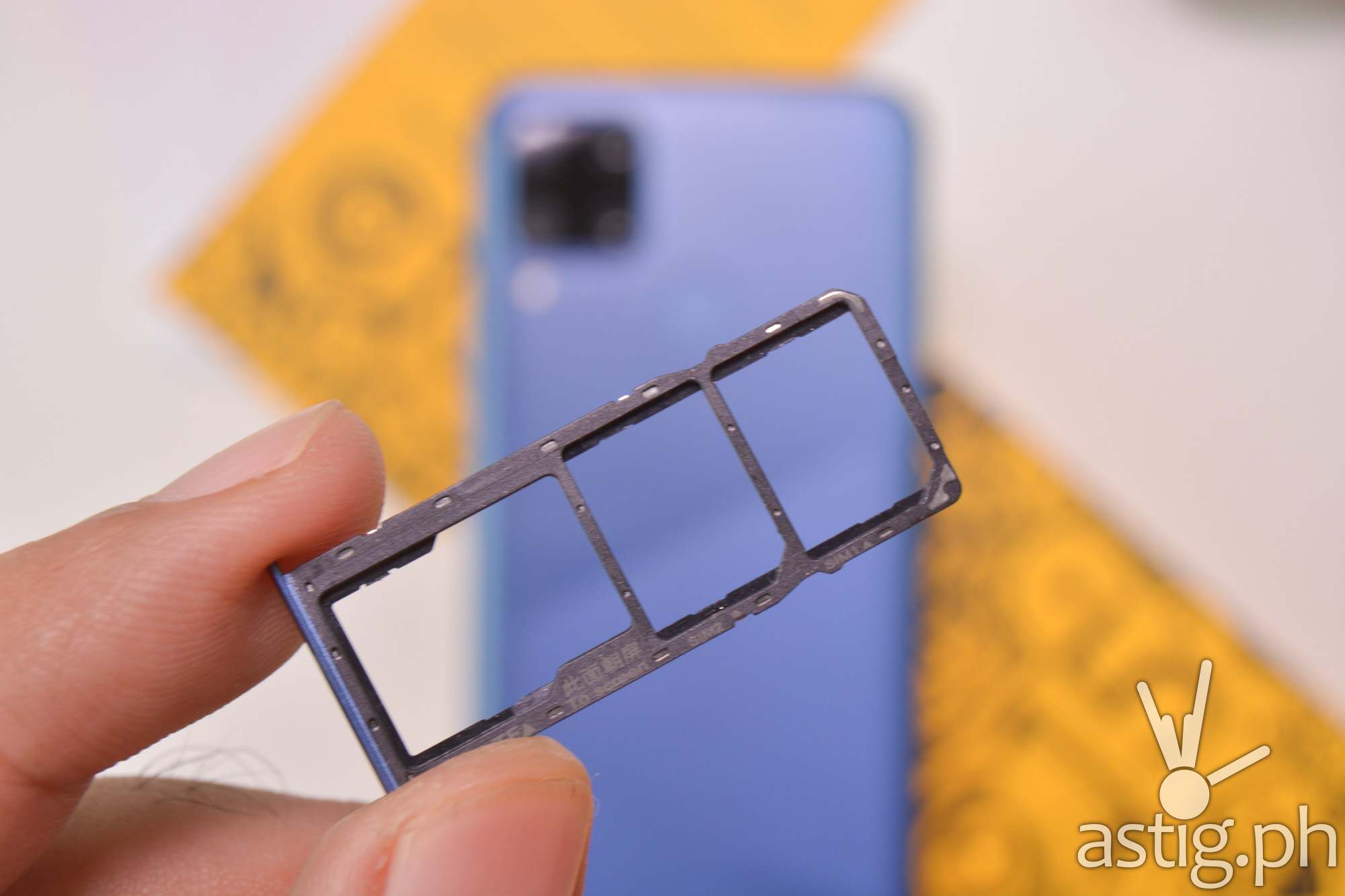 I'm exaggerating, but I hope you get my point.
Personally, I feel that the camera should be as discreet as possible, and I definitely dislike camera humps.
If I had to chose between this and the vertical camera, I feel that the vertical arrangement is cleaner, but I don't feel too strongly against the square one since we'll be getting a hump anyway.
There's nothing too exciting about the display – it appears to be your standard 6.5-inch "mini drop" display. It doesn't support any HDR standards (i.e. HDR10), and refresh rate is the standard 60Hz – sorry guys, no high refresh rate on the realme C15.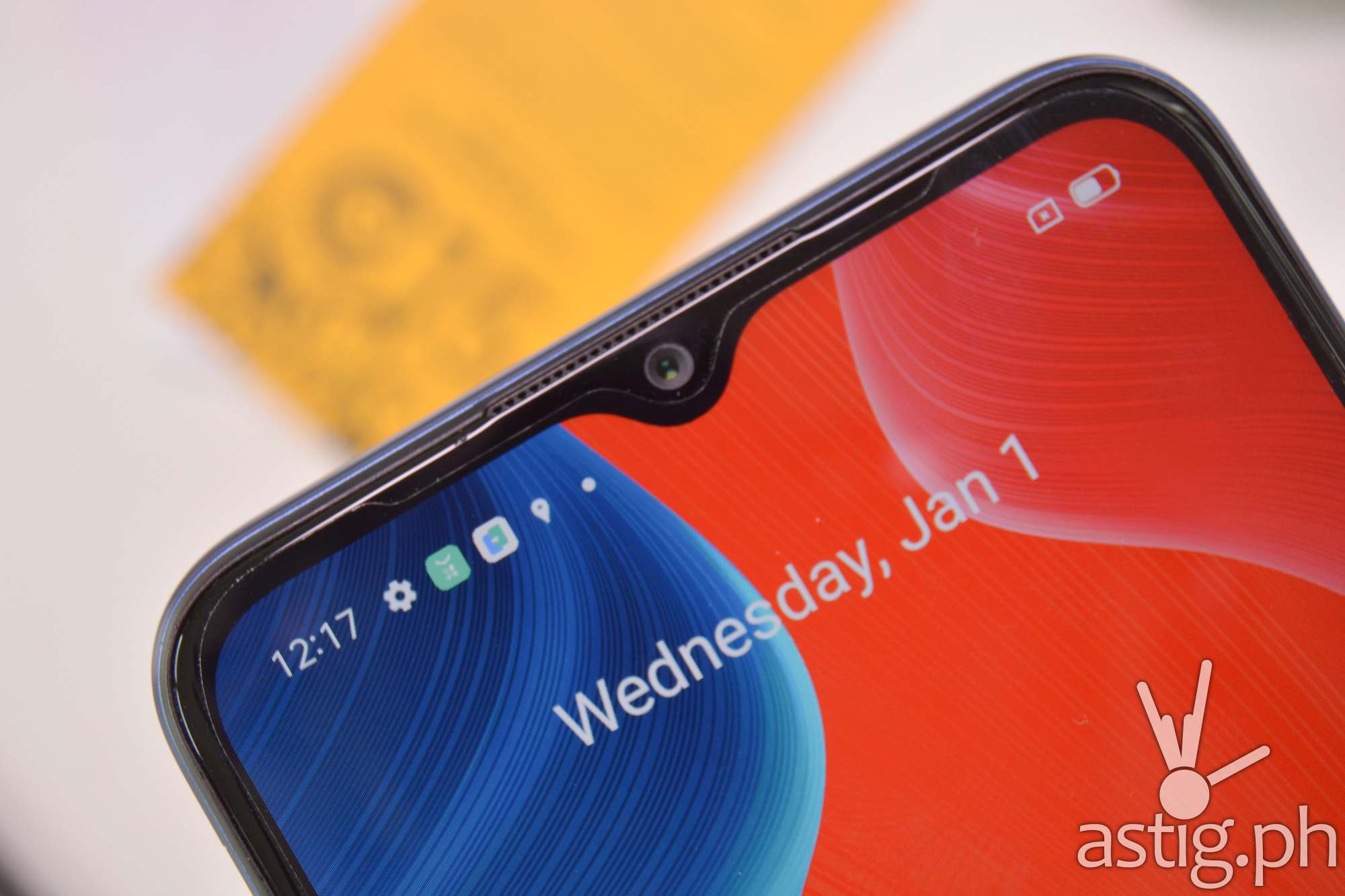 I did notice a bit of bleeding on the edges of the IPS LCD display panel, which is something I haven't seen in a realme phone since the realme 3.
Did realme change LCD suppliers? Perhaps it's a cost-saving measure to keep the price of the realme C15 down?
Speaking of cost-saving, the phone comes with a MicroUSB port for I/O and power delivery, which some may find to be a bit of a let-down. While USB Type-C would have been a nice addition, I completely understand the decision to stick to MicroUSB.
USB Type-C is exponentially more expensive to implement, so we shouldn't be surprised if budget phones like the realme C15 come with the more cost-effective MicroUSB.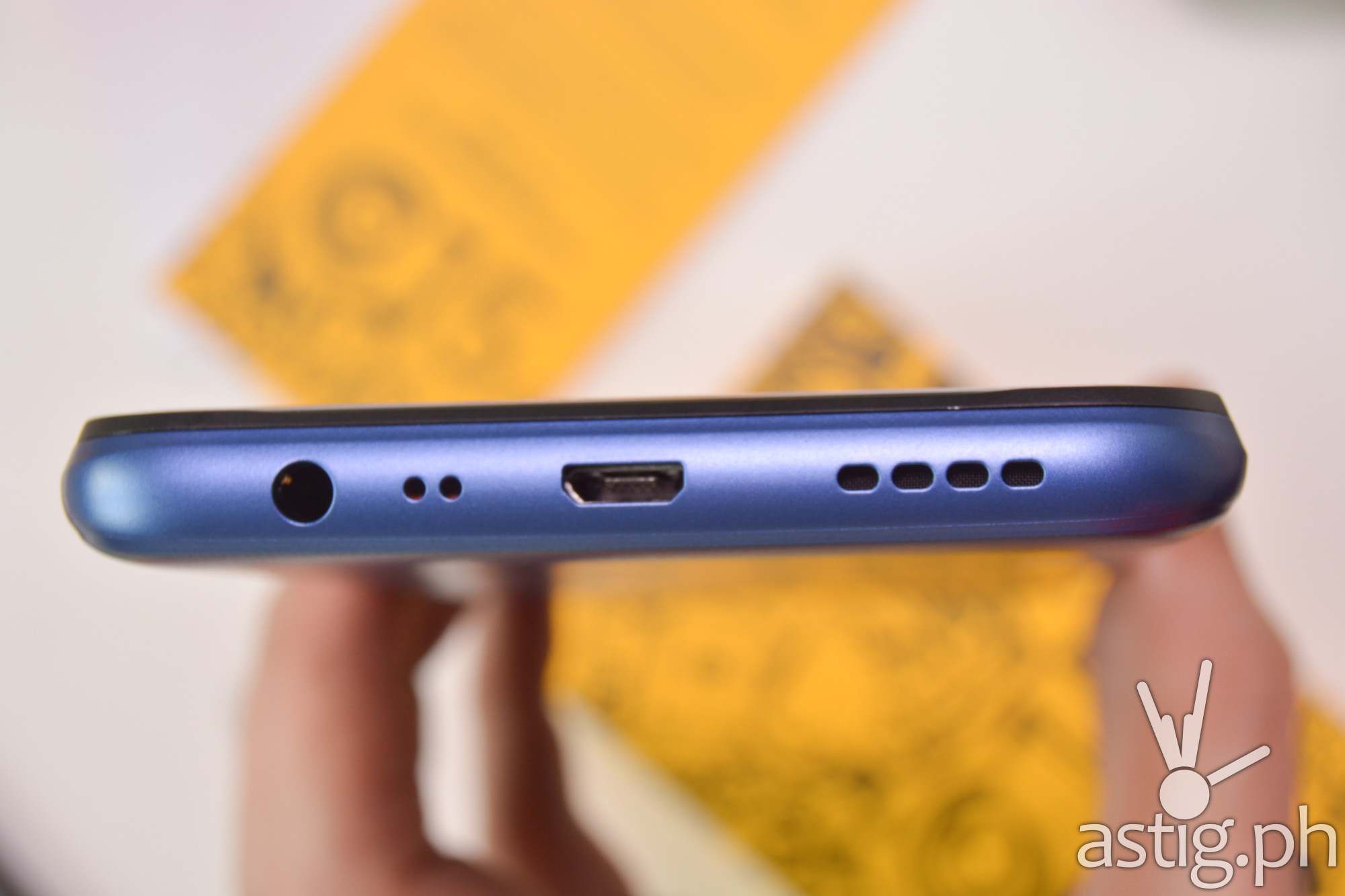 Apart from this, we get the usual value-added goodies that make any realme phone worth getting: Gorilla Glass and a built-in screen protector, dedicated dual SIM and expansion card slots, a rear fingerprint scanner, and an audio jack.
The package doesn't come with a silicone case, and it doesn't need one – unless you drop the phone face-first on solid concrete, you probably won't get anything more than minor dings and scratches with the the fingerprint-resistant plastic back.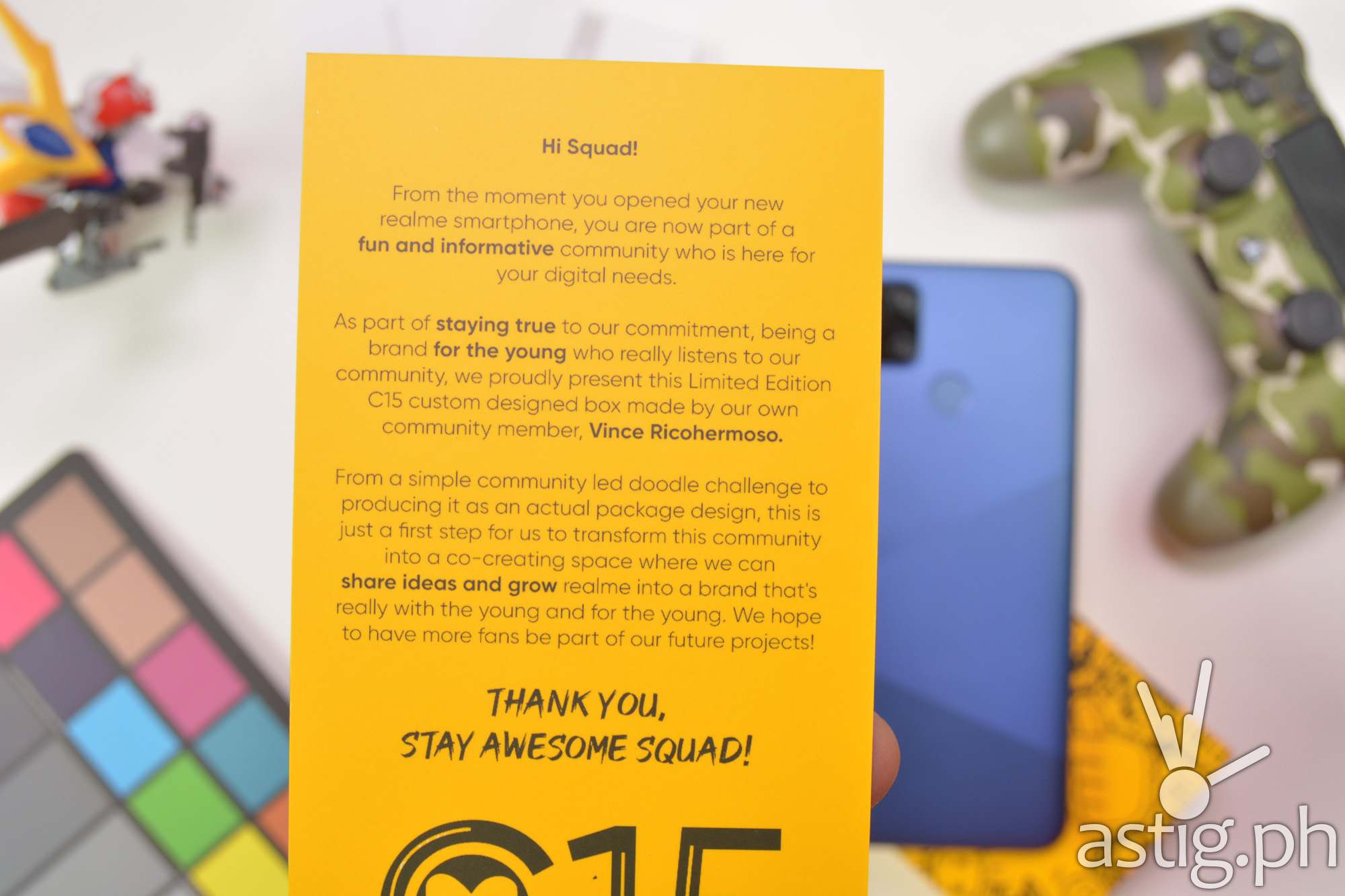 As an added bonus, there's this limited-edition box featuring artwork by Vince Ricohermoso, whose design won the realme community doodle box challenge. It's exclusive to the Philippines, and you can only get it by ordering the 3GB+64GB variant on the official realme store on Lazada.
As we've said time and again, it's these little things that make the brand and endear it to the community.
Application performance, benchmarks
realme C15 runs on Helio G35 platform, which is an entry-level SoC from MediaTek with an octa-core CPU with 4 performance cores clocked at 2.3GHz and 4 efficiency cores clocked at 1.8GHz. It runs Android 10 out of the box with realmeUI.
Our unit came with 3GB of memory and 64GB of storage.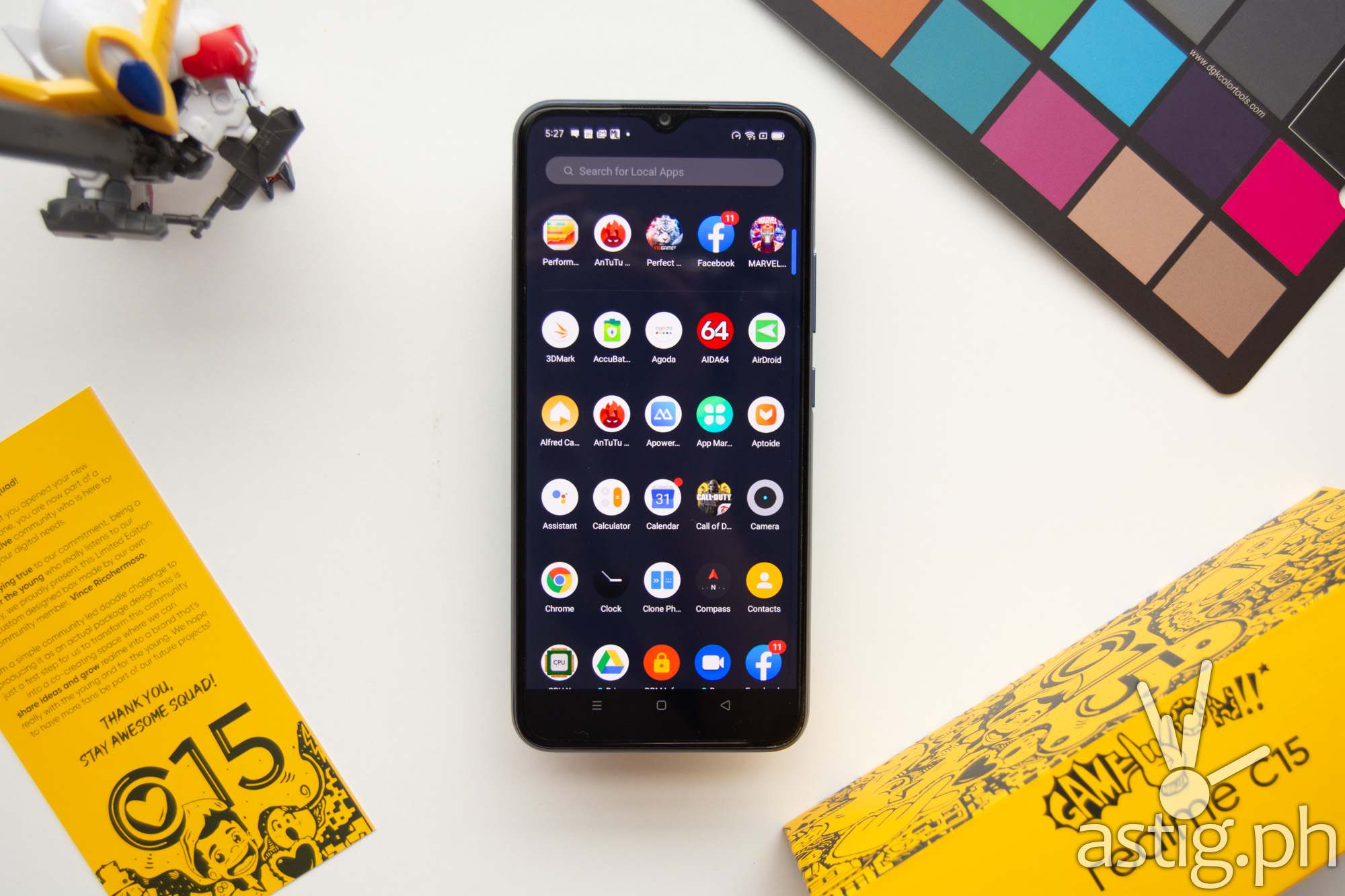 We didn't experience any major issues with it in the one week that we've had the phone, however, overall user experience feels sluggish. We understand that it's an entry-level phone, so those who will be getting the phone probably won't be using it to do any heavy lifting.
We used it mainly for communication, browsing, and social media, which I'm guessing is what most of us are going to be using it for. If you'd like us to try a specific app, feel free send us a message or leave a comment down below.
Synthetic benchmarks reflect the entry-level experience that we were getting. We tried to squeeze more points by setting the phone on High Performance mode and adding the benchmark applications to the Game Center, but the scores remained around the same range.
Gaming performance
The Helio G-series chipset is supposed to be MediaTek's "gaming" line, albeit the G35 is at at the lower end of that spectrum.
In our view, for a phone to be viable for gaming, it needs to do a steady 60FPS with low graphics settings on any modern game running on the Unity or Unreal game engine.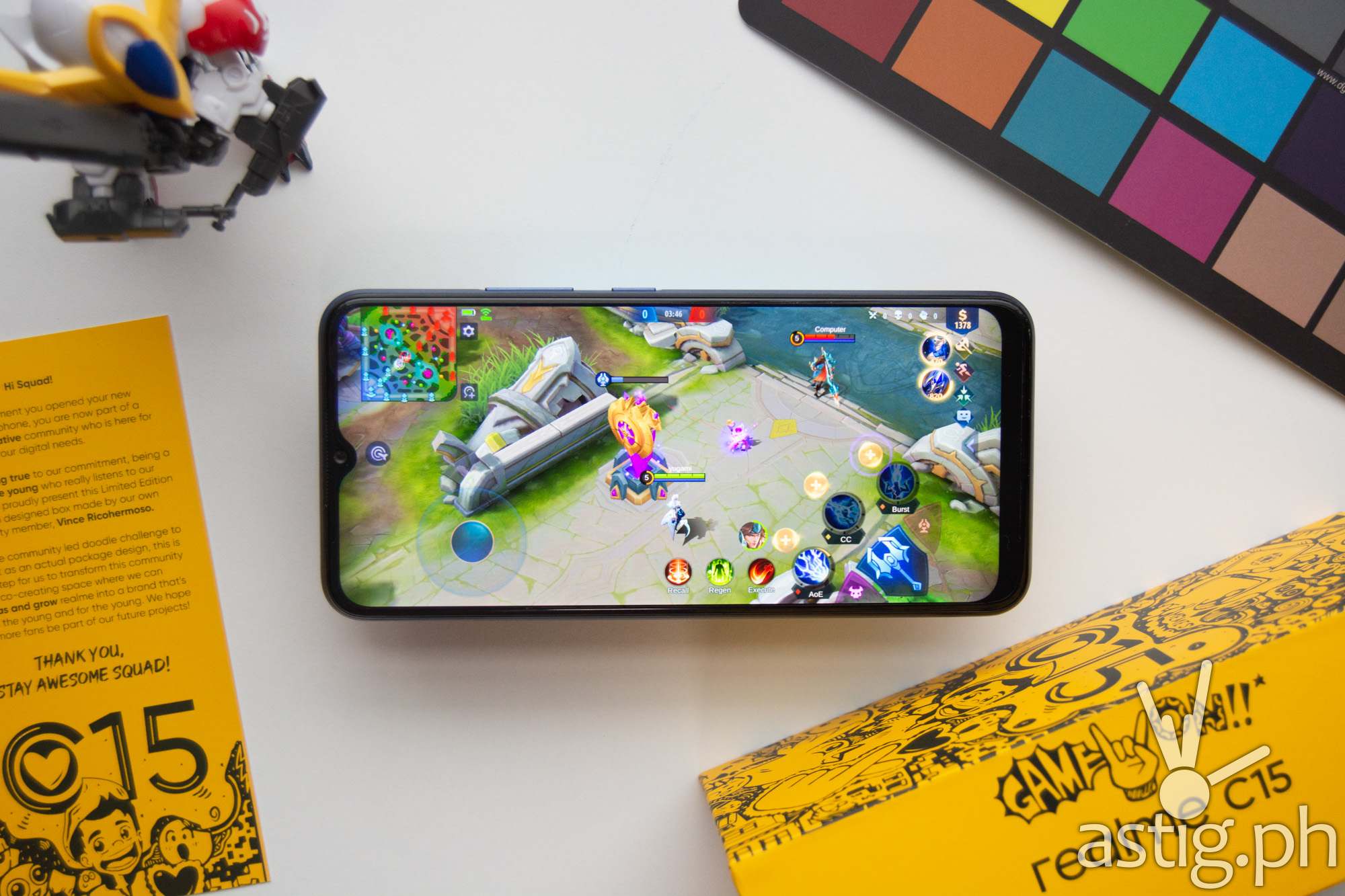 So we fired up our standard reference games expecting to get a smooth 60FPS in low settings. We made sure to add them first in the Game Center to ensure the best performance.
On Call of Duty Mobile, the realme C15 managed to stay above 50FPS, even during intense sessions, which isn't too bad at all. The game locks you at low though, so we couldn't try the higher graphics settings even if we wanted to.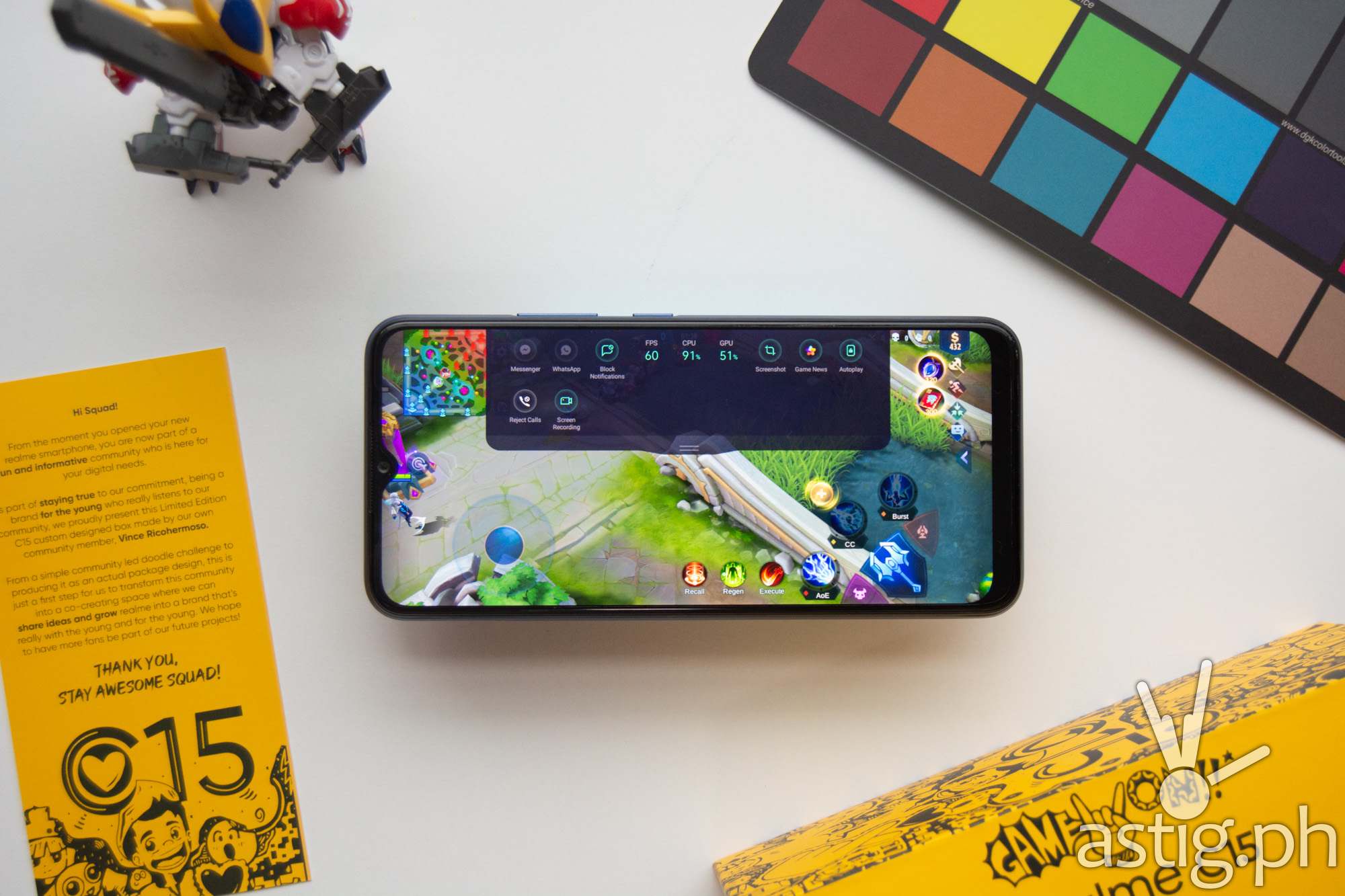 We also averaged around 50FPS in Mobile Legends with HFR and HD mode on, though the game sometimes drops below that when things go crazy. Frame rate stays around 60FPS in training mode though, which is sweet.
On Marvel Super War, the C15 manages to stay within 30FPS at the highest setting. While it is capable of pushing above that if we drop down to medium, thermal throttling starts to kick in, which automatically turns off high frame rate mode. While the game can do 50FPS at the lowest settings, it still drops to around 30FPS during clashes.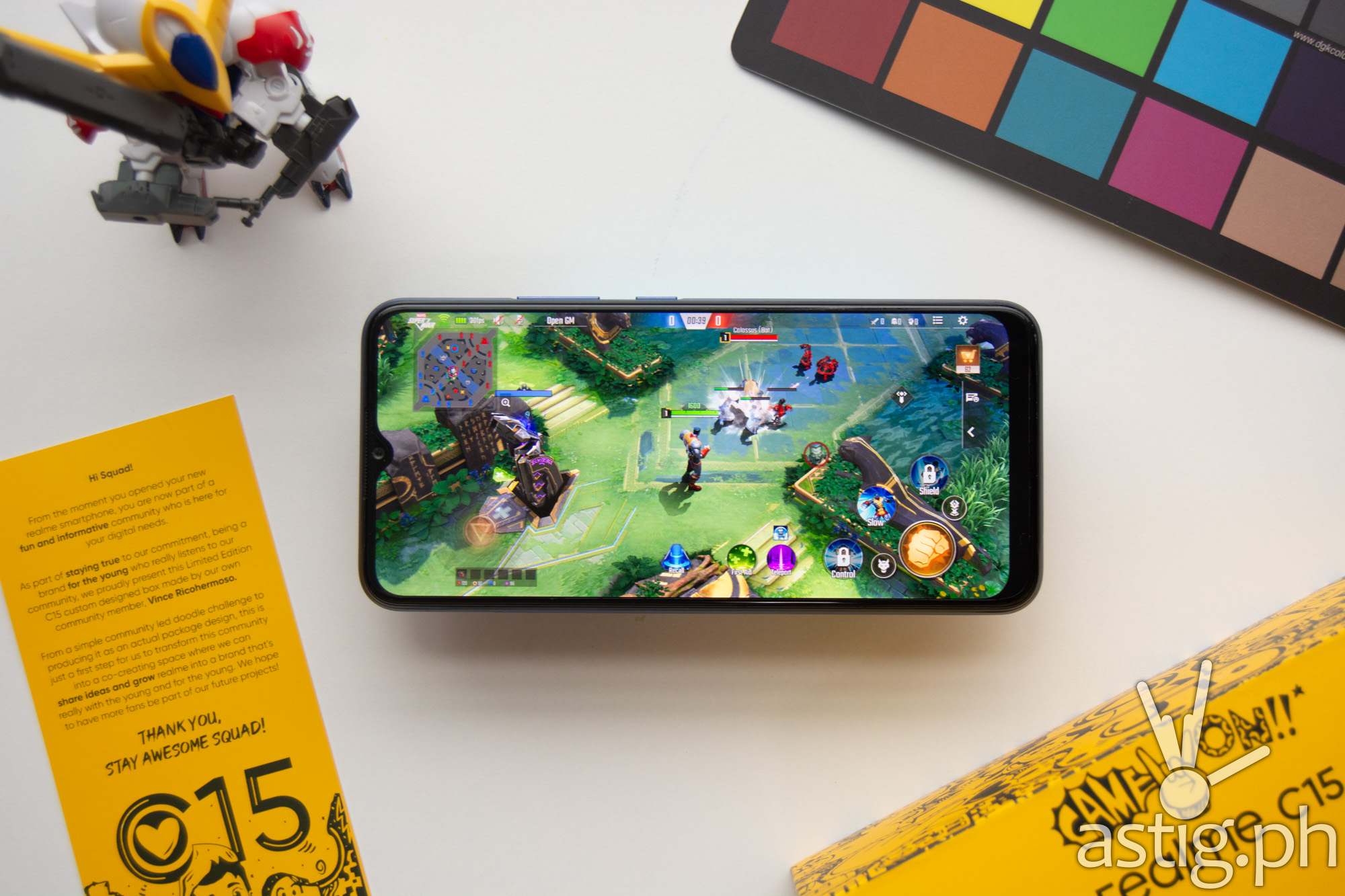 We were hoping that the Helio G35 can manage to stay cool, however, just like the Helio G70 and the Helio G85, it heats up quite a bit after some time, and you can physically feel it. This happens even when the GPU stays below 50%.
If anything, our real concern gaming on realme C15 is the amount of stuttering in the UI, as well as the painfully long loading screens in between games. We suspect this is mainly due to the slow internal storage, which bottlenecks the entire system. We always end up being the last to load the game, with everyone finishing way ahead of time.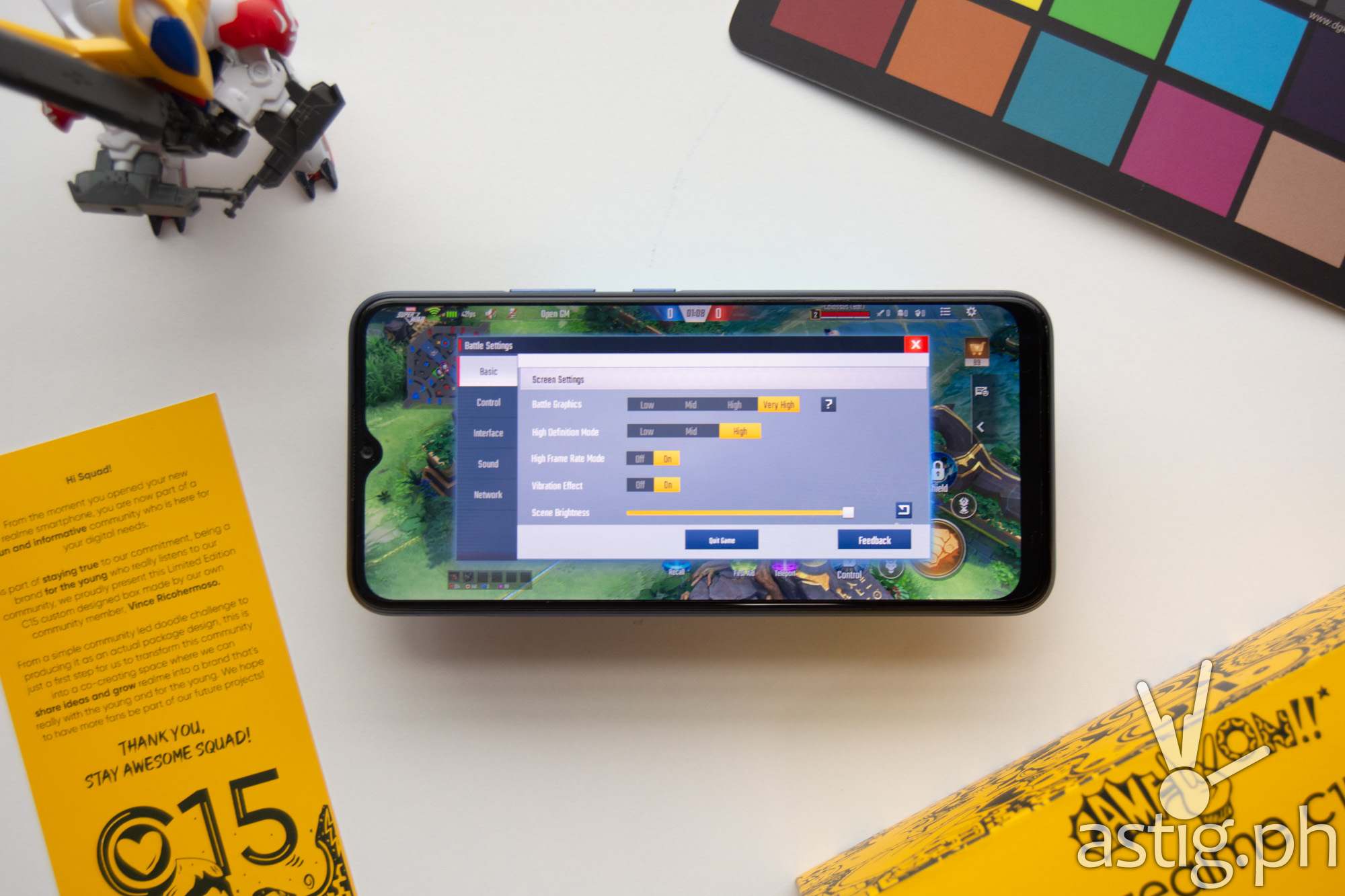 Things are generally smooth sailing once the game is fully loaded.
TIP: Make sure to add and configure your game in the Game Center to get the best gaming performance and experience
Entertainment, sound
realme C15 packs a 6.5-inch HD IPS LCD screen which is great for streaming videos. Unfortunately, Netflix reports that it can only support SD playback, despite having Widevine L3. We can still play 720p videos in YouTube without any issues, which is what we expected.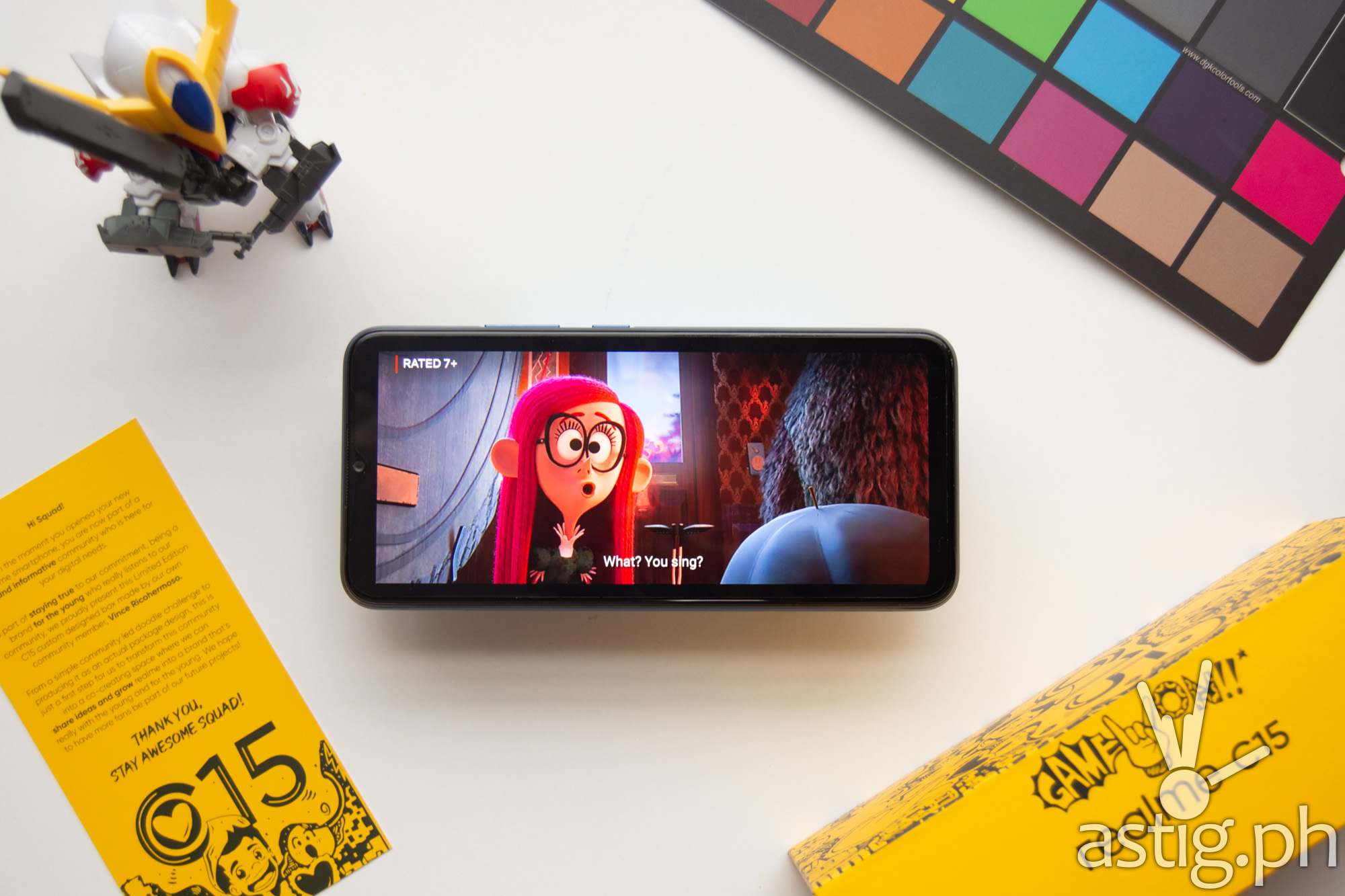 It has a single built-in loud speaker, which does fairly well both indoors and outdoors. It is located at the bottom, so you'll need to hold it a certain way to keep it from being muffled.
For those who are looking for Dolby Atmos or DTS, the C15 doesn't support any audio tuning standards, nor does it support any HDR standards.
Camera
Square cameras are in for 2020, and so the realme C11, C12, and C15 all have this trendy new look. However, only the realme C15 fully maximizes this new layout, having four camera sensors: a 13MP f/2.2 main camera, an 8MP f/2.4 ultrawide camera, a 2MP f/2.4 monochrome camera, and an additional 2MP f/2.4 camera to take depth information and produce more realistic-looking bokeh.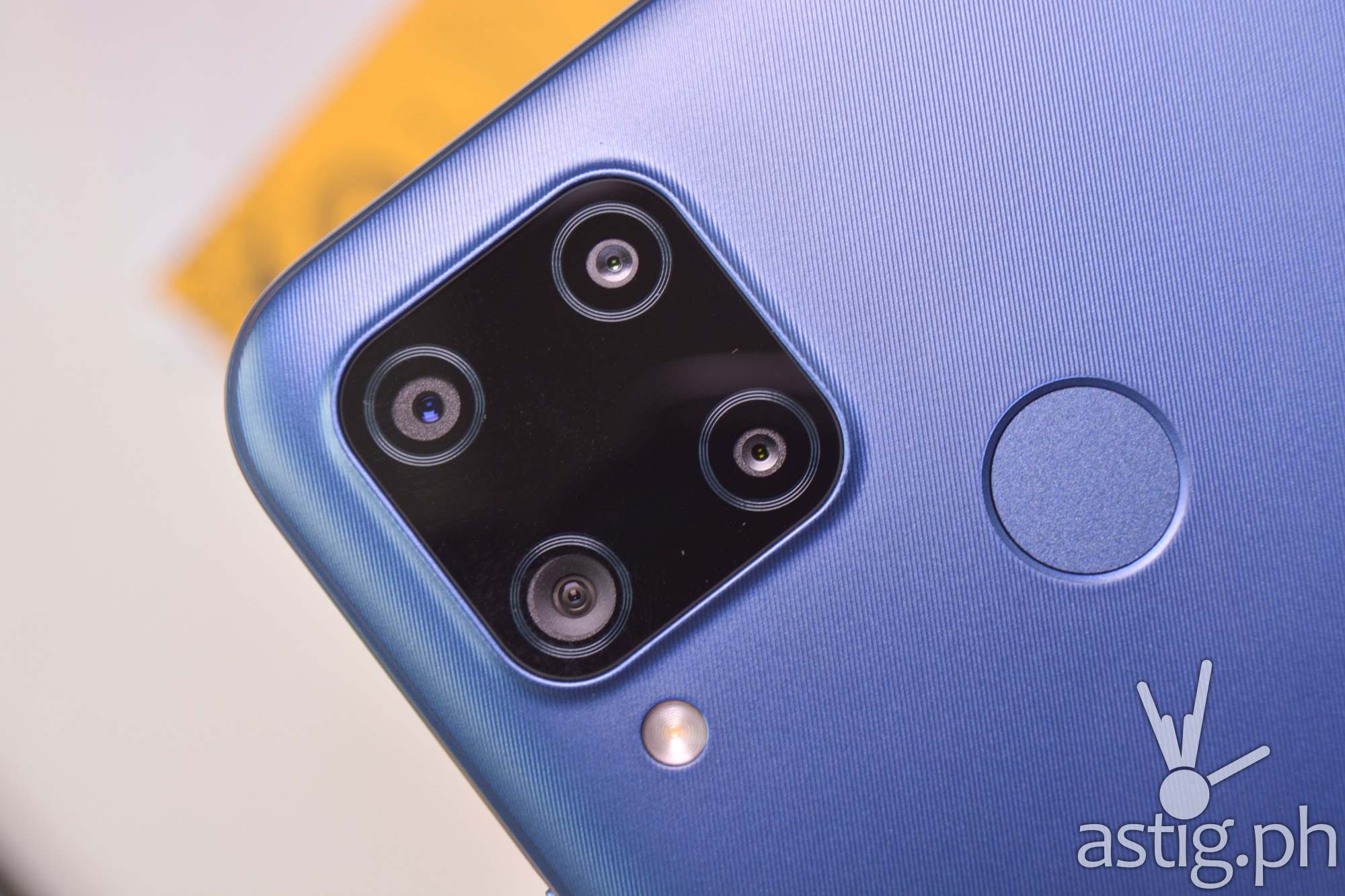 On paper, the 13MP may not be as impressive now that most mid-rangers are running 48MP and 64MP cameras. So we took it for a spin with low expectations and surprisingly, the results were actually quite good. 8 out of 10 shots turn out usable, even those that were taken indoors.
You can only take photos with two focal lengths – the regular, wide-angle lens and the ultrawide lens. Creativity options include HDR, portrait mode, and built-in filters.
Pro Mode is also enabled for the main camera for those who need more fine tuning. There doesn't seem to be an option to switch to the ultrawide sensor while shooting in this mode.
Videos are decent enough for social media use, but you can only shoot with the main 13MP lens. It would have been nice to have the option to capture videos with the ultrawide lens, too.
Battery life
The realme C15 comes with a 6,000 mAh battery which, when paired with the power-efficient Helio G35 SoC and tweaks on the operating system level, can produce outstanding results.
Our battery monitors tell us that the phone has a total battery life of around 3-4 days for combined use with screen on time ranging from 7 to 11 hours, which isn't too hard to believe. We easily got at least two days on a single full charge running in full performance mode without any power saving tweaks. We also disabled any standby optimizations, so we're confident we can stretch it even further by tweaking the system.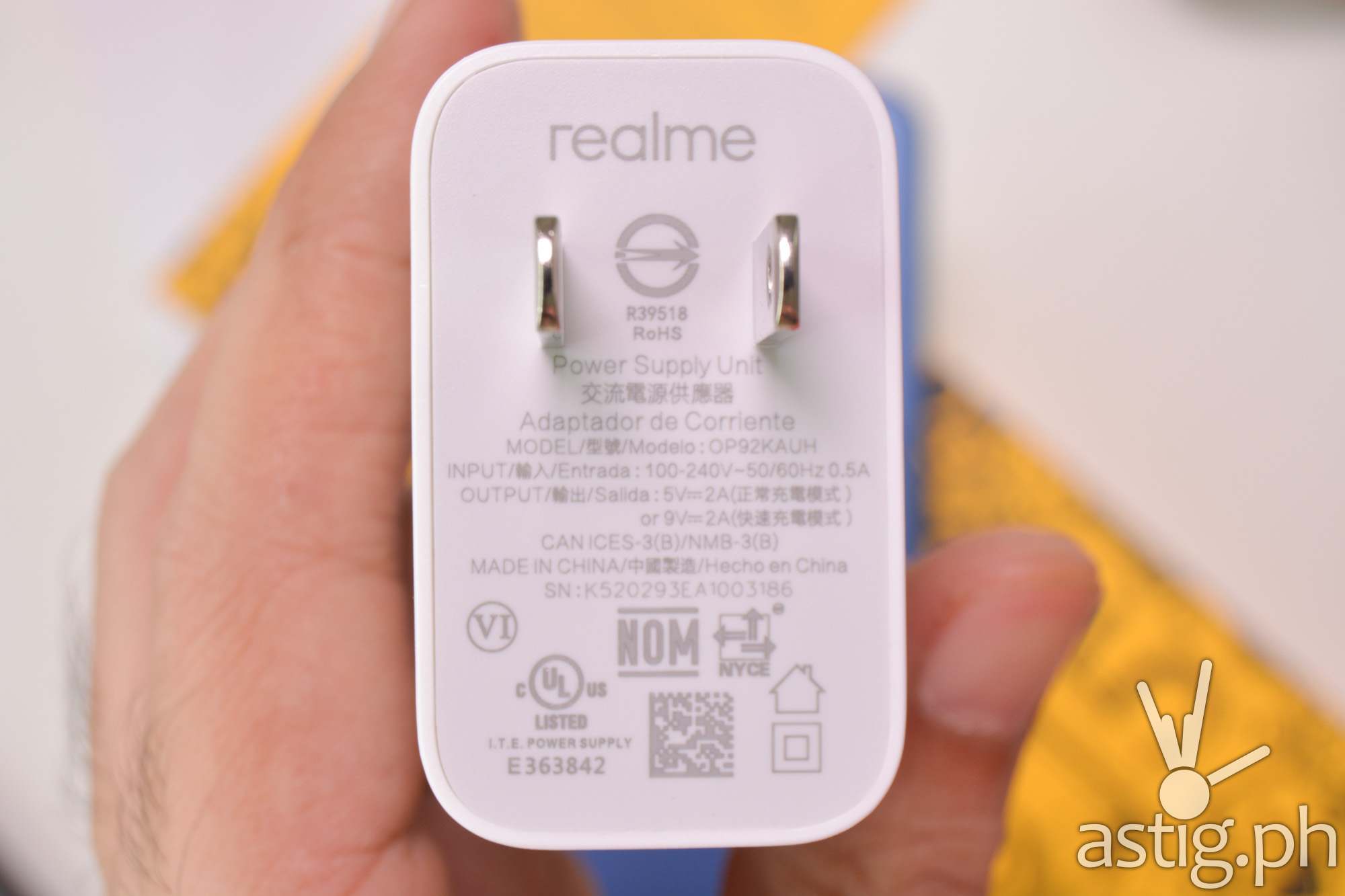 At one point, we even got 17h 56m total battery life in PCMark 2.0 which is insane.
realme is quite confident in their product that they actually streamed a video of the phone running for at least 24 hours straight in preparation for the launch. The stream started around 6PM on August 19, and was still running 24 hours later.
It's a bold marketing move, and one that showcases the phone's battery life quite well.
Benchmark results
Performance benchmarks:
AnTuTu: 111489
PCMark Work 2.0: 5928
PassMark: 3791 (system); 10452 (CPU); 7192 (memory); 29487 (disk); 11777 (2D graphics); 4243 (3D graphics)
GeekBench: 185 (single-core); 994 (multi-core)
Gaming benchmarks:
3DMark Sling Shot Extreme: 468 (OpenGL); 615 (Vulkan)
Battery benchmarks:
AccuBattery: 10h 52m (screen on); 531h 29m (screen off); 92h 13m (combined use)
GSam: 3d 6.1h (17h 25m active); 7h 5m (screen on); 1h 40m (screen on max)
PCMark Work 2.0 battery life: 17h 56m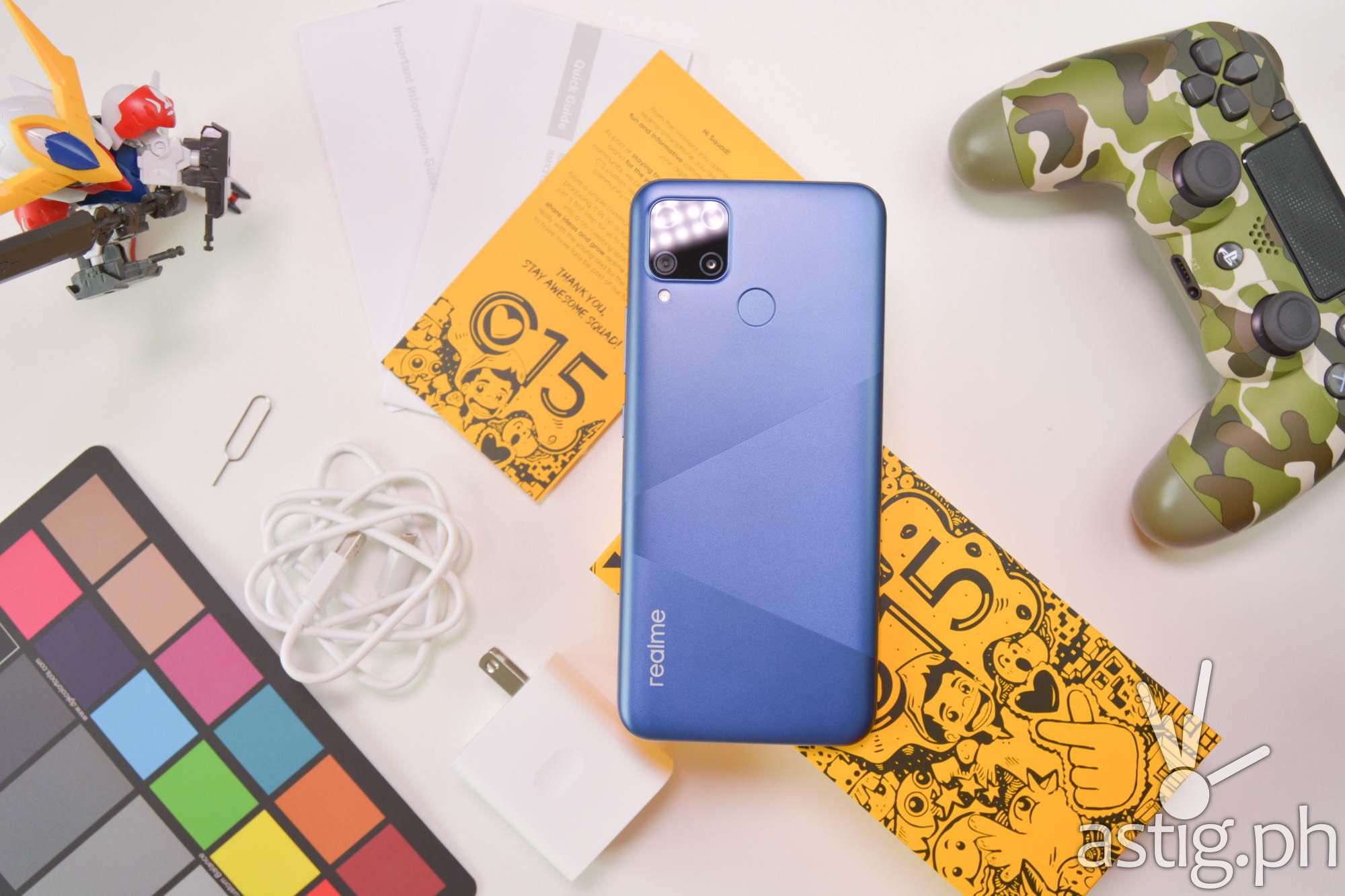 Verdict, price
With the realme C15, we have a combination of high battery capacity, power-efficient chipset, and system-level optimizations that make it a strong contender for best battery life in 2020.
It also comes in a trendy package – the combination of the fingerprint-resistant pattern and the square camera block provides a visual refresh to an otherwise stagnating design.
We do have performance concerns, though we understand that trade-offs needed to be made in order to maintain a low price point.
For those who are willing to overlook the performance difference, the realme C15 offers good value in the 6,500-7000 peso price range.
Pros

Excellent battery life
Decent camera
Good value for money compared to other phones in the same price segment

Cons

Occasional stuttering in applications and games
Can only stream Netflix videos in SD (standard definition) mode
realme C15 technical specifications (Philippines)
Display: 6.5 inches; 720 x 1560 pixels; IPS LCD; Gorilla Glass
SIM: Dual SIM (nano-SIM, dedicated slots)
OS Android 10 (Q); realmeUI 1.0
Chipset (SoC): MediaTek Helio G35 (12nm)
CPU: Octa-core 2.3 GHz Cortex-A53
GPU: PowerVR GE8320
Memory (RAM) + internal storage: 3GB+64GB, 4GB+64GB
Expansion: microSD (dedicated slot)
Main camera (rear): 13MP f/2.2 (wide) + 8MP f/2.3 (ultrawide) + 2MP f/2.4 (monochrome) + 2MP f/2.4
Selfie camera (front): 8MP f/2.0 (wide)
Connectivity: 2.4/5 GHz Wi-Fi 802.11 b/g/n; Bluetooth 5.0 A2DP aptX
I/O: microUSB 2.0; 3.5mm audio jack
Biometrics: rear fingerprint sensor
Battery: 6,000 mAh; 18W (supports reverse charging)
Colors: Marine Blue, Seagull Silver
Price (Philippines): 6,490 PHP (3GB+64GB), 6,990 PHP (4GB+64GB)