MANILA, Philippines – As Roeder Camanag celebrates his 27th year as an actor, he will embark on the most challenging role as the sublime paralytic in Dulaang UP's Ang Huling Lagda ni Apolinario Mabini.
After essaying the roles of Andres Bonifacio, Emilio Aguinaldo and Jose Rizal, let us all send our best of cheers to Roeder for this monumental role of his lifetime.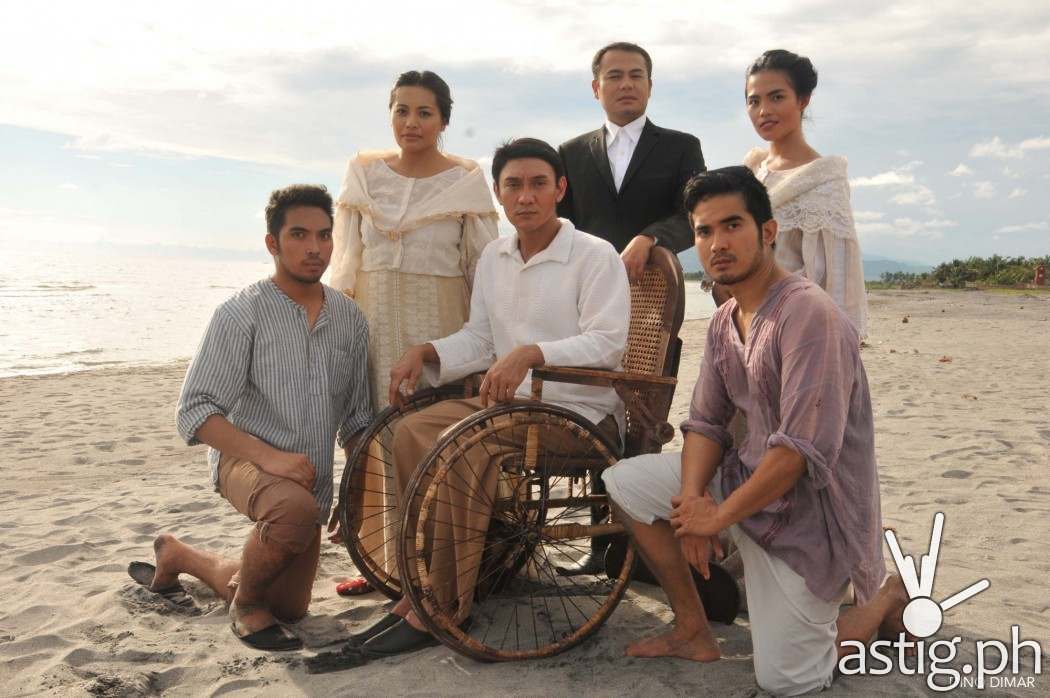 Director/choreographer DEXTER MARTINEZ SANTOS on ROEDER
Back in 2000, I met Roeder in "Luna:An Aswang Romance." . I was a theater student who was part of the cast. I could still remember how he effortlessly performed a monologue as he weaved himself from one suspended bamboo to the next. No complaints. No inhibitions.
Eight years after, the late Bong Embile was supposed to play Boulasem in Dulaang UP's "Orosman at Zafira." Two weeks before the opening, Bong had to leave due to health reasons. Roeder came in to the rescue. He came to rehearsals prepared. He has memorized his lines and was very eager to learn the complicated choreography. He didn't just master the combinations, he was able to infuse his strong dance background in the execution. He personalized it … his movements were precise but charged with character and intention.
He reprised the role in 2010… giving Boulasem with much ease … with a darker temper. Students on the wings watched in awe as the archaic text rolled into his tongue with so much clarity.
For Orosman at Zafira's professional run in 2011 , he took on the challenge to play Abdalap, Boulasem's son. The role required more from him physically and vocally . But as usual , he owned the role. His Abdalap was not only cunning , it was also painful and devastating. He reprised the role in the National Theater Festival in CCP. Up to now, I give him my high respects for being able to successfully portray Abdalap amidst the great demands of the role. The other members of the cast were 20 -10 years younger than him but he was able to deliver.
In 2013 he played the Chinese tycoon , Stephen Yan in DUP's "Collection" with so much wit and restraint . He was also Mang Paco in Bit by Bit's "Maxie the Musicale". He had a hard time learning his song during the music rehearsal but during the staging rehearsals, he had already mastered his songs. Notes on the dot. Nuances were clear. Songs were utterly bitter.
When Floy Quintos told me that he has a Mabini musical, Roeder was the only and first actor that came into my mind. Floy told me that he has already taught of an actor who will play the lead role. I was very afraid that he might be thinking of somebody else but to our surprise , we were both eyeing for Roeder .
I still believe that Roeder is one of the most underrated actors in Philippine Theater. "Ang Huling Lagda ng Mabini" is our 7th production together. Finally , a theater production that am directing with Roeds in the lead role. It was/is/will always be a privilege to work with an actor who is disciplined, brilliant but very humble. He is an actor who listens. He is an actor who is willing to experiment and saturate possibilities. He is an actor who successfully owns every role because he works hard for it.
Roeder is a gift to every director. You tell him what you want and he gives you more than what you want … impeccably.
Director/actor/writer DENNIS MARASIGAN on ROEDER
I have worked with Roeder in theater and film, and that is largely because he is one of the most dependable and talented actors the country has today. Coupled with his talent is the passion to always push himself beyond his comfort zone, such that he disappears completely into his roles. His American Robert in "Pilipinas Circa 1907" (2007) and Chinese Filipino Errol in the film "Vox Populi" (2010) are just some examples of his acclaimed performances.
Playwright/director/actor RODY VERA on ROEDER
Walang kiyemeng maghubad sa Virgin Labfest. (may following na siya hahaha) first time sa dinirek kong play "Three Unsent Letters"– no problem kahit nangangatog siya sa loob ng tub filled with water and rose petals floating at the top. Ang mga bakla sa audience wanted the balcony seats so they can see from top view !
And so I guess when he did it again this time for an Indonesian play "Threesome" — wala na lalong kiyeme. full frontal kung full frontal. Gow!
Roeder is such a loveable friend backstage– sa "Stageshow" at sa "Apples from the Desert." We're always dressing roommates. He will have his iPod packed with songs by Rosemarie Clooney or Bette Midler and will bring along a biography of one of those theater moguls/celebrities on Broadway or Hollywood. And he would talk endlessly about so many things, while putting on his makeup.
And then he would give me tips on how to put on makeup, what makeup items to buy. Will suggest color, shade of foundation.
But always with a smile, it's all part of his day. Di ko alam kung professional yun o he just really loves doing it, or accepted that it's really part of the life he's living.
I think it's more of a calling, than just being professional.
Actress MAE PANER on ROEDER
Ewan ko pero may feeling ako na Roeder is so much more than the roles and recognition given him thus far. Sa dalawang play na pinagsamahan namin, ang "Insiang" at "Stageshow", hindi lang husay sa pag arte, pag awit at pag sayaw ang bilib ko kay Roeder kundi pati ang kawalan ng DIVAness.
Sa "Insiang" may eksenang lumakad lang siya ng dalawang minuto sa iskwater bilang shoke pero dalawang oras ata nya itong pinaghahandahan tuwing show.
At sa parehong play machong basketball player din sya.
At walang bahid ng isa ang isa pa. Husay!
Sa "Stageshow" naman ay bida sya – ibang level ang requirement nun sa acting, singing at dancing bukod pa sa energy pero 101% ang binigay nya sa lahat.
Minsan, para sa thesis ng mga estudyante napalaklak siya ng tunay na gamot at isinugod nya sarili nya sa ospital. After, wala syang bitterness.
Happy to serve lang.
Kung bading nga ako liligawan ko si Roeder eh, at iibigin ng wagas!
Actress LIESL BATUCAN on ROEDER
I love Roeder! I fondly call him my Sweetie. He is such an angel in my life.
He is truly kind, loving, generous, thoughtful, funny and incredibly sweet —
a true gem of a friend. As an actor/singer/dancer, he is the total package — immensely gifted, completely professional, highly intuitive and very collaborative — making him sheer joy to work with. My experience of working with him in TP's "Stageshow" at the CCP was nothing short of magical.
Ang Huling Lagda ni Apolinario Mabini
Book & Lyrics: Floy Quintos
Original Music: Krina Krina Punsalan Cayabyab
Direction & Choreography: Dexter Martinez Santos
October 1 to 19, 2014
Wilfrido Ma. Guerrero Theater, 2nd floor Palma Hall, University of the Philippines Diliman.
For tickets, sponsorships and show buying inquiries, call Camille Hizon Guevara 0917-823-9531, 926-1349, 433-7840, 981-8500 local 2449 or email dupguevara at gmail.com