Smartphone and gaming are two areas that ASUS does very well. With the former, we have the ZenFone line of Android phones. With the latter, we have the Republic of Gamers (ROG) brand of PC gaming components and accessories.
So with the rising popularity of mobile gaming, it only makes sense for the Taiwanese electronics giant to play on their strengths and marry the two.
Thus, the ROG Phone is born.
Hinted back in April and unveiled in June, it won't be the first gaming phone to hit the market, the Razer Phone and Xiaomi Black Shark have been out for some time now.
By the time it launches in the Philippines on October 28, the ROG Phone will be going up against second-generation models – the Razer Phone 2 and the Xiaomi Black Shark Helo.
Is the ROG Phone worth the long wait? Let's check the relevant specs before heading onto our review.
ROG Phone key specs:
Display: 6″ 2160×1080 OLED, 90Hz refresh rate, 1ms response time
CPU: Speed-binned 2.96 GHz Snapdragon 845
GPU: Adreno 630
Memory / storage: 8GB RAM, 128 / 512 GB ROM
Features: dual front-firing speakers, 24-bit/192kHz DAC, AirTriggers
Build quality and design
The entire aesthetic of the ROG Phone screams "gaming".
From the glowing LED-backlit ROG logo to the bold, asymmetric mix of glass and exposed metal, the ROG Phone is undeniably one of most interesting looking smartphones you can get your hands on.
Yes, there are those who are not too fond of the over-the-top industrial "gamer" style with flashy RGB lights, but we like it.
Perhaps it's because we've gotten so used to seeing shiny glass-and-metal backs and notch screens by now that anything else would be a welcome break from the usual pattern.
It's not like we're breaking the mold just for the sake of it. There's a reason for the ROG Phone's unusual aesthetic – the rear vent exposes part of the phone's unique cooling system, which includes a 3D vapor-chamber and an unusually large – and by that we mean, up to 16 times large – heat spreader.
ASUS claims that this gives up to 47% improved cooling efficiency and 5x longer peak endurance compared to the standard layout. This is before we even consider the Aeroactive Cooler, an external fan attachment that provides additional cooling which may result in extra performance.
Speaking of attachments, the ROG phone has not just one or two but three USB Type-C ports! The bottom port is used for charging and data transfer, while the two custom side-mounted ports let you connect attachments such as an external fan called the Aeroactive Cooler, a second screen called the TwinView Dock, or a console-style GameVice controller.
ASUS provides two silicone covers that can be fitted onto the twin ports to protect it from moisture and dust.
The enclosure is IPX4 certified, which translates to basic splash resistance. We never expected full water and proofing a la IP67 or IP68 given the amount of ventilation and I/O ports present. But hey, some amount of protection is better than none.
That's not all. Looking at the opposite edge we find two ultrasonic AirTriggers which function as extra mappable buttons similar to the LR triggers found in console game controllers. This works really well for games like PUBG where you need to use both fingers to navigate and look around the screen, the triggers can be mapped to fire and zoom.
This allows you you to perform a strafe-fire maneuver that would otherwise be difficult without an aftermarket attachment.
For security, ROG Phone supports face unlock in addition to a rear-mounted fingerprint sensor. It is placed a little higher than usual since most of the back is occupied by the RGB LED-lid ROG logo.
Ideal location would to put the fingerprint sensor inside the logo, if that were possible. Otherwise, it would have been nice to have it a little lower.
Display
Display can make or break your gaming experience, and ASUS knows this. The ROG Phone has a notch-less 6-inch OLED panel running slightly above the standard HD resolution at 2160×1080 pixels.
A higher resolution would have been nice, but on the flip side, higher resolutions would put a hit on GPU performance.
90 Hz seems like an odd choice for a refresh rate. Although higher than the standard 60 Hz, it is is 25% slower than the Razer Phone at 120 Hz. Granted, there are only a handful of games that support higher refresh rates. Still, we can't help but feel short-changed. It's as if we went 90 Hz just so we can say that we have a higher-than-normal refresh rate. We want our gaming phone to have the best gaming display, and that means 120Hz or higher.
It does boast a published response time of only 1ms, which is beastly if true.
Now we have yet to test actual grey to grey (G2G) response times, but the Razer Phone has been demonstrated to achieve a G2G response time of 30ms.
It is also worth noting that the response times of flagship compact gaming laptops like the ROG Zephyrus S and the MSI GS65 Stealth Thin don't even go that low, rated at only 3ms and 7ms, respectively. It also comes with HDR support,  which is nice to have.
Audio
ASUS puts the top and bottom bezel to good use by putting a front-firing speaker on each side. Both speakers are amplified, resulting in true stereo sound in landscape mode.
At peak volume levels it is not just loud, but also crisp and clear. Of course, dynamic range is still within the limits of what can be considered good for its size, but I can't complain – the quality is still one of the best we've heard on a smartphone so far.
For a more immersive experience, you can always connect external speakers or a headphone onto the 3.5mm audio jack. If you have a Bluetooth aptX-enabled wireless headset, you'll be happy to know that the ROG Phone supports this relatively new audio codec, too.
Performance
ROG Phones run on Snapdragon 845 chips speed-binned at 2.96 GHz instead of the standard 2.8 GHz. Antutu scores are quite stable at 299k without any optimizations. Attaching the Aeroactive cooler bumps the score to around 302k, making it the performing pre-7nm Android device and only 10nm phone to surpass the 300k mark.
While this score easily destroys the Razer Phone and Mi Black Shark, the biggest threat would actually be the Huawei Mate 20 Pro, which consistently scores well over 300k thanks to its 7nm process chipset.
Storage performance results were equally impressive thanks in part to UFS (Universal Flash Storage) 2.1 support, with read speeds averaging 200 MB/s and write speeds above 100 MB/s.
Memory performance, though decent, was a little underwhelming, scoring only 12604 points in PassMark's Memory Tests. For reference, the Razer Phone has an average Memory Mark score of 14621 points.
Photography
Despite being specially designed for gaming, the ROG Phone takes decent looking photos. The camera module is essentially the same as the Zenfone 5 and Zenfone 5Z: dual 12 MP f/1.8 + 8MP wide-angle rear camera and an 8MP front camera driven by a Sony IMX 363 sensor.
Low-light performance is pretty unremarkable – better than the average, but nowhere near the top.
4k video recording at 60fps is supported, and the built-in OIS (optical image stabilization) works in conjunction with EIS (electronic image stabiliation) to yield stable hand-held videos.
Battery life
Battery life is one of the biggest concerns of mobile gamers so we were very interested to see how the ROG Phone handles it. We have yet to fully test this, but ASUS claims that it can deliver up to 7 hours of Wi-Fi gameplay with brightness set to 200 nits while playing Arena of Valor with headphones plugged in.
They also claim up to 11.5 hours of Wi-Fi video playback at 200 nits with YouTube running at 720p.
Impressive results for sure, but ASUS took things a step further by adding their own quick charge solution called Hypercharge, which can pull 10 volts at 3 amps for a total of 30 watts of power, for up to 60% battery life in 33 minutes.
The additional load is being handled by extra circuitry build into the wall adapter so without it, you can fall back to Quick Charge 4.0 which is quite decent for today's standards.
Gaming
As expected, 3D gaming benchmark results are exceptional, and it translated very well when playing games. We managed to hit 60 FPS with Lineage 2 Revolution running on maximum settings, and never dipping below 55 FPS.
Map-able L-R "AirTrigger" buttons provided additional controls really helped in games like Asphalt 8 or PUBG. It is seamless and responsive, unlike external attachments that ends up feeling clunky.
The AirTriggers take some getting used to. There are no mechanical parts, and we were told that it uses ultrasonic sound waves. It's not as responsive as we imagined it to be, though that could be a design feature to prevent phantom touches.
It's not like an LCD or a capcitive button that responds to the slightest touch: you actually need to press or "squeeze" a little bit to get it to respond, which is weird because, like we said earlier, there are no physical buttons to give you that mechanical feedback.
That said, it gets the job done, and it gets the job done better than anything we've used so far.
ROG Game Center supplies additional functions such as native screen recording and streaming, but the biggest new feature are the on-screen performance monitors. This lets us monitor hardware metrics such as CPU utilization, GPU utilization, battery life, temperature, and more importantly, the frame rate.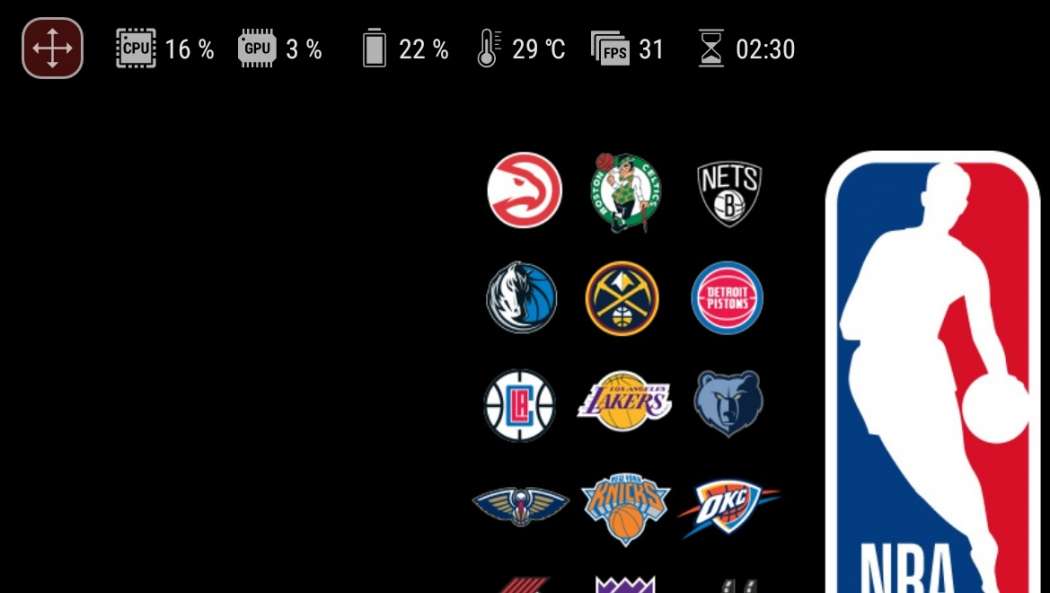 Below are RAW gaming footage recorded directly on the ROG Phone using the Game Center:
PUB gaming demo on the ROG Phone
Lineage 2 Revolution gaming demo on the ROG Phone
ROG Phone price and availability
ROG Phone will be available in the Philippines starting October 28. Price will also be revealed at the launch which will be held at ESGS 2018.
ROG Phone technical specifications
Display: 6-inch 2160×1080 OLED, 90Hz refresh rate, 1ms response time, HDR support, 108.6% DCI-P3 color gamut coverage
Processor: Speed-binned 2.96 GHz Snapdragon 845
GPU: Qualcomm Adreno 630
Memory: 8GB RAM
Storage: 128 / 512 GB ROM
Connectivity: 802.11ad Wi-Fi, Bluetooth 5
Battery: 4000 mAh
Price: TBD