We unbox the Sennheiser MKE 600 shotgun condenser microphone, a product aimed at video journalists, bloggers, and YouTubers.
Its high directivity allows greater focus, picking up only sounds coming from the direction where the microphone is pointed, effectively minimizing unwanted background noise.
The result? High quality audio recording in difficult to control situations.
If that's not enough, you can switch on the low cut filter, minimizing wind noise even further.
Frequency response is rated at 40 Hz to 20 kHz, with maximum sound pressure levels going up to 132 dB SPL (126 dB SPL with battery).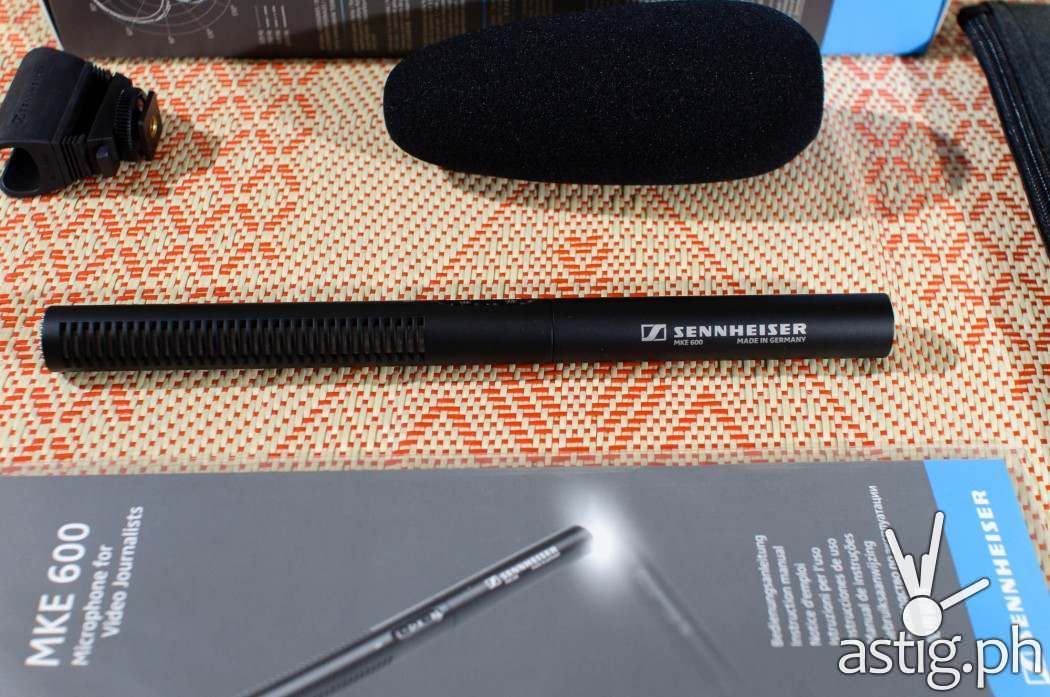 The MKE 600 does not require phantom power, since not all video cameras are equipped to supply phantom power to a microphone. It can be operated using a standard AA battery, lasting for approximately 150 hours.
Made in Germany, the package comes with a shock mount which can be screwed onto most DSLRs and digital cameras.
Measuring around 11 inches and weighing only 128 grams, this product is portable enough to carry around for events and interviews.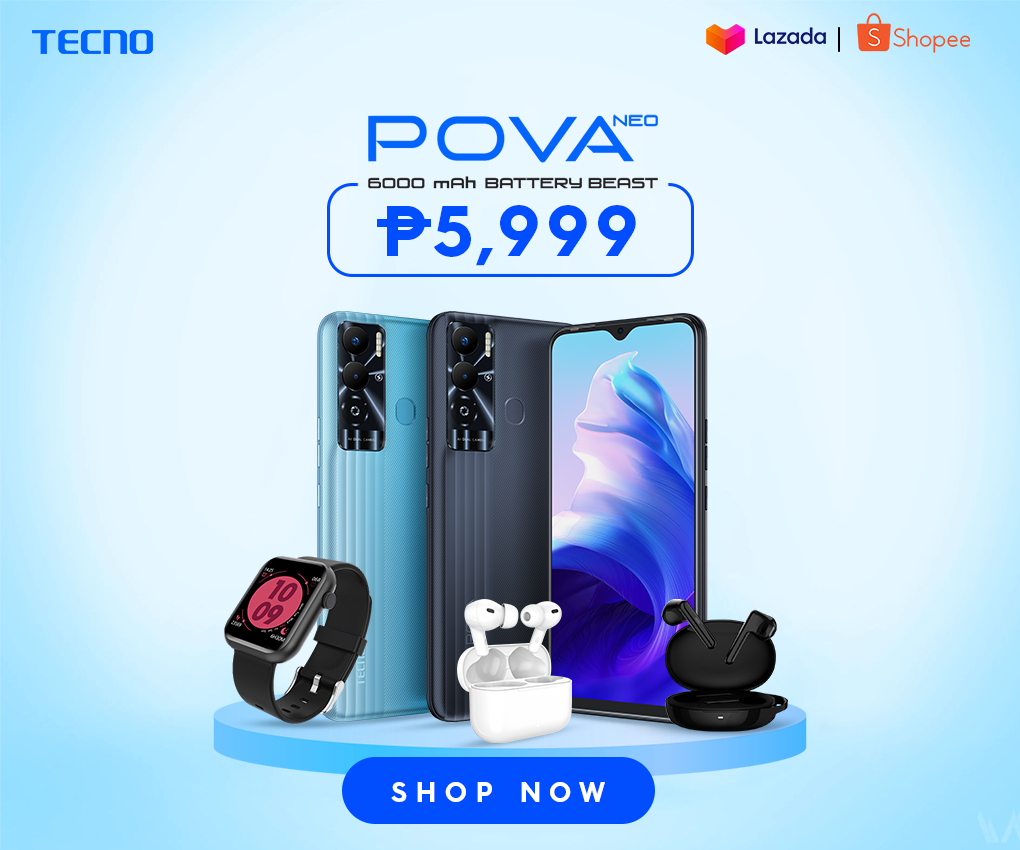 For more information, contact Audio-Visio Solutions Corporation, the official distributors of Sennheiser microphones in the Philippines. Follow them on Facebook at facebook.com/sennheiser.philippines.
Sennheiser MKE 600 package contents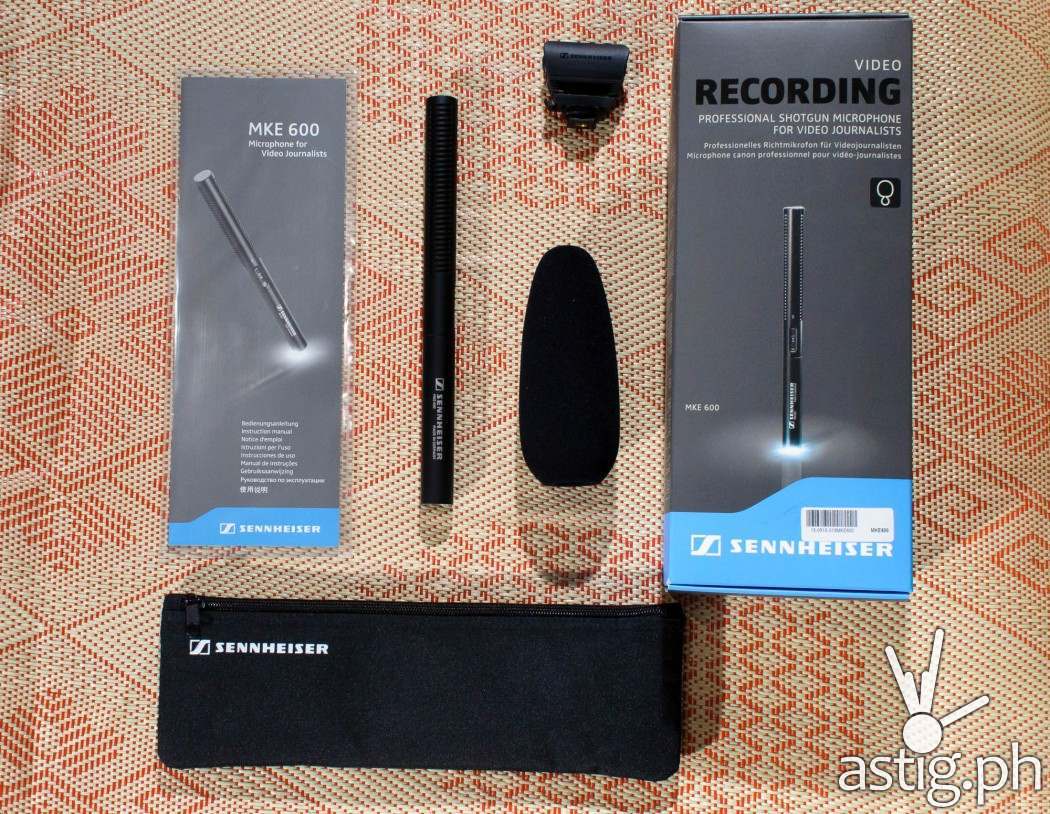 Sennheiser MKE 600 microphone unit
Shock mount with lightning shoe mount (MZS 600)
Foam windshield (MZW 600)
User manual
Carrying pouch
Sennheiser MKE 600 features
Easy to use thanks to plug and play technology
Maximum attenuation of background noise for clear, rich sound
Low-cut filter for minimizing wind noise
P48 phantom power or battery power
Battery switch with a Low Batt indicator
Rugged, all-metal housing
Sennheiser MKE 600 technical specifications
| | |
| --- | --- |
| Dimensions | diameter 20 mm, length 256 mm |
| Microphone | super-cardioid/lobar |
| Frequency response | 40 Hz to 20 kHz |
| Max. sound pressure level | 132 dB SPL at P48; 126 dB SPL with battery powering |
| Weight | 128 g (without battery) |
| Sensitivity in free field, no load (1kHz) | 21 mV/Pa at P48; 19mV/Pa with battery powering |
| Equivalent noise level | 15 dB (A) at P48; 16 dB (A) with battery powering |
| Operating time | approx. 150 hrs |
| Power supply | 48 V +/- 4V (P48, IEC 61938) or battery/rechargeable batt. 1,5V/1,2V AA size |
| Current consumption | 4,4 mA at P48 |