Politics is the new trend in social media.
As the 2016 national election approaches, we are bombarded by different issues that make and break each politicians aiming to secure power in Malacanang. But it's not only the people who aims for a public office become controversial but also their supporters.
Sexy starlet Mocha Uson who is an avid supporter of Duterte expressed her dismay over a celebrity who bashed her ideal president in a blog.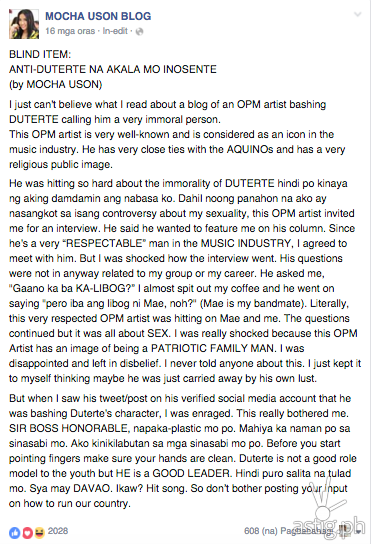 BLIND ITEM:
ANTI-DUTERTE NA AKALA MO INOSENTE
I just can't believe what I read about a blog of an OPM artist bashing DUTERTE calling him a very immoral person.
This OPM artist is very well-known and is considered as an icon in the music industry. He has very close ties with the AQUINOs and has a very religious public image.
He was hitting so hard about the immorality of DUTERTE hindi po kinaya ng aking damdamin ang nabasa ko. Dahil noong panahon na ako ay nasangkot sa isang controversy about my sexuality, this OPM artist invited me for an interview. He said he wanted to feature me on his column. Since he's a very "RESPECTABLE" man in the MUSIC INDUSTRY, I agreed to meet with him. But I was shocked how the interview went. His questions were not in anyway related to my group or my career. He asked me, "Gaano ka ba KA-LIBOG?" I almost spit out my coffee and he went on saying "pero iba ang libog ni Mae, noh?" (Mae is my bandmate). Literally, this very respected OPM artist was hitting on Mae and me. The questions continued but it was all about SEX. I was really shocked because this OPM Artist has an image of being a PATRIOTIC FAMILY MAN. I was disappointed and left in disbelief. I never told anyone about this. I just kept it to myself thinking maybe he was just carried away by his own lust.
But when I saw his tweet/post on his verified social media account that he was bashing Duterte's character, I was enraged. This really bothered me. SIR BOSS HONORABLE, napaka-plastic mo po. Mahiya ka naman po sa sinasabi mo. Ako kinikilabutan sa mga sinasabi mo po. Before you start pointing fingers make sure your hands are clean. Duterte is not a good role model to the youth but HE is a GOOD LEADER. Hindi puro salita na tulad mo. Sya may DAVAO. Ikaw? Hit song. So don't bother posting your input on how to run our country.
Even if Mocha posted it in blind item, some netizens guessed it as Jim Paredes who was being pertained in the the starlet's Facebook post. And the speculations developed into a dose of reality when Jim Paredes replied in Mocha's post to defend himself.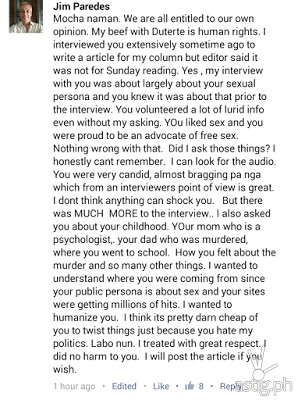 Mocha naman. We are all entitled to our own opinion. My beef with Duterte is human rights. I interviewed you extensively sometime ago to write a article for my column but editor said it was not for Sunday reading. Yes , my interview with you was about largely about your sexual persona and you knew it was about that prior to the interview. You volunteered a lot of lurid info even without my asking. YOu liked sex and you were proud to be an advocate of free sex. Nothing wrong with that. Did I ask those things? I honestly cant remember. I can look for the audio. You were very candid, almost bragging pa nga which from an interviewers point of view is great. I dont think anything can shock you. But there was MUCH MORE to the interview.. I also asked you about your childhood. YOur mom who is a psychologist,. your dad who was murdered, where you went to school. How you felt about the murder and so many other things. I wanted to understand where you were coming from since your public persona is about sex and your sites were getting millions of hits. I wanted to humanize you. I think its pretty darn cheap of you to twist things just because you hate my politics. Labo nun. I treated with great respect. I did no harm to you. I will post the article if you wish.
The iconic Filipino musician Jim Paredes has been known as someone who doesn't just advocate original Filipino music or OPM but also involves himself in political affairs of the country. Here is one of his political tweets.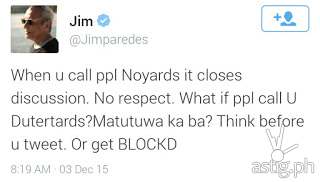 What do you think of accusations of Mocha against Jim? Did she say the truth? Comment your thoughts.