Shakey's is on a mission to do its share of saving the planet and going green. Shakey's is making a commitment to engage in social and environmental causes that will promote quality of life by launching the "Love the Planet Like You Love Our Pizza" campaign.
To reinforce their move to save the environment, Shakey's is now setting its sights on becoming plastic neutral in 2020 – and has partnered with the World Wide Fund for Nature (WWF) to promote the organization's #AyokoNgPlastik movement. Sealing this formidable alliance at Shakey's WOW Center in Paranaque were Vic Gregorio, President and CEO of Shakey's Pizza and Jose Angelito Palma, President and CEO, WWF Philippines.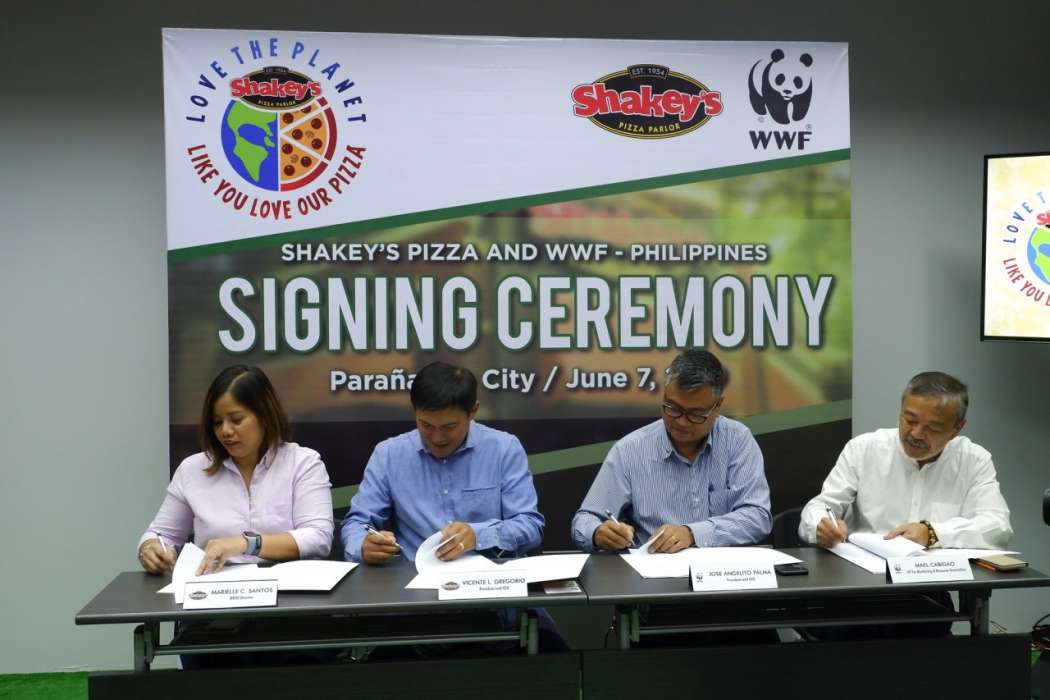 The #AyokoNgPlastik movement of WWF seeks to lessen and eventually, eliminate single use plastics by raising awareness on the issue of plastic pollution. Studies show that while the Philippines is right in the middle of the epicenter of earth's marine biodiversity, it is, ironically, the third largest contributor to plastic pollution in the planet's oceans. Shakey's and WWF are strongly advocating against the use of single use plastics emphasizing that plastics are made of fossil fuel; creates a huge carbon footprint and will still be present after thousands of years. Plastics also leaches toxins into food & drink; causes hormone disruption and cancer; pollutes oceans; kills marine animals and birds and enters our food chain. More than that, only a tiny portion of these plastics are even recycled!
Shakey's' "Love The Planet Like You Love Our Pizza" campaign hopes to fulfill what it has identified as its three pillars of initiatives: to Educate or create awareness towards the cause ; Eliminate, which means to work towards eliminating single use plastic in the organization; and, Empower- or support and fund the cause.
Apart from partnering with WWF for the #AyokoNgPlastik , Shakey's will also enable donations to WWF through its popular online ordering platform. When ordering through the website and app, Shakey's will also create an Opt Out Tick box for condiments anmovementd utensils. But there's more!  Shakey's has other measures in place to help save the environment. These include: switching to more environmentally friendly packaging; applying recyclable material in their pizza boxes; changing takeout containers to paper boxes/containers; switching use to recyclable brown paper napkin material; and implementing a strawless campaign in stores. Furthermore, Shakey's has resolved to use environmentally-friendly materials for packaging and advertising materials and create a recycling program for their marketing collaterals.
Internally, Shakey's will also rally their employees into actively volunteering in programs, educational sessions and office advocacies.
Shakey's is present in more than 200 communities across the country. By partnering with WWF's #AyokoNgPlastik  through their very own  "Love the Planet Like You Love Our Pizza" campaign, Shakey's hopes to set the standard for positive Corporate Social Responsibility and,  more importantly, create a significant and encouraging environmental impact on Filipinos everywhere.