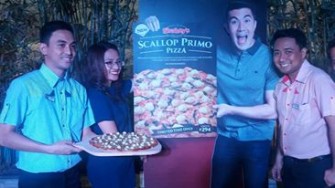 Ever tried Scallops on a pizza? Shakey's Philippines launched their newest pizza flavor featuring the awesome flavors of  Scallop Primo!
Shakey's  Scallop Primo  allows you to enjoy the goodness of the sea in the comforts of your home or at the Shakey's branch near you.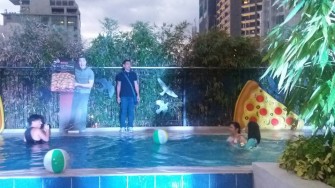 Shakey's Philippines held a summer-themed launch was held at Y2 Residences in Makati. Media guests were treated to a splashy pool party with pizza floaters, games, drinks and great food like Shakey's chicken 'n mojos. The highlight during the afternoon summer event was the parade of Scallop Primo pizzas!
The newest pizza flavor features succulent scallops.  The mouth-watering flavor of the Shakey's Scallop Primo uses aged cheddar. Atop the cheese were fresh scallops, evenly distributed over the surface of the pizza. It is also topped with thinly shredded crab sticks, fresh herbs of basil and parsley, and dash of chili flakes.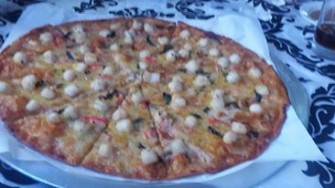 "We just can't wait for everyone to try our very special, limited edition Scallop Primo." says Ghena Austero, Shakey's Marketing Manager. "Scallops have never been included in any pizza variant before because it's very premium. But with the new Scallop Primo, they can already experience and enjoy the goodness of this refreshing seafood flavor in an affordable price," Austero added.
Do indulge in this seafood pizza craze!  The Scallop Primo pizza retails  at P 294 for  regular thin crust and P 344 for hand-tossed variant. It is available in Great Meal Deals and you can order it via Dine in, Carry Out and Delivery in all Shakey's restaurants nationwide.
Shakey's Summer Surprise: Scallop Primo Pizza is available from March 1 to May 31, 2017 only.
Go to https://www.shakeyspizza.ph/  for more information.