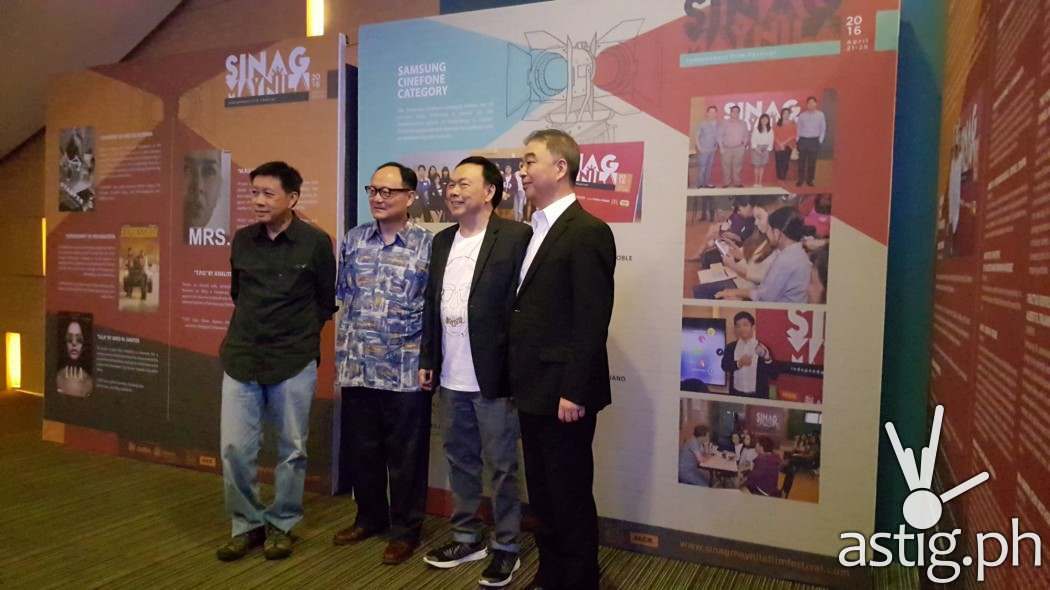 It is only their second year but Sinag Maynila's CEO and Founder Wilson Tieng, together with world-renowned and internationally acclaimed film director Brillante Mendoza, are very happy of the reception it got from last year's grand debut. Both led the festival's opening ceremonies at the Samsung Hall of SM Aura attended by local and foreign esteemed guests. It is my first time to cover this opening which makes it extra exciting!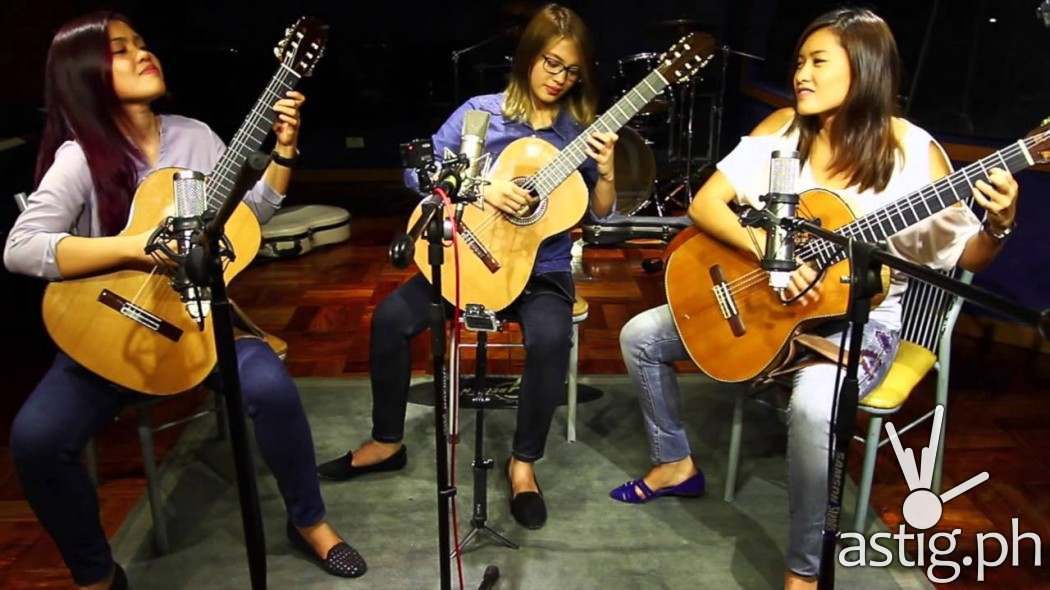 The program featured remarkable accoustic trio Triple Fret who rendered a couple of numbers including the classic Bohemian Rhapsody. After which the full length feature juries were introduced including Ishizaka Kenji, Philip Chea and Roger Garcia. The short film features will be judged by multi awarded director's Jose Javier Reyes and Raymond Red . Unable to attend were jury Lav Diaz for the full length and Mark Meily for the short film.
An official toast was made followed by the ringing of the gong by Director Brillante signifying the official opening of the 5 day independent film festival.
The Sinag Maynila Film Festival 2016 Full Length Features:
1. Expressway by Ato  Bautista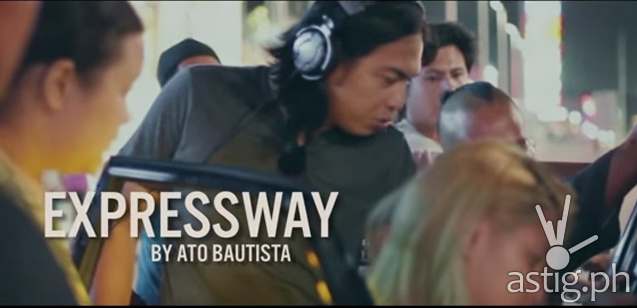 2.Dyamper by Mes De Guzman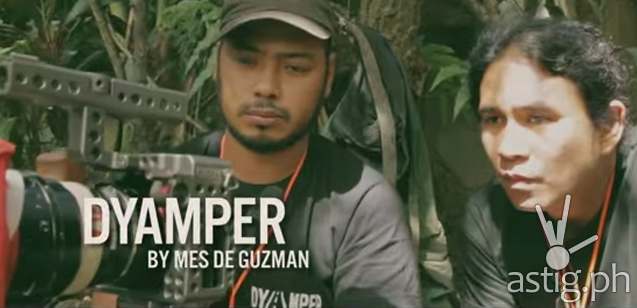 3.Lila by Gino M. Santos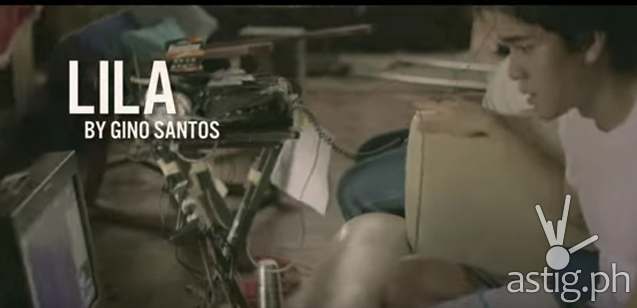 4. MRS. by Adolfo Alix Jr.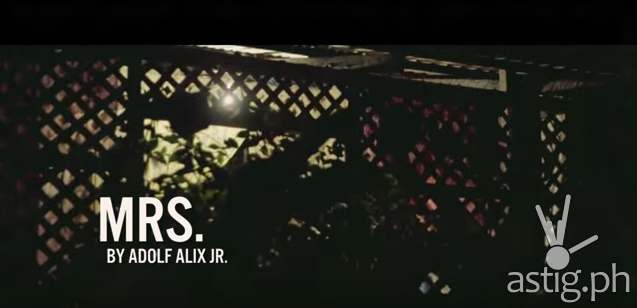 5. T.P.O. by Joselito Altarejos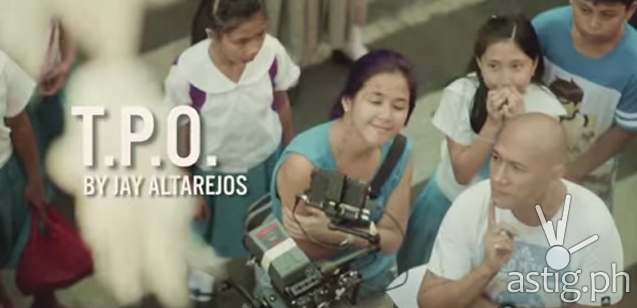 The Short Film Finalists
WENCE ALBERT R. TRAJANO/ELTON JAMES MARCELO – FRUCTUS VENTRIS (FRUIT OF HER WOMB)
BRIAN SPENCER REYES – INA NAMIN (OUR MOTHER)
JAE-RE LOUISE LIWANAG – (ILOG WAGA)
DANIEL MORIAL / JETH ORDENIZA – (THE FORESEEING)
NIKKO PACIBEN – (PLUS SIGN)
FERDINAND MESIAS/RONYEL COMPRA – (NINO)
ENVANGELLO CYEDEL DELA PENA – (HIDE POST)
JENNIFER LYN ROMANO – ANG KAPINUNAN KAN MGA ALON SA DANAY (WHERE THE LAKE'S RIPPLE BEGIN)
JOSHUA ROQUE – (APO)
MAESTRO MARK SHERWIN MARQUEZ – ANG PIYETA (THE PIETA)
LEAHLOU D. ABELLANOSA – (INDIO)
RAF EVANGELISTA – (APUHAP)
ROD MICHAEL TUMBAGA – (NEON)
The Samsung Cinefone Finalists
1.KLAIRE MARIE ZUBIRI / FAYE ISABEL ESTRADA – (TAPAT SI TATAY)
2. MICHAELA VERONICA B. PADORA – (IN A DOG'S EYES)
3. EBONE CIMAFRANCA/ JACQUILINE HIDALGO/ JESSICA RUBETE/ JUSELLE ROBLE – (ESPAYB)
4. JOHN PAOLO S. BARCENA – (99%)
5. PARTICK JOSEPH C. LEANO – (LAPIS)
6. ANGELIKA DEOFILO / DANILO GARCIA / SAMANTHA MARIANO – (LITRATO NG NAKARAAN)
7. CHAIRA MAE PRADO – (GOOGLE MAP)
8. ANGELA ANDRES / FREANA GARCIA – (CHANGING ROADS)
9. PAUL ARRENZE DIONELA – (WALANG WI-FI SA DAGAT)
The Sinag Maynila Film Festival runs until April 26 at SM Megamall, SM Aura Premier, SM North Edsa, SM Mall Of Asia and SM Manila.
Awards Night on April 24 at the Samsung Hall, SM Aura.
So come and watch these remarkable and exciting entries and let's continue to support our local independent films!