Sim registration has officially begun in the Philippines on December 27, and Smart has made the process easier for all Smart, Smart Bro and TNT subscribers.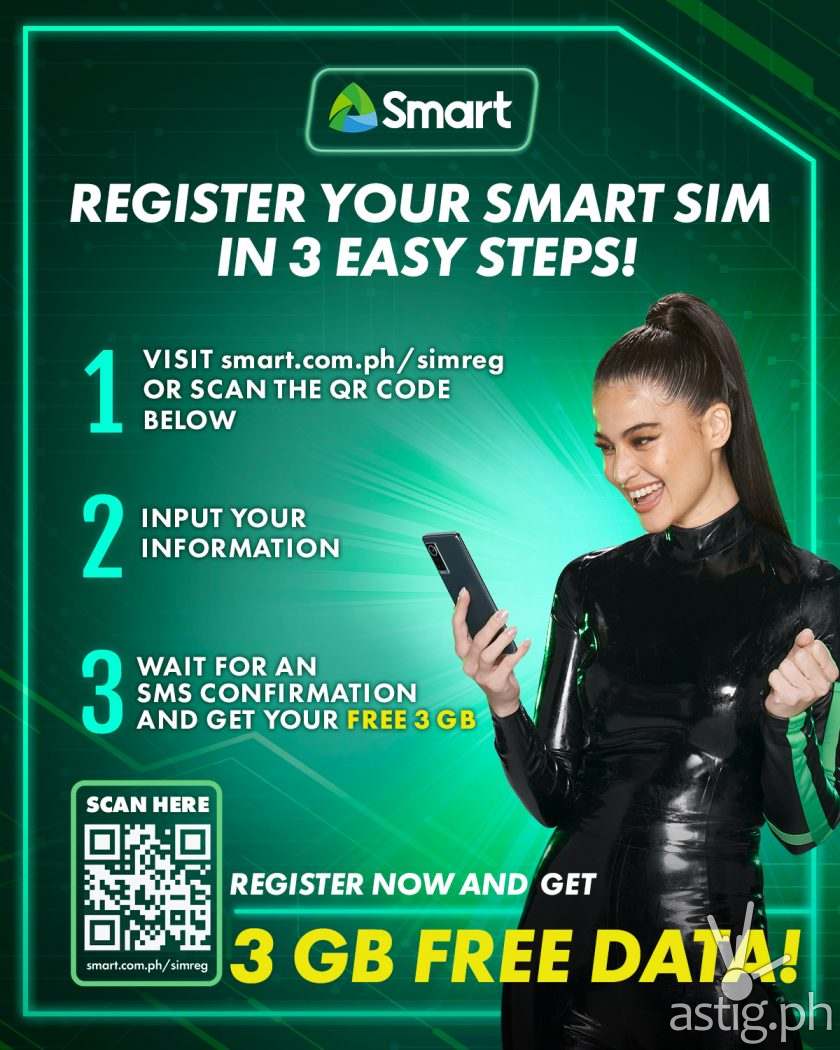 Easy registration for postpaid accounts
In compliance with the SIM Registration Act (Republic Act No. 11934), all telco subscribers must register their SIM cards to curb text scams and other criminal activities that use mobile phones. Postpaid subscribers, in particular, need to confirm the personal information and IDs they submitted for their postpaid plan application. They will just need to text YES to 5858. They shall then receive a confirmation message from Smart upon successful SIM Registration. Other telcos have not mentioned whether they need explicit confirmation of the personal information they have.
Freebie for prepaid subscribers
Smart Prepaid and TNT subscribers, meanwhile, can register their SIM and get 3 GB free data upon completion of these three easy steps:
Step 1. Visit the SIM registration portal at http://www.smart.com.ph/simreg
Step 2. Input your information and upload your valid government issued ID
Step 3. Wait for an SMS confirmation and get 3 GB FREE Data
It will only take a few minutes to register your SIM and upload your valid ID online!
Steps for Smart Bro subscribers
To register the SIM inserted in their WiFi device, Smart Bro subscribers need to refer to www.smart.com.ph/viewbroadbandsms for instructions on viewing their required One-Time Password (OTP).
OCR technology powers Smart SIM registration
Thanks to optical character recognition (OCR), the technology required by the law, Smart efficiently gathers and protects subscribers' personal information. As of January 11, we haven't seen other telcos mention the use of OCR technology to power their SIM registration portal.
Smart is also making its SIM Registration portal even more accessible to subscribers through these alternative channels:
Smart Stores nationwide
Smart Hotlines (call *888 via Smart/TNT mobile, or 8888-1111 via landline)
Smart Facebook Messenger Chatbot
Smart GigaLife App (downloadable on the App Store and Google Play Store)
Smart SIM registration compared with other telcos
Prepaid SIM registration with other providers seem to be easy as well. The registration process with other telcos (Globe and DITO) also takes less than 5 minutes to complete. Postpaid SIM registration is a different matter, since with Globe, we were already pre-registered with the personal information that came with our postpaid subscription. With Smart, we needed to confirm that our information is accurate by sending YES to 5858.
For more information about SIM registration, visit http://www.smart.com.ph/Pages/simreg-faqs for Smart subscribers, and http://www.tntph.com/sim-reg for TNT subscribers.