Some audiophiles may say that endgame gear is a never-ending quest, and to an extent, they are right. Technology will keep getting better with time, so what may seem impossible today could be a reality in the future. In the world of TWS earphones, the latest and greatest that Sony has managed to produce so far is the Sony WF-1000XM4.
If there ever was a year of the TWS, 2021 is surely it. Driven by the restrictions brought about by the COVID-19 pandemic, voice and video calls have never been more important, and the TWS is at the forefront for the convenience and freedom that it offers.
That was not always the case though: 10 years ago, wireless devices were shunned by audio purists for its inferior audio reproduction and incredibly high latency. Compared to their wired counterparts, commercial wireless headsets were limited by the bandwidth and transmission speeds of the Bluetooth standard at the time.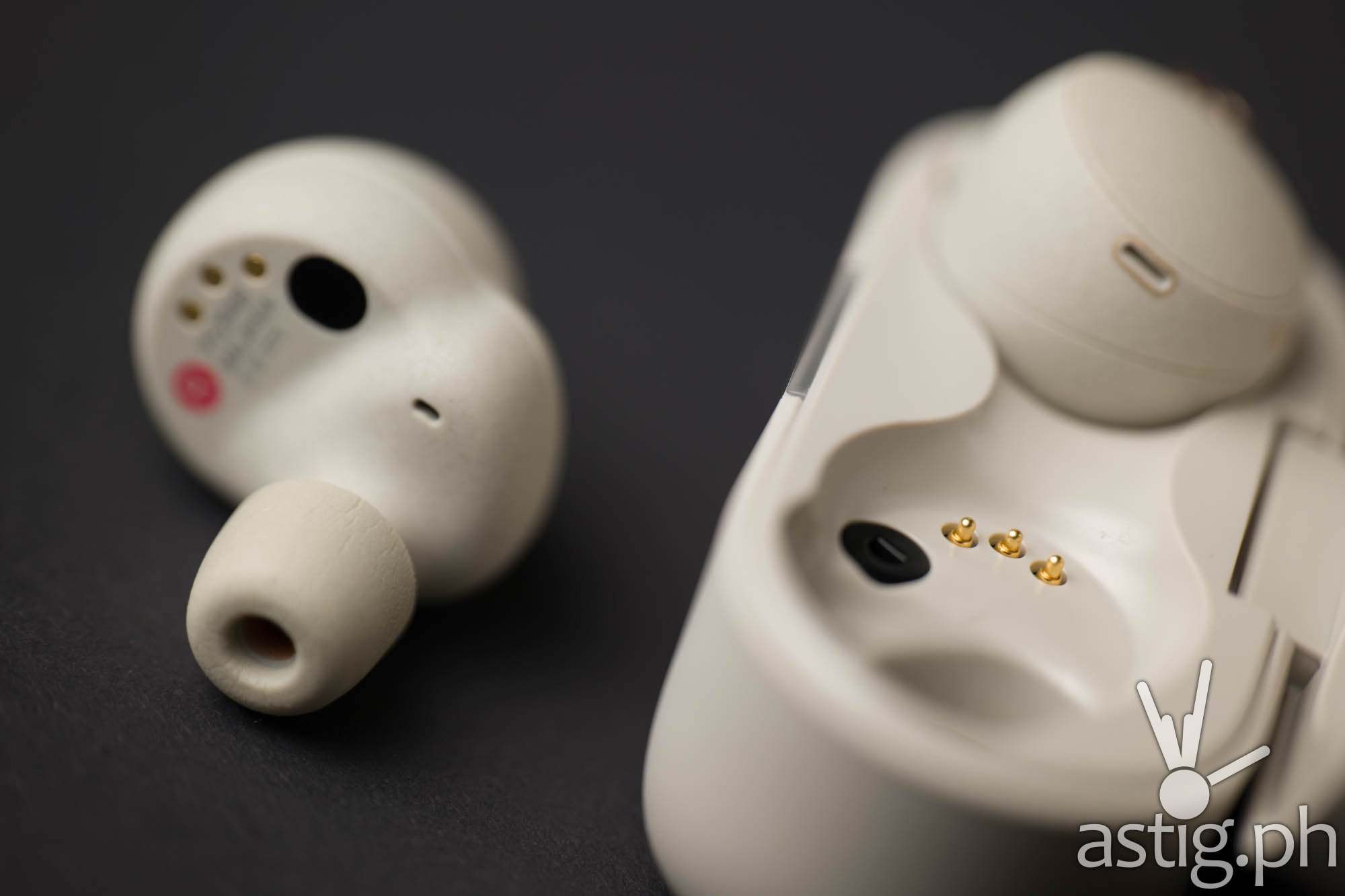 However, the benefits such as freedom and rage of going wireless was too good to ignore, and in time, these Bluetooth standards got better. Devices that relied on Bluetooth such as the headset also improved, giving birth to what we now know as the "TWS" or True Wireless Stereo headphones.
Our ideal TWS sounds like a wired IEM with minimal latency. That's it really: all other features such as noise cancellation and microphone quality comes secondary.
It is with this thought in mind that we go hands-on and review the Sony WF-1000XM4 wireless noise-cancelling earphones. Warning: it's a long read ahead. As much as we wanted to keep this short and sweet, we felt that we could not do justice to a product that Sony clearly spent a massive amount of time, effort, and dedication to perfect.
Head over to our YouTube channel for the Sony WF-1000XM4 hands-on video review. Otherwise, keep reading for our WF-1000XM4 review. Let's go.
Aesthetics, design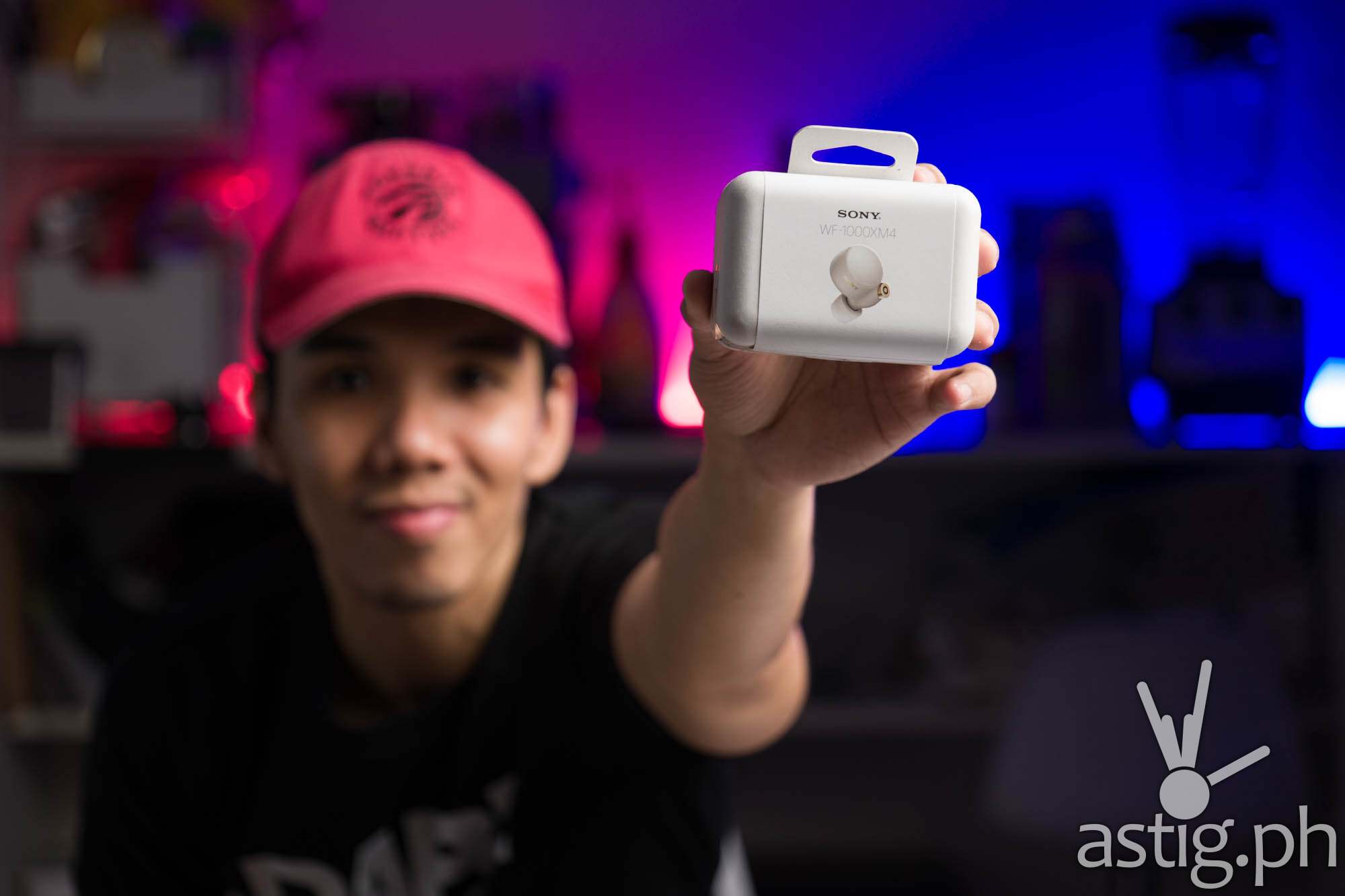 The Sony WF-1000XM4 came in a rather modest-looking packaging that somehow made us think of two egg tray stuck together. We weren't expecting much, but it certainly is a departure from the laminated cardboard boxes that headphones usually come in.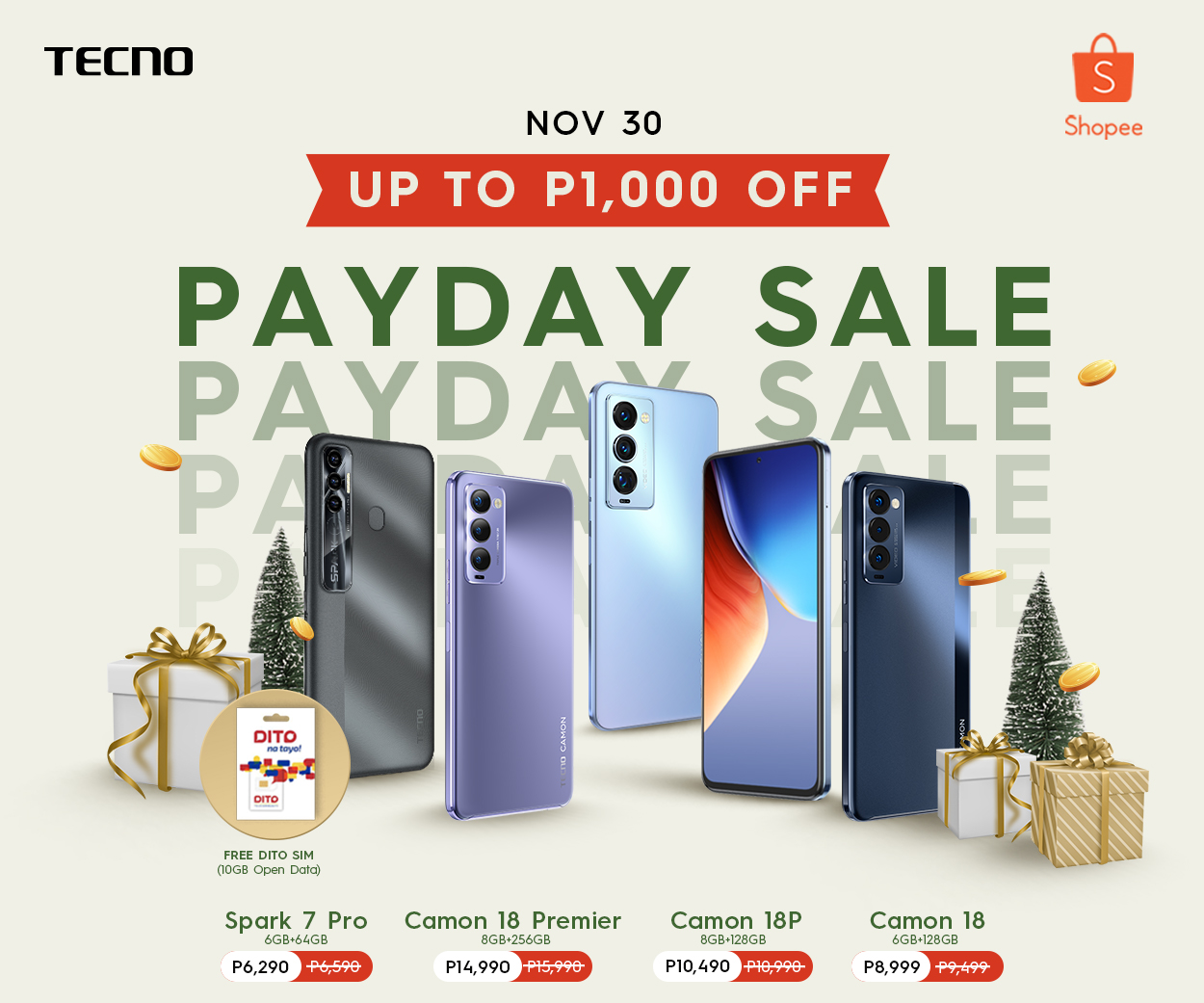 You cannot re-seal the package once you open it without using tape or an adhesive of some sort  For a device of its caliber, we feel that the product could have been presented better. At the very least, it could have been packed in a re-usable, resealable packaging so we wouldn't have to worry about securing the contents after opening.
Along with the USB-C charging cable, we are given two extra sets of foam ear tips for a total of three sizes to choose from. The ear tips are color coded so you can easily differentiate the sizes visually.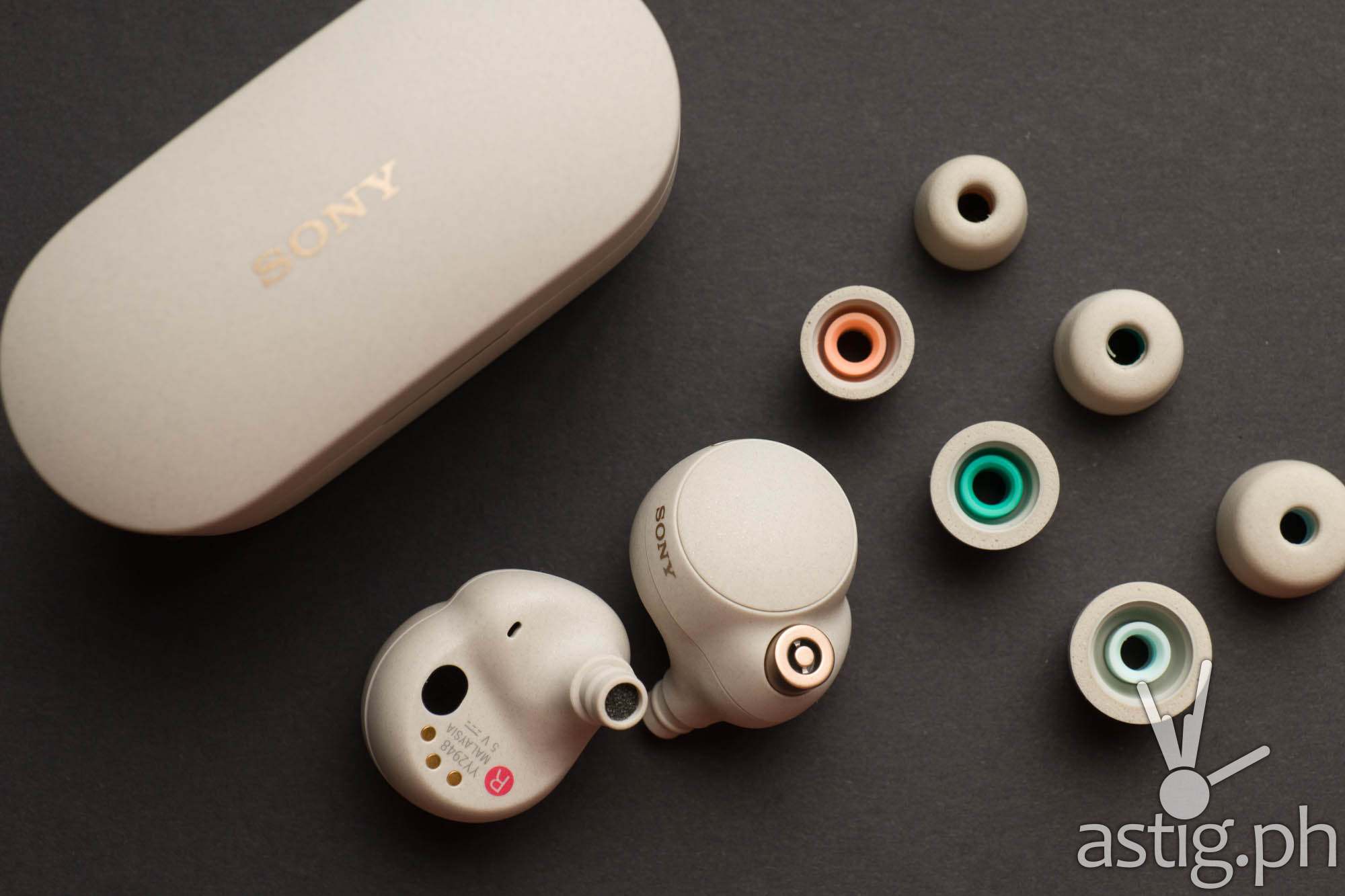 Having owned countless headsets including IEMs and TWSes that come with multiple sets of ear tips, we cannot tell you how much we appreciate this visual cue. If you have ever had to sort through ear tips, you know it can take ages to tell their sizes apart.
Another cool visual cue can be found on the individual headphone buds themselves: Each bud is labeled accordingly with an "L" or "R" icon to denote Left or Right, with the "R" stamped in red so you can tell them apart at a glance.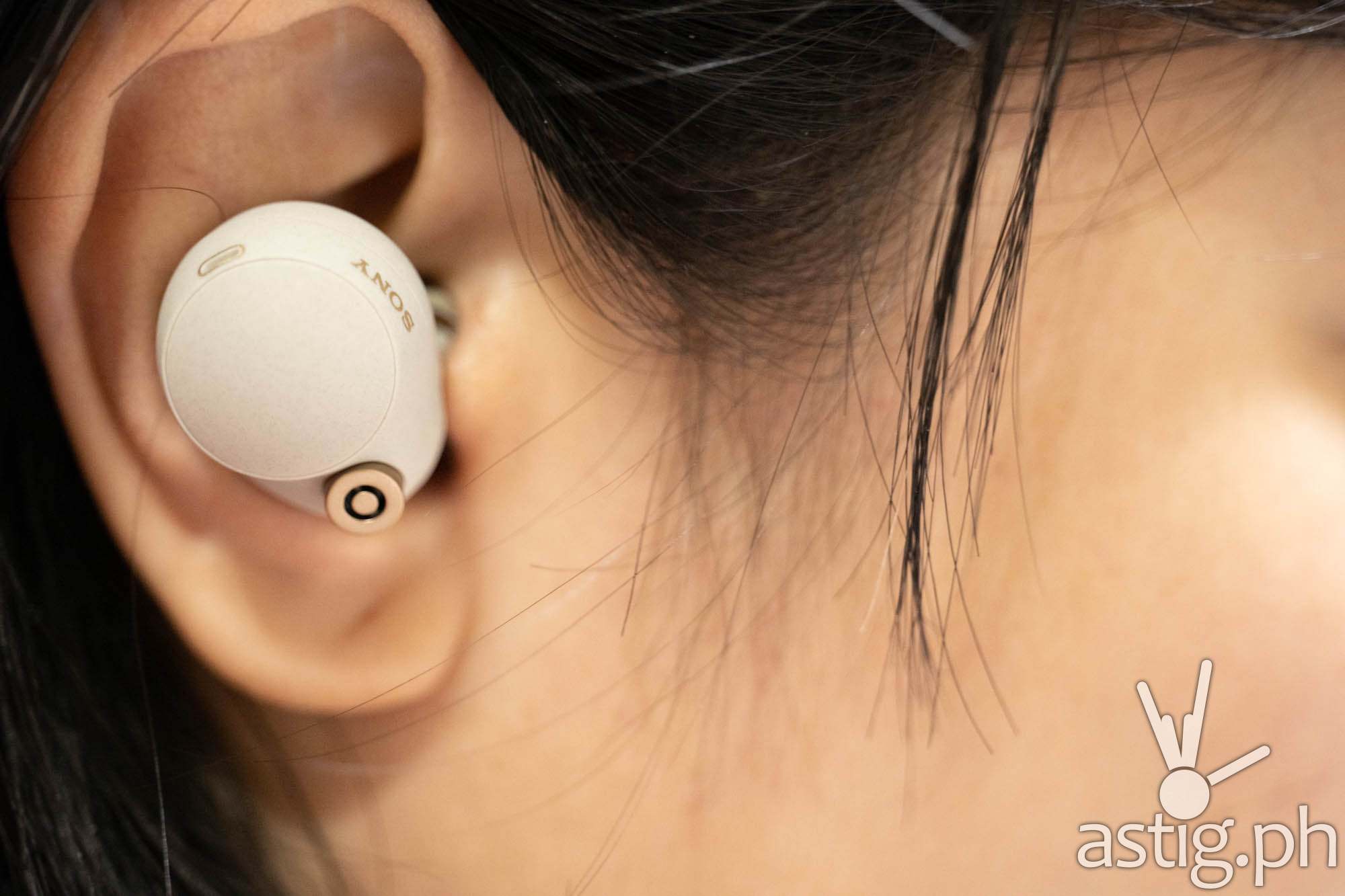 The buds themselves are a sight to behold. We've seen the product shots, but the Silver-colored unit looks even more breathtaking in real life with its matte finish and rustic gold accent. It's just the right type of matte that feels great in your hands and looks stunning in your ears – like a fashion accessory or a piece of jewelry.
There's something really zen-like and elegant about its design. The chrome accents lend a distinct, icon, the ic look that sets it apart from anything else out there right now. In a sea of TWS earbuds, the WF-1000XM4 stands out with the double circle chrome.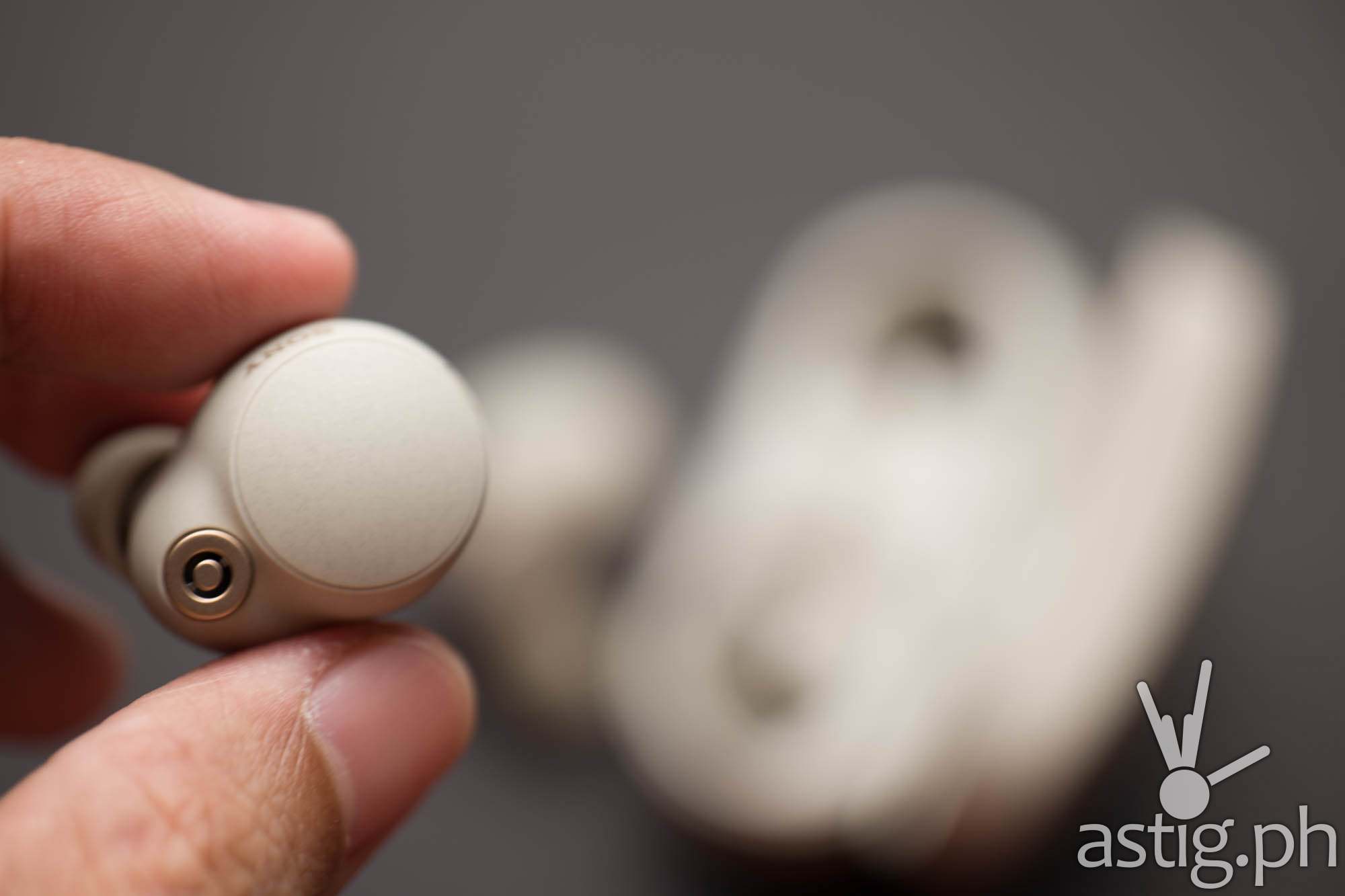 We're not sure if it was intentional, but don't they resemble a pair of earrings when worn? Is it just me, or are we onto something here?
Build quality, fitting
According to our kitchen scale, each bud weighs approximately 6.8 to 6.9 grams, and while that may light as a feather when worn, it leans on the heavier side compared to other TWS earbuds that have come out this year. For reference, the Apple AirPods Pro weighs 5.4 grams per earbud, while the Galaxy Buds 2 comes in at 5 grams per bud.
The charging case has an LED light to indicate the battery life of the headset (if stored) or the charging case (if no headset).  It is made from the same matte plastic material as the headset, and it has some weight to it so it doesn't feel fragile.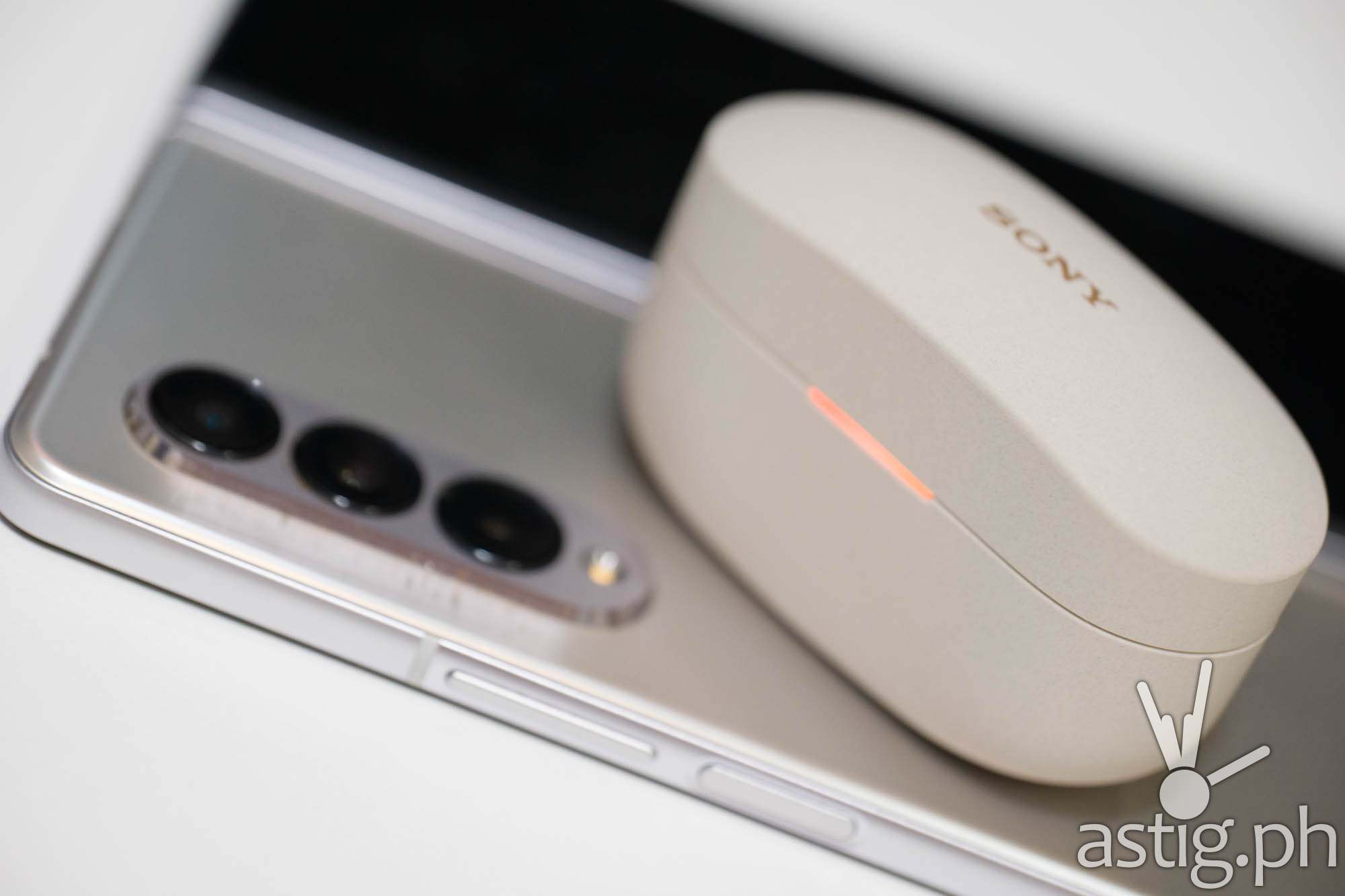 You can charge it wirelessly by placing it on top of an induction charger. We tried using a generic charger and it worked. We tried charging it using the reverse charging feature of the SAMSUNG Galaxy Z Fold3, and that too, worked.
Another interesting feature that we discovered is the magnetic element on both the charger and on the buds. That's right: We tried sticking the buds onto the door of the refrigerator, and it did. This aids in properly seating the buds into the charging case as they can only go in one way.
The default medium ear tips felt a little too tight for my ears, so I swapped it with the smallest ones and immediately felt a relief in pressure. It is still really snug, to the point where I would later realize that it was good enough to bring to the gym without fear of falling off – despite it being one of the heaviest TWSes in our rotation.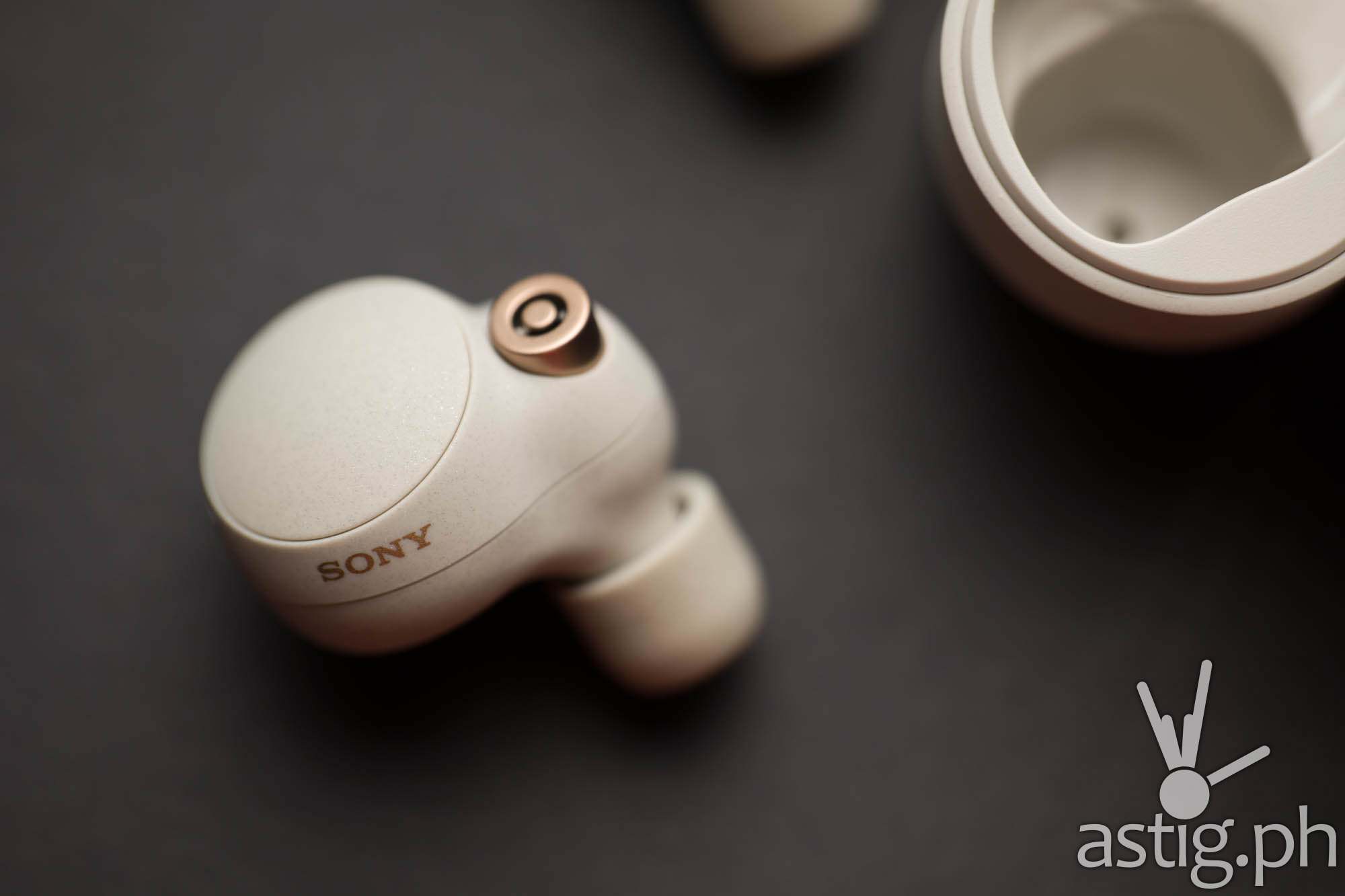 By the way, the Sony XF-1000XM4 is IPX4 certified water resistant, which means it can withstand splashing water. So not only can it withstand sweat, you won't have to worry about damaging it if you ever get caught by the rain.
Pairing and mobile application
After admiring its clean aesthetic and functional design, we were eager to audition the Sony WF-1000XM4. Pairing it with our phone for the first time was quick and painless. We had pre-installed the Sony Headphones Connect mobile app in advance, and the system detected it as soon as we took the earbuds out of the case.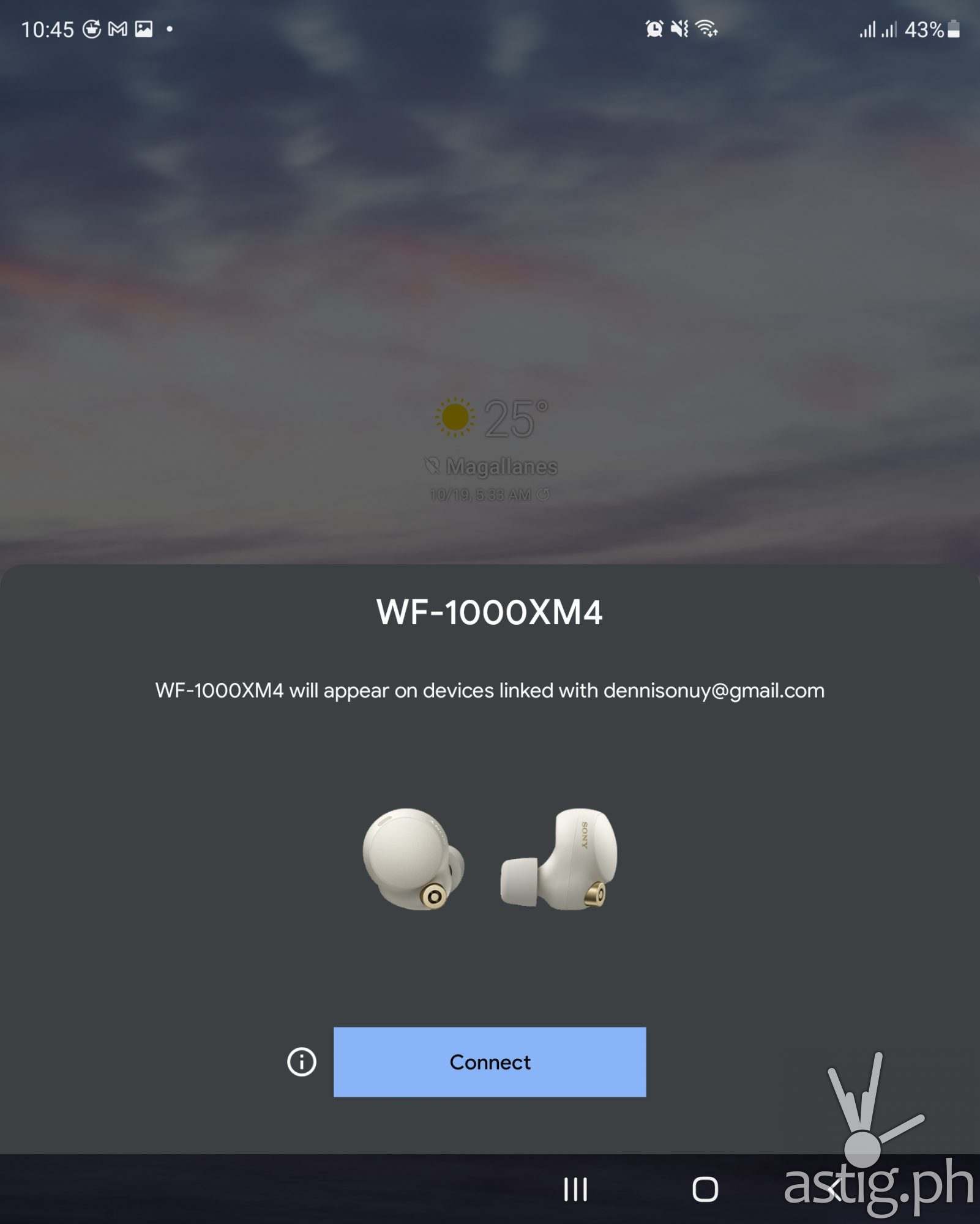 However, we could not enjoy it right away because we ran into a firmware update notification. This process took a while, but once it completed, it was smooth sailing from there.
Pairing with other devices also went smoothly, the mobile application is not a pre-requisite to pair with the WF-1000XM4. In addition to smartphones, we also paired smoothly with desktops and TVs by simply touching both left and right earbud for five seconds.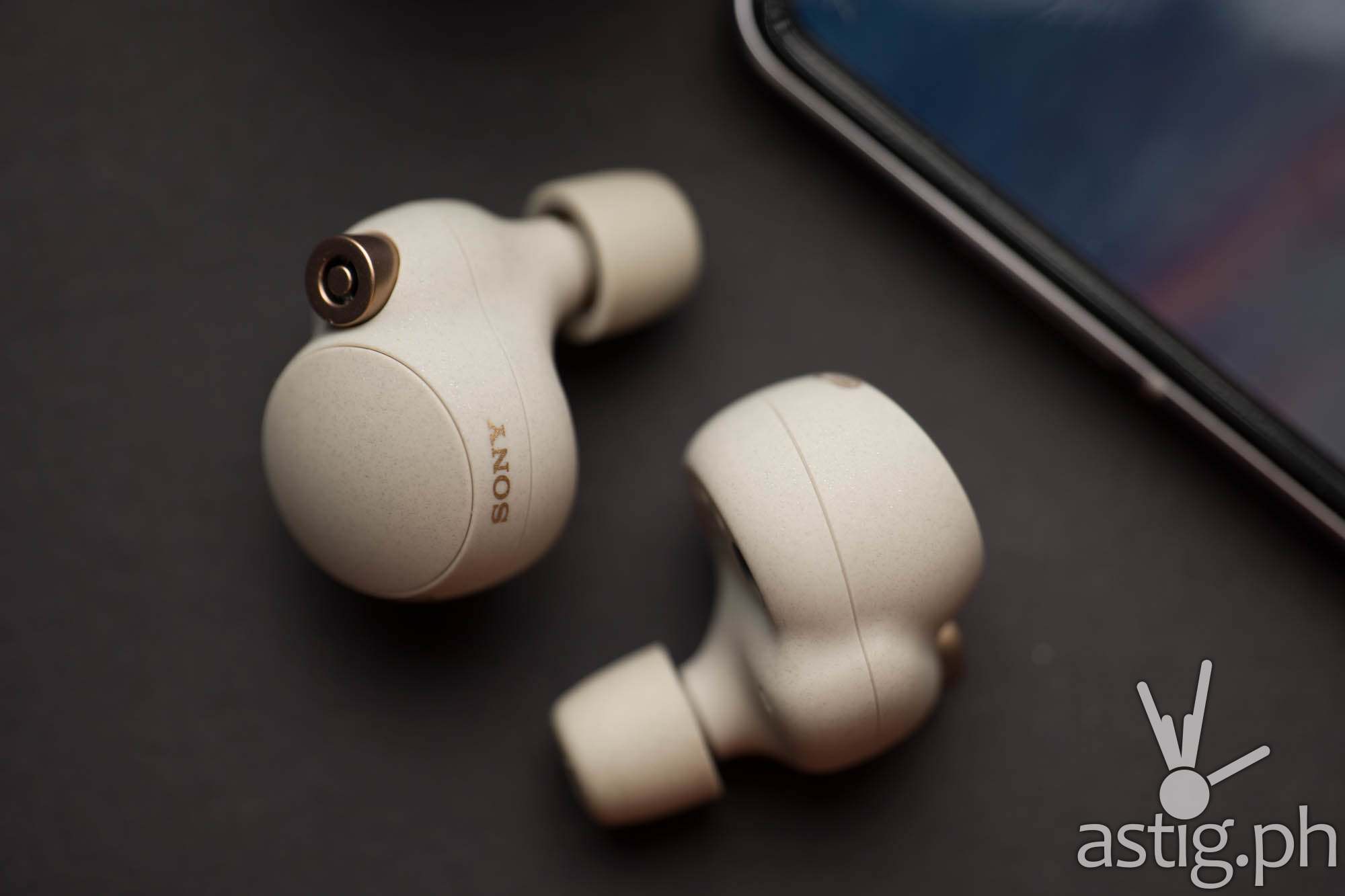 This sends the device into pairing mode, denoted by a chime and a voice prompt that says "Bluetooth pairing". It's an underrated feature, but voice prompts really elevate the entire user experience.
We have had to work with TWS earbuds that simply beep and we found ourselves second guessing things whenever we used it.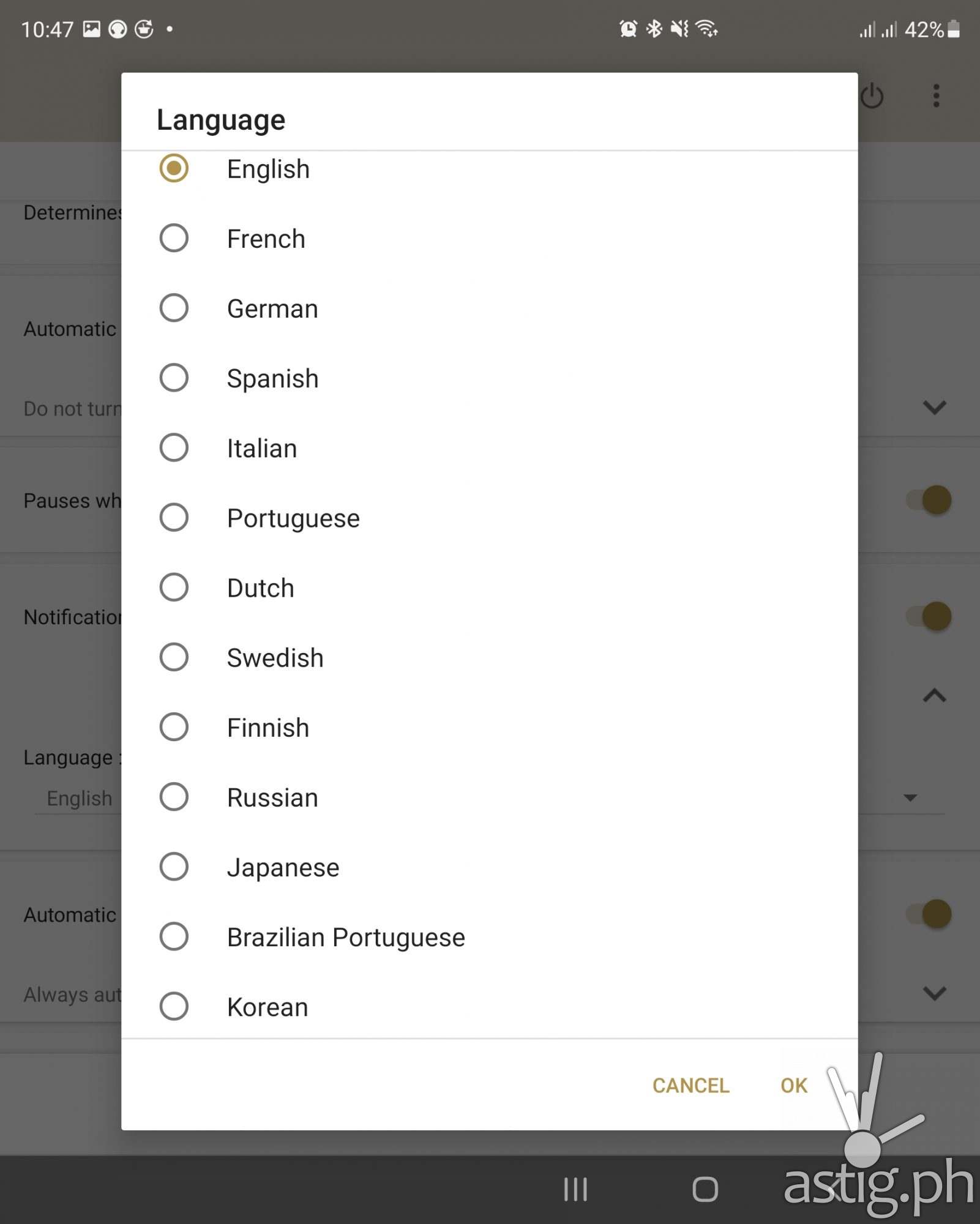 You can even change the language of the voice prompt to anything ranging from French to Chinese. So here we have an under-appreciated feature that shows how much effort the product team dedicated into perfecting it.
It supports Google Fast Pair, so it was super seamless, and we had zero issues pairing and switching between multiple Android devices with or without the mobile app.
The Sony Headphones Connect app was straightforward and user-friendly, although once we had the opportunity to really dig deep into the app, we realized just how powerful it is. Compared to other headphone apps, this is easily one of the – if not the most feature-rich TWS headphone one out there.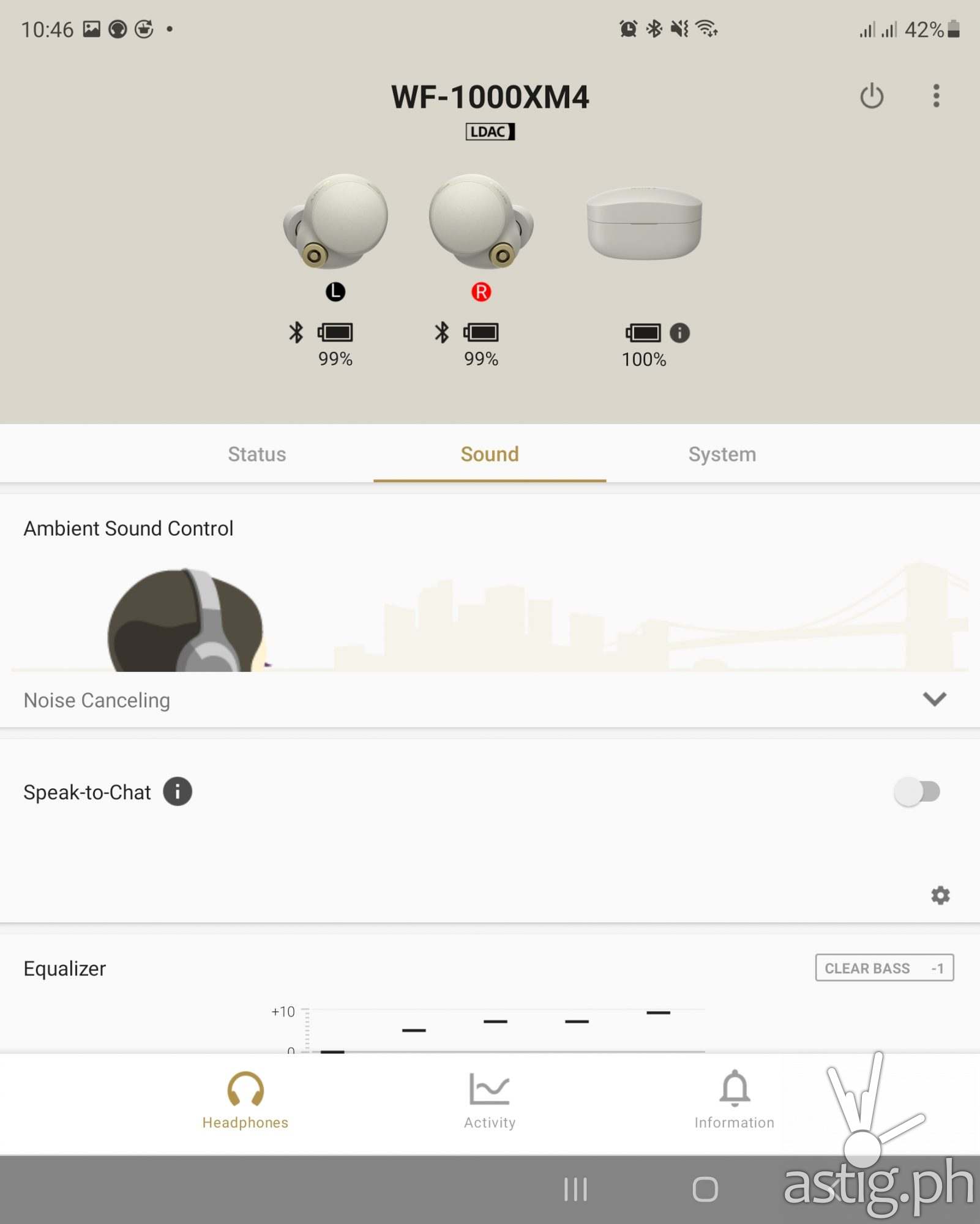 In addition to your standard sensor mapping controls and wear detection which triggers a pause, you can choose which voice assistant software to use, enable or disable specific ambient sound modes, control the equalizer, enable or disable DSEE Extreme, prioritize sound quality or connectivity, and change the language of the voice guide.
Then there are features which we have not seen on any other TWS app. Going through them could easily be an article on its own, but here's a quick list of some of the features we found most interesting:
Determine Optimal Earbud Tips – Measures the air-rightness of the earbud tips to determine whether or not the headphones are correctly being worn on your ears and help you choose which tip to use.
Analyze ear shape: Analyzes the shape of your ear to determine how to reproduce the best sound.
Speak-to-chat: Configures the earbuds to switch to Ambient Sound mode if it detects that the wearer is speaking.
Adaptive Sound Control: Automatically switches your Headphone Settings based on your action and location.
Activity tracking: Logs total use time, locations, as well as your actions (i.e. stay, walk, run, ride), you also unlock badges like a gamified achievement system based on your usage.
Profile sync: Backup or restore your profile from the cloud so you can port your personalization data to other devices.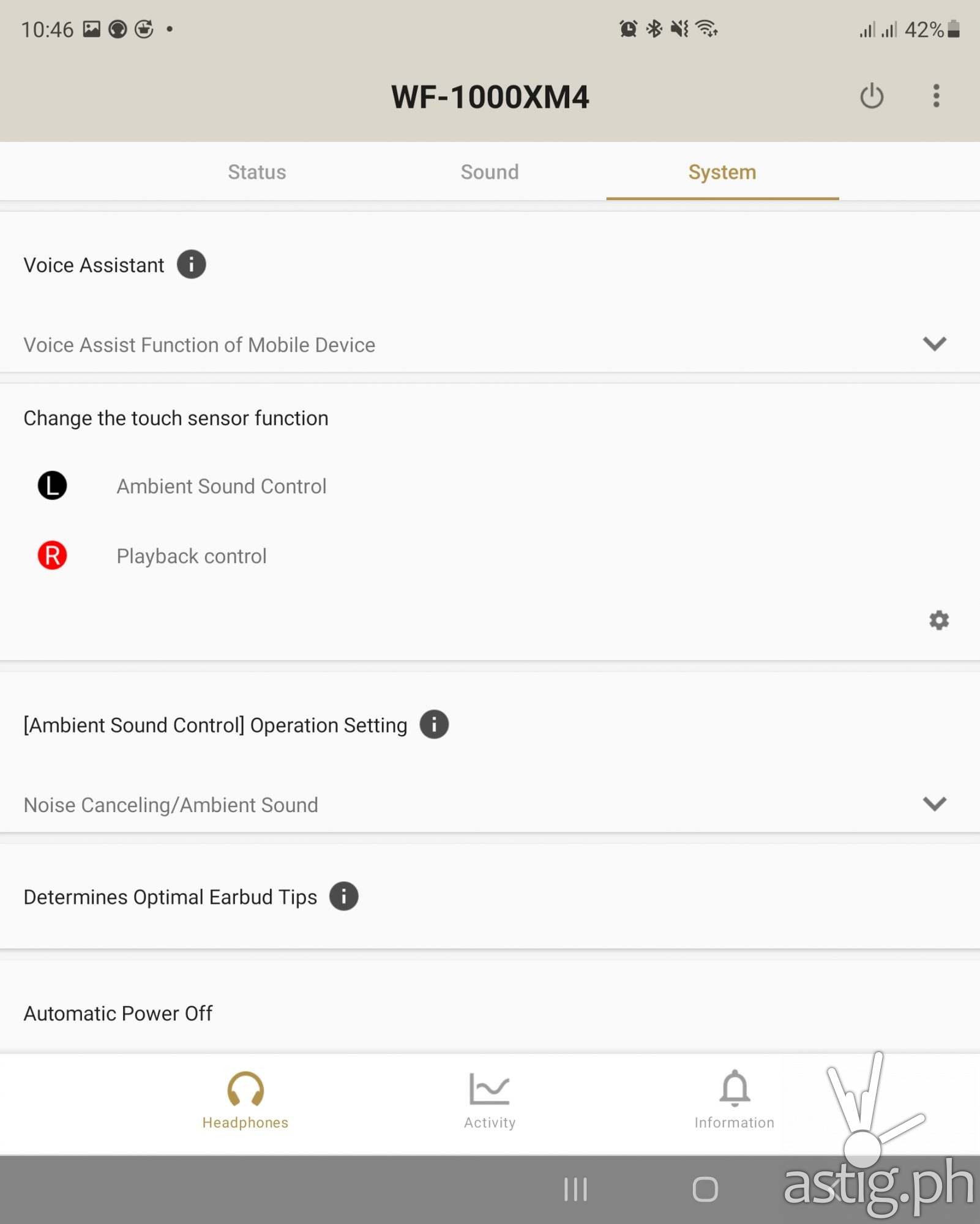 Connectivity
The WF-1000XM4 supports the Bluetooth 5.2 standard. Being a Sony product, it naturally supports LDAC, a proprietary codec developed by Sony that is capable of streaming high resolution audio at an aptX HD-compatible bitrate and up to 32bit / 96KHz.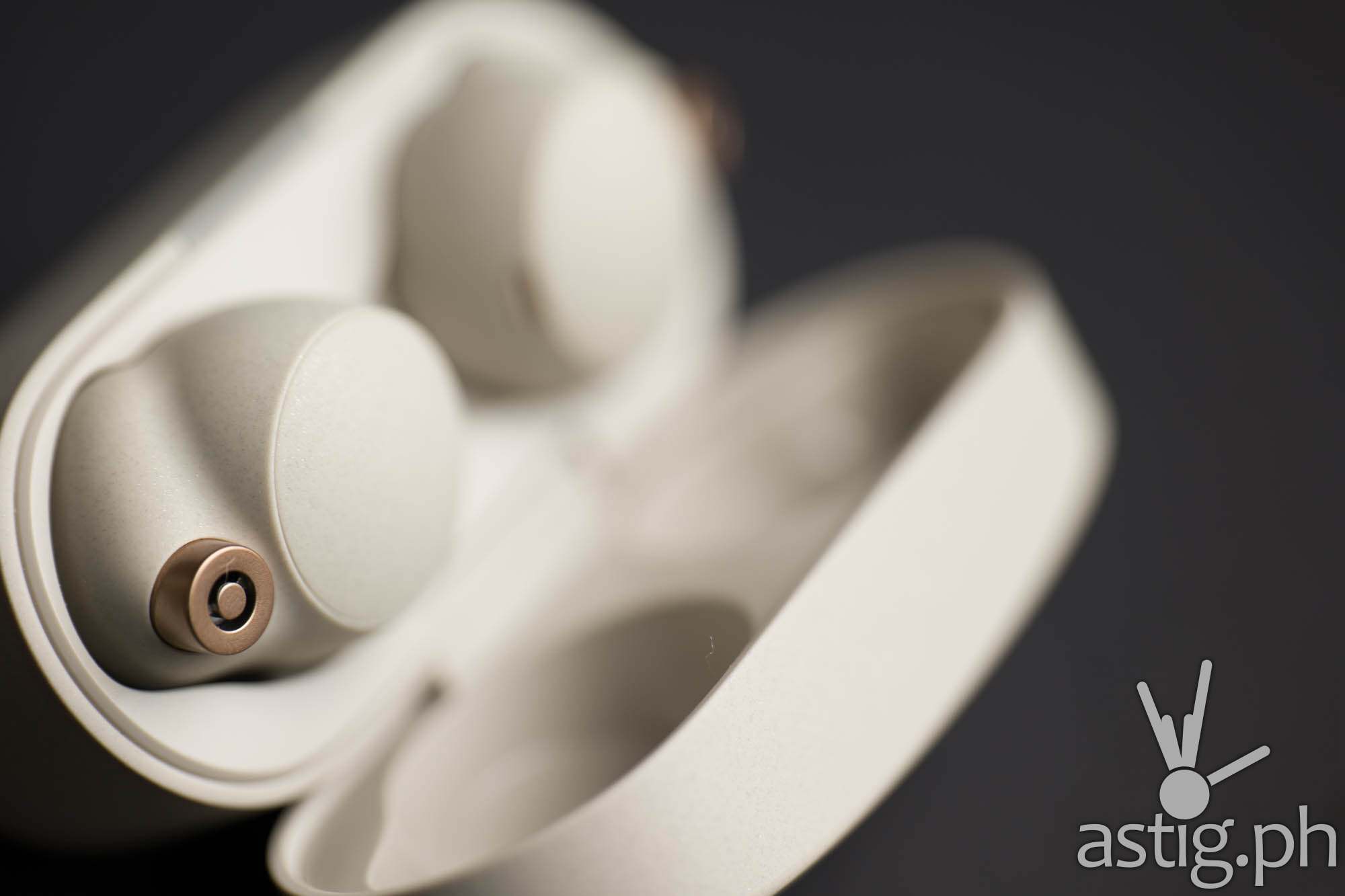 Sony's decision to drop its support for the aptX standard on the WF-1000XM4 might disappoint a few audio enthusiasts. We're guessing that it's a business decision, since aptX is proprietary and they already have LDAC.
It does not support Bluetooth multipoint connection over LDAC because of its large bandwidth requirement, so you'll have to switch to AAC in order to do that.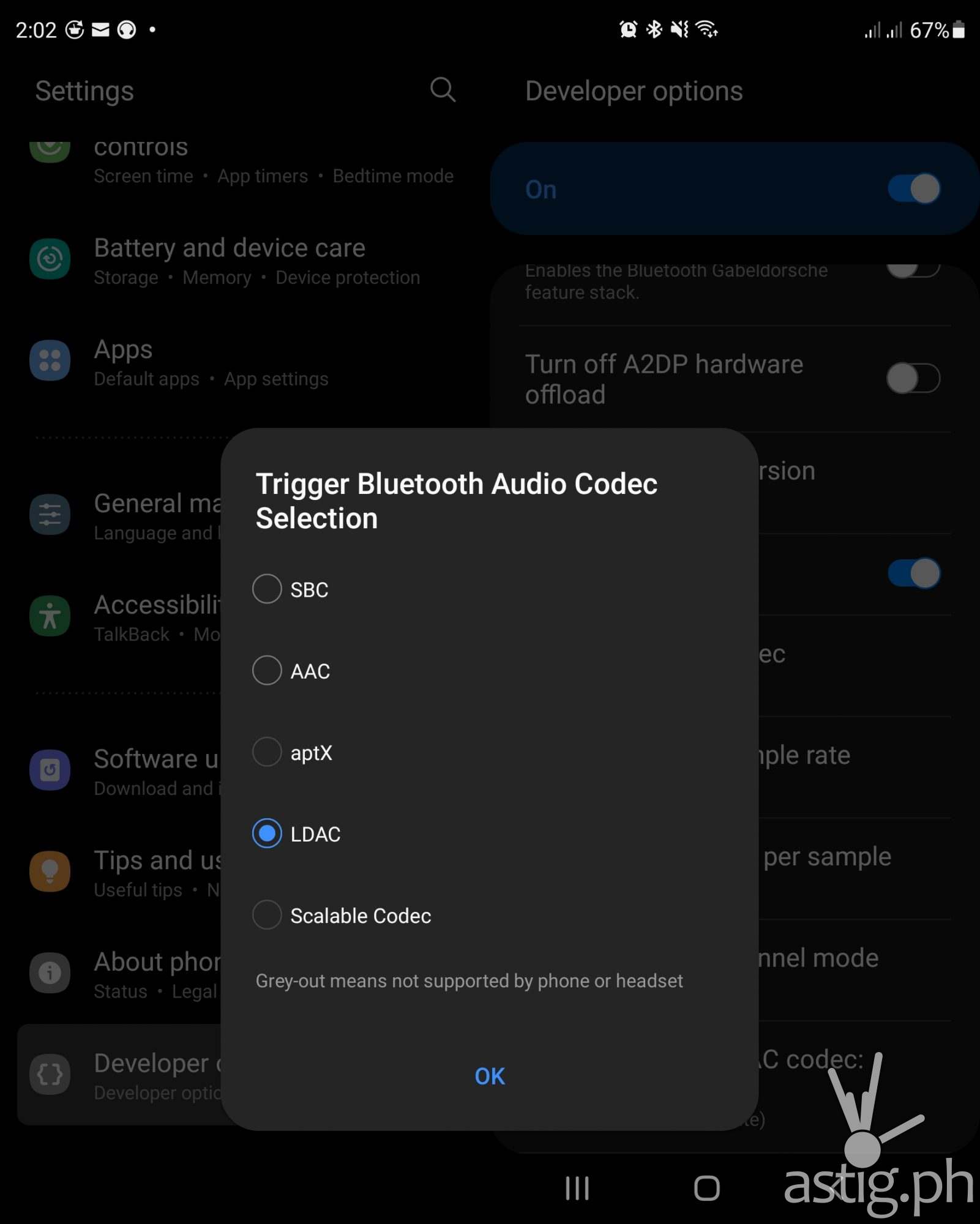 SBC is supported as a low-resolution fallback codec, but there does not appear to be a way to enable it through the app. To switch to SBC, we had manually switch to it through Android's system-level developer settings, which is normally locked and hidden away from most average users.
We found that the choice of codec does little to improve latency, which is already quite good and almost unnoticeable when watching videos. The only time we notice the delay is whenever we play games, there's a split-second delay between the time you press a button or a menu item before the sound registers.
Sound quality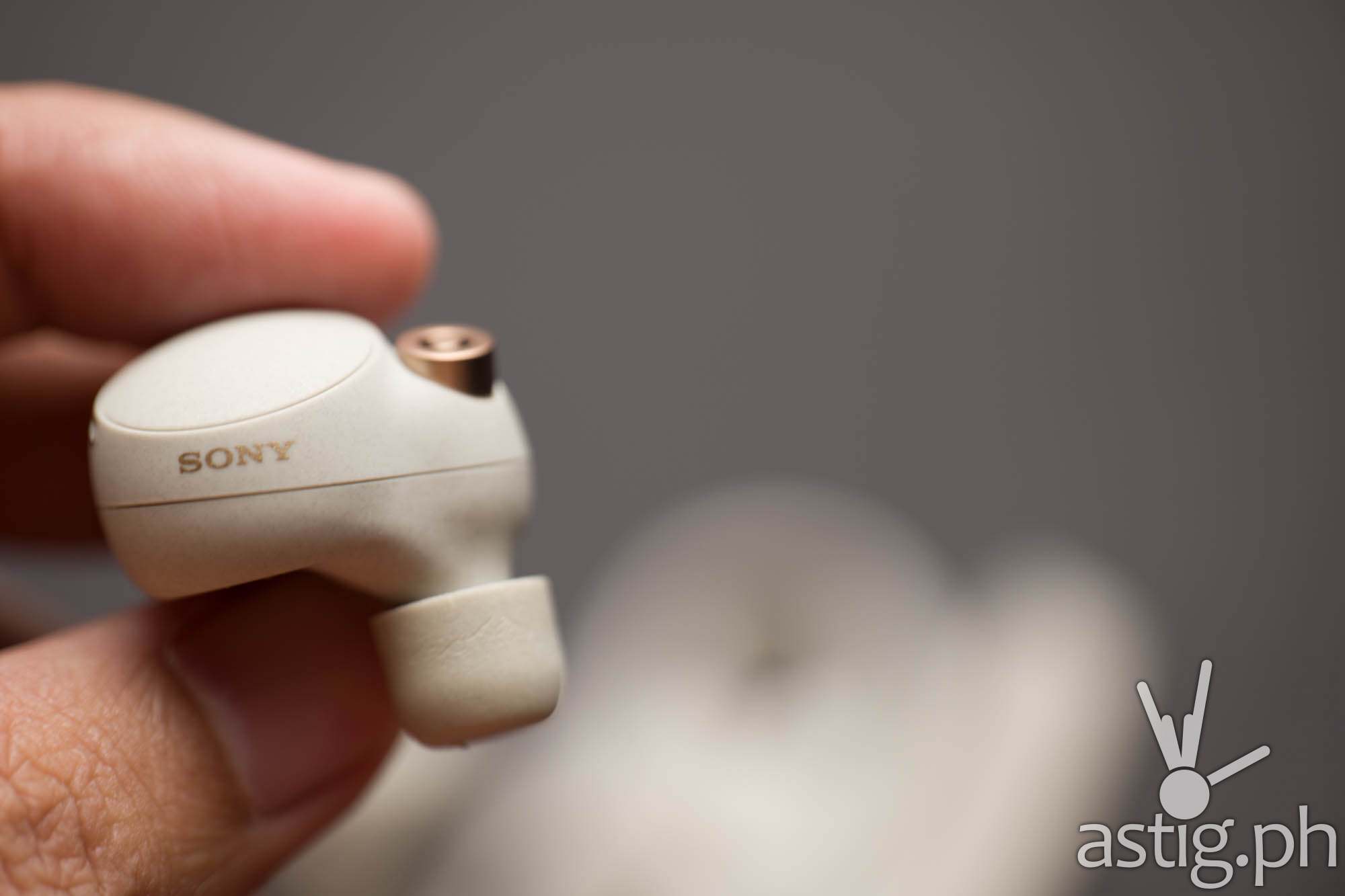 The sound profile of TWS earbuds can vary depending on one's personal taste, but if we are going to be honest, we found the default tuning to be a bit too heavy on the lower frequencies. Bass lovers will surely enjoy it, but we wanted a more neutral profile in order to better objectively gauge its drivers' capabilities compared to our reference headphones.
We have numerous pairs of IEMs and reference headphones in our repertoire, but for content creation, recording, and audio editing, we defer to our trusty Sony MDR-V6 for its flat, transparent, and consequently – very boring – sound profile.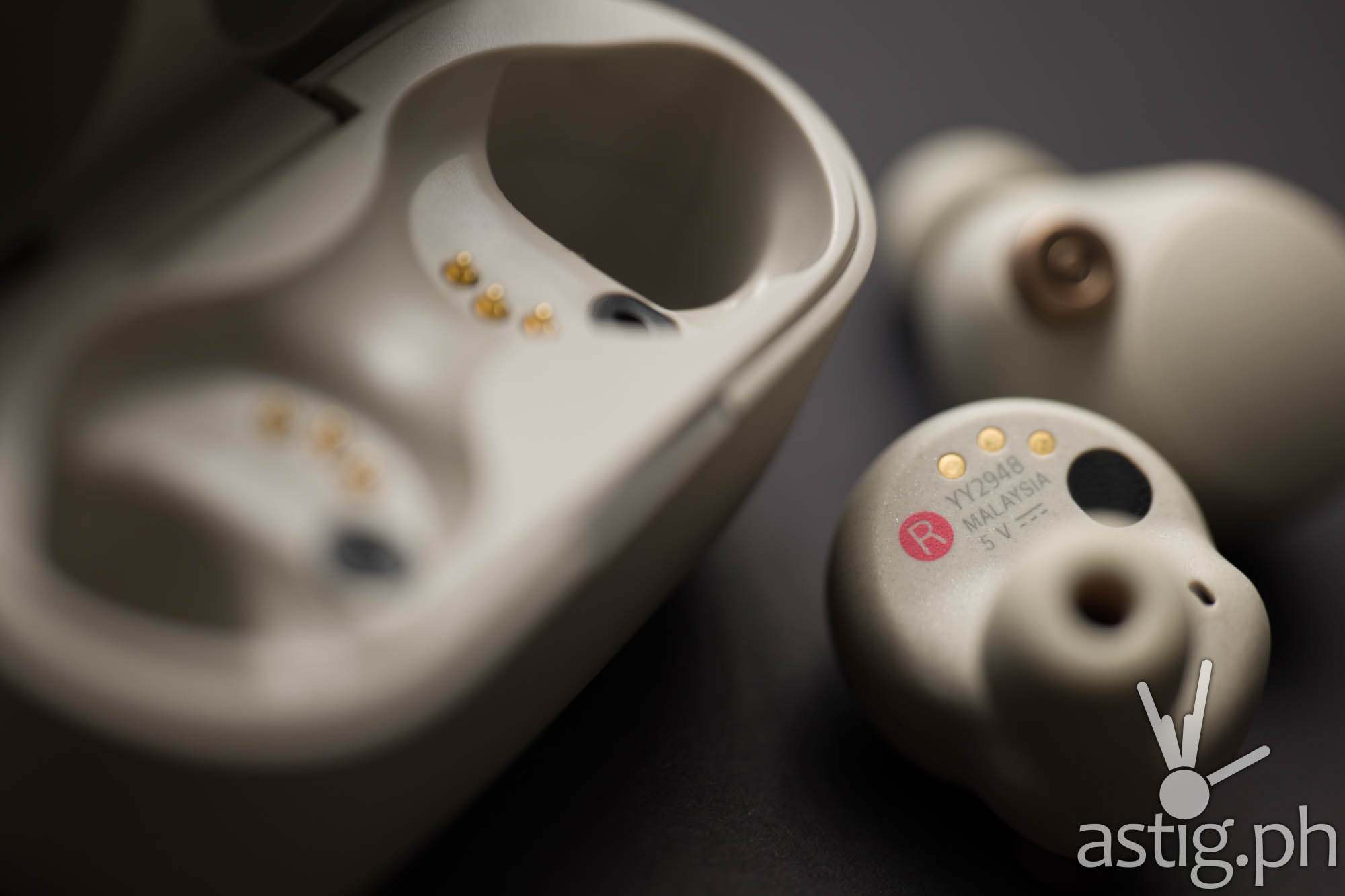 By comparison, the default tuning of the WF-1000XM4 was extremely colored, which muddies the sound and prevents us from hearing the details better.
It took us a while to figure it out, but it was audio bliss when we did. The answer is in the Equalizer Settings: By switching to the Bright Profile, we finally got enough clarity to hear the nuances of our reference recordings.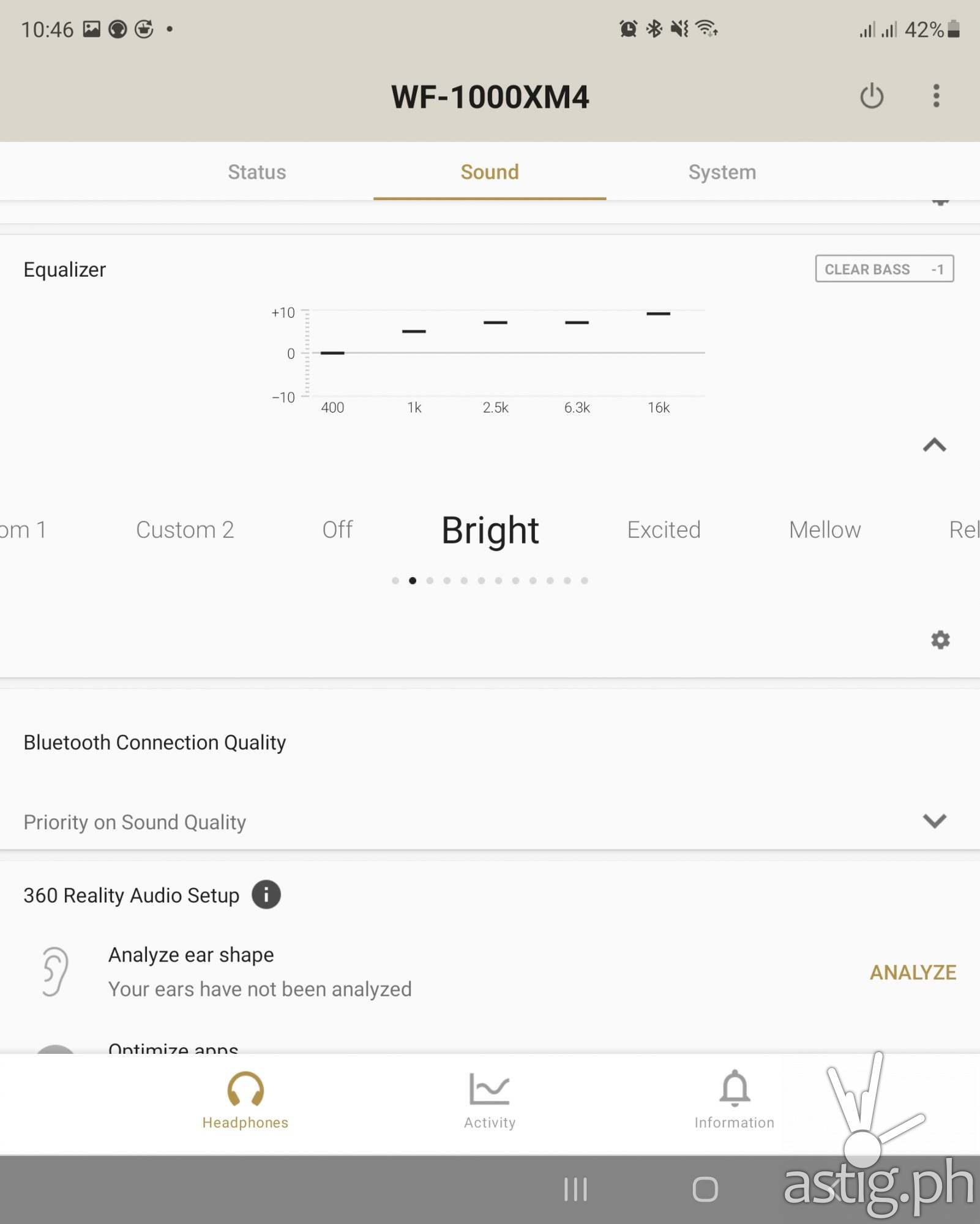 There is no way for us to really convey how good it is, but the sound quality is comparable to the more expensive IEMs that we own, and we're talking wired headphones here which, to us, is almost a dream come true. The kicker here is that the source is not going through a DAC (digital to analog converter) or an amplifier like its wired counterparts.
That's the other thing: The sound quality is amazing for being direct-to-source. Of course, you're not going to be able to tune it further with a DAC+amp stack like a wired HiFi system, but we're good.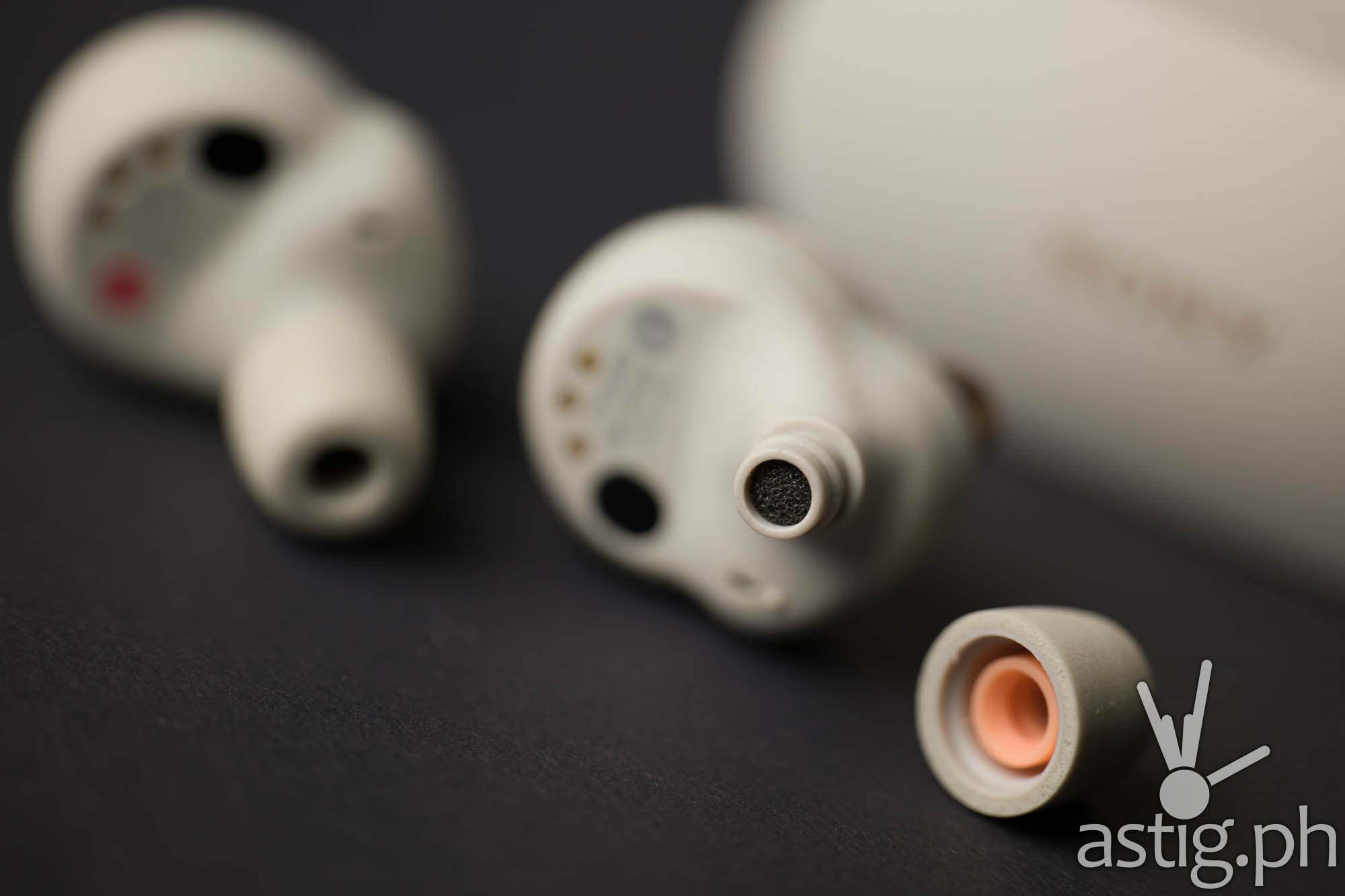 It's enough to satisfy us, and we're confident that even the most critical audiophiles will appreciate it too.
Sony made the right decision by going with foam earpads, which does an excellent job of sealing the drivers and isolating it from your surroundings. This leads us to the second thing that impressed us: Noise Cancelation on the WF-1000XM4 is the best that we have heard on a TWS headset by far.
You know those movie scenes or headphone ads where the background noise just fades away like the soft, blurry bokeh of a good photo? It amazes us every time Noise Cancellation kicks in.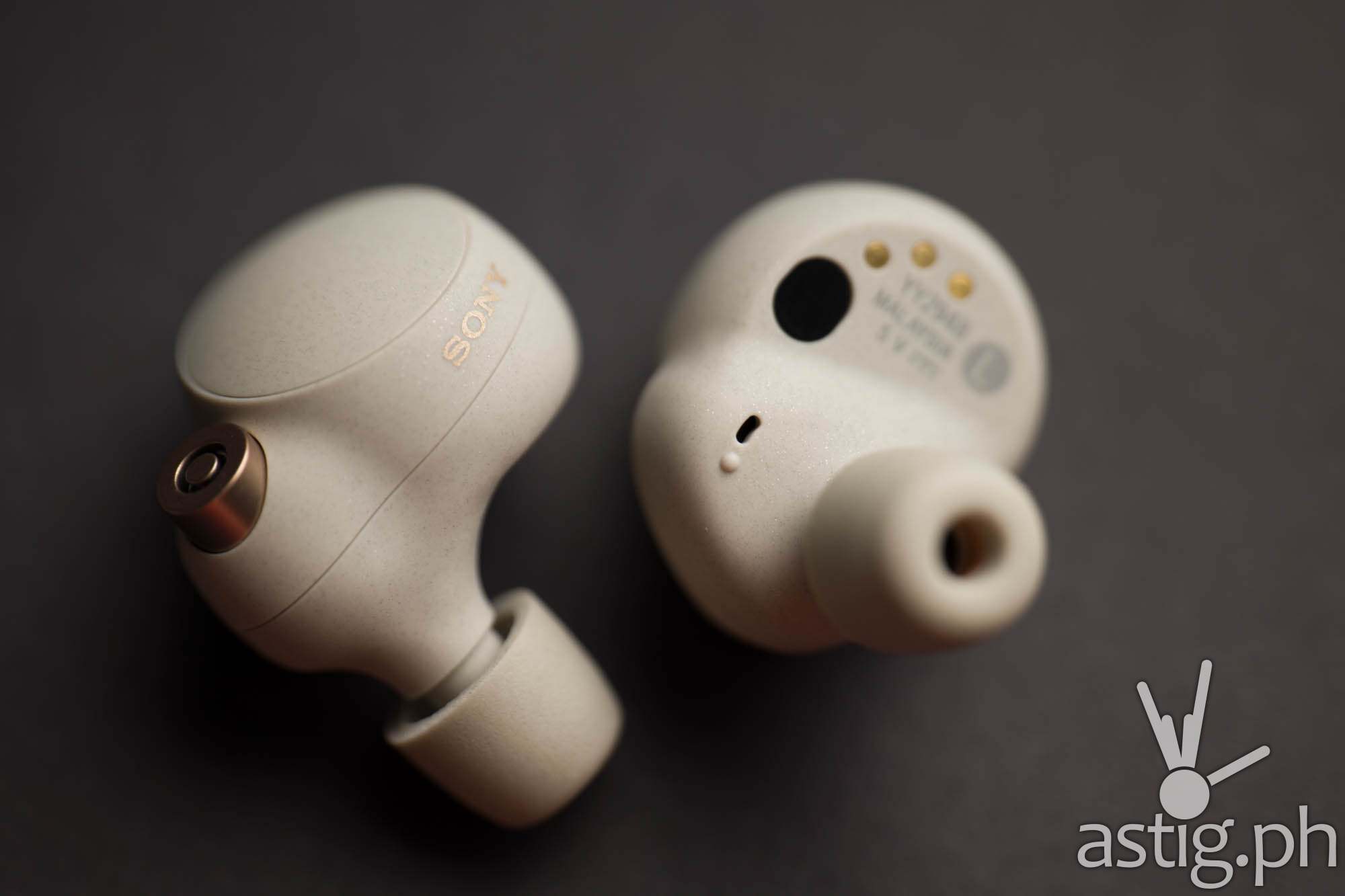 Like magic, ambient noise just disappears.
Wind noise gets drowned out as well, and we're really happy about that. It's one of those things that bother us with earbuds, you know? Like cable feedback in wired IEMs which, by the way, is also non-existent thanks to the uh, absence of wires on TWS.
Microphone and voice quality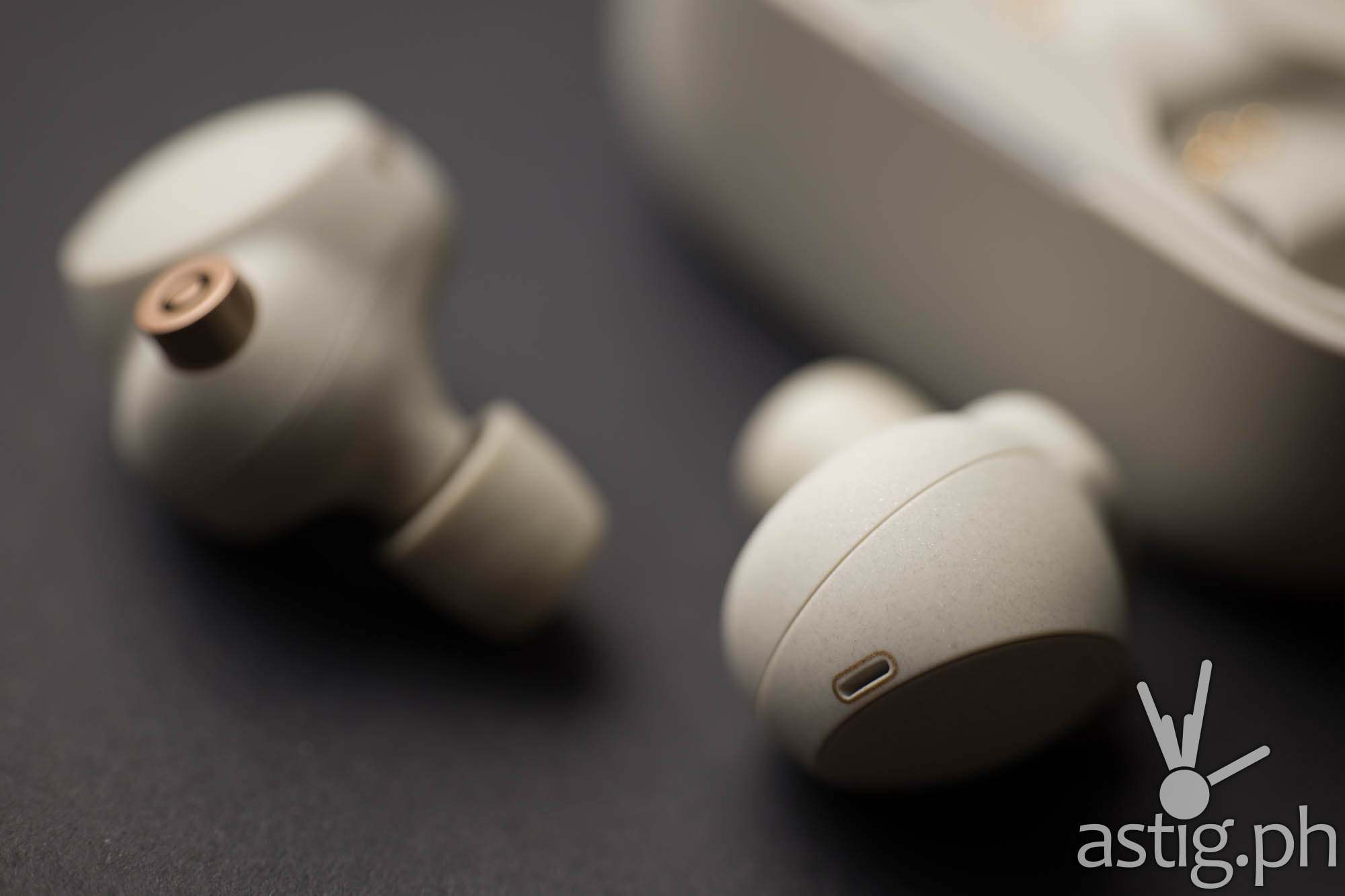 Among the chief complaints coming from Sony WF-1000XM3 owners is that the microphone quality is not the best, so we tested this extensively on the WF-1000XM4. There are two components in our test: voice calls and direct recording. We also tested it against other TWS as well as professional recording gear.
For cellular voice calls, the WF-1000XM4 is neither worse or better than other TWS and professional recording gear.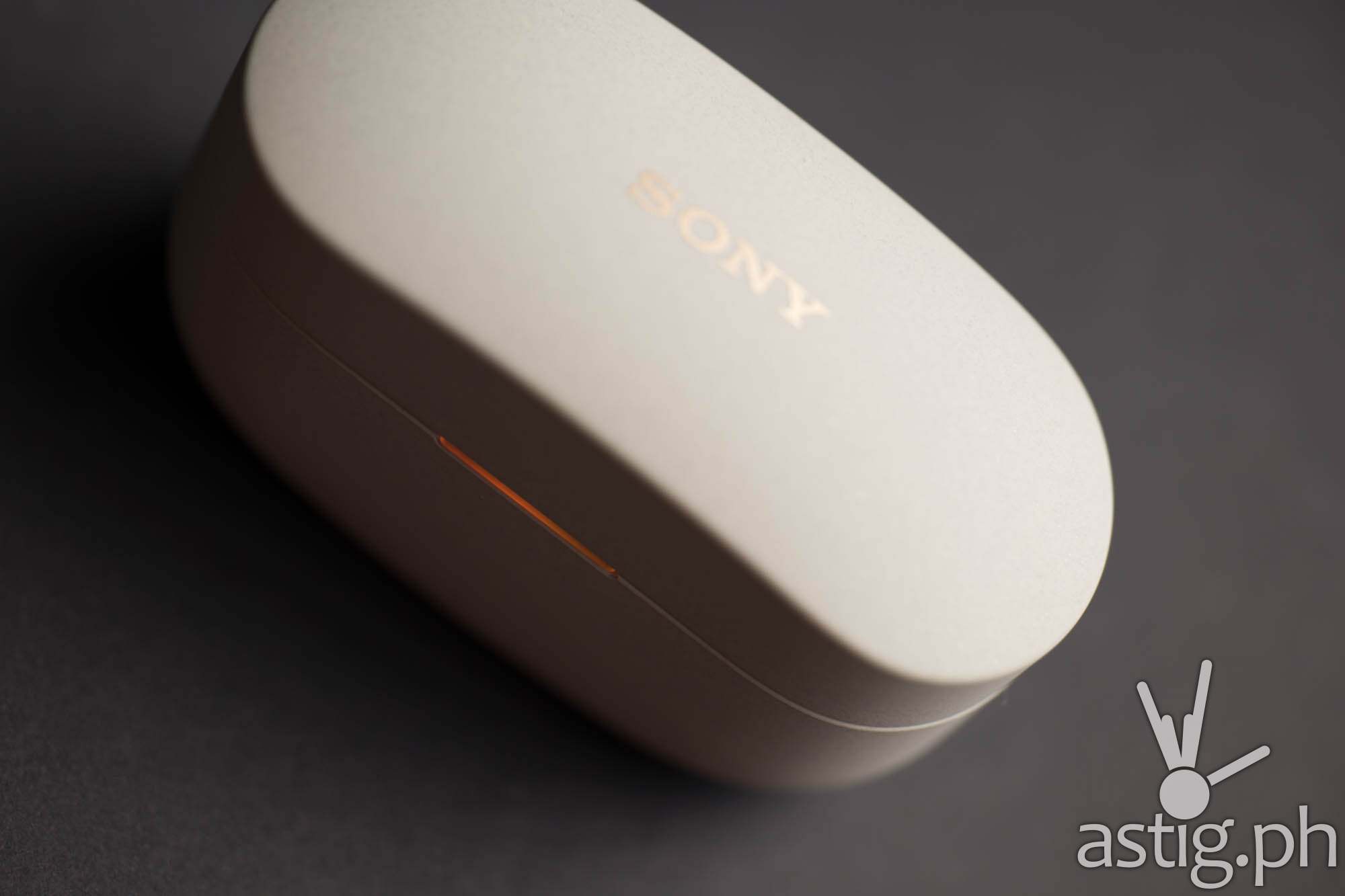 Because the audio gets compressed before it passes through the mobile network, the resulting audio quality will be poor regardless of the microphone that you are using.
For direct recording, however, the WF-1000XM4 lags behind other TWS headsets, and is certainly no match for professional recording gear. Although it successfully isolated our voice from background noise, it sounded like we were speaking through a pipe.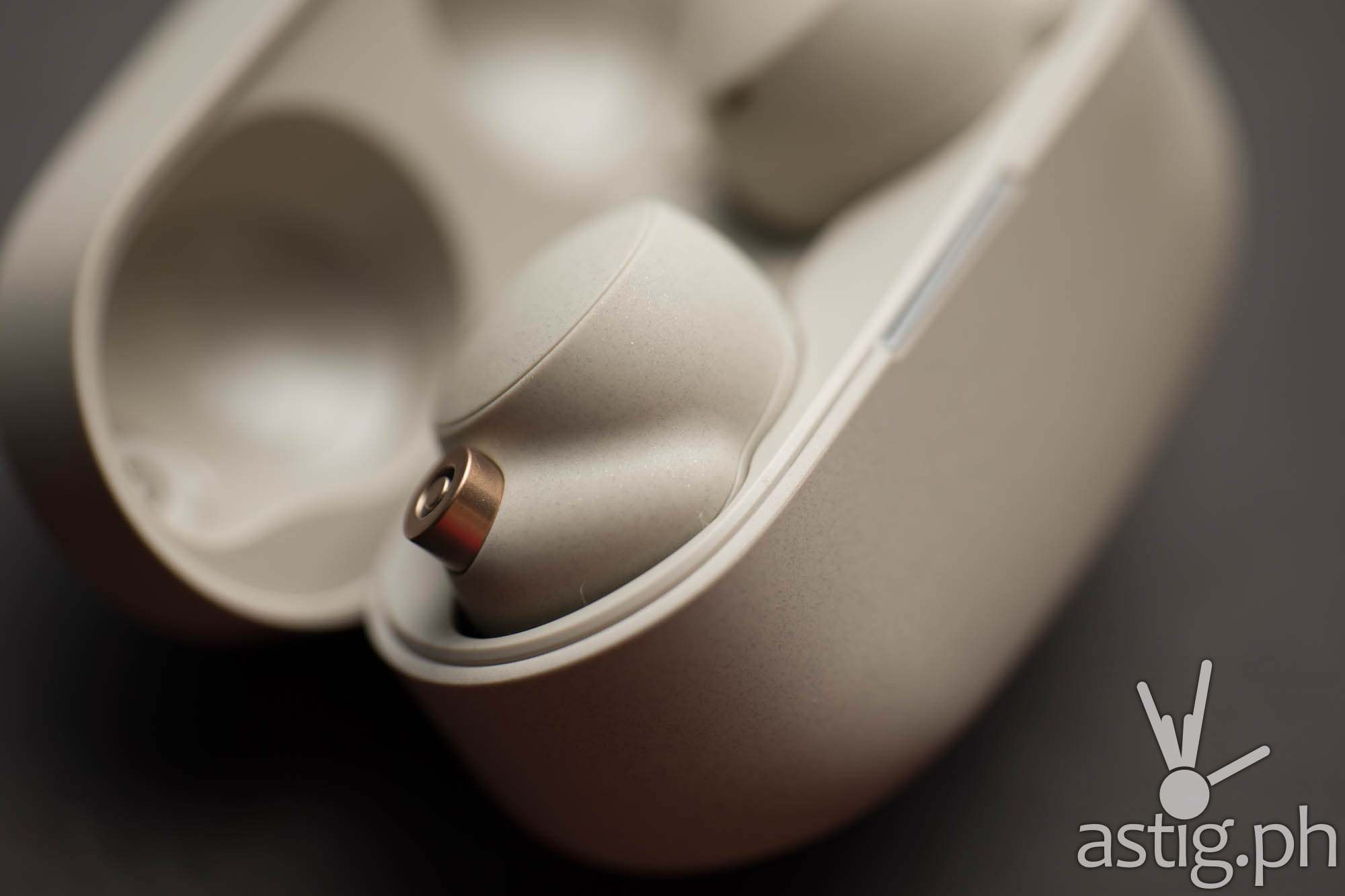 We allude the lackluster audio quality to two things: First, the structure of the earbuds are very compact. It doesn't have a stem, so the microphone is further from your mouth. We find that TWS earbuds with stems generally have better voice quality compared to stem-less ones.
Second, the background noise cancellation is a little too aggressive, so while it excels in blocking background noise, it also cuts off part of the speaker's voice.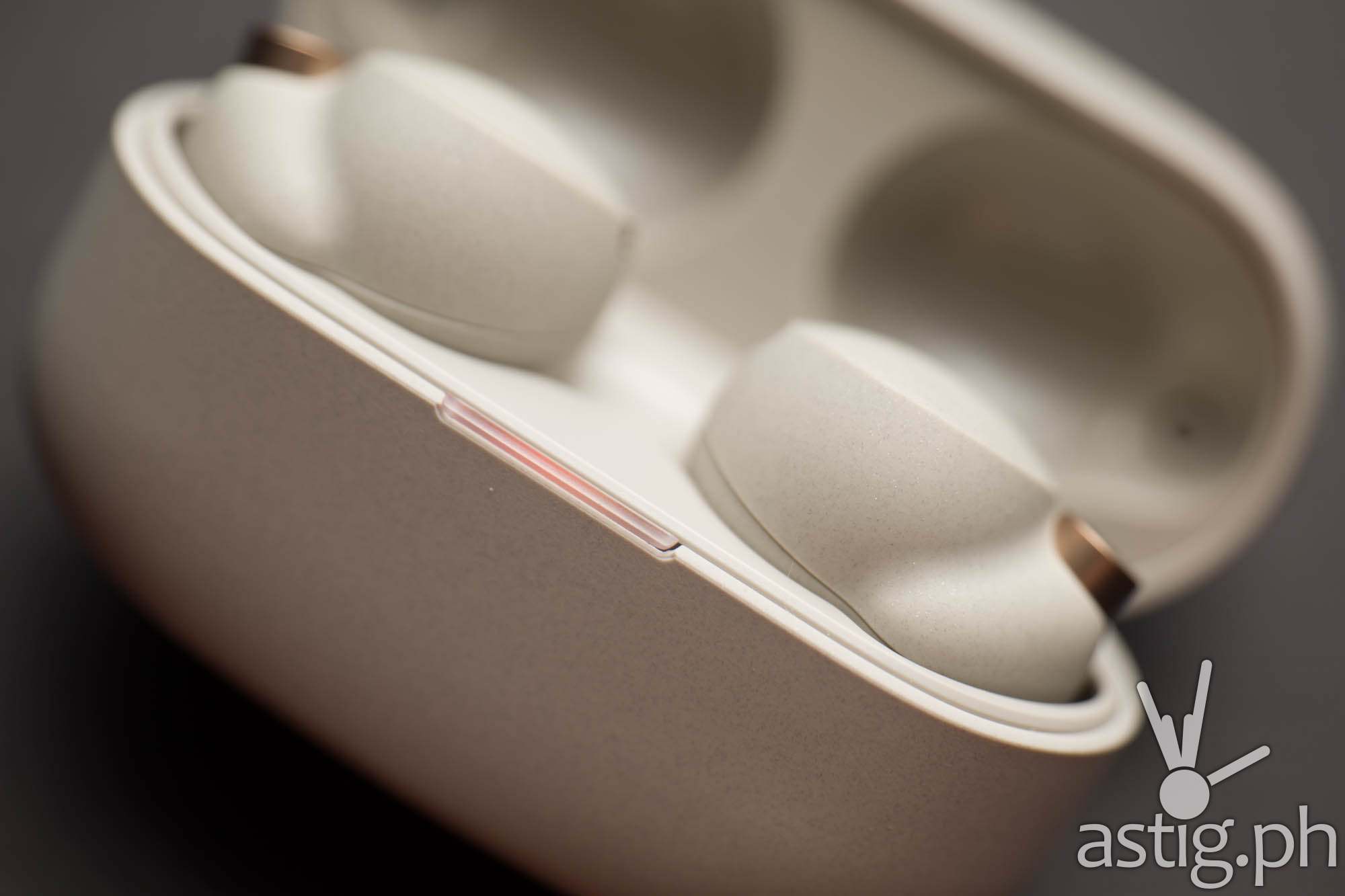 While the effect may sound unnatural, it does what it is supposed to, and does it quite well. If anything, Sony could probably easily address this by adding an option to dial down or disable voice isolation.
Our point is, the microphone quality criticism is not entirely unwarranted, but the WF-1000XM4 is clearly designed for voice calls and not for any kind of serious audio recording.
Battery life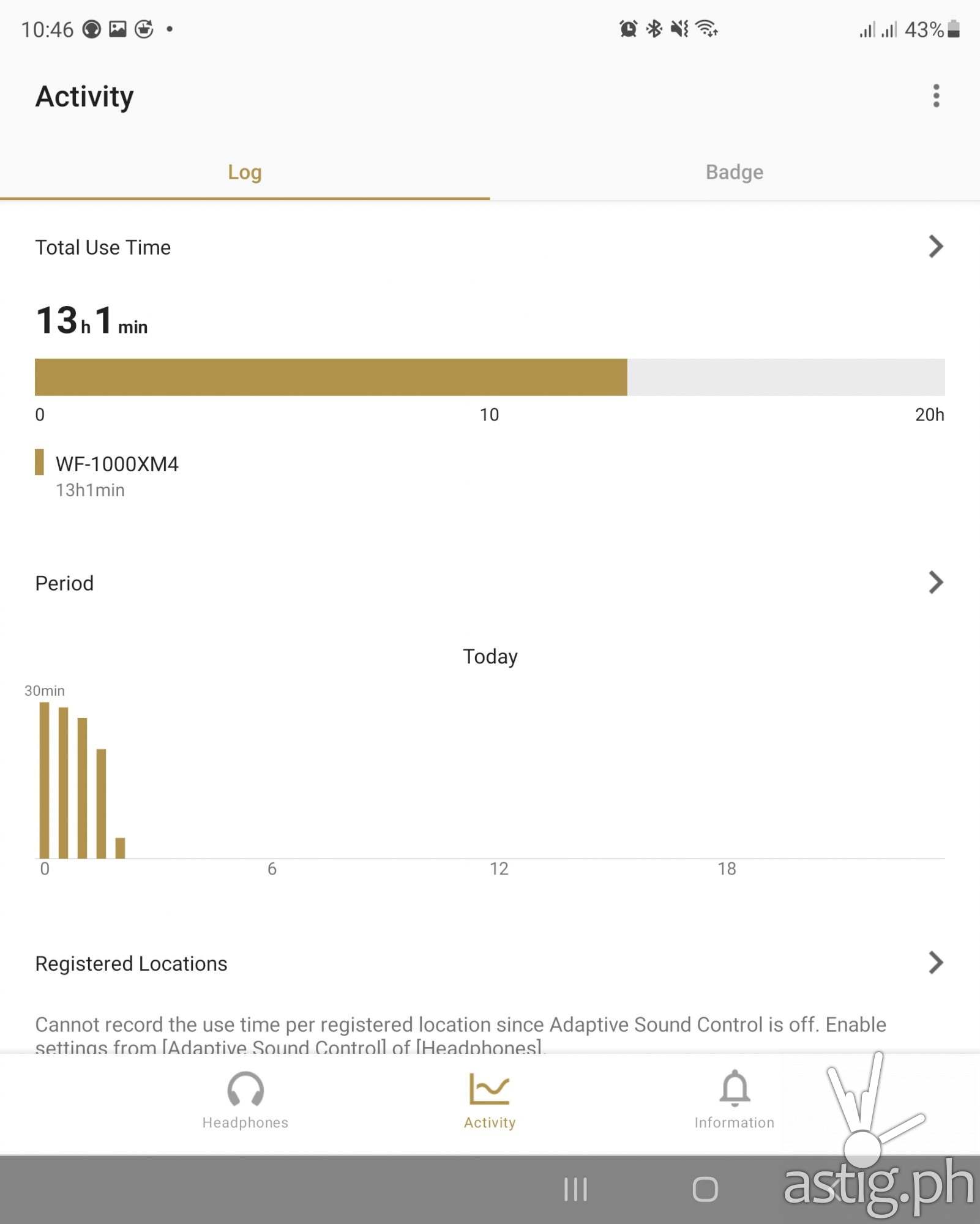 According to the app's activity tracker, we've been using the WF-1000XM4 for an average of 9 hours a day. We have Noise Cancelling turned on all the time, so the batteries on the earbuds takes a big hit.
Not an issue: as long as we replace it into the case from time to time, we're good as gold.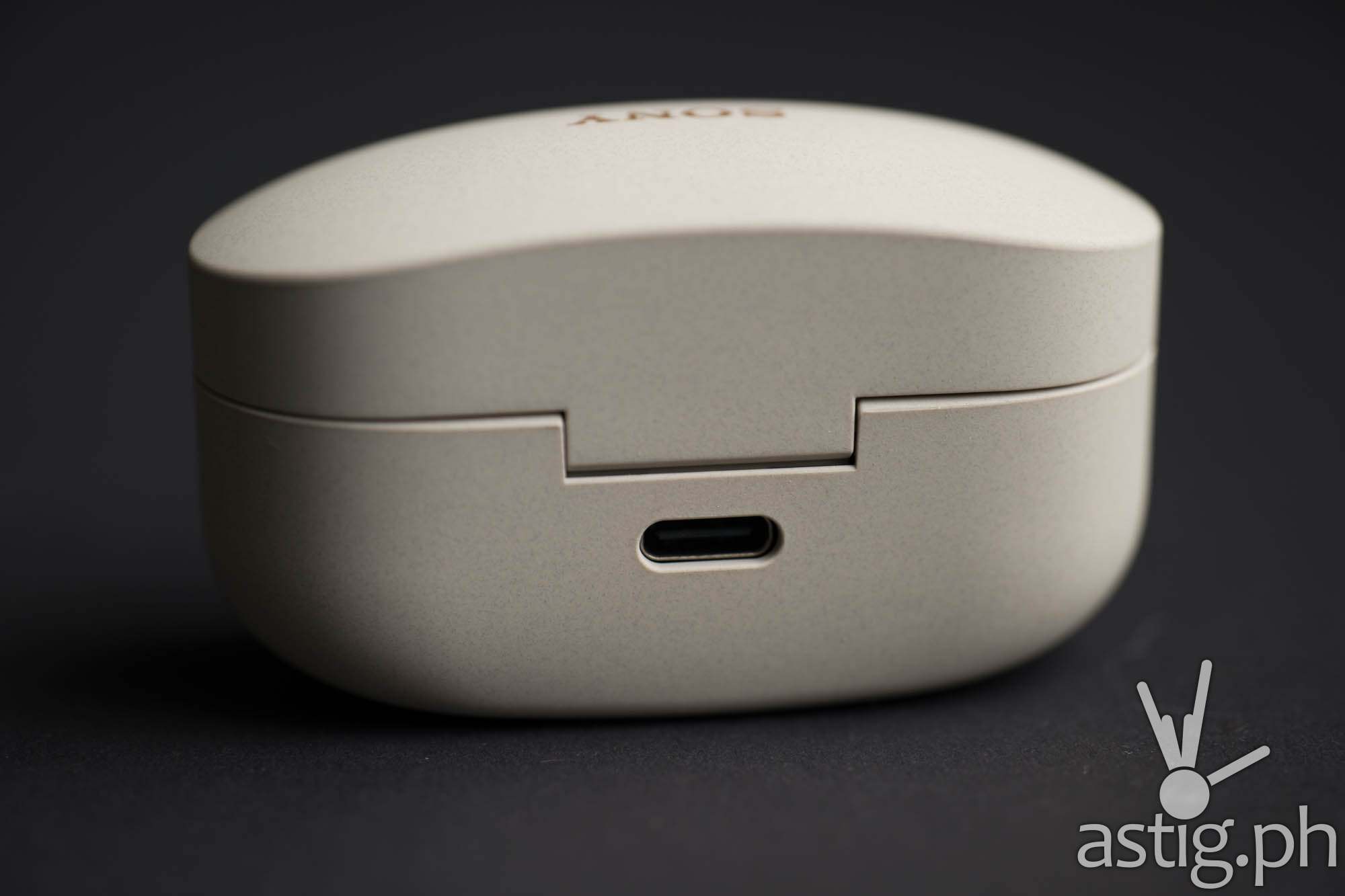 According to the spec sheet, the earbuds typically last 8 hours, and the case gives you an additional 16 hours to spare for a total of 24 hours.
Thanks to wireless charging, we also never fund the need to use a cable. We just put the case with the earbuds inside on top of a wireless charger at night and tomorrow everything is back at 100%. It uses the Qi wireless charging standard, but we were able to charge it using a generic wireless charger.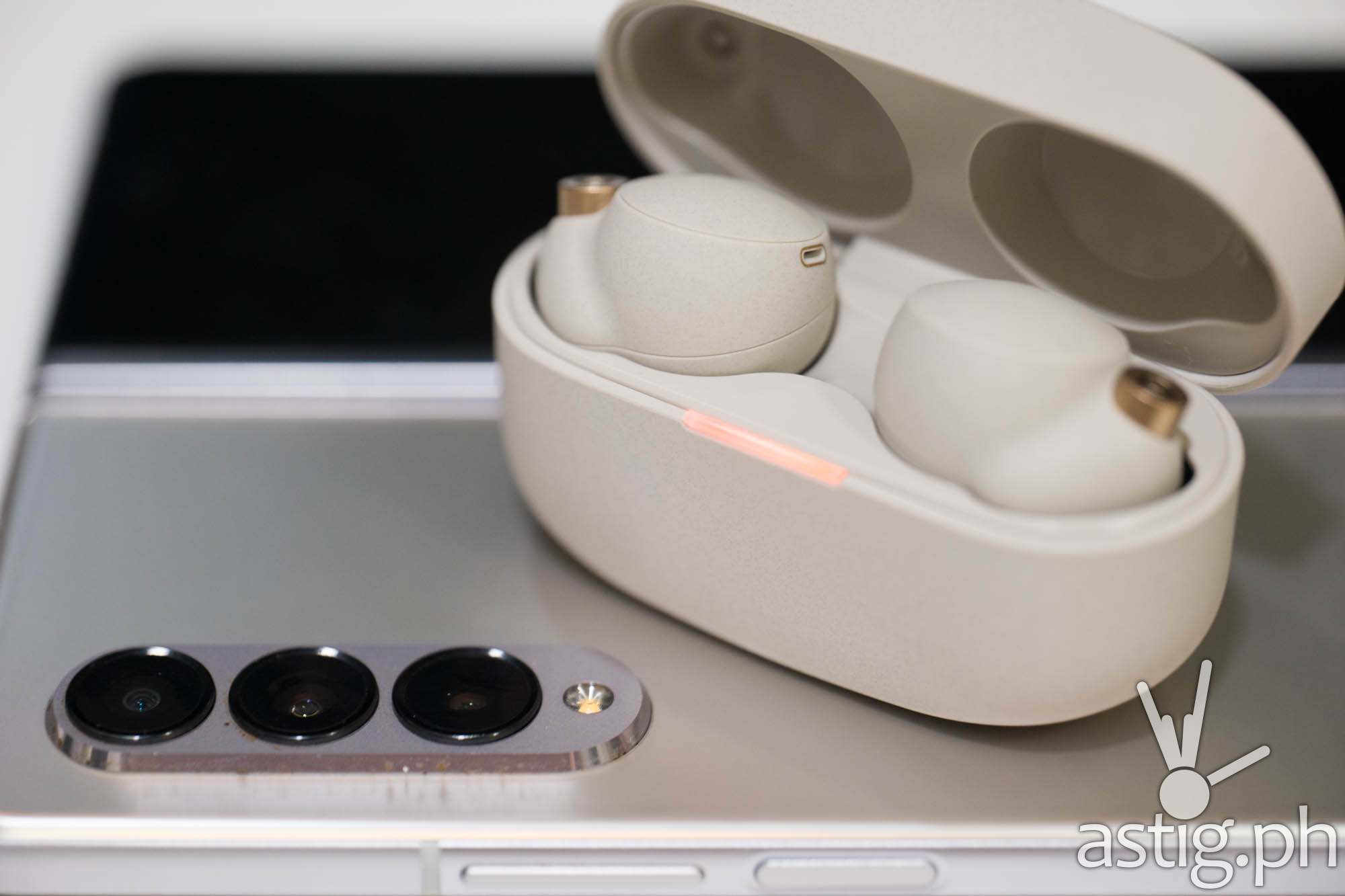 Heck, we even charged it using the reverse charging feature on the SAMSUNG Galaxy Z Fold3!
It charges really fast too: Sony has no problems claiming that 5 minutes of charging can give you enough battery life for 60 minutes of use.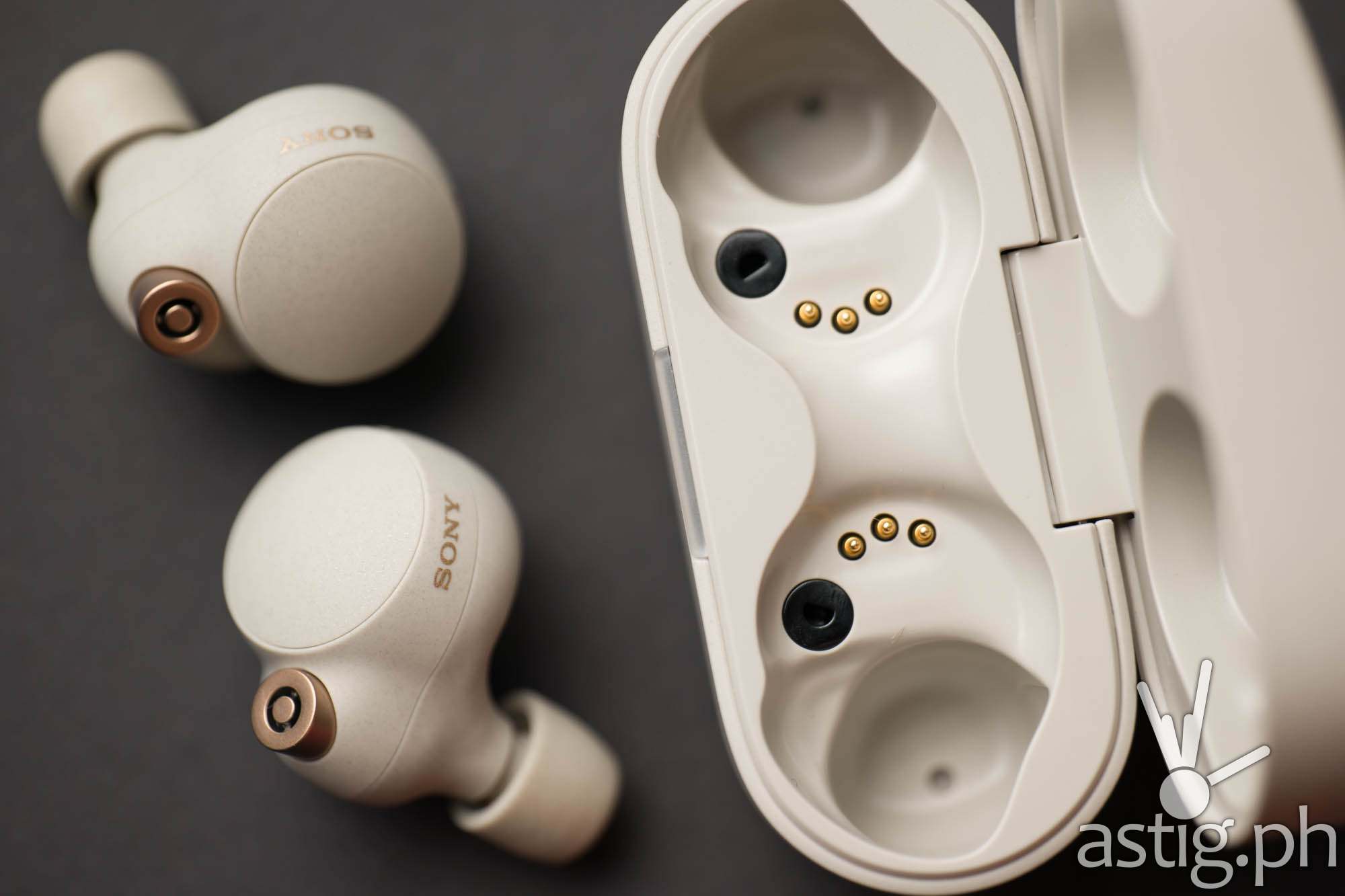 By the way, there is a power saving feature that you can enable through the Headphones app. This helps conserves battery life by automatically shutting down the headphones down the moment you take them off your ears.
It's a nifty little feature, but the battery life was good enough to the point were we never really found the need to enable it.
Verdict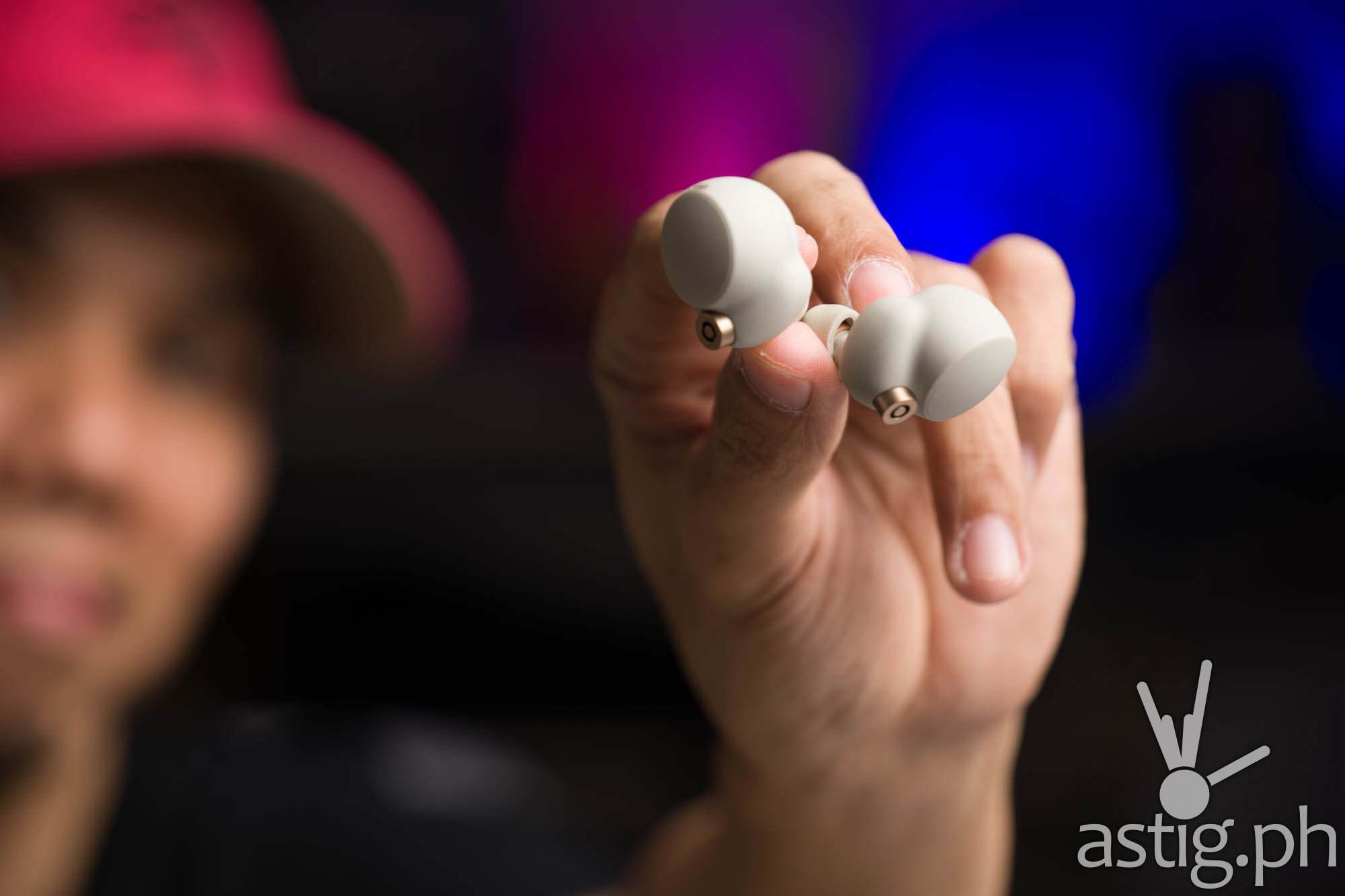 For a TWS, the Sony WF-1000XM4 almost like an audiophile dream-come-true: Sound quality to rival the best wired IEMs, enough battery life for an entire day of calls, and noise cancelling technology straight out of an ad or a movie scene.
It's also very intuitive and user-friendly to operate and comes with a bunch of value-added features like wireless quick charging, water resistance, and a powerful mobile app that lets you configure and tune the audio profile to suit your personal taste.
As a bonus, it looks great and fits your ears like a fashion accessory.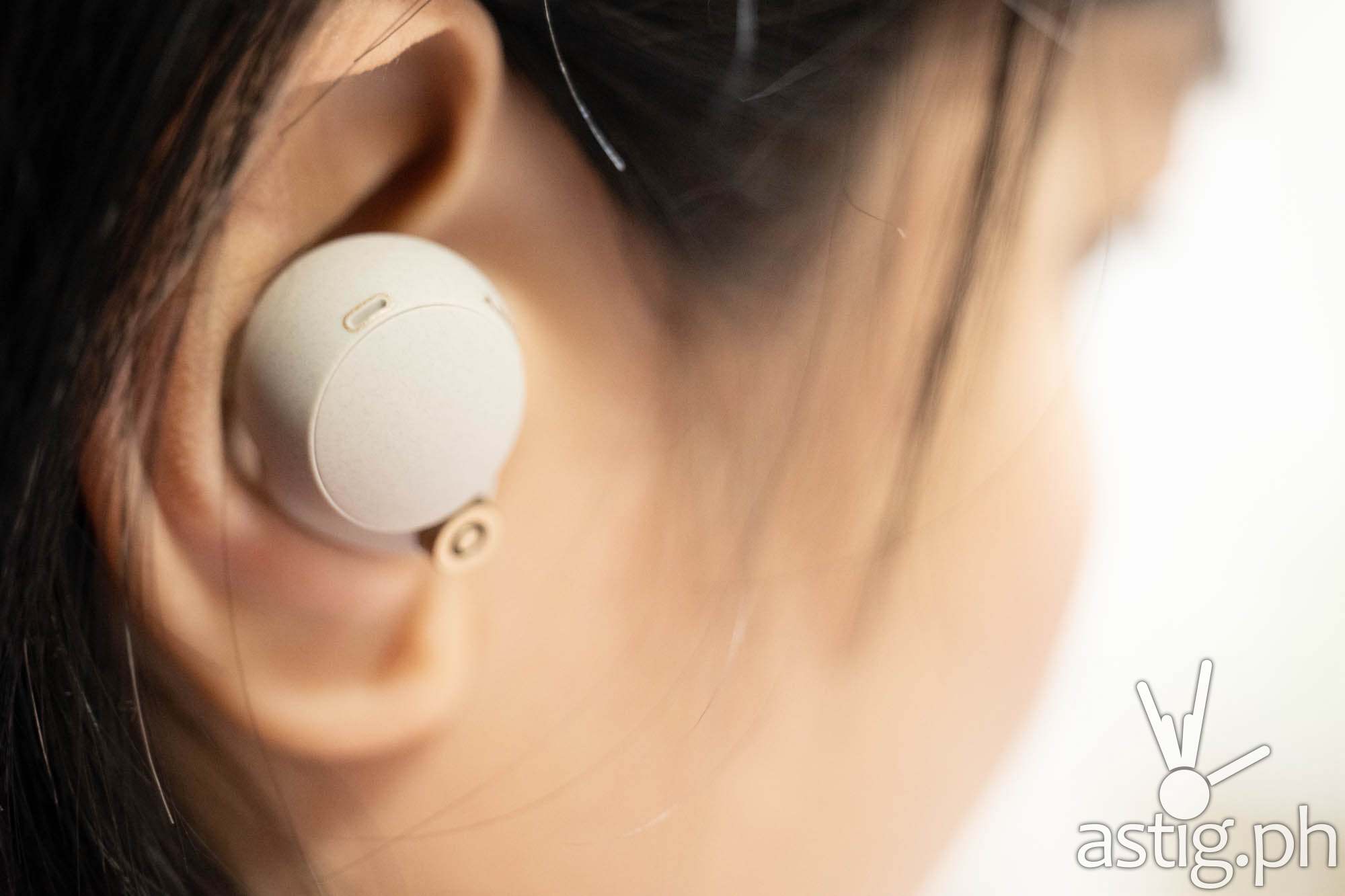 Before this, all we ever wanted from a TWS is a wireless IEM with a microphone that we can use for calls but the WF-1000XM4 pushes the envelope of what you can do with cutting-edge technology when paired with the dedication and passion of Sony's audio engineers. Its top-notch aesthetics and excellent build quality are just the cherries on top.
Despite the criticisms surrounding its microphone, the Sony WF-1000XM4 is a killer TWS that is worth every penny. The Php13,999 price tag may not be for everyone, but trust us: it's worth saving up for. Besides, that's a bargain compared to audiophile-grade IEMs, which easily go for three to four times more.
For the critical listener who knows what they are looking for, the WF-1000XM4 is the endgame TWS – for now.