Filipinos love their television, and one of the great things about having a smartphone is the ability to download and stream movies and shows so you can watch them on-the-go.
With smartphones getting bigger and bigger screens, this makes it the perfect platform for watching live television on-the-go.
BUY: Starmobile Knight Vision (9900 PHP) on Lazada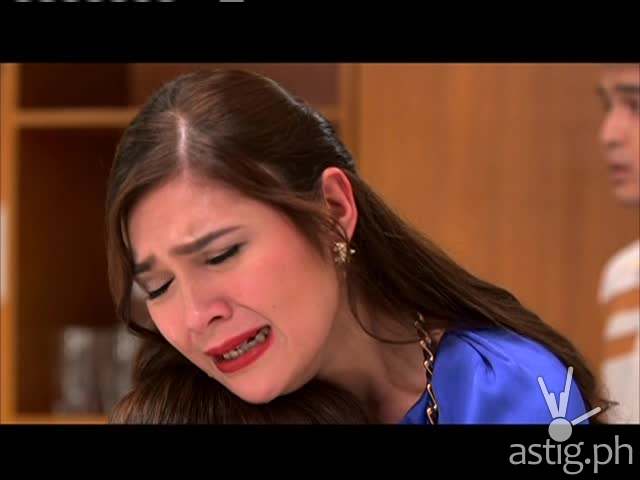 However, if you want to watch live television on your smartphone, your options are currently limited to 4-inch screen smartphones like the MyPhone Storm TV.
In addition, TV-capable smartphones currently available on the market only support analog television – which is fine for the most part, except the NTC ordered the switch from analog to digital television in 2016, so analog TV receivers will soon become obsolete.
Enter the Starmobile Knight Vision – the first – and currently the only – smartphone with an ISDB-T digital TV receiver.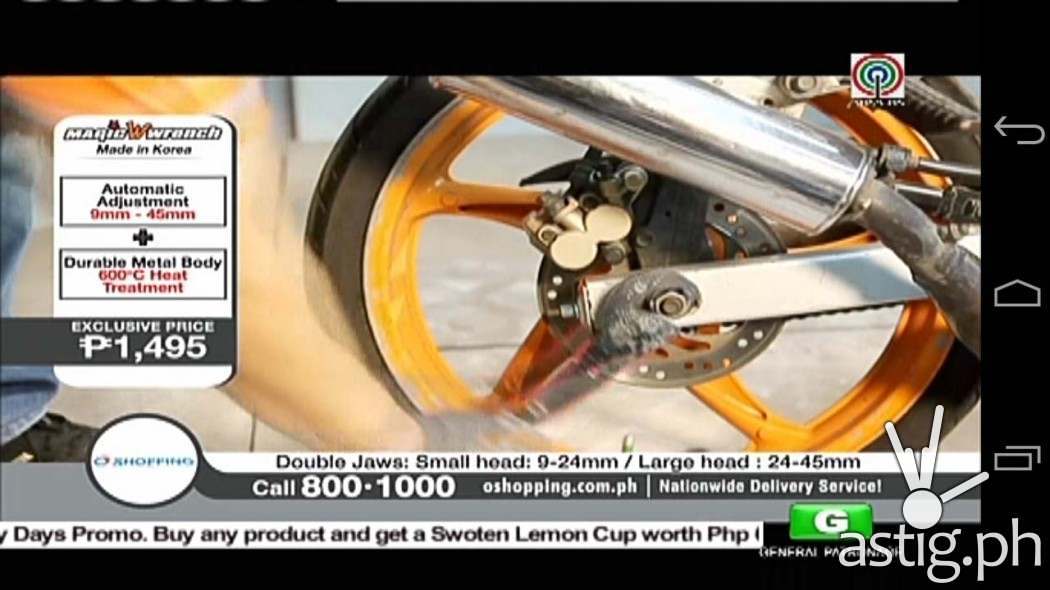 Earlier this year we reviewed the ABS-CBN TVplus! and we were really impressed by the cable-like, YouTube-like picture quality that digital TV offers.
WATCH: Smartmobile Knight Vision Android smartphone + digital TV unboxing video
So we were really excited to learn that we can now have that kind of picture quality on a mobile device.
Imagine, digital quality live television anywhere you go.
The Starmobile Knight Vision does just that and more.
Display
Pros:
Gorgeous 5.5-inch phablet-sized IPS LCD screen.
Smartphone users spend a lot of time looking at their screens, and this becomes more important when you expect to watch a lot of shows.
Some users prefer on-screen buttons as opposed to capacitive (hardware) buttons.
Cons:
The screen of the Starmobile Knight Vision is not protected by a scratch-resistant glass such as Gorilla Glass or Dragontrail Glass.
As a mobile television set expect to spend a lot of time looking at the screen, so that should have been top priority. Thankfully, the Knight Vision comes with its own screen protector, though you still need to install it yourself.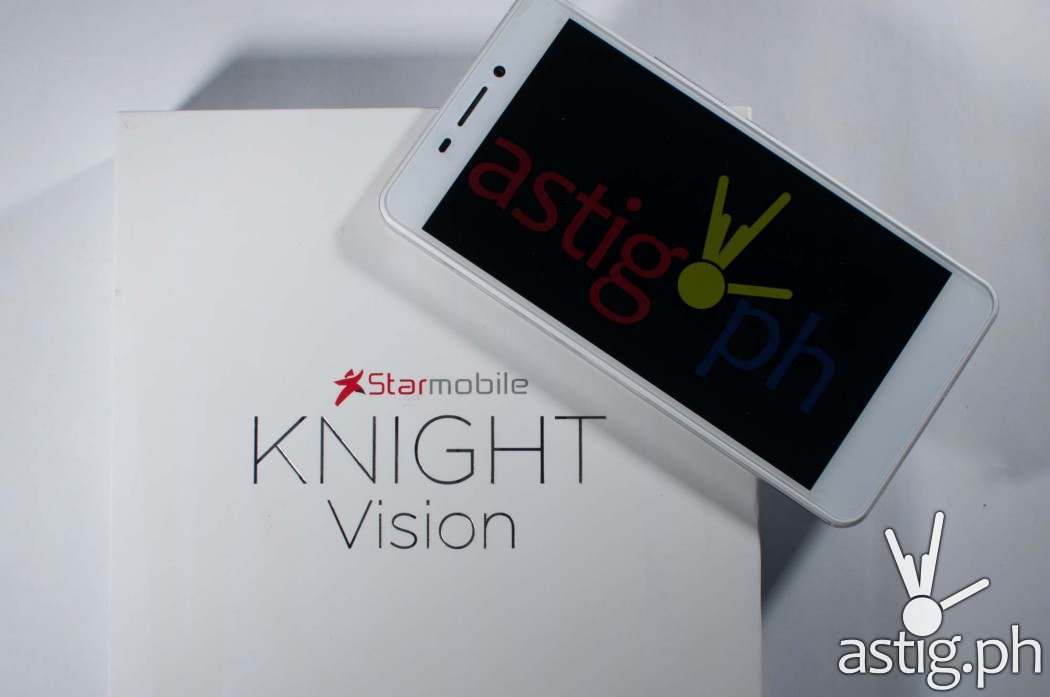 Accidents will happen and unless you're Spiderman you will end up dropping your phone so the screen protector is absolutely necessary.
We also find the screen on the Knight Vision to be a little dim, even at full brightness, when compared to other smartphones.
If you were using the device inside a room, the highest brightness setting should suffice. However once you go outside, however, the lack of brightness becomes more evident as you try to fight against ambient light.
Not that you will be watching shows at 12 noon while sipping buko juice in Boracay most of the time, but in a tropical country like the Philippines we do get a lot of sun, and having a smartphone with a bright screen helps – you know, for those cases when you decide to text while crossing the street on a warm sunny afternoon.
Also, the on-screen buttons take up a bit of real estate, and it never goes away – even when playing Digital TV, wasting part of the screen.
ASTIG:
The Starmobile Knight Vision has a HUGE screen at 5.5 inches, making it the smartphone with the biggest screen that can also play digital television. We did a through online search and we scoured cellphone stores looking for a better alternative, but there was none.
The closest rival, MyPhone Storm TV, only has a 4-inch screen and it only uses analog TV. The Knight Vision, on the other hand, has a lot more screen real estate and you get digital TV, so you get to enjoy crystal-clear picture quality and sound in a larger screen.
Audio
Pros:
Powerful built-in speakers found at the back of the Starmobile Knight Vision.
Upon testing we were impressed with the amount of volume that the built-in speakers can pump out.
This is good news for those who like watching their shows without the assistance of a headset.
Cons:
However, we were dismayed at the lack of volume coming through our headsets.
We had to double check to make sure it wasn't the headset that was having an issue.
We sifted through 4 different earphones but no matter what we used the results were the same – we still had difficulty hearing the audio that was coming through, even at the highest volume setting.
Not to worry – there are apps on Google Play that boost the volume of your Knight Vision.
A slight inconvenience, but at least there's a workaround.
Build Quality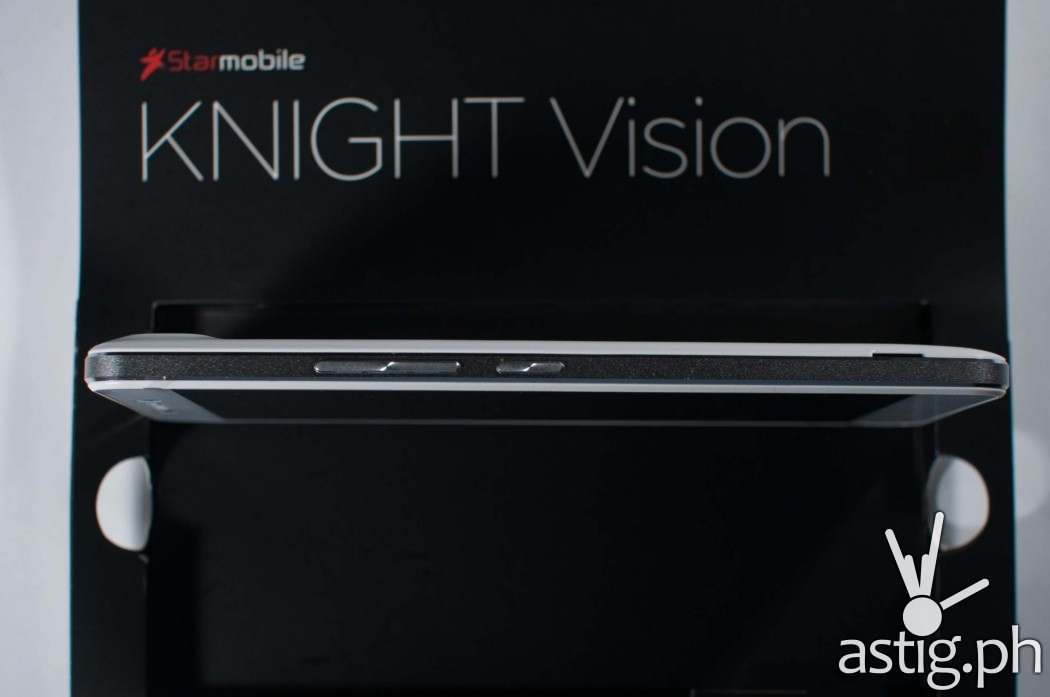 Pros:
Solid feel, expandable storage space via microSD, and dual-3G SIM support with dual standby eliminates the need to manually swap SIM cards around.
The metal (aluminum?) border is a nice touch.
Cons:
Matte plastic chassis looks plain and feels cheap, but hey, walking around watching TV shows on an expensive-looking phone might result in more unwanted attention than necessary.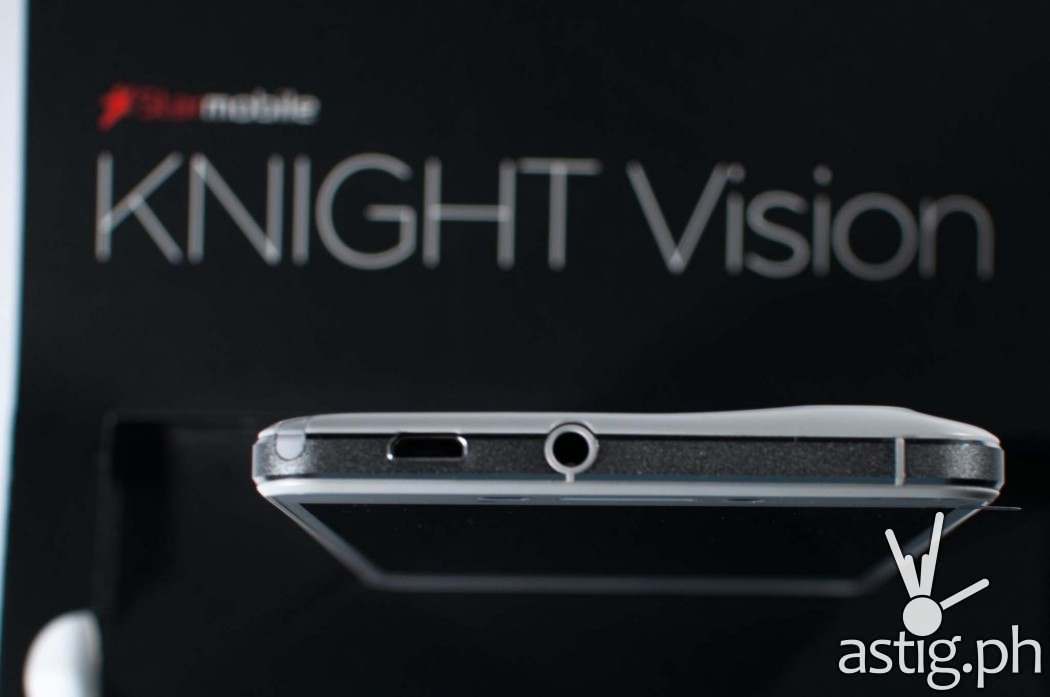 One more thing, all of the device's connectors are loaded at the top.
The TV antenna, micro USB port, and 3.5mm headset port are all loaded at the top, so things can get a little crazy if you have to use all ports at once.
Performance & Gaming
Pros:
A decent CPU that is capable of handling most everyday applications. The 2 GB of RAM lets you easily switch between multiple applications running at the same time.
By comparison, 2 GB is more than enough for most desktop PCs a few years ago.
Cons:
Some hanging and force close from time to time.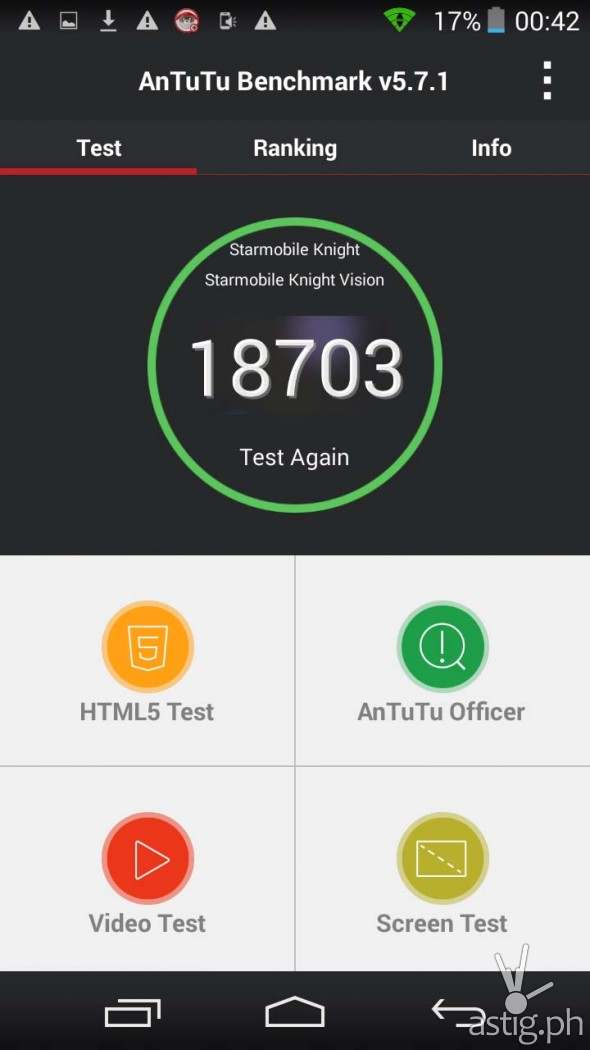 Performance benchmark tests on Antutu 32-bit resulted in a score of 18703 points, placing it all the way down in the rankings, even lower than the Xiaomi MI 2, which scored 24625 points.
Not too impressive considering the MI 2 is a 3-year old smartphone that came out in 2012.
ASTIG:
Good frame rates when playing 3D games.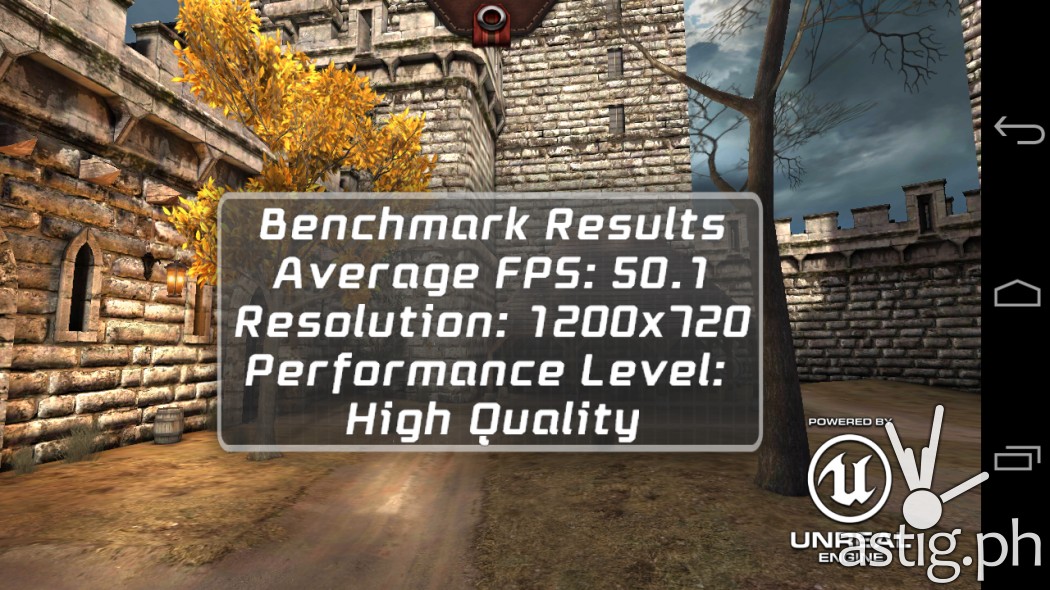 The Starmobile Knight Vision should be very capable of handling the most graphic intensive games on your smartphone.
3D benchmark test using Epic Citadel resulted in 50.1 frames per second running at 1200 x 720 resolution on high quality.
Software
Pros:
The Starmobile Knight Vision runs vanilla Google Android version 4.4 (Kitkat), the latest version before Android 5.0 (Lollipop)
Cons:
Google released Android 5.0 (Lollipop) over a year ago, which carries with it so many features and advancements missing in the older versions.
We hope Starmobile releases a Lollipop update for the Starmobile Knight Vision soon.
Camera & Video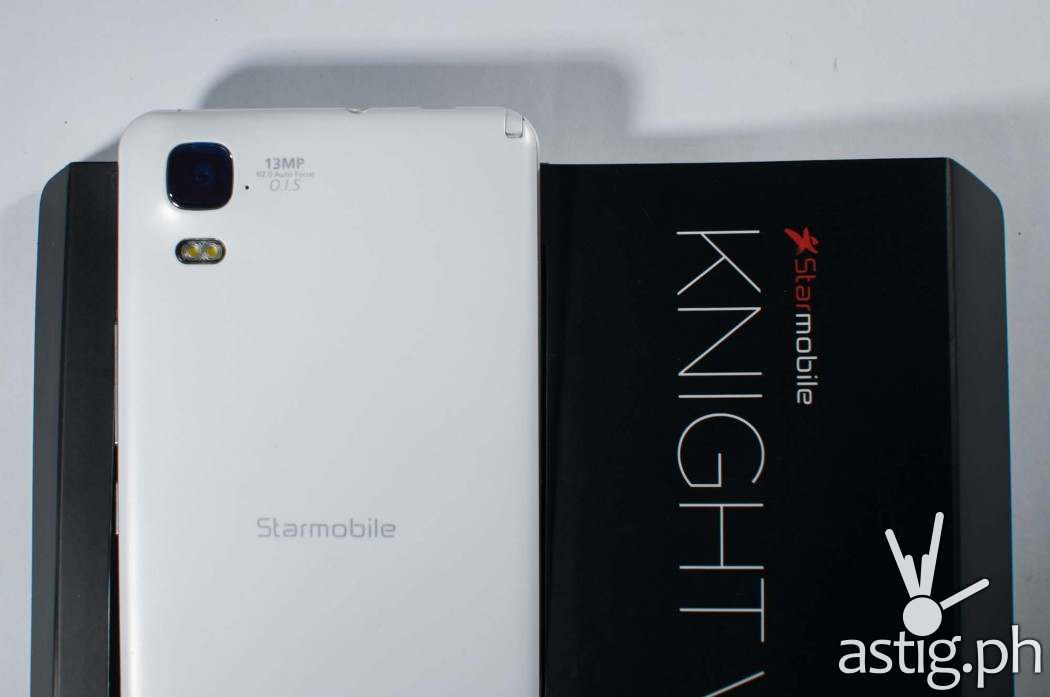 Pros:
The 13-megapixel Sony IMX Exmos sensor takes really nice photos under normal lighting situations.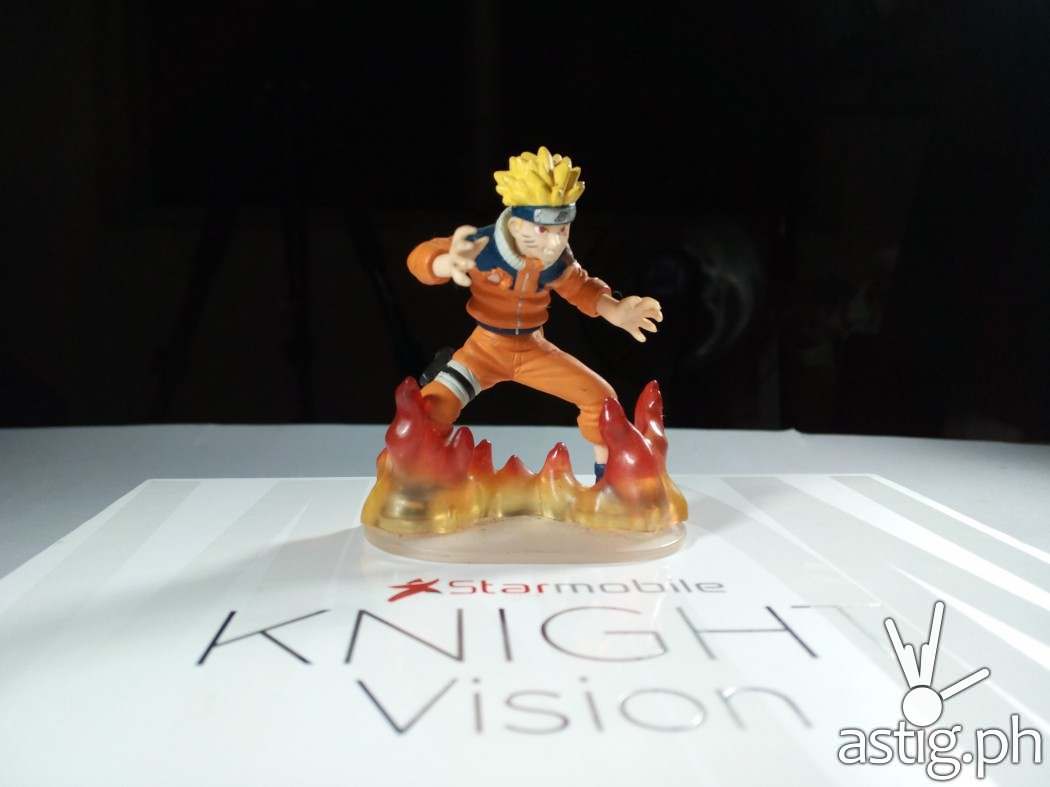 Under low-light situations, the f/2.0 aperture allows the Knight Vision to take brighter photos, while the built-in optical image stabilization (OIS) minimizes blurring, resulting in sharper photos.
Cons:
Unfortunately the Starmobile Knight Vision still struggles under low-light situations, despite the wide aperture and OIS.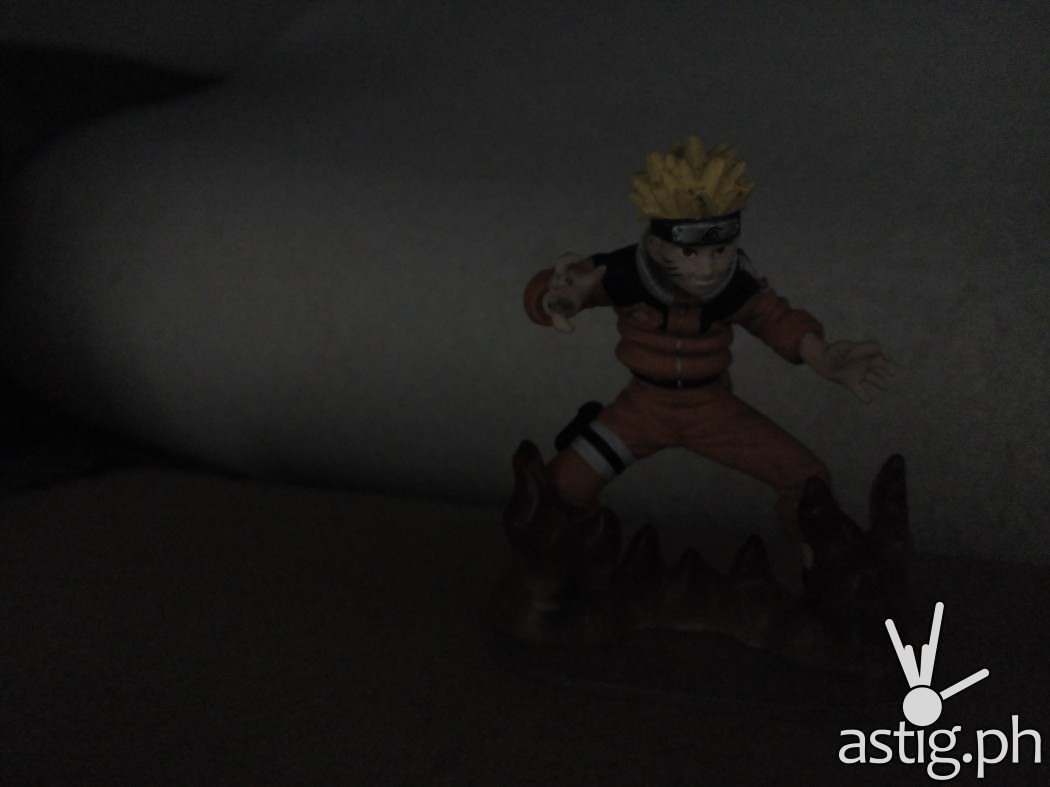 Sample video captured with the Starmobile Knight Vision:
Battery Life
Pros:
The 2450 mAh removable Li-Pro battery on the Starmobile Knight Vision is enough juice for text, calls and surfing.
Cons:
The 5-inch half-HD screen is the biggest battery drain, and it drains rather quickly when watching shows which is what you most likely be doing most of the time on the Knight Vision.
To maximize battery life, turn off every unneeded sensor – WiFi, mobile data, GPS, and lower screen brightness.
Starmobile Knight Vision Digital TV Feature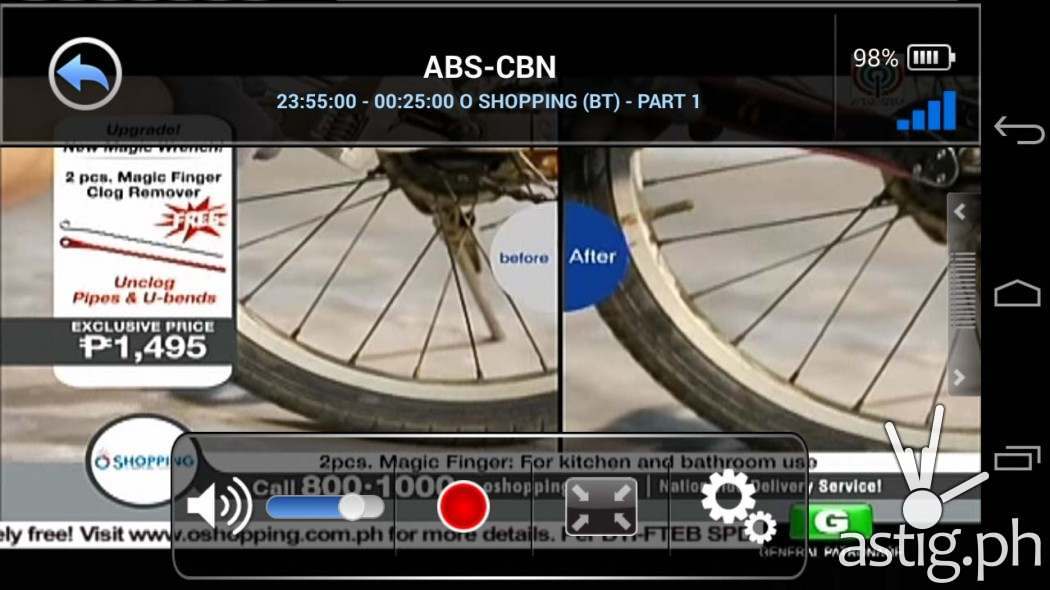 Pros:
The Starmobile Knight Vision Digital TV works as it should.
Cons:
The on-screen navigation takes up a good amount of screen real estate. It would have been nice to entire 5.5-inch 1280 x 720 display, instead of using only 1200 x 720.
A bigger concern, however, is the difficulty of getting a good signal.
Digital TV works just like any wireless communication technology. You need good signal to get the best possible experience.
If your signal is poor you may end up with a lot of stuttering – like a DVD player struggling to read an old disc, except you cannot buy a new disc – if you miss something on live television, you might never see it again.
If you're unlucky and you get really poor signal or no signal, which means no picture – a total blackout.
In our experience, getting a good signal depends on two factors – the channel you are trying to view and your location.
Remember, walls are your enemy.
Being indoors reduces signal strength a lot, so you may need to position the device near a window and point the antenna outdoors.
What about outside?
We took the Starmobile Knight Vision for a drive through EDSA and found out that some areas get better reception than others.
Overall GMA7 and UNTV seems to give the most consistency in terms of reception, followed by ABS-CBN, Hope, and TV5.
When you first power up the Starmobile Knight Vision you will need to scan for all available channels.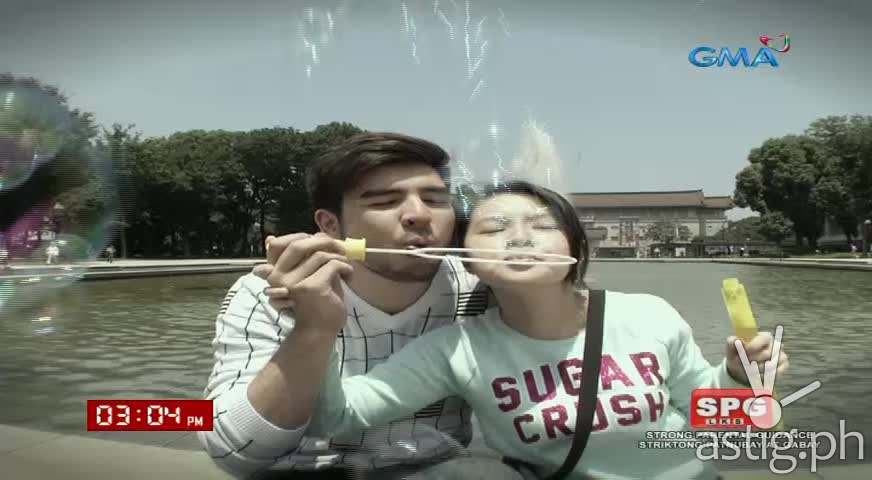 Using the recording feature, we found out that ABS-CBN's digital TV channel broadcasts at an SD resolution of 640 x 480 pixels, while GMA is being broadcast at a higher, wider resolution of 872 x 480 pixels.
Hope Phil HD, the only free HD digital TV channel available so far, broadcasts at a whopping 1280 x 720 pixels.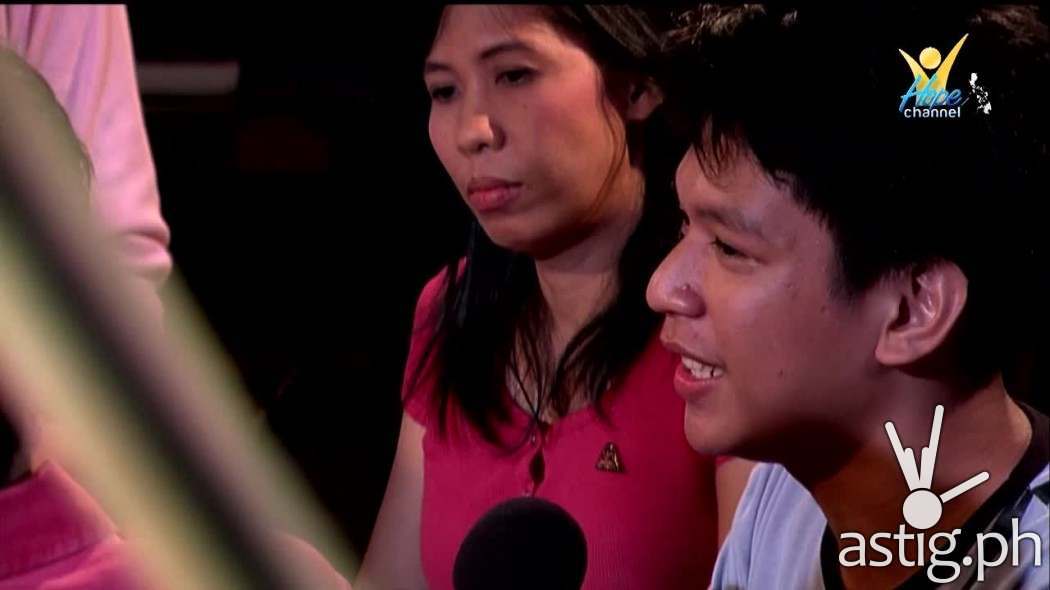 ASTIG:
I don't know if this is legal, but you can actually RECORD live TV shows on your Starmobile Knight Vision and save them on your smartphone for later viewing.
This does not stop you from sharing these with your friends, of course, but I'm sure it's illegal to upload these shows on the Internet, but I'm sure you are responsible enough not to do that, right? Right??? Right.
Let's support our local entertainment industry and like Spiderman always says, "with great power comes great responsibility"
Here are a few sample live digital TV recording videos captured using the Starmobile Knight Vision:
Hope Phil HD:
ABS-CBN digital SD:
GMA digital SD:
GMA News SD:
ABS-CBN Sports+Action SD:
Complete list of Digital TV channels in the Philippines
Here is a list of all free digital TV channels that we were able to find using the Starmobile Knight Vision:
TV5 1SEG
Catsup
Aksyon TV
TV5
GMA
GMA News TV
GMA 1SEG
UNTV-1
UNTV-2
ADDTV
UNTV 1SEG
ABS-CBN
SPORTS+ACTION (should be encrypted, but appears to be viewable)
Cinemo+ (encrypted)
Yey! (encrypted)
Knowledge Channel (encrypted)
DZMM Teleradyo (encrypted)
ABS-CBN Oneseg
Hope Phil HD
3ABN SD
Hope Inter HD
So far we found 21 channels, 20 of which are in standard definition and 1 high definition channel, Hope International HD.
There are also four encrypted channels: Cinemo, Yey!, Knowledge Channel, and DZMM Teleradyo.
Sports+Action should be in that list, but for some reason it is not encrypted so hey we're not going to complain.
These are encrypted channels are ABS-CBN's premium channels being offered exclusively on the ABS-CBN TVplus!
BUY: ABS-CBN TVplus! (2500 PHP) on Lazada
Conclusion
Finally you can have digital TV anywhere you go. If you like to travel and you like to watch free TV this is by far your best option, bar none.
You now have a portable device you can have with you at all times and can easily function as a media hub while traveling.
Imagine jeepney and taxi drivers watching TV while on the road.
The 5.5-inch screen may be too small for sharing, but it portable enough and big enough for viewing at a close distance.
At 9,990 PHP the Starmobile Knight Vision is an entertainment center, GPS, and mini-computer all in one.
Best of all, the digital TV works like it should, as long as you have good reception.
Really when getting a smartphone that can play digital TV like the Knight Vision, your biggest concern is not the device itself, but in getting a good, strong, stable digital TV signal.
So expect to spend hours of fun watching your favorite shows anywhere you go – may it be on the road, at the malls, or even in the office – again, as long as you have a good, stable digital TV signal.
I mean hey, if the smartphone is supposed to be a mobile electronic Swiss army knife of sorts, that one, extra tool is sometimes what we end up using the most.
Starmobile Knight Vision technical specifications
| | |
| --- | --- |
| Weight | 161 g |
| Display | 5.5″ IPS LCD @ 1280 x 720 pixels |
| SIM | Dual SIM, dual 3G standby (Micro-SIM + regular SIM) |
| OS | Google Android 4.4 (KitKat) |
| Chipset | MediaTek MT6582 |
| CPU | 1.3 GHz Quad Core ARM Cortex A7 |
| GPU | Mali-400 MP @ 500 MHz |
| Memory | 2 GB RAM + 16 GB ROM |
| Expansion | microSD, up to 64 GB |
| Camera | 13 MP main (OIS + autofocus + dual-LED flash) 8 MP front |
| Battery | 2450 mAh Li-Pro (removable) |
| Features | Digital TV FM radio, microUSB 2.0, acccelerometer, proximity, compass, GPS |
| Price | 9,990 PHP on Lazada |