Penshoppe just added another hot name in their impressive roster of Hollywood and fashion brand ambassadors. And Summer is made even hotter with the exciting presence in town courtesy of successful supermodel…the sizzling SEAN O' PRY.
There was hardly any trace of tan (or did I just not notice?) from sun exposure when Sean had his media press conference yesterday at a hotel in Makati coming from a few days of adventure and vacation in the breathtaking islands of El Nido after arriving Tuesday afternoon in Manila.
"We were whisked away to this beautiful island in Lagen, in El Nido, Palawan. It was incredible! I'd like to thank my Penshoppe family." Sean shared to us.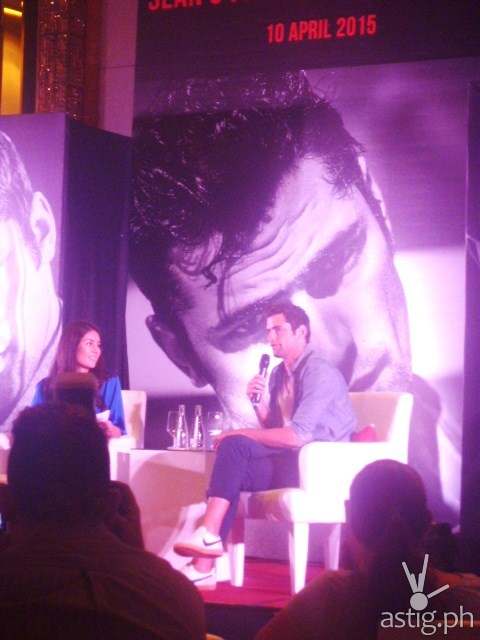 It was a female-dominated presscon so we were swooning the whole time Sean would share his admiration and gratitude being in one of the most hospitable cultures in the world (the Philippines, of course) and he's finding it now difficult to leave.
His dreamy and mesmerizing blue-eyes are sucha killer add to his funny sense of humour that Sean quickly caught all of us in his irresistable web of charm.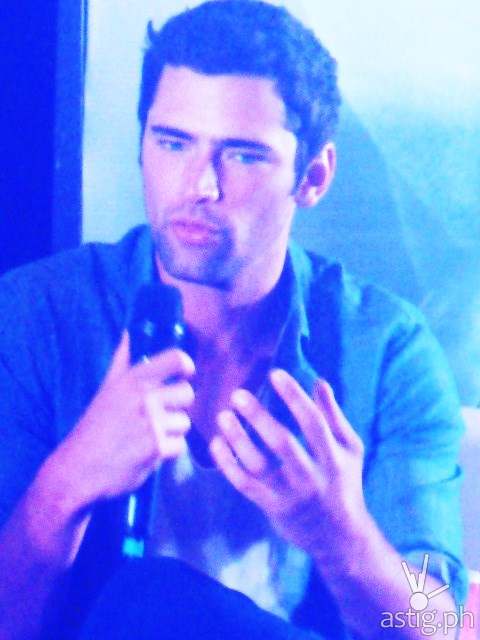 Already in the modelling industry for eight years after having been discovered through his prom pics via MySpace, Sean has circled and made repeated rounds having campaigned and headlined on the runway for global brands Yves Saint Laurent, Salvatore Ferragamo, Givenchy and Versace with Chanel, Louis Vuitton, Michael Korrs, Hermes just to mention a few.
I came up with a slumbook type of vertical breakdown of Sean's name (loved doing this to my crushies too!) and it was a blessing and privilege learning fun, serious and exciting new stuff about him one letter at a time…
S – SMOLDERING eyes!
How does Sean do it? "Just look above your eyebrows. That's the trick," he advised.
When he is not busy with modelling, Sean loves to cook STEAK! He'd really love SAMMY DAVIS Jr. to be in one of his "steak parties" thanks to the raspy voice! SUNSETS is what he also loves posting in his Instagram. "No #SELFIES of myself. That's craaaazy!" Sean clarifies. "You will see more clouds, water and sunsets!"
In Palawan, he SNORKELED and kayaked a lot. He had a grand time discovering the incredible underwater creatures while snorkeling.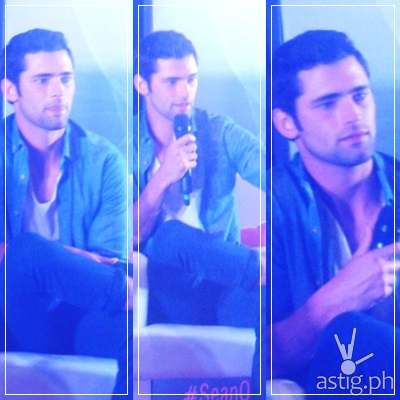 E – EL NIDO!
Sean had an awesome time island-hopping in this lovely paradise for a few days. "I went kayaking. I went back and forth three to four times."His EYEBROWS is an asset to his naturally-gifted good looks! Similar to that of co-brand ambassador Ian Somerhalder.
A – AUDREY HEPBURN has a fan in Sean
He loves her to bits! Sean tries to have an ACTIVE lifestyle by hiking, kayaking and and lifting in the gym. Sean is also taking Pleased  to learn that he believes in ANGELS who may have been guiding him all throughout his life and career. ACTING lessons these days so better watch out for a Hollywood movie in the works soon. Thanks to his presence in Madonna's Girl Gone Wild and Taylor Swift's Blank Space music videos, Sean's worth and popularity reached its all-time high!
N – "NEXT question please?"
"NEXT question please?" was Sean's reply to my question on the Q&A portion is he was dating anyone? Aww shucks, why did you have to be so elusive on a simple question, Sean? Huhuhu!
O' – ORANGE Mocha Frappuccino
Orange Mocha Frappuccino is on his loves-to-drink beverage list thanks to the Zoolander movie!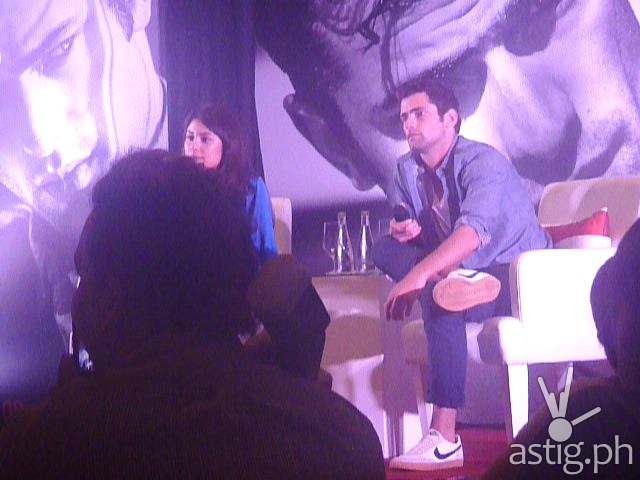 P – PALAWAN
Palawan has officially become one of Sean's most favorite tourist and vacation spot in the PHILIPPINES! Did you know that he also calls his grandfather "PAPAW"? That's with a Kennesaw,
Giorgia twang!  All thanks to PENSHOPPE, we are now enjoying the magnetic personal presence of Mr. Blank Space himself!
R – RESTORES cars
Aside from hiking and kayaking, Sean restores cars to keep himself busy and active. I wonder what classic or muscle car brand he has already restored back to its glory look?!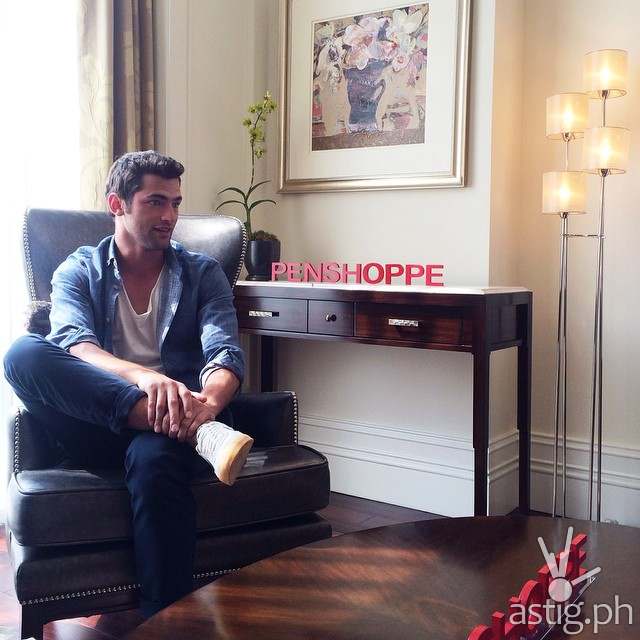 Y – "YES, I'd love to come back!"
This is what Sean declared after falling in love with Palawan and our Philippines in general. Do also watch out for the YELLOW and blue sweater that he digs in the Penshoppe collection.
The presscon which was hosted by the pretty Mari Jasmine of ETC channel, lasted for twenty-something minutes but it felt like a full hour and Sean proved that he was warm and the down-to-earth kinda guy when he left the stage and shook hands with every media table per table!
He repeatedly greeted, "Hi I'm Sean, nice to meet you!" Awww! I never wanted to let go of his hand, to be honest! Sean did not leave the room and made sure all of us had our photos and selfie's with him, now wasn't that ohhh-sooo COOL?!? My kinda guy!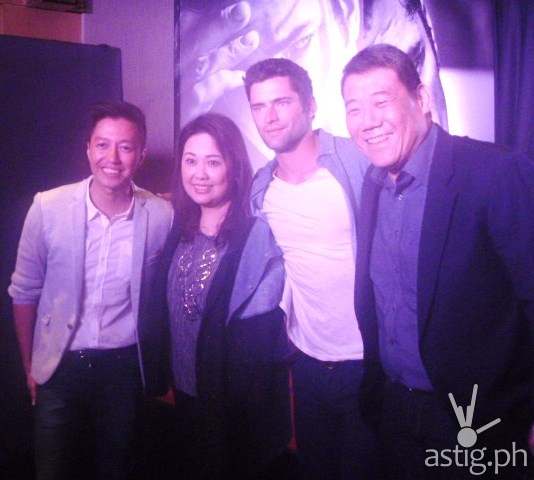 In full force and in attendance were the big guns behind Golden ABC, owner of Penshoppe headed by CEO Bernie Liu (with his two sons) VP for Retail Brands Alice Liu and Brand Director Jeff Bascon who Sean personally approached, chatted with and posed for photo ops with. He kept saying "Thank you…thank you.."
Penshoppe also ran a recent promo for Sean's exclusive MEET & GREET with his fans scheduled at 5:00PM today at SMX Convention Center. Congrats to all lucky winners!
Come 8:00PM, Sean O' Pry is expected to bring the house down when he walks down that runway donned and featuring Penshoppe's Spring-Summer 2015 collection in the event dubbed the Denimlab Fashion Show. I am soooo eggzoyted to cover that too!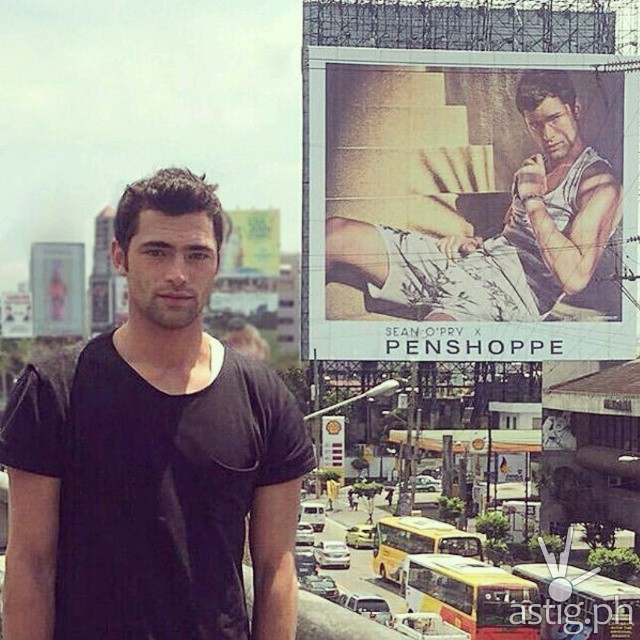 From magazine, to the runways of New York, Paris and Milan, music videos, huge billboards and soon the movies…SEAN O' PRY is truly one supermodel deserving of his accolades and success. He continues to have a remarkable streak of big breaks because of humility and a whole dose of passion and dedication to all the things he does.
"I think the key to success is just being Yourself. And if other people don't like that, then screw 'em…" – Sean O' Pry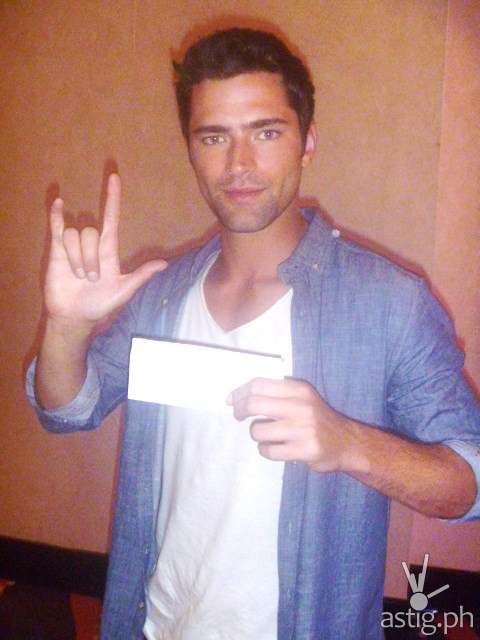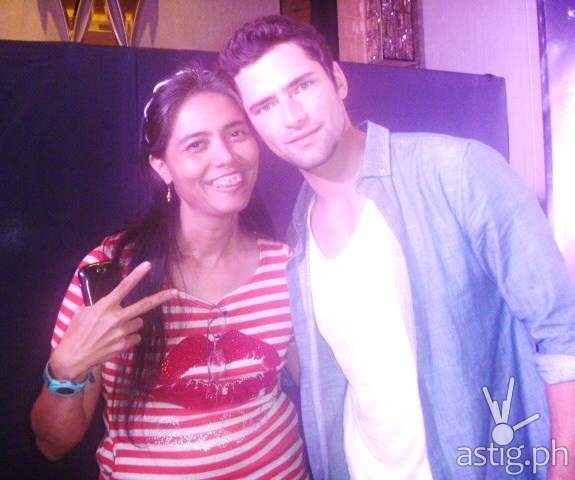 Many thanks Penshoppe for having Sean. Many thanks Ms. Meryl of Buensalido PR for the invite. More power!