Gerry's Grill has a new restaurant concept, and it's different from anything they have ever done before. Going by the name Sweet Chili Thai Fish & Noodle house, the restaurant specializes in Thai cuisine with a Pinoy twist. The first branch opened only on July 26, 2014 at Fisher Mall along Quezon Avenue, Quezon City.
Ditching the grill in favor of the wok and high pressure gas stoves, the team behind Gerry's Grill brought Chef Kiat all the way from Thailand. A native of Thailand, Chef Kiat previously worked for a number of restaurants in Thailand before joining Sweet Chili as their executive chef.
Authentic Thai cuisine with a Filipino Twist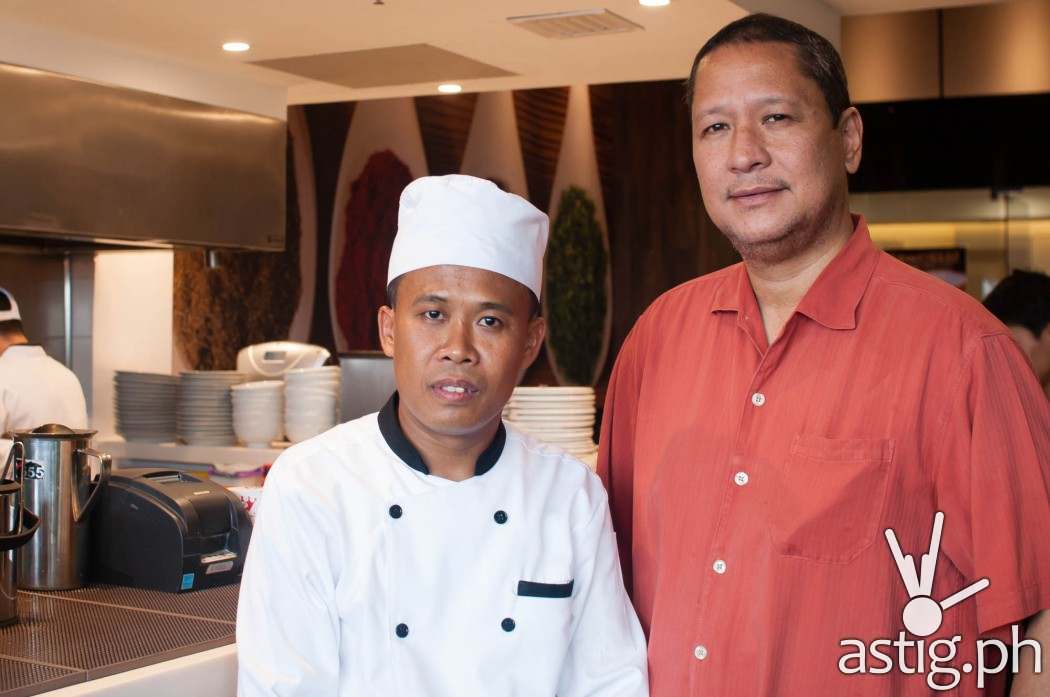 Do not be fooled by his accent though, Chef Kiat can actually understand and speak Tagalog (Filipino). He is actually married to a Filipina, and feels very at home in the Philippines.
With a Thai chef preparing the dishes, the food at Sweet Chili is as authentic as it gets. They even import ingredients directly from Thailand.
Sweet Chili, however, does not stop there.
Gerry's Grill owner and founder Gerry Apolinario personally had a hand in conceptualizing many of the items in the menu, giving it a Filipino twist.
Location and ambiance
Sweet Chili at Fisher Mall has an open kitchen, which allows diners to smell the flavors and aroma of the food being cooked. We have short video where you can see them in action.
Click play to watch a short video featuring Sweet Chili's Chef Kiat and founder/owner Gerry Apolinario.
In front of the kitchen is an aquarium where filled with King Fish. These are the same fish that gets cooked, so the catch is as fresh as it can be.
Fisher Mall is the ideal location for Sweet Chili, since it specializes in fish and seafood.
What about the cost and value for money?
Those who tried Sweet Chili commented that it is very affordable and gives a lot of value for money. The servings are big and good for sharing.
So we asked Gerry about the sales, hindi naman ba sila nalulugi (are they still making money)?
"That's the concept of Gerry's di ba … affordable … we'd like to think that the volume will compensate for the low margins," said Gerry.
Take a look at their menu below.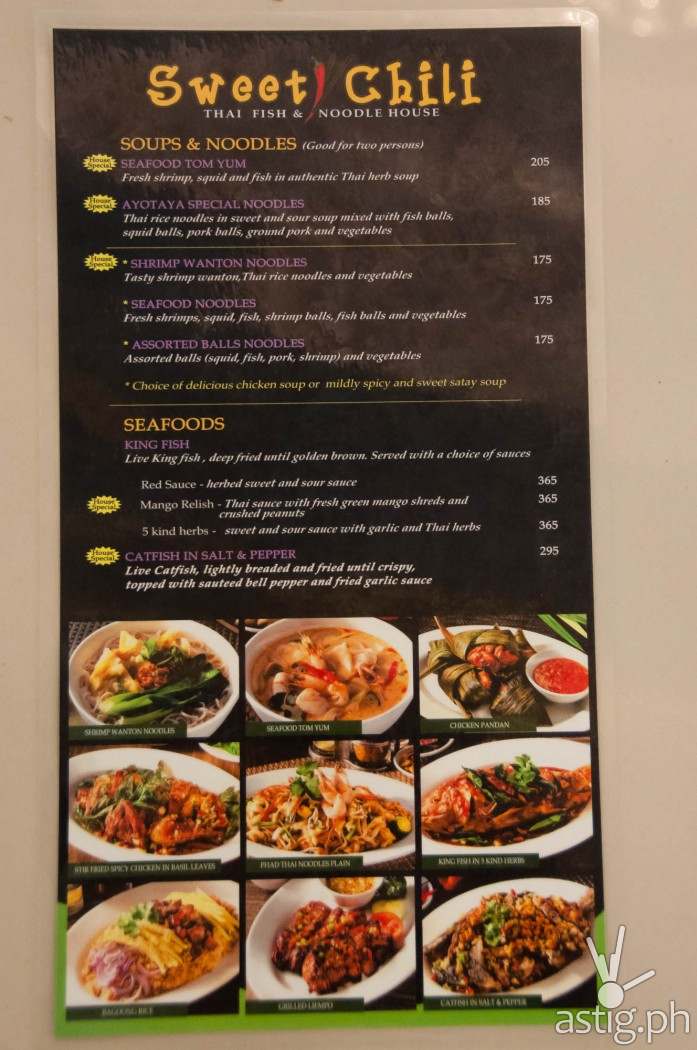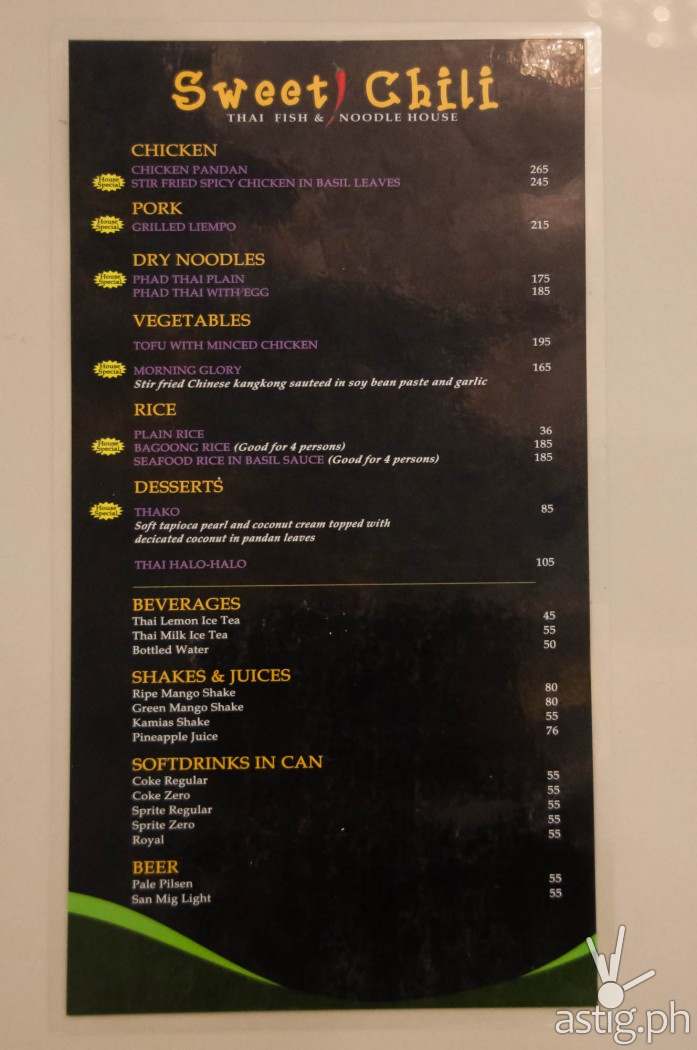 The average cost per head at Sweet Chili would be somewhere around 160-200 pesos, without drinks. Using Jollibee as our basis for mid-range restaurant food that places Sweet Chili somewhere around the middle-upper end of the price spectrum.
Having been to Bangkok more times than I can count, I know for a fact that the food in Thailand is very very cheap – much cheaper than the Philippines, especially the "karinderya" style ones (hole-in-the-wall restaurants).
One order of pad thai goong (stir-fried noodles with shrimp) in Bangkok will not go beyond 50 baht (~70 PHP), while one order of khao pad gai (fried rice with chicken) or khao pad goong (fried rice with shrimp) costs around 35 baht (~50 PHP).
On your first visit to Sweet Chili, try these …
If you are visiting Sweet Chili for the first time, our top recommendations would be following:
Thai Milk Ice Tea (55 PHP)
Pad Thai aka Shrimp Wanton Noodles (175 PHP)
Bagoong Rice (185 PHP) – or just go with plain rice (36 PHP)
King Fish with 5 kind herbs sauce (365 PHP)
Read on for a more detailed recommendation.
Refreshments: Thai Milk Ice Tea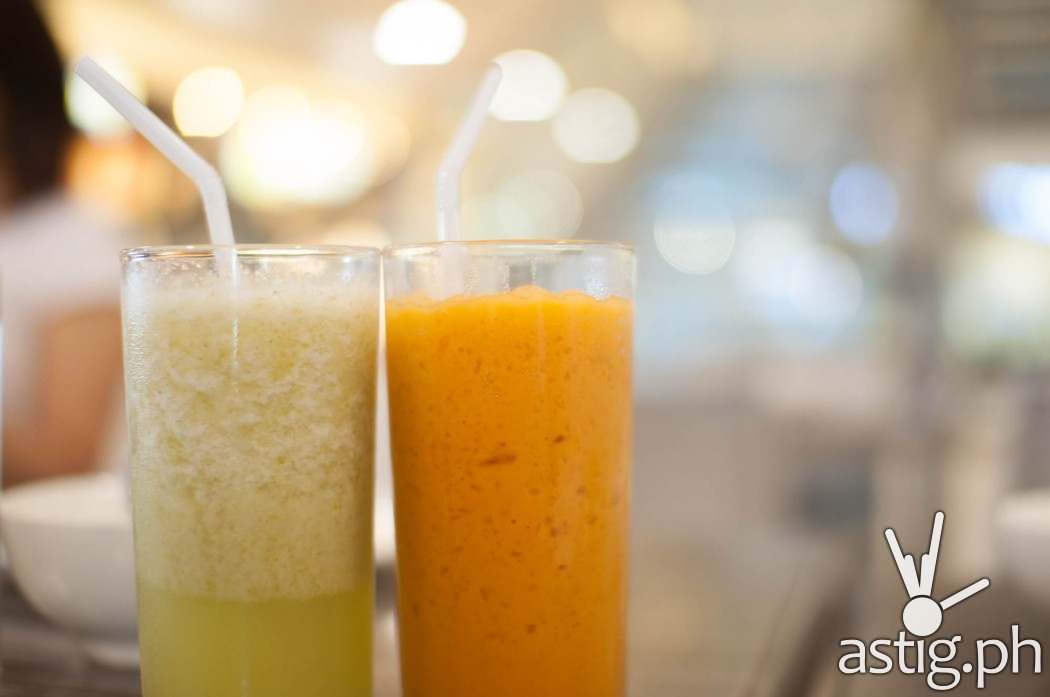 For refreshments skip the fruit shakes, soda, and beer. Instead, get the Thai Milk Ice Tea. I make my own Thai milk tea at home so I recognize the taste very well. Without seeing the label I know for certain that they use a brand of tea produced and sold in Thailand called "Number One". This is the same milk tea that gets sold in the streets for 25-30 baht (~40 PHP).
Just like the real thing the Thai milk tea in Sweet Chili is served with a lot of ice, but they used crushed ice instead of ice cubes.
They use the same tea base (Number One) for the Thai Lemon Ice Tea, but I would recommend that you skip it. They use the same tea base as the milk tea, which, in my opinion, is specially made for milk tea and not for lemon ice tea. The distinct taste of the Number One brand does not go too well with lemon. Even if you are used to strong tea, it will still taste bitter.
Soups & Noodles: Pad Thai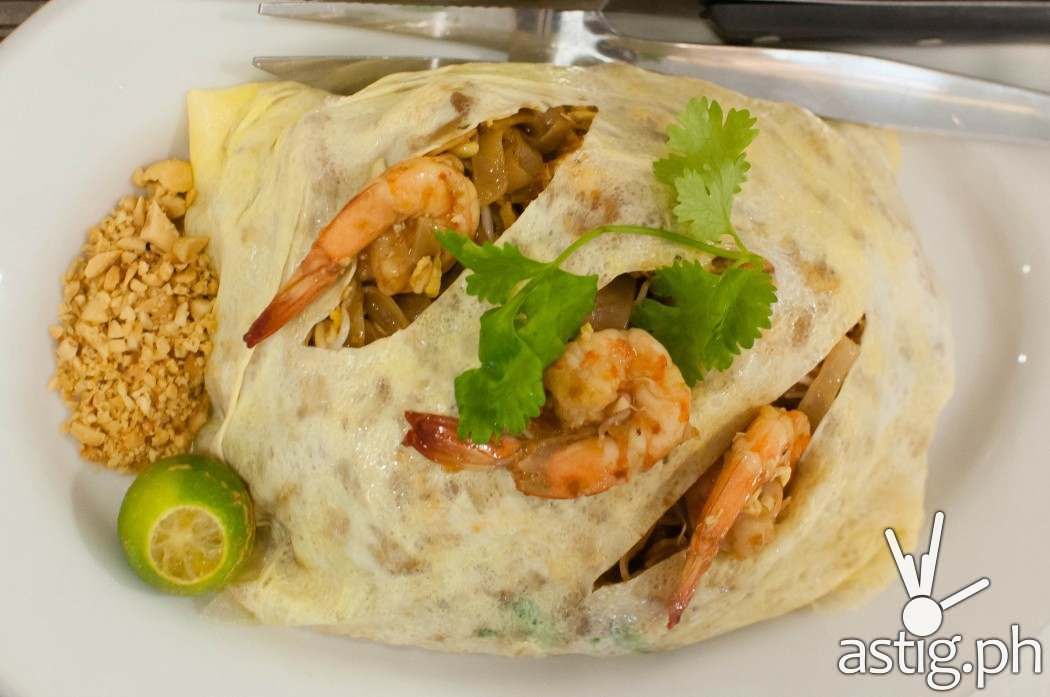 They do not use Thai names on the menu, so if you are looking for Pad Thai, look for Shrimp Wanton Noodles. I found the noodles to be too soft, but that might be my personal preference. I like my noodles a little tough.
I also found te preparation to be a little too sweet, but it's still very tasty. Pad Thai is probalbly one of the most recognizable Thai food and just like adobo, there are many ways to cook it so don't leave Sweet Chili without trying.
At 175 PHP, the Pad Thai is good enough for two, but a guy like me who just loves Pad Thai could easily devour one serving by myself.
Rice: Bagoong Rice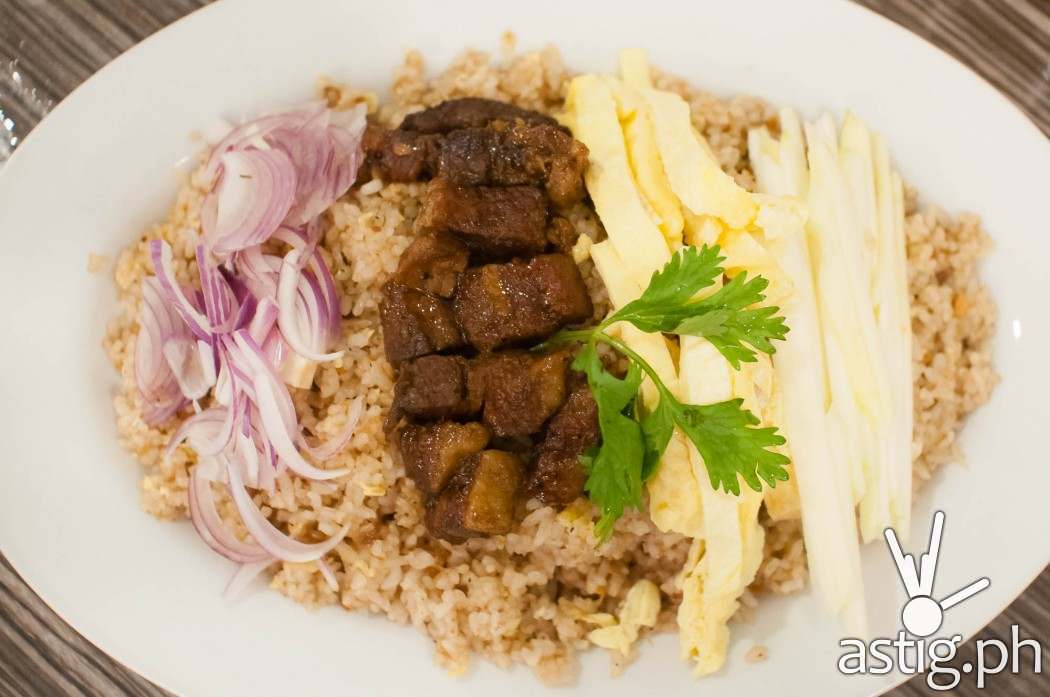 There are three types of rice – plain, bagoong rice, and seafood rice in basil sauce. Both versions of fried rice costs 185 PHP and one serveing is good for 4 persons.
Bagoong rice is the house special, and it looks gorgeous. It is served with chunks of pork and strips of scrambled egg and onion. It's not just pretty, it's also very tasty.
You might wonder about the seafood rice in basil sauce. Personally, I like the bagoong rice better. I found the seafood rice in basil sauce to be a little too tasty and too clumpy (i.e. the rice keeps clumping together). If you like seafood though, it is a good second choice.
They do not have khao pad (Thai fried rice), sadly.
Vegetables: Tofu with Minced Chicken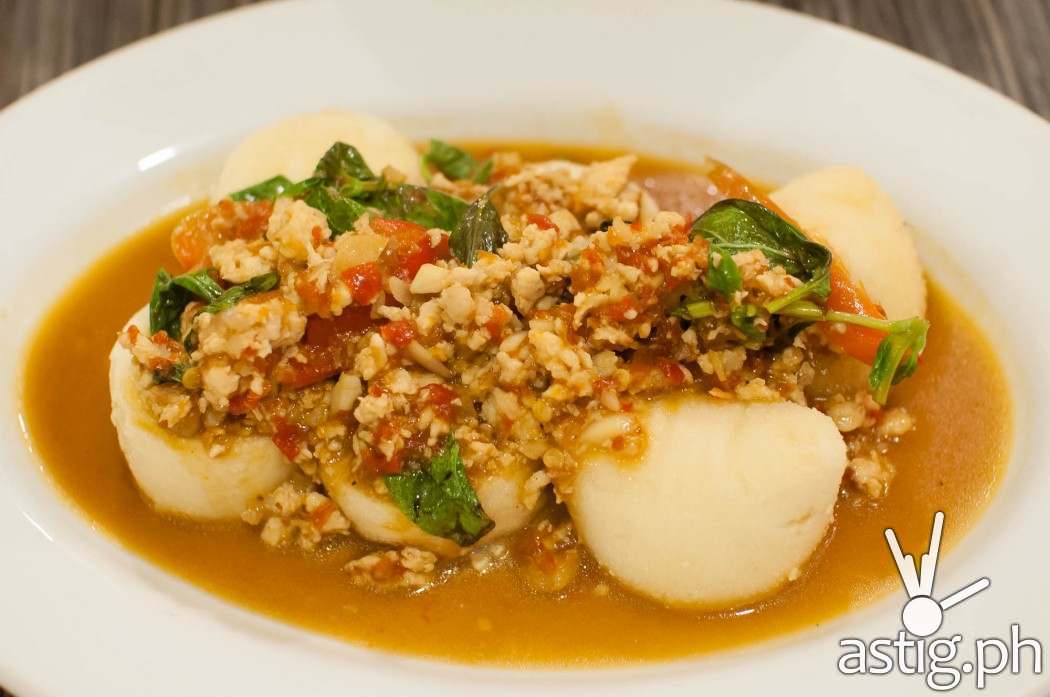 There are two choices for vegetables: Chinese-style stir-fried morning glory (known locally as kangkong) and tofu with minced chicken.
Of the two, I will have to recommend the tofu with minced chicken. They wrapped soft type tofu in some kind of wrapper before cooking it and as a result, the tofu stays soft and gelatinous, just like it would if you were eating taho (Filipino snack food made of silken tofu, sugar, and sago pearl).
Eating it is an experience in itself. At 195 pesos one serving is good for 2-4 persons, depending on your appetite.
Meat: Pork Liempo
This is where it gets tricky. You can either go chicken or pork, and the choices can either be really good, or really bad – depending on who you're talking to.
For chicken, you can choose between chicken pandan and stir fried spicy chicken in basil leaves. For pork, the coice is easy as there's only grilled liempo.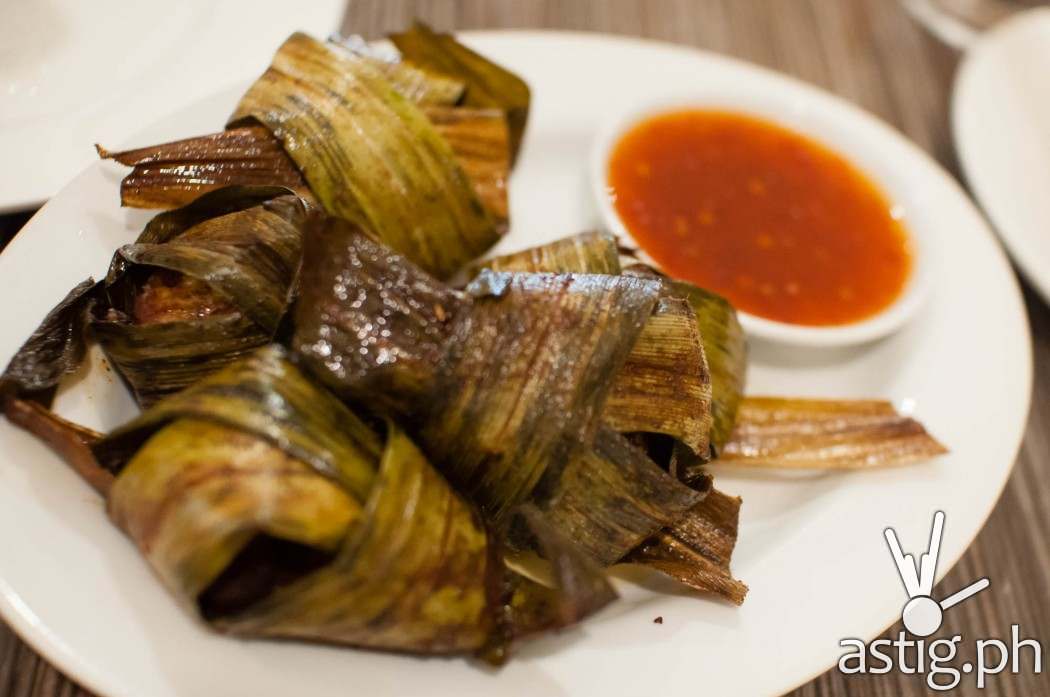 First let's talk about the chicken pandan. This is sold in our local groceries so it is easily acquired. However, what makes Sweet Chili different is the marinade – it is a little sweet, which I thought was well done. In addition, they cook it to perfection, moist on the inside not dry, which I like.
That said, chicken pandan is common and you can easily get one and cook it at home, so skip this one.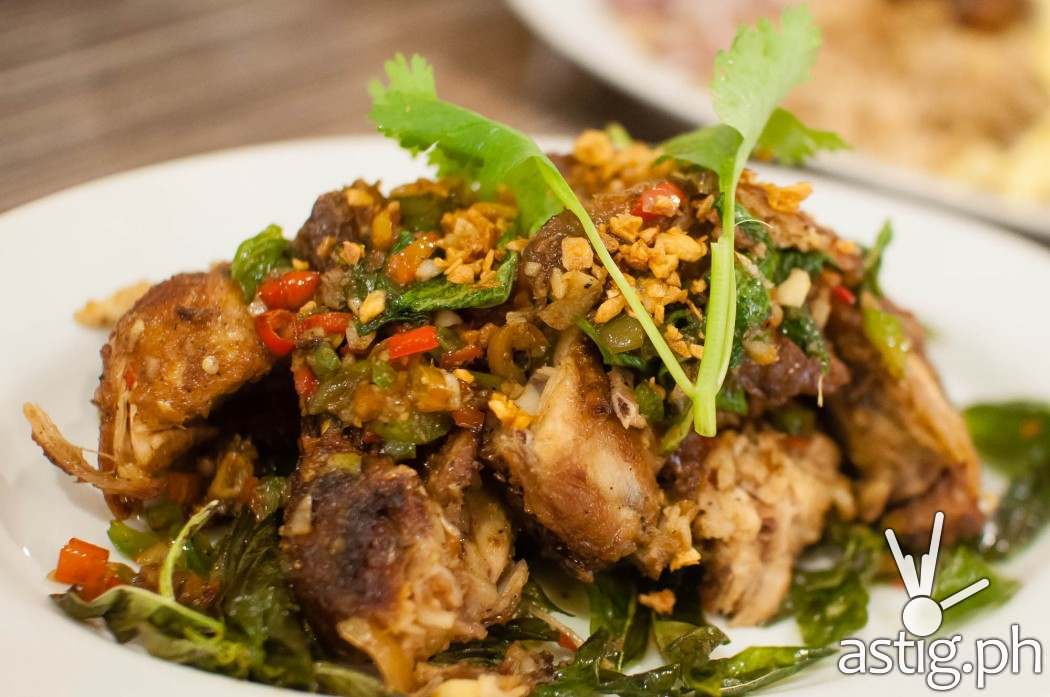 I had high expectations for the spicy chicken in basil leaves, however I was a little disappointed. It is mostly just fried chicken and fried basil leaves with sauteed chili. Basil is present in almost every dish in Thailand, and this being the only dish on the menu with basil, I would have wanted to taste the basil.
Instead, the frying process took out most of the taste of the basil, so you cannot really taste it. This dish might have been improved if it were served with sauce instead.
Finally let's talk about the grilled liempo. Grilled food is Gerry's specialty, after all, and it shows. The liempo was very tasty and cooked just right – it was still juicy and not dry. However, that is not what's most surprising about the grilled liempo.
If you think that Sweet Chili's grilled liempo is just like any other liempo, beware – it holds a secret that may just blow your mind – or in this case, your palate.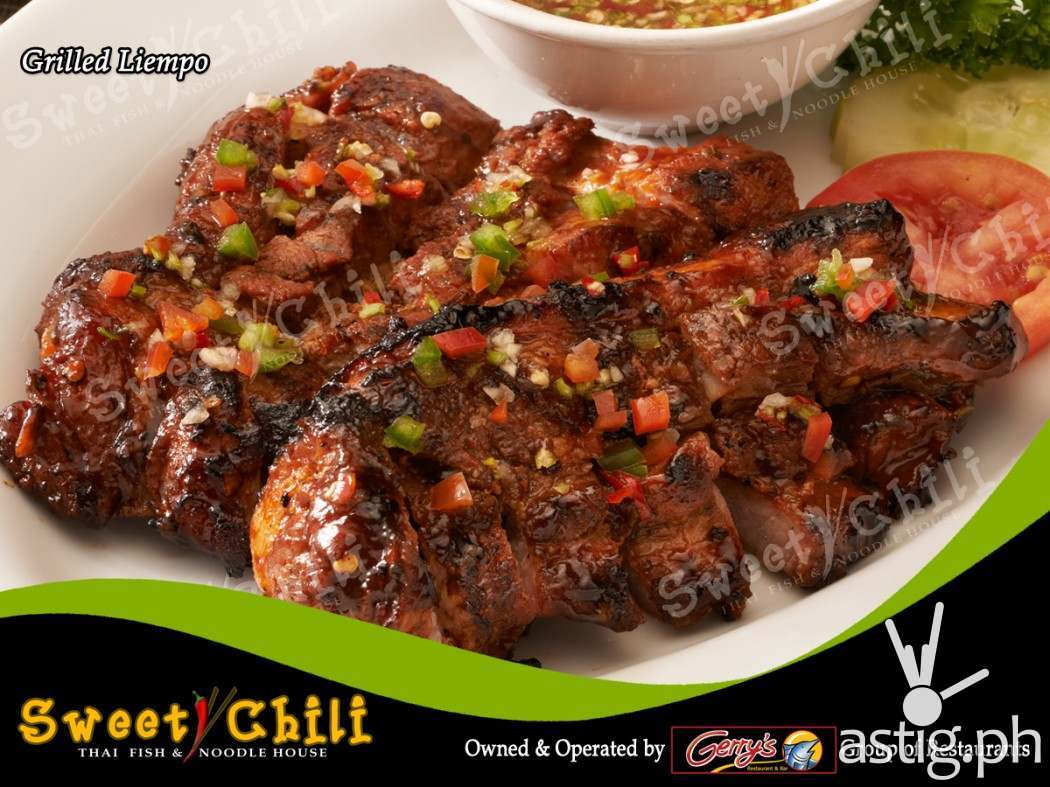 Here's the trick. First, eat the liempo by itself – taste the sweet marinade and the meat. Indulge.
Now try drunking the meat into the special sauce before eating it. Be amazed. The taste just suddenly changed.
The sour-spicy-salty flavor of the marinade just transformed the sweet liempo into something extraordinary. This kind of marinade is fairly common in Thailand, so I feel they have accomplished something really good here.
I wish I could recommend the spicy chicken in basil leaves – it is just simply gorgeous and very "Thai" compared to the two other dishes. However, I will have to go with the pork liempo as my top recommendation for meat.
Seafood: King Fish in 5 kind herbs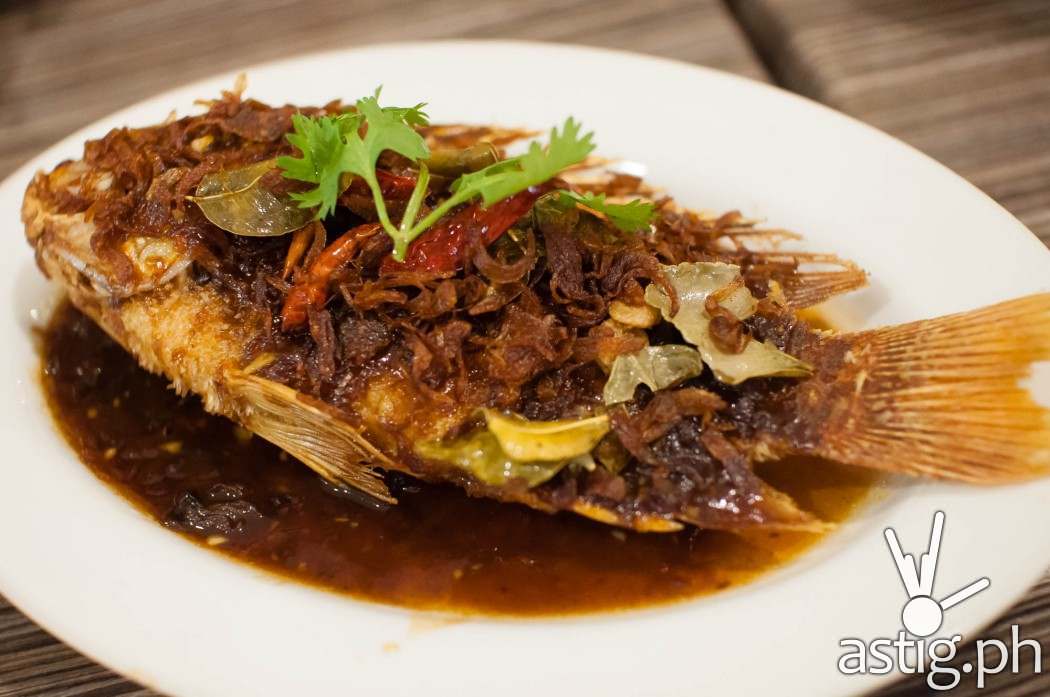 When Sweet Chili says seafood, it's actually just a choice between the king fish and catfish. So if you are looking for shrimp, just go with the Pad Thai – you can never go wrong there. Sorry, no crab here though.
That said, the King Fish is amazing and very well done. The folks over at Sweet Chili really did a good job with this item.
There are three choices for sauce – red sauce, mango relish, and 5 kind herbs. According to Sweet Chili, Mango Relish is the house special.
I only got to try the 5 kind herbs, but I was already impressed by it. Also, looking at the orders coming out of the kitchen it appears to be the most ordered item on the menu.
To give you an idea, they first deep-fry the King Fish before serving it with sweet-spicy sauce before topping it with garlic and Thai herbs. The King Fish is caught fresh from the restaurant's own aquarium, so it is guaranteed fresh and tasty.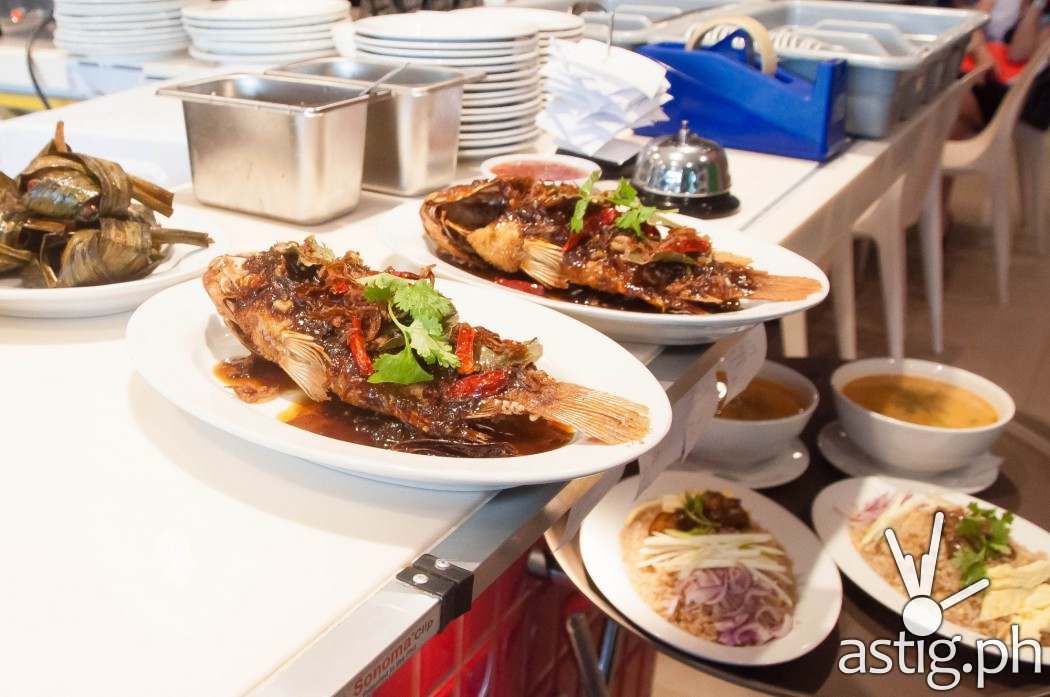 Deserts
There are two choices for deserts – thako and Thai halo-halo.
Disclaimer: I never got to try the Thai halo-halo, so my recommendation would automatically be for the thako. However, I have tried many kinds of halo-halo in Thailand, and I have never been satisfied. Nthing comes close to the Filipino halo-halo, which normally consists of 5-10 different ingredients.
The thako tastes just like every other Thai thako that I have ever tasted. Nothing special.
What I was really craving for was mango sticky rice, a type of desert sold in the streets of Bangkok. It is fairly similar to our own biko in the Philippines, but less sweet and served with mango. I make these at home and it's actually very easy so if anyone wants to try, I'm game any time.
Gerry's Grill to introduce other concepts, focus on worldwide expansion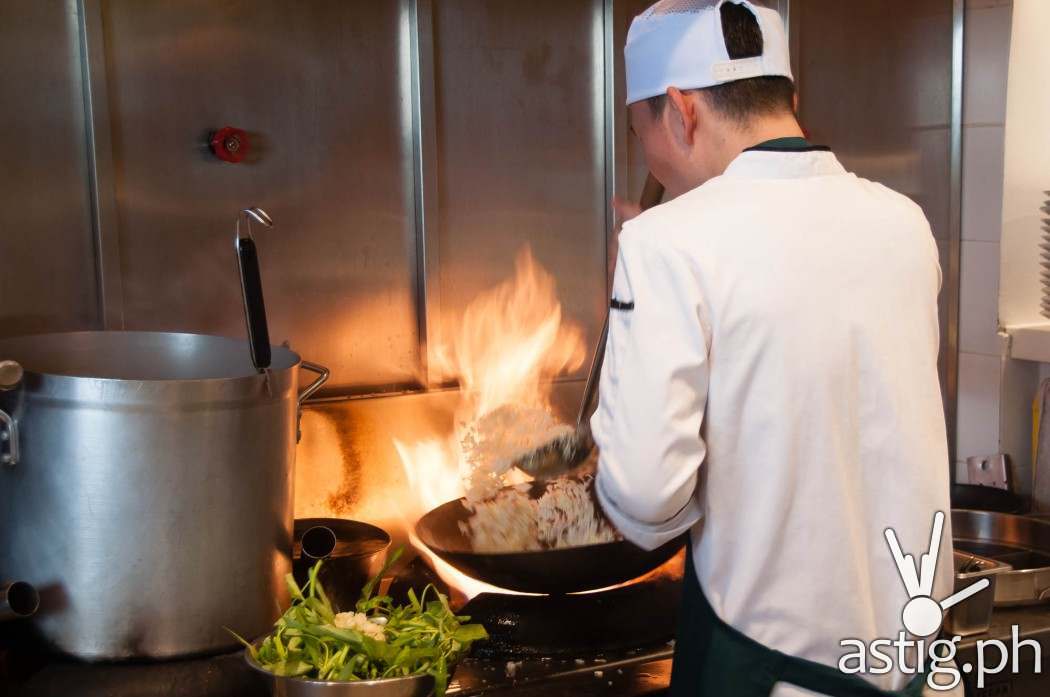 According to Gerry, Sweet Chili just the first of many other foreign concept restaurants that the Gerry's Grill group of companies is planning to open in the Philippines.
Aside from Sweet Chili, they also plan to open a new concept restaurant in Subic this year.
What about bringing Filipino food to other countries? To this, Gerry responded, saying:
"We want to expand abroad, we are looking at the U.S. and several other Asian locations … we want to grow all over the world … I believe personally that the Filipino cuisine is second to none. Having said that, we believe we can expand all over the world."
Already, Gerry's Grill has opened a numer of branches in the U.S., Singapore, and Qatar.
Sweet Chili Fish & Noodle House
Address: 2F Fisher Mall Quezon Ave. cor. Roosevelt Ave. Quezon City, Philippines
Phone: +63.2 364.5550
Operating hours: 10:00am – 10:00pm
Website: gerrysgrill.com
Facebook: /sweetchiliph