We are well into the second half of 2021, and just when we thought we've seen it all, TECNO drops a phone that immediately grabbed our attention. Stealthily printed all around its oversized box are the words "PHANTOM X" in all caps, black font over black background. This was no ordinary phone.
Composing ourselves, we opened the box not knowing what we would find. We've been reviewing every TECNO phone that came out in 2021, but what greeted us inside did not look like anything we've seen for the last 12 months.
In fact, it's so special that it even has its own separate website!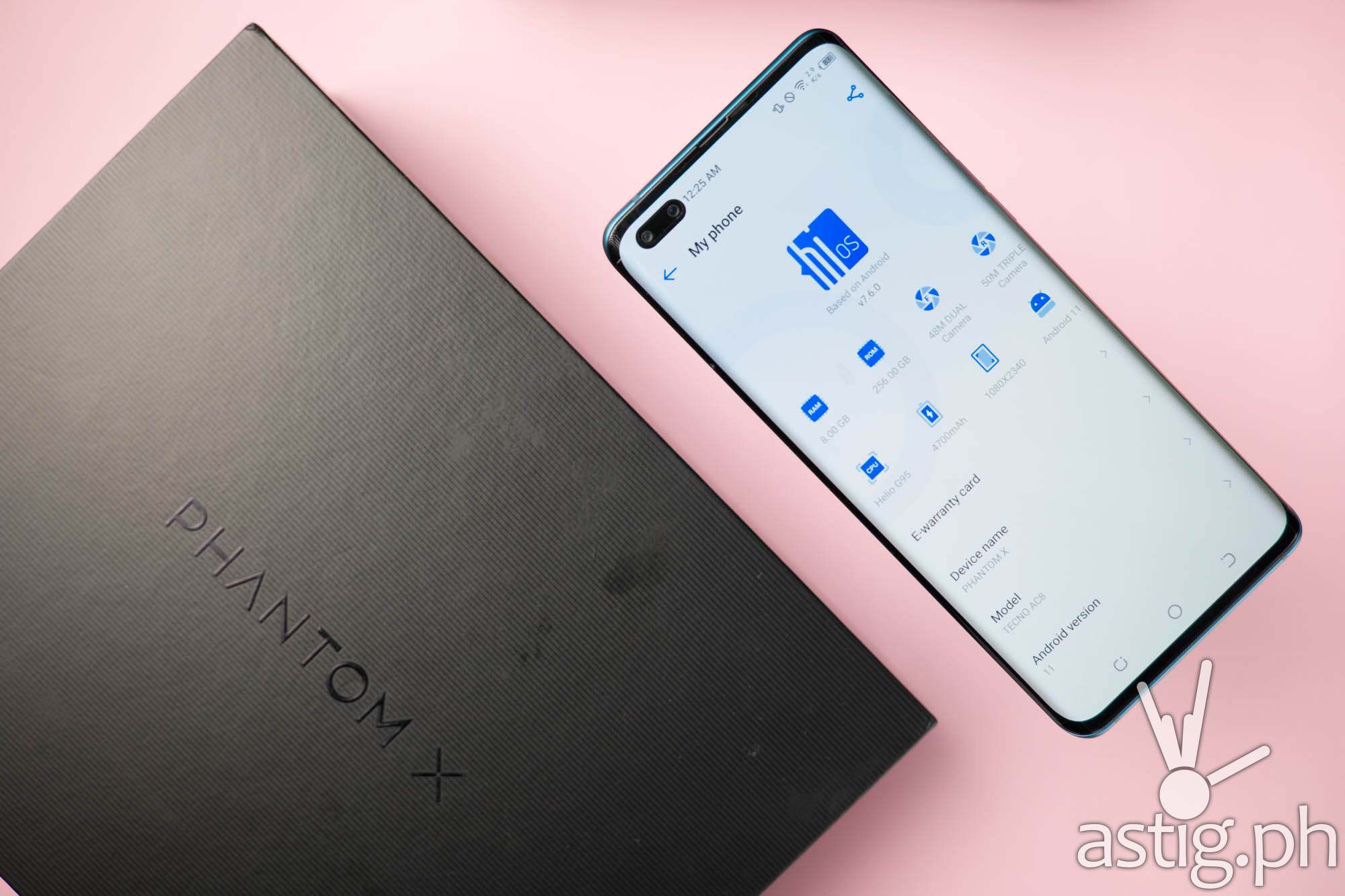 Instead of the usual phablet-sized device, what we have was this razor-thin unit with a curved display and slender, proportional top and bottom bezels.
Weighing in at only 200 grams, it's slim and sexy and unlike anything that we've seen from TECNO before.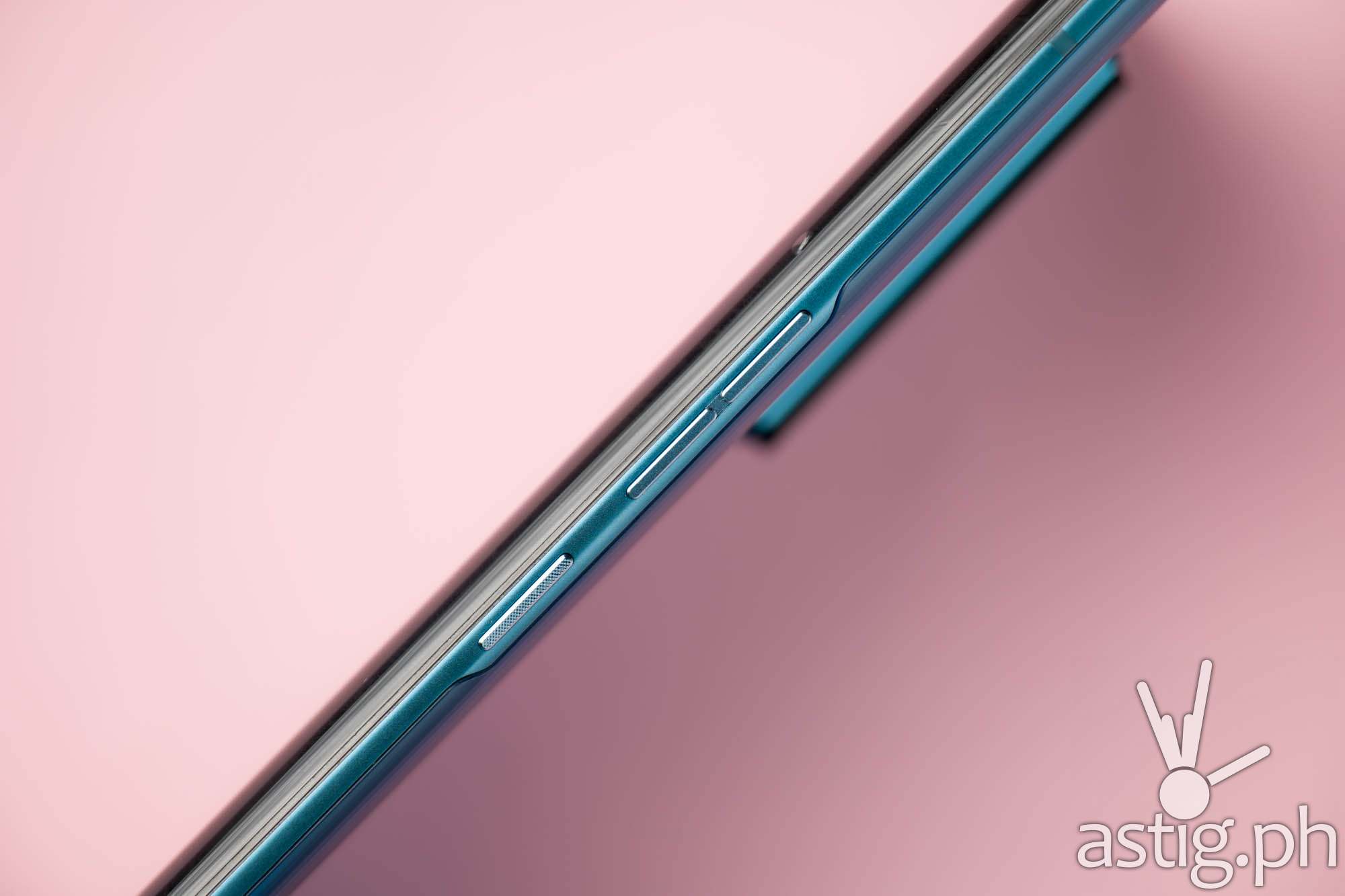 The Phantom X makes the Pouvoir, POVA, Camon, and the Spark look like overweight giants, and we say this with much affection. It wasn't too long ago when we named the TECNO POVA 2 our favorite TECNO phone of 2021.
It still holds a special place in our hearts, but the TECNO PHANTOM X is just on a different level. Construction-wise, it bears more similarities to the SAMSUNG Galaxy S-Series than anything that TECNO has by far.
Display, build quality, and design
Yea yea we should probably judge a phone on its own merits and all that but looking at the curved screen, thin bezels, and pill-shaped punch hole display, this phone was just begging for it. So we'll say it: when we first held the TECNO PHANTOM X, we immediately thought of the SAMSUNG Galaxy S10 Plus.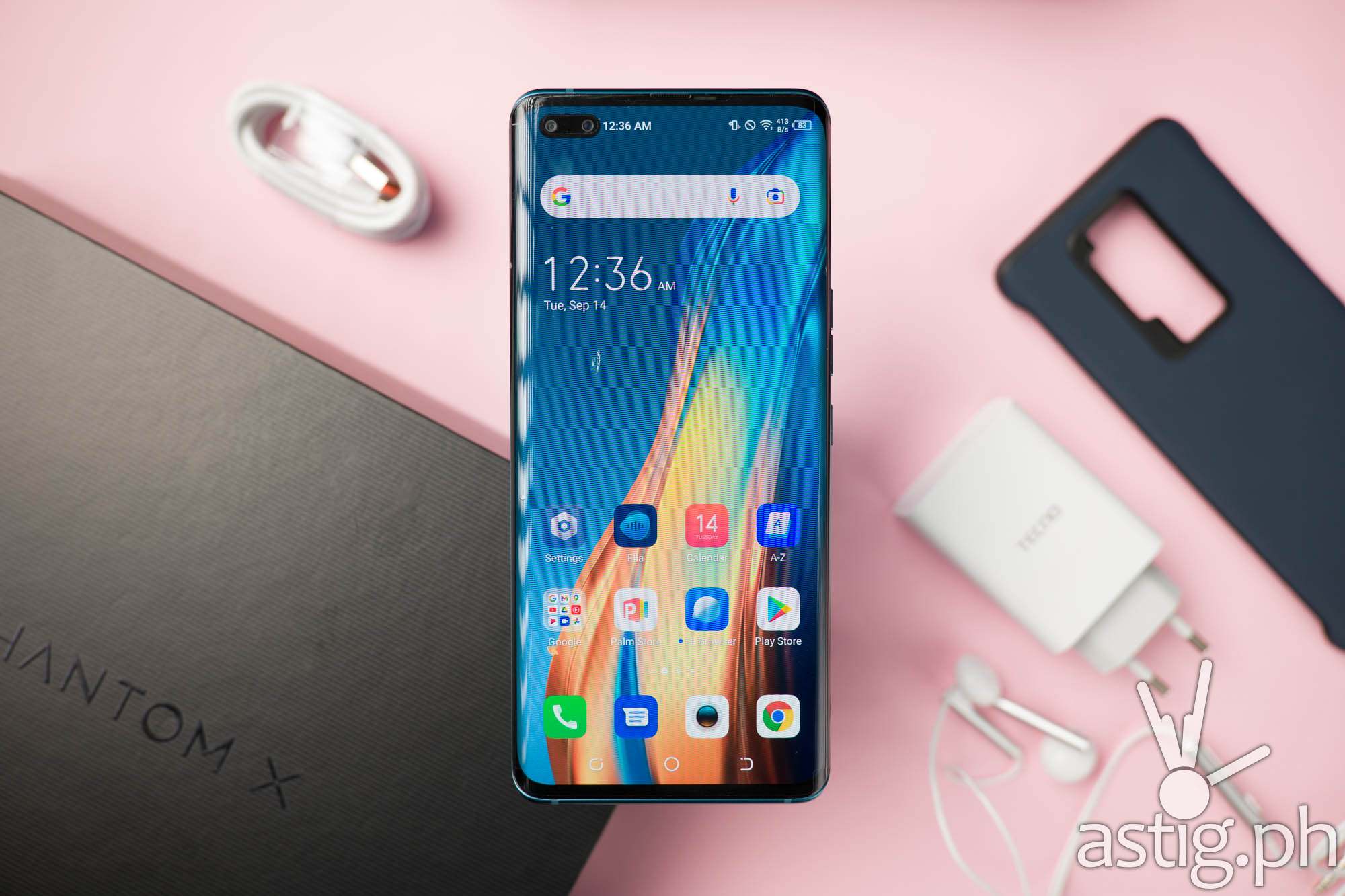 Knowing that the Galaxy S10 received generally positive reviews, we'd say that's a good benchmark to go against. Having held both phones ourselves, we could not help but smile and adore the build quality of the TECNO PHANTOM X.
TECNO calls it "3D borderless screen", and its curved "waterfall" edges will undoubtedly impress anyone. Standing at 6.7 inches, it's the usual plus-sized display that we've come to expect from TECNO, but check this out: there's a 90Hz Super AMOLED panel inside, and while it may not be the brightest that we've seen, it certainly has the best viewing angles out of all the TECNO phones that we've reviewed this year.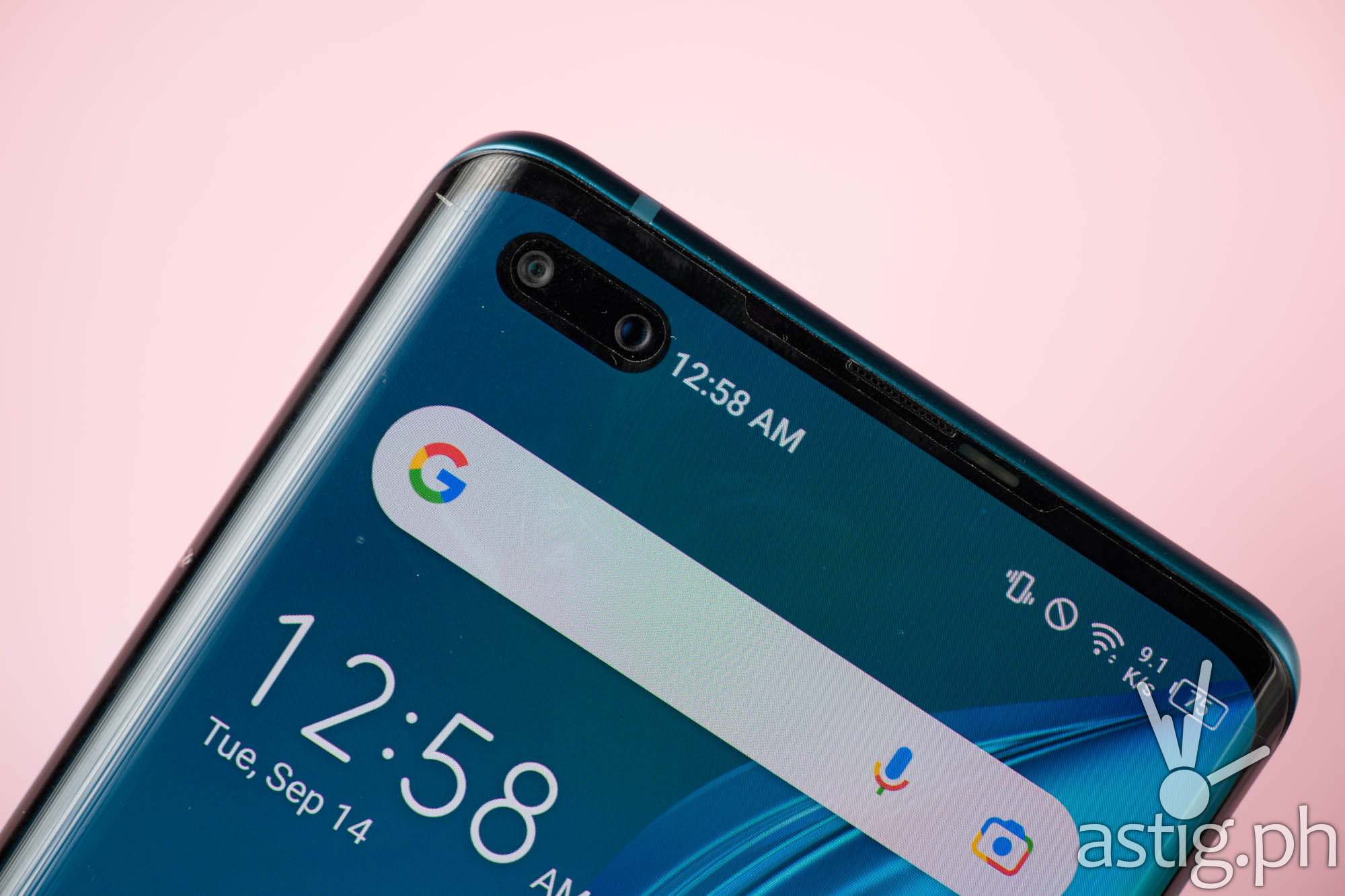 It has to, considering its curved edges.
Flip the phone to its back and we are greeted by a rear panel that's – once again – unlike anything we've seen from TECNO. According to the product page, it's made of "silk glass", though in real life it seems to be made out of polycarbonate plastic more than glass.
We have the Starry Night Blue unit which is like a blue-greenish shade that glows brightly when shined upon – just like stars, as the name implies.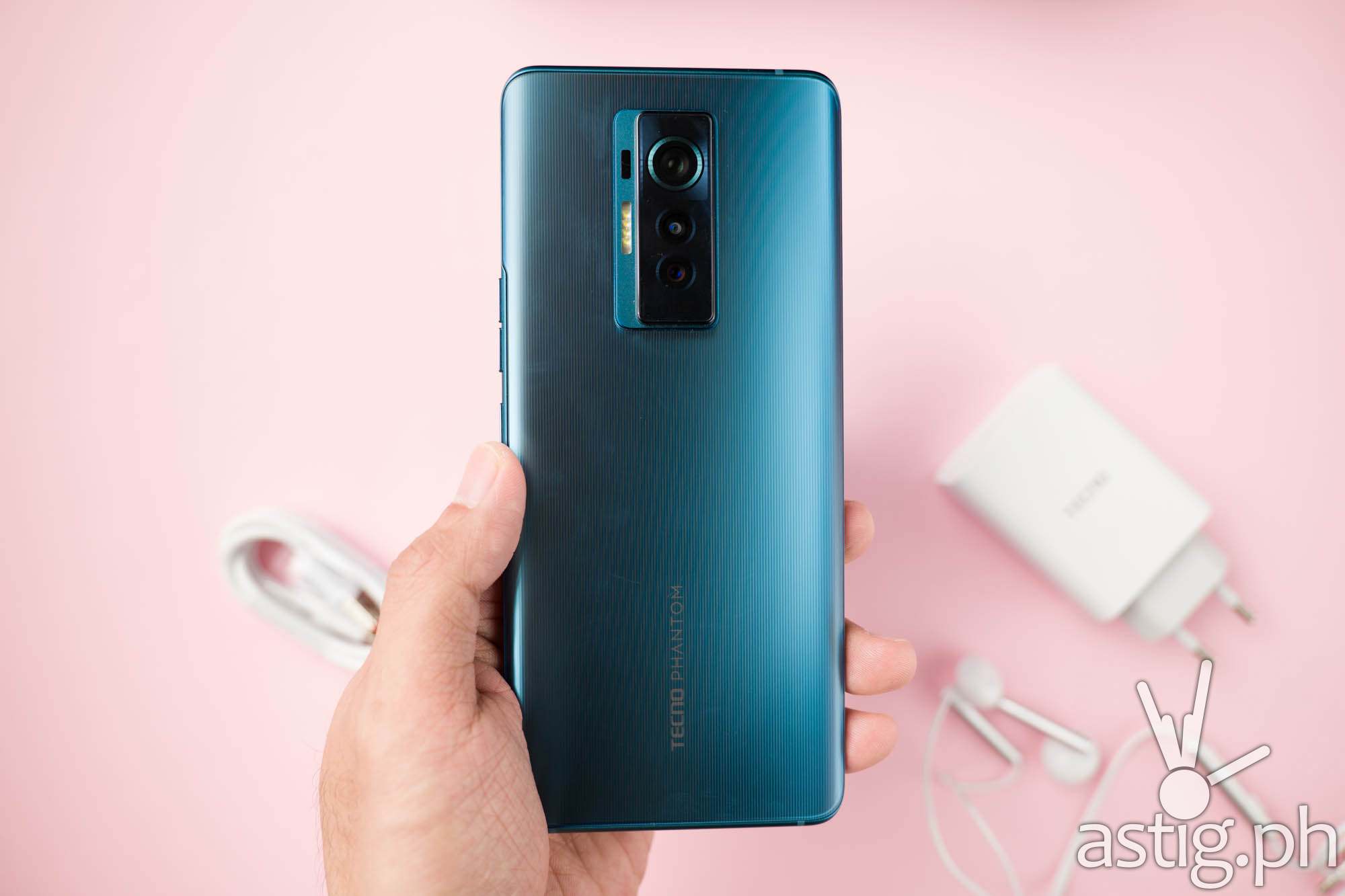 However, the thing that makes the back stand out is the texture: it's matte, which we love, but at the same time, there are microscopic grooves running vertically from top to bottom, giving it a three-dimensional effect that you can both see and feel.
Holding it is an entirely new experience by itself. It's neither sticky nor slippery, and those grooves have an effect that we can only describe as "calming" and "relaxing", as if our palms were being gently massaged by that rear panel. The website uses the phrase "silk smooth", and we have to agree.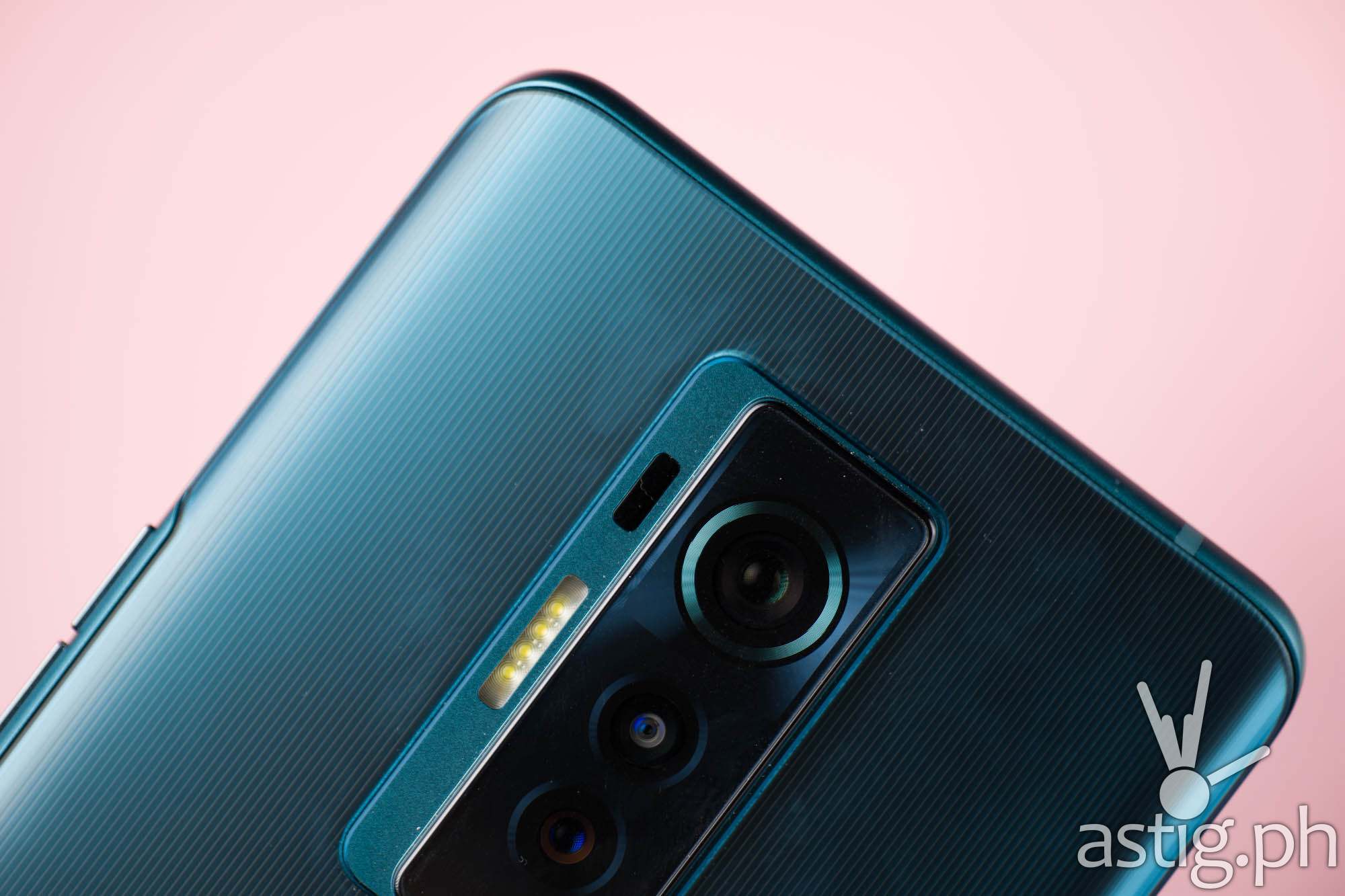 It's a weird feeling that we can't just describe well, so if you ever get the chance – do try it out for yourself and tell us what you think!
Smack dab in the top middle portion is that triple rear camera module, which is not the prettiest camera system that we've seen, mainly because there's this huge hump of at least two millimeters thick which seems out of place in a phone this thin.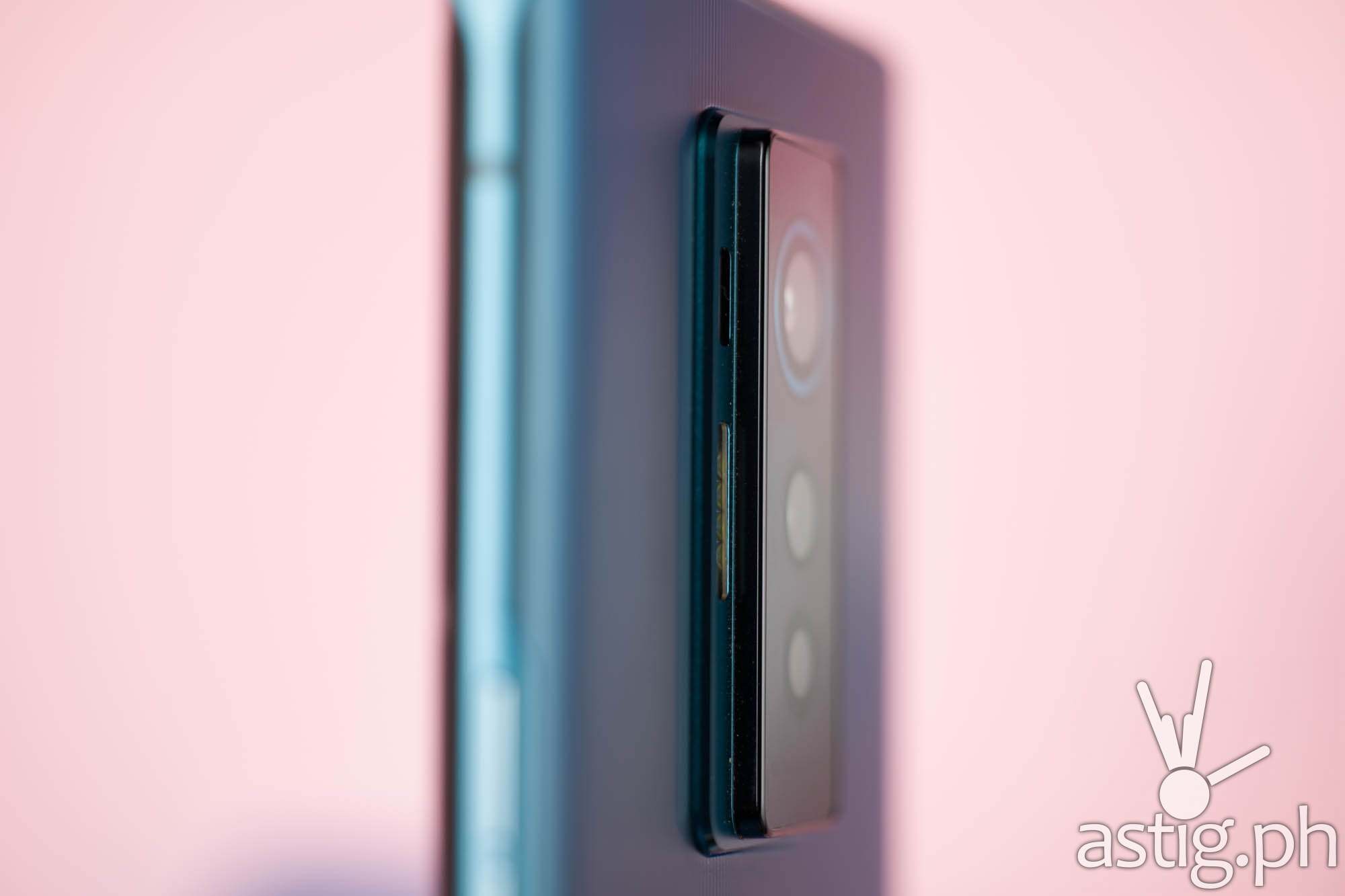 Quite literally, there's a hump on top of another hump, and this double hump is just not something you'd expect to see when you turn the phone around.
Then again, we've seen enormous humps on the most expensive flagships such as the SAMSUNG Galaxy Z Fold3, and we'd rather get a hump if it meant better photos. More on this later.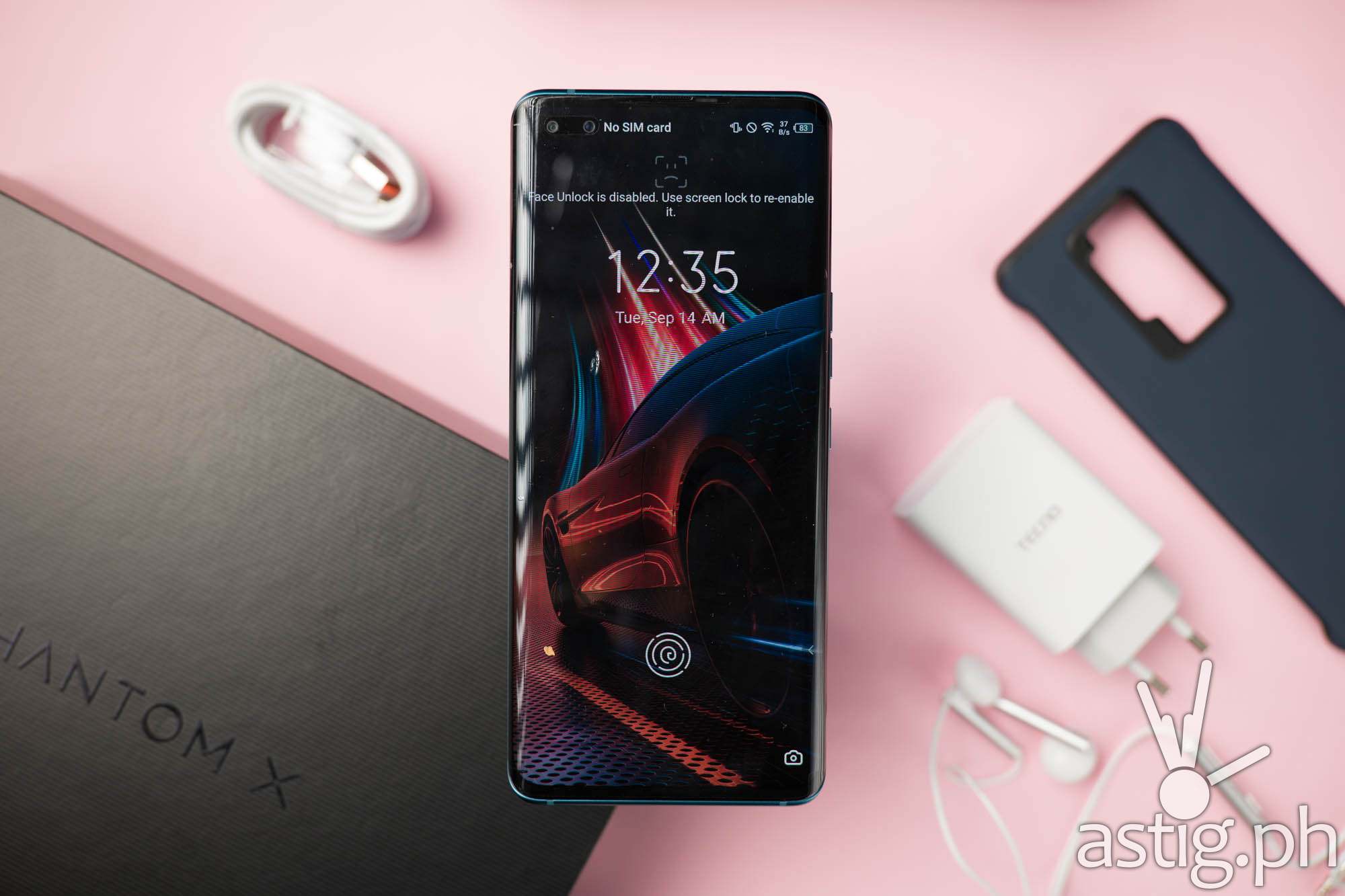 You won't find a fingerprint scanner here, nor will you find one to the side like the one on the TECNO Camon 17P. This phone is special, so it does away with the more traditional scanners in favor of the under-display or in-display fingerprint sensor, whatever you call it.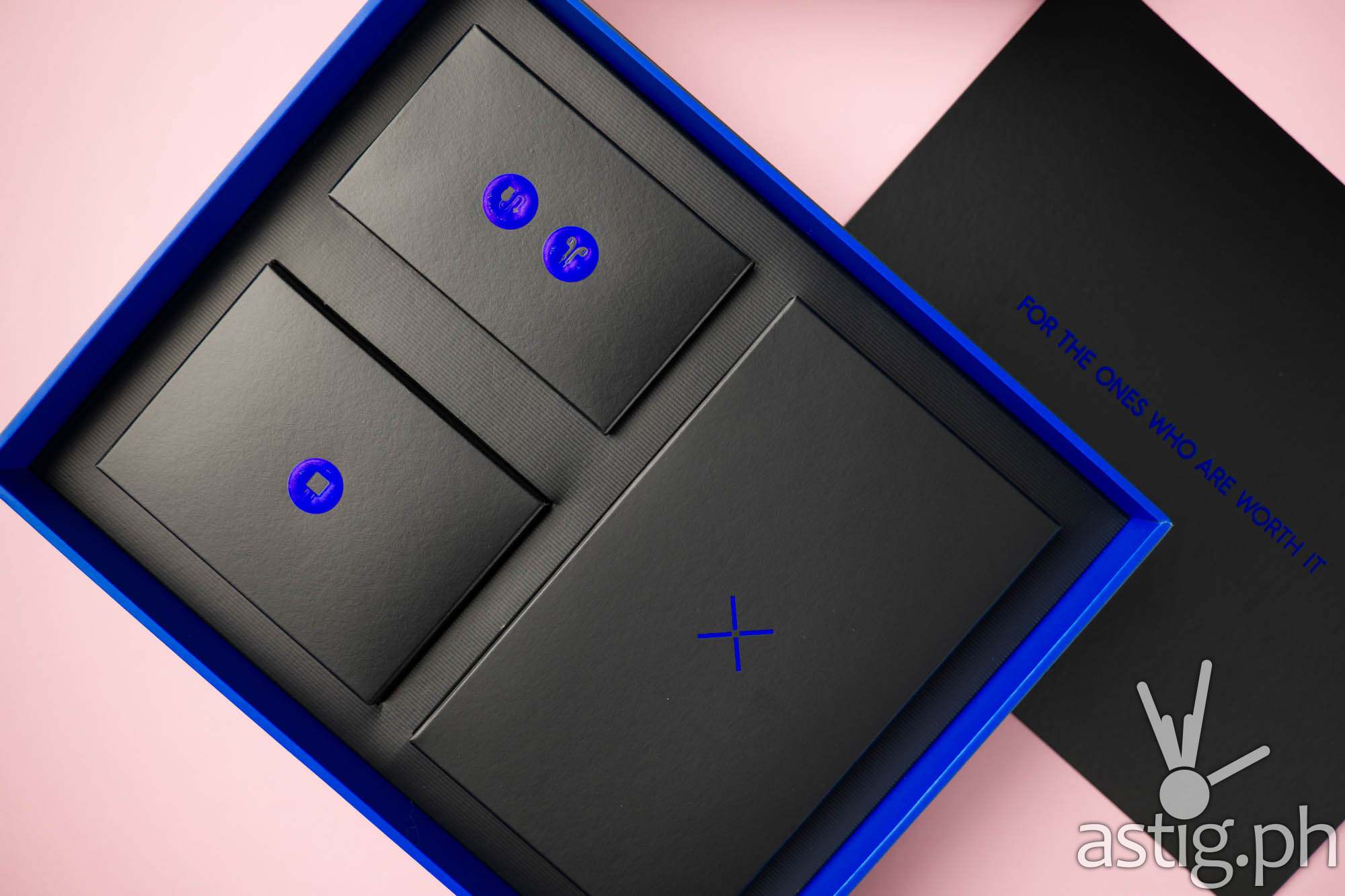 The phone is only 8.7mm thin and weighs a mere 163.5 grams, making it one of the if not the lightest TECNO phone to date.
On the flipside, we're only getting a 4,700mAh battery, which isn't really too far from the usual 5,0000mAh that we get from TECNO.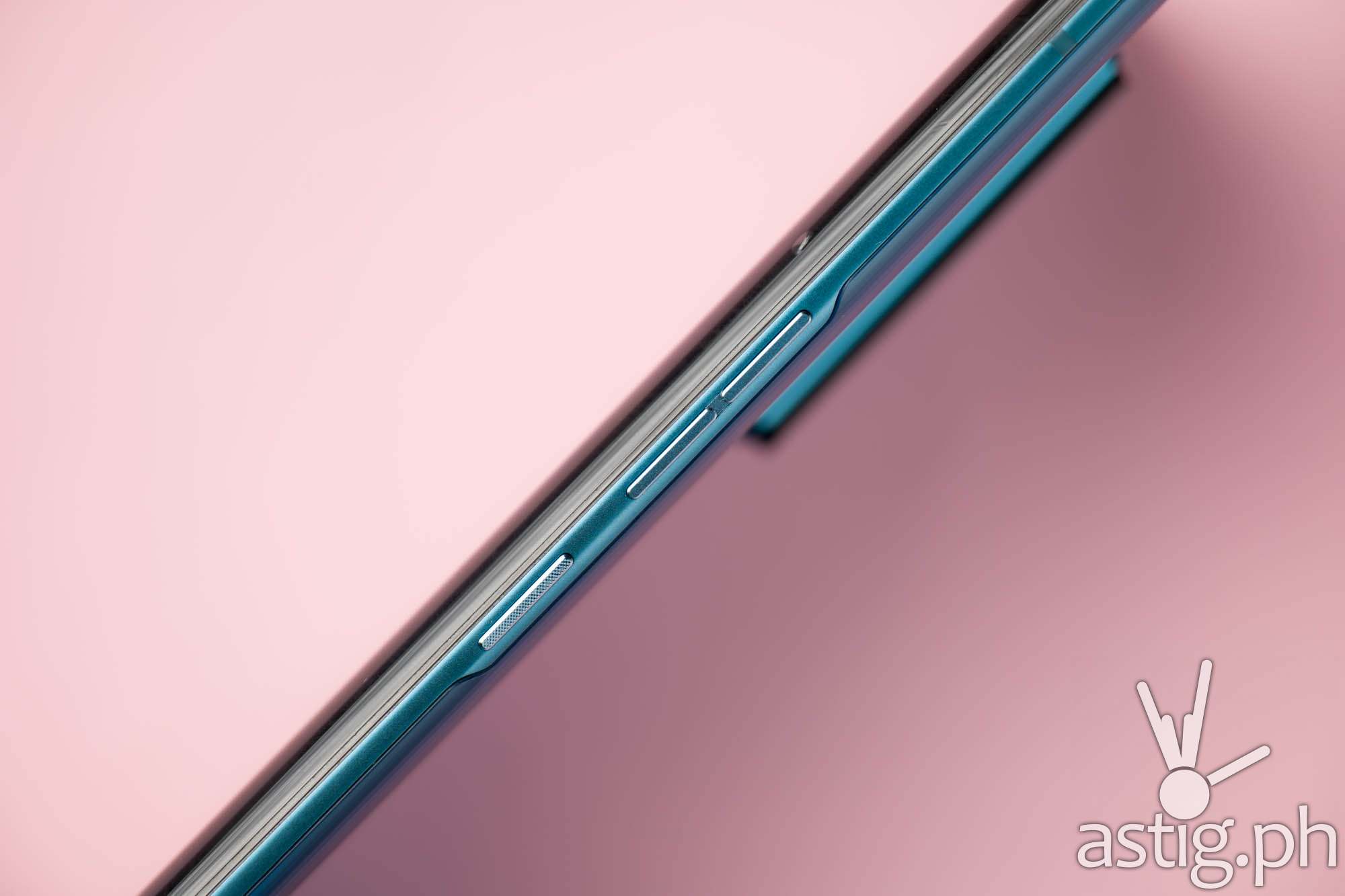 By the way, the package comes with a hard case which has a nice, leather-like texture.
Not that you'd want to cover that beautiful rear panel, but we recommend using it to protect the curved screen. It's awesome that we're getting one for free instead of having to go out and buy one separately.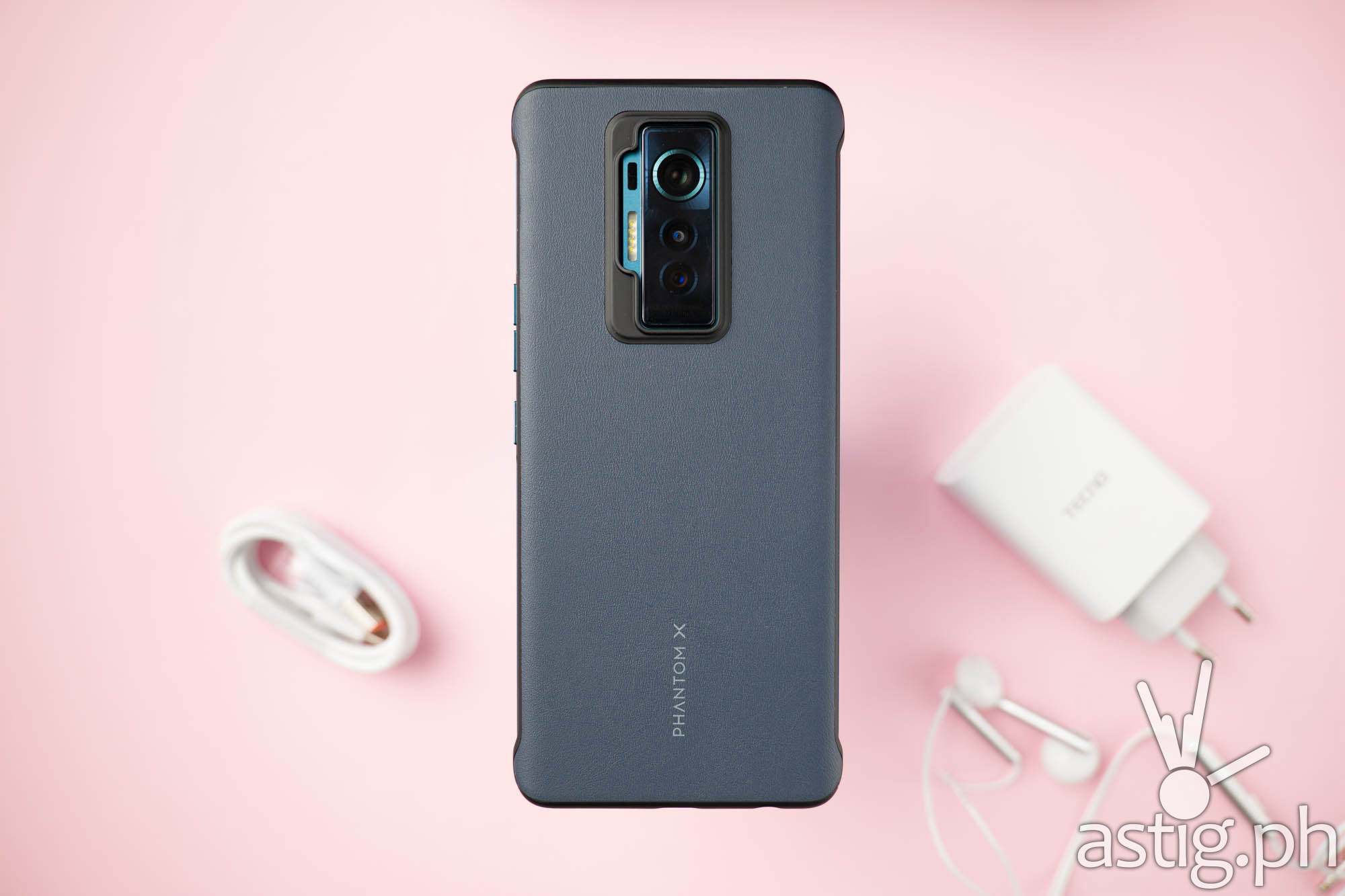 Everything else follows the tried and tested design that has become a standard among TECNO phones: a power button and volume rocker on one side, dedicated dual SIM and memory card slots, single bottom-firing speakers, a USB Type-C port, and single bottom-firing loud speakers.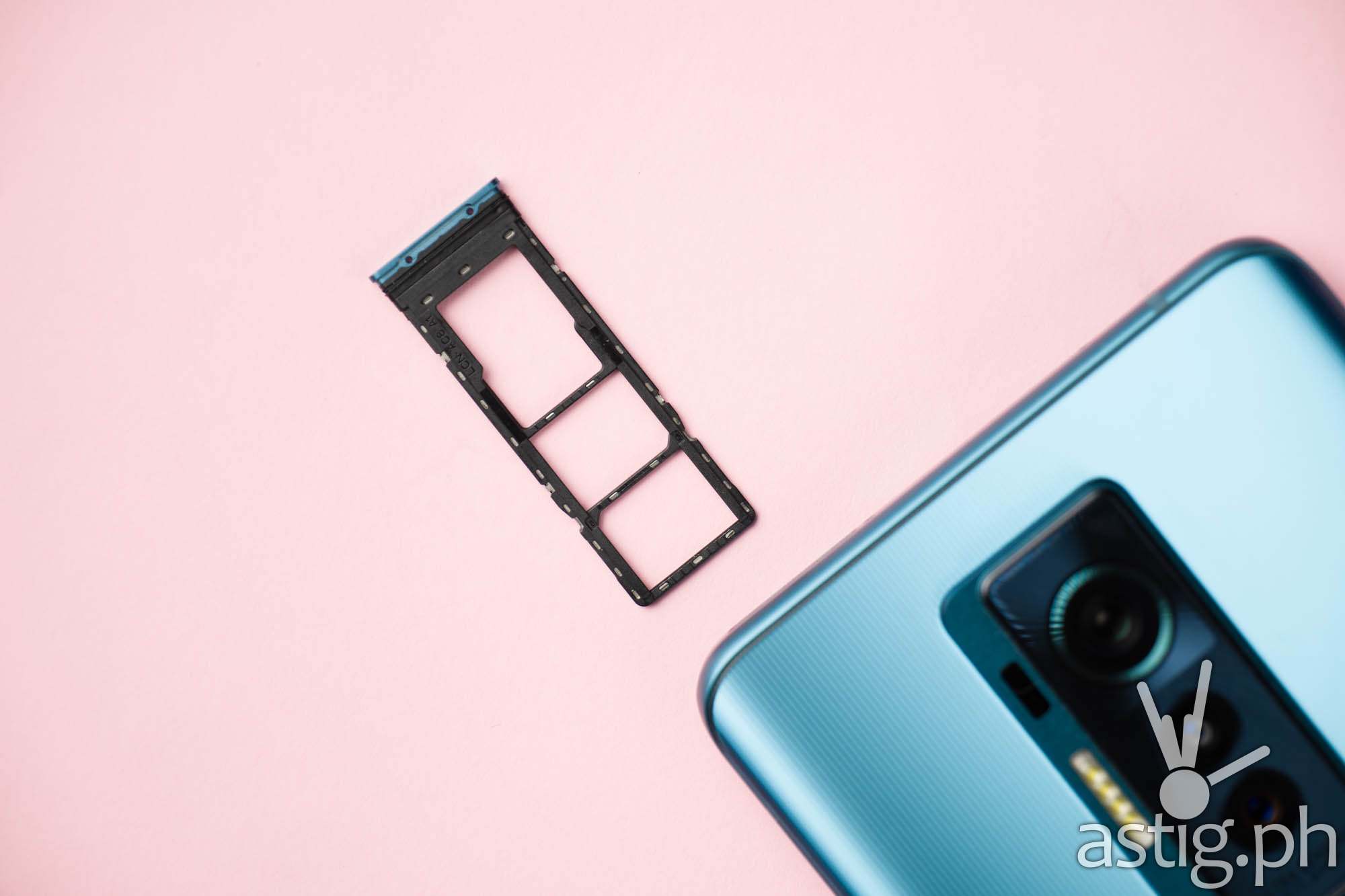 TECNO kicked the unboxing experience on the PHANTOM X up by a notch, going for an oversized packaging in all black with blue accents.
It's really mostly for show though, since the the phone and all of its accessories could have fit in a smaller box.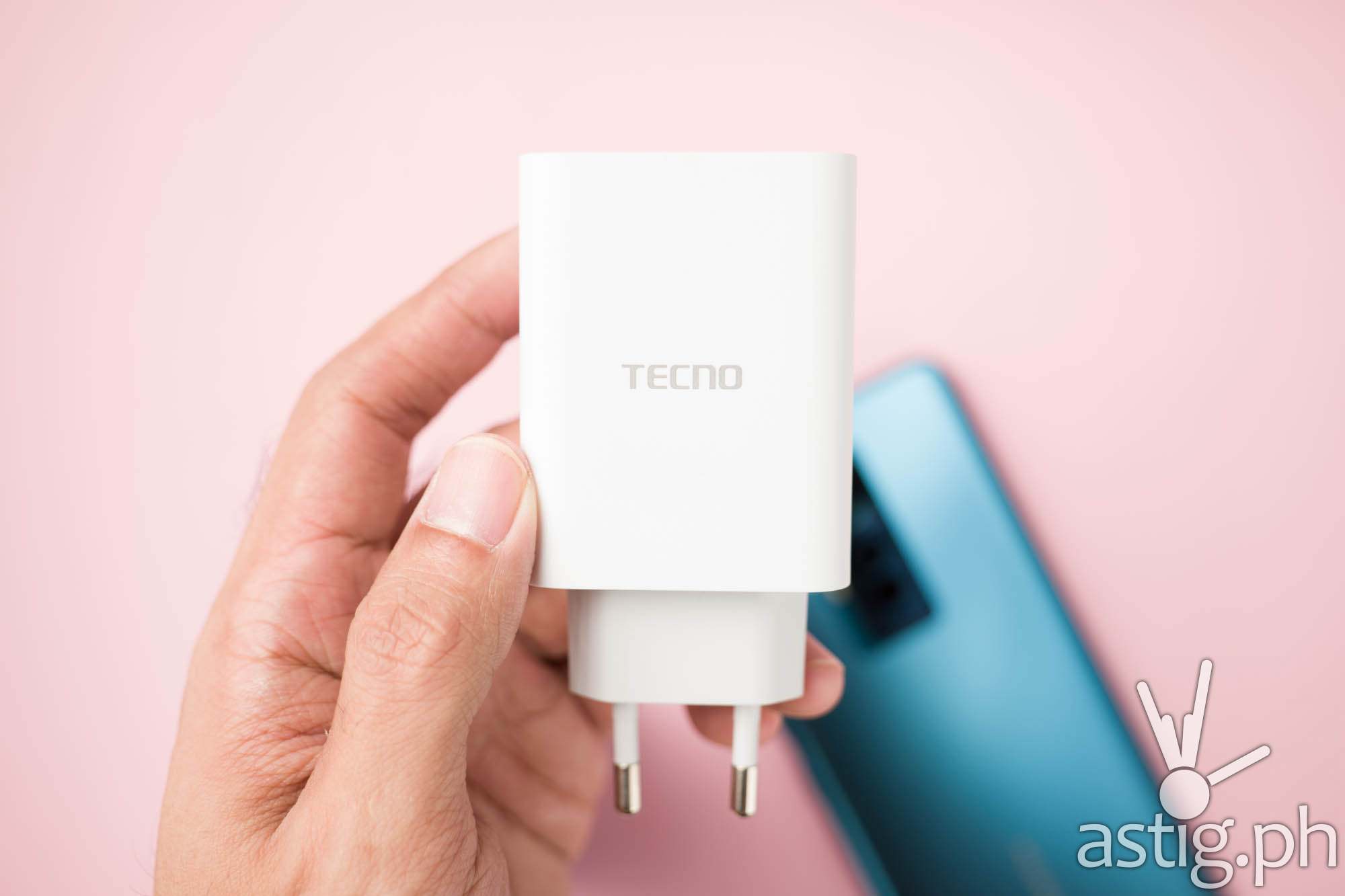 That being said, the 33W fast charger is slightly bigger than usual, and the free wired headset looks more premium than what we normally get from TECNO so it's kind of cool.
Performance and entertainment
Internally, the TECNO PHANTOM X runs on the MediaTek Helio G95 platform, the highest in the Helio G-Series of chipsets designed for gaming. With CPU clock speeds going all the way to 2.05GHz, it boasts 5-8% increase in performance over the Helio G90T.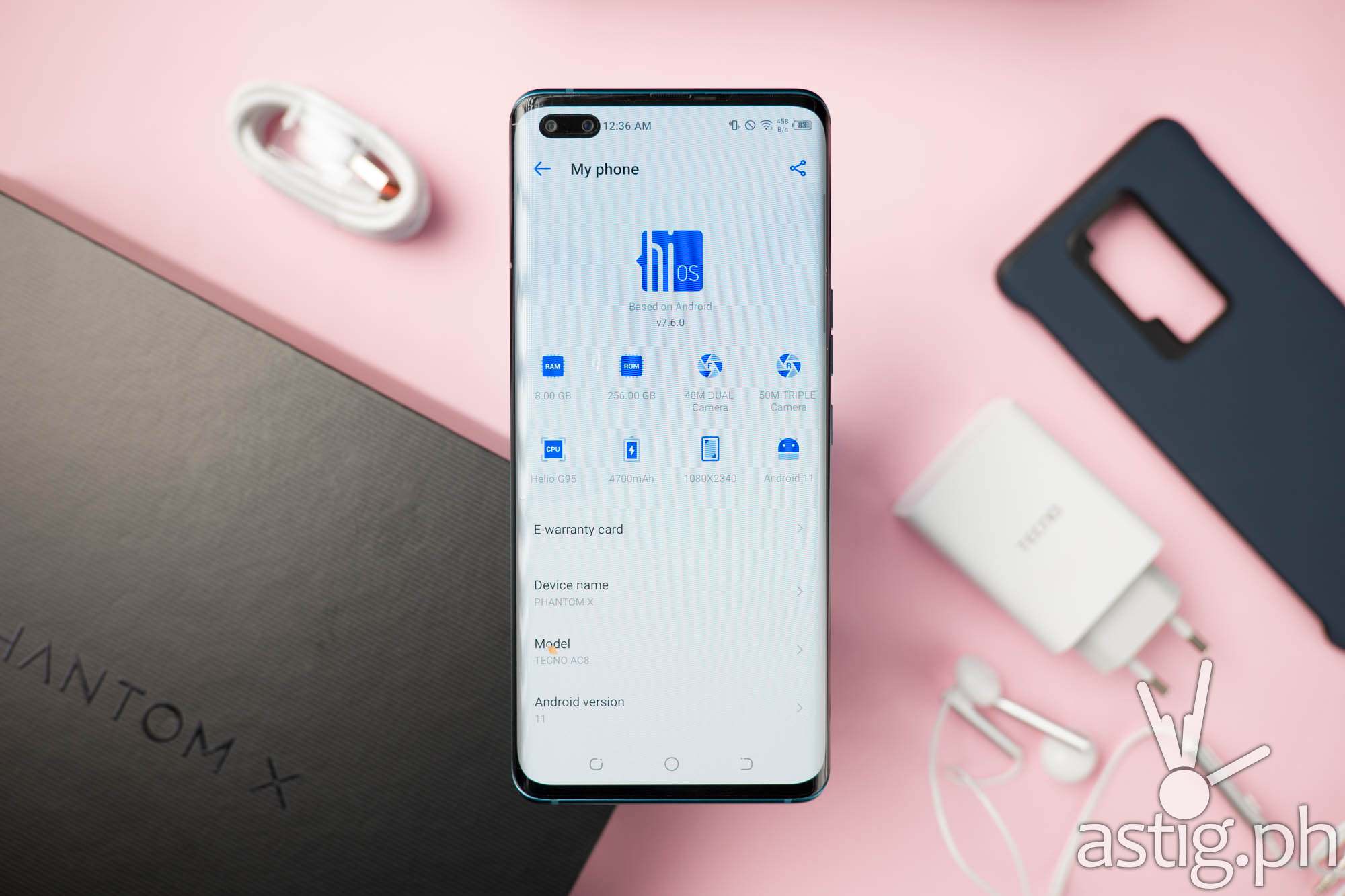 Memory is more than generous with 8GB of RAM, ditto with storage at 256GB. To spice things up, it runs on the Android 11 operating system out of the box with HiOS 7.6, giving it an enhanced experience with that unique TECNO flair. It's a lot cleaner and more user-friendly compared its previous generations.
We especially like the lock screen images, which changes every time you turn the screen on so there's always something new and interesting to see on your screen.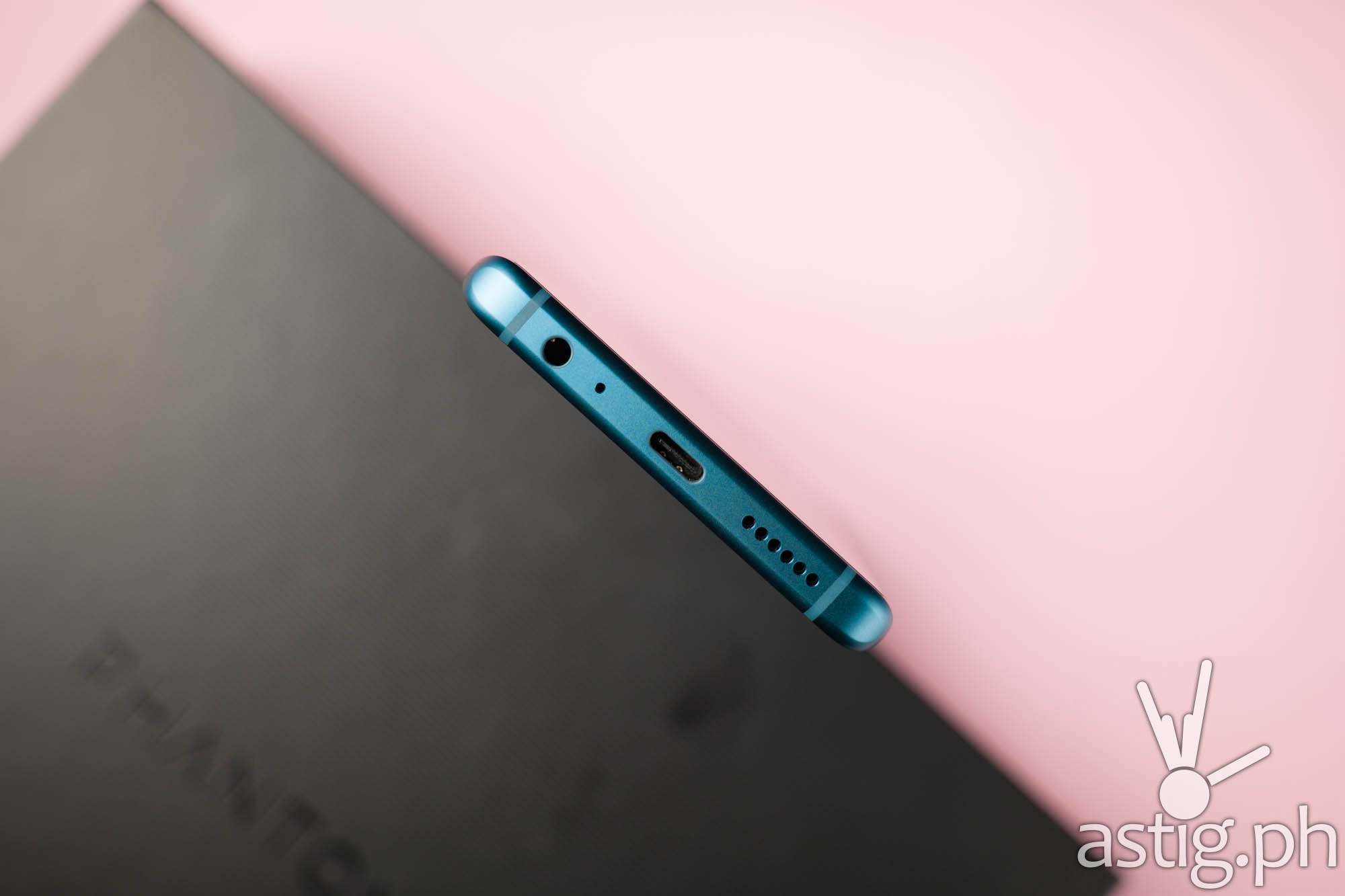 Experience-wise, the system is super smooth, and the 90Hz high refresh rate is a major contributor to this feeling of smoothness. The difference in visual feedback is insane, and you can observe this quite easily when you switch to 60Hz.
The difference is just night and day, so you'd want to be running 90Hz all the time.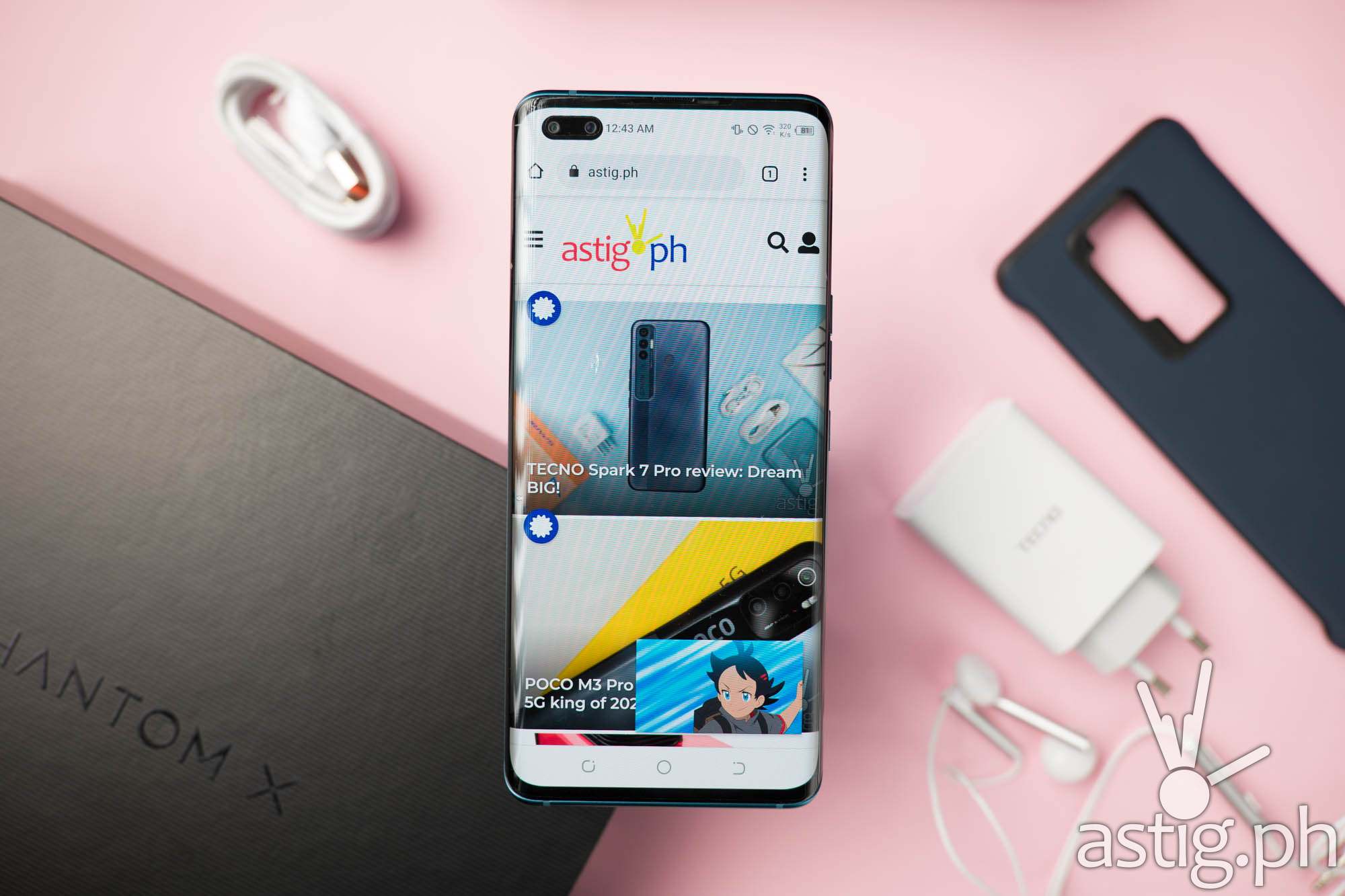 So we ran some benchmarks in order to have a more quantitative reference, and the PHANTOM X scored 6165 overall in Passmark.
The score is consistent with what we're looking for on a Helio G95 device.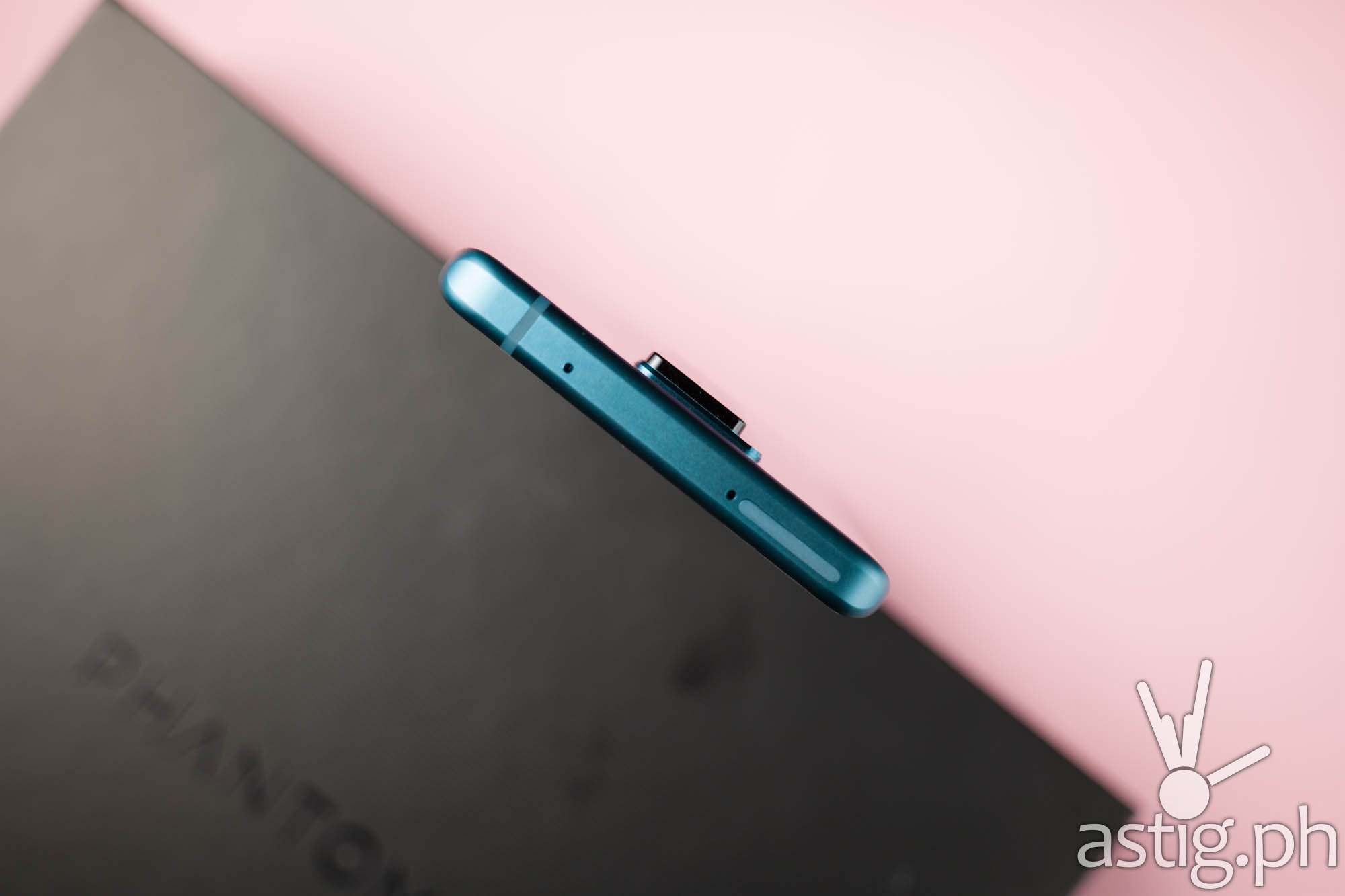 For reference, it's slower than the Snapdragon 888-powered Galaxy Z Fold 3 which scores around 7097, and fasster than the Helio G85-powered TECNO Camon 17P, which scored 4979 points.
Memory scores are much higher than other phones with similar configurations, scoring 14449 points. It outperforms the 8GB HUAWEI nova 8i and SAMSUNG Galaxy A22 5G, which scored 13118 and 13838 respectively.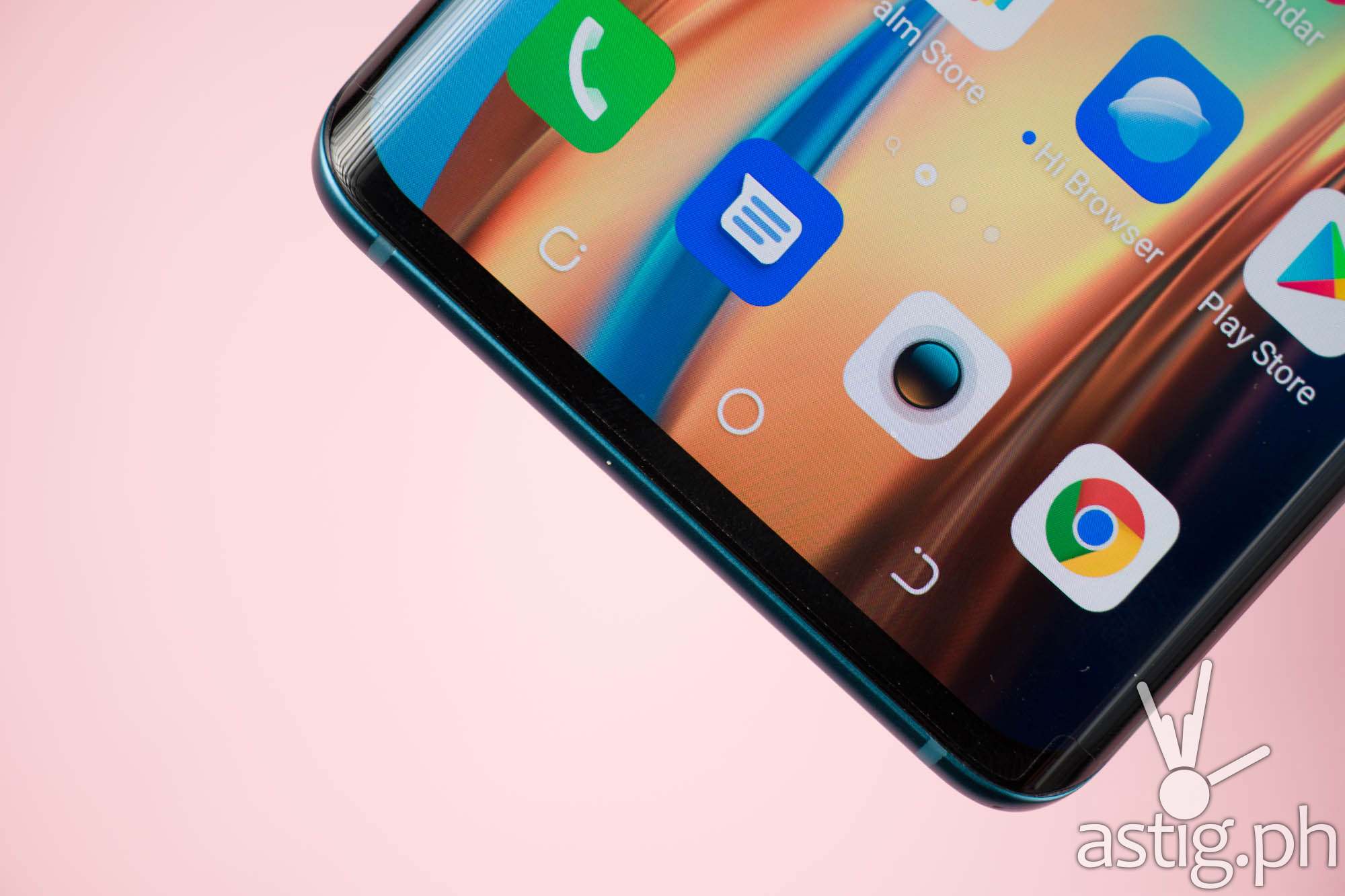 Disk performance is above average, scoring 49265 points, outperforming 75% of the phones that we've benchmarked this year, most of which were below 50k points.
That 3D borderless screen is a thing of beauty – we thoroughly enjoyed second we spent watching shows on this phone, but we can't say the same about that bottom-firing loudspeaker. It is not the best sounding speakers: the sound is really thin and shrill, like it's all high and almost no mids. There is almost no depth, so bass is almost non-existent.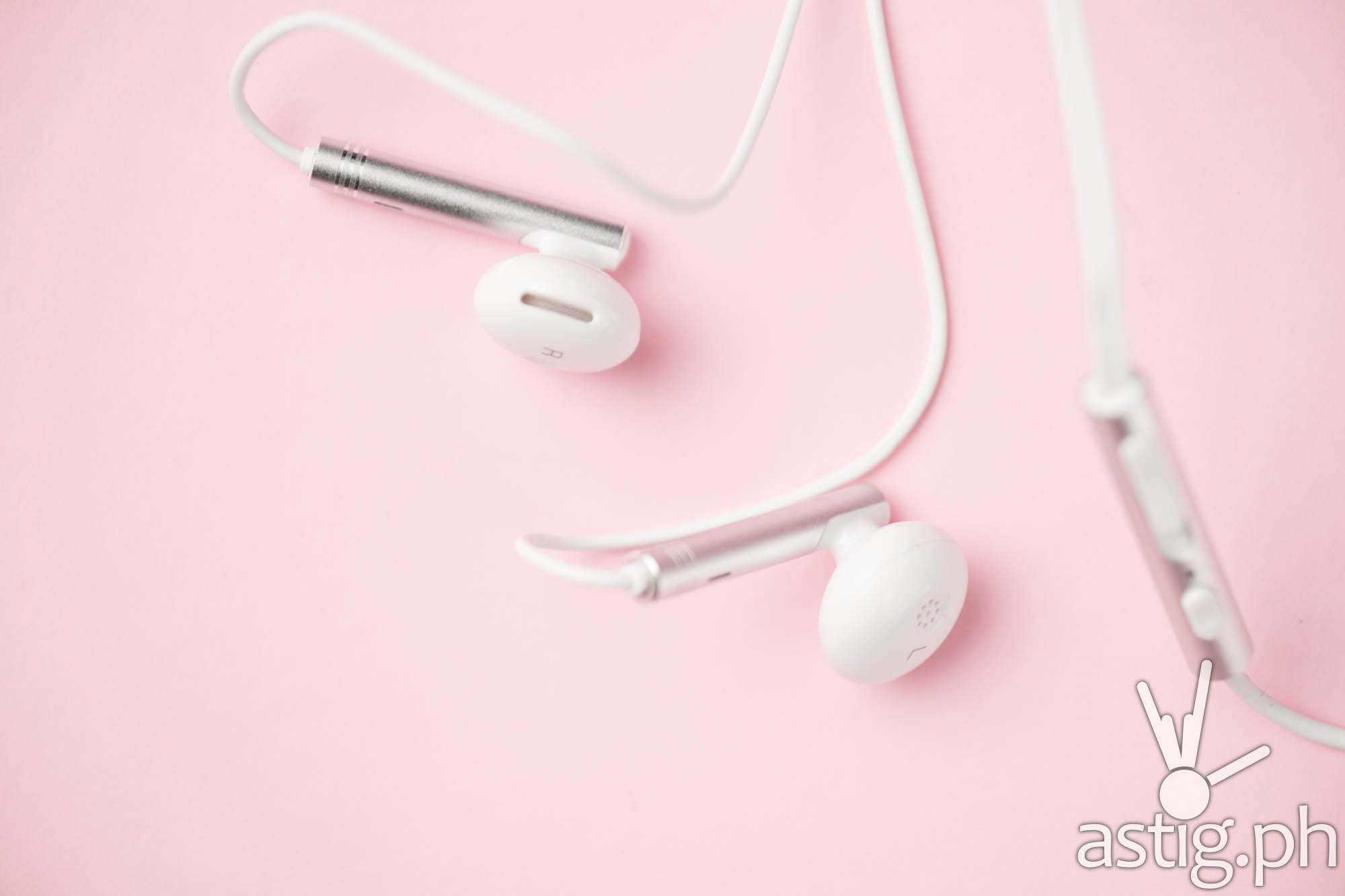 We would not recommend listening to anything on this phone without a headphone or a headset. Thankfully you can plug the free one that comes this phone onto that 3.5mm audio port.
Adding insult to injury is the fact that this phone only carries Widevine L3 certification, meaning we won't be able to play DRM-licensed content in full HD. This is one of those things that may be indicative of this phone's lower price point, despite its impressive specs.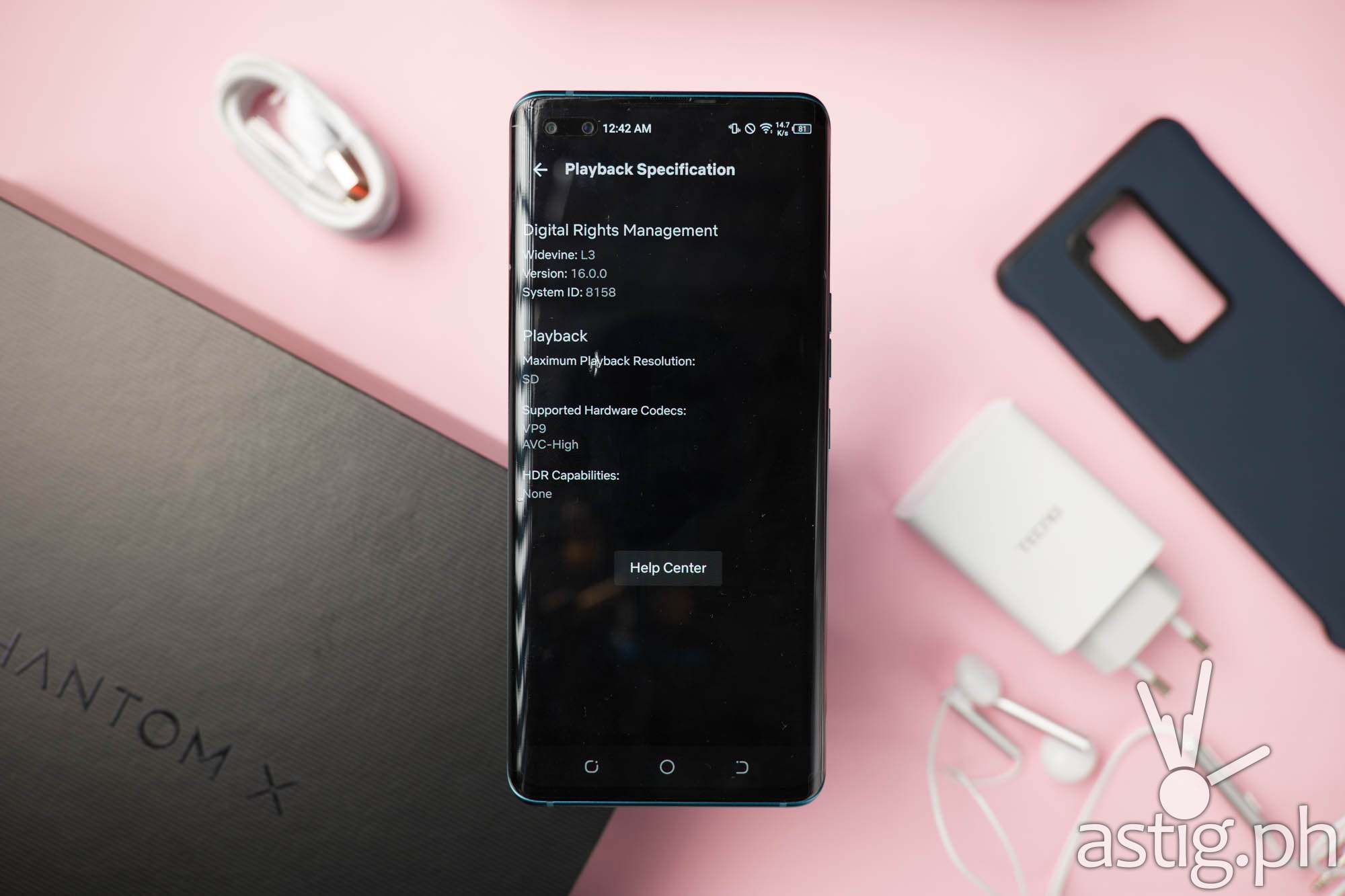 It really bums us out that we won't be able to enjoy content in its full HD glory to match screen full HD resolution, but we're keeping our fingers crossed that TECNO could somehow push Widevine L1 certification via OTA upgrade like what Xiaomi did on the POCO F1.
Mobile gaming
Helio G95 is the most powerful chipset in MediaTek's gaming-tuned Helio G-Series, and it shows. In our 3D benchmark, this baby scored 29599 points which puts it well above almost everyone else. For reference, the only ones that beat it are the gaming phones and flagships, which scores around 80k.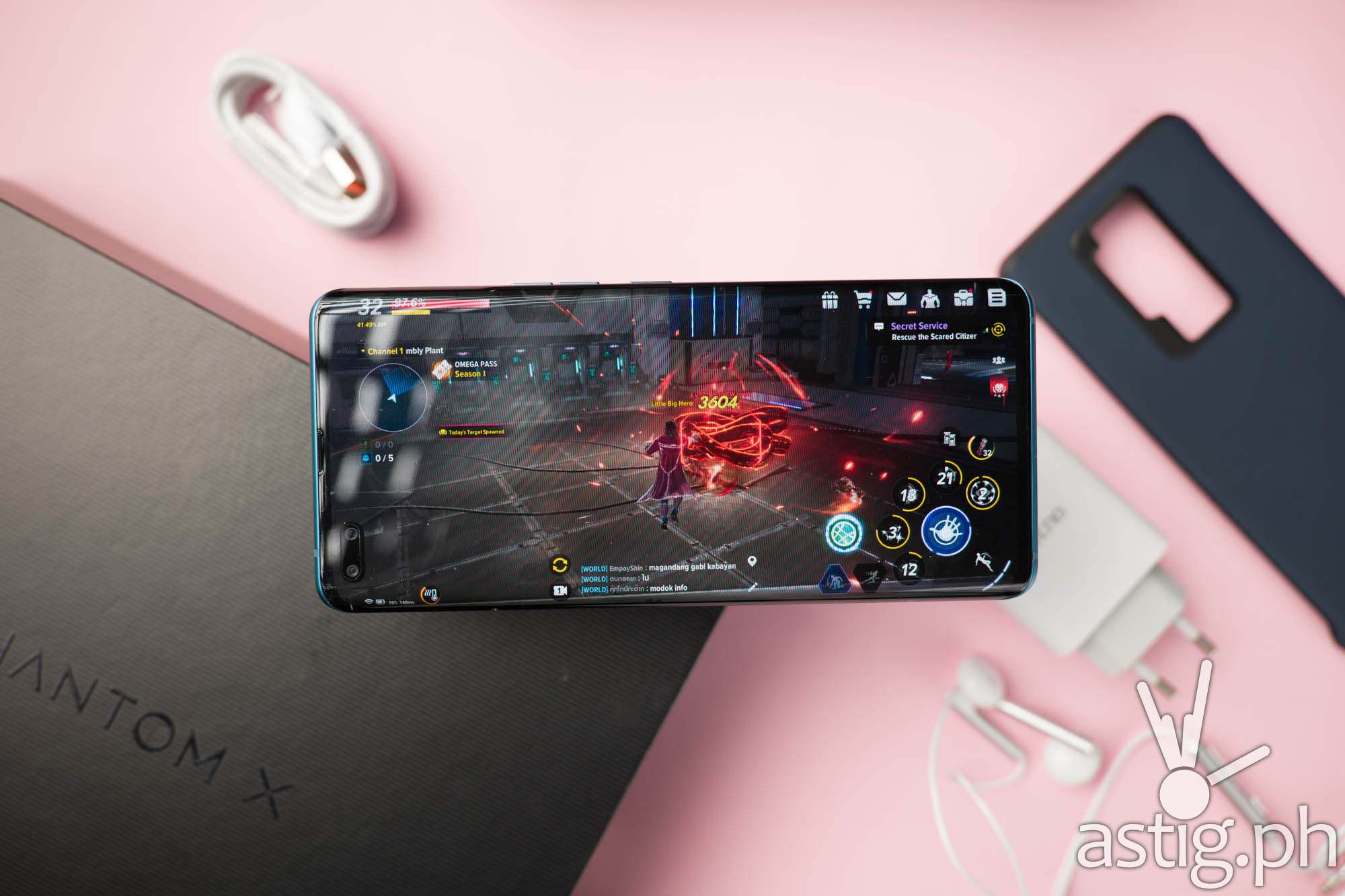 It's already showing its age though, with the Helio G96 coming out earlier this year and all, but it's still one of the best value gaming chipsets that you can get, so we put that to the test, starting with our standard set of MOBA games consisting of Mobile Legends: Bang Bang, Marvel Super War, and League of Legends: Wild Rift.
All of them played really well at the highest settings, although we could feel the phone struggling when things go crazy in the heat of the battle. A few frames dropped here and there doesn't take away the fact that this is still a good gaming phone, but you also have to watch out because the phone can get toasty after a while.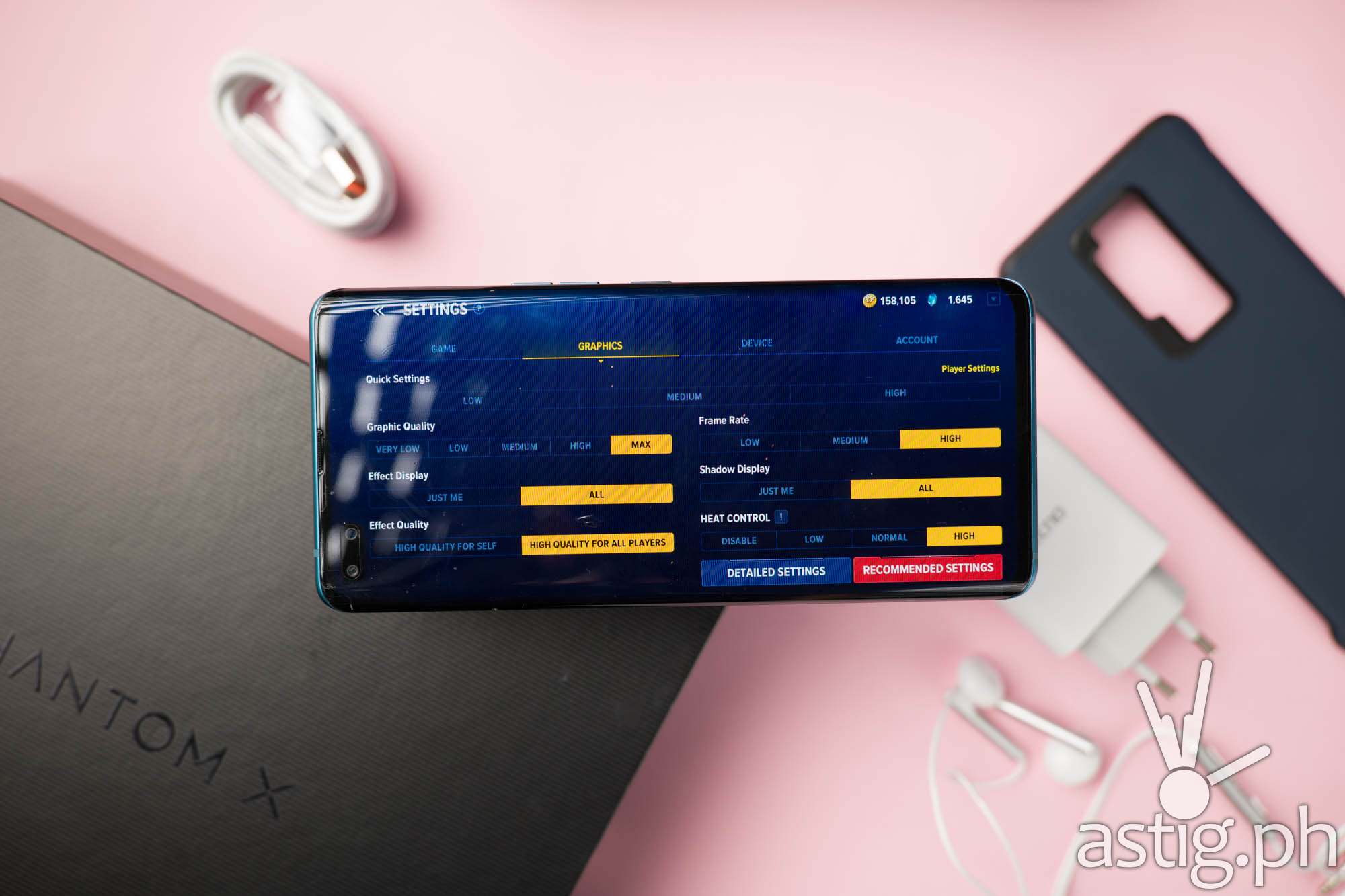 There's supposed to be a liquid cooling system covering 100% of the main heat area, though. The official website claims that it brings down CPU core temperatures by 3-5 degrees. That may be enough for older games or if you're cool with locking the frame rate at 30FPS on the newer ones, but not if you want to 60FPS or higher. There's no sense to not enable high frame rate mode when you're playing competitively, so if this happens simply dial your graphics settings down and you should be good to go.
It's less of a problem on AAA MMORPG titles like Genshin Impact and Marvel Future Revolution where frame rates aren't as important as graphics quality. That hard case absorbs some of the heat, so you can push it all the way to the highest settings and play (or auto-play) to your heart's content!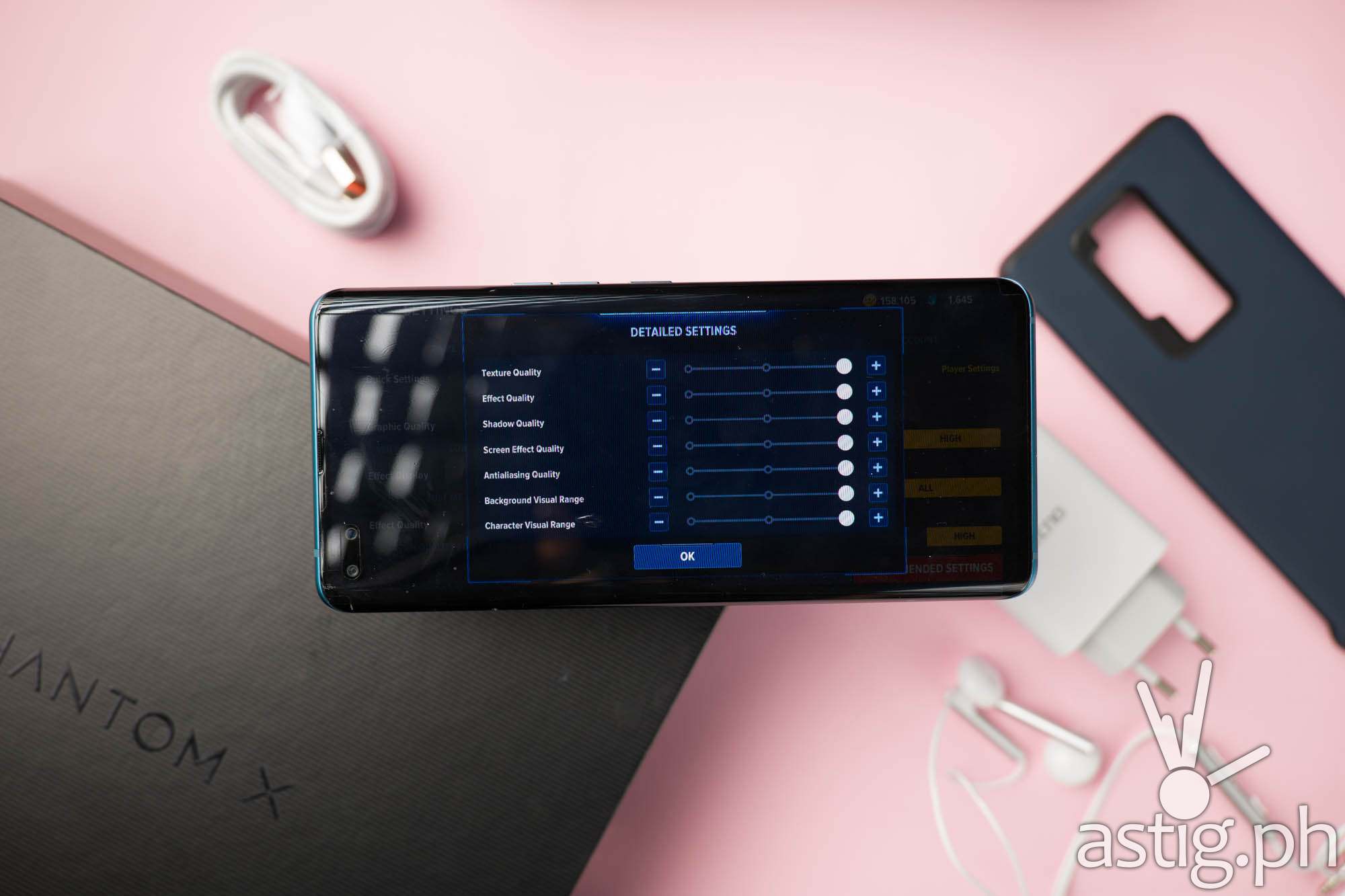 Beware though, the back of the phone can get hot and uncomfortable real quick on these games, so if you're actively playing and holding it, you may want to turn off HFR (high frame rate) mode on these games.
By the way, HiOS comes with a built-in gaming optimization system which you can access in the System's Settings page. Just do a search for Game Mode and enable this feature called Game Assistant Panel on your games. This allows you to swipe right while in-game to call up a floating panel that lets you do cool things like browse the Internet and chat in a floating window, reject incoming calls, take screenshots and video recordings and all that good stuff.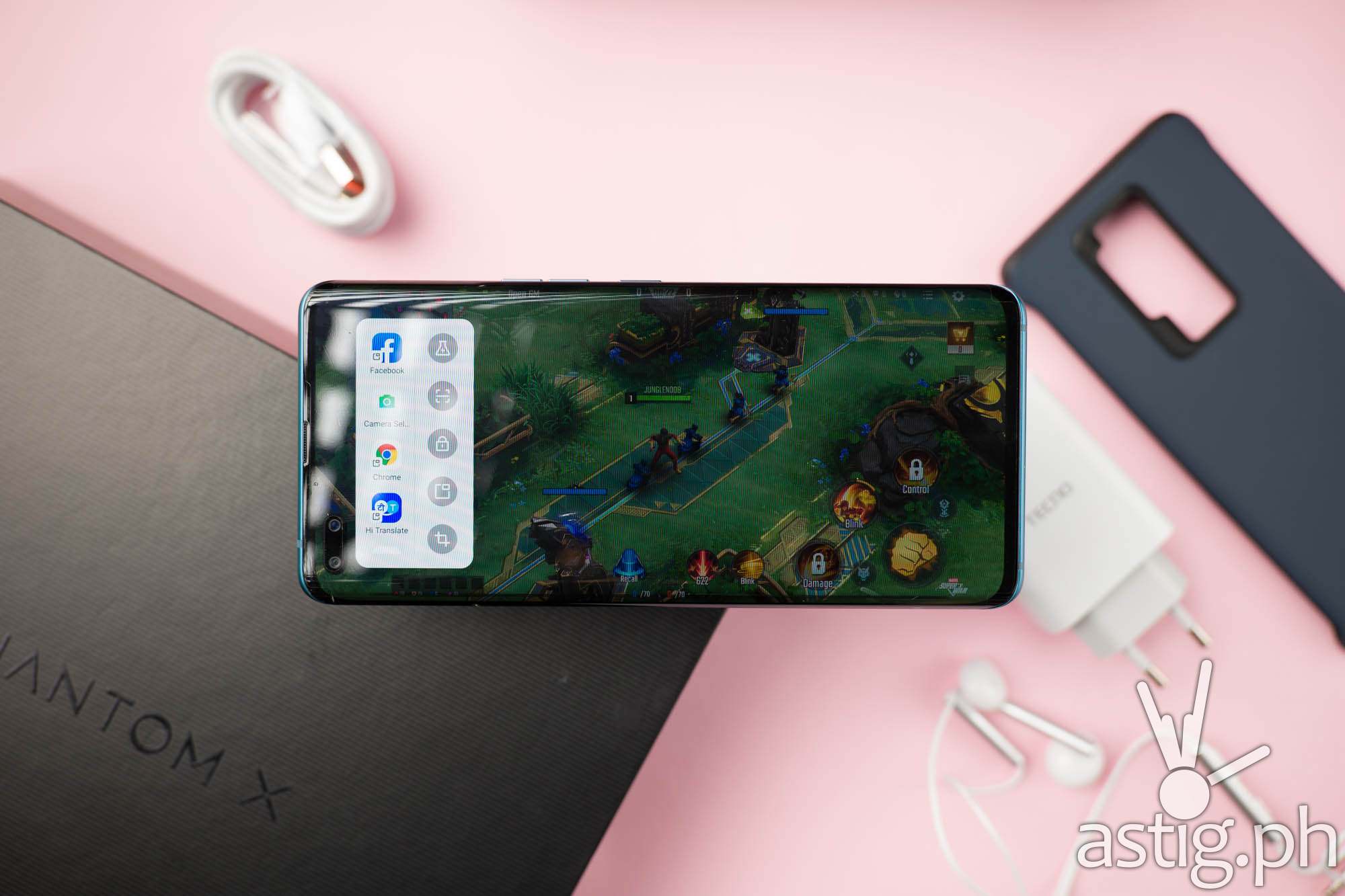 You can even map the volume up and down keys so that pressing them would be like tapping an area on the screen of your choosing.
Camera and content creation
Moving on to its camera capabilities, the TECNO PHANTOM X touts a triple camera module with a 50MP f/1.9 main sensor and two auxiliary cameras: a 13MP f/2.4 telephoto lens and an 8MP ultrawide lens. We were unable to find any information about the sensor's manufacturer or model number so in case you have any idea, please do tell us in the comments section because we're dying to know.
Our best photos came from the 50MP main camera. We took a ton of shots of different subjects in different lighting conditions and on the average, the photos came out looking incredibly sharp as long as the subject is steady and there is a good amount of light whether it be artificial from a lightbulb or natural coming from the afternoon sun.
Things start to fall apart on fast-moving subjects with dim lighting. There is no OIS (optical image stabilization) on any of the lenses to help keep the cameras steady, so the shots usually end up soft, grainy, and/or out of focus. This behavior is more exaggerated on the telephoto and ultrawide angle lens, both of which are not as forgiving as the 50MP main snapper.
The camera software needs to work on its color science and image processing algorithm though. To our eye, the colors seem a bit unnatural and have a greenish tint. The HDR setting produces some of the most unnatural looking photos so we would recommend keeping it off.
HDR photos had a really strong halo-ing effect, and in some instances, there are odd-looking artifacts like in the fingers of our subject below which made it look like she had vitiligo: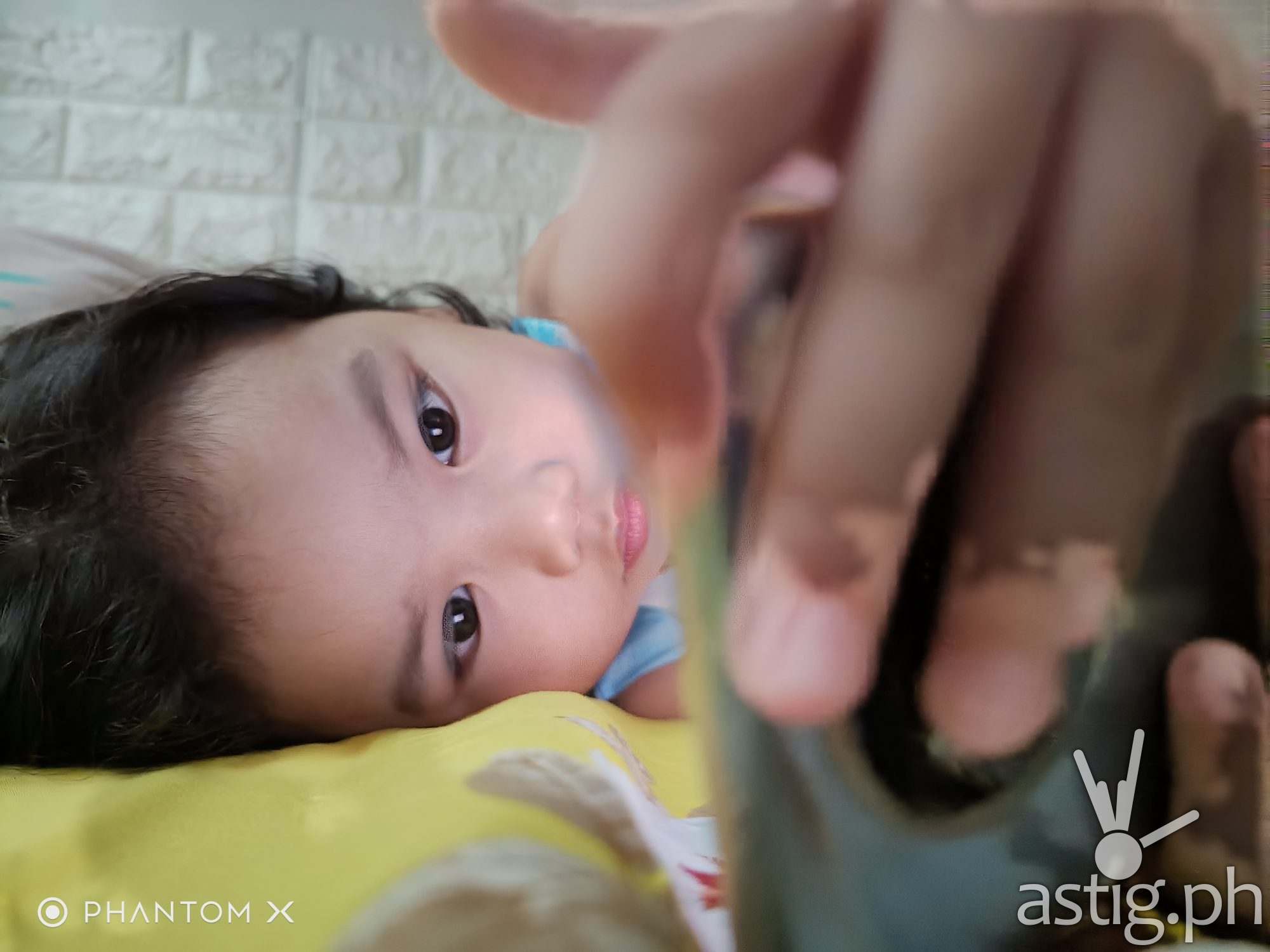 TECNO loves their multiple-LED flashes, and this is no exception: We get not just one or two but FOUR LED flash bulbs on its rear. We don't really have a way to measure the brightness of the light coming from these bulbs, but it's bright enough to blind a mouse for sure!
Because it's super bright, it produces some really harsh-shadows and the subjects tend to end up looking flat but it gets the job done.
We mentioned that there's a pill-shaped notch, and that's because the PHANTOM X has dual selfie cameras, composed of a 48MP f/2.2 main sensor with your standard wide-angle lens that's great for calls and vlogging and a smaller, 8MP f/2.2 sensor with an ultrawide-angle lens for 'groufies'.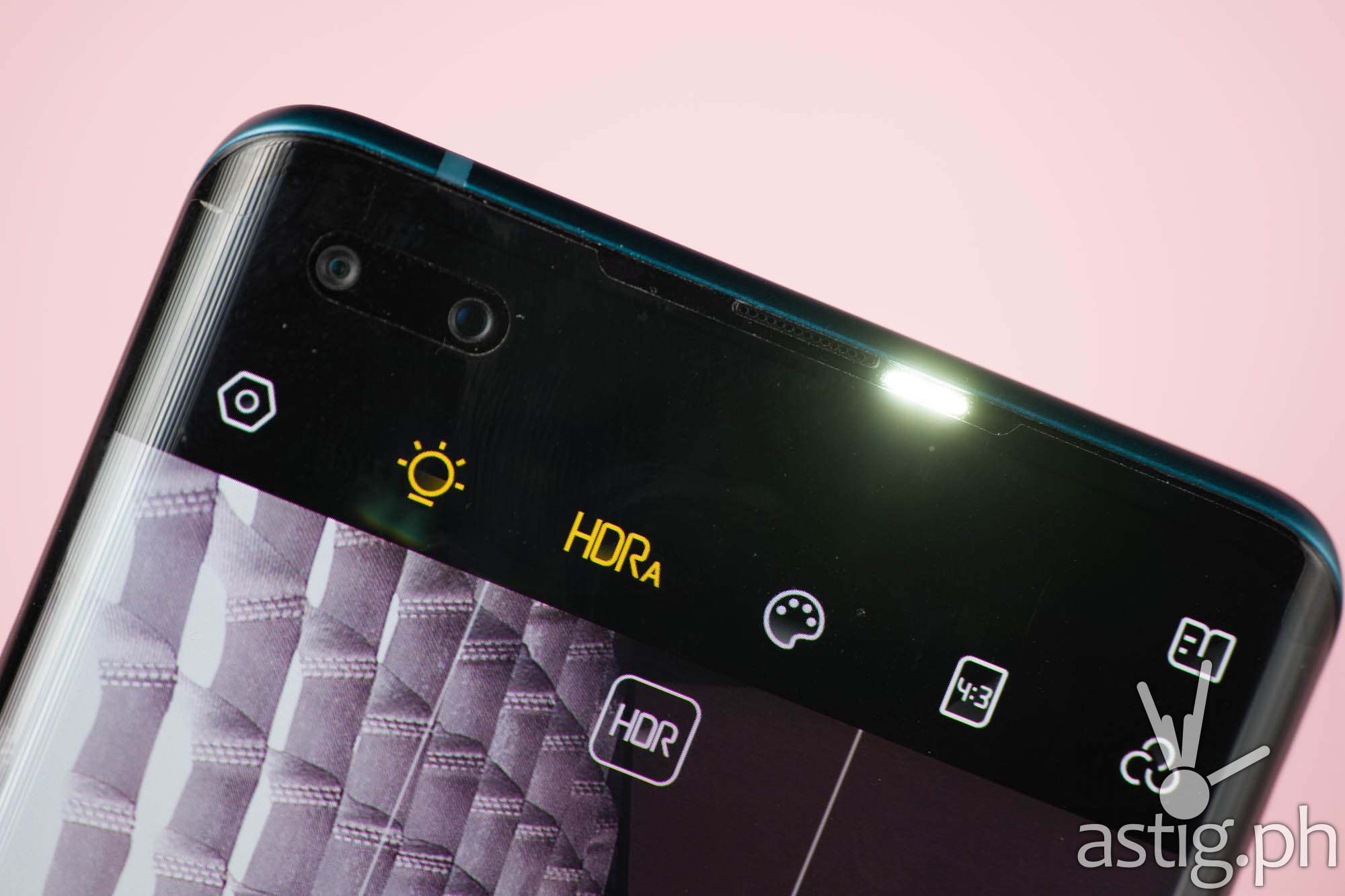 Cleverly hidden under that thin top edge is a dual LED flash module, which comes in really handy in low-light situations. We love the field of view on the 48MP selfie lens.
It's not too wide so what we get from the camera does not look distorted and appears much closer to what we see with our naked eyes.
Photos shot with the 48MP sensor are generally in focus regardless of the situation, while the 8MP sensor needs a bit more light to make things work.
When it came to video, the phone supports 4K 30fps video recording on both the front and rear cameras, with support for 60fps recording at 1080p. The 50MP main sensor produced really pleasing bokeh, and you can see it in the sample video below.
For vlogging where you have to see yourself while shooting, the 48MP selfie camera holds up really well, although focusing range is much more narrow.
Again, we love that the focal length of this lens is a lot closer than the rear camera, producing more "natural looking" shots with minimal distortion since the field of vison is much closer to the human eye.
Battery life
Despite having a smaller battery capacity at 4,700mAh, we weren't too worried about the battery life on the TECNO PHANTOM X.
The phone lasted about a day and a half in general usage scenarios, which consisted mostly of social media, web browsing, and streaming videos over Wi-Fi with some gaming.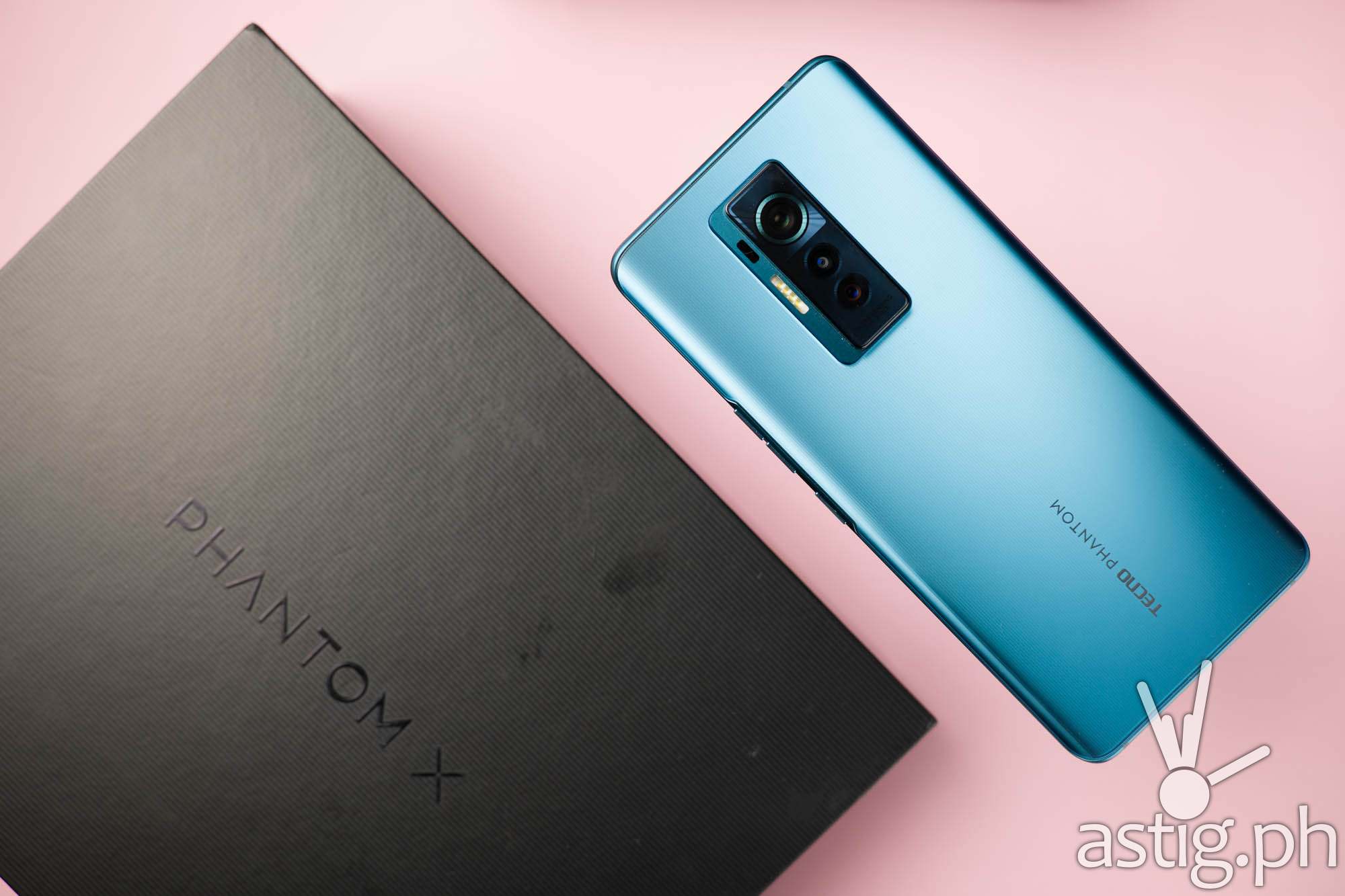 With heavy gaming, the phone still lasts at least the entire day, and and that's with the display running at 90Hz. This could be due to the power efficiency of the AMOLED display panel as well as optimizations and tuning on the Helio G95 chipset. and on the software side.
So what's the bottom-line?
TECNO PHANTOM X is a loud statement from a brand which we feel has not been getting the attention that it deserves.
TECNO does an amazing job hitting the right notes, identifying features that users want, and this phone is no different: it has this big and beautiful 90Hz display, above-average performance, and a camera system that would make anyone happy.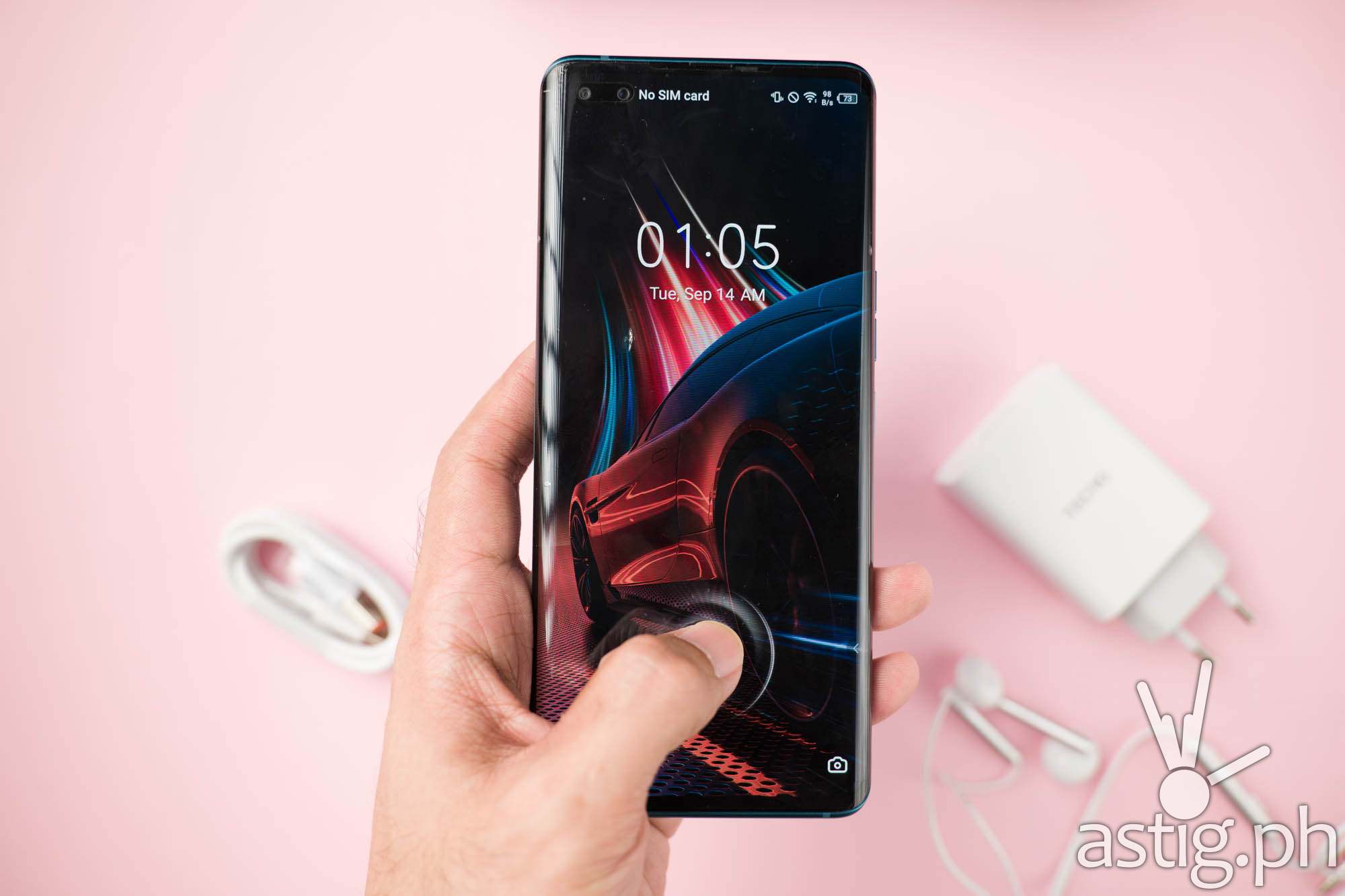 It has a bunch of features that you typically aspire for from higher-end phones such as that 3D borderless screen with a pill-shaped notch, under-display fingerprint scanner, and fast charging.
It also has the usual set of features that Pinoys need such as a dedicated dual SIM slot with a dedicated microSD expansion card slot, and that 3.5mm audio jack.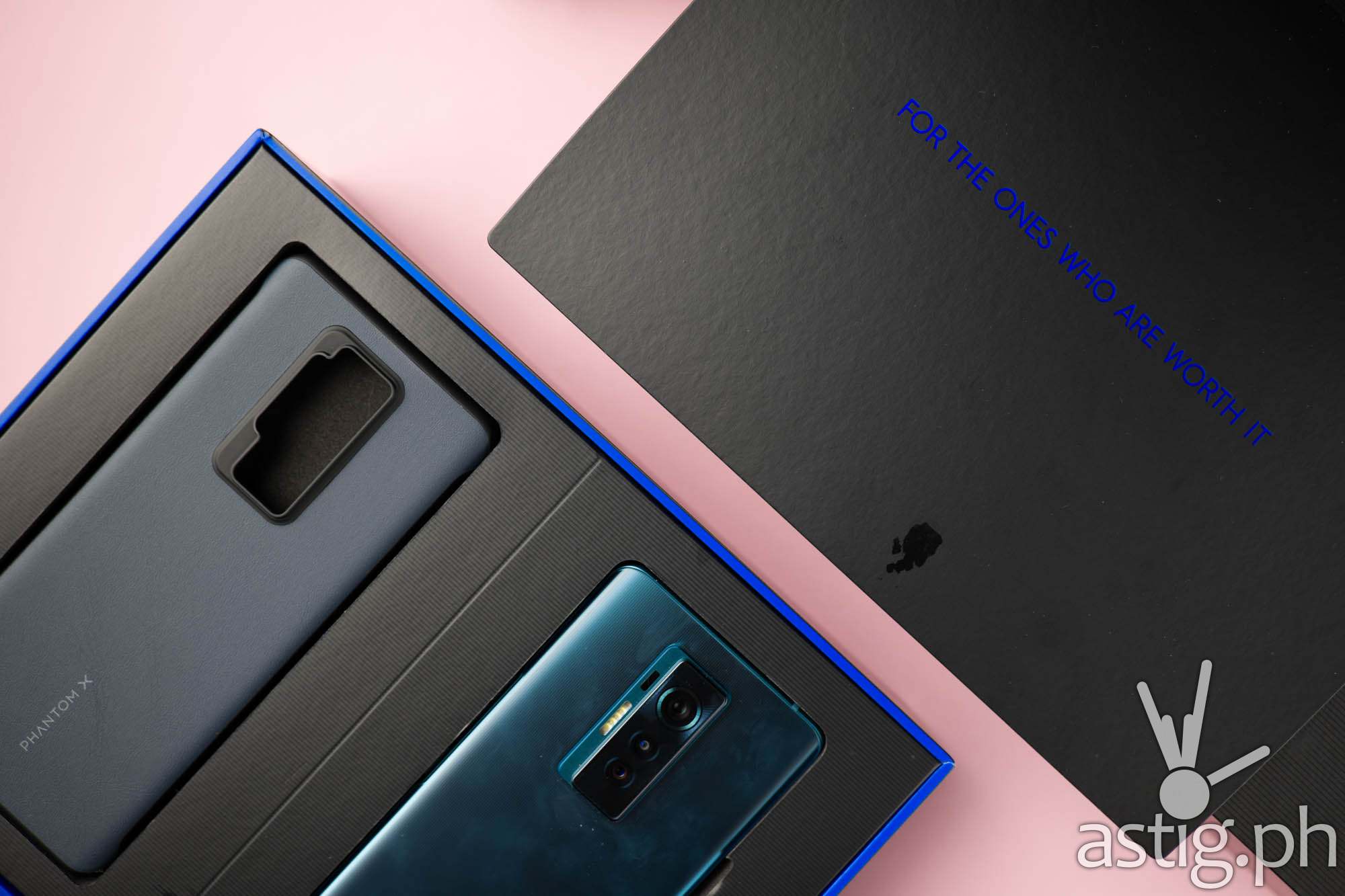 Had the TECNO PHANTOM X been released in 2020 or early 2021, it would have really shaken things up, but 2021 is drawing to a close and 5G is now becoming an essential feature to look for in smartphones. It's still an amazing phone with one of the best aesthetics coming from TECNO.
We can only hope that the price would be as competitive as the brand's earlier outings if and when it hits Philippine shelves – hopefully sooner rather than later.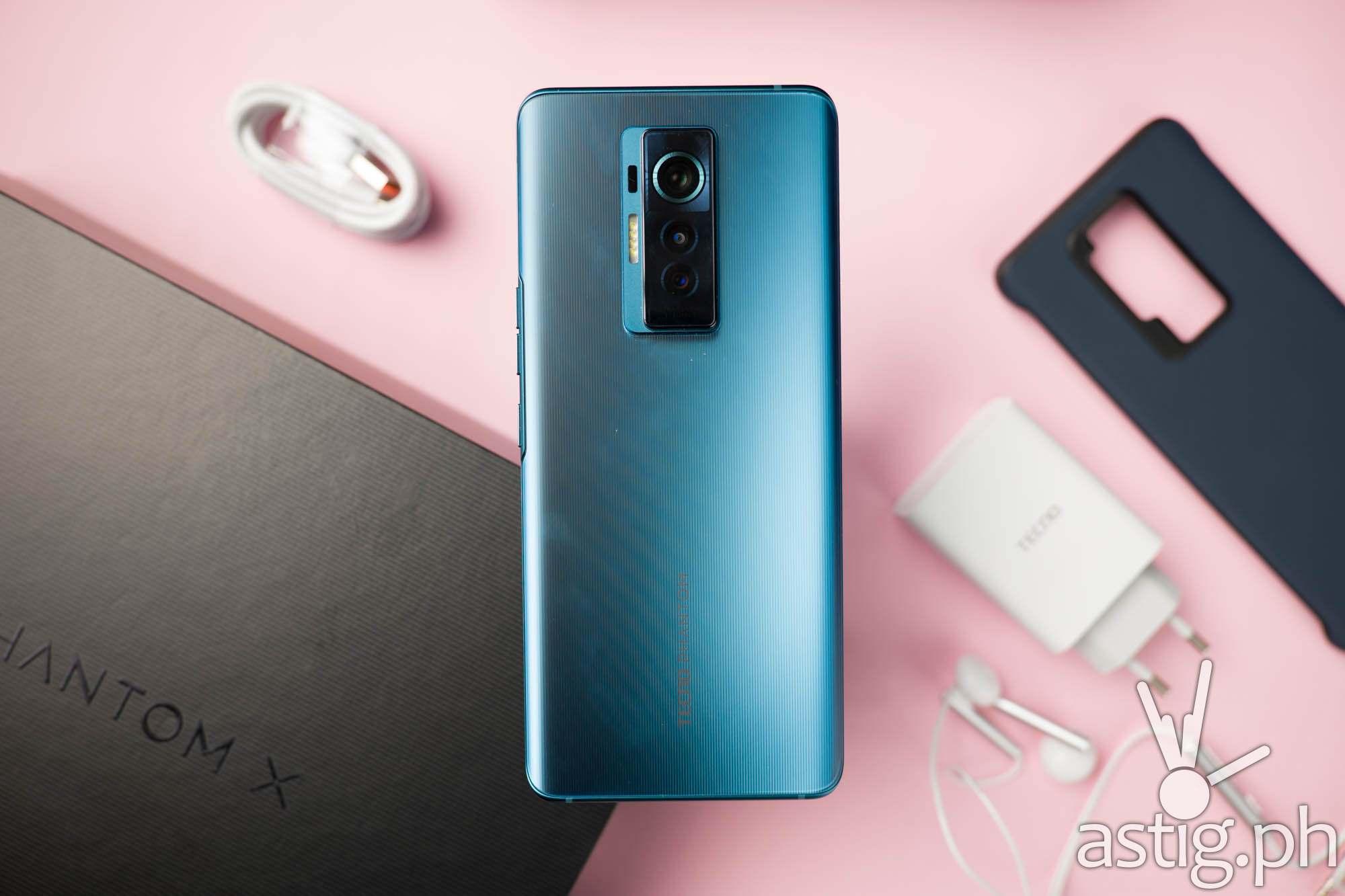 TECNO PHANTOM X technical specifications (Philippines)
Display: 6.7 inches; 1080 x 2340 pixels; Super AMOLED, 90Hz
SIM: Dual SIM (nano-SIM, dedicated slots)
OS Android 11; HiOS 7.6
Chipset (SoC): MediaTek Helio G95 (12nm)
CPU: Octa-core (2.05GHz max)
GPU: Mali-G76 MC4
Memory (RAM) + storage (ROM): 8GB+256GB
Expansion: microSDXC (dedicated slot)
Main camera (rear): 50MP f/1.9 (wide) + 13MP f/2.4 (telephoto) + 8MP f/2.3 (ultrawide), quad LED flash
Selfie camera (front): 48MP f/2.2 (wide) + 8MP f/2.2 (ultrawide), dual LED flash
Connectivity: 2.4/5 GHz Wi-Fi 802.11 b/g/n/ac; Bluetooth 5.0 A2DP aptX
I/O: USB Type-C, 3.5mm audio jack
Biometrics: under-display fingerprint sensor
Battery: 4,700 mAh, 33W fast charging
Colors: Starry Night Blue, Monet Summer
Price (Philippines): Rs18,999 (expected) / Php12,904 (converted)