I have always been a huge fan of stand-up comedians like Rex Navarrete and Russell Peters. They make stand-up comedy seem so easy and natural that they can make people laugh even by telling a joke that has already been told a bajillion times before. Have you ever heard of the Maritess and the Superfriends story? No, I'm not going to tell you the joke, lazy ass – that's what Google is for.
Imagine trying to make people laugh for a living. You need to have lightning-quick wit to do it. It's rather easy to do in a relaxed environment like with friends and family but imagine doing it on stage in front of dozens or even hundreds of people's attention on you, waiting for you to make them laugh … and you're not even bald or wearing a clown costume. Then you have to do it for 5-10 minutes straight. Oh yeah, good luck tough guy.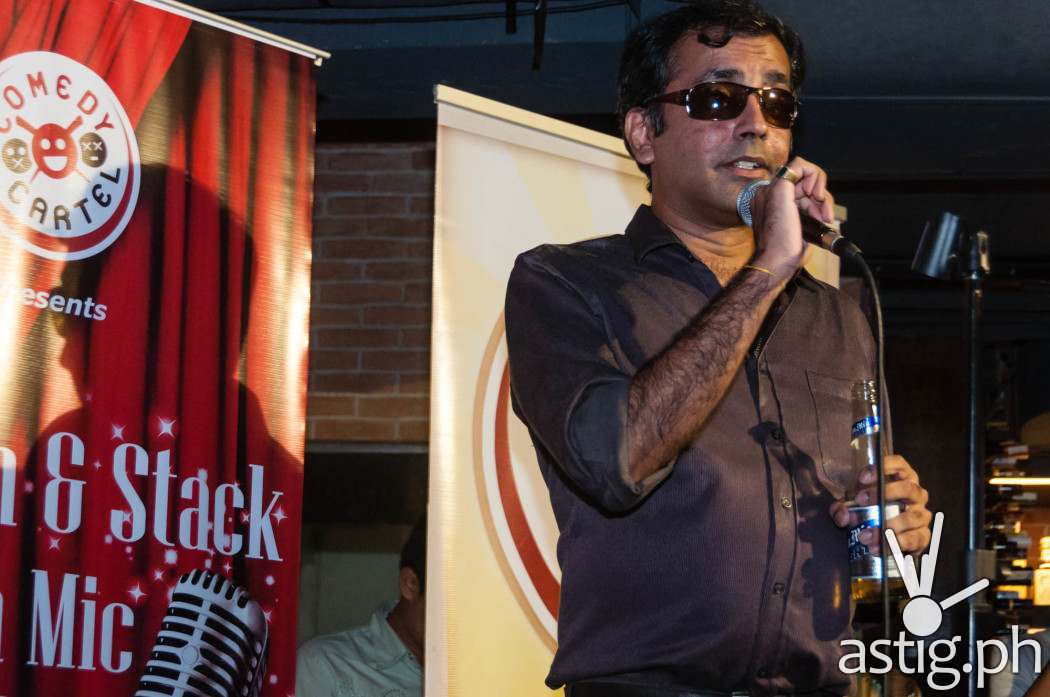 Thing is, Filipinos are more used to the comedy bar setup, where a bunch of gay people try make people laugh, sometimes at the expense of humiliating other members of the audience. Often these jokes are dirty and involve a certain degree of swearing, which can cause the more, uhm, conservative members of the audience to panic, gag, and choke to death.
We don't really have anyone close to Rex Navarrette or Russell Peters in the Philippines, so what Tim Tayag and the guys over at Comedy Cartel are trying to do is a welcome change to the world of Philippine entertainment.
The comics are in for a challenge though, Filipinos can be tough customers. I mean, we like to laugh but as an audience, Filipinos can be very un-reactive compared to other races. The other thing with stand-up comedy is that it has to be delivered well in order for the audience to appreciate and "get it".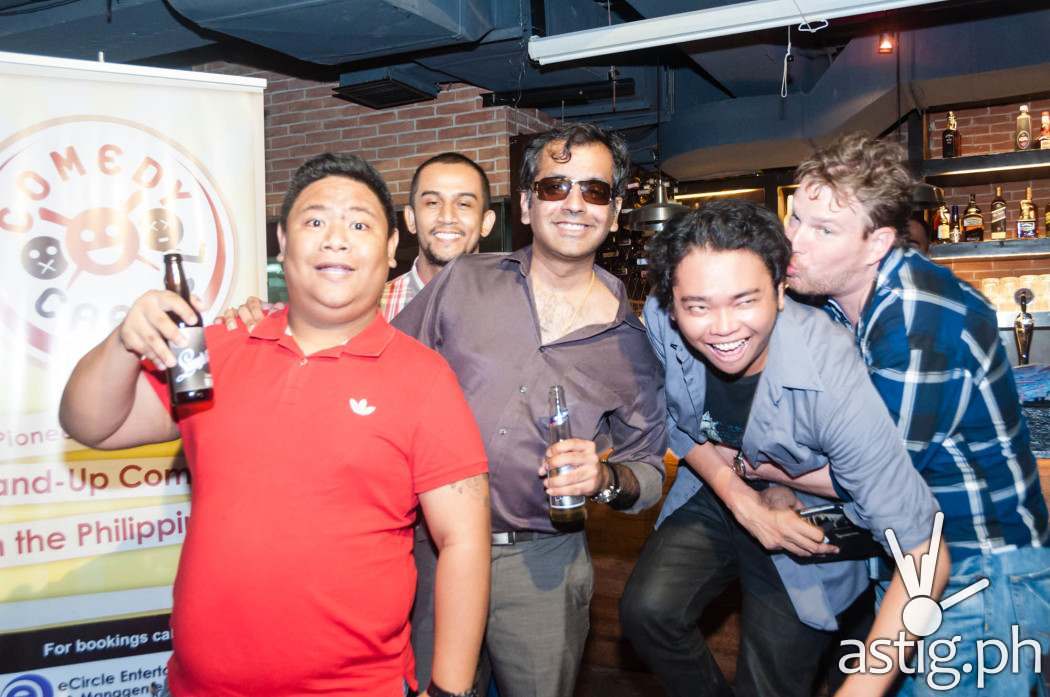 The cool thing about Comedy Cartel is that they compete with one another, which forces the comics to become better and eventually improve the quality of the shows. Each comic is given 3-5 minutes to do their piece. Then, the best comic is chosen based on the combined scores of the audience, their fellow contestants, and by professional comedians.
At the end of the day one guy emerged victorious to laugh another day – Nonong Dyamante, whose skit was done purely in Filipino, a gutsy thing to do given there were a number of foreigners in the audience. He started by making fun of the local police, and finished strongly with "Pinoy Big Brother: Squatter Edition". By then we were all on the floor laughing.
The participants in the contest include:
Nonong Dyamante (1st place)
Haresh Dashwani (2nd place)
Justin Harmon (3rd place)
Joel Chip Balbuena
Rene Cruz
Chris Bacula
Franco Liwanag
Miguel Alejandrino
Winner Aguilar
Miguel Alejandrino
Hugh Vincent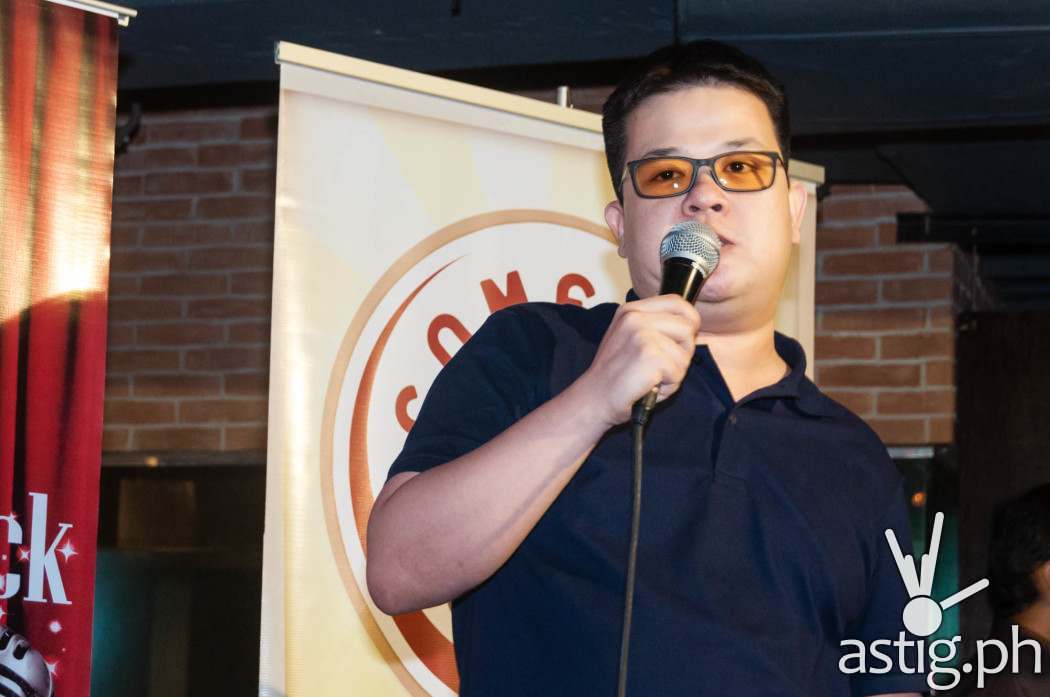 After the contestants came the professionals, Uli Oposa (the hot Chinese guy) and Mike Unson (the hot Chinese guy with the yellow shades). They are not included in the contest, and they are given a longer amount of time for their performance.
Uli was a grand finalist at the 2007 Laffapalooza. Mike Unson, along with Tim Tayag, is considered to be one of the pioneers of standup comedy in the Philippines. Alaine told me that they were only going to perform for 10 minutes, but Mike went for almost 30. I know this because I recorded a video of his performance (coming soon, still uploading on my crappy connection). By the time he finished the audience was floored. Even my boobs hurt from laughing too much.
Together these guys are the future of stand-up comedy in the Philippines. Really looking forward seeing them grow! With all the problems we are facing today, we Filipinos could use a good laugh.
Miguel Alejandrino doing stand-up comedy at Comedy Cartel video
Mike Unson doing stand-up comedy at Comedy Cartel video
Comedy Cartel photo gallery
[stextbox id="astig"]
Comedy Cartel
Check out Comedy Cartel's Facebook page for show schedules. Interested in booking Comedy Cartel, or do you want to train and become a dragon errr comic yourself? Here's how you can reach them.
Landline: +63.2 533.9316
Mobile: +63.917 886.0706 / +63.922 859.6144
E-mail: ecircle_entertainment at yahoo dot com
Website: www.ecircleentertainment.com
Facebook: facebook.com/comedycartel/
Twitter: @ComedyCartel
Instagram: @ComedyCartel[/stextbox]