Women have the power over themselves, the power to protect themselves and to love themselves. We must protect our health for our loves ones, I have the power to protect myself and you too have the power to protect yourself from cervical cancer. It time we start preventing thing by our own hands. Every woman— regardless of race, age, lifestyle or socio-economic status—is at risk. But it can be prevented. The World Health Organization recommends screening and vaccination as a form of preventive healthcare.
Power Over Cervical Cancer
Our culture celebrates our women as selfless and who always put their families' interest ahead of their own. While selflessness is naturally an asset, we also want to imbibe to our beloved women the values of resilience, self-confidence and self-appreciation as we envision them to realize the fullness of their womanhood.
In this regard, leading research-based pharmaceutical company GSK continues to ramp up its cervical cancer awareness efforts with the patient—the woman—always a priority. In the Philippines, the Power Over Cervical Cancer campaign urges Filipinas to realize that they are empowered—that they can do something to prevent the disease from happening to them, so they can have the wonderful, meaningful and joyful life that they deserve.
The Power Wives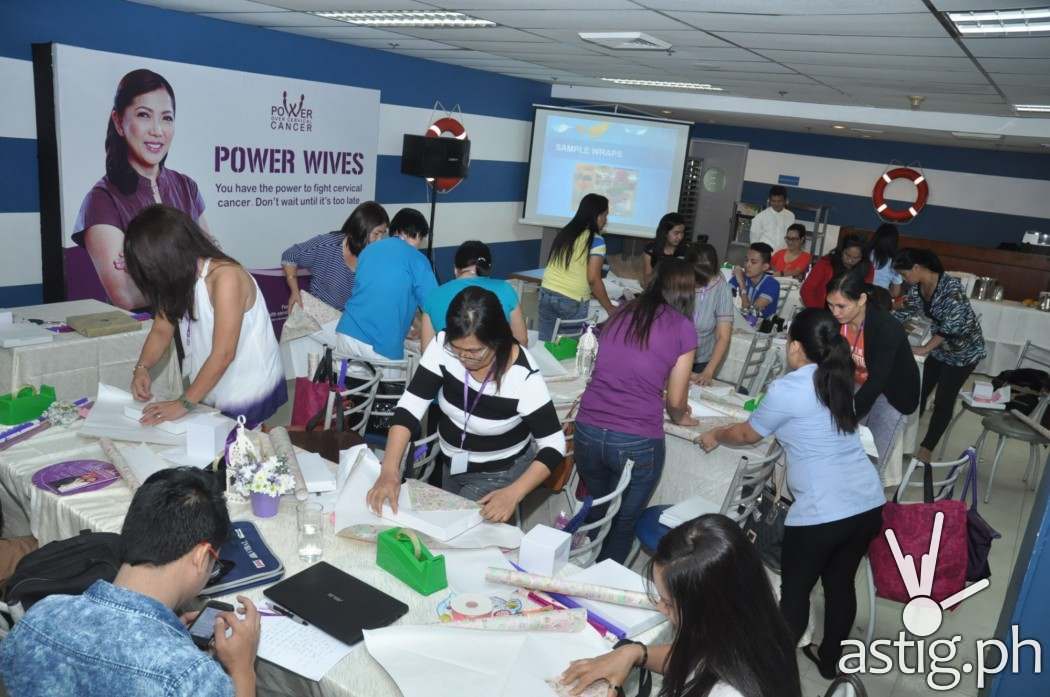 The key thrust of GSK's 2015 cervical cancer awareness campaign, Power Over Cervical Cancer, revolves around empowering women when it comes to preventing cervical cancer.
To further advance this advocacy to embrace more women across all demographics, the pioneering Power Wives will be the Seafarers' Wives, who will undergo a program that will include sessions on personality development, image building, personal resilience, financial management and self-care.
To date, there are about 400,000 Filipino seafarers deployed who render themselves and their families at greater risk for several diseases and infections due to their working conditions. While they are striving for financial stability as their idea of a bright future, GSK wants to bring into their consciousness the value of preventive healthcare.
Secure the Future
On a national scale, Filipino seafarers' onboard international fleets have greatly contributed to our social economic progress. Their foreign exchange remittances grow annually, notwithstanding that our seafarers comprise only 5 percent of the total OFWs working abroad.  In 2014, their contributions amounted to USD5.6billion out of the USD24.3 billion dollars aggregate OFW remittances or more than 20 percent thereof. Currently, we are also ranked number 4 among the biggest shipbuilders in the world.
Shipping clearly moves the world. The underlying truth is that Filipino seafarers play a major role in the shipping industry as a whole, with 1 out of 4 seafarer's onboard international vessels being Filipinos.  This means they comprise 25 percent of the total global maritime professionals in the world.
"The significance of the Philippine maritime industry transcends both the global and national arena.  Undeniably, 90 percent of world trade is still reliant on international shipping. This means that almost all the food we eat, clothes we wear, the things we buy, use, own, in one way or another, were shipped onboard vessels before they got to us," stated Capt. Ronald SJ Enrile, Senior Vice-President Maritime Management of Philippine Transmarine Corporation, the country's biggest shipping-employment agency.
Securing the OFW families' future is important. The future should not only mean financial stability but also health and wellness among the family members. Therefore, the need for health checkups and vaccination becomes more imperative.
Importance of early protection
Cervical cancer is a major problem for Filipino women: it is the second leading cause of cancer deaths among Filipinas, with seven dying of the dreaded disease every single day.  What's more worrying is that 2 in 3 Filipinas diagnosed with cervical cancer may die within five years, or up to 2,832 women dying in a year.  In its early stage, it may have no signs or symptoms.
Cervical cancer occurs when abnormal cells develop and spread in the cervix, the entrance between the vagina and the uterus.  The human papillomavirus (HPV), a very common virus, is the necessary cause of cervical cancer. It has been shown that 99.7 percent of cervical cancer patients are positive for HPV infection.  It is also estimated that up to 80 percent of women will be infected with HPV at some point in their lives.
While HPV is primarily transmitted via sexual intercourse, skin-to-skin genital contact is also a recognized mode of transmission. Beyond regular consultations and pap smears by your doctor, vaccines that protect against cancer-causing HPV are also now readily available.
The incidence of cancer-causing HPV infection is actually highest at the young ages of 15-19.  This is why the World Health Organization Strategic Advisory Group of Experts (WHO-SAGE) on Immunization reiterates the importance of getting young girls protected through HPV immunization before their first exposure to HPV (i.e. before sexual contact), as young as 9 years old.
Older women are just as susceptible. The risk of persistent infection with cancer-causing HPV (which is necessary for cervical cancer to develop) increases with age, and is highest when a woman is over 66 years old.  Vaccination remains to be recommended for older women who did not receive it at an earlier age. However, screening continues to be encouraged among older women as a matter of precaution.
To know more about cervical cancer, visit the Pangarap Mo, Protektado page on Youtube containing various short filmes conveying how protecting oneself against vaccine-preventable diseases is one important step in the achievement of one's dreams.
ABOUT GSK
GSK is one of the world's leading, research-based pharmaceutical companies with the mission to improve the quality of human life by enabling people to do more, feel better and live longer. At the core of GSK's business model is the use of knowledge and development of intellectual property. We create value by researching, manufacturing and making available products that improve people's health and well-being. A healthier society enables people to live life to the fullest, allowing them and their communities to prosper. A sustained flow of innovative products enables our business to grow and replenish our value to patients and consumers.
GSK manufactures and distributes more than four billion packs of products to 150 countries around the world. With this extensive global presence, GSK is striving to make our products as widely accessible as possible.
To increase access to GSK products in the world's least-developed countries, we have held prices of our patented medicines in this region at no more than 25% of our developed-world prices and we reinvest one-fifth of the profits we make from sales in these territories back into local healthcare infrastructure projects.
We are proud of the forty years we have spent applying pioneering respiratory science to develop better medicines which have benefitted million of people worldwide.
Over the last forty years, the medicines and devices we have developed, together with insights from our scientific programs and our collaboration with healthcare professionals, have played a fundamental role in improving disease understanding and patient management.
For further information, please visit www.gsk.com.
Start your prevention now………….