PHILIPPINES – In celebration of the Philippines' 123rd year of independence, Togoparts presents #TOGOPH123, a virtual cycling challenge for Filipinos across the world. The event is a part of Togoparts' effort to encourage and promote a healthy lifestyle through cycling amid the ongoing pandemic. Held virtually, it is open to everyone for free, anywhere, and anytime.
On top of promoting a healthy lifestyle, Togoparts is donating a portion of every paid participation to Life Cycles PH to help frontliners continue their work during this difficult time. Life Cycles PH is a non-profit foundation that works with various institutions to donate bicycles to frontliners.
"At Togoparts, we strive to give to those less fortunate whenever possible. This time, we are hoping to continue this initiative during #TOGOPH123," said Evan Lee, Founder of Togoparts. "In the spirit of Independence Day, we'll be taking 1 USD from each of every paid registrations and giving it to those in need. Bicycles remain crucial in the Philippines' fight against COVID-19, and we are eager to help our beloved frontliners continue their incredible work."
Togoparts is currently operating its marketplace in Indonesia, Malaysia, Singapore and aspires to build the largest cyclist community in Southeast Asia. To date, the platform has a total of 135,800+ users and more than 10,000 active cyclists from 22 countries participating in its events. As the no. 1 bicycle site in SE Asia, Togoparts is used by more than 8,000 visitors from the Philippines monthly and is one of the most active virtual cycling event organisers in the Philippines.
How the #TOGOPH123 Virtual Challenge Works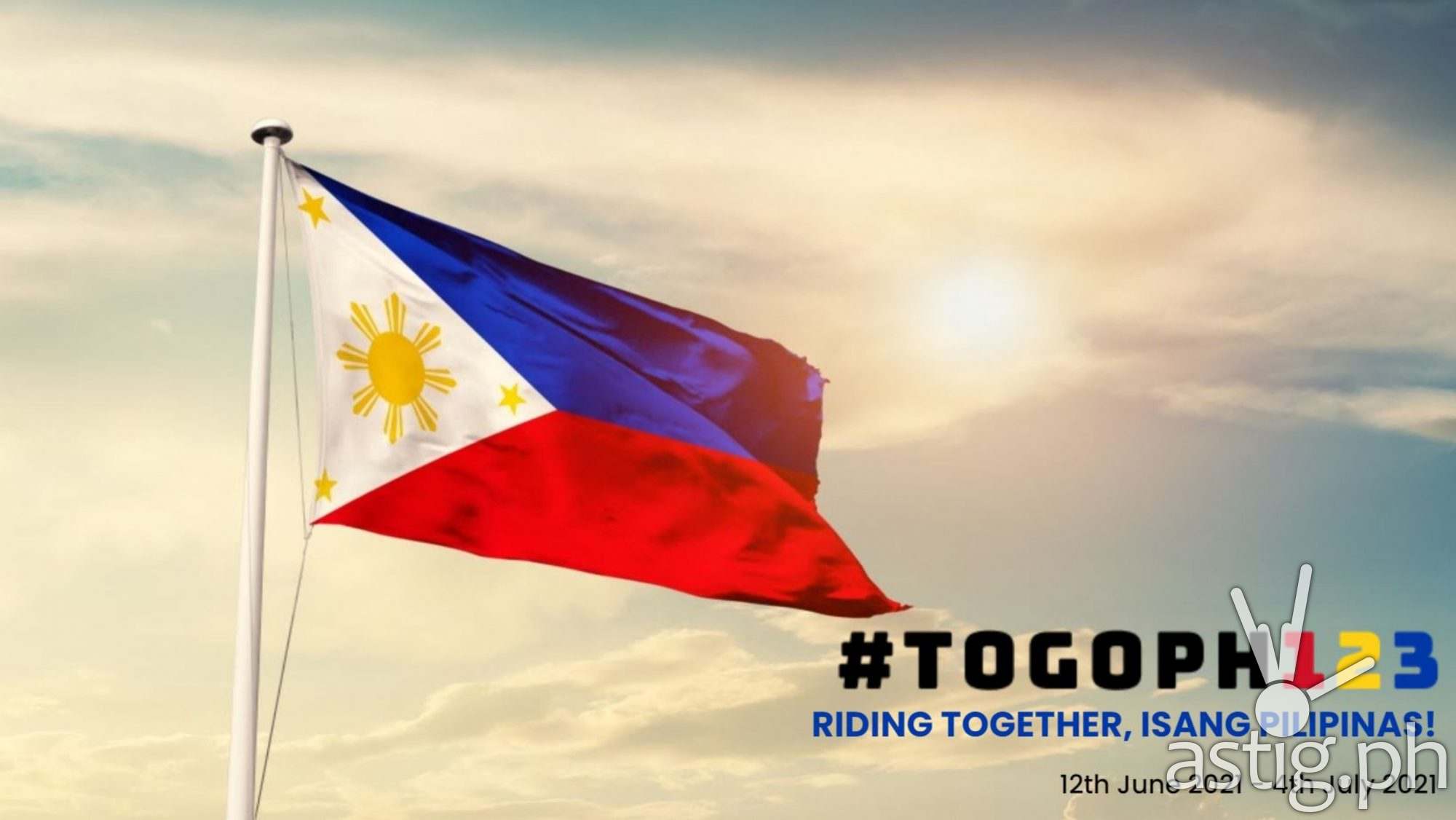 Interested participants can register on the Togoparts website and cycle from Independence Day, 12 June, to 4 July 2021. The registration period for #TOGOPH123 is open until 28 June 2021. Participants will need to connect their STRAVA accounts before cycling.
Once the challenge begins, participants can clock their rides anytime, anywhere during the challenge period using the STRAVA app. Participants will be able to track their progress, see their current ranking, and monitor their Ride Activities synced automatically from STRAVA on Togoparts.com and the mobile app downloadable from  Google Play and Apple App Store.
They will also be able to receive real-time cheerleading messages and notifications about achievement badges unlocked and rewards earned through the App and Togoparts.com.
Paid participants will then receive custom designed Philippines 123th Independence Day themed event Cycling Jerseys, Tees, and the Finisher medals (only if they complete 61km by the end of challenge) delivered by courier to their doorstep.
PH123 Regional Championship
Apart from individual challenges, Togoparts is also adding a regional challenge to #TOGOPH123. Participants from a region can team up and conquer the leaderboards together. The region that will contribute the most to #TOGOPH123's National Goal of 123,000 km will be hailed as the TOP CYCLING REGION for #TOGOPH123.
Additionally, the Top Cyclist with the highest number of km contributed to the winning region will be crowned as PH123's Regional Champion and will receive a Trophy with his/her name engraved and his/her region on it. The Top 5 Cyclists from other regions will also receive an Event Tee and a Special Pin.
"For #TOGOPH123, we invite all participants to cycle together and cover a total distance of 123,000km to celebrate the Philippines' independence and also support our frontliners in need," said Lee.
Gamifying Cycling
To keep the 1,500 anticipated participants going, Togoparts has also gamified cycling through 18 custom badges to be unlocked during the event. For instance, the 'Tatak Pinoy' badge can be unlocked by using the #TOGOPH123-themed frame when posting on social media. Another is the 'One for the Nation' badge, which unlocks by recording at least one ride during June 12. By unlocking specific badges, participants get a chance to win free prizes from Togoparts.